Be it summer or winter, there's one special place at home that can help you power through the seasons. This is none other than your bathroom. Whether you're dealing with the sweltering heat or a cool winter afternoon, a good shower always hits the spot. And with the right bathroom renovations, you can further transform this space into your own personal haven. But before you get into the details of a bathroom makeover, you're probably concerned about what the bathroom renovation cost will amount to.
Here's where we can help you understand all the facets that go into your bathroom remodel cost. Whether you're planning a small bathroom remodel on a budget or looking for a more elaborate design, this guide can give you the estimates you need to start planning your finances. Let's dive into it!
What Are the Factors That Affect the Cost of Bathroom Renovations?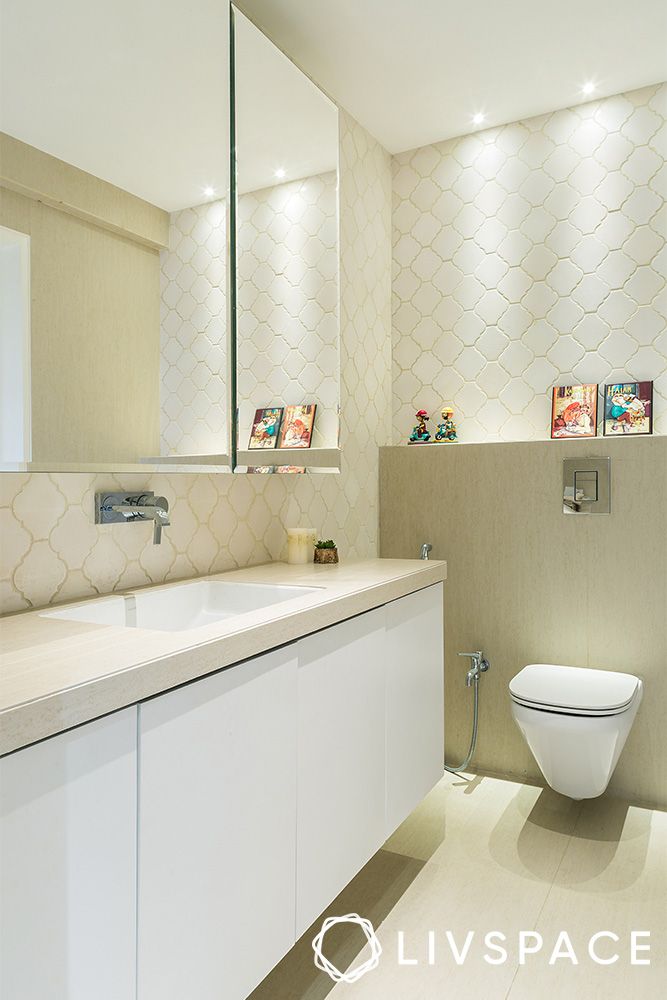 Whether you're looking at your bathroom renovation cost or kitchen renovation cost, multiple factors can affect the final price. Though these services can vary as per your scope, it helps to know what your options are. Here are some of the services that typically make up your bathroom remodel cost:
Tiling (both floor and walls) as well as the laying pattern
Plumbing
Fixtures and sanitaryware
Electricals
Civil modifications and waterproofing
Painting cost
Site location and age of the building
Other essential bathroom must-haves
1: The Starting Cost of Bathroom Tiling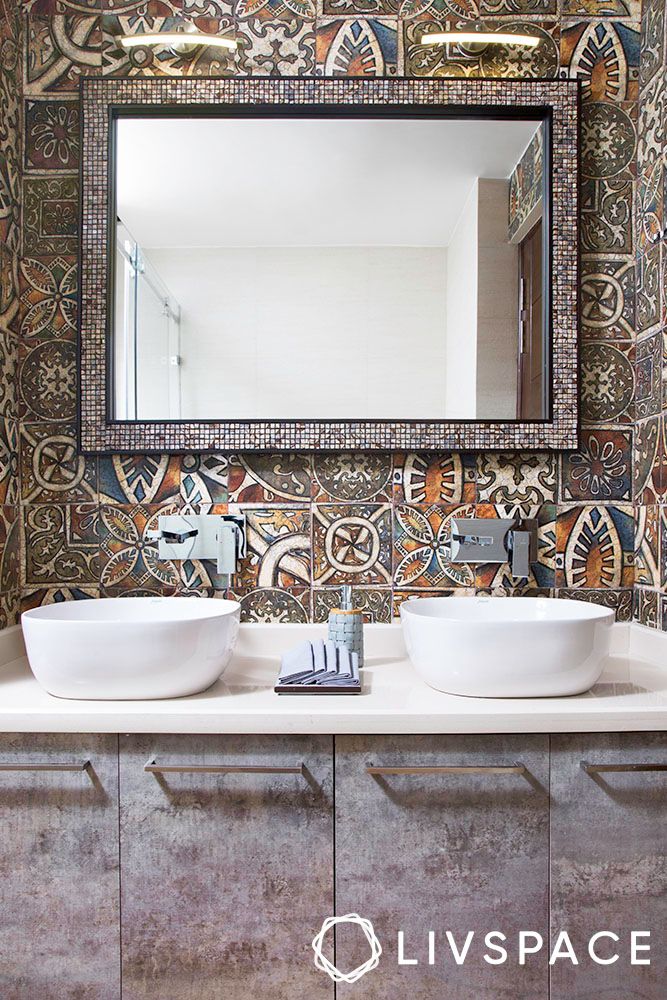 Two of the most common places you'd see tiles in are your floors and walls. The same way, your bathroom tiling consists of wall tiles and floor tiles. Your remodelling bathroom cost is further tied to the type of tiling work you require. Depending on the material, size, and quality of tiles you go for, your bathroom renovation cost can vary.
While prices can differ across cities, you can use our starting estimates to get a general idea of what your remodelling bathroom cost can be.
| | |
| --- | --- |
| Quality | Price |
| Economical | ₹45 to ₹50 per sq. ft. + ₹80 per sq. ft. installation |
| Standard | ₹150 to ₹250 per sq. ft. + ₹110 per sq. ft. installation |
| Premium | ₹450 to ₹650 per sq. ft. + ₹200 per sq. ft. installation |
In terms of materials, marble or granite are common options when it comes to bathroom tiling. With using both these materials, your bathroom renovation cost can range between ₹200 to ₹1000 per sq. ft.
However, don't forget to consider installation charges while calculating your remodelling bathroom cost. Installation costs can vary between ₹250 to ₹450 per sq. ft. for these materials.
Also Read: 6 Reasons Why Your Bathroom Needs a Renovation
3: The Starting Cost of Plumbing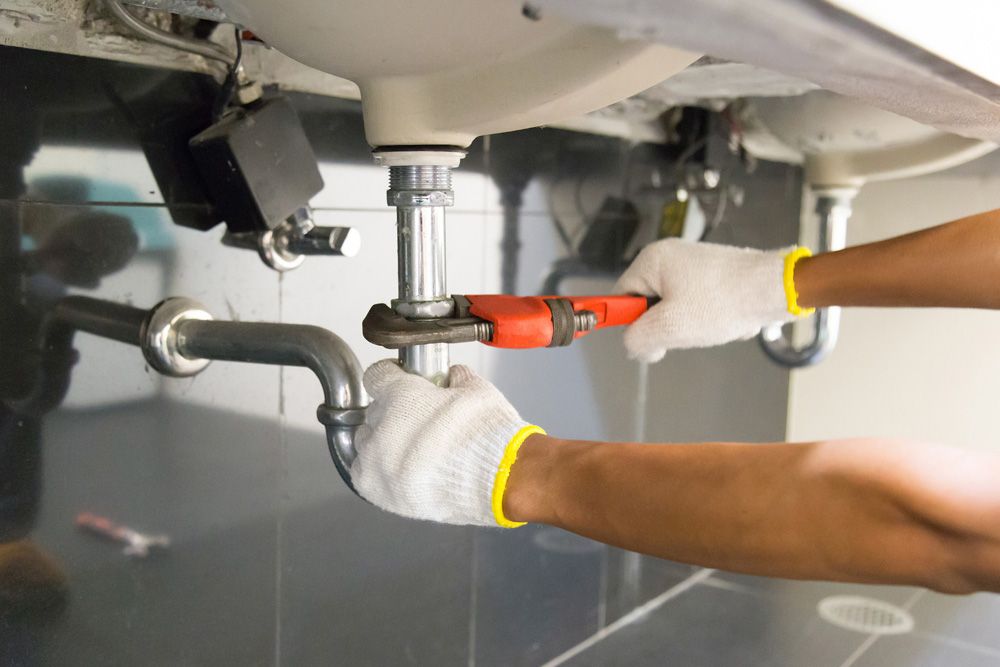 Plumbing is a crucial step in the renovation process, as bad plumbing can ruin the whole design. Moreover, even if you skimp out on proper plumbing in your small bathroom remodel budget, you might just end up paying more to rectify it.
Therefore, it's important to keep quality in mind even if you're planning a low budget small bathroom remodel. Always invest in good plumbing to ensure that your budget bathroom renovation doesn't cause issues in the future.
The starting cost of plumbing lines, excluding the material for sanitary fittings, is ₹27,500 per bathroom. This cost is inclusive of installation charges for your sanitary fittings. However, your bathroom renovation cost can vary from this estimate based on your location.
Apart from the plumbing, you must also consider waterproofing and other necessary civil modifications in your bathroom renovation cost. The starting cost of waterproofing is ₹8,000 per bathroom.
4: The Starting Cost of Electricals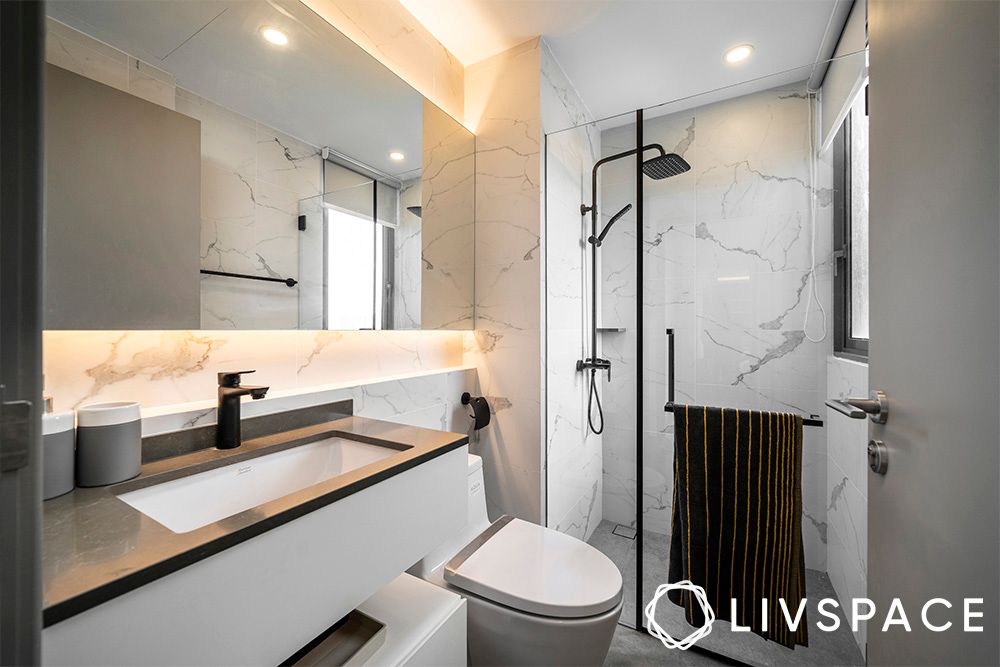 Lights and electrical work form another important part of your bathroom renovation cost. This not only includes the lighting but also all other plug points for the geyser, hairdryer, and other appliances. While calculating your bathroom renovation cost, be sure to consider each plug point.
Typically, the cost of wiring and switch control per plug point is ₹1,500. However, this may vary based on your location due to regional differences in labour charges.
5: The Starting Cost of Paint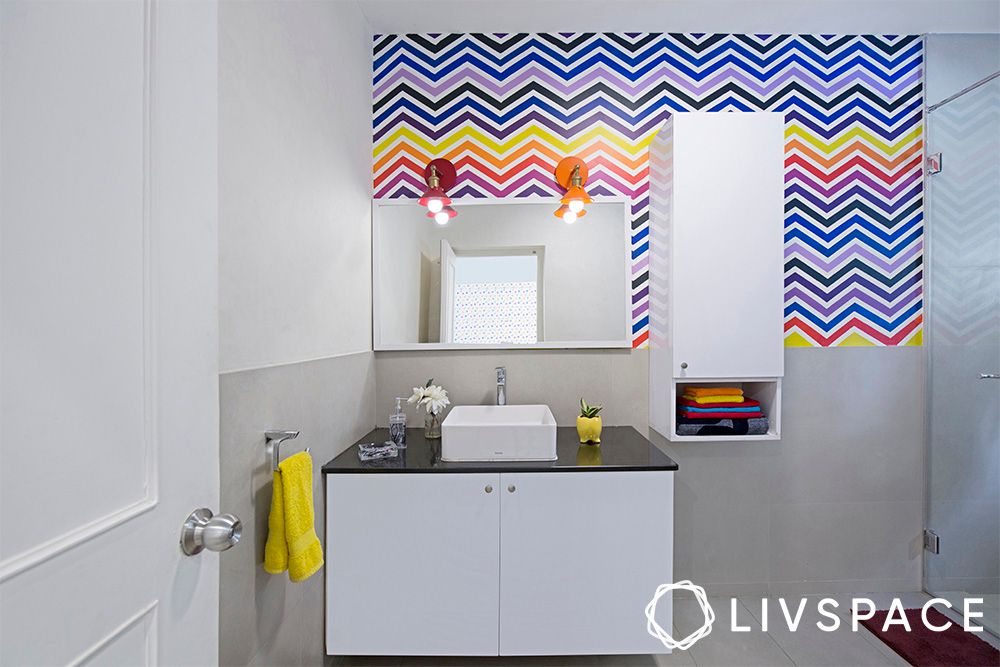 Paint is a great decorative element that can help you elevate the mood of your bathroom. However, it might not always be something we consider while decorating our bathrooms. Besides your floor and wall tiles, you can also build on your bathroom's decor with some colourful paint.
But how much will it cost to add paint to the equation of your bathroom renovation cost? Well, in simple terms, the starting cost of premium emulsion is ₹22 per sq. ft.
Apart from emulsion, there are several other types of paint that you can choose, on the basis of your bathroom renovation cost and budget. If you're budgeting for a small bathroom renovation cost, consider painting only a single accent wall instead of the entire bathroom.
Are Fixtures Worth It in a Budget Bathroom Renovation?
What differentiates a hotel bathroom from the ones we have at home? The fixtures, of course! Fitted with stylish fixtures and accents, a hotel bathroom always exudes a luxurious vibe. But if you're planning a bathroom makeover on a budget, you might feel like this is an unnecessary investment.
While the need for luxurious looking fittings is entirely up to your personal preferences, it helps to make room for it in your bathroom renovation cost. After all, curating the right bathroom ambience can be a rewarding experience. Here, the cost of bathroom fixtures entirely depends on the brand, quality, and material you select. 
Also Read: The Budget Bathroom Makeover Challenge!
Bathroom Essentials to Consider While Renovating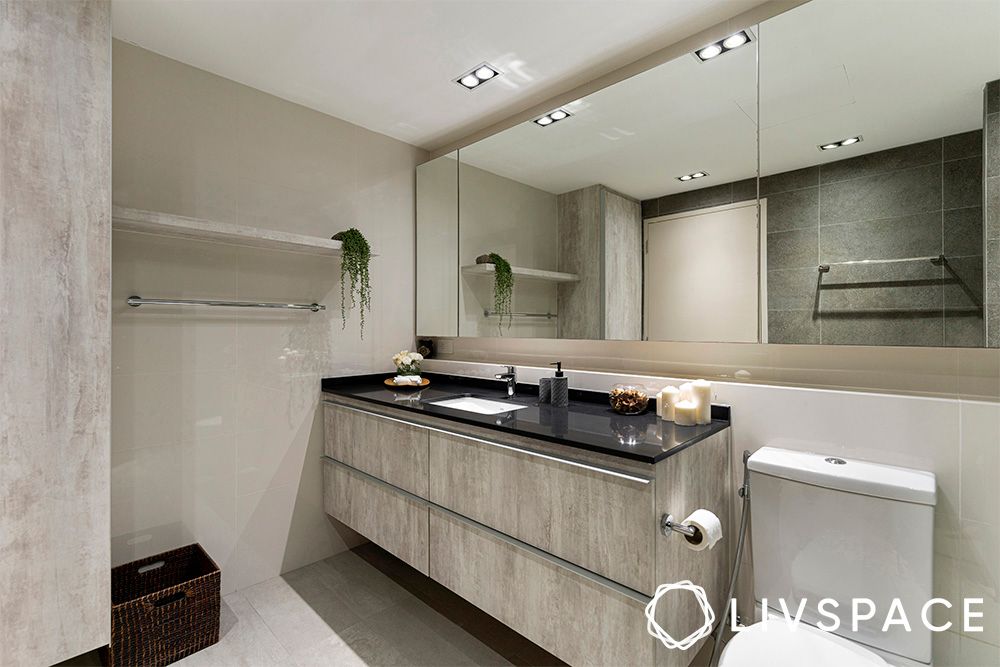 The difference between a functional bathroom and a luxury bathroom lies in the little things, also known as bathroom essentials. The bathroom accessories you decide to invest in can affect your bathroom renovation cost. These essentials can include, but are not limited to:
Toilet paper holder
Robe hook
Towel rod
Soap tray
Towel ring
Here's where it's important to note that your total bathroom renovation cost will be the result of all these factors. So, while budgeting, be sure to account for the addition of all these odds and ends too.
A Summary of Bathroom Renovation Costs
Type of Work
Starting Cost
Bathroom tiling 
Economical: ₹45 to ₹50 per sq. ft. + ₹80 per sq. ft. installation
Standard: ₹150 to ₹250 per sq. ft. + ₹110 per sq. ft. installation
Premium: ₹450 to ₹650 per sq. ft. + ₹200 per sq. ft. installation
Tiling with marble and granite 
Between ₹200 to ₹1000 per sq. ft. with installation charges between ₹250 to ₹450 per sq. ft. 
Plumbing lines
₹27,500 per bathroom (excluding materials for sanitary fittings)
Waterproofing 
₹8,000 per bathroom 
Wiring and switch control 
₹1,500 per plug point 
Premium emulsion paint 
₹22 per sq. ft.
Please note that all the rates mentioned above and within the story are exclusive of taxes (GST). Additionally, these costs can vary across cities with respect to labour charges and the availability of materials.
How Can Livspace Help You? 
We hope you found this guide on bathroom renovation cost useful! If you want beautiful interiors for your home, then look no further. Book an online consultation with Livspace today.
Have any thoughts or suggestions you'd like to share with us? We're all ears! Drop us a line at editor@livspace.com.
Disclaimer: All contents of the story are specific to the time of publication. Mentions of costs, budget, materials, finishes, and products from the Livspace catalogue can vary with reference to current rates. Talk to our designer for more details on pricing and availability.
FAQs
1. What Costs the Most in a Bathroom Remodel?
Tiling and plumbing can be two of the more expensive factors in your bathroom remodel cost.
2. How Much Does It Cost to Make a Small Bathroom?
The range on how much it can cost to design a small bathroom can vary, as it depends entirely on the room size, materials, and type of labour required.
3. Why Do Bathrooms Cost So Much to Renovate?
There are a lot of factors that go into designing a bathroom, right from the tiling to the waterproofing. All these measures ensure that your bathroom can stand the test of time and do not deteriorate with wear and tear. This is why going for a quality bathroom renovation can end up saving you money in the long term.