Bathroom renovations can be a massive undertaking, so it's important to have a clear idea of the costs involved before you start. Whether you are looking for simple cosmetic updates or a full-scale remodel, the cost can vary greatly depending on the scale and scope of the project.
In this guide, we'll discuss how to calculate your bathroom renovation cost, including the factors that can affect the overall price, so that you can budget more effectively.
1. What Factors Affect the Cost of Bathroom Renovations?
Whether you're looking at your bathroom renovation cost or kitchen renovation cost, multiple factors can affect the final price. Here are some of the services that typically make up your bathroom remodel cost:
Tiling (both floor and walls) as well as the laying pattern
Plumbing
Fixtures and sanitaryware
Electrical work
Civil modifications and waterproofing
Painting work
Site location and age of the building
Size of the bathroom (bigger bathrooms can cost more to renovate)
Other essential bathroom must-haves
2. Bathroom Renovation Costs for Each Factor
Wondering how much the different elements of your bathroom renovation can cost you? Use this table to get an idea of how you can plan your finances while remodelling your bathroom.
Type of Work
Estimated Cost Range*
Notes
Bathroom tiling
Economical: ₹60 to ₹80 per sq. ft.
+ ₹100 per sq. ft. for installation
+ 18% GST

Standard: ₹150 to ₹250 per sq. ft.
+ ₹150 per sq. ft. for installation
+ 18% GST

Premium: ₹450 to ₹650 per sq. ft.
+ ₹200 per sq. ft. for installation
+ 18% GST
Using vitrified tiles
Plumbing lines

₹28,000 to ₹30,000 per sq. ft.
+ 18% GST

Special fixtures like bathtubs
and rain showers are not
included
Waterproofing

₹8,000 to ₹10,000 per sq. ft.
+ 18% GST
—Includes base coat
waterproofing + sunken
slab filling with the brick
bat coba method
+ top-coat waterproofing.
—The price may vary
based on the size of
the bathroom
Wiring and switch control
₹1,500 to ₹2,000 per point
+ 18% GST
Inclusive of fixtures
and installation
Premium emulsion paint
₹22 to ₹30 per sq. ft.
+ 18% GST
Prices may vary depending
on the type of paint used
*Please note that the prices are estimated ranges and can vary across cities with respect to labour charges, quality, and the availability of materials.
3. The Different Cost Components of a Bathroom Renovation
1: The Cost of Bathroom Tiling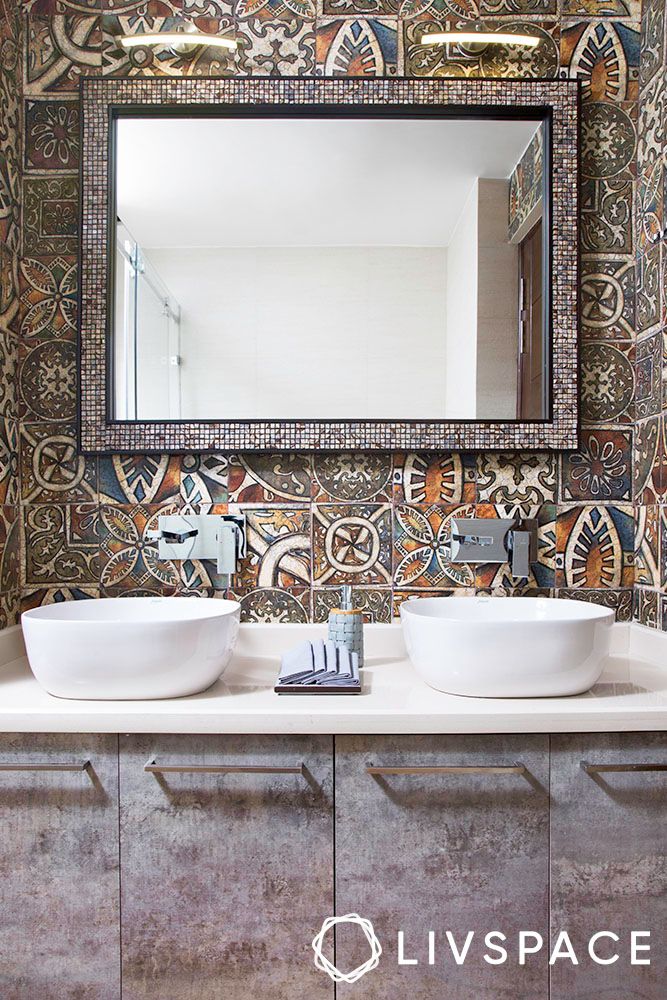 Here are some of the factors that affect your bathroom remodelling cost:
Bigger tiles can be more expensive, as they require specialised adhesives for proper installation. Additionally, unique tile patterns can also be more labour-intensive to install, adding to your bathroom renovation cost
Vitrified tile is the most common material we use while tiling bathrooms
The tile sizes vary from 1×2 feet to 6×4 feet with different patterns to choose from, such as hexagon or herringbone
Also Read: 6 Reasons Why Your Bathroom Needs a Renovation
2: The Cost of Plumbing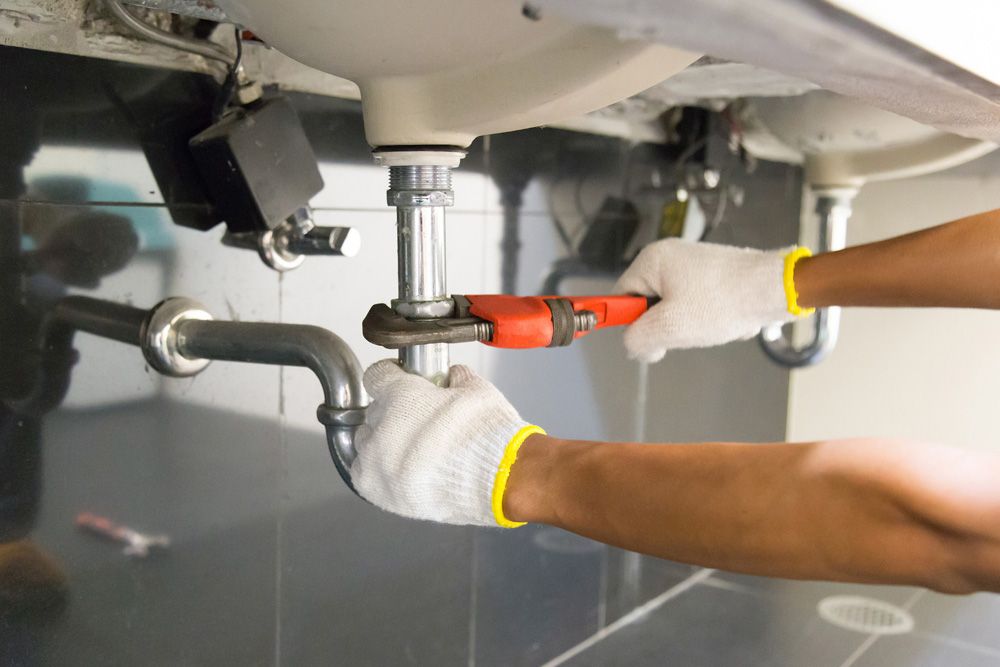 Hot water lines are laid with CPVC pipes and cold water lines are laid with UPVC pipes
A pressure test is conducted to check for leakage in the new plumbing lines
Your plumbing cost includes the total cost of the plumbing line as well as fixture installation
Special fixtures such as bathtubs and rain showers are not included in these costs
3. The Cost of Waterproofing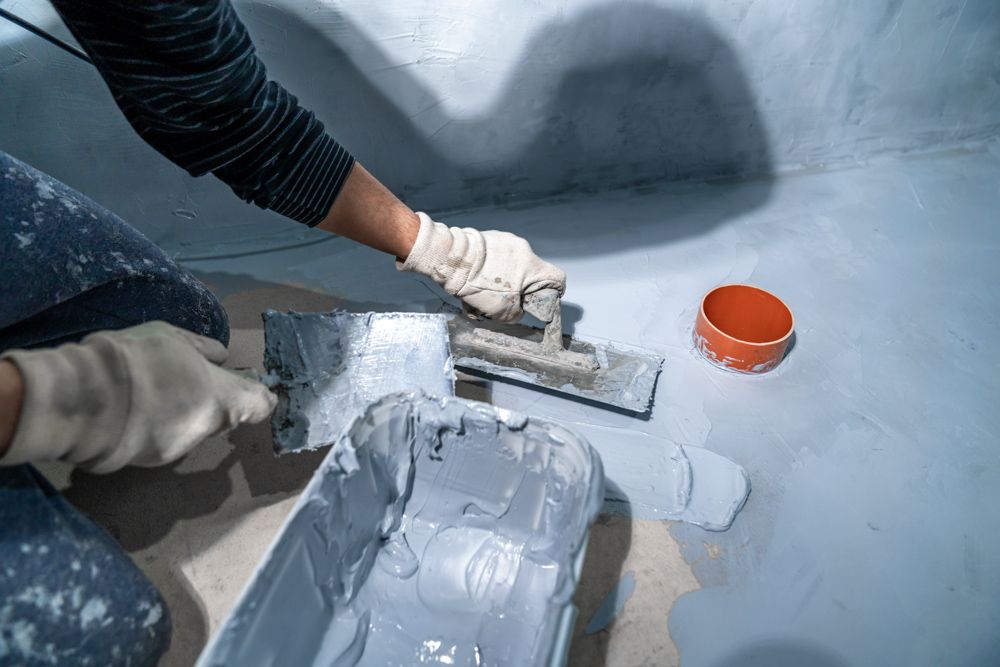 The cost of waterproofing is based on the average depth of the bathroom
It includes base-coat waterproofing, sunken slab filling with the brick bat coba method, and top-coat waterproofing
The brick bat coba method refers to laying bricks on a flat surface and grouting it with a waterproof compound
Due to this, the cost of waterproofing may vary as per the size of the bathroom.
4: The Cost of Electricals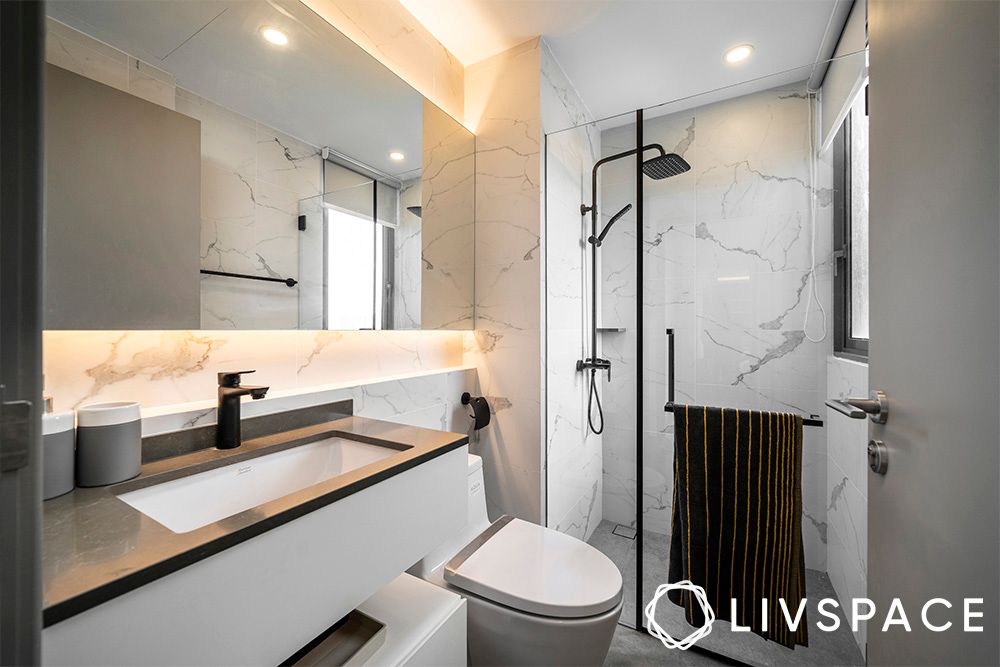 Lights and electrical work form another important part of your bathroom renovation cost
This not only includes your general lighting but also all other plug points for the geyser, hairdryer, and other appliances
Each plug point needs to be considered while calculating your bathroom renovation cost
5: The Cost of Paint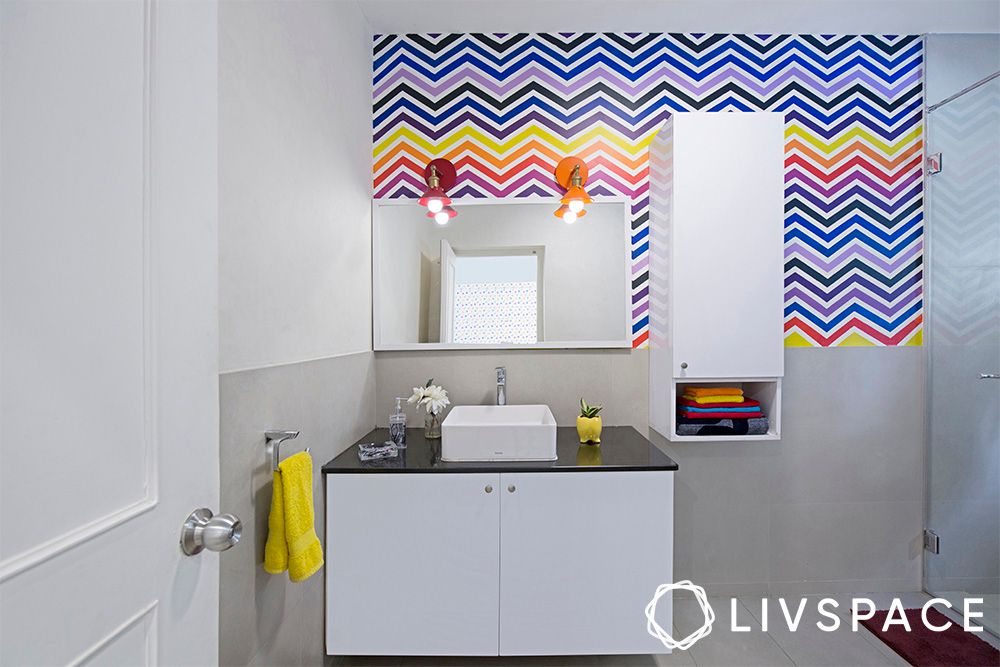 Premium emulsion paint is the most common option for painting a bathroom
Antibacterial paints specifically made for bathrooms are also available, such as Asian Paints' Royale Health Shield
Apart from emulsion, there are several other types of paint that you can choose on the basis of your bathroom renovation cost and budget
Opt for painting only a single accent wall for a low-cost bathroom renovation
4. Why Do Bathroom Renovations Cost So Much?
Here's a simple list that details exactly what goes into your bathroom renovation:
Removal of existing sanitary fixtures, electrical fixtures, doors, and windows
Demolition of the existing tiles, filling in the sunken areas, granite counter installation
New plumbing lines are laid with CPVC pipes for hot water lines and UPVC pipes for cold water lines
Electrical work for light points and geysers
Waterproofing with special chemicals
Water retention test to check for water leakage and seepage after waterproofing
Pressure test for the plumbing lines to check for leakage
Wall plastering for the new tiles
Granite framing for the doors and windows
False ceiling installation
Here are some bathroom designs you can use as inspiration for your next renovation
5. All About Fixtures and Bathroom Essentials: Answered
1. Are High-End Fixtures Worth It in a Budget Bathroom Renovation?
High-end fixtures can help give your bathroom a premium feel
Keep some budget for the inclusion of fixtures in your bathroom renovation cost as they can be good decorative elements
The cost of sanitary fixtures is based on selection, as there's an unlimited range of the styles and brands available
Also Read: The Budget Bathroom Makeover Challenge!
2. What Bathroom Essentials Should You Consider While Renovating?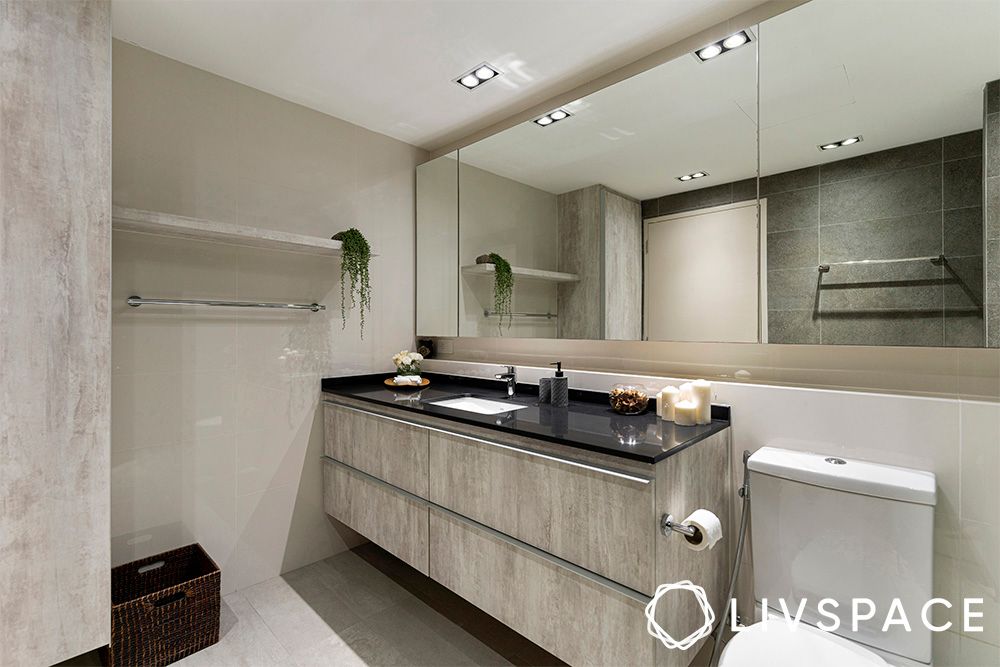 The bathroom accessories you invest in can affect your bathroom renovation cost. These essentials can include, but are not limited to:
Toilet paper holder
Robe hook
Towel rod
Soap tray
Towel ring
6. How Bathroom Designs Across Different Budgets Can Look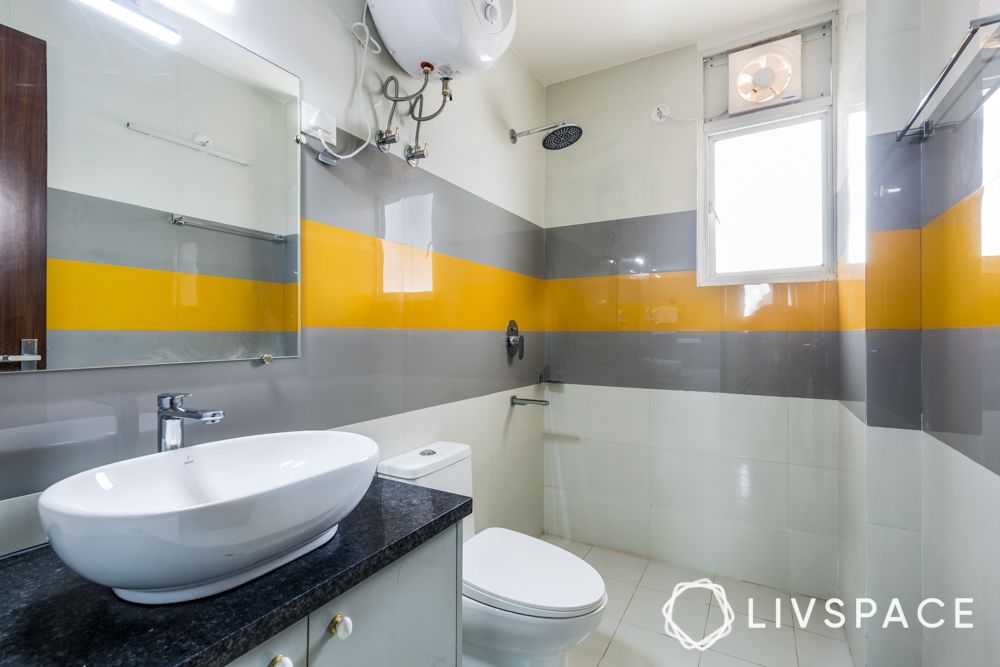 Category
Design Details
Low-Budget Bathroom Renovation
— Includes basic tiles in the range of
₹60 to ₹80 per sq. ft. in the size of
1×1 feet.
— The scope of work includes re-tiling,
waterproofing, basic electrical work, new
plumbing with sanitary fixture installation,
and mirror and vanity unit installation.
Mid-Range Bathroom Renovation
— The tiles are priced between
₹100 to ₹150 per sq. ft. in the size of
2×4 feet and are a combination of
brick pattern tiles.
— The scope of work includes the
installation of new tiles, waterproofing,
electrical work, new plumbing work
with sanitary fixture installation,
a false ceiling, a vanity unit, and a
mirror and glass shelves as accessories.
Premium Bathroom Renovation
The scope of work includes quartz
counters, high-end designer tiles,
premium sanitary fittings, and
large storage spaces
How Can Livspace Help You?
You can expect a well-designed plan along with 3D renders
No corners are cut in terms of the quality of work and materials used
Our labour force is trained to support even the trickiest of renovations
We can conduct a standard test to ensure the quality of your bathroom
So, if you're looking to revamp your old bathroom, book an online consultation with Livspace and get started.
Disclaimer: All contents of the story are specific to the time of publication. Mentions of costs, budget, materials, finishes, and products from the Livspace catalogue can vary with reference to current rates. Additionally, please note that the bathroom designs showcased within the story are subject to availability and will vary based on the year the homes were designed in. Consult our designers for more details on the latest designs.
---
Popular Services:
Modular Kitchen Designs | Wardrobe Designs | Bathroom Designs | Master Bedroom Designs | Living Room Designs | Pooja Room Designs | TV Unit Designs | False Ceiling Designs | Kids Bedroom Designs | Balcony Designs | Dining Room Designs | Foyer Designs | Guest Bedroom Designs | Window Designs | Flooring Designs | Wall Decor Designs | Wall Paint Designs | Home Wallpaper Designs | Tile Designs | Kitchen Cabinet | Home Office & Study Room | Home Interior Designs
Popular Locations:
Interior Designer Bangalore | Interior Designer Mumbai | Interior Designer Pune | Interior Designer Chennai | Interior Designer Hyderabad | Interior Designer Gurgaon | Interior Designer Delhi | Interior Designer Ahmedabad | Interior Designer Vadodara | Interior Designer Kolkata | Interior Designer Thane | Interior Designer Navi Mumbai | Interior Designer Coimbatore | Interior Designer Lucknow | Interior Designer Patna | Interior Designer Nagpur | Interior Designer Chandigarh
Popular Stories:
2 BHK Interior Design | 3 BHK Interior Design | 1 BHK Interior Design | Interior Design Cost In India | Painting Cost Per Square Foot | False Ceiling Cost | Bathroom Renovation | Sofa Design Ideas | POP Design for Hall | House Paint Colours | Main Door Design | Granite Countertops | Vastu For Home | Cool Wallpapers | Types of Kitchen Layout | Types of Flooring | What Is Plywood | Pooja Room Vastu | South Facing House Vastu | Which Plants Are Good for Home Vastu | Vastu Tips for Home