From whipping up gourmet recipes to spending time with your family while cooking together, the kitchen qualifies as probably the most-used room in a home. Knowing this, many homeowners prefer to spend the lion's share of their budget on the kitchen to ensure that it is both beautiful and functional. While everyone may not have the same budget, at Livspace, we have the expertise to offer impeccable designs irrespective of budget. So, to inspire you, we have compiled the best kitchen designs by Livspace across all budgets.
What Affects the Cost of a Modular Kitchen?
Finally decided to take the plunge and get yourself a modular kitchen? Before setting a budget, you should know what will affect the cost of your kitchen design.
1) Size and layout: How big your kitchen is and its layout (parallel, L-shaped, U-shaped etc) are the primary factors that determine the cost.
2) Material and finish: Cabinets are the focal point of a kitchen and the material and finish of these will affect the overall cost. Countertop and backsplash materials must also be considered while calculating cost.
3) Accessories: It's important to add accessories based on utility. If you don't cook frequently, adding excessive accessories will only push up the cost.
Low-Budget Kitchen Designs — Under ₹3 Lakhs
Who said the best kitchen designs are expensive? These are the top 3 low-budget kitchen designs by Livspace, all under ₹3 lakhs!
#1: A Vibrant Pune Kitchen Under ₹2 Lakhs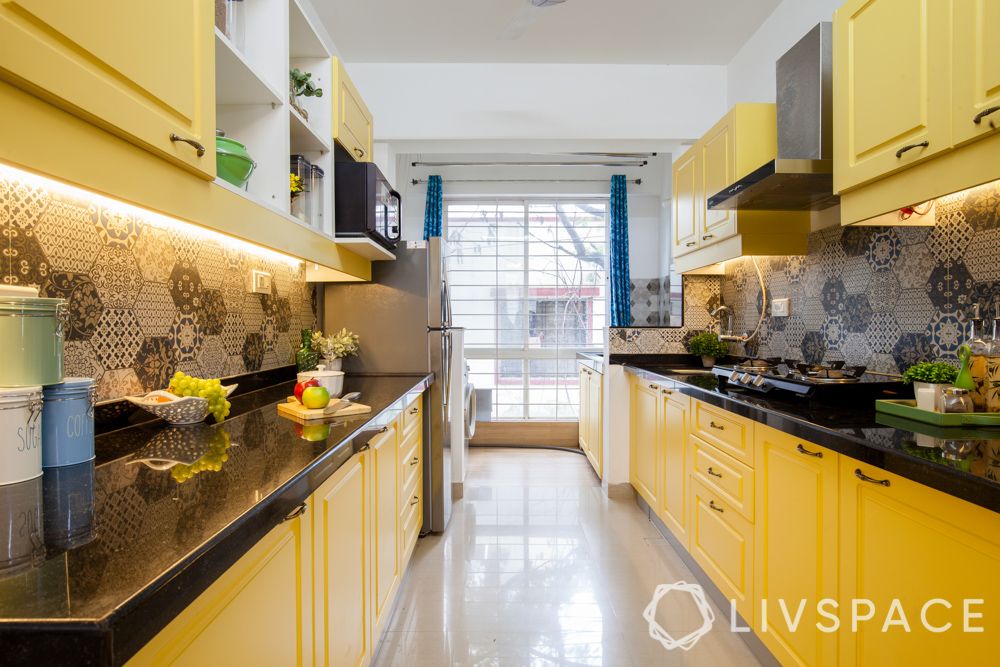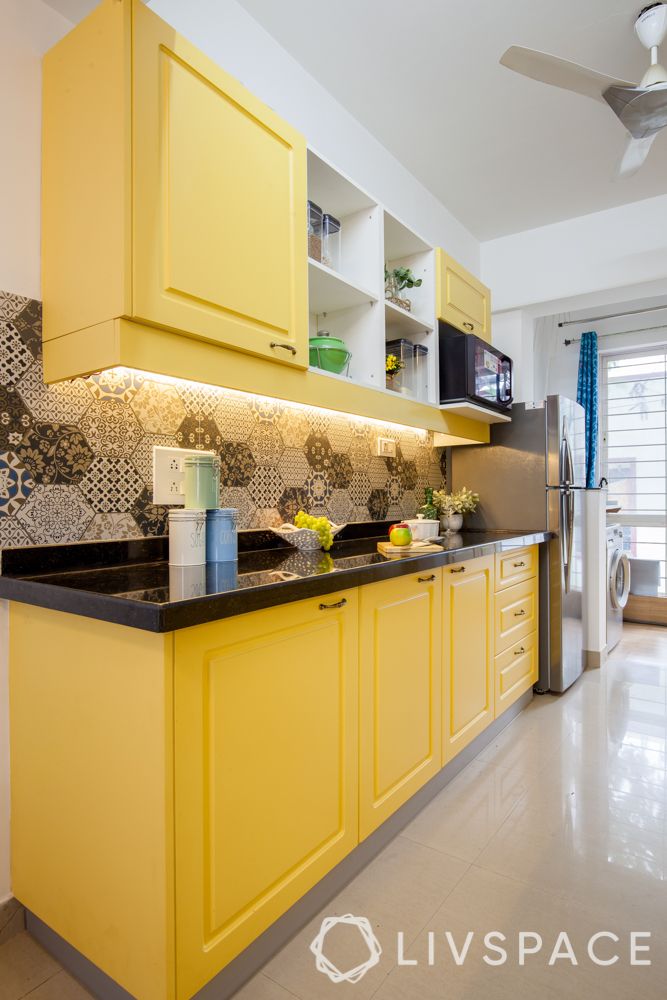 Sneha and Bhagwat, both passionate cooks, wanted a vibrant, uplifting kitchen that would have a positive vibe. Also, it had to be spacious as they often entertained friends and family. To open up the space, our designer added an extra utility area to the parallel kitchen. While the bright yellow colour makes the space look larger, the profile lighting and tiles were acquired at a bargain to keep the design low on budget.
What we Love: The bright yellow makes this kitchen stand out.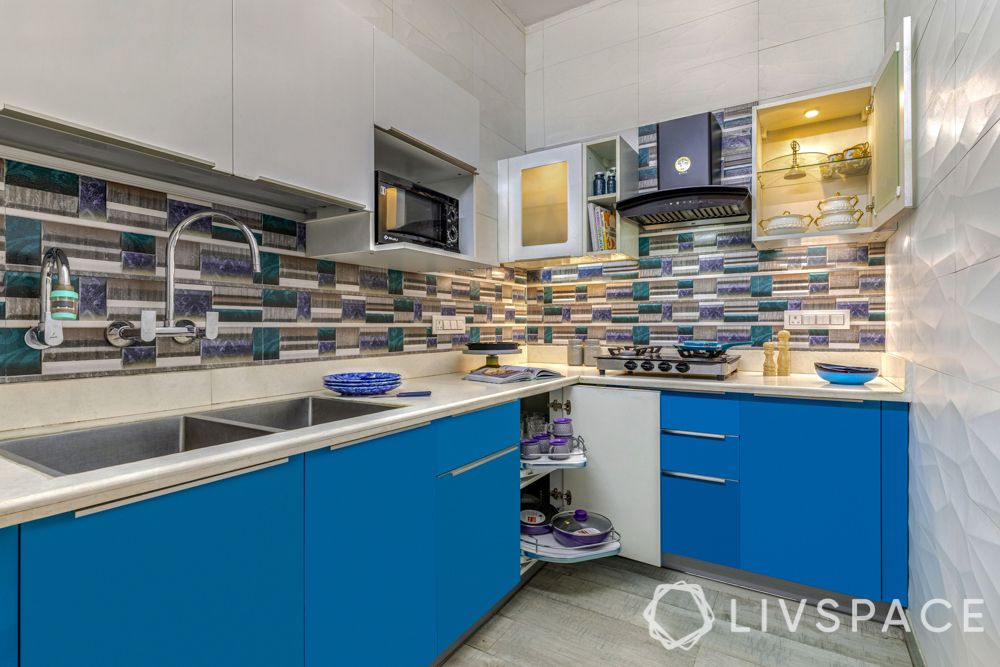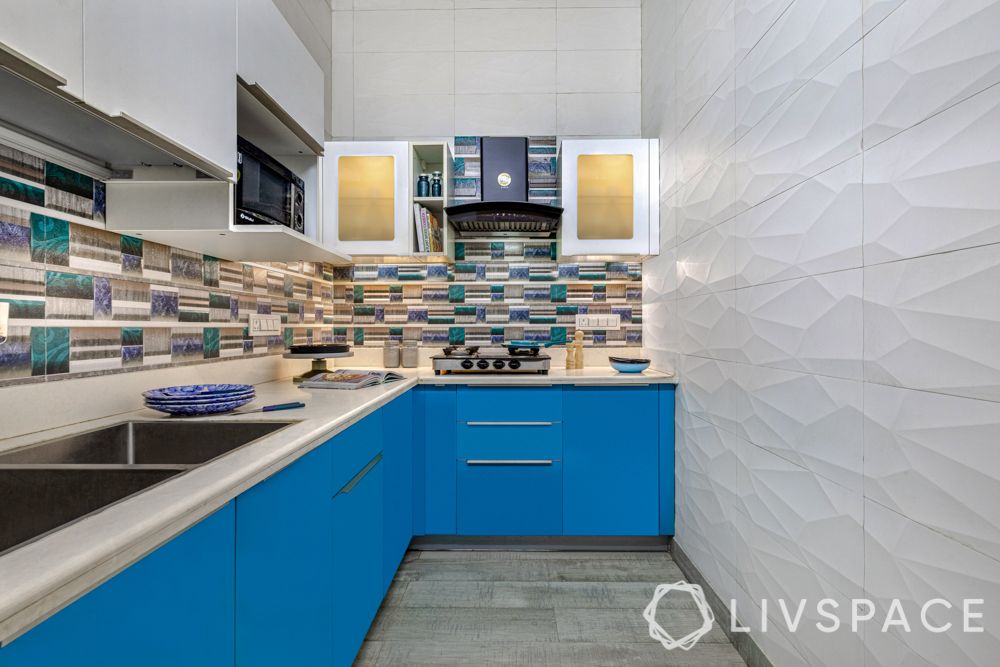 Anu, a home chef, wanted a kitchen that was functional (since she is always whipping up delicious recipes) and pretty (for her Instagram audience). Added to this was the fact that her kitchen was only 50 sq. ft. Our designer Sakshi Srivastava had to use all her design expertise to give Anu the kitchen of her dreams! Sakshi did some civil changes like closing up an existing window to create extra space for storage. Amongst the best kitchen designs by Livspace, Anu's kitchen is also heavily accessorised.
What we Love: The bright blue colour, which is so Instagrammable!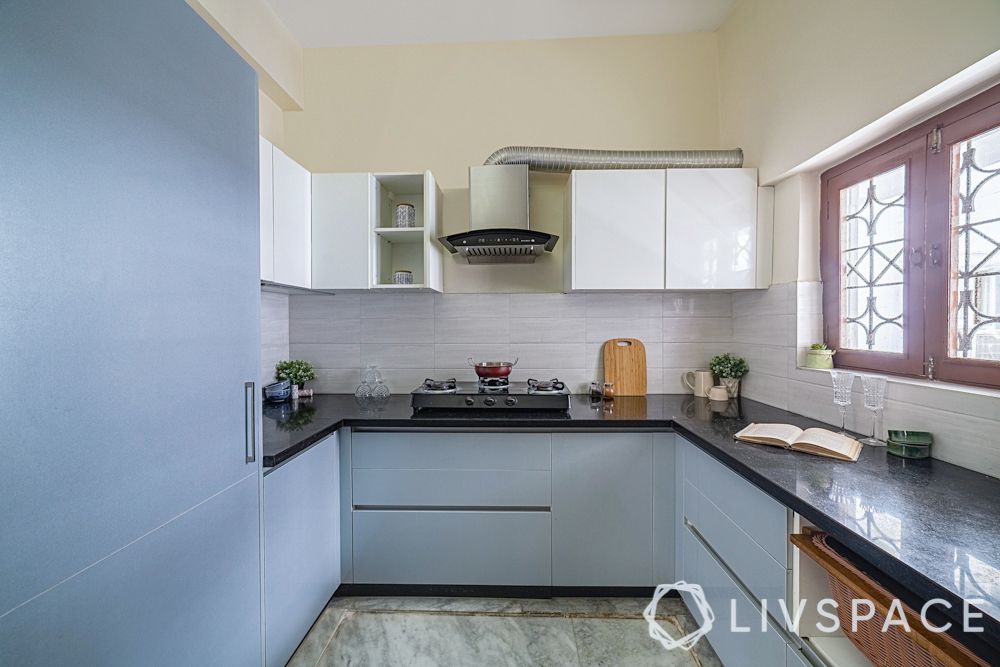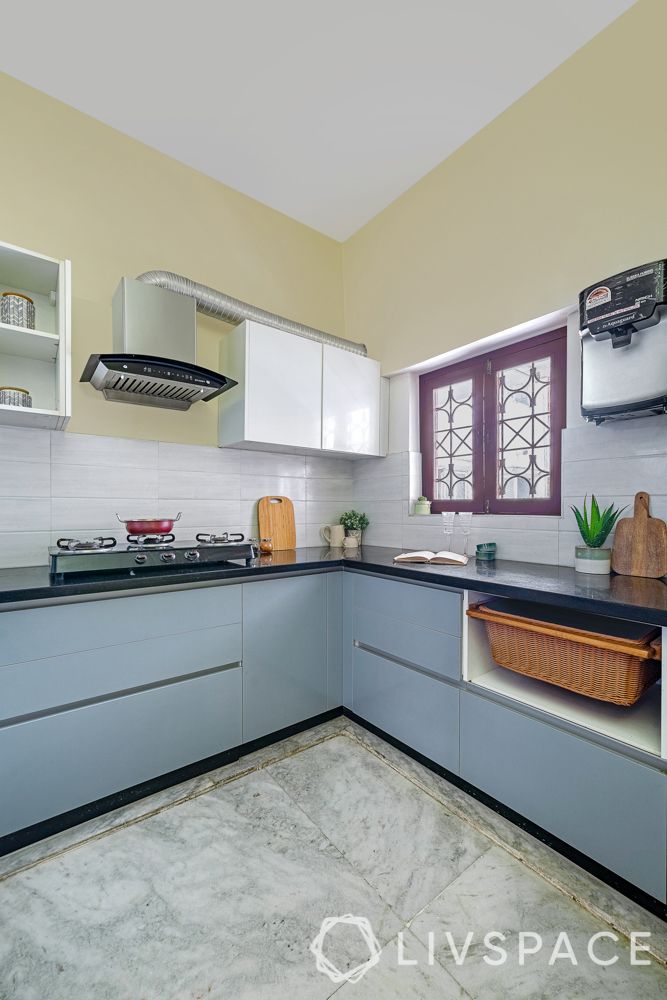 Can you have a kitchen that is high on storage but low on budget? Salman's kitchen proves that you can! Here are the budget lessons that you must steal from his kitchen! First, opt for a modular kitchen design as it removes the need for adding extra accessories and units. Second, opt for low-cost finishes like MDF. Third, change the kitchen layout (Salman's kitchen went from L-shaped to C-shaped) to add extra space.
What we Love: The silver frost laminate for the tall and base units in the kitchen.
Mid-Budget Kitchen Designs — Under ₹4 Lakhs
Most Indian homeowners have a kitchen budget of around ₹3 to 4 lakhs. Here are our top mid-budget kitchen designs.
#1: A Modular Bangalore Kitchen in Classic Wood for an Elderly Couple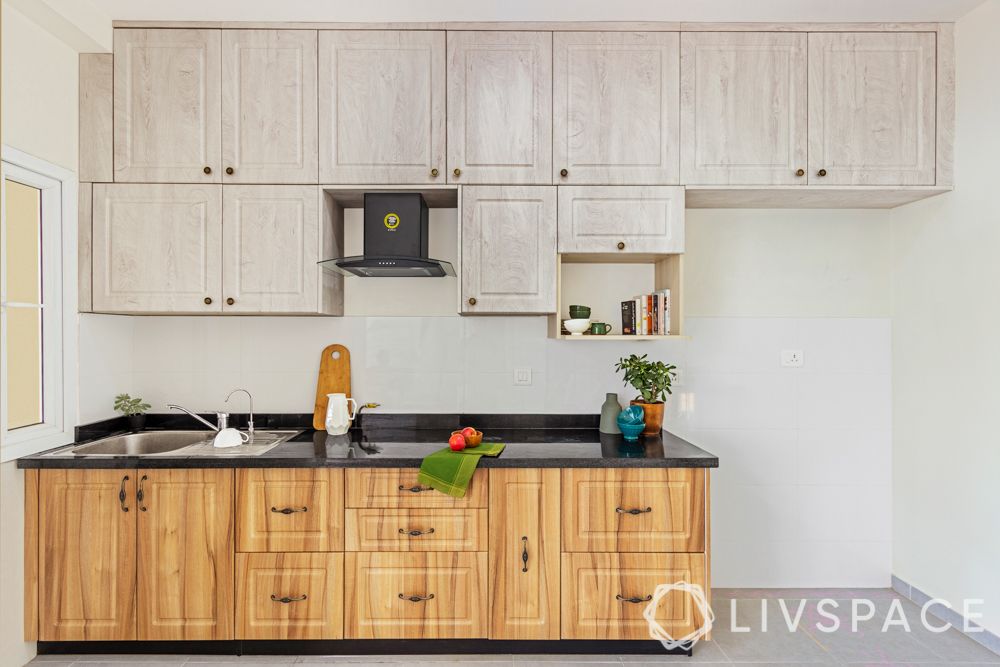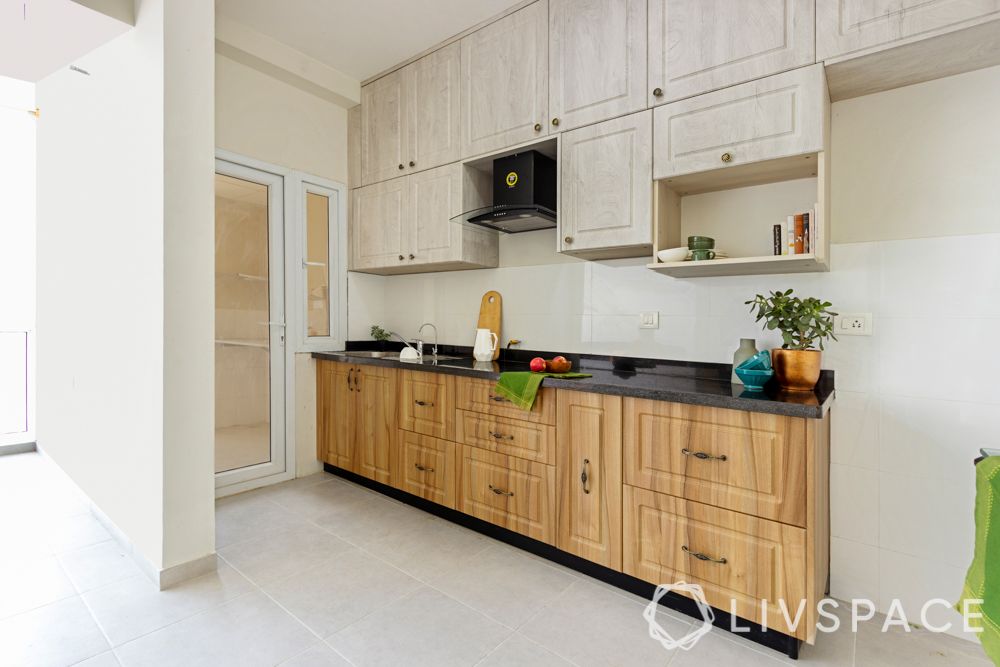 Hema loves cooking and spends a considerable amount of time in her kitchen. Thus, she wanted a design that was practical, convenient, warm and cosy. To suit these requirements, designer Prajwalita Thakuria decided to opt for a kitchen design in classic wooden tones. The lighter shade in the upper cabinets ensures a lighter vibe while the darker tones in the base cabinets keep it low maintenance and easy to clean. The tandem drawers and smooth mechanism are perfect for the elderly couple.
What we Love: The vintage knobs and handles on the cabinets add an old-school charm.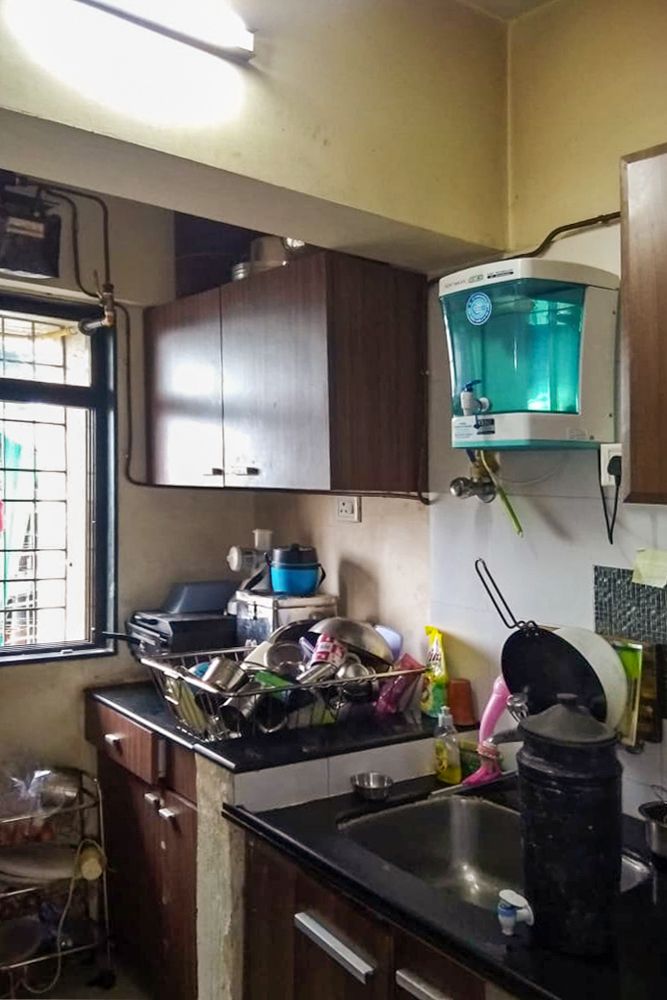 This is among some of our best kitchen designs. The Kohlis' 60 sq. ft. kitchen used to be cramped and small. To tackle the functionality and storage issues they faced, they wanted a full renovation. The kitchen underwent major civil changes to create more space for storage. From a layout change (straight line to L-shaped) to extra overhead cabinets, this small kitchen is fitted to the brim with storage and accessories.
What we Love: The ceramic tiles that mimic a wooden look.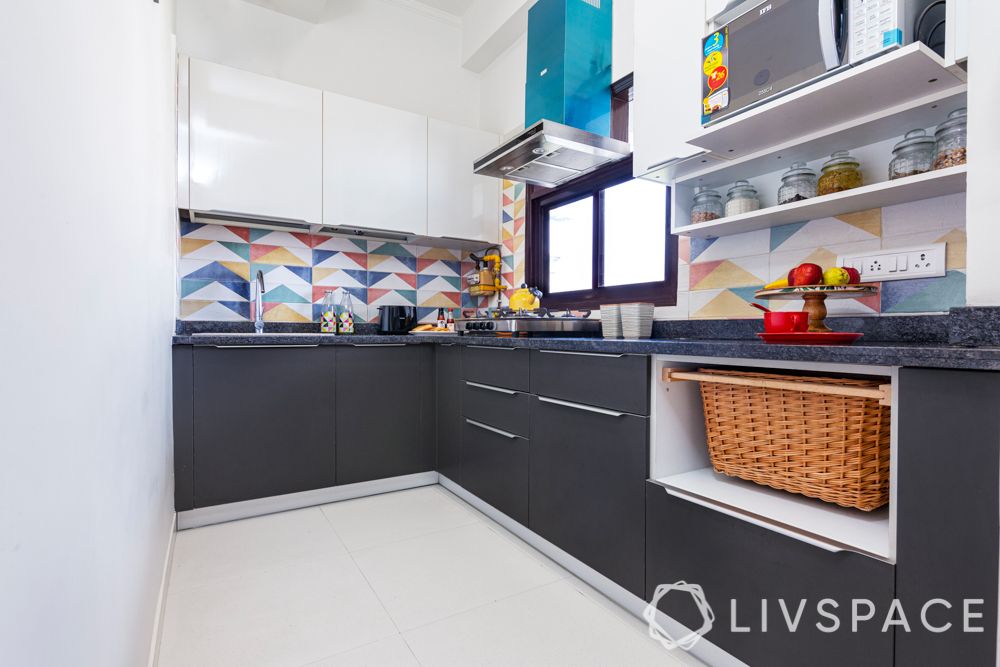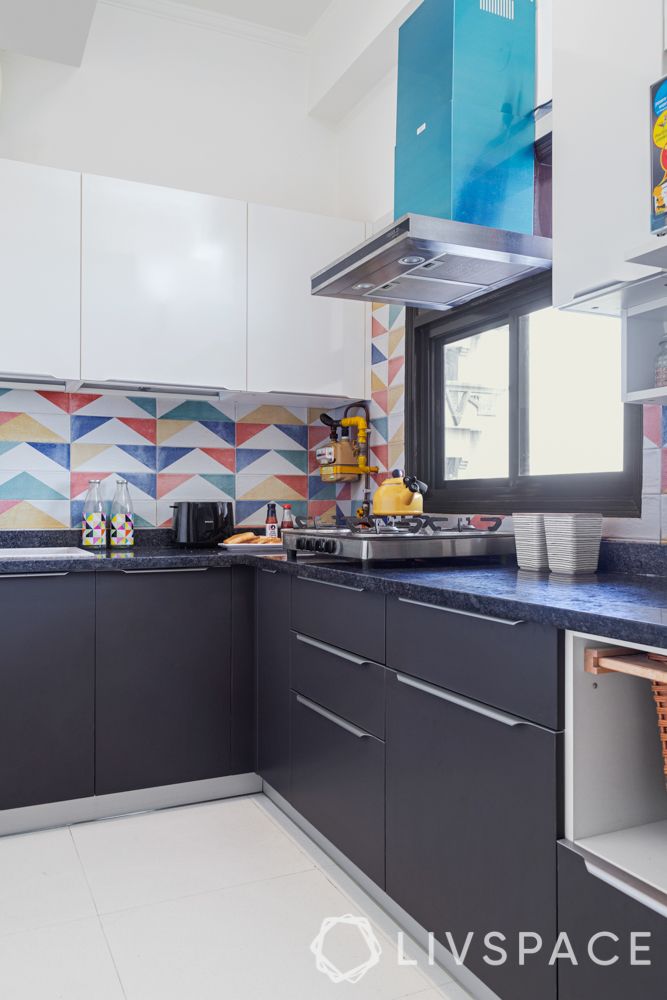 Our apartments are getting smaller and smaller and so are the kitchens. While you may not be able to change the size of your kitchen, you can certainly make the most of the space available. Subhash's kitchen is proof that good things come in small packages! We caught up with our designer Sakshi Gupta to find out how to make a small kitchen look spacious; here are three tips from her. First, add storage units but leave out lofts as these can make the space look crowded. Second, use light colours to open up the space. And finally, in small kitchens, the backsplash becomes the showstopper, so choose vibrant designs.
What we Love: The granite countertop that is durable yet low cost.
High-Budget Kitchen Designs — Above ₹5 Lakhs
Here are the best kitchen designs by Livspace that fall in the high-budget category.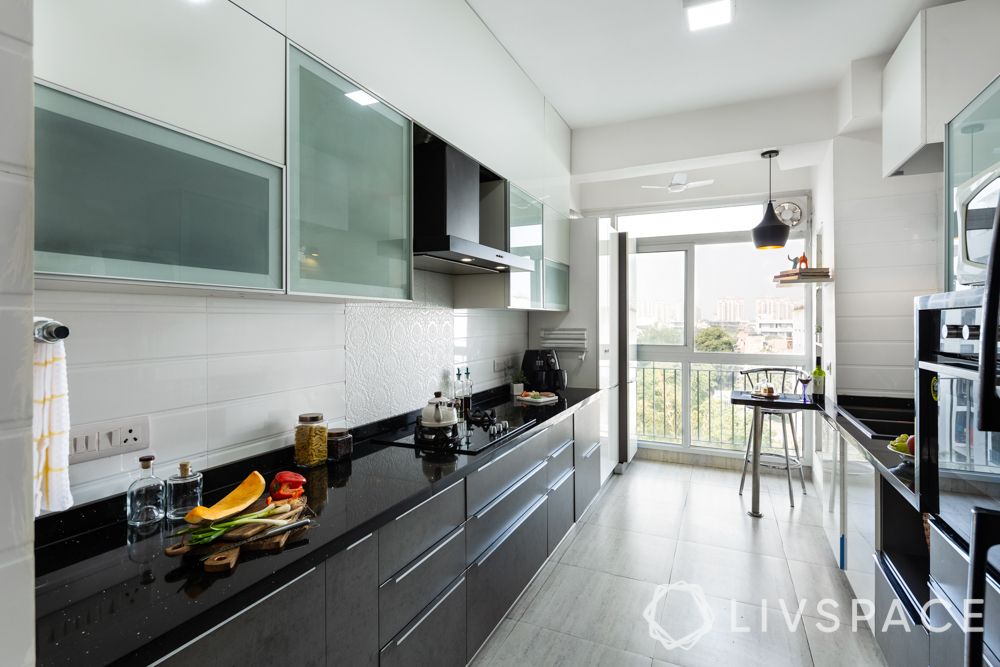 Even the most spacious kitchens can look cluttered if not organised properly. Rohit, an avid cook, wanted a kitchen that would make cooking an enjoyable experience. Being a kitchen with a parallel layout, it was already a great canvas to work with! All that was required was to organise it. Our designer, Shilpa Garg, created separate zones for cooking, dry storage, wet areas etc. Equipped with two tall units for storage and retracting drawers, Rohit's kitchen is a breeze to work in!
What we Love: The Parisian dado tile backsplash in the hob area.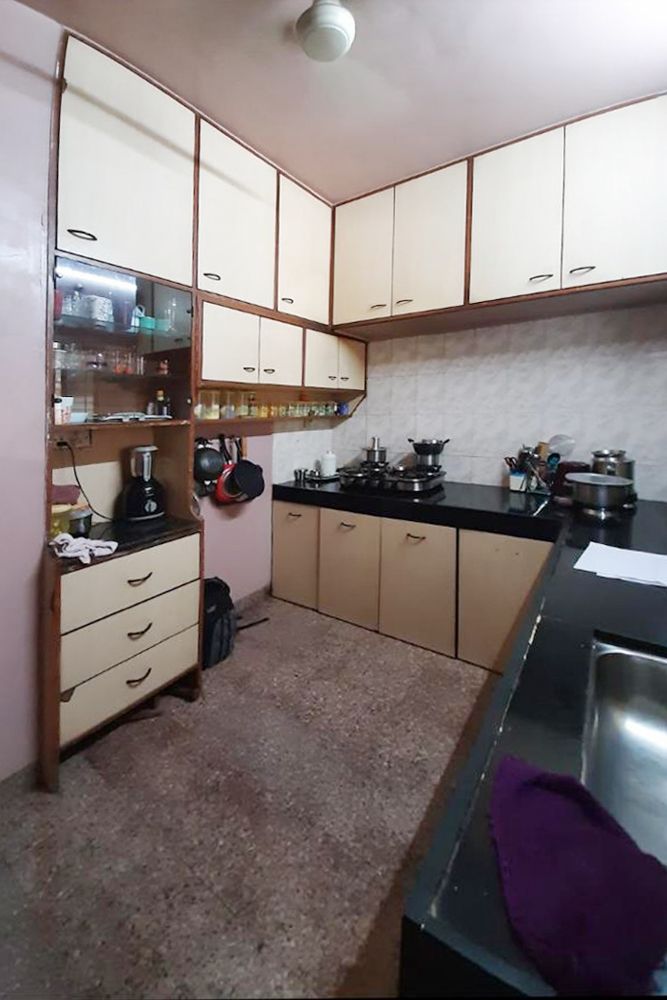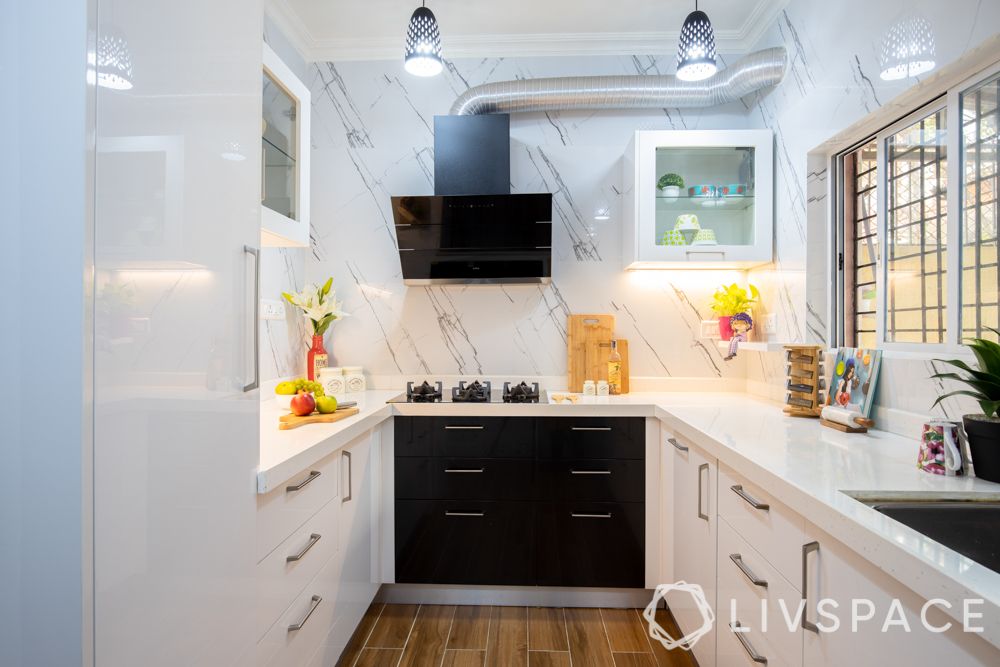 Rohini Karkera's 20-year-old kitchen was still stuck in the 90s and it was high time that it entered the modern world! Designer Aparna Ganesh did some civil changes to give this kitchen a clean, contemporary look. She broke down the RCC lofts and converted the L-shaped layout to a C-shaped one to add extra space and storage. The monochrome theme, high-end acrylic and membrane cabinets and profile lighting ensure this is amongst our best kitchen designs.
What we Love: The marble-like tiles used for the backsplash.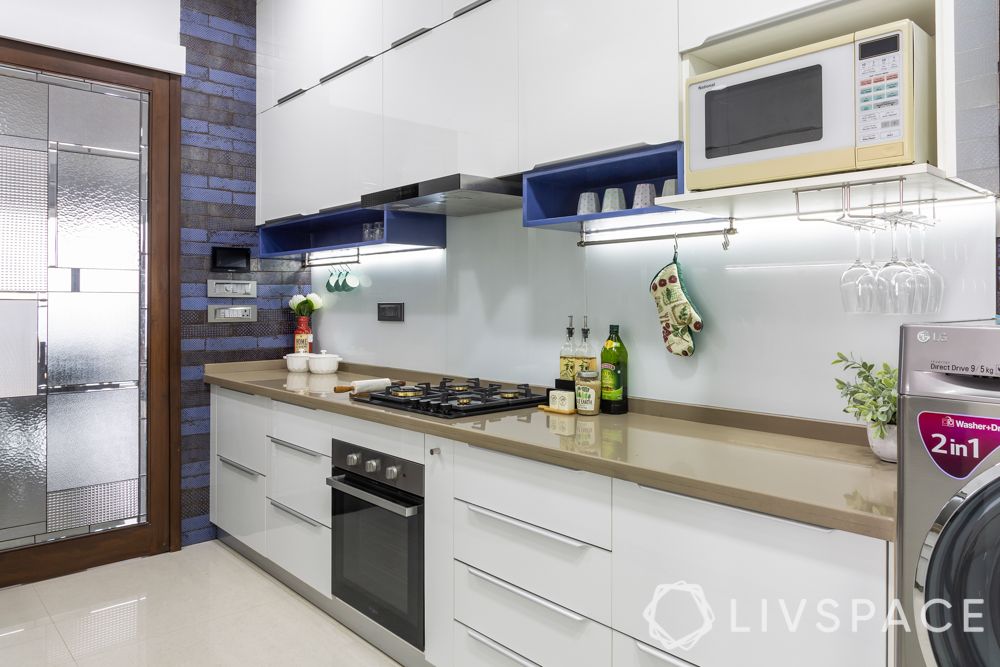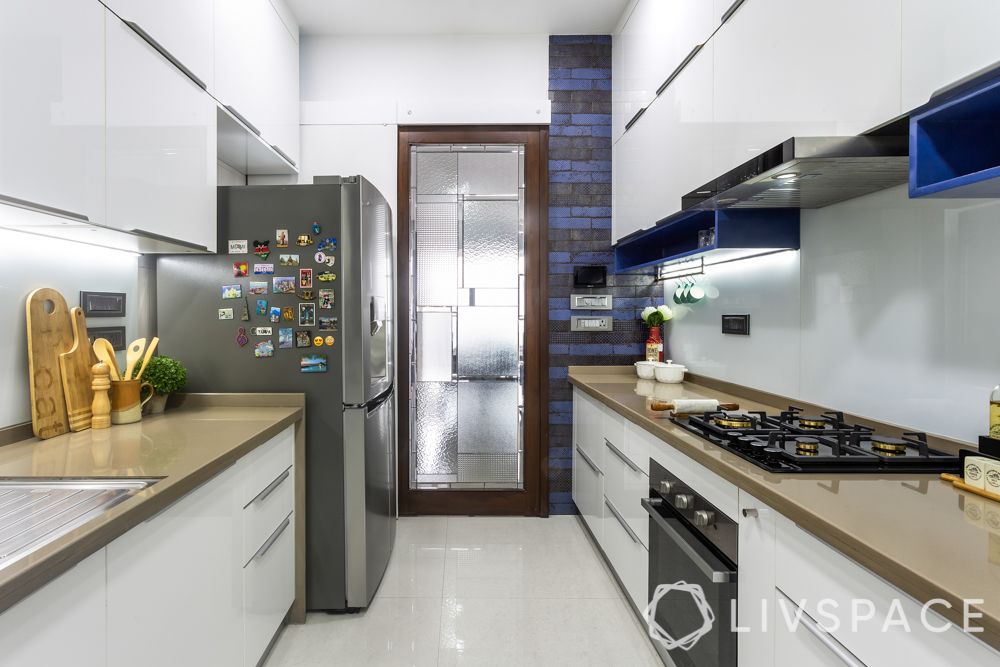 White is not a very common colour seen in Indian kitchens. But the owners of this snow-white kitchen loved the colour and wanted their kitchen design to be pristine white. To break the monotony, designer Ria Hingarh added pops of blue, which look stunning! This kitchen comes with huge drawers, bottle pull-outs, separate cutlery racks and lofts to ensure maximum storage.
What we Love: The in-drawer lighting makes it easy to see the depths of the drawers.
So, did you like this tour through this collation of the best kitchen designs by Livspace across all budgets? We hope they've motivated you to get a renovation done for your own kitchen! For some more inspiration, check out these 100+ open kitchens that are perfect for Indian apartments.
How Can Livspace Help You?
We hope you found our ideas useful! If you want stunning interiors, then look no further. Book an online consultation with Livspace today. Delivering safe home interiors has been our No. 1 priority. Click here to find out how interiors are being delivered following all safety protocols.
We love hearing from you! Write to us with your comments and suggestions at editor@livspace.com