Designing the interior of your 2BHK can be an exciting process. From choosing the right colours to the perfect furniture pieces, it is a great opportunity to express your personal style. However, you may end up overspending if you don't carefully plan and budget properly. In this article, we'll walk you through the factors that impact the 2BHK interior design cost and how to estimate your expenses. This way, you can stay within your means and still create a beautiful home!
How to Calculate Your Budget? Use These 2BHK Interior Design Cost Inputs?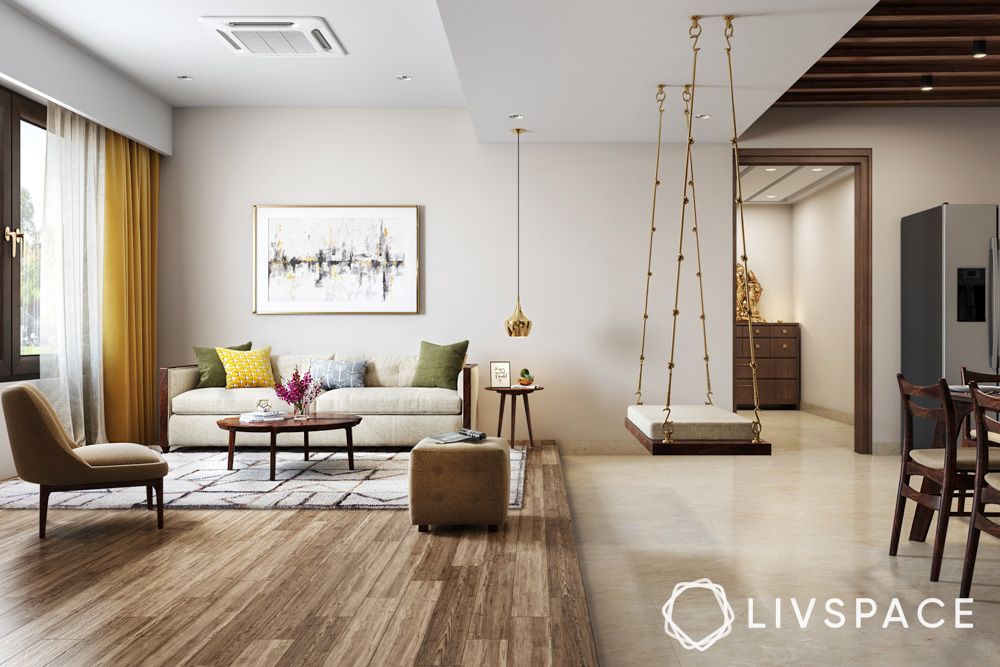 The interior cost per sq. ft. depends upon multiple factors. The table below lists some of the main components that you should consider while computing the design cost. However, actual price components will ultimately depend upon individual requirements.
Factors
Cost Range*
Notes
Furniture
₹1200 to ₹2500 per sq. ft.
Kitchen, wardrobe, panelling
and other storage units.
If you want a low budget design,
you need to opt for laminate
Furnishings
Curtains – ₹30,000 to ₹70,000
Sofa – Starting from ₹30,000 to ₹1,00,000
Flooring
₹175 to ₹450 per sq. ft.
For wooden laminate,
vinyl and SPC flooring
Ceiling
₹175 to ₹300 per sq. ft.
For gypsum false ceiling
with electrical work and light fixtures.
Cost may vary based on design.
If we add laminate or wooden
elements to the false ceiling,
this cost will go up by
20% to 40%
Painting
₹75 to ₹115 per sq. ft.
Carpet area of the property
Civil Work
Basic Civil Work – ₹50,000 to ₹1,10,000
Basic civil work includes
kitchen tiling and countertop.
Actual cost of civil work
will depend upon the
nature of work. Cost will
also vary based on the
types of materials used
*All prices mentioned above are excluding 18% GST. These prices are an estimate. Your overall 2BHK design charges can vary depending on the city, labour charges, material and finish, design, and the size of your home
Now that you know the components that go into calculating your total 2BHK interior design cost, here is a cost estimate for a 600 sq. ft. to 800 sq. ft. 2BHK:
| | | |
| --- | --- | --- |
| Configuration | Sq. Ft. Range | Total Interior Design Cost (Approx.)* |
| 2BHK | 600 sq. ft. to 800 sq. ft. | ₹700,000 – ₹15,00,000 |
*These Livspace interior design costs are for reference only; exact costs might differ according to the nature of your requirements, size of home and location. Talk to our designer to get a free quote today.
Room-Wise Breakdown: 2BHK Interior Design Costs
Whether you want a basic home or a premium one, getting the room-wise costs of your 2BHK interior design will help you figure out a clear budget.
Room
Cost for
Essentials-Only
2BHK Design*
Cost for
Premium
2BHK Interiors*
Cost for
Luxe
2BHK Interiors*
Kitchen
₹1,12,000 – ₹3,16,000
₹1,29,000 – ₹3,63,000
₹2,13,000 – ₹5,99,000
Living Room
₹1,75,628 – ₹2,19,849
₹2,30,495 – ₹2,87,691
₹2,92,323 – ₹3,60,535
Dining Room
₹1,15,028 – ₹1,20,042
₹1,51,421 – ₹1,57,132
₹1,84,027 – ₹1,91,040
Bedroom 1
₹2,12,185 – ₹ 2,95,555
₹2,58,456 – ₹3,43,149
₹3,77,516 – ₹4,88,557
Bedroom 2
₹2,12,185 – ₹ 2,95,555
₹2,58,456 – ₹3,43,149
₹3,77,516 – ₹4,88,557
Bathroom
₹63,211 – ₹71,752
₹77,332 – ₹86,299
₹82,705 – ₹92,312
*These costs are for reference only; Exact costs might differ based on location, scope of work and size of home. Talk to our designer and get a free quotation today.
How to Calculate 2BHK Interior Design Cost With These Estimates for Furniture Finishes?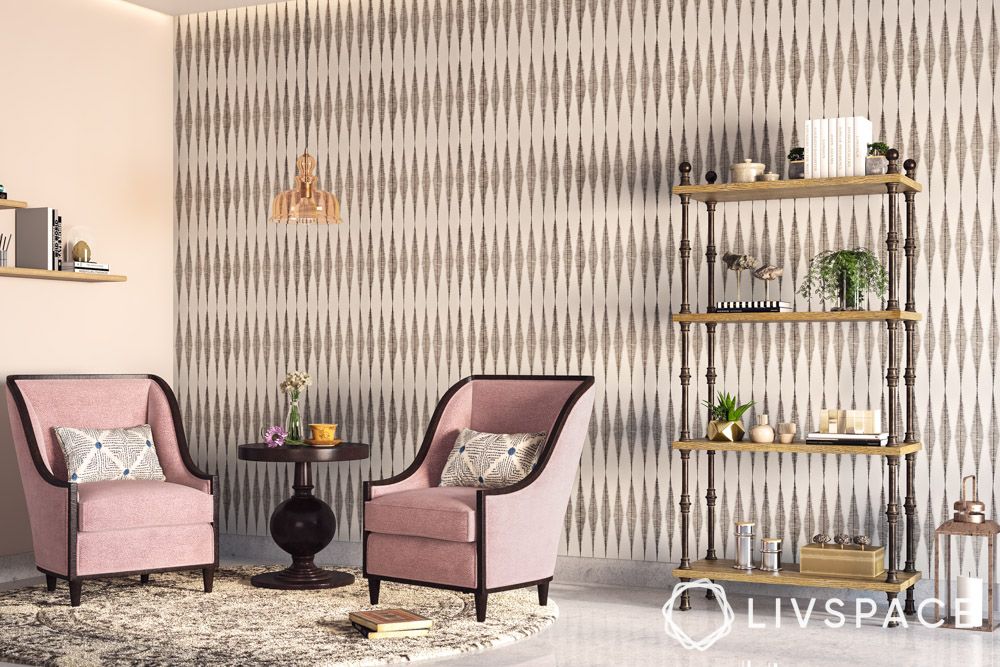 Another important aspect of your 2BHK interior design cost are the finishes of your furniture. Use the table below to find the right finish to suit your budget.
Finishes
Cost Range*
Scope
SF Laminate
₹1600 to ₹2000 per sheet
All matte laminates
like solid colours
and wooden finishes
Glossy Laminate
₹1800 to ₹3000 per sheet
All glossy laminates,
MR laminates and
MR+tuff and high gloss laminates
Acrylic Laminate
₹6000 to ₹9000 per sheet
The cost will vary as per thickness
(up to 2mm) and the nature
of the finish (anti-scratch)
Veneer
₹4000 to ₹14,500 per sheet
Engineered veneer is more
cost-effective than natural veneer.
Smoked veneer costs the most
Duco
₹150 to ₹300 per sq. ft.
Only solid colours are possible
in Duco. Metallic colours
will cost more
PU
₹250 to ₹600 per sq. ft.
Clear PU costs less
than solid and metallic PU
*All prices mentioned above are excluding 18% GST. These prices are an estimate. The actual charges can vary depending on the city, labour charges, material and finish, design, and the size of your home
What Affects the 2BHK Interior Design Cost?
Firstly, let's begin by acknowledging that no one can give you a definitive 2BHK interior design cost because no two homes or homeowners are alike. However, we can help you understand how each of the following elements contribute to the final 2BHK interior cost. In general, the industry thumb rule is to budget for at least 10 to 15% of the cost of your property. This can be higher depending upon your requirements.
#1: Size
Cost of interior design can go up when a wider area is covered
Also Read: 10+ Low-Budget House Designs in Mumbai Under ₹10 Lakh by Livspace
#2: Scope of Design
End-to-end interiors, including civil work, electricals, plumbing, etc., will cost more
If your scope is only wardrobes, kitchen and storage, the 2BHK interior design cost will be lower
#3: Renovation vs New Property
Interior design cost for a renovated home will usually be higher than a new one if all other factors are kept constant
Renovation – Includes demolition costs, civil changes, faulty plumbing changes, electrical work, flooring
Maximum damage to an old home occurs due to water seepage and leaky plumbing, which can make bathroom renovation mandatory, which pushes up the cost
#4: Materials
Type of finishes and materials of shutters and carcasses will affect the cost of a 2BHK interior design
Acrylic is usually expensive but low-maintenance
Laminate is usually affordable and sturdy
Membrane has a seamless finish but can require maintenance
#5: Designer's Fees
Interior design cost of a 2BHK at Livspace includes the designer's fees and is not charged separately. It is our aim to give you complete transparency in our pricing and we have no hidden charges
In comparison, market rates can be vague and can shoot up by 45% from first quote to final cost. Also, most interior designers in the market have their own way of computing interior design costs which can be confusing and misleading
#6: Locality
A 2BHK flat's interior design cost also depends upon the city and locality
Interior design of a 2BHK in an expensive locality can cost more
When it comes to the cost of products, services, raw materials and labour, there is a difference of 5% to 15% across different locations
#7: Design Preferences
Your preferred interior design style and complexity of design will affect the 2BHK interior design cost
Scandinavian style, which uses a lot of wood in the interiors, can cost more than a simpler style
While budgeting for a 2BHK home interior, the homeowner should list down the basic necessary furniture and decor that is required, like, a kitchen, wardrobes, storage, beds, sofas and curtains. The actual interior design costing will be derived from this including basic finishes and core materials. Once the initial costing is derived, if there is any difference from the budget set by the homeowner, components of interior design can be added or reduced.

—Akshay J Shetty, Territory Manager Services, Livspace
Real 2BHKs by Livspace and How Much Will They Cost?
Now that you know the factors that affect the 2BHK interior design cost, let's show you how a combination of these factors materialise into budgets for real homes. We have picked sixteen #LivspaceHomes and bucketed them under the following categories:
Homes under ₹8 lacs
Interiors under ₹12 lacs
Homes under ₹25 lacs
Interiors under ₹45 lacs
#1: Interior Designs Under ₹8 Lacs
We love working on homes within this budget because it can be challenging to provide high-quality, functional and stunning homes without crossing the budget limit. These real Livspace homes are examples of how we designed stunning 2BHKs within this budget without compromising on the look and functionality of the design.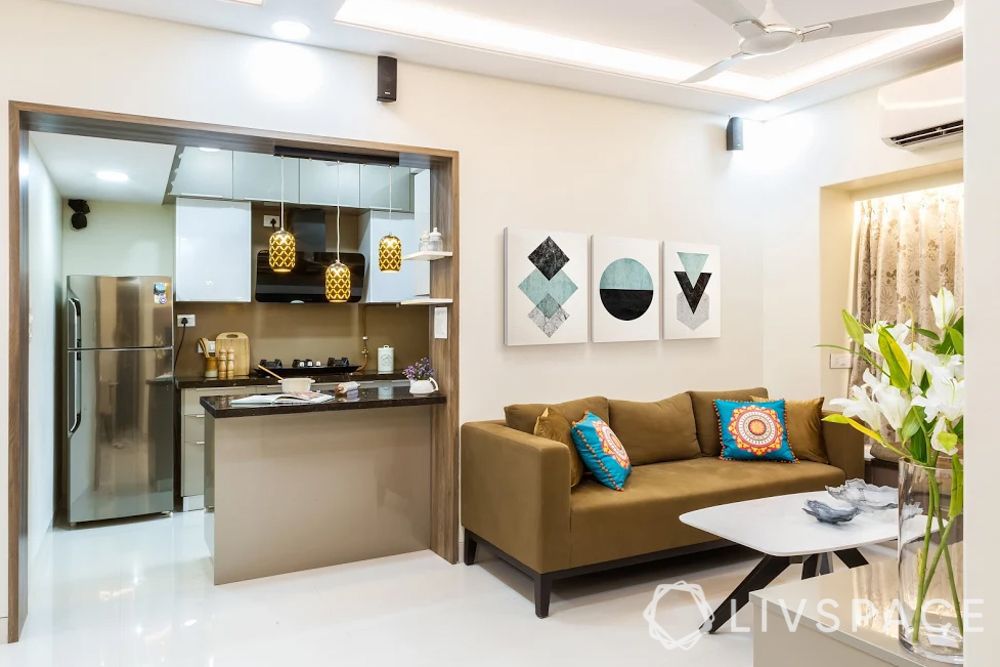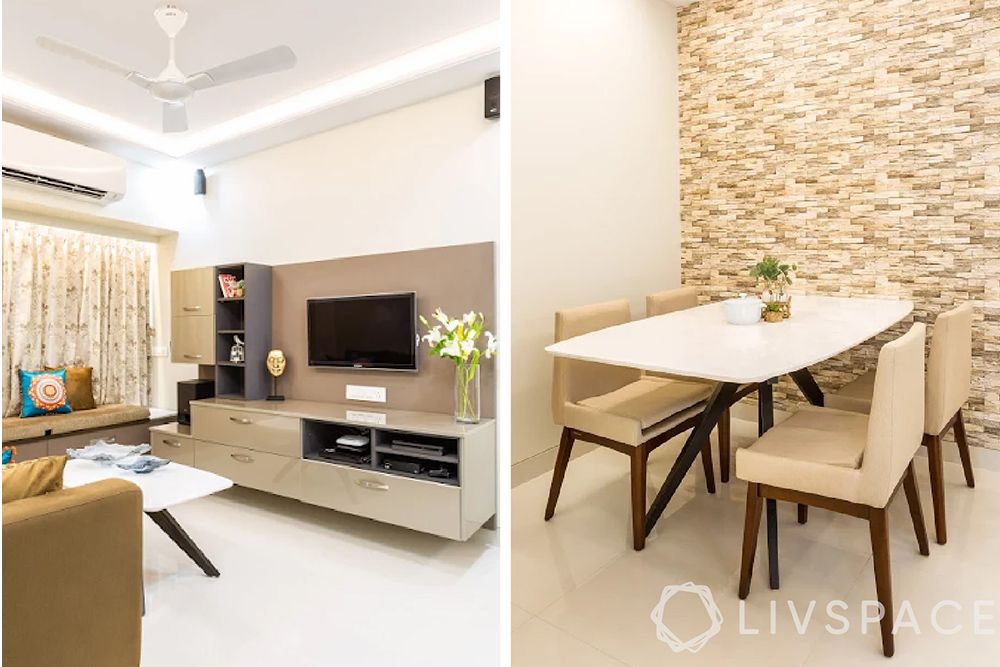 Budget: ₹6 lacs approx.
Scope: Full home design with civil changes
Size: 850 sq. ft.
Breakdown of Cost:
The kitchen was the main investment. It originally had a closed layout which was opened up and a mini breakfast counter added
Countertop and backsplash material – Quartz
TV unit, wardrobes and beds in the bedrooms
Budget option – Wallpaper for the accent wall in the dining room
My experience of having my home designed by Livspace was smooth. I appreciate Avani's work the most in my kitchen, where I spend a major part of my day. I also love her ideas that have materialised into the pooja space in our living room.

—Kavita Maurya, Livspace Homeowner
Wondering how much your 2BHK interior design will cost you? Use this full home design calculator to get an estimate.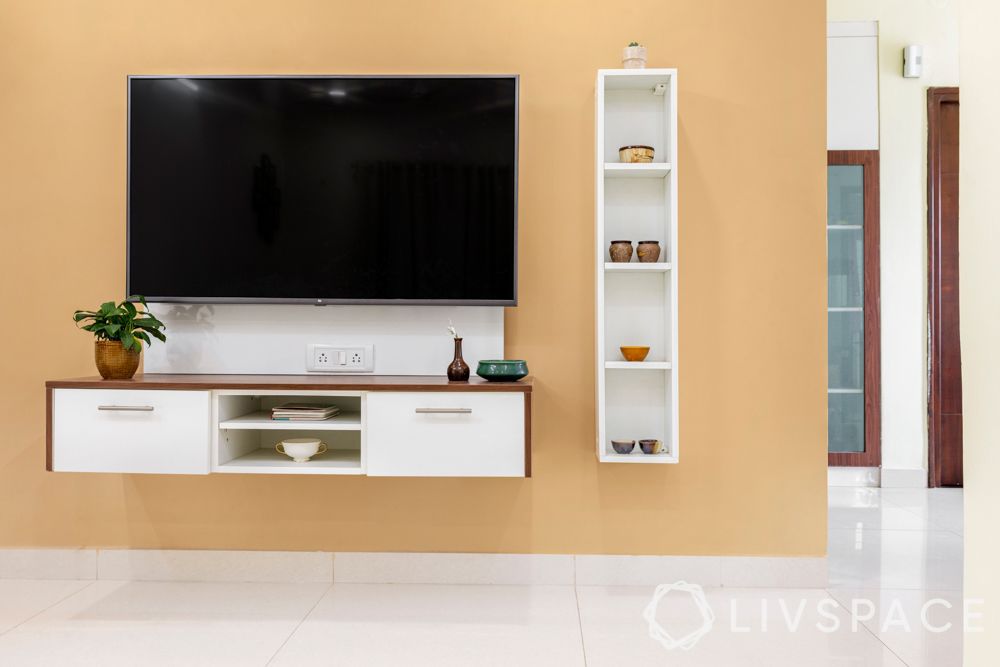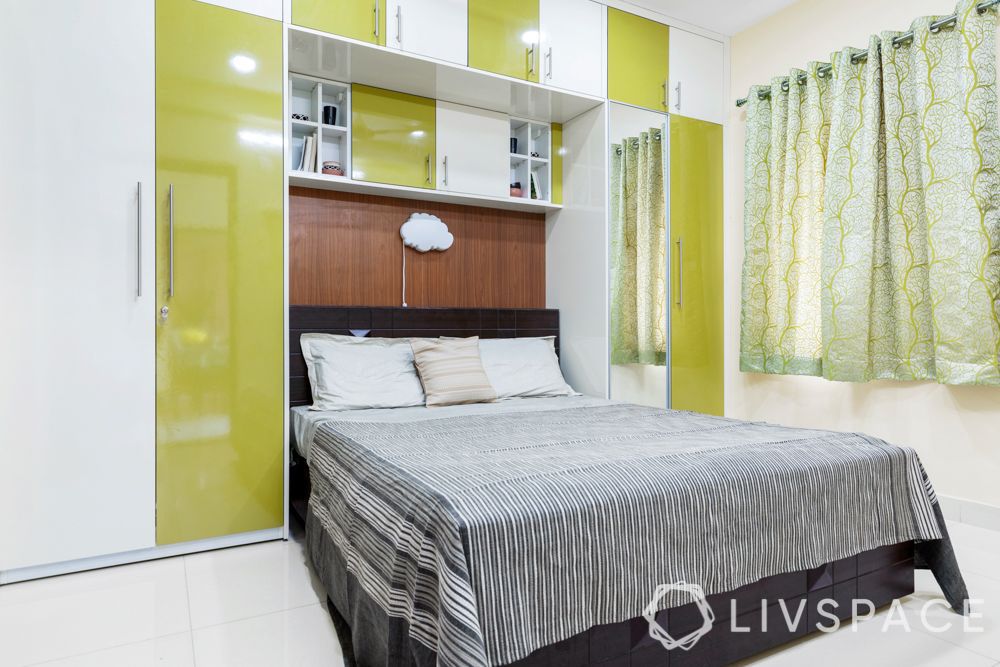 Budget: ₹5.5 lacs approx.
Scope: Kitchen, wardrobes and storage units
Size: 1,300 sq. ft.
Breakdown of Cost:
Modular TV unit and a customised pooja-cum-crockery unit
A modular kitchen and storage-cum-wardrobes in the bedrooms
Budget: ₹7 – ₹8 lacs approx.
Scope: Full home design (without kitchen)
Size: A 2BHK
Breakdown of Cost:
The living room underwent layout and civil changes to create space where up to 15 people can sit together
A multipurpose shoe rack with a bar unit and storage in the living room
The interior design cost also includes a TV unit with extra storage
The stone-look wallpapers in the living and dining areas lower the budget
Wardrobes in the bedrooms, with one that has an attached pooja unit
Budget: ₹8 lacs approx.
Scope: Kitchen, wardrobe and storage
Size: 900 sq. ft. approx.
Breakdown of Cost:
The 2BHK interior design cost includes a Scandinavian-style kitchen with a minimal breakfast counter for one and space under a countertop to fit in the dishwasher
A white TV unit in the living room makes the space look bigger
Modular wardrobes with maximum storage space
#2: Interior Designs Under ₹12 Lacs
Let's look at the 2BHK flat interior design cost of a few homes that have splurged on some elements of design while saving on others.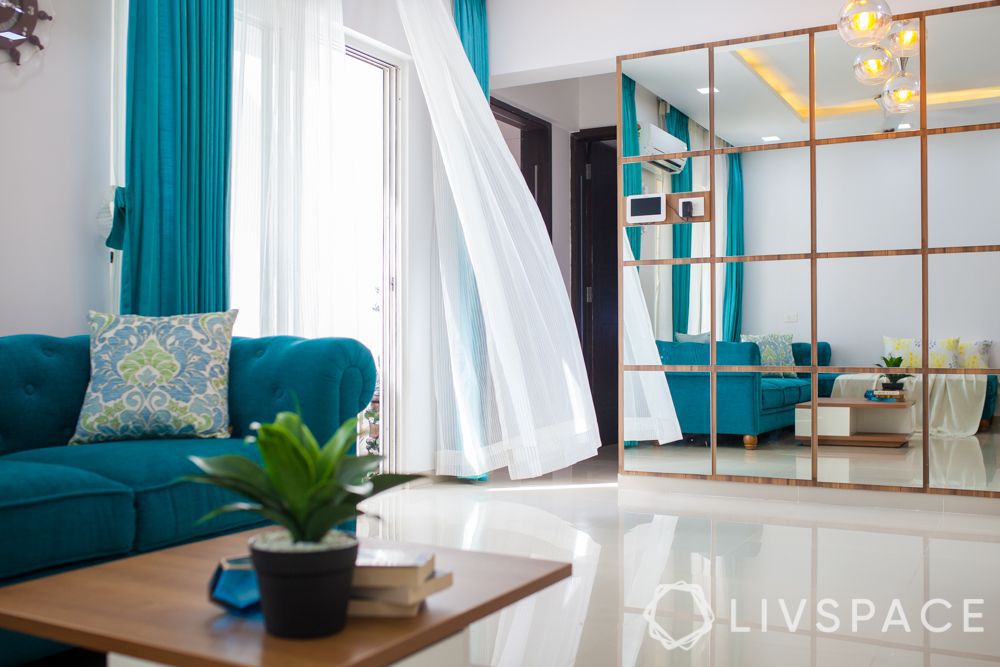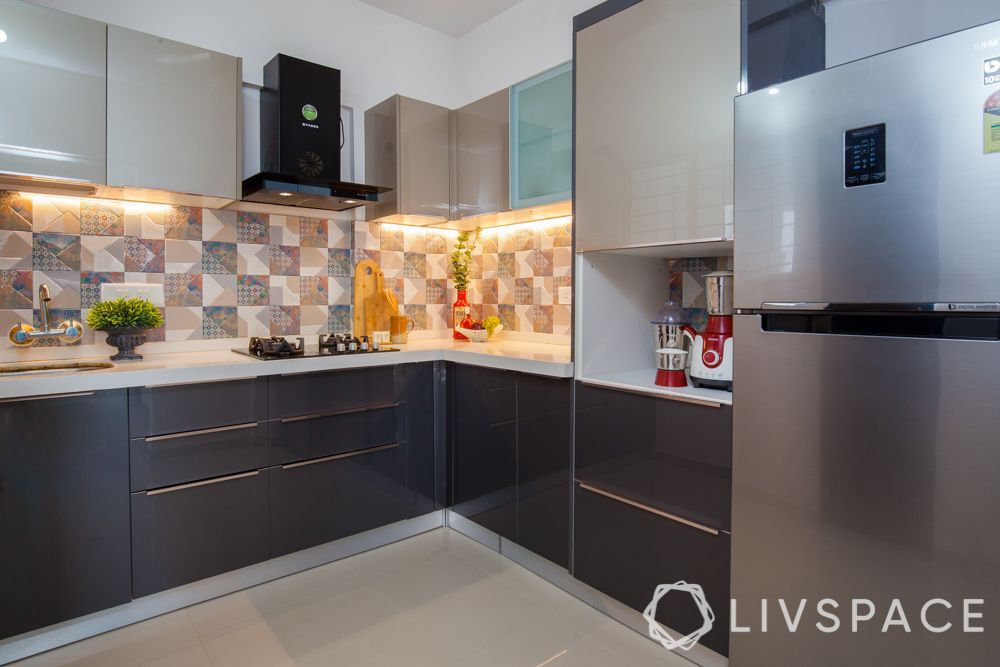 Budget: ₹9.5 lacs approx.
Scope: End-to-end interiors
Size: 750 sq. ft.
Breakdown of Cost:
Everything picked from the Livspace catalogue
The interior design cost per sq. ft. included a kitchen, wardrobes, beds, a dresser unit and some living room furniture
A customised partition with small pieces of mirrors. This is more affordable than a full mirror panel
Basic peripheral false ceilings also included in the interior design cost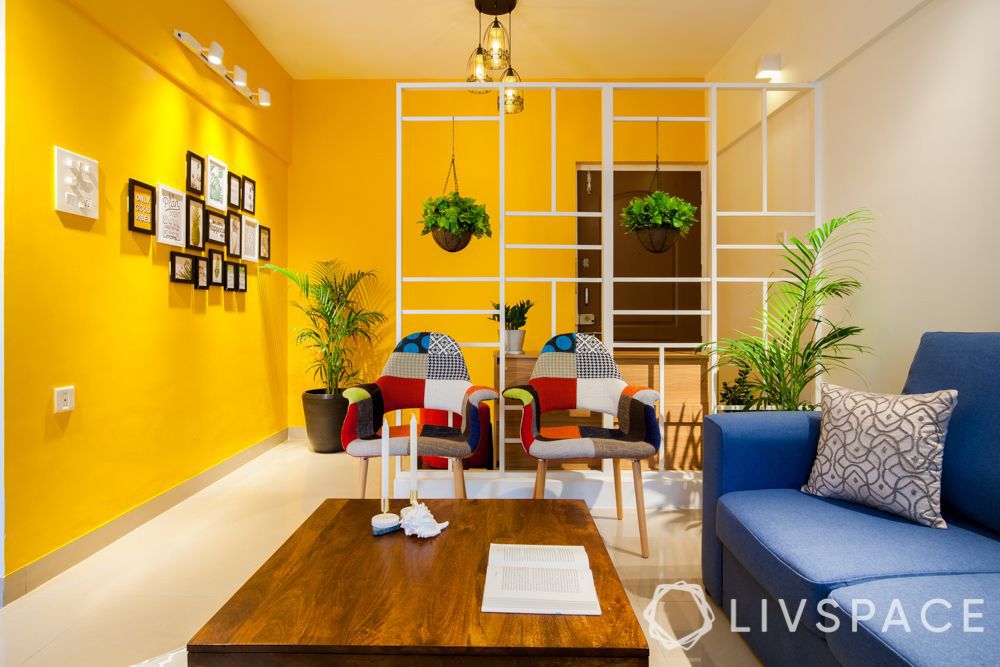 Budget: ₹11 lacs approx.
Scope: Renovation, kitchen excluded
Size: 900 sq. ft.
Breakdown of Cost:
Renovation without too many structural changes to keep the demolition cost low
Brightly-coloured emulsion paint has been used to create highlights
Wall mouldings and a customised partition in the living room take up a major chunk of the interior design cost
Other inclusions: A centre table in the living room that doubles up as a dining table, modular wardrobes with lofts
Track lighting
Budget: ₹11.5 lacs approx.
Scope: Modular and basic services
Size: 1,200 sq. ft. approx.
Breakdown of Cost:
The kitchen takes up the major chunk of this 2BHK interior design cost with a high-end acrylic finish with ply carcass for the base cabinets and MDF for the upper cabinets
Maximum storage in the form of cabinets, wicker baskets, open shelves and a tall unit as well as a mandir. The colour scheme has been kept neutral to make the space look more open
The master bedroom wardrobe is L-shaped on one side, covering the entire width of the bed, with multiple lofts
A TV unit with a slim storage ledge and a compact crockery unit for maximum storage make sure that the rooms look uncluttered
Budget: Under ₹10 lacs
Scope: Kitchen, wardrobe and storage
Size: 940 sq. ft. approx.
Breakdown of Cost:
Modular solutions like a shoe rack with seating in the foyer, a budget-friendly Livspace TV unit, a sleek bar-cum-crockery unit and integrated furniture like a study table with storage
In the kitchen, the wall was hacked down to create a breakfast counter
Space-compliant, multifunctional modular wardrobe designs
I am really happy with Livspace's service, they did timely follow-ups, and they really took the ownership. I was handling everything alone, so I couldn't visit every day to supervise, but they took the ownership, the design is awesome and the 3D design that they made, came out just like that. Overall, it was a nice experience, it sounds a little expensive but it was totally worth it.

—Deepa Roy, Livspace Homeowner
#3: Interior Designs Under ₹20 Lacs
Here, we'll explore some plush and slightly high-end homes in terms of design and material choices.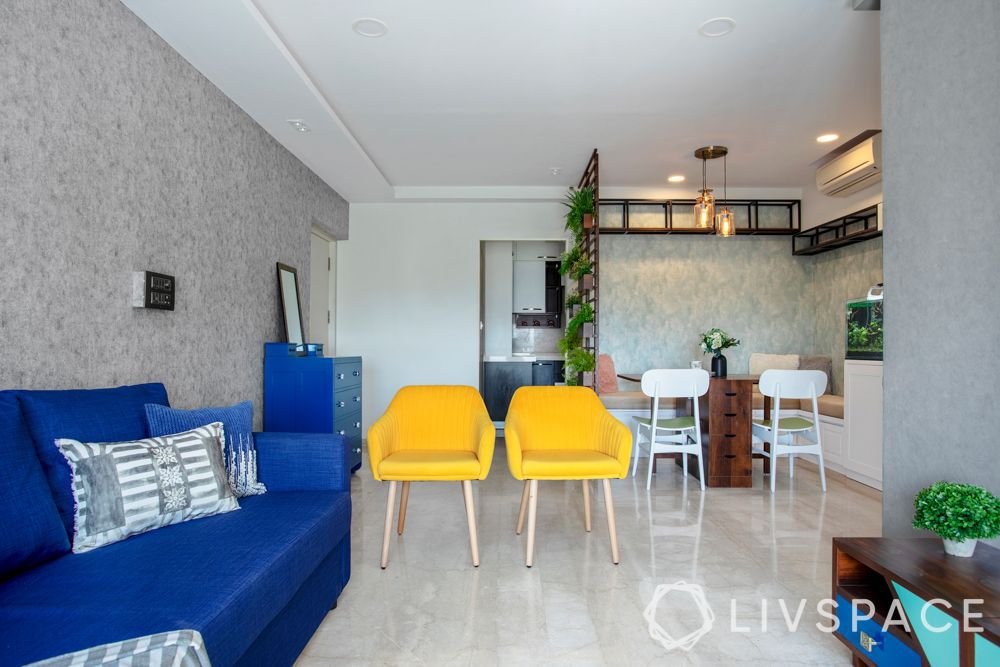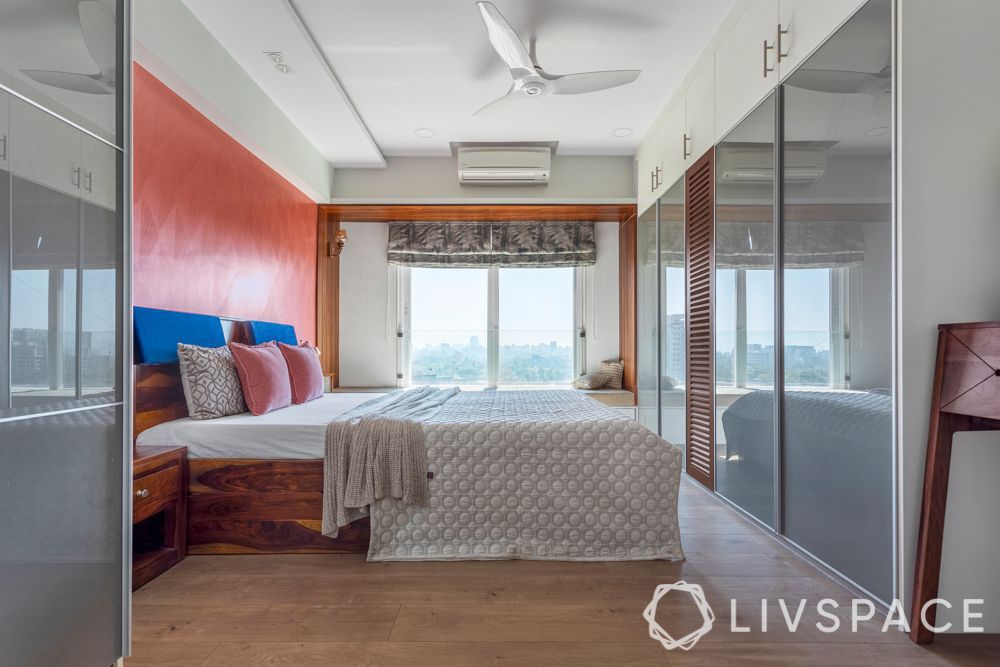 Budget: ₹20 lacs approx.
Scope: Full home design
Size: 950 sq. ft.
Breakdown of Cost:
Customised sliding wardrobes with a louvred shutter in the middle
Customised window seating in the bedrooms and living room
A slab was extended in the kitchen to convert it into an L-shaped kitchen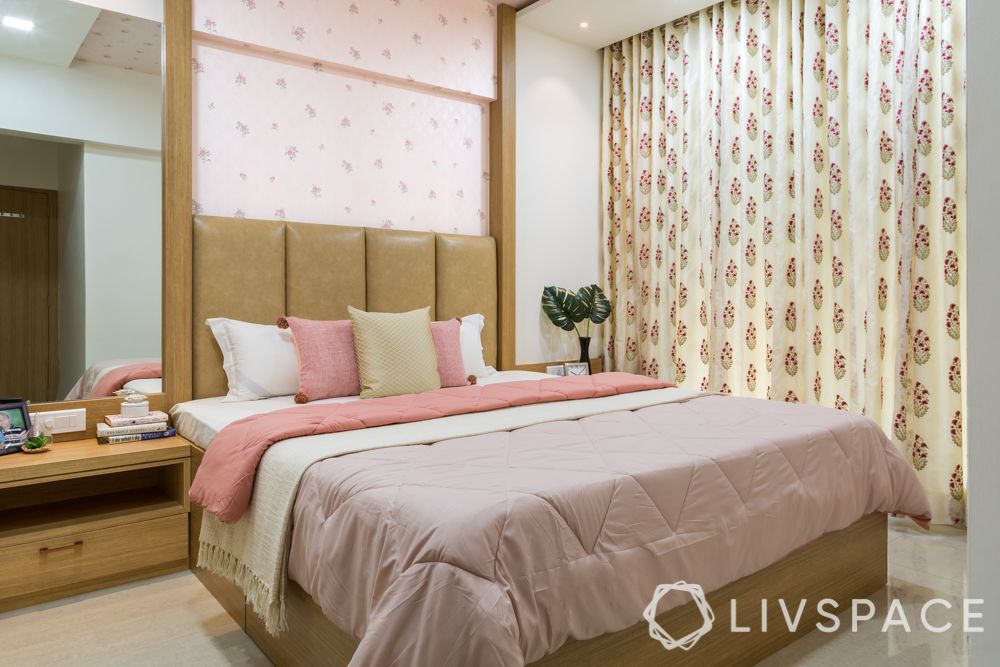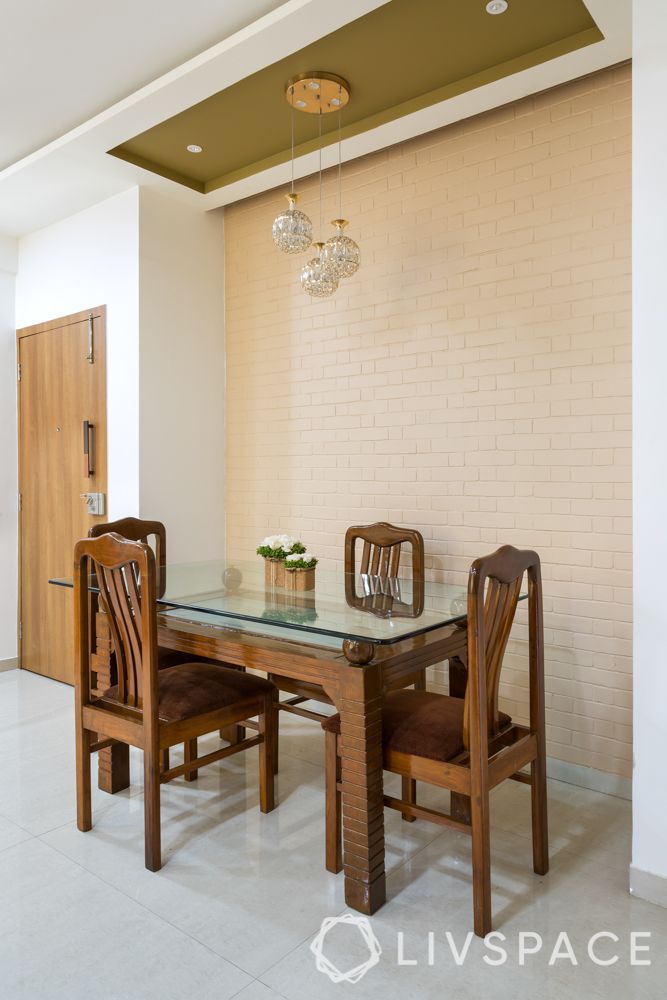 Budget: ₹14 lacs approx.
Scope: Renovation, excluding kitchen
Size: 750 sq. ft.
Breakdown of Cost:
The home interior design cost includes the gypsum ceiling and the brick wall in the dining area
Fancy headboards and pastel wallpapers bring out the best in the bedrooms
Budget: Under ₹20 lacs
Scope: Kitchen design, kitchen hob and bedroom wardrobe
Size: A 2BHK
Breakdown of Cost:
The modular kitchen comes with multiple workable countertops as Priya, the homeowner, and her entire family like to cook
The L-shaped kitchen has a breakfast counter and a glossy acrylic finish which is child-friendly
In the master bedroom, a corner niche has been used to create perpendicular his and her wardrobes, with open cabinets in between
The final finishes give such an awesome look! A big thank you to the team for their support in the entire journey from design to delivery. I'm so happy with the quality of the work.

—Priya, Livspace Homeowner
Budget: ₹16.5 lacs approx.
Scope: Full home design
Size: 620 sq. ft. approx.
Breakdown of Cost:
Modular sliding wardrobes with mirror panels to make the space look bigger
Floating TV units with storage and display spaces
A bay window in the bedroom that comes with seating and hidden storage
A study unit with ample display shelves
Minimal yet striking ceiling designs across all the rooms
Tour the entire home:
#4: Interior Designs Under ₹45 Lacs
Here are some premium homes in terms of finishes, materials and elaborate design ideas.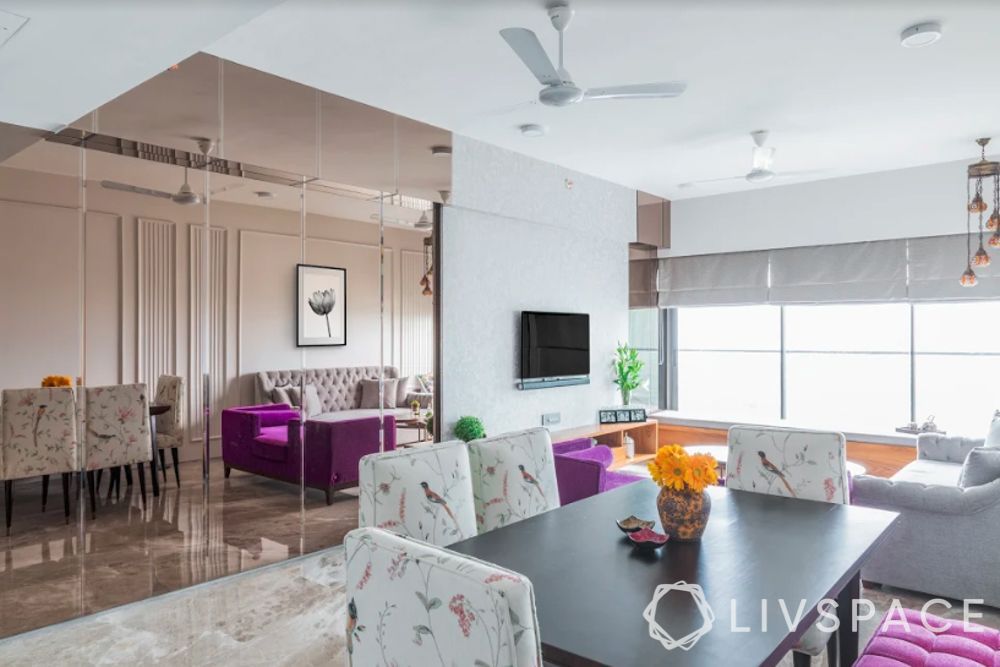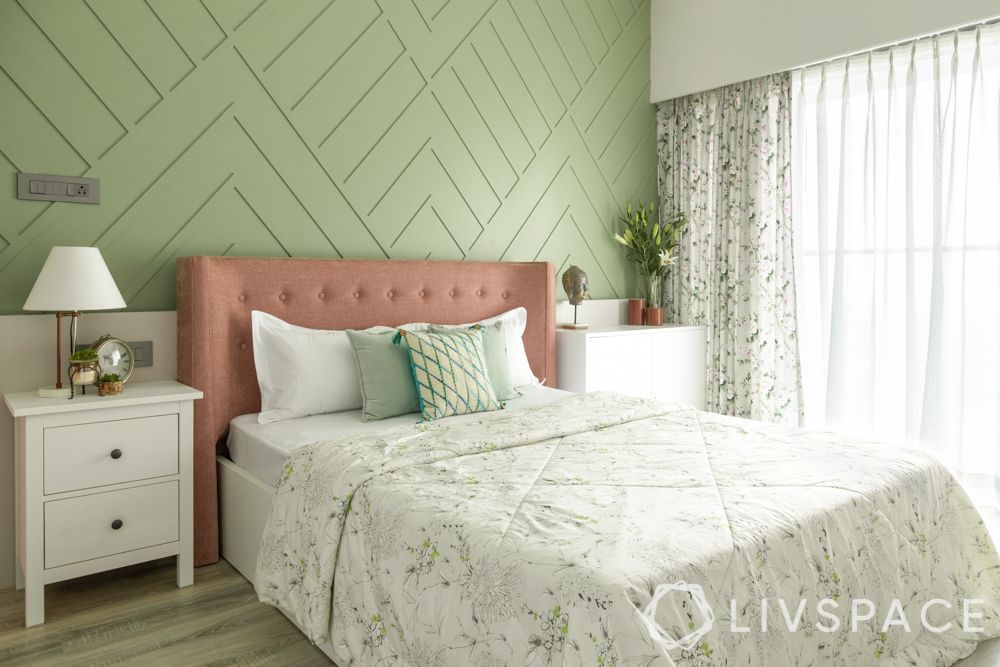 Budget: ₹30 lacs approx.
Scope: Full home design
Size: 900 sq. ft.
Breakdown of Cost:
The wall-to-wall tinted mirror panel is the most striking feature in this living room
Maximum storage in the high-gloss laminate kitchen
The interior design cost includes customised furniture and wall panelling in the master bedroom
The daughter's bedroom is customised end-to-end with a loft bed with storage underneath and a storage unit with the daughter's name on it
Our designer Pallavi Goel was fantastic. She was with us through the ups and downs of all our decisions. She gave our home personal touches wherever possible. The ideas and designs were creative, the execution was seamless, the quality was trustworthy and the outcome was absolutely superlative! We'd like to thank Pallavi and the Livspace team for this experience and also a friendship to cherish for life.

—Ekta and Kunal Khanna, Livspace Homeowners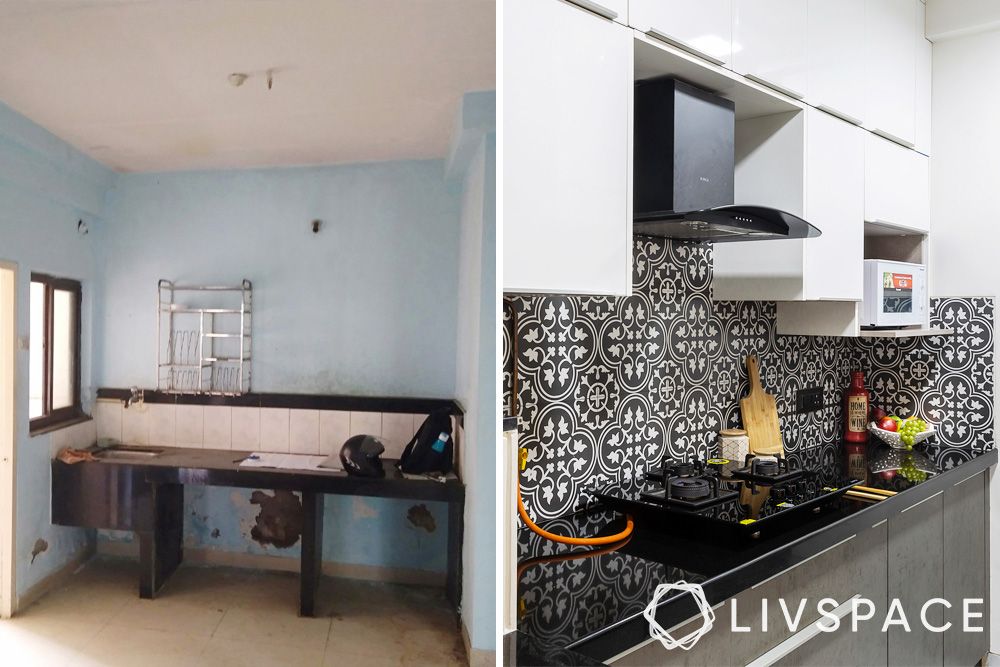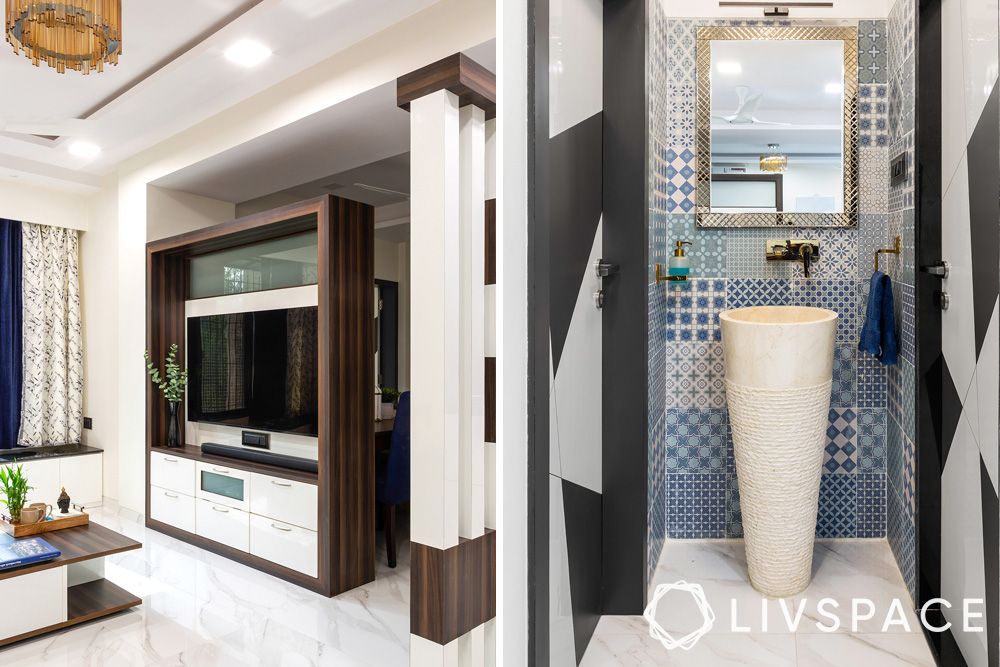 Budget: ₹45 lacs approx.
Scope: Renovation
Size: 750 sq. ft.
Breakdown of Cost:
Everything from flooring, walls and ceilings to plumbing and electrical wires has been revamped
We changed the kitchen layout to make it more functional
Out of two entrances, one was closed to create a brand new foyer with ample space for a fully customised pooja unit
The family opted for expensive veneer finishes and an uncut marble washbasin
Budget: ₹25 lacs approx.
Scope: Full home design
Size: A 2.5BHK
Breakdown of Cost:
The existing kitchen wall was broken down to create an open kitchen that flows into the living area. Adding handleless cabinetry gives the kitchen a seamless look
Classy lighting solutions, chandeliers, a mirror accent wall in the dining area, glass and gold accents, panelling with a marble texture and other grand-looking textures like veneer, velvet and wood make this 2BHK look opulent
Accent walls in the rooms
Budget: Under ₹30 lacs
Scope: Full home design
Size: 700 sq. ft. approx.
Breakdown of Cost:
Distinct Indian elements in the living room like a window arch, curvy furniture and a PU painted wall-mounted mandir in vibrant colours
The existing parallel kitchen was demolised to create an L-shaped kitchen that has maximum storage and follows the golden triangle rule
Unique wall designs like half and half wall painting with portrait moulds and texture paint, wallpaper panels and stencil painting on the wall
False ceilings with spot lights and recessed lighting
As a designer, I was very happy to work with Sumit as he did not shy away from experimenting with colours. He understood my taste perfectly and designed options that were relevant for us. In fact, the design phase moved rather quickly for us!

—Kruti Gala, Livspace Homeowner
Also Read: What Is the Cost of Interior Design for an Average 3BHK Apartment?
With easy EMIs, your dream 2BHK is just a step away:
How Can Livspace Help You?
Over the last few years, we have successfully designed over 50K homes
We use superior technology like DuraBuild cabinets, AntiBubble and AquaBloc technologies as well as personalised designs with 3D visuals to create the perfect 2BHK home
With 146 quality checks and a flat 10 year warranty*, you can be assured that your 2BHK interior design will not only be stunning but also long-lasting
*For select finishes on modular products. For full scope of warranty, please visit livspace.com/in/service
If you want your dream 2BHK home to become a reality, book an online consultation with Livspace today.
To know how our customers feel about working with us, check out these Livspace reviews for more details!
Disclaimer: All contents of the story are specific to the time of publication. Mentions of costs, budget, materials, finishes, and products from the Livspace catalogue can vary with reference to current rates. Also, the designs showcased within the story are subject to availability and will vary based on the year the homes were designed in. Talk to our designer for more details on pricing and availability.
---
Popular Services:
Modular Kitchen Designs | Wardrobe Designs | Bathroom Designs | Master Bedroom Designs | Living Room Designs | Pooja Room Designs | TV Unit Designs | False Ceiling Designs | Kids Bedroom Designs | Balcony Designs | Dining Room Designs | Foyer Designs | Guest Bedroom Designs | Window Designs | Flooring Designs | Wall Decor Designs | Wall Paint Designs | Home Wallpaper Designs | Tile Designs | Kitchen Cabinet | Home Office & Study Room | Home Interior Designs
Popular Locations:
Interior Designer Bangalore | Interior Designer Mumbai | Interior Designer Pune | Interior Designer Chennai | Interior Designer Hyderabad | Interior Designer Gurgaon | Interior Designer Delhi | Interior Designer Ahmedabad | Interior Designer Vadodara | Interior Designer Kolkata | Interior Designer Thane | Interior Designer Navi Mumbai | Interior Designer Coimbatore | Interior Designer Lucknow | Interior Designer Patna | Interior Designer Nagpur | Interior Designer Chandigarh
Popular Stories:
2 BHK Interior Design | 3 BHK Interior Design | 1 BHK Interior Design | Interior Design Cost In India | Painting Cost Per Square Foot | False Ceiling Cost | Bathroom Renovation | Sofa Design Ideas | POP Design for Hall | House Paint Colours | Main Door Design | Granite Countertops | Vastu For Home | Cool Wallpapers | Types of Kitchen Layout | Types of Flooring | What Is Plywood | Pooja Room Vastu | South Facing House Vastu | Which Plants Are Good for Home Vastu | Vastu Tips for Home