If you've just purchased a 2BHK apartment, you must be in the process of turning it into a liveable home. One of the most important parts of the process would be determining the 2BHK interior design cost. Unfortunately, a full home interior design cost is not something that can be easily googled; it just isn't the same as trying to find the price of over-the-counter items. High-value purchases like home interiors require experts like yours truly. True to our word, we're breaking down the interior design cost for a 2BHK for you. 
What Affects the 2BHK Interior Design Cost?
To start with, let's begin by acknowledging that no one can give you a definitive 2BHK interior design cost because no two homes or homeowners are alike. However, we can give a realistic estimate of how each of the following elements contributes to the final 2BHK interior cost.
#1: Size
To put it quite simply, the larger your home is in terms of size, the more will be the interior design cost for a 2BHK. This is basically because when the interiors cover a wider area, they push up the 2BHK flat interior design cost. For instance, the 2BHK interior design package of an 800 sq. ft. space will be lesser than that of a 2BHK that is 1,200 sq. ft. as long as other factors mentioned here don't change. 
Also Read: 10+ Low-Budget House Designs in Mumbai Under ₹10 Lakh by Livspace
#2: Valuation
So, the higher the valuation per square feet area of your 2 BHK, the more your house interior design cost will be. The assumption here is that when you buy a home in a posh locality, you will end up spending more on the interior design cost for a 2BHK to suit your lifestyle.
#3: Scope of Design
This brings us to the next point: what does your new home require? Do you need just the essentials like wardrobes and kitchen? You can also add other essential storage units like crockery cabinets and TV units. On the other hand, if you would like everything from fitted furniture to wall treatments, ceilings, flooring, electricals, plumbing and civil work, you'd be opting for getting your end-to-end interiors done. Ultimately, the scope of work will affect the 2 BHK flat's interior design cost.  
#4: Renovation vs New Property
The full house interior design cost for a renovated property will always be higher than a new one if all other factors are kept constant. This is because you have to account for demolition costs or civil changes. Moreover, older properties are more likely to have faulty plumbing and electrical work that needs fixing, which will increase the interior cost for a 2BHK. 
#5: Materials
If we were to illustrate with a simple example, if you need a T-shirt, you can choose to pick one from a high-street fashion store for an affordable price. You can pick a similar T-shirt from a branded store, and it will cost you more. However, you expect the branded T-shirt to last longer. You can also buy this T-shirt from a designer brand, and it will be exclusive; no one else will have the same one!
Choosing materials for your home interiors is quite similar. 
Acrylic is expensive, but easy to maintain and long-lasting. Laminate is affordable and sturdy. Membrane has a seamless finish but requires maintenance. Your lifestyle choices and budget must dictate what finishes and core materials you choose. The materials you choose will determine the cost of furniture for a 2BHK flat and other elements around the house.
#6: Designer's Fees
To calculate the interior design cost of a 2BHK, you also need to consider the designer's fees. This is purely at the interior designer's discretion and is usually based on the total interior design cost. At Livspace, we charge a flat 8% to compensate for the designer's time spent on the project.
#7: Design Preferences
Your design preferences will also affect your cost for a 2BHK interior design. For instance, the interior design style you want for your home will play a role in determining the 2BHK interior design cost. While a simple style will cost you less, something like the Scandinavian design style, which uses a lot of wood in the interiors, will cost more.
#8: Other Costs
Apart from the above, there are several other costs that might affect the 2BHK interior design cost. These include the city, complexity of the design, any deadlines and any civil changes that are required.
Real 2BHKs and How Much They Cost…
Now that you know the factors that affect the 2BHK interior design cost, let's show you how a combination of these factors materialise into budgets for real homes. We have picked eight #LivspaceHomes and bucketed them under the following categories:
Homes under ₹6 lakhs
Interiors under ₹12 lakhs
Home under ₹25 lakhs
Interiors under ₹45 lakhs
#1: Interior Designs Under ₹6 Lakhs
We love working on homes within this budget because it's challenging to make the 2BHK flat interior design low budget. But you'll see that it is possible to design on a budget, without compromising on the look and functionality of the design.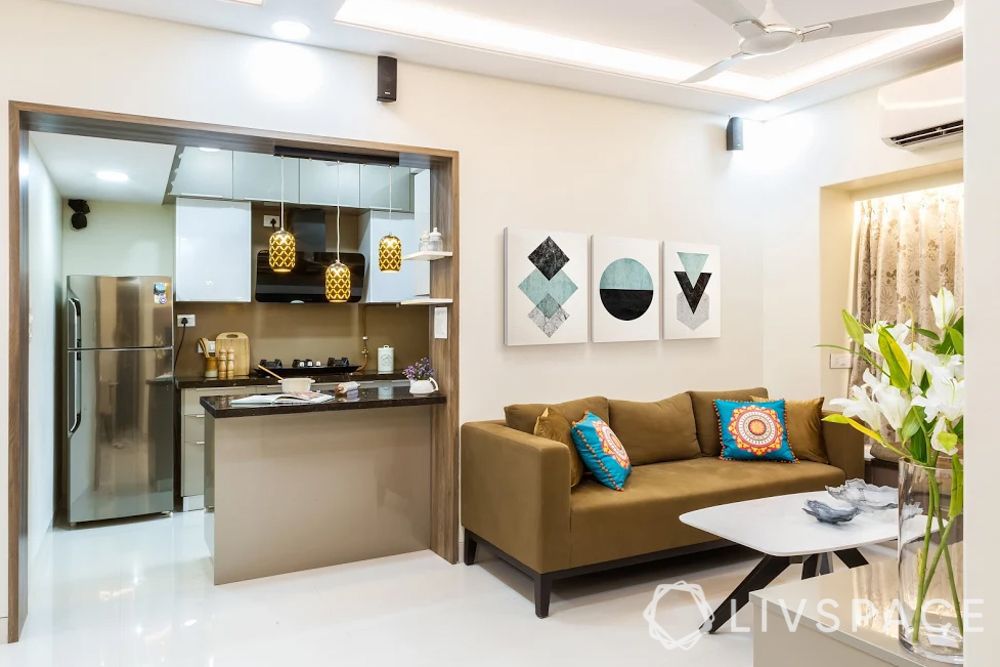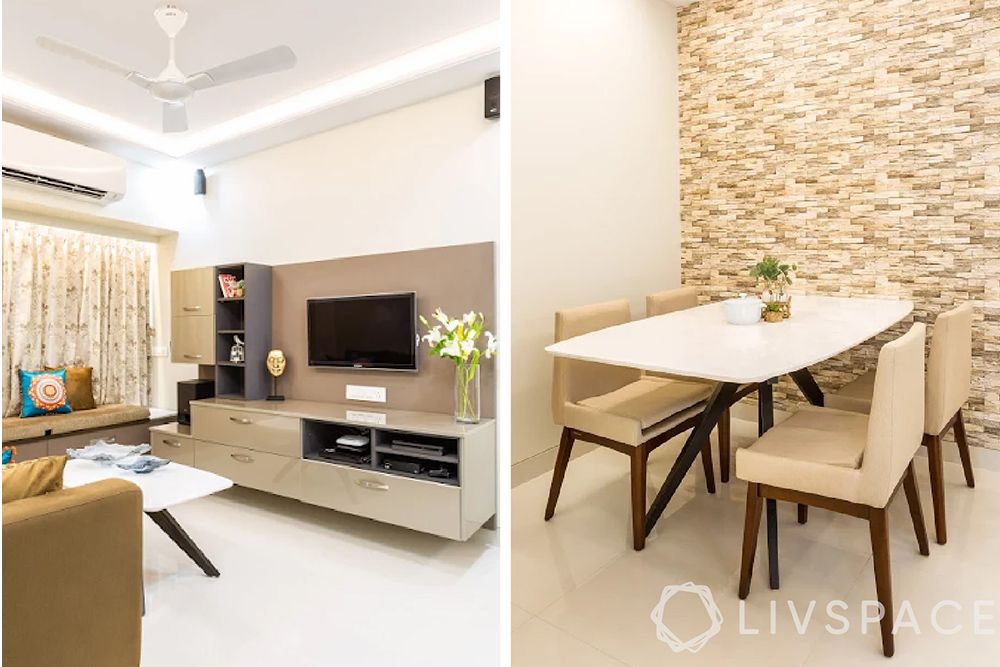 Budget: ₹6 lakhs
Scope: Full home design with civil changes
Size: 850 sq. ft.
Breakdown of cost:
The main investment in the interior design cost for this 2BHK was the kitchen, which originally had a closed layout. To make it spacious, our design team opened up the kitchen and created a mini breakfast counter. They also used quartz for the counter and the backsplash.
Apart from this, the homeowners opted for a TV unit, wardrobes in both bedrooms and beds as well. For the lone accent wall in the dining area, they used wallpaper. It was a budget option, which helped in lowering the interior cost for this 2BHK.
You can see the full home here.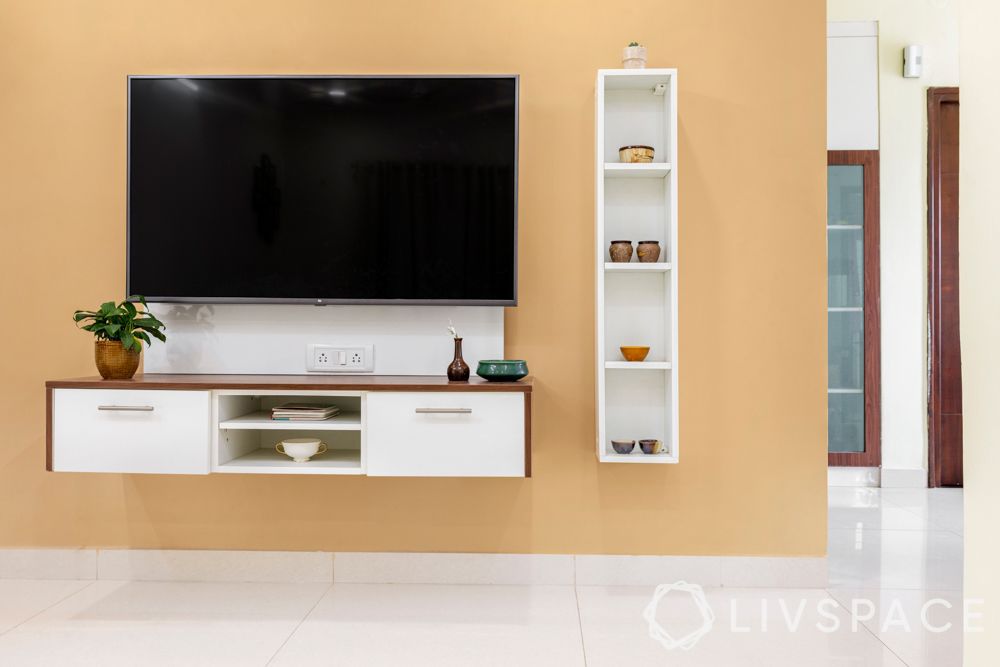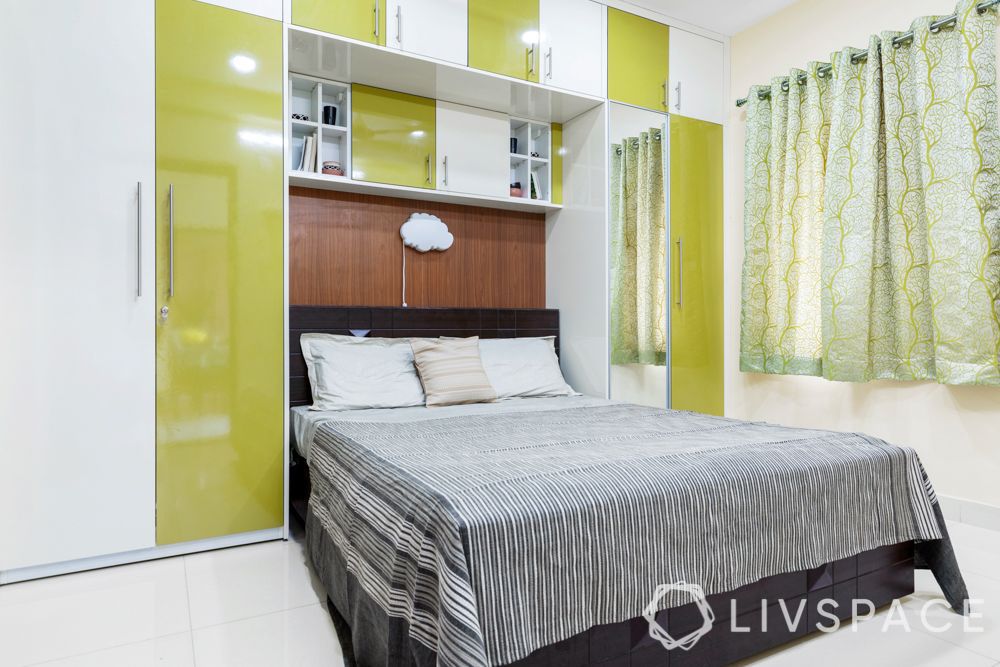 Budget: ₹5.5 lakhs
Scope: Kitchen, wardrobes and storage units
Size: 1,300 sq. ft.
Breakdown of cost:
This Hyderabad home is a perfect example of getting the basics right. The family opted for a modular TV unit, a pooja unit, a kitchen and two wardrobes in both bedrooms.
Take a closer look at this home and its massive storage here.
#2: Interior Designs Under ₹12 lakhs
Let's look at the 2BHK flat interior design cost of some homes that have splurged on some elements of design while saving on others.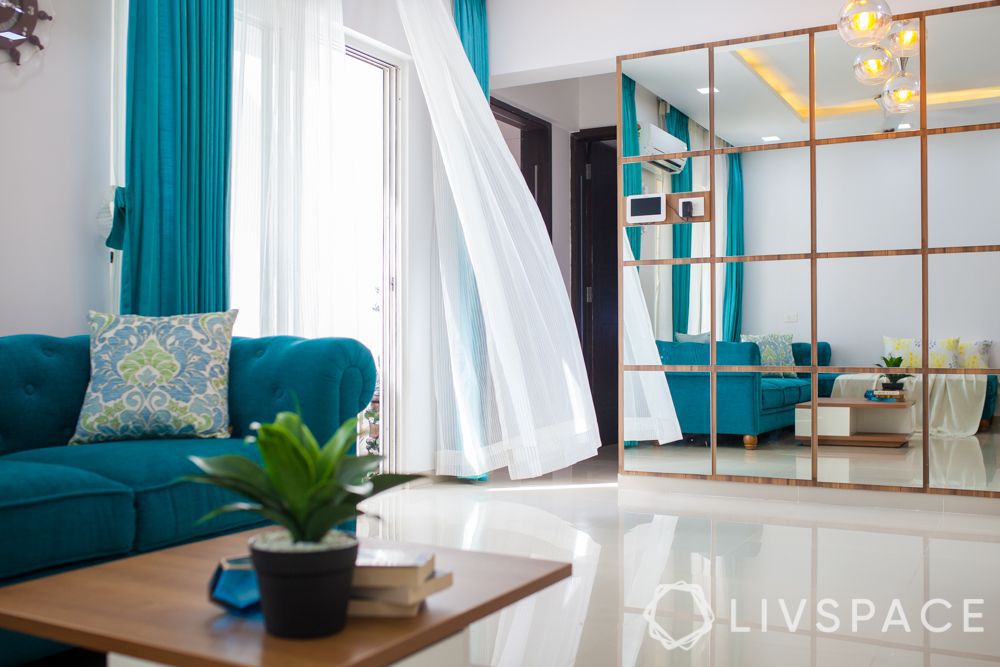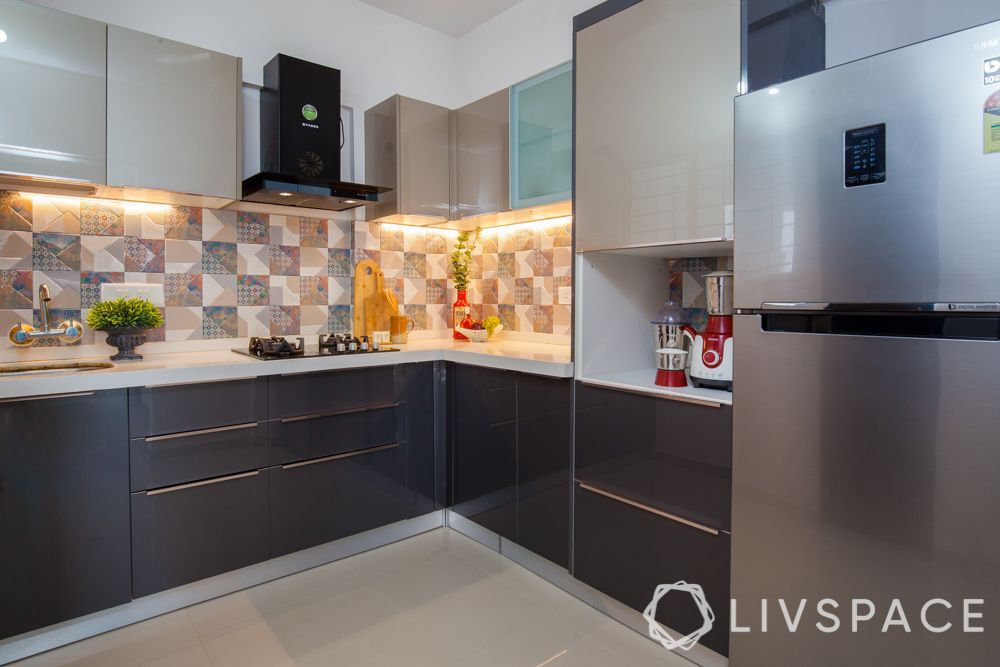 Budget: ₹9.5 lakhs
Scope: End-to-end interiors
Size: 750 sq. ft.
Breakdown of cost:
The owners of this compact 2BHK picked everything from the Livspace catalogue, from loose furniture to decor items. The interior design cost for this 2BHK includes a fully furnished kitchen, wardrobes and beds for two bedrooms, a dresser unit and some living room furniture. The 2BHK interior design cost was an amalgamation of all the above items. 
The only customised item in this home is the partition in the living area. Here, too, the design team has used small pieces of mirror instead of a full mirror panel, which could have otherwise been expensive. Additionally, basic peripheral false ceilings have also been accommodated in this budget.
Read: The designer of this home dishes on all the ways they reduced cost without affecting the aesthetics.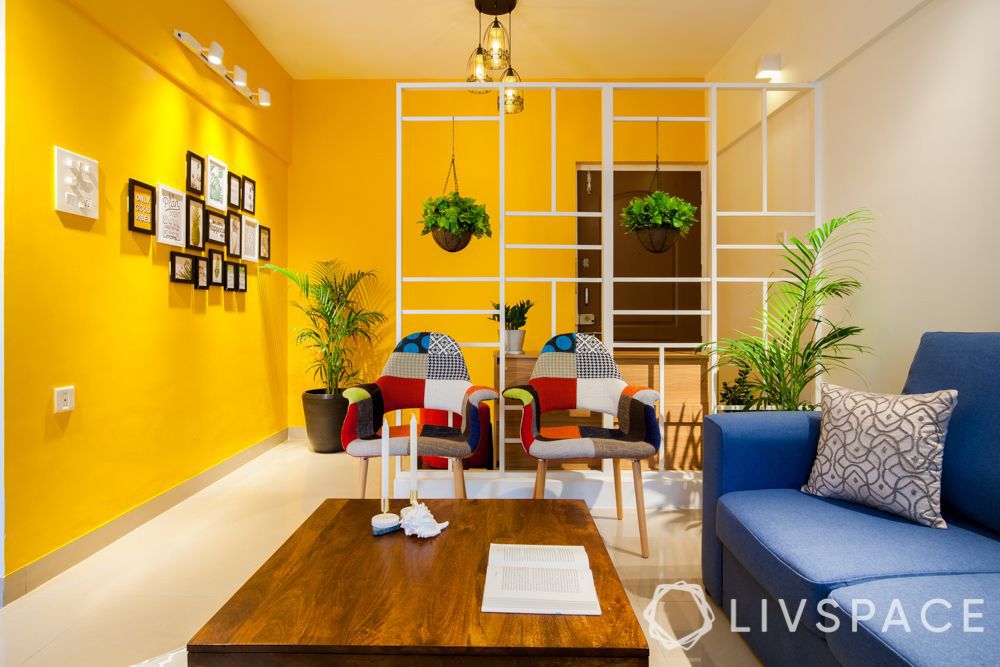 Budget: ₹11 lakhs
Scope: Renovation, kitchen excluded
Size: 900 sq. ft.
Breakdown of cost:
This compact 2BHK in Pune is an interesting case study. The design team here has renovated the home without making too many structural changes. Hence, the cost of demolition was limited. Moreover, the kitchen, which eats up a massive portion of any 2BHK interior design cost, is not included in the scope of design.
You'll be surprised to know that the design team made use of brightly coloured emulsion paint (not texture paint as is customary for accent walls) to create highlights in all the rooms. What they did spend on is wall mouldings and a customised partition in the living room. 
The family also opted for space-efficient furniture like the centre table in the living room that doubles up as a dining table too. Additionally, the modular wardrobes in both bedrooms use vertical space efficiently as they are packed with lofts.
Moreover, the lighting in this home makes it stand out from the rest. Instead of the typical false ceiling that would have reduced ceiling height, the design team has used track lights for targeted lighting.
You simply must see all the images of this vibrant home here. 
#3: Interior Designs Under ₹20 lakhs
Here, we'll explore some plush and slightly high-end homes in terms of design and material choices.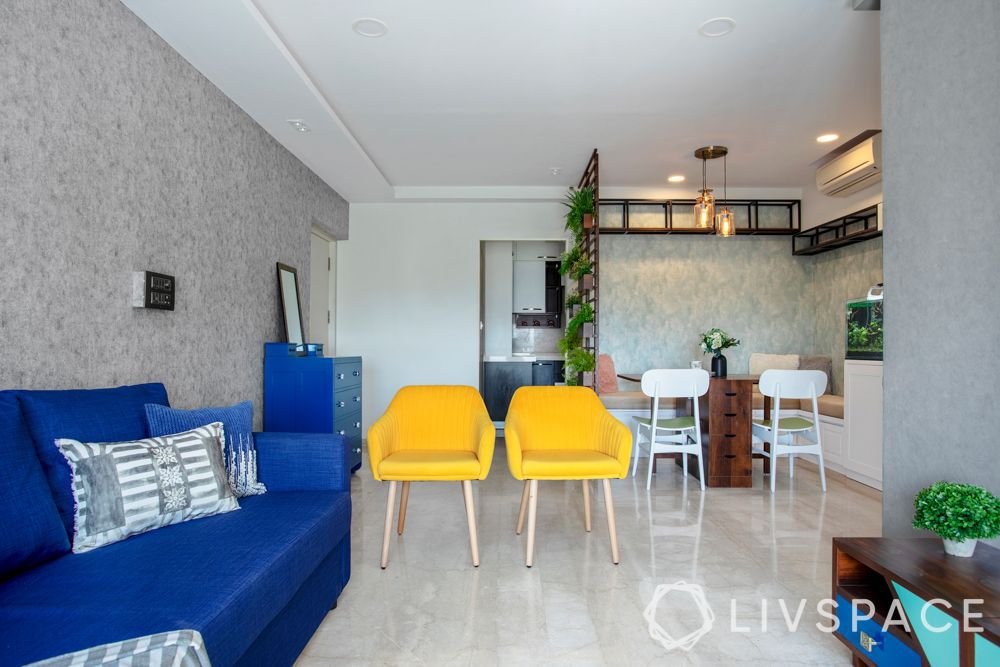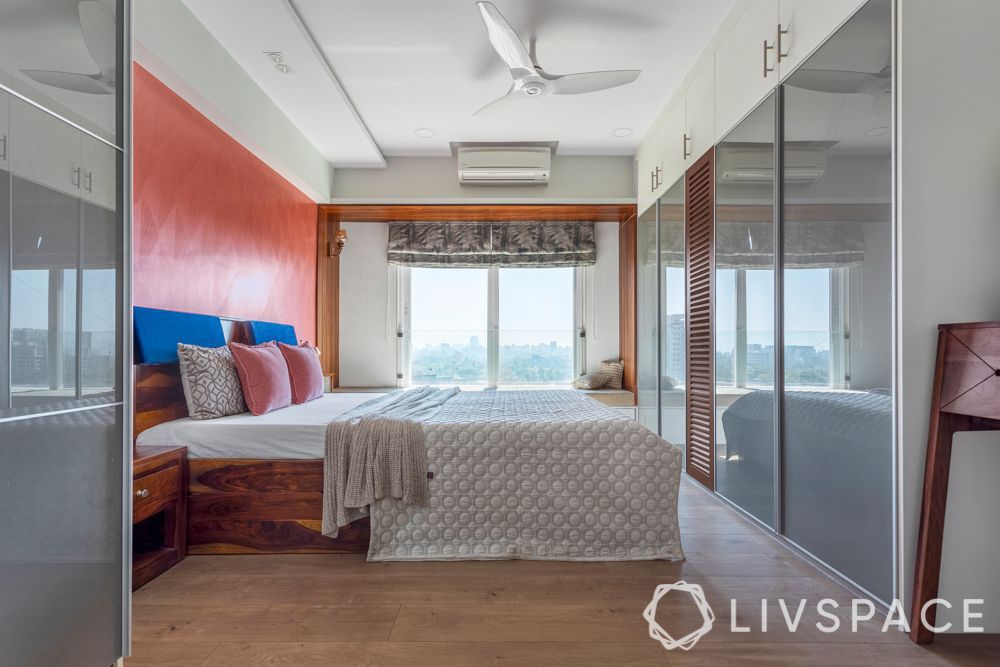 Budget: ₹20 lakhs
Scope: Full home design
Size: 950 sq. ft.
Breakdown of cost:
So, how do you meet the requirements of a family of five within a 2BHK? You customise and do it well! 
For instance, these sliding wardrobes are fully customised with an additional louvred shutter in the middle. Look closely at the window seating areas in the bedroom and the living area. These, too, have been customised. Another important customisation in the kitchen is the extension of the slab to make it an L-shaped kitchen.  
You can check out the other cool features of this Mumbai home here.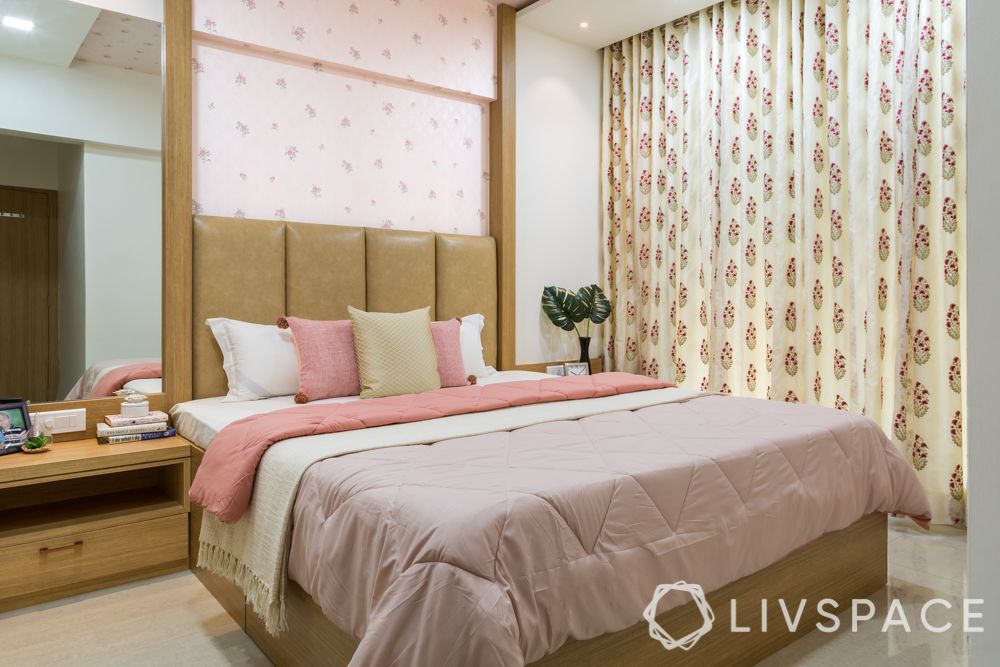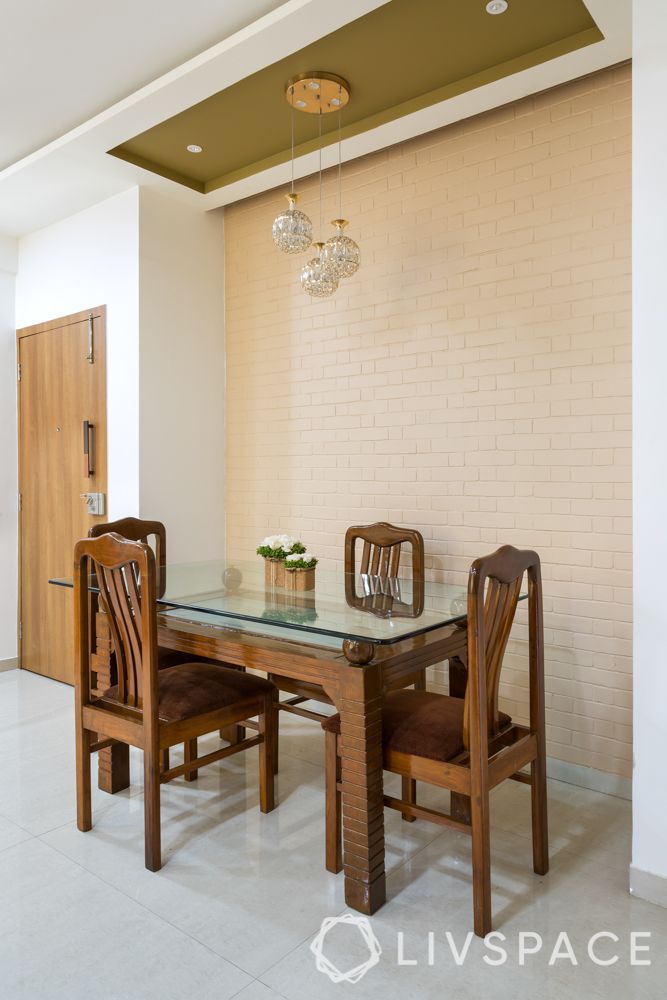 Budget: ₹14 Lakhs
Scope: Renovation, excluding kitchen
Size: 750 sq. ft.
Breakdown of cost:
This particular renovation project does not include the kitchen. This allowed the design team to allocate more of the home interior design cost to aesthetic aspects, such as the gypsum ceiling and the brick wall in the dining area. The house also includes fancy headboards and pastel wallpapers to bring out the best in the bedrooms. 
#4: Interior Designs Under ₹45 lakhs
Here are some premium homes in terms of finishes, materials and elaborate design ideas.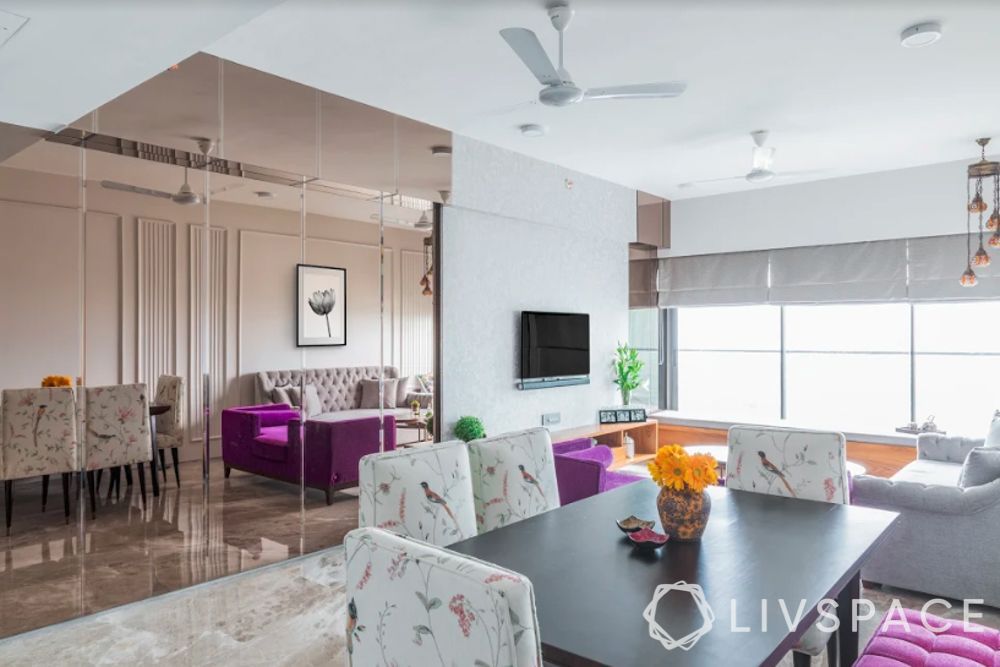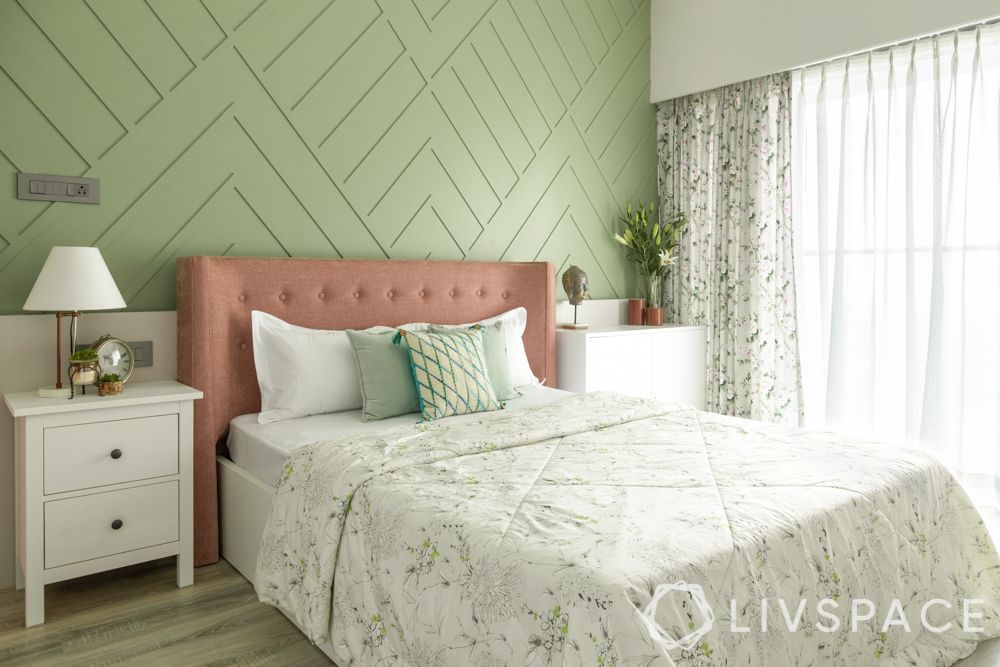 Budget: ₹30 lakhs
Scope: Full home design
Size: 900 sq. ft.
Breakdown of cost:
Every item in this Mumbai 2BHK has been conceptualised and customised by our design team. The living room stands out with a gorgeous wall-to-wall tinted mirror panel. While the full-home interior design cost was quite expensive, it was deemed necessary to make the room look spacious.
The kitchen here is stocked with storage and has a high-gloss laminate finish. The master bedroom has customised furniture along with an expensive wall panelling feature which adds to the interior design cost. The kid's room is customised end-to-end with a loft bed that has storage underneath it. In fact, it also has personalised elements like a storage unit with their daughter's name on it. All of these come together to make a beautifully space-optimised 2BHK in Mumbai.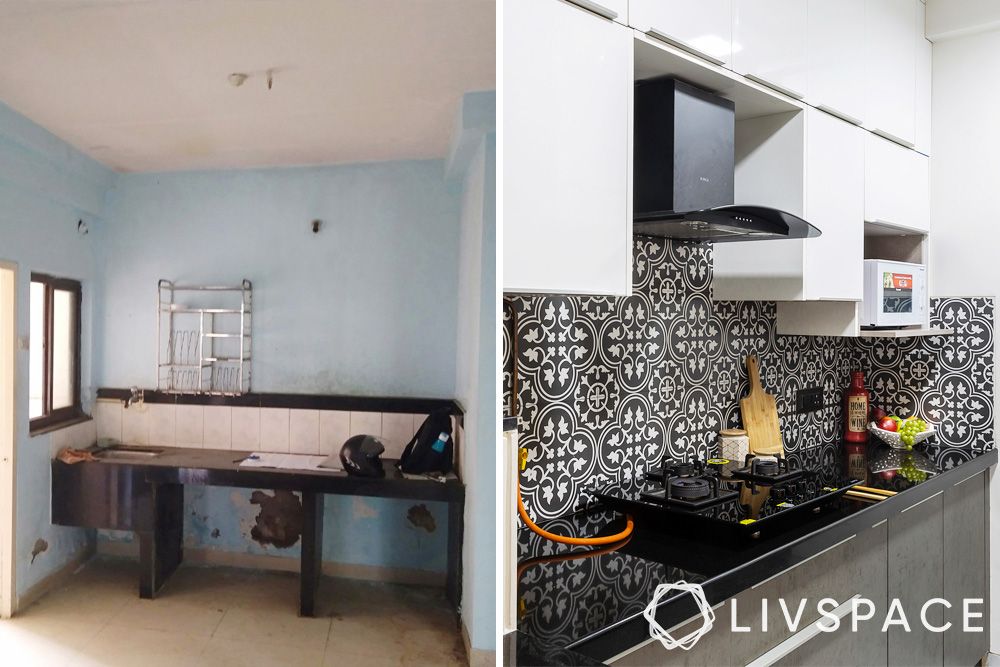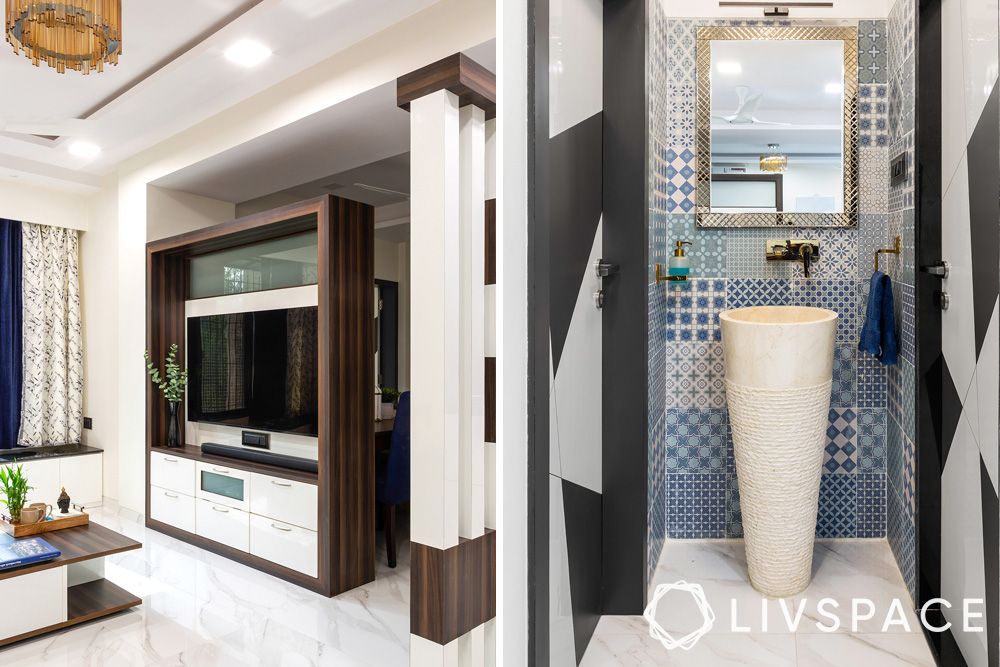 Budget: ₹45 lakhs
Scope: Renovation
Size: 750 sq. ft.
Breakdown of cost:
If you are wondering why a compact 2BHK like this one has a budget of a whopping ₹45 lakhs, let's break it down for you.
Everything from flooring, plumbing, ceilings, walls to electrical wires has been revamped. Moreover, the layout was changed around the kitchen area. The entrance, too, was changed to make space for a fully customised pooja unit. Over and above the custom solutions, the family also opted for expensive veneer finishes. Just the uncut marble washbasin you see here costs a fortune!
Click here to check out other plush elements in this home.
Also Read: What is the Cost of Interior Design for an Average 3BHK Apartment?
How Can Livspace Help You?
We hope you found our ideas useful! If you want beautiful interiors for your home, then look no further. Book an online consultation with Livspace today.
Wondering how our customers feel about working with Livspace? You can check out the Livspace reviews here!
FAQs
1. Which Factors Should I Consider Before Arriving at a 2BHK Interior Design Cost?
You need to consider the size of the home, valuation of the property, age of the property, materials used, designer's fees and design preferences.
2. What Is the Cost To Hire an Interior Designer for a 2BHK Space?
The cost of hiring an interior designer will vary from person-to-person and city-to-city. It also depends upon the scope of the project.
3. What Is the Cost of Interior Design for 2BHK Flat in Pune?
The cost will depend upon several factors like size of the flat, age of the property etc.
Send in your comments and suggestions at editor@livspace.com