The false ceiling trend has been in India for a while. Needless to say, ceiling design has never been as wide and varied as it is right now. Homeowners today have  numerous  options to choose from. However, too many alternatives can be confusing at times. Every homeowner, thus, needs to understand their individual preferences when getting a ceiling done. Before going over the designs, let us do a quick recap on what is a false ceiling.
What is a False Ceiling?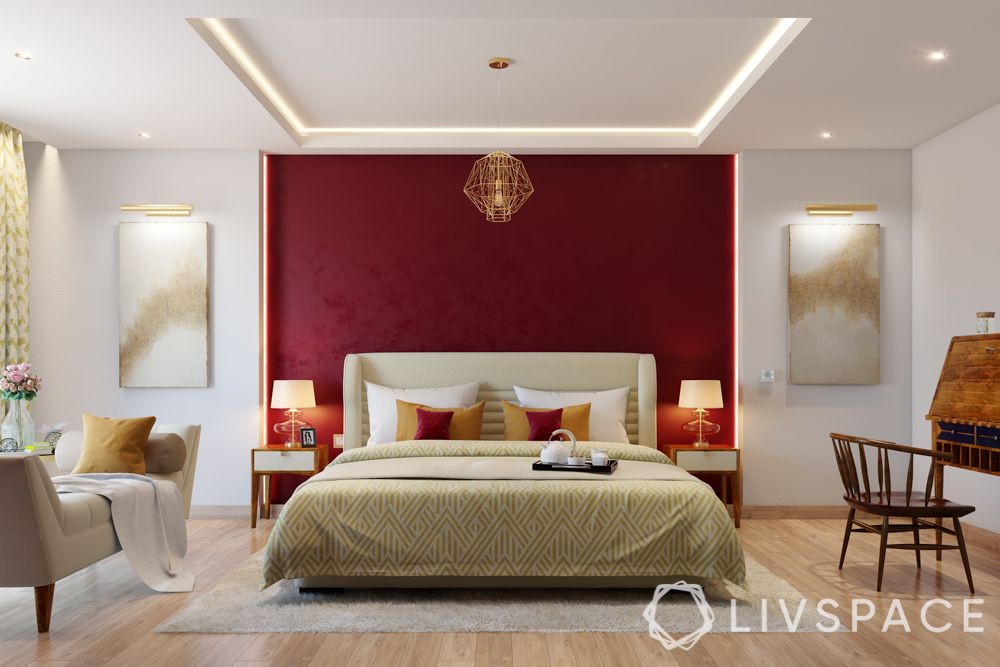 FalsFalse ceiling is made to fit below the original ceiling. False ceiling design is usually suspended by wood or metal frames and the illusion it brings of a lower ceiling, sometimes with parts of the original ceiling on display, has earned it the moniker 'dropped ceiling'.

The construction of a false ceiling can be done in any home, irrespective of size. This type of ceiling is usually mounted at a minimum distance of 8 inches from the original ceiling.
Check Out These Popular Materials:
The material of your ceiling design should be chosen based on what you want out of your false ceiling. It is also important to check out the ceiling price beforehand so you can calculate the expenditure. And if you are looking for ideas for the types of ceiling designs to choose, check out this list!
#1: Get a Visually Airy Gypsum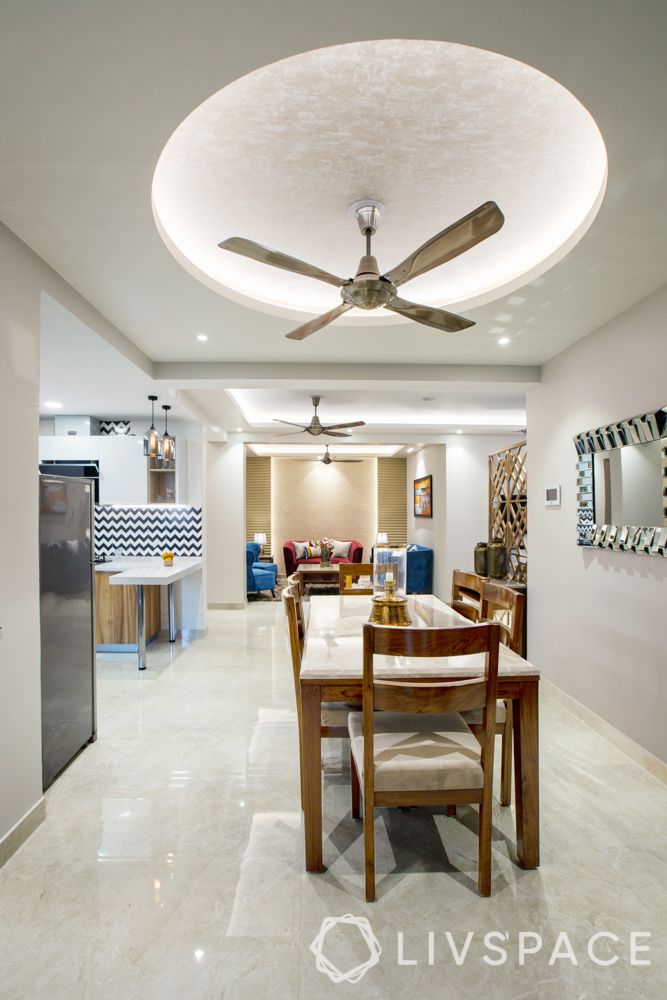 Gypsum comes from calcium and is used in the construction of lightweight ceilings. They usually come in the form of boards that are then hung off the ceiling with iron or wooden frameworks and painted on a bit.
Ceiling Cost Per Sq Ft.: ₹50–₹150
#2: Get a Plaster-of-Paris or POP False Ceiling for Durable Interiors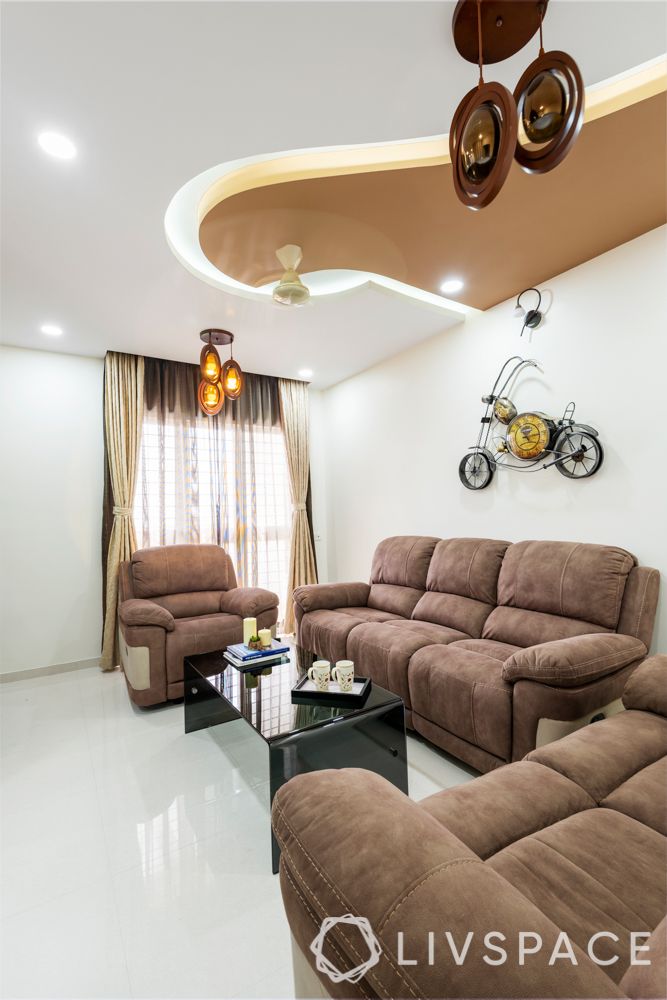 Plaster of Paris or POP false ceiling is the most common variety of ceilings that are available in India. And for good reason; they are known for their insulating properties and varying weather conditions.

False Ceiling Cost Per Sq. Ft. ₹50–₹150
#3: Soothe Your Room with Wooden Ceiling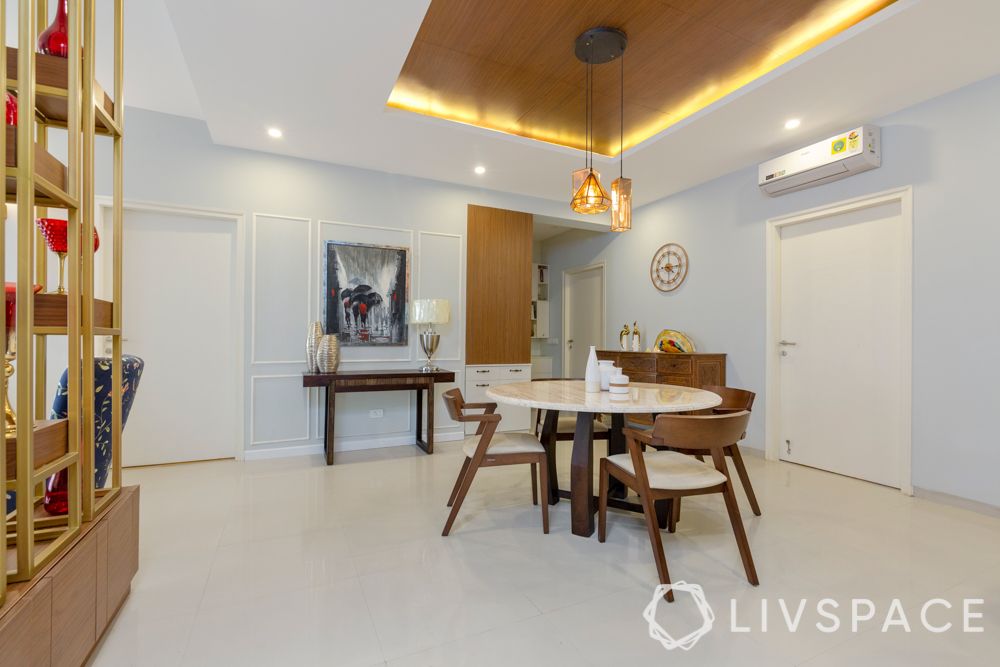 Due to its natural grain and texture, wood has found its way onto the false ceiling many times. It's on the pricier side, which is why you'd most likely see it in residential buildings as opposed to large-scale commercial projects.

False Ceiling Cost Per Sq. Ft.: ₹80–₹650
The first two are more common choices in comparison. Refer to the below table for a consolidated overview of all the three materials.
How is False Ceiling Cost Calculated?
Multiple factors are involved while calculating the ceiling cost per sq. ft. These include:
Design: Picking more complex designs of the ceiling will make it costlier.
Size: The price is low for a larger ceiling area as the materials required can be purchased at wholesale prices in bulk.
Quality: If you go for high-quality materials, it is pricier. But as high-quality materials are durable, it has a higher return on investment (ROI). Plus, the durability is highly affected by the quality of the false ceiling.
Availability: If the materials you are using are easily available in the market, transportation and logistic costs can be cut.
Additional cost: This includes the cost of finishes, fittings, cutting, lighting, accents, etc
Types of Wall Ceiling Designs
We give you a rundown on both classic and trendy designs that can fit your home and help you decide what is the false ceiling you should opt for.
#1: Experiment with a Single-Layered False Ceiling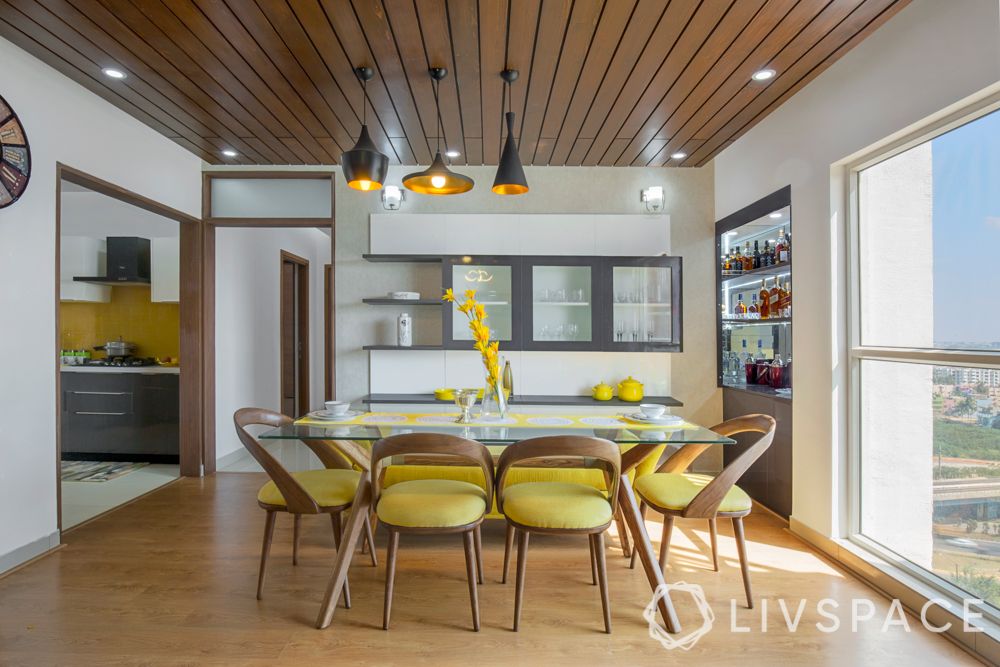 Want to jazz up your ceiling without going the whole hog? The single-layer ceiling will work great for you. This necessarily adds dimension to your room. If you think that a design will overwhelm your space, single-layered ceiling design is a better bet. If you need more character to this ceiling design, add colours, shapes, textures and lighting.
#2: Stack Up with a Multilayered False Ceiling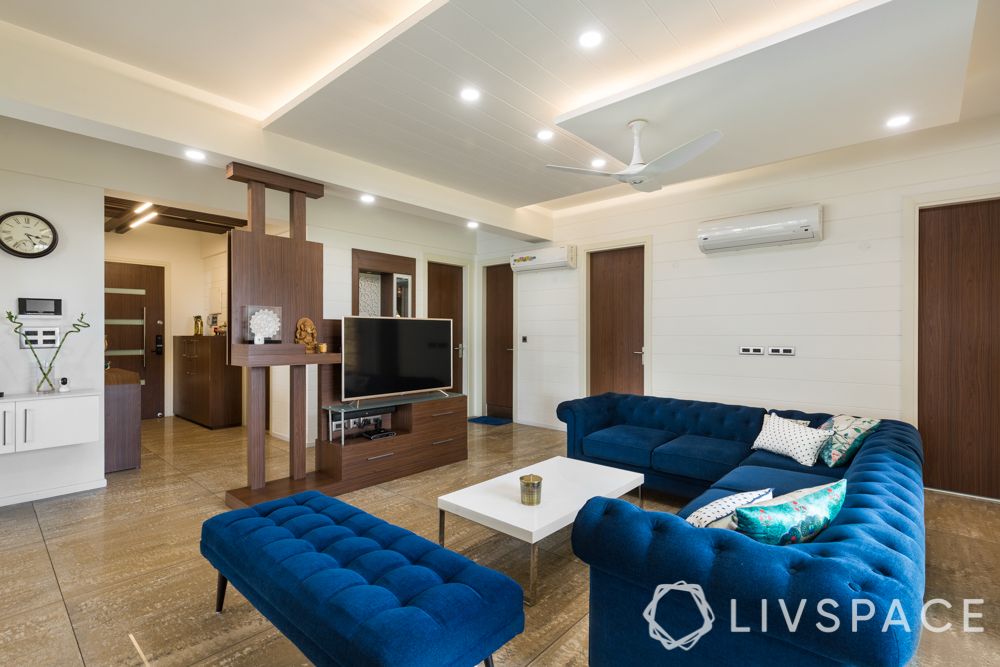 Layering can always help with feeling of grandeur and open up new ways to experiment with colours, lighting and textures. Layers are a great way to innovate with an already versatile medium to create a completely personalised ceiling. It can also create the illusion of a bigger room.
#3: Create an Elaborate False Ceiling with Plus-Minus POP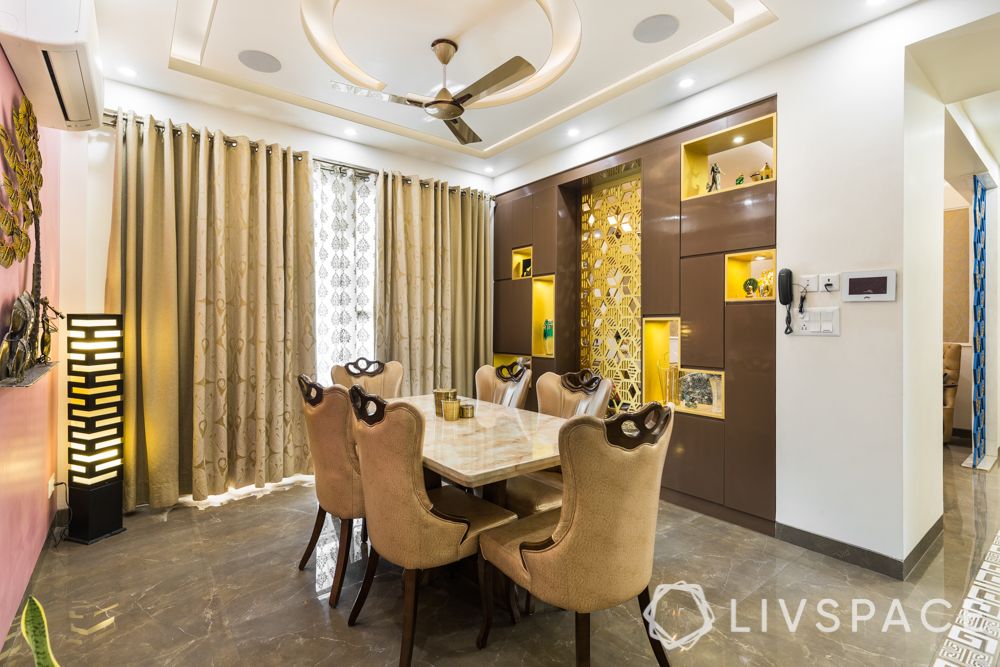 Constructed completely out of POP, this trend is all about protruding designs rather than tucking it all in. This ceiling is more on the elaborate side, so be sure to factor in decor plans and the amount of space you have available.
#4: Add a Coffered False Ceiling for Drama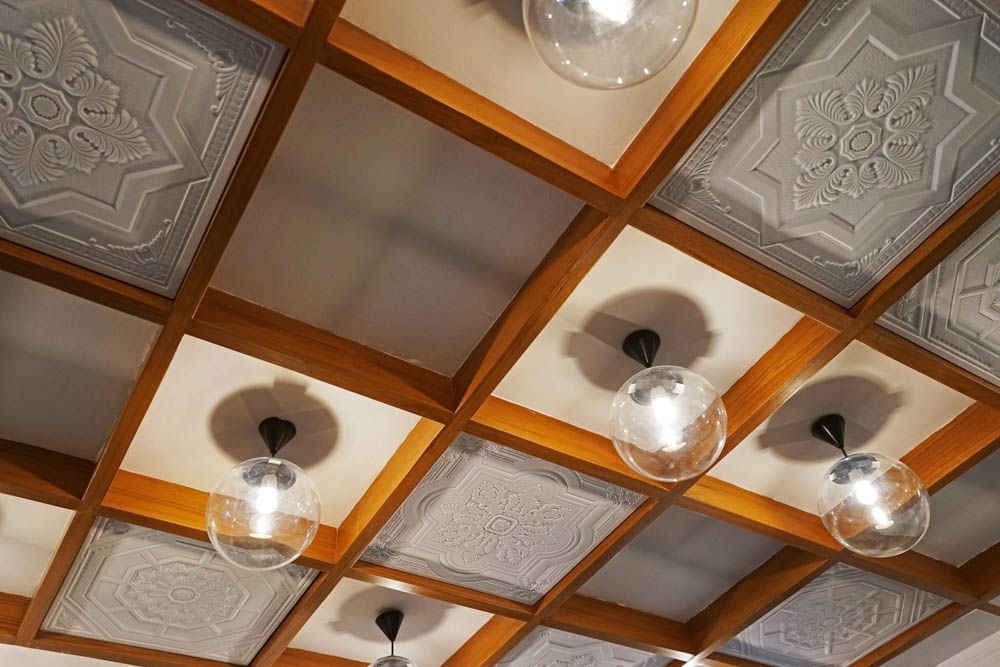 Coffers are sunken square or boxy panels that are fixed into a ceiling. Aside from instantly bringing drama into a space, this ceiling design also creates the illusion of higher ceiling height and multiple dimensions within one room.
False Ceiling Shapes to Consider
POP false ceiling is popular as it can be moulded into any ceiling design on demand. However, there are other materials that can also be shaped to one's desire. Here are some examples of shapes that have proven why they are on the popular list.
#1: Box in Your Ceiling Design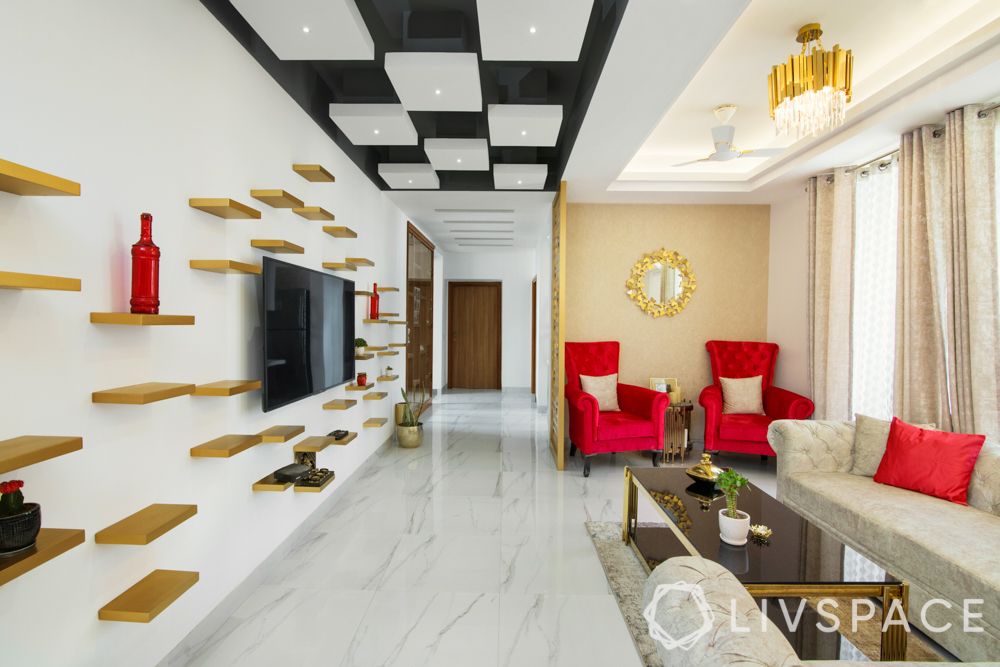 A boxed ceiling with recessed lights attached to them is all about adding geometric value.
#2: Save Ceiling Space with Peripheral Ceiling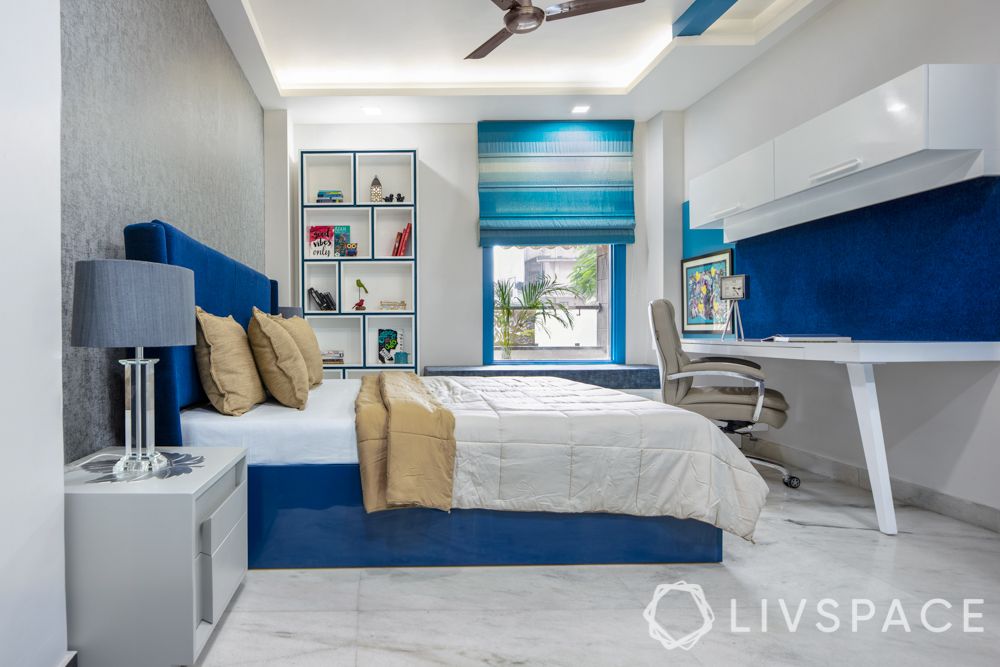 This minimal design runs along the corners of the room and is perfect for low-ceiling homes. You can also find space for a chandelier or pendant lights in this design.
#3: Flaunt a Geometric Ceiling Design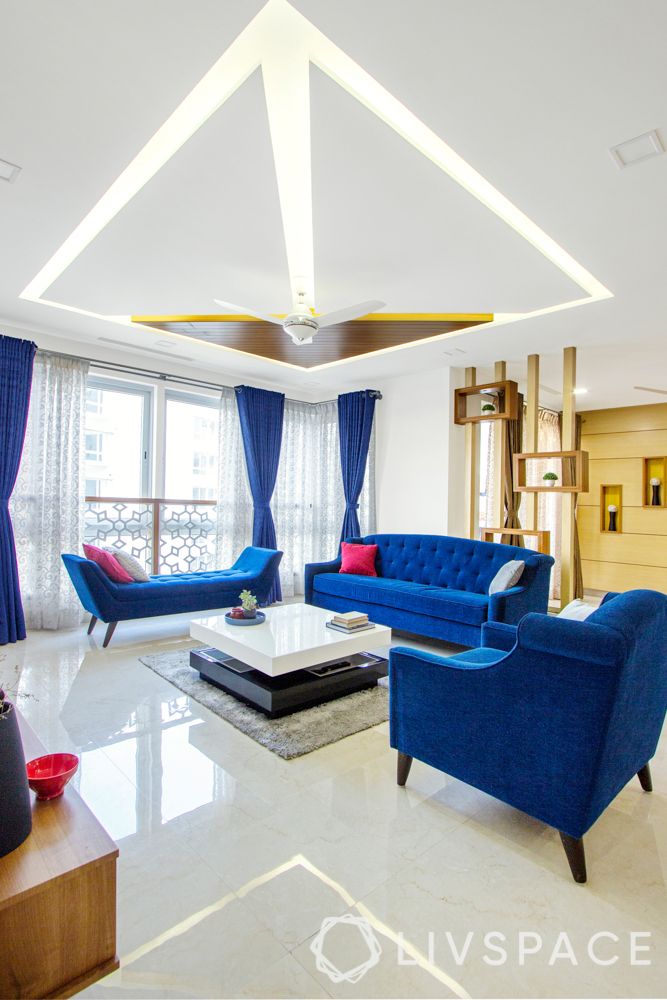 This design requires suspended panels for each piece that is put together. Needless to say, this design has a stylish edge like no other.
#4: Amp it Up with Intricate Latticework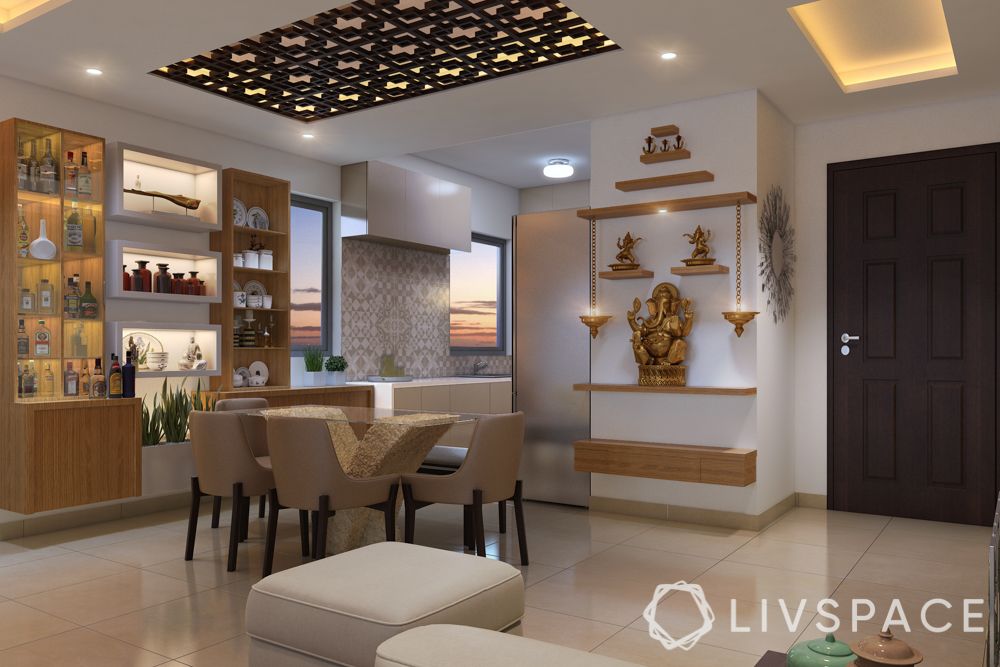 Latticework adds a subtle demarcation of the space. Not to mention it is capable of amping up the aesthetic of your room by a notch.
#5: Decorate with Wooden Slats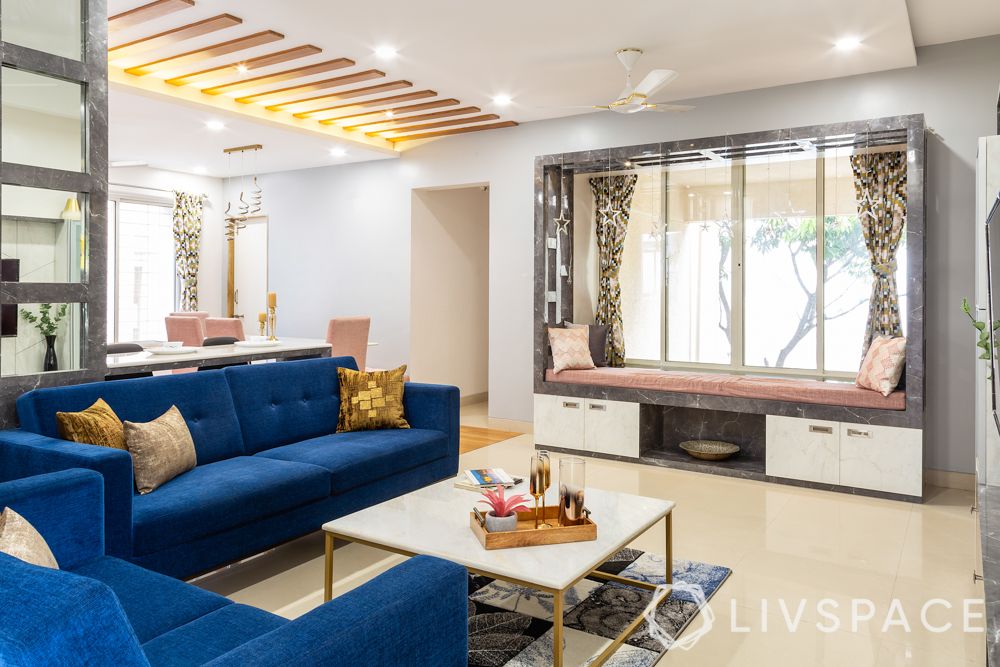 One of the sought-after types of designs in India, this one is so great for its insulating abilities. If you are ready to shell out for your ceiling design, this is a great option to pick.
#6: Balance with an Inverted Cove Ceiling Design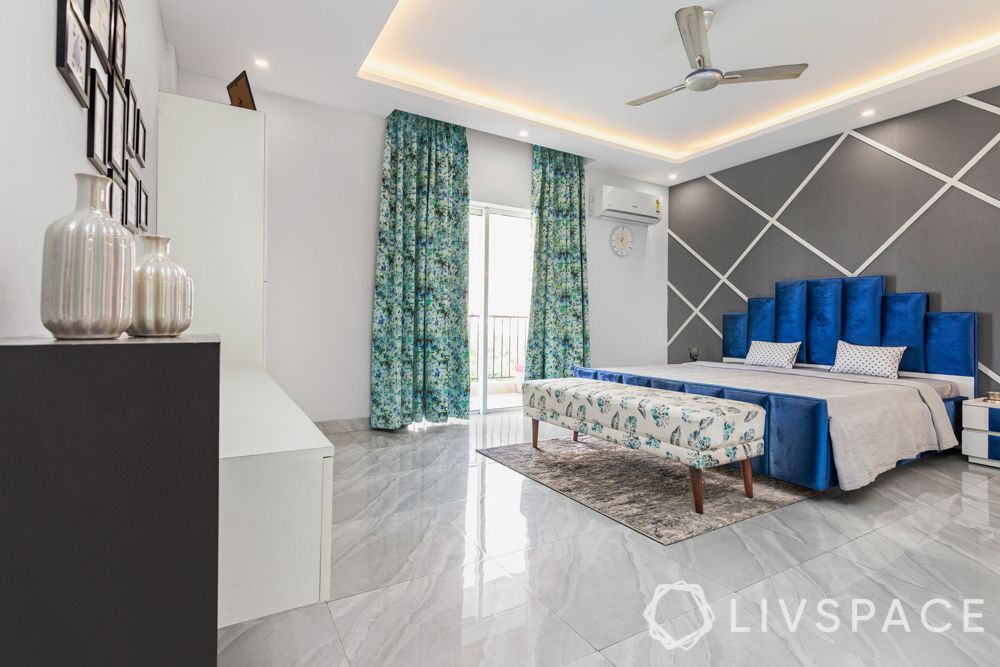 A great option to reduce high ceilings, the inverted cove works well in every room and is perfect for ambient lighting. You can also find space for a chandelier in this design.
Advantages and Disadvantages of False Ceiling Designs:
We understand that you could still be on the fence whether you should go for false ceilings. Here is a consolidated table about the advantages and disadvantages of these designs to help you figure out your stance:
| | |
| --- | --- |
| Advantages of False Ceiling | Disadvantages of False Ceiling |
| A false ceiling creates great acoustics. This makes it a perfect design treatment for living rooms, home theaters and AV rooms | It requires expert precision to install and design false ceilings. |
| It hides wires and pipes easily. | If not done properly, it can present the risk of fixtures falling off untimely. |
| It is great for balancing your room height if you have a higher ceiling. | It is not an option for homes which have low-ceiling walls. You need to have a ceiling height higher than 11 feet. |
| Home insulation becomes easier. In colder regions, it traps air which helps maintain temperature. In hotter weather, it optimises the air conditioner by trapping cold air. | It needs constant maintenance as compared to traditional ceilings, which means durability is comparatively lesser. |
What is the Ideal Place to Install a False Ceiling?
There is no thumb rule where you can install a them but here are some of the popular options:
#1: Experiment with a False Ceiling Design for Living Room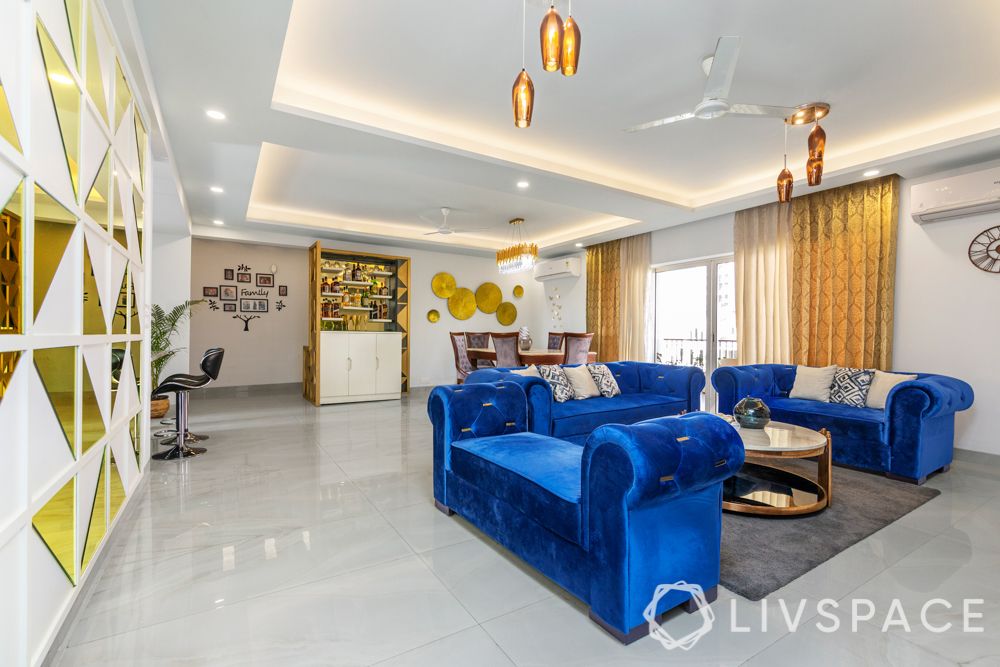 A false ceiling design for living room makes for a grand entrance and creates the illusion of vertical space, making the room look instantly bigger. But be sure to check the price of the false ceiling design for living room design before finalising any.
#2: Amp Up Your Bedroom with a False Wall Ceiling Design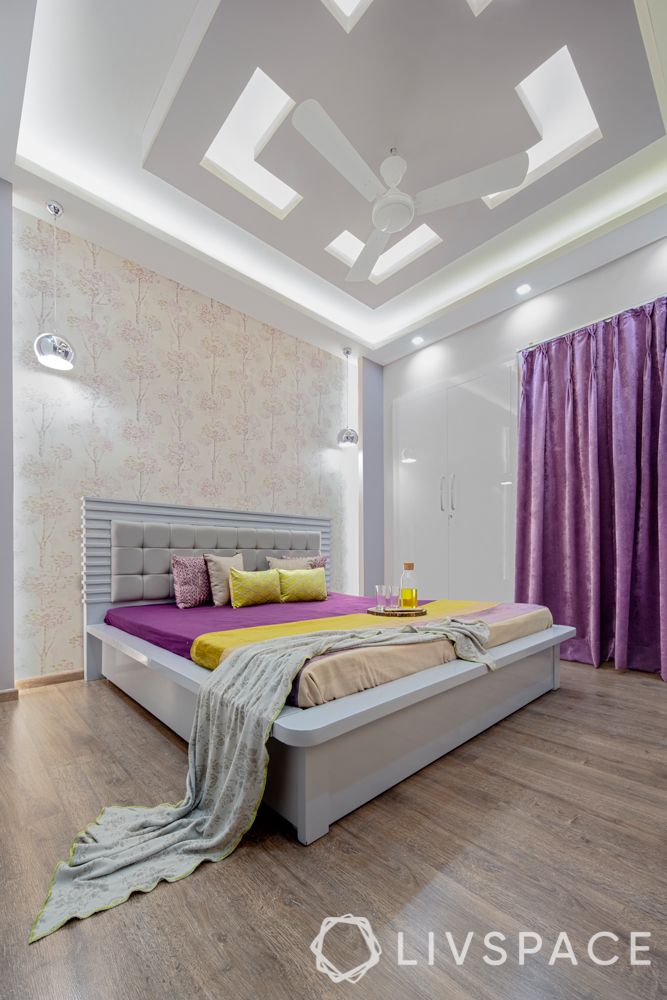 Experiment with a  wall ceiling design in your bedroom and find a stunning option without compromising on comfort or cosiness.
#3: Enrich the Kids' Room with a Playful False Ceiling Design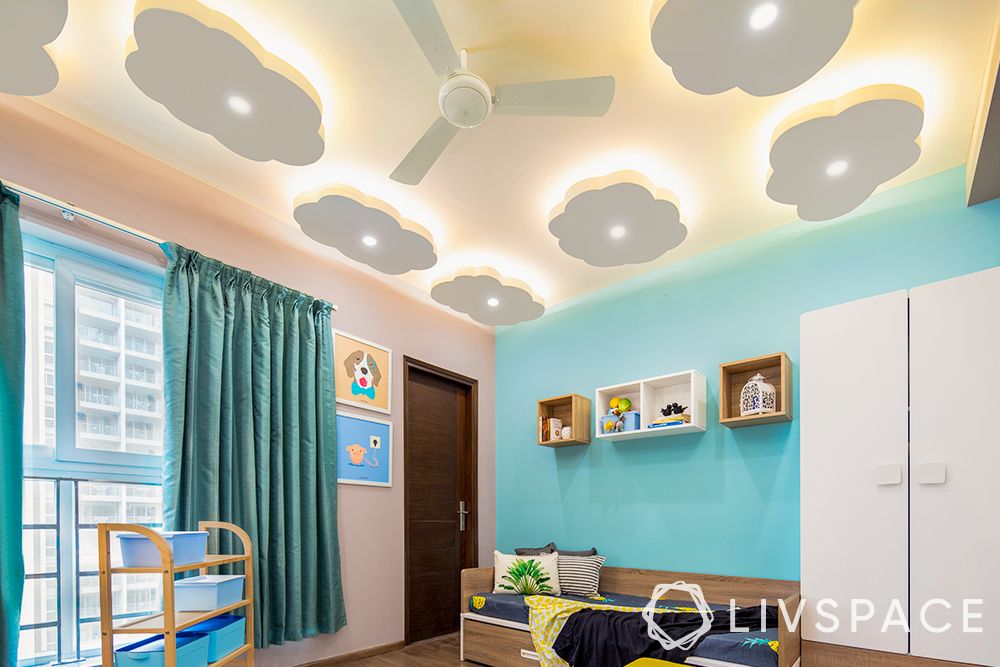 Let your playful side come out when designing your kid's bedroom. Experiment with shapes, design and lighting when it comes to the room of your little ones.
#4: Emphasise on Ample Lighting in the Kitchen
Not one for the safe players, a ceiling design in kitchen is a surefire way to add style. It converts a task-oriented space into one that scores points for offbeat design. Not only does it look fancy, but it also provides additional lighting without using wall or countertop space.
#5: Introduce Grandeur to the Dining Room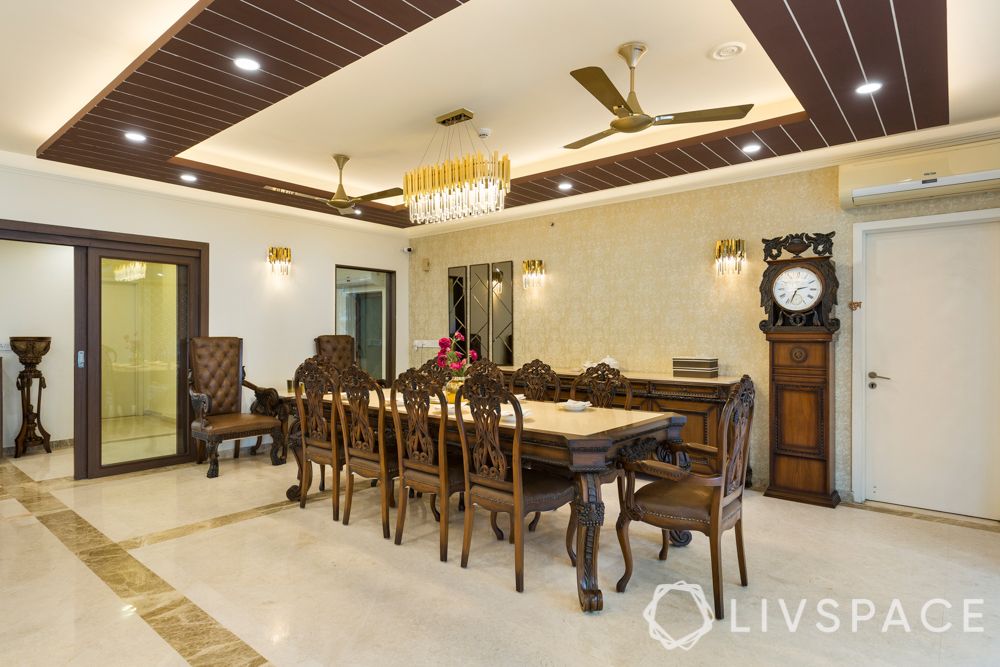 Lowering the ceiling makes for a cosy atmosphere, making the dining experience a lot more personal and enjoyable. In most cases, the ceiling mimics the material of the dining table to provide a continuation of design in the room!
#6: Light up Your Pooja Room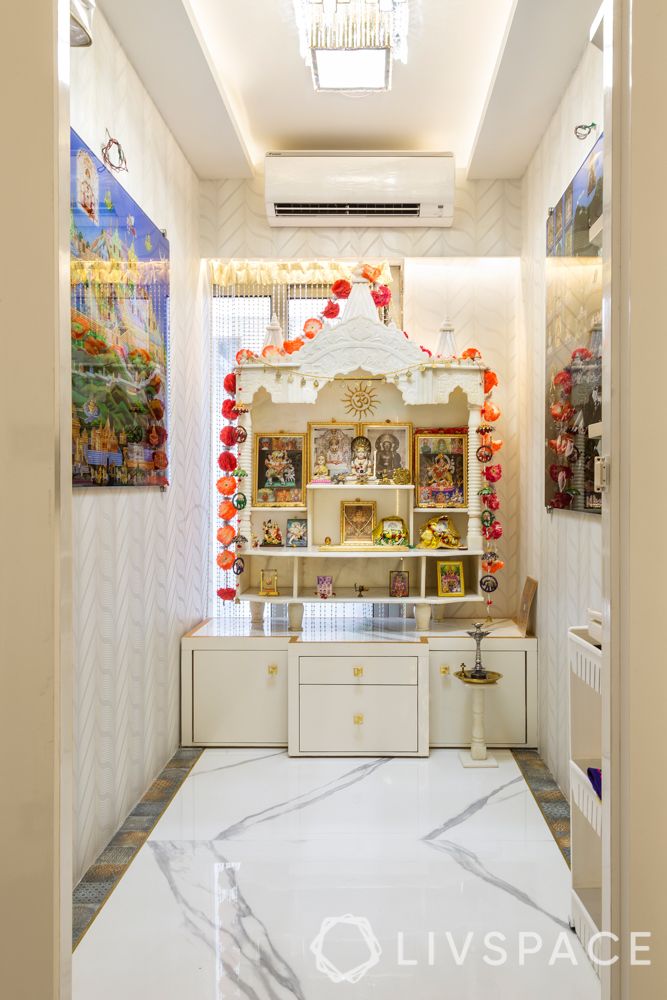 All pooja rooms may not have the same space that we spare for a bedroom or a dining area. However, a well-lit mandir is still a necessity in most houses. Thus, we recommend getting ceiling lights to reduce overheating and optimally using the space to light up your pooja room.
FAQs on false ceilings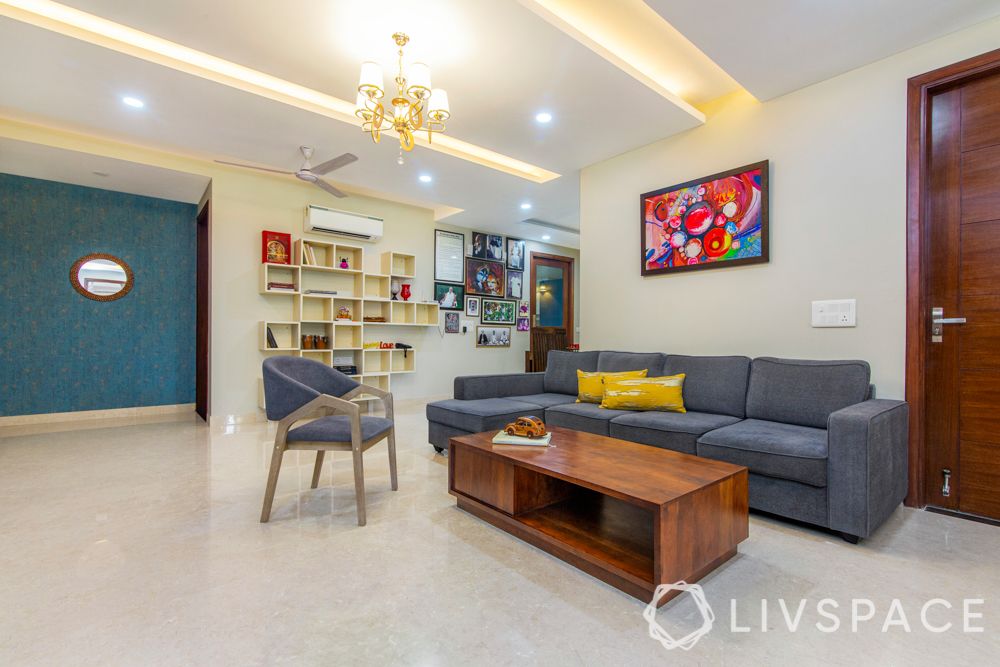 Does my house need a false ceiling?
It depends on your preferences. Besides the aesthetic appeal of it, false ceilings are functional features that improve acoustics, they cover unsightly wires and pipes, they can be designed around air conditioning ducts and lower electricity consumption. Moreover, you can opt for fire proof and moisture resistant designs as well.
How long do they last?
These custom designed and high quality POP false ceilings will last well beyond 20 years in normal conditions.
How is it better than traditional lights?
When compared to tubelights, bulbs and track lights, they are cost and energy efficient in the long run. Their ability to reflect and diffuse light to a wider area makes them more efficient than focused lighting like track lights and tubelights.
The final word
Adding a ceiling to an existing or new interior design plan enlivens the space. It also creates a cosy ambience and earns brownie points for supporting lower energy bills!
If you love to see more fancy options before selecting the perfect false ceiling design for living room, read this: Bye, Bye, Boring Ceilings! Send in your comments and suggestions to editor@livspace.com
How Can Livspace Help You?
We hope you found our ideas useful! If you want your home to be just as beautiful, then look no further. Book an online consultation with Livspace today. Delivering safe home interiors has been our No. 1 priority. Click here to find out how interiors are being delivered following all safety protocols.