Whether you're laying on your bed or lounging on your living room sofa, the view is often the same. That is, you might find yourself looking up at your ceiling. This might get you thinking of ways you can add some interest to the space, to bring in a decorative element. After all, who doesn't like having something nice to look at the end of a long day? But before you make any commitments, it's only natural that you might start thinking about the average false ceiling cost per square foot.
To help you, we've put together a handy guide that can throw some light on the various factors that can determine the cost of your false ceiling. Here's everything you need to know about our false ceiling materials price list.
1. What Is a False Ceiling?
As the name suggests, a false ceiling is a decorative design element that rests over your original ceiling. Typically, a false ceiling drops down from the original ceiling and helps conceal the wiring from your lighting or other fixtures. With the help of a false ceiling, you can give your room a clean and seamless look while simultaneously adding some style to it.
2. What Are the Types of False Ceilings?
POP: Plaster of Paris, or POP, is a type of material that is often used to create unique and intricate designs. This type of material works best if you're keen on adding finer details to your false ceiling
Gypsum: Compared to POP, gypsum can be relatively more cost-effective. This material can be a budget-friendly option for redoing your ceilings during a renovation. Gypsum sheets are readily available in a 6-foot x 4-foot size, and is the most popular option in the market
Wood: For homes that are looking to nail the rustic aesthetic, wooden false ceilings are a no-brainer. However, wood might not be the best option for humid or moist climates, as the material may warp. Instead, consider using wood-like alternatives such as laminates and veneer. Between the two, laminate false ceilings are cheaper compared to veneer. This is because veneer and solid wood require polishing, whereas laminate is a finished product
3. Use This False Ceiling Cost Calculator to Estimate Your Budget 
Material
False Ceiling Price Range per Sq. Ft.
POP
₹95 to ₹105 per sq. ft. + GST
Gypsum
Standard: ₹75 to ₹85 per sq. ft. + GST (for a standard gypsum false ceiling with a Gyproc board and local A-grade channels)
Premium: ₹90 to ₹105 per sq. ft. + GST (for a premium gypsum false ceiling with premium Gyproc board and channels)
Wood
Wooden Laminate: ₹700 to ₹800 per sq. ft. + GST (the cost may vary depending on the finishing used on the laminate) 
Wooden Veneer: ₹900 to ₹1,200 per sq. ft. + GST (the cost may vary depending on the base price of the veneer and type of polish such as PU or melamine)
PVC
₹160 to ₹185 per sq. ft. + GST (starting cost of a laminate PVC ceiling) 
The above prices are an estimate of false ceiling design costs based on the materials chosen. Your overall false ceiling design charges can vary depending on the city, labour charges, material and finish, design, and the size of your home.
4. What Is the Starting Cost of Electrical Work?
| | |
| --- | --- |
| Type of Work | Estimated Costs |
| Electrical looping per point | ₹600 to ₹750 per point + 18% GST |
| Fixture installation | ₹100 to ₹120 per light + 18% GST |
| Fan installation | ₹425 to ₹500 per fan + 18% GST |
| Light gala cutting | ₹100 to ₹120 per point + 18% GST |
Here, electrical work for false ceilings is priced on a per-point basis, while false ceilings are priced on a sq. ft. basis.
The above prices are an estimate of electrical work based on the scope of work required. Your overall false ceiling design charges can vary depending on the city, material, design, labour charges, and the size of your home.
5. What Are the Factors That Determine Your False Ceiling Price?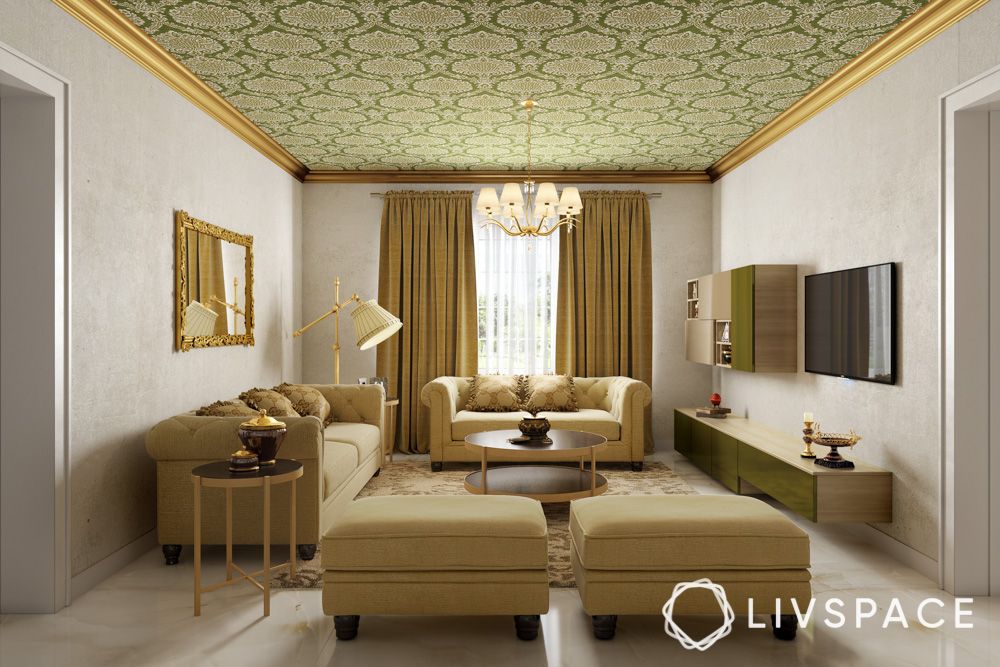 There are multiple factors that can affect your false ceiling cost per square foot. Here are a few to note:
Material: Gypsum, POP, wood, and PVC are some common false ceiling materials you can choose from. The material you choose can further affect your overall false ceiling cost
Drop Height: The height at which your false ceiling drops from the original ceiling can influence costs. The lower the false ceiling is, the higher the design cost can be
Floor-to-Ceiling Height: Your false ceiling cost can vary depending on the floor-to-ceiling height. Additionally, you may incur scaffolding charges for high ceilings
Design: Not all designs are priced the same. The design style and level of work required can push up the cost
Scope of Work: Intricate detailing in your design that covers a wide area can directly affect the overall cost. In other words, the higher the volume of work, the lower the price can be with applicable discounts
Detailing: Different fixtures are priced at different ranges. The type of false ceiling lights you choose for your home can add to the cost of work
6. How Do You Measure a False Ceiling to Calculate the Cost?
Materials aren't the only thing that affect your false ceiling design price. In fact, the size of the room can further influence the cost of design. So, to calculate your false ceiling price, you first need to measure the area of your ceiling. Here are the steps that you must follow to measure your false ceiling rate:
First, calculate the surface area of your ceiling in square feet
Multiply the square-foot surface area by the unit price per square foot
Calculate the cove length in square feet. (The cove is calculated in running feet, where three times the length of the cove is considered to design a cove)
Multiply the calculated cove length by the unit price per square foot
Add the cost of finishing as per the design (paint or polish)
This combined total will give you an estimate of your overall false ceiling design price.
Also Read: All You Need to Know About Designer False Ceiling Is Here
7. Does the False Ceiling Design Cost Differ From City to City?
The false ceiling cost per square foot in Bengaluru might be quite different from the cost in Mumbai. This is because the price of installing a false ceiling differs from place to place. You can attribute this to two main reasons: the cost of labour and the cost of materials used in creating the false ceiling.
Both labour charges and the cost of raw materials can change from location to location. As a result, the exact false ceiling cost per square foot can vary by 10% from one city to another.
8. What Is the Starting Cost of a POP False Ceiling?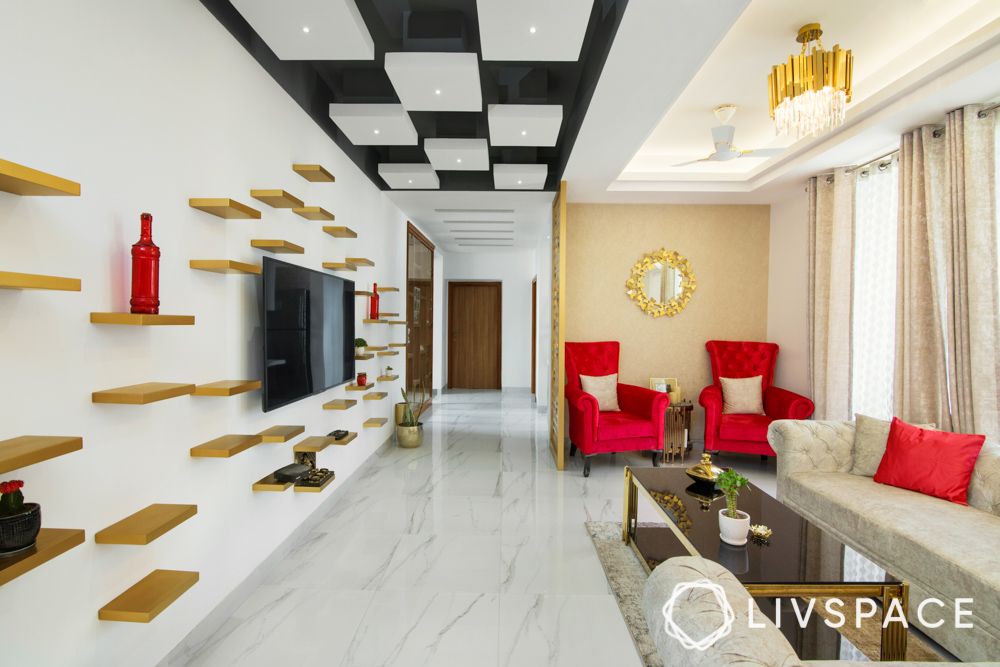 POP is one of the most common false ceiling types that you may see in Indian homes. This quick-setting plaster made of white powder is versatile and can be used to create unique designs.
While a POP false ceiling can have a base starting price, the POP false ceiling rate may go up depending on your customisations.
9. What Is the Starting Cost of a Gypsum False Ceiling?
Another popular type of false ceiling is gypsum. Gypsum is not only an energy-efficient soft mineral, but it also has sound-absorbing qualities, making it a perfect choice for homes in bustling cities.
However, a gypsum false ceiling can be on the bulkier side compared to other materials, occupying a few inches of height. Hence, only consider using it in rooms that have a high ceiling.
Also Read: 20+ Latest False Ceiling Design Ideas That Will Give Your Home a Stunning New Look
10. What Is the Starting Cost of a Wooden False Ceiling?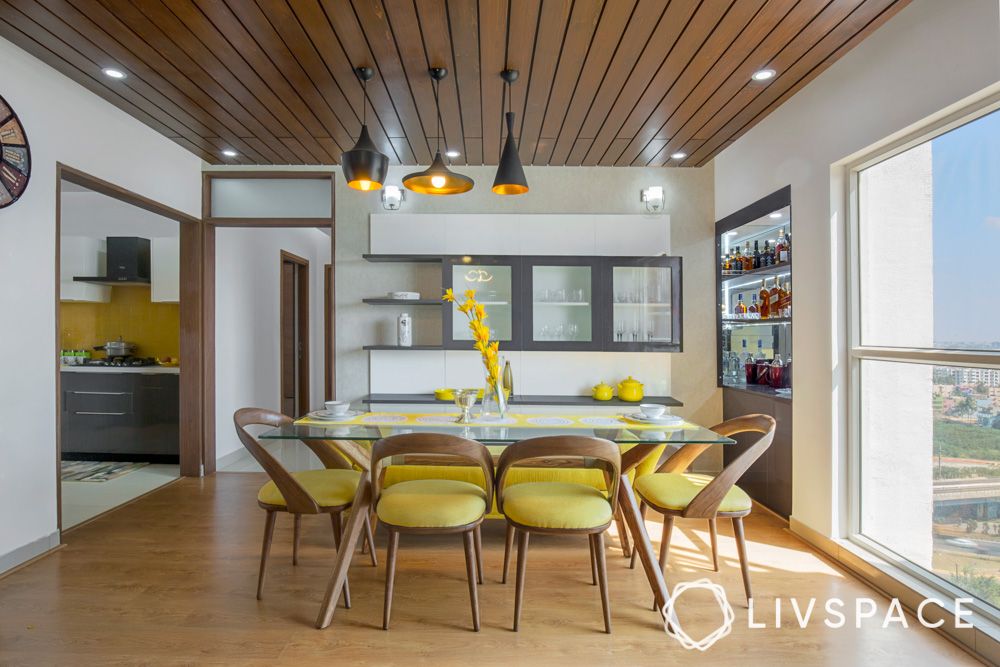 Trends may come and go, but if there's one material that's evergreen, it's none other than wood. Traditionally, most Indian homes have a simple white ceiling, but if you'd like to put a modern spin on it, consider adding a touch of warmth with a wooden false ceiling.
One of the main advantages of a wooden false ceiling is that it can be both traditional and modern, depending on the design you choose. Moreover, if you're not sold on the maintenance requirements of real wood, you can always go for look-alike alternatives such as laminate or veneer.
*The cost may vary depending on the finishing used on the laminate.
**Prices may vary depending on the base price of the veneer and type of polish used, such as PU or melamine.
11. How Do PVC False Ceilings Compare to the Other Materials?
PVC false ceilings are more resistant to moisture, which is why they are most commonly used in bathrooms and balconies. Moreover, PVC is also available in a wooden texture, making it a cheaper alternative to real wood. So, if you're looking to achieve that wood-like look in your bathroom but are worried about the maintenance, consider going for PVC.
How Can Livspace Help You?
We can help you get a well-planned, trending design that's done with constant supervision from our operations team
Having worked on false ceilings for 90% of our full home design projects, you can be assured of our expertise in this space
We offer a one-year warranty on false ceilings with the best of materials and finishes to ensure you have a long-lasting design
Eager to get your hands on a unique ceiling design for your home? Book an online consultation with Livspace to get started.
To know how our customers feel about working with us, check out these Livspace reviews for more details! Have any thoughts or suggestions you'd like to share with us? We're all ears! Drop us a line at editor@livspace.com.
Disclaimer: All contents of the story are specific to the time of publication. Mentions of costs, budget, materials, finishes, and products from the Livspace catalogue can vary with reference to current rates. Talk to our designer for more details on pricing and availability.
FAQs
1. How Much Does a False Ceiling Cost?
The false ceiling price per sq. ft. can range from ₹75 to ₹85 per sq. ft. + GST for a standard gypsum false ceiling. For a premium gypsum false ceiling, the price can range between ₹90 to ₹105 per sq. ft. + GST.
2. Which False Ceiling Material Is Cheaper?
Standard gypsum is the cheapest false ceiling material, as it ranges from ₹75 to ₹85 per sq. ft. + GST.
---
Popular Services:
Modular Kitchen Designs | Wardrobe Designs | Bathroom Designs | Master Bedroom Designs | Living Room Designs | Pooja Room Designs | TV Unit Designs | False Ceiling Designs | Kids Bedroom Designs | Balcony Designs | Dining Room Designs | Foyer Designs | Guest Bedroom Designs | Window Designs | Flooring Designs | Wall Decor Designs | Wall Paint Designs | Home Wallpaper Designs | Tile Designs | Kitchen Cabinets
Popular Locations:
Interior Designer Bangalore | Interior Designer Mumbai | Interior Designer Pune | Interior Designer Chennai | Interior Designer Hyderabad | Interior Designer Gurgaon | Interior Designer Delhi | Interior Designer Ahmedabad | Interior Designer Vadodara | Interior Designer Kolkata | Interior Designer Thane | Interior Designer Navi Mumbai | Interior Designer Coimbatore | Interior Designer Lucknow | Interior Designer Patna | Interior Designer Nagpur | Interior Designer Chandigarh
Popular Stories:
2 BHK Interior Design | 3 BHK Interior Design | 1 BHK Interior Design | Interior Design Cost in India | Painting Cost Per Square Foot | False Ceiling Cost | Bathroom Renovation | Sofa Design Ideas | Pop Design for Hall | House Paint Colours | Main Door Design | Granite Countertops | Vastu for Home | Cool Wallpapers | Types of Kitchen Layout | Types of Flooring | What is Plywood | Pooja Room Vastu | South Facing House Vastu | Which Plants Are Good for Home Vastu | Vastu Tips for Home