When you need a functional kitchen interior design, you'll have to keep in mind the work triangle, which is the basis to having an efficient kitchen layout. A kitchen layout that beautifully incorporates these rules is the L-shaped kitchen. And what's better is, it doesn't matter if it's a big or small kitchen. An L-shaped kitchen can be made attractive and super functional. Here we have 20+ gorgeous designs for you to draw inspiration from! Take a look:
L-Shaped Kitchen Designs #1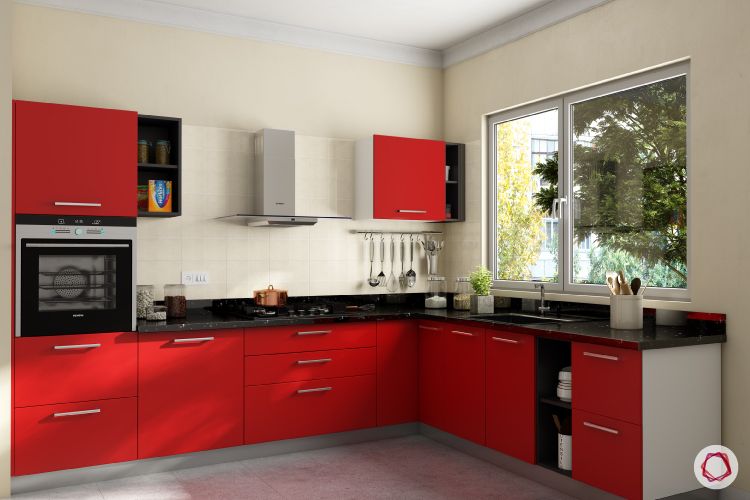 With an equally spaced hob, sink and refrigerator, this open L-shaped kitchen design is attractive in red and ergonomically efficient. With a blend of open and closed cabinets, it makes the best use of space available.
L-Shaped Kitchen Designs #2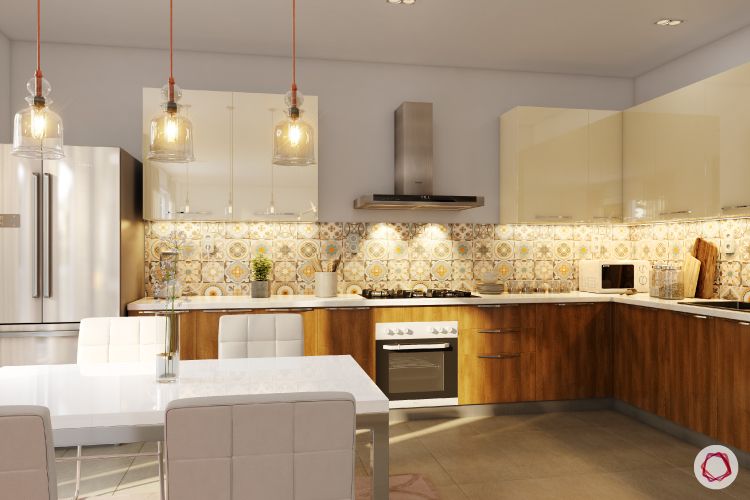 There is such a warm glow when you step into this kitchen. With its wooden tones paired with pleasing creams and patterned backsplash. If you have an open kitchen layout, we recommend you keep it aesthetically light while maximising storage.
L-Shaped Kitchen Designs #3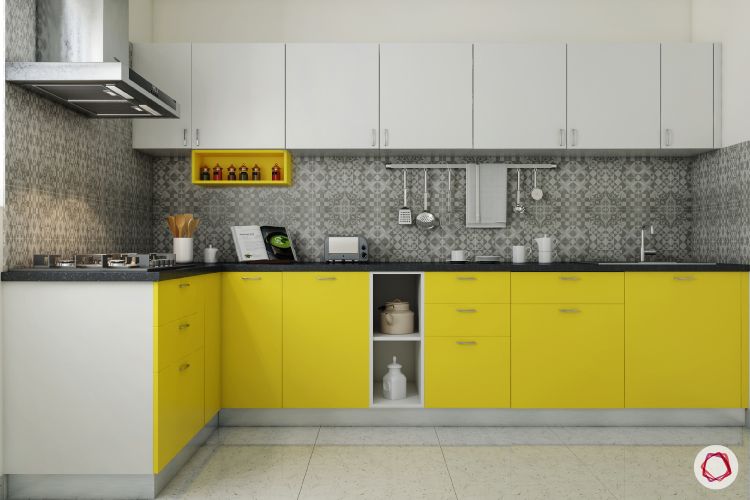 Small kitchens don't have to feel cramped! You can get all the storage you need with appropriate accessories to keep your counter space free. If you have a vibrant personality, we recommend a pairing of yellow and white cabinets for that fresh feeling.
L-Shaped Kitchen Designs #4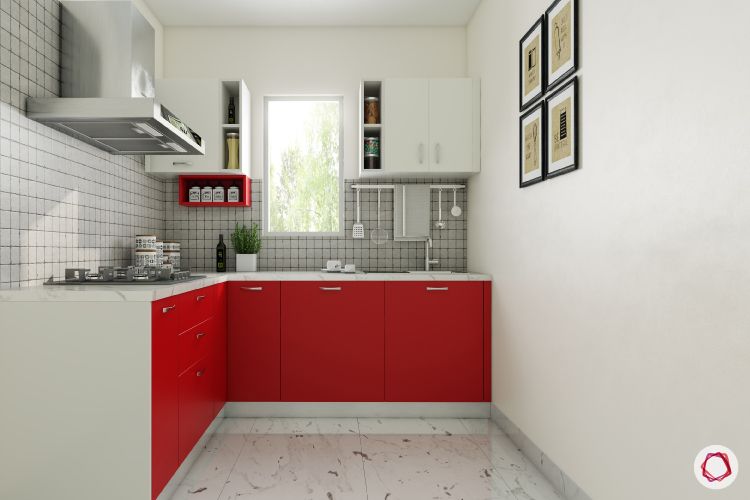 Small kitchens like this do well to use white in overhead cabinets and on the walls. But we've packed in quite a punch with the red cabinets! It's perfect for bachelors and couples.
L-Shaped Kitchen Designs #5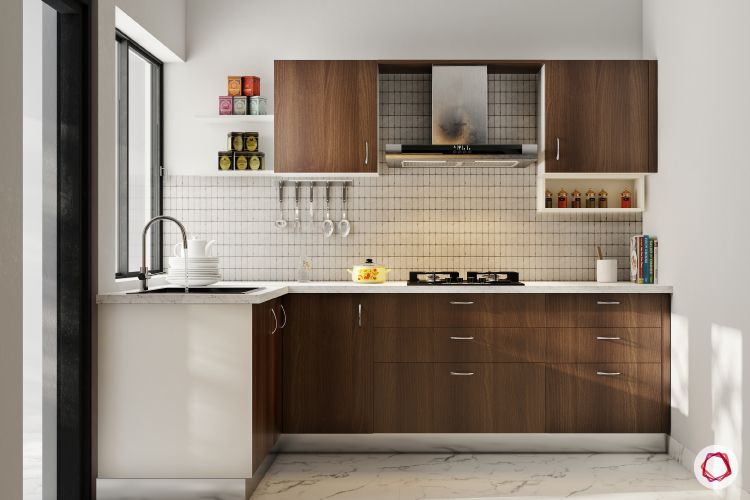 Don't you just love wooden finish kitchens? They work spectacularly well for small spaces too! We've provided some ledges and open cabinets for condiments that are frequently accessed.
L-Shaped Kitchen Designs #6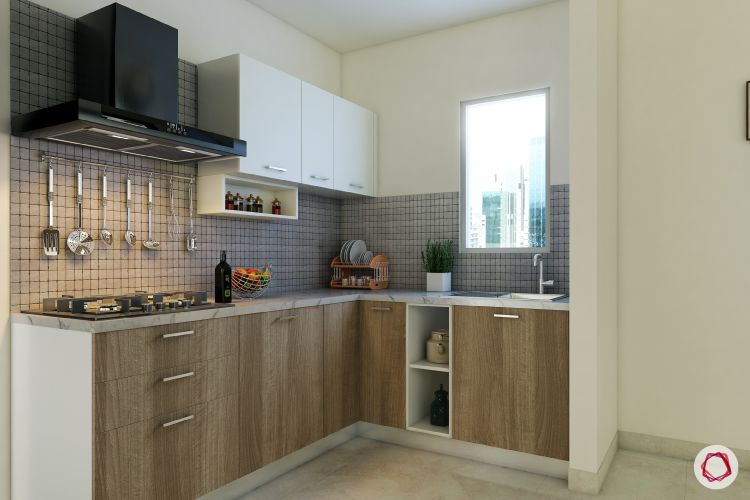 Another wooden finish kitchen in a lighter shade, we've paired it with cream and a lightly checkered backsplash to keep it visually light.
L-Shaped Kitchen Designs #7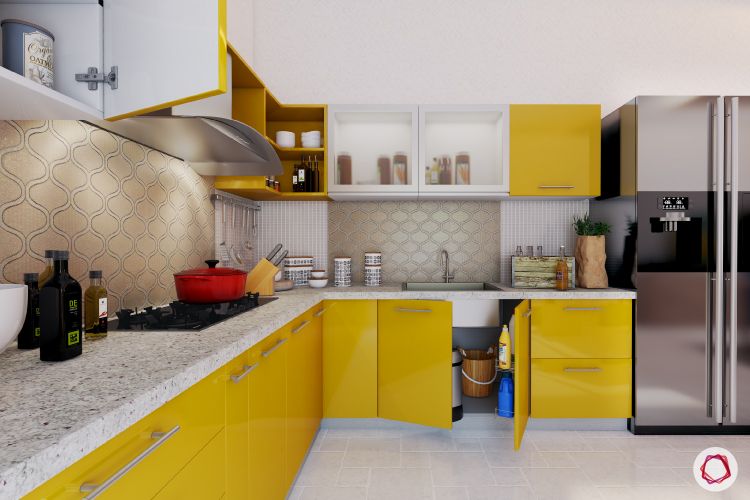 Since we're talking about wooden grains, this one takes care of extensive storage needs, especially for big families. With patterned tiles adorning the backsplash, it's basic but very functional.
L-Shaped Kitchen Designs #8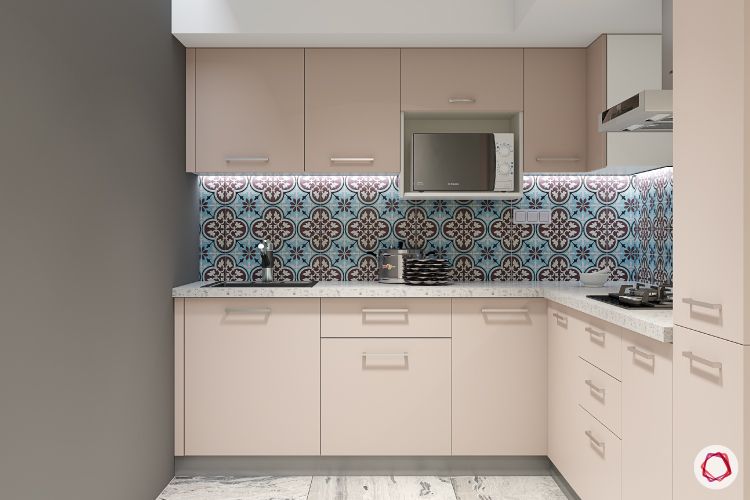 We're currently crushing on this pastel kitchen! What an unusual colour scheme with baby pink cabinets and a contrasting backsplash! While the kitchen is relatively small, we've packed it with plenty of cabinets to hold utensils and condiments.
L-Shaped Kitchen Designs #9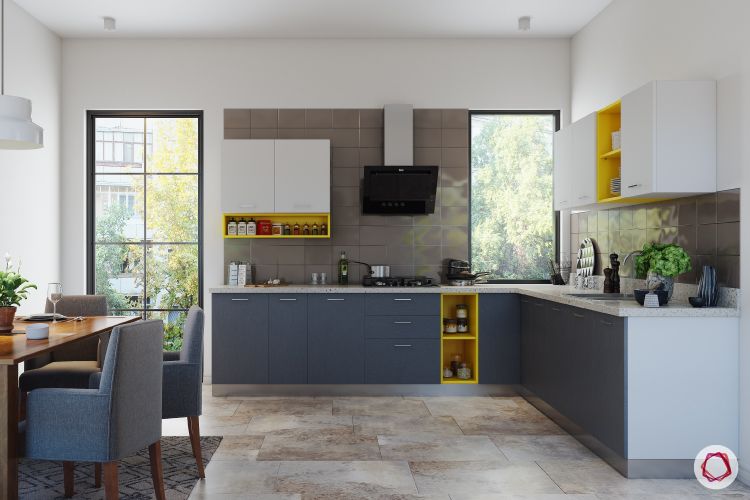 Open layouts have found favour in a lot of urban homes of late due to shrinking home sizes. So we decided to give them a little twist by introducing great colour combinations. Check out the yellow cabinets that break the monotony in this layout.
L-Shaped Kitchen Designs #10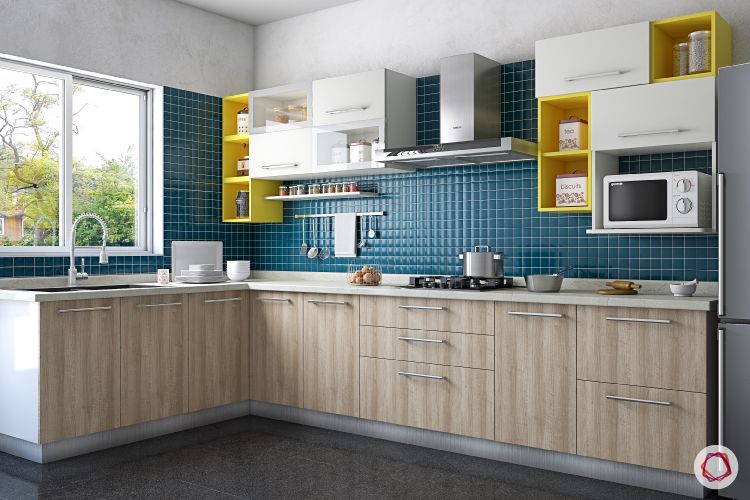 We love how this kitchen has come together! Visually light but also attractive, the showstopper here is the blue tiled backsplash!
L-Shaped Kitchen Designs #11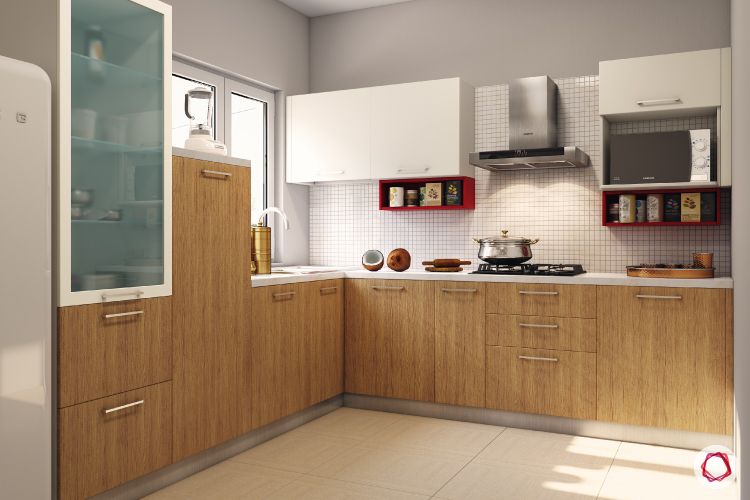 We love the frosted glass cabinet in this kitchen along with the tall pantry unit. It's perfectly spaced with a great combination of display and storage options.
L-Shaped Kitchen Designs #12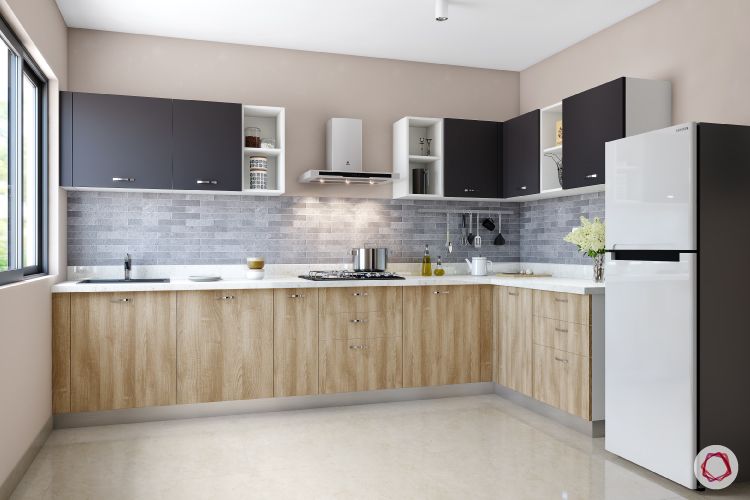 Did you ever think grey would look so stunning with wood? This gorgeous kitchen is a little more closed, but makes up for it with so much natural light.
L-Shaped Kitchen Designs #13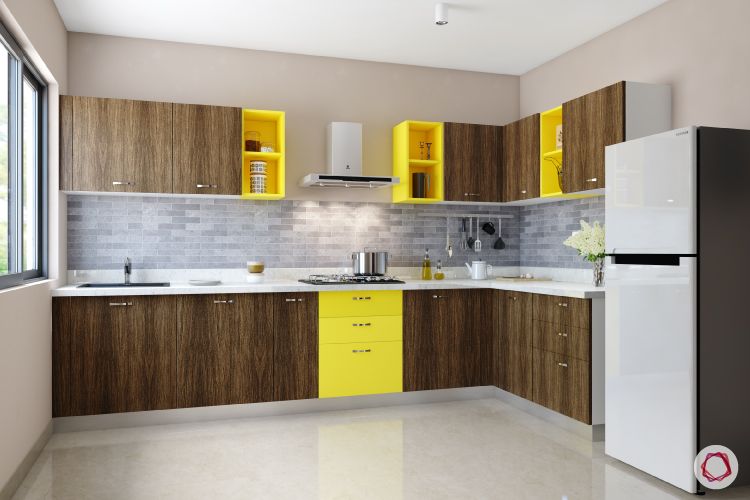 With the same layout as our previous kitchen, look how much of a difference finishes and colours can make! We love the pop of yellow!
L-Shaped Kitchen Designs #14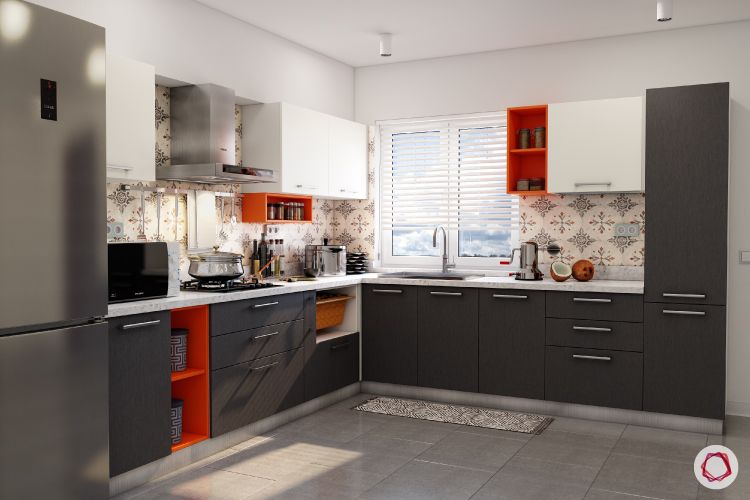 While grey and white are popular choices today for urban homes, we love the pop of orange and the cute vegetable basket installed.
L-Shaped Kitchen Designs #15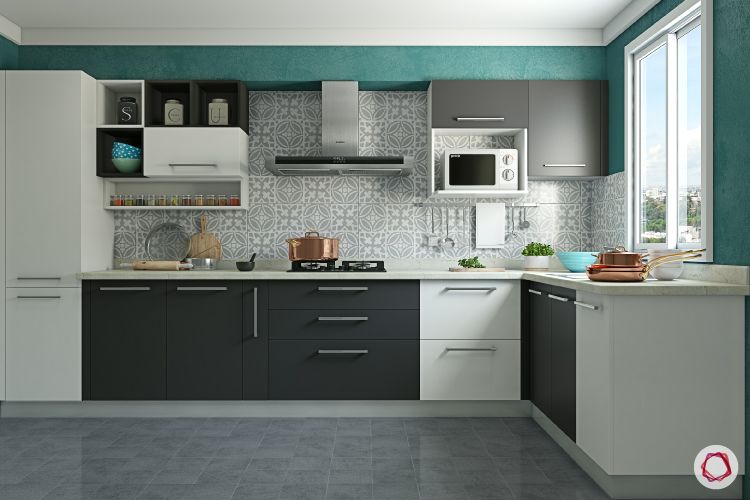 This is one for the ages! Look how beautifully wall colour, backsplash and cabinets come together to give you an aesthetically appealing and visually light kitchen. Create your culinary masterpieces in a design like this!
L-Shaped Kitchen Designs #16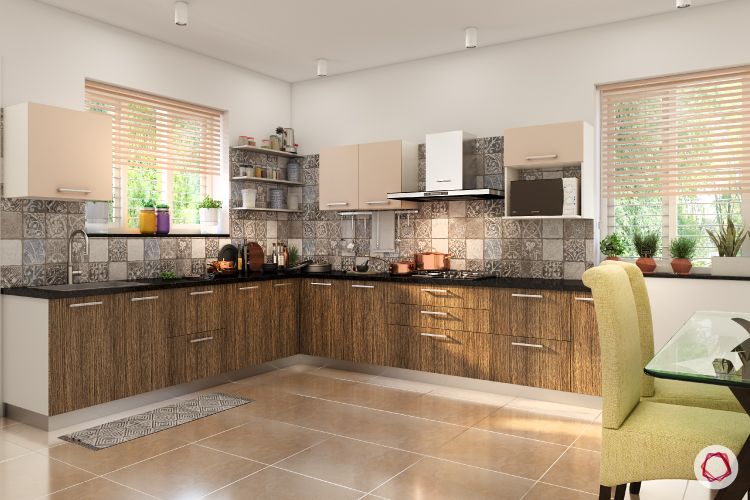 Combine pastels with wood? *Gasp*
We love the unconventional and you can see for yourself how it's worked.
L-Shaped Kitchen Designs #17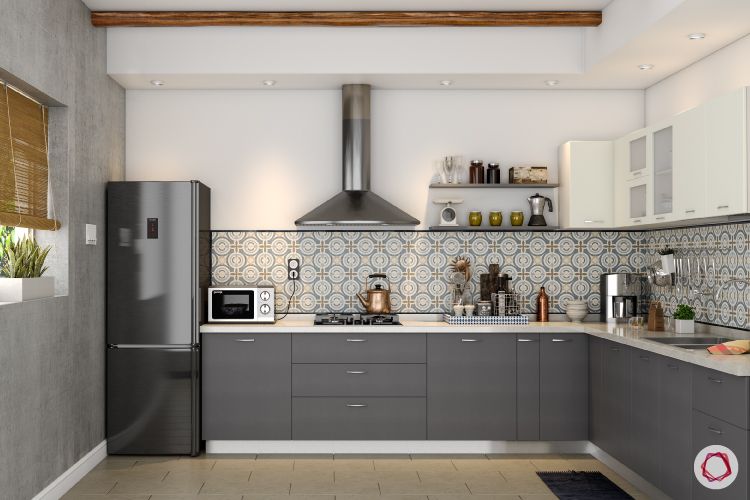 This classical design will match any personality! With so much counter space, you can throw a lot of dinner parties with ease!
L-Shaped Kitchen Designs #18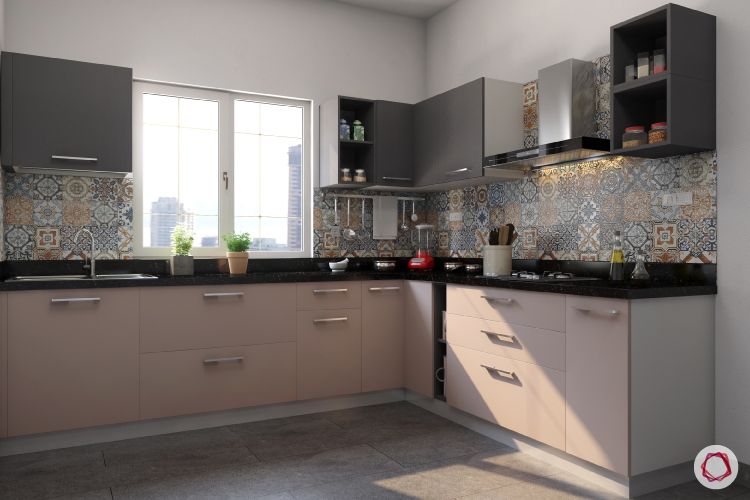 Pink and grey for a subtle effect! Small kitchens work well with pastels and lighter shades, we feel. You can pair it with an interesting pattern for the backsplash.
L-Shaped Kitchen Designs #19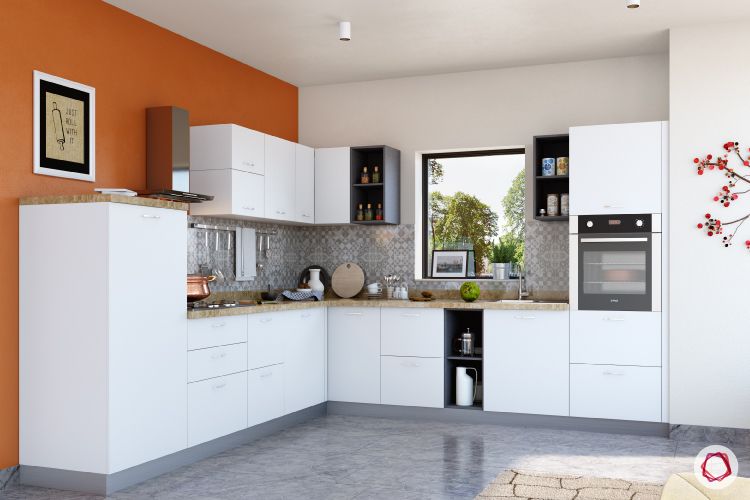 Stunning in white, this is a classic design that is a favourite. People hesitate to go for all-white, but we're here to assure you that the finishes available in the market now are easier to maintain!
L-Shaped Kitchen Designs #20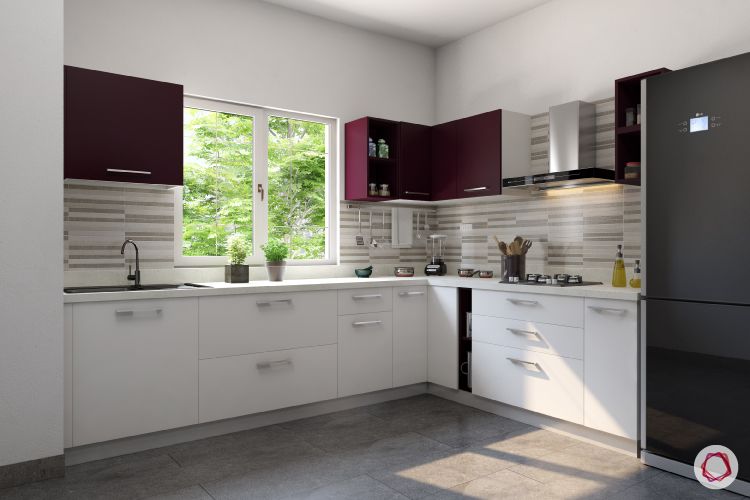 You can also pair white with wine colours and geometric shapes for a backsplash. It forms the perfect work triangle too!
L-Shaped Kitchen Designs #21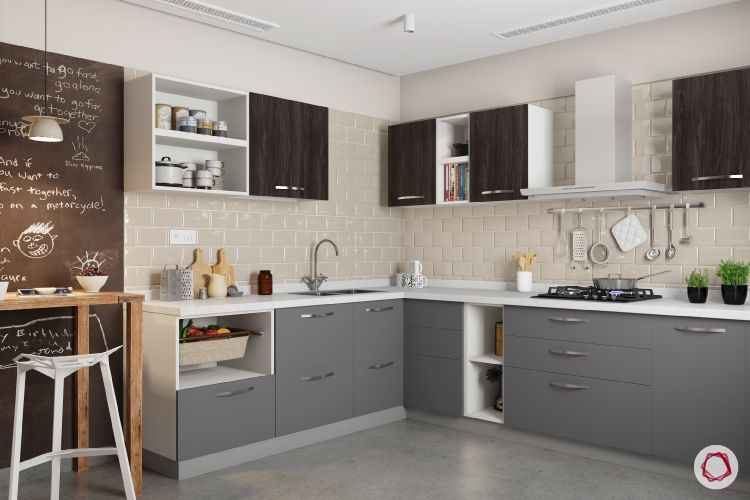 Love a little bit of fun in a neutral zone? Go for a wall with chalkboard paint to fill it up with the week's menu, jokes and notes to your SO!
Love our kitchens? Also check out Two-Toned Kitchens that are also in trend!