If there's one wall decor idea that suits everyone, it's gallery walls. Such a wall can be a conversation starter, an exhibition of things you love the most, a bunch of travel souvenirs, a few poignant moments captured by your family, a hobby on display, and so much more! Let's now take a look at 44 different wall decor ideas to do up a blank wall at home.
Wall decor ideas #1: Hang your family photos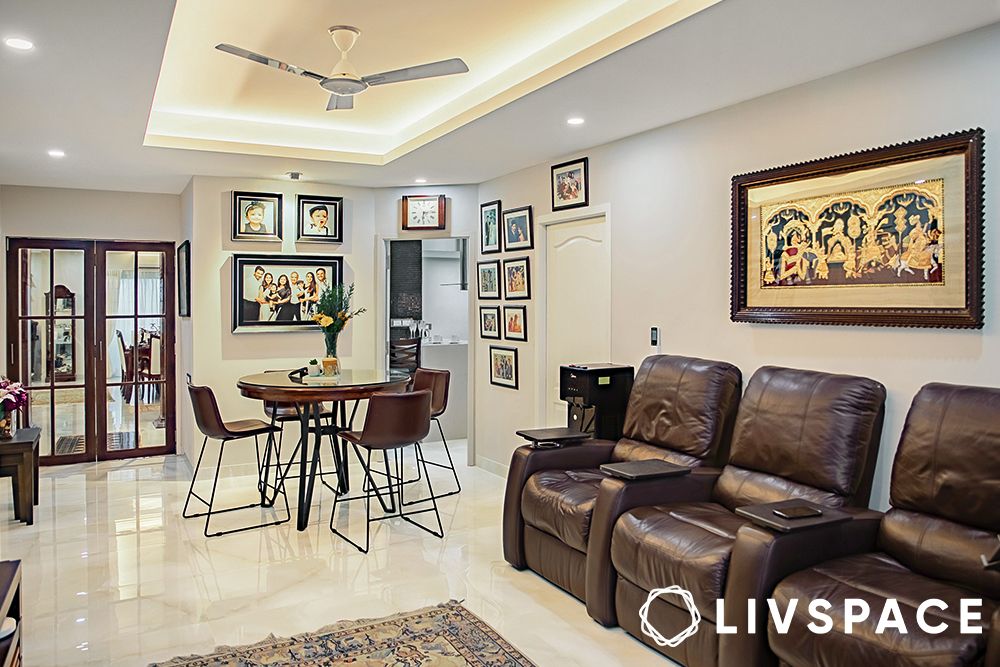 An interior wall design can be an art collection, a haphazard collection of paintings, plates, masks and more. While all of these are great wall decor ideas, nothing beats a gallery wall of family photographs! Try a stunning mix of photos placed in an asymmetrical pattern to give the blank wall an elegant boost.
Wall decorating ideas #2: Add texture to your home wall design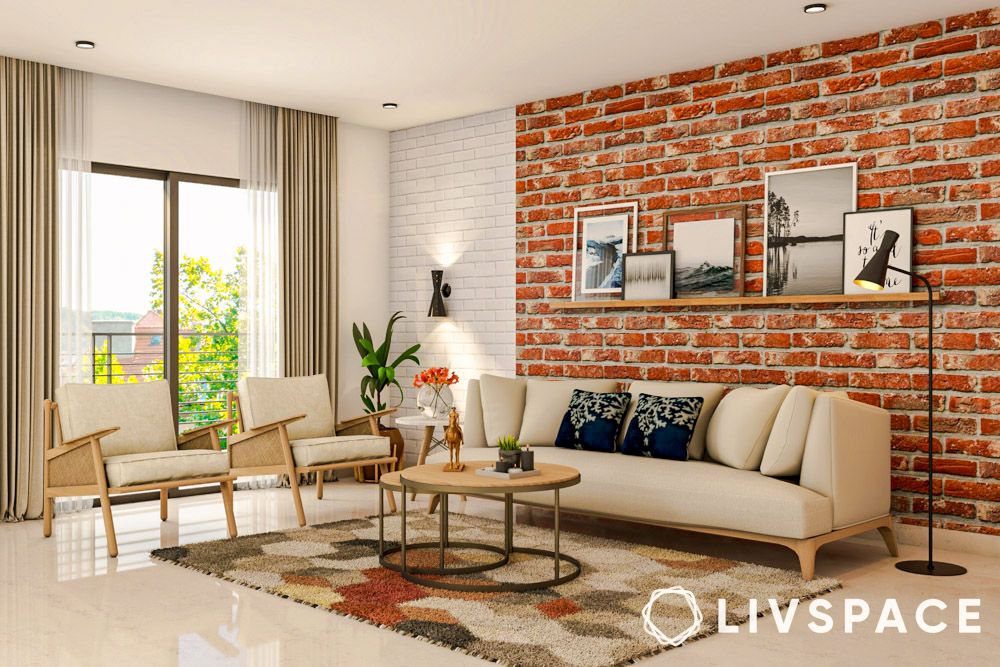 This eclectic room comes to life with a soothing mix of colours, while the brick wall design adds a rustic touch to it. If you notice, all the frames on the shelf are different. This fun mix of designs and sizes matches the quirky tempo of the room.
Wall decor ideas #3: Design with furniture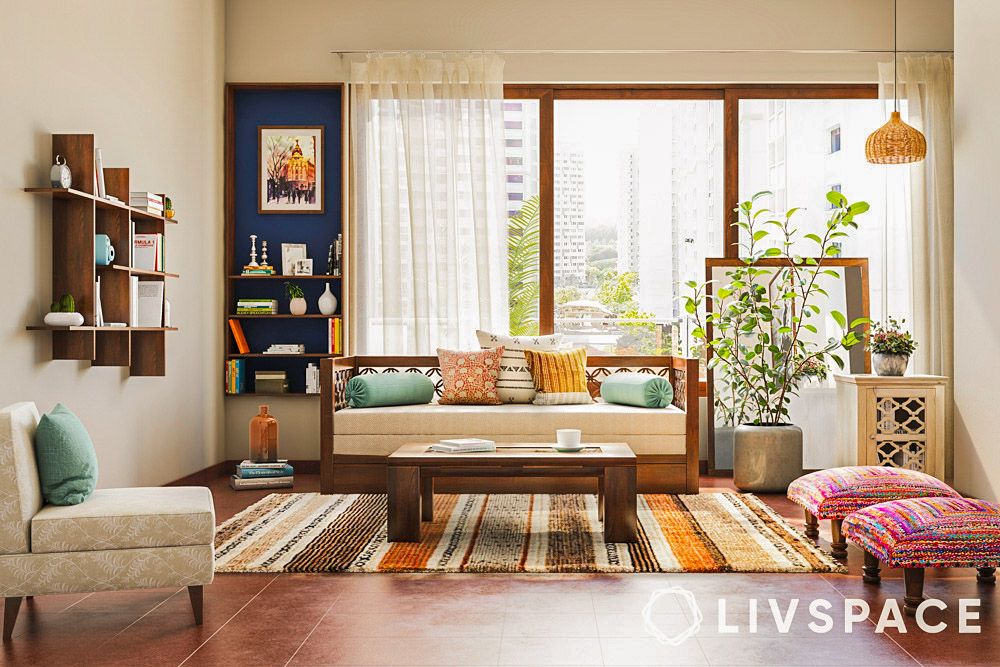 One of the wall decor ideas we recommend is going simple. Efficiency meets elegance in this living room wall design featuring floating shelves that house a mix of memorabilia, artwork and books!
Also Read: All About Laminates: Types, Finishes, Maintenance & Tips to Choose
Home wall design ideas #4: Use decorative mirrors in different shapes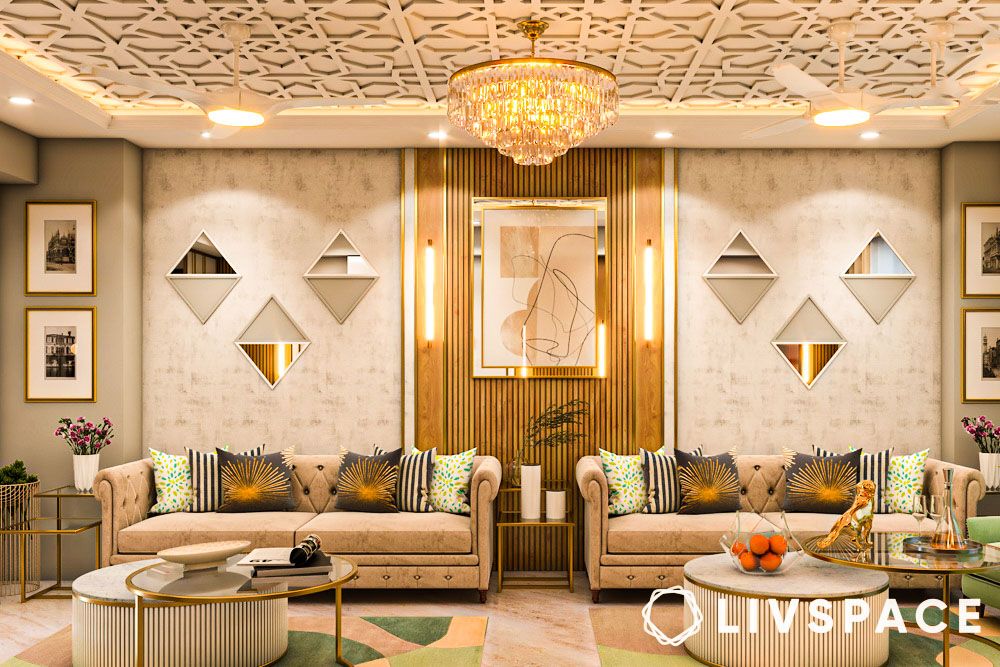 Mirrors have been all the rage now and this wall decor idea takes it to the next level! If you want to make your walls shine, combine mirrors with metal finishes. In addition to mirrors, incorporate symmetry to add tons of personality to your space.
Wall decor ideas #5: Never go wrong with colour therapy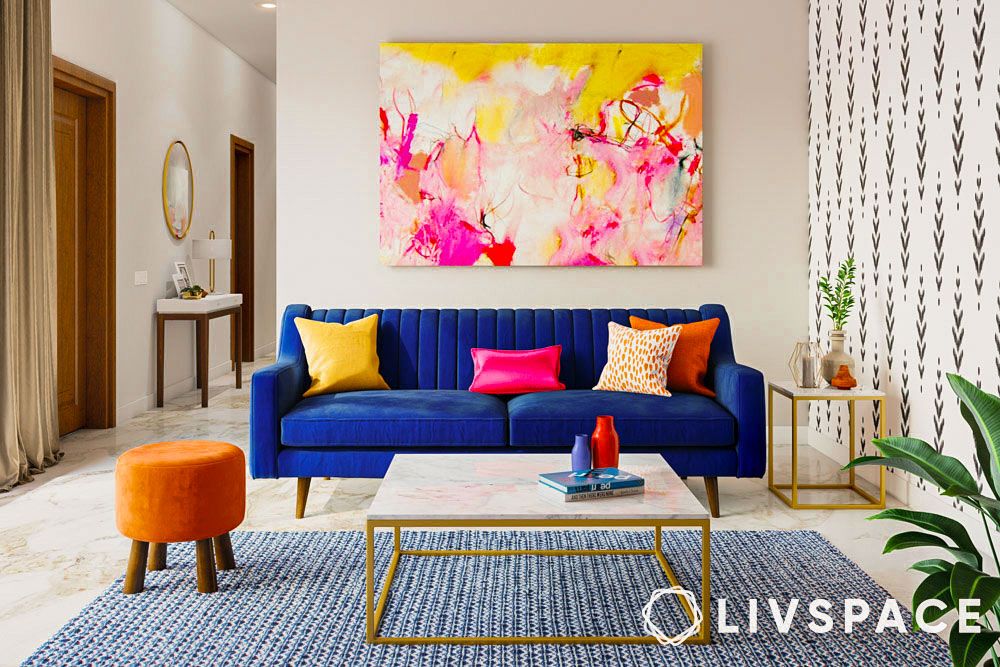 If simple wall decor ideas are not your thing, try this wall decor for your living room that makes a striking impact with its abstract burst of colours. Additionally, it gives the space a sense of wonder.
Wallpaper design for living room #6: Try stencil-style wallpapers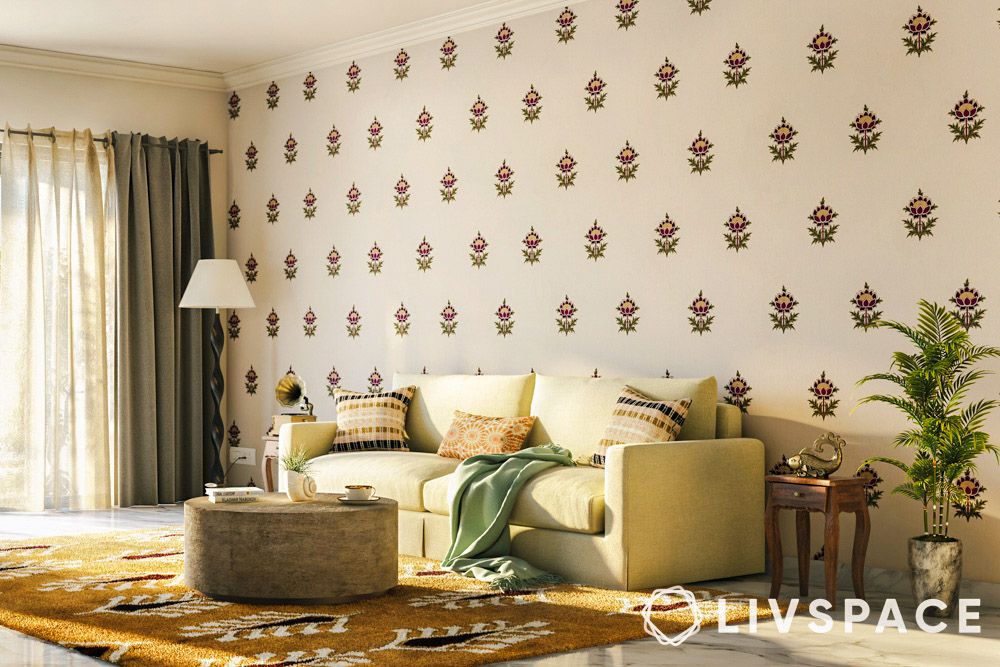 The idea here is to create a modern wall design that you would enjoy looking at day after day. Adding stencilled wallpaper to your wall decor will infuse character and colour into your room without sacrificing the clean look.
Wall decor ideas #7: Mix and match with tiles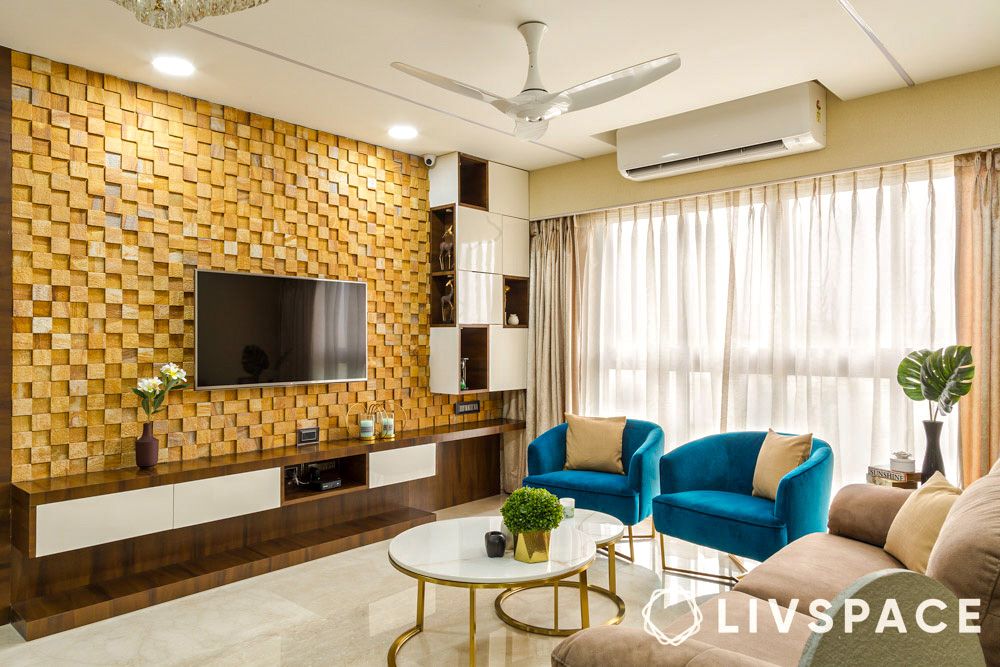 Love quirky wall decor ideas but don't want to get out of your comfort zone? Go for tiles but add a consistent theme. Moreover, you can turn it into an accent wall design for your home! The idea here is to infuse vibrant colours into your space.
Wall decorating ideas #8: Go bold with a sculpture
If you love striking wall decor ideas, then this one's for you! Add intricate sculptures to your once-bare walls and get ready to wow your guests!
Wall decor ideas #9: Keep it green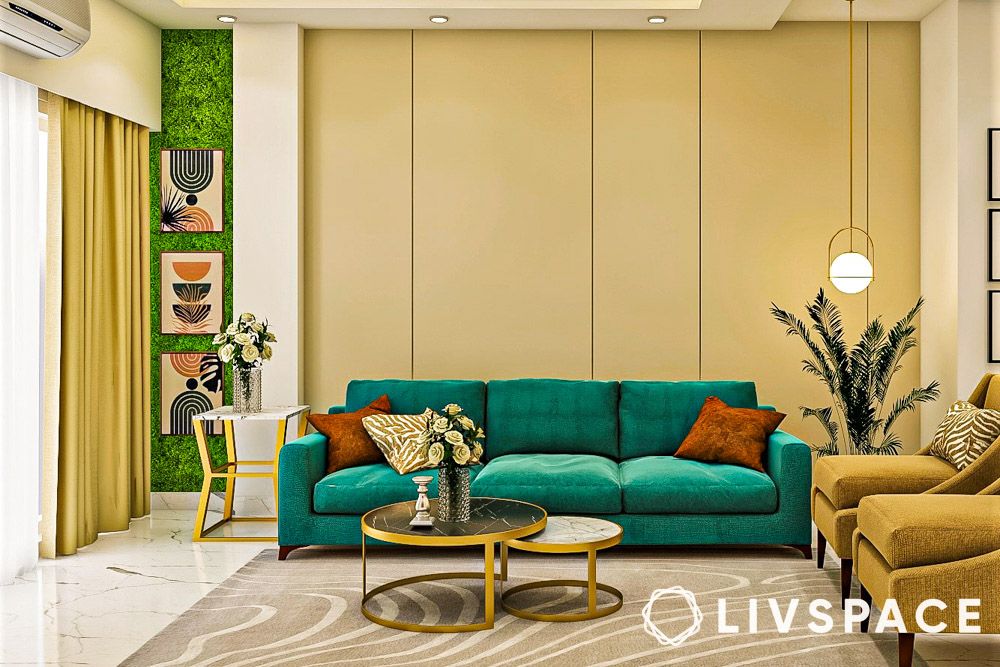 Here's another wonderful wall decor idea for the plant parents out there. Quench your thirst for biophilic design with a vertical green wall. You can deck it up with complementary paintings to complete the look.
Room wall decor ideas #10: Consider cabinets in your halls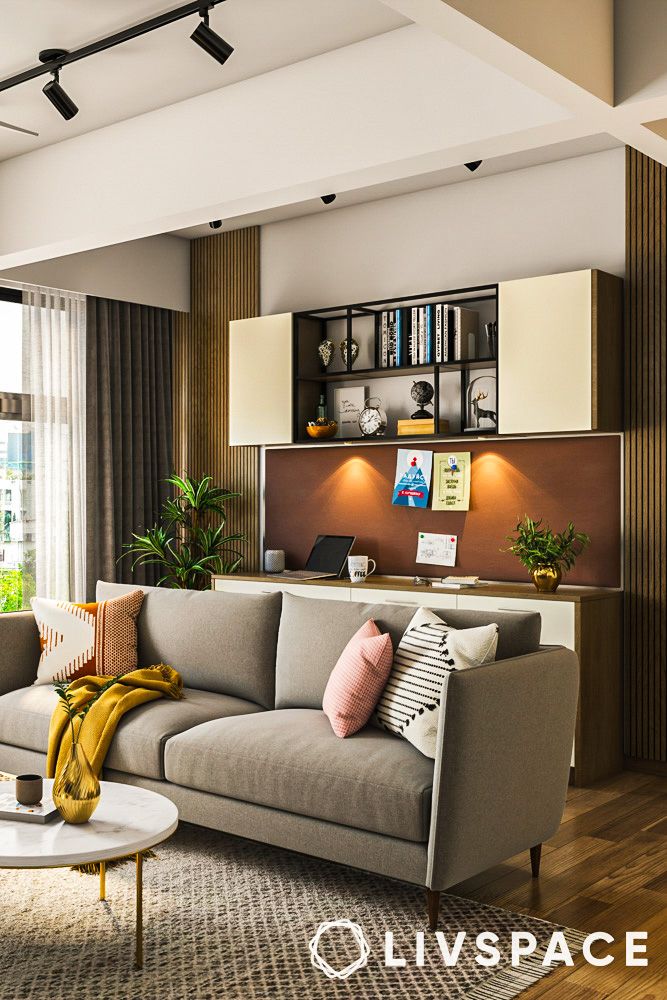 What's the best way to welcome guests home, you ask? Give them a sneak peek into your lives by putting up your most cherished moments on the foyer wall. In addition, get a mix of closed and open cabinets to make your life storage-intensive.
Wall decor ideas #11: Go the antique way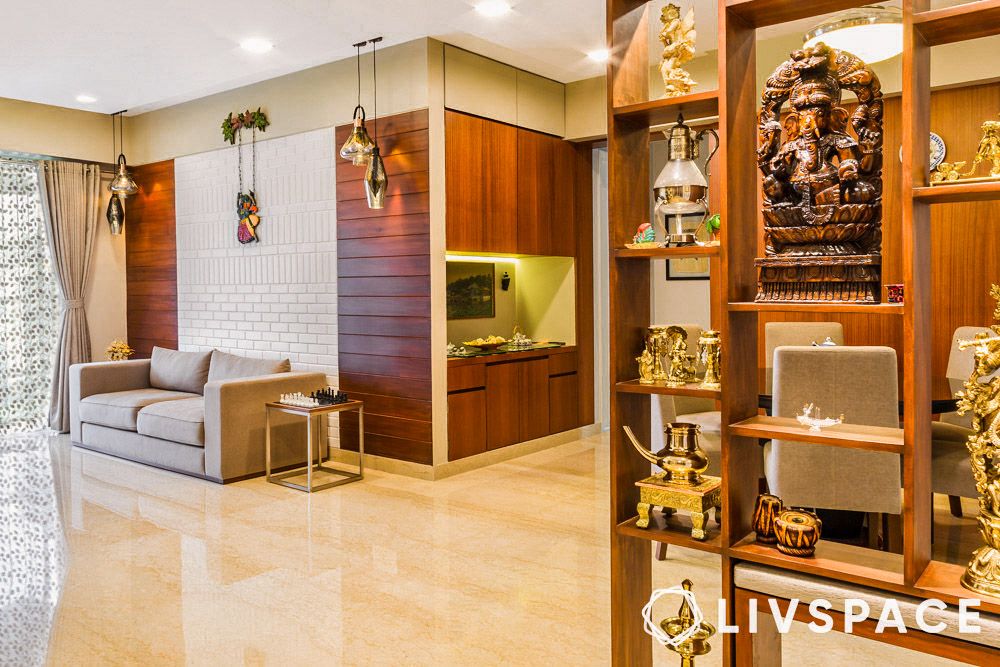 Wall decor ideas should make your wall a spot to pause and reminisce, even while giving guests a tour of the house. Why not fill your wall with displays of antiques and go the maximalist way?
Also Read: How to Clean Distemper Painted Walls
Living room wall design ideas #12: Style your wall with bookshelves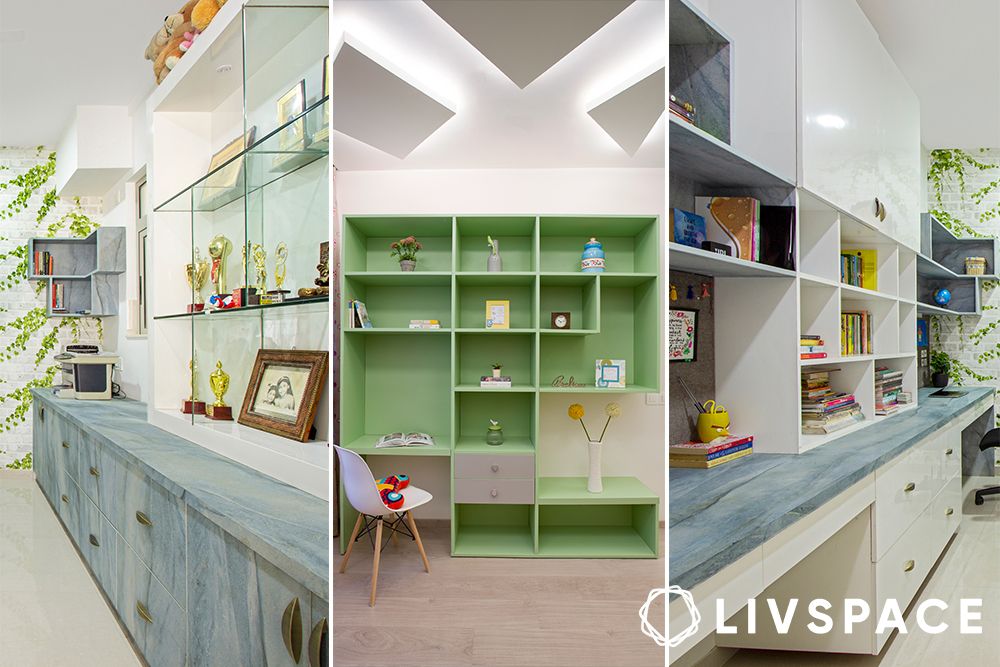 Get ready to be inspired for your next book-organising endeavour! There's no better way to enliven your blank wall than with bookshelves. If you are not much of a reader, you can keep it simple and mix things up with sculptures, antiques and artwork.
Wall decor ideas #13: Embrace embroidery or textile art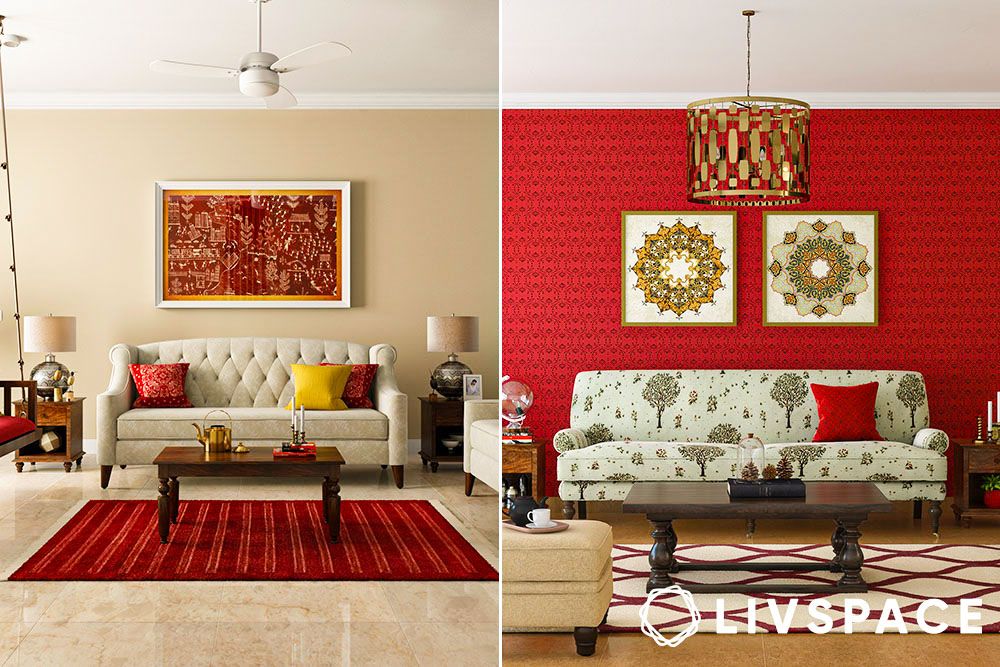 These home wall designs take inspiration from the decor of the room and play with the ethnic Indian art sensibility. Filled with Indian imagery and paintings, these are indeed showstoppers. Additionally, check out the awesome wallpaper design in the living room on the right! You can also try your hand at wall decoration ideas (like this) at home.
Living room wall decor ideas #14: Bring a hint of texture with rustic reclaimed wood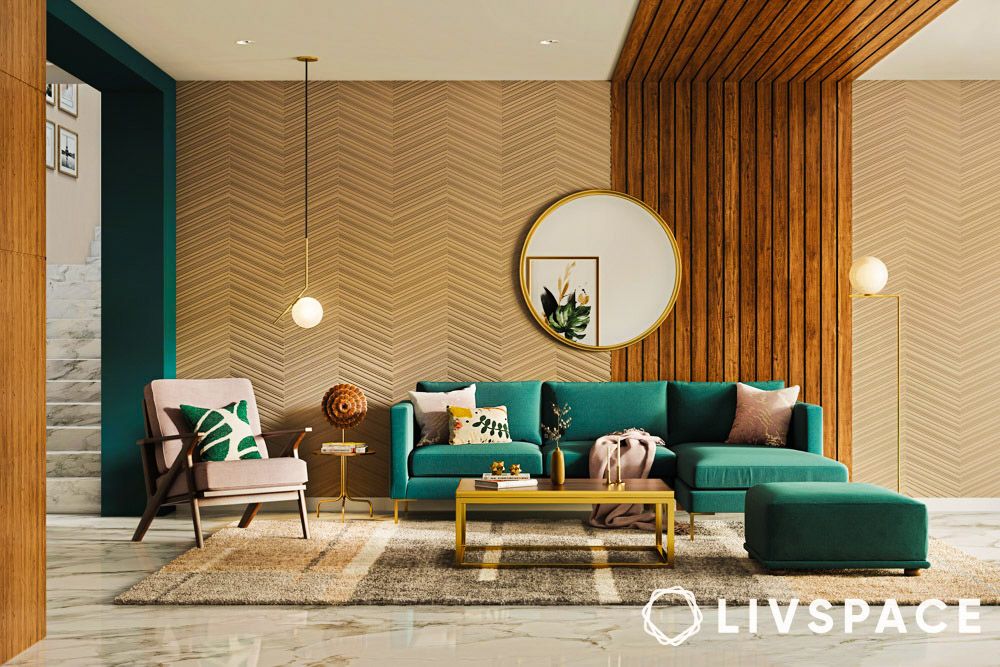 Create a mix of textures and see your wall decorating ideas come to life. Let them be a conversation starter when you lead the way with a beige and textured wood wall. In addition, reclaimed wood makes this a sustainable option.
Check out wall paint ideas:
Wall decor for living room #15: Go mural!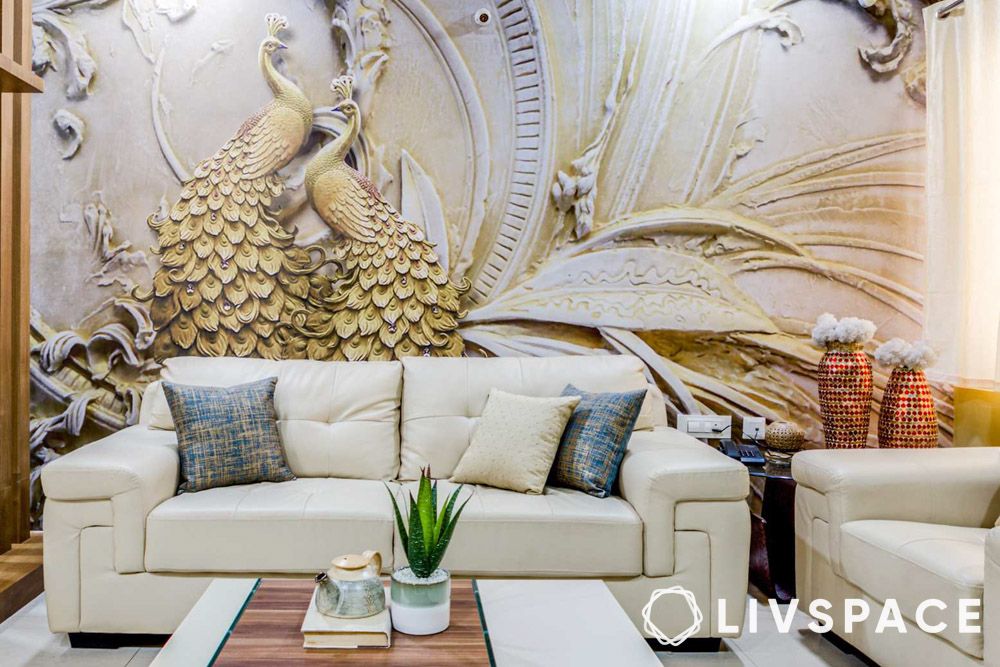 Mural wallpaper design for a living room speaks volumes through visuals by offering you a variety of choices in colours and patterns. This vibrant peacock mural boldly commands attention, making it the focal point that can steal the show in all kinds of rooms.
Wall decor for living room #16: Plate up your wall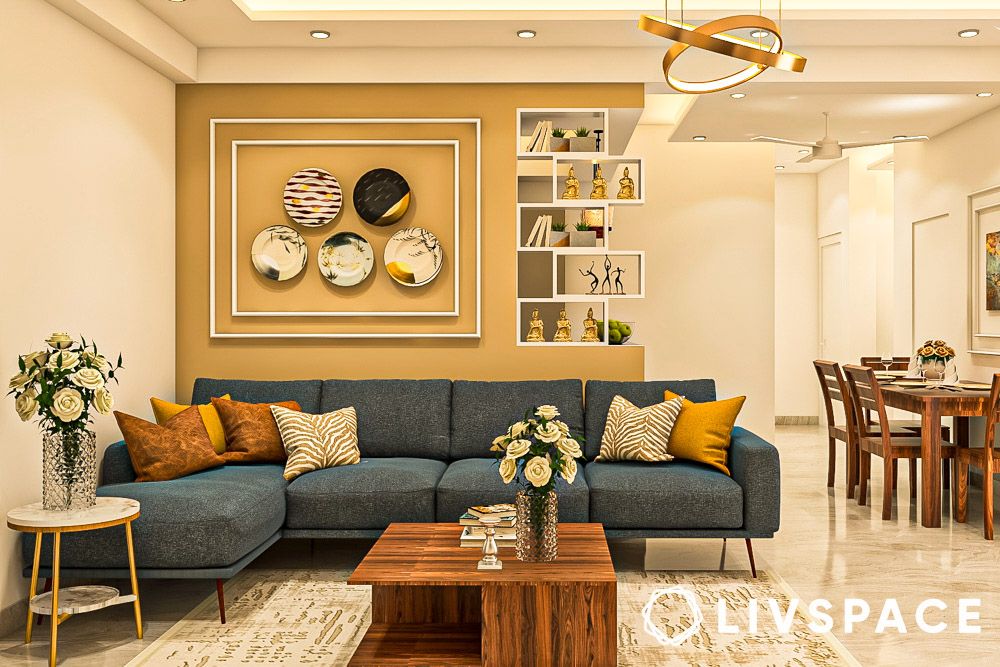 Gather plates from vintage shops, your journeys, or even your own cupboards because they are more than just dishes; they narrate stories. Group them by colour, pattern or size on your wall and you can weave a visual tale of your travels or family legacy.
Wall decor ideas #17: Add oversized wall calendars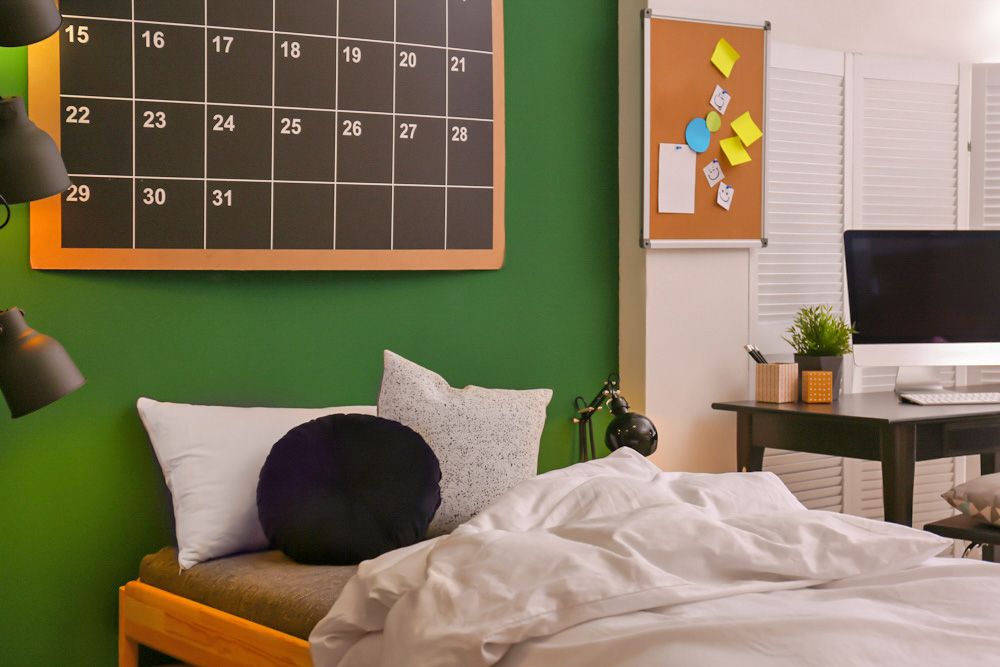 Calendar walls are perfect for home offices, bedrooms and even kitchens where you need a quick glance at dates, events or tasks. They add a quirky style to your walls but are also practical enough to be put up in all kinds of living spaces.
Living room wall decor ideas #18: Mount a chalkboard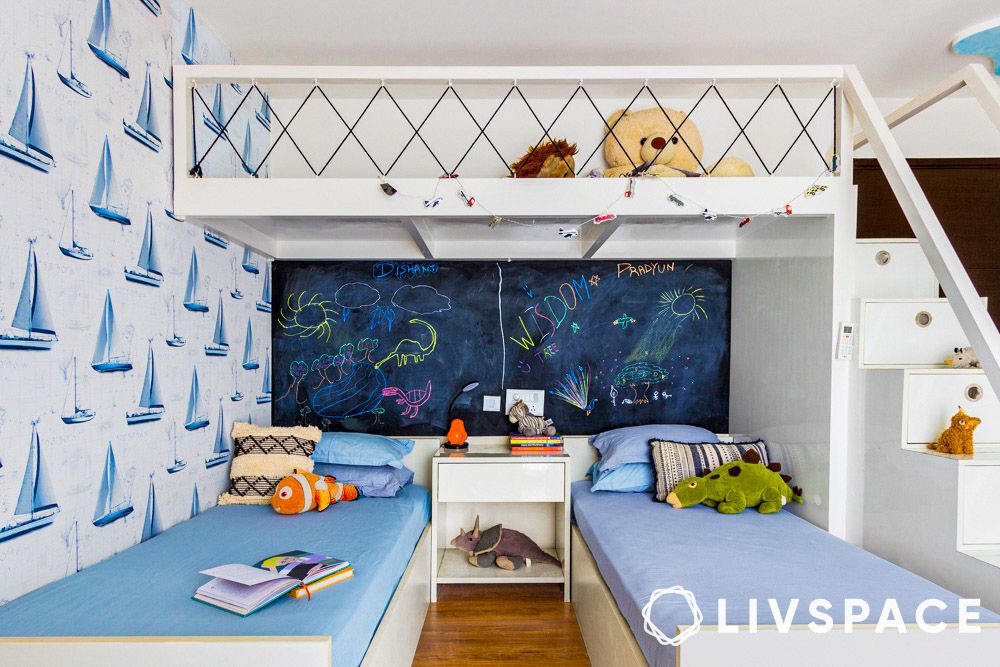 Chalkboards are the perfect way to display artwork, notes, reminders, schedules, and more. With a little creativity, you can use chalkboard walls to create a fun and functional space.
Living room wall decor ideas #19: Decorate with a TV unit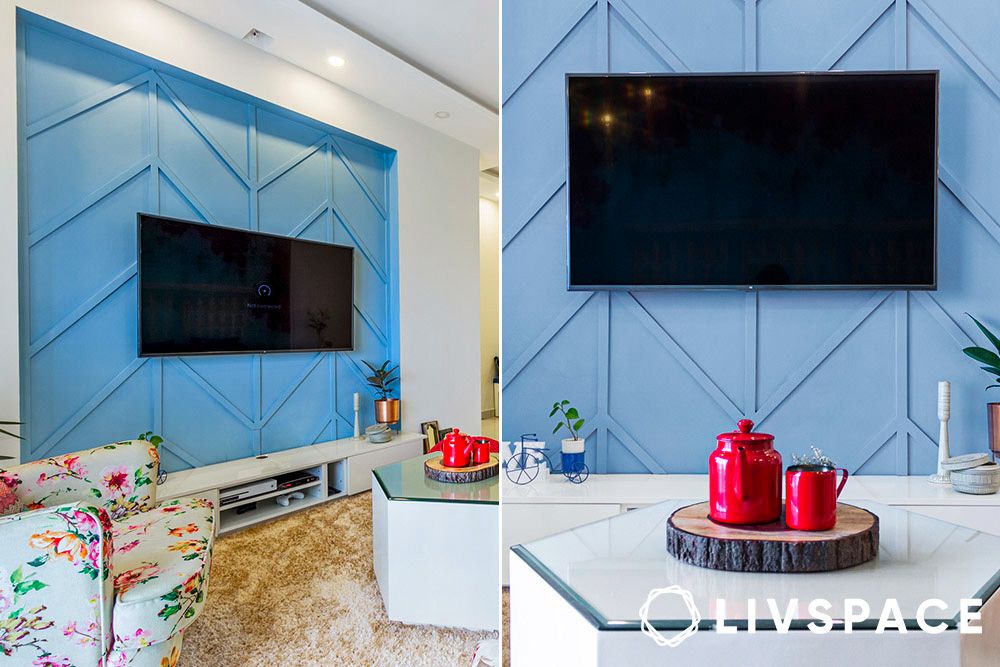 Enhance your wall with a flexible TV unit – surround it with a gallery or paint the unit wall in a vibrant accent colour to effortlessly transform the vibe of your room. Simple adjustments that make a big impact!
Also Read: 60+ Elegant TV Unit Design Ideas: Trendy Options for TV Unit Design
Wall decor ideas #20: The magic of illusion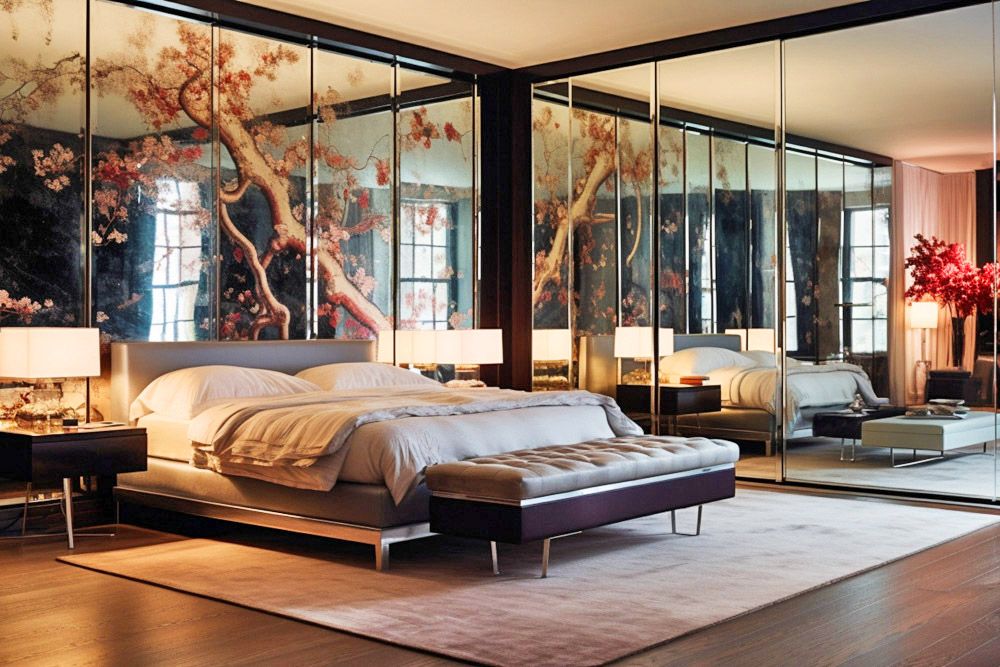 Placing two mirrors side by side can create an illusion of never-ending reflections. They can be used to create a sense of depth, movement and/or mystery, no matter the purpose of the room.
Wall decor ideas #21: Make way for a window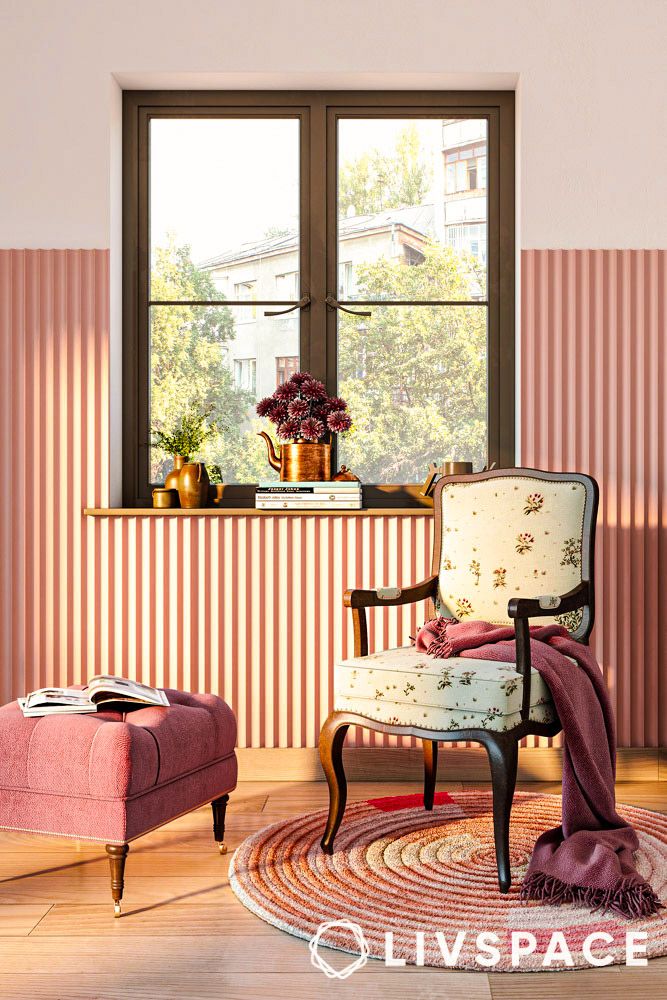 Find vintage window frames at antique stores, flea markets and online retailers. You can paint them, add decorative elements, or simply hang them as is. You can also create a window mirror to bring light and reflection into your space—whether it's fashioned from a vintage frame, a salvaged window or a brand-new one.
Living room wall decor ideas #22: Go for a TV unit with storage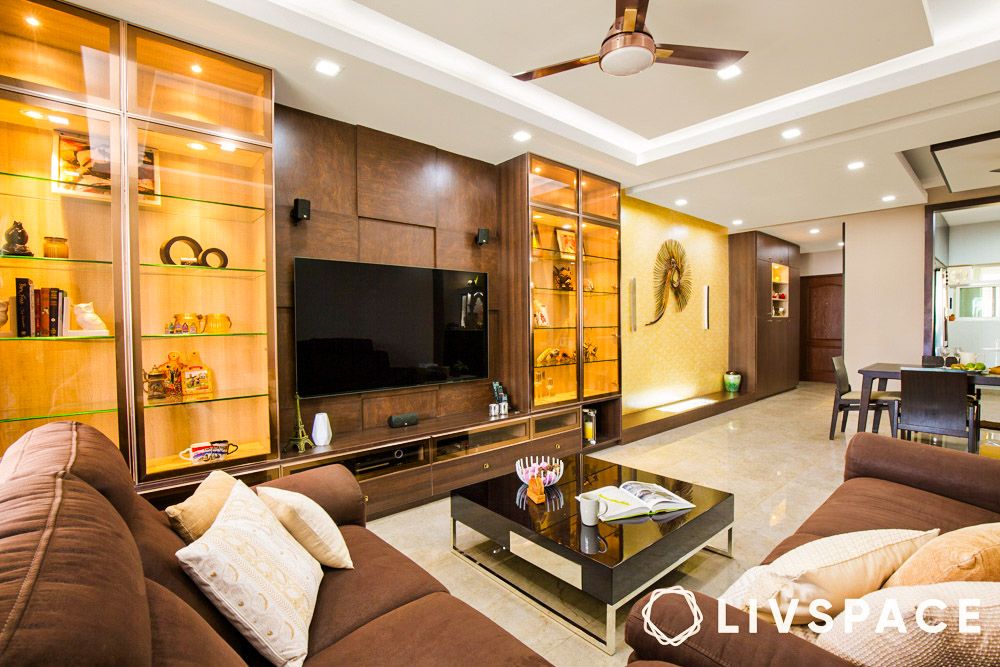 Save space in your living room or home theatre with a TV unit that has storage and enjoy the added bonus of built-in lighting for a cosy ambience. Plus, these versatile units can double as a bookcase, sideboard or even a home office desk.
Wall decor for living room #23: Turn the wall into a mood board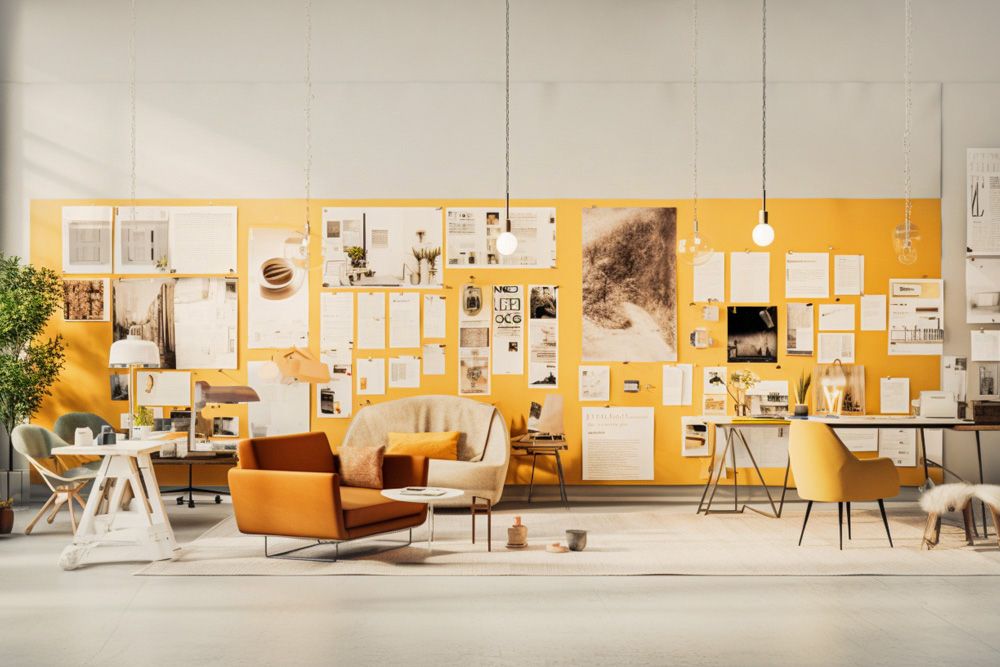 Create a cool mood board with your favourite images, quotes and objects. Just remember to keep it cohesive by sticking to a consistent colour scheme or theme, whether you are using a physical board, a digital tool or a mix of both.
Wall decor for living room #24: Install a pet house on your wall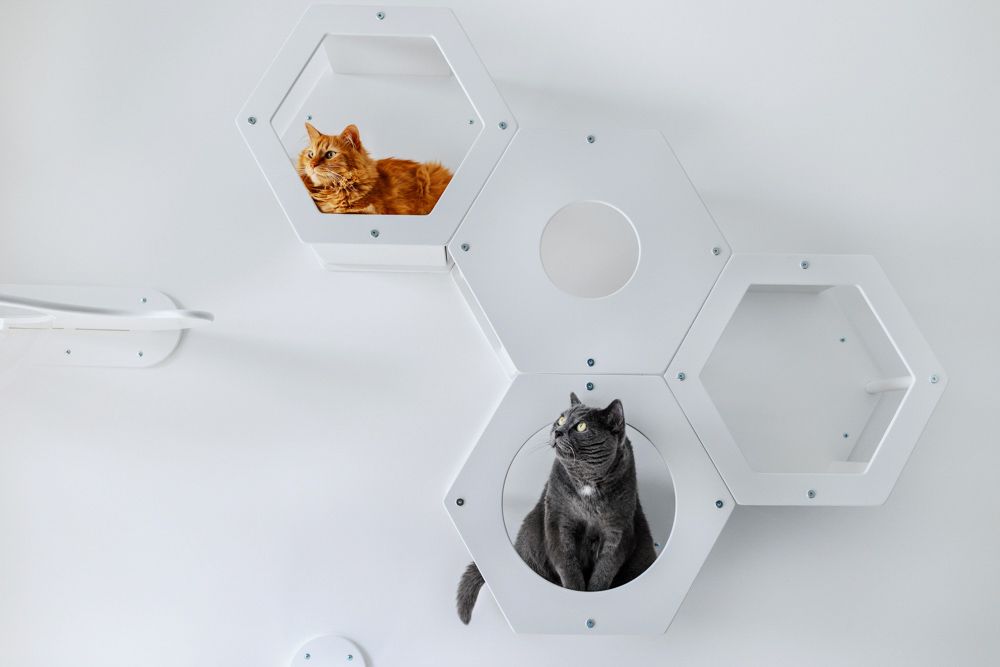 If you are short on floor space, a wall-mounted pet house is a great way to maximise your use of vertical space. Pet houses can be made from a variety of materials, including wood, plastic and fabric, and they can be designed to match your home's decor. It's a never-go-wrong choice!
Wall decor for living room #25: Create a beautiful vertical garden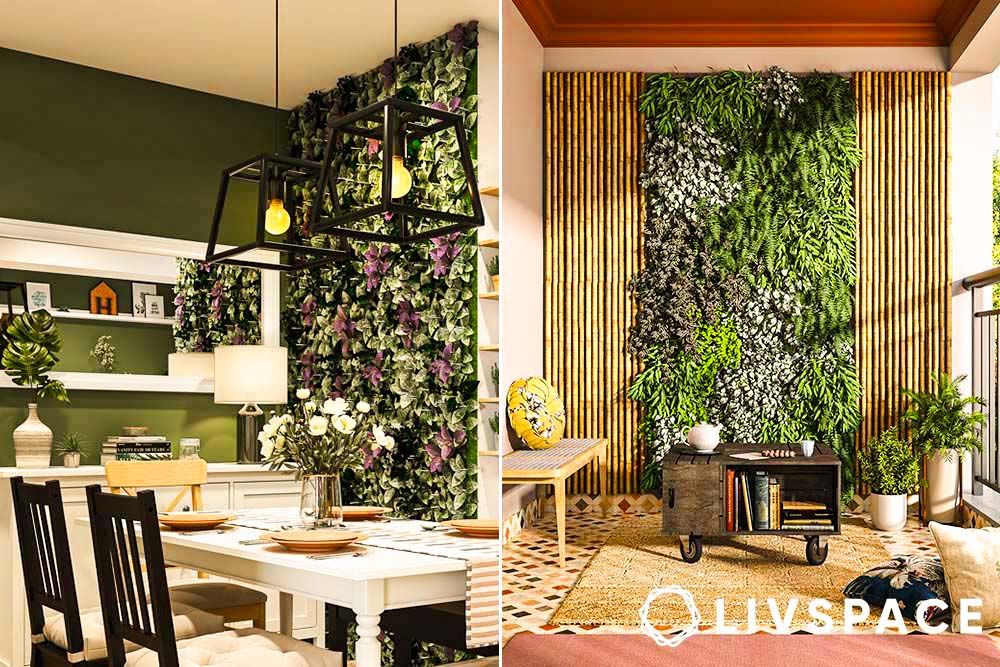 Bring a touch of nature inside with a vertical garden—easy-to-care-for plants like succulents, ferns or air plants in baskets, pots or charming containers. Hang them by a sunlit window to brighten your space and voilà, you have your own cosy corner!
Living room wall decor ideas #26: Explore the possibilities of panelling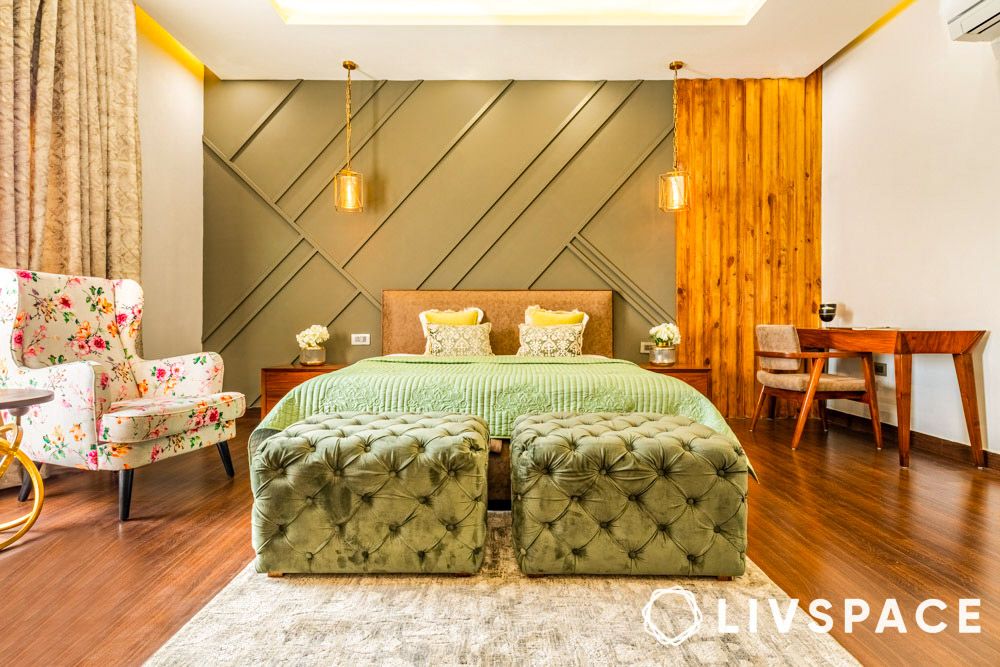 Whether you are into a cosy farmhouse vibe or a chic modern style, these panels are your go-to for transforming your space. Got textured walls or imperfections? No worries—these panels not only hide them but also give your walls a sleek, polished finish, and bonus points for added insulation!
Living room wall decor ideas #27: The wonders of a wall ledge
Swap and refresh your wall decor effortlessly by rearranging ledges, giving you the freedom to update your space whenever you feel like it. Whether you're into rotating collectables or enjoy seasonal shifts, these ledges, available in wood, metal and glass, are an adaptable solution.
Wallpaper design for living room #28: Floral, vintage or abstract?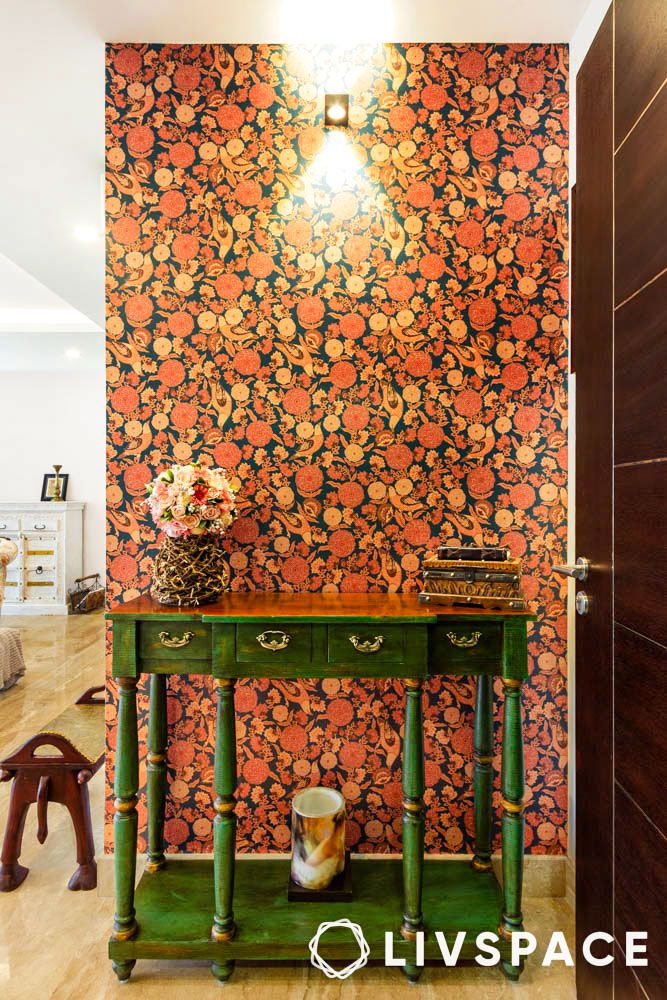 An accent wallpaper design for a living room wall can totally grab your attention and set a vibe. Unlike paint that needs a touch-up every 5-10 years, some wallpapers stick around for 15 years or more, especially the wipeable ones – perfect for busy spots like kitchens. Even though wallpaper might seem pricier upfront, it's a smart investment.
Modern wall decor ideas #29: A dream walk-in wardrobe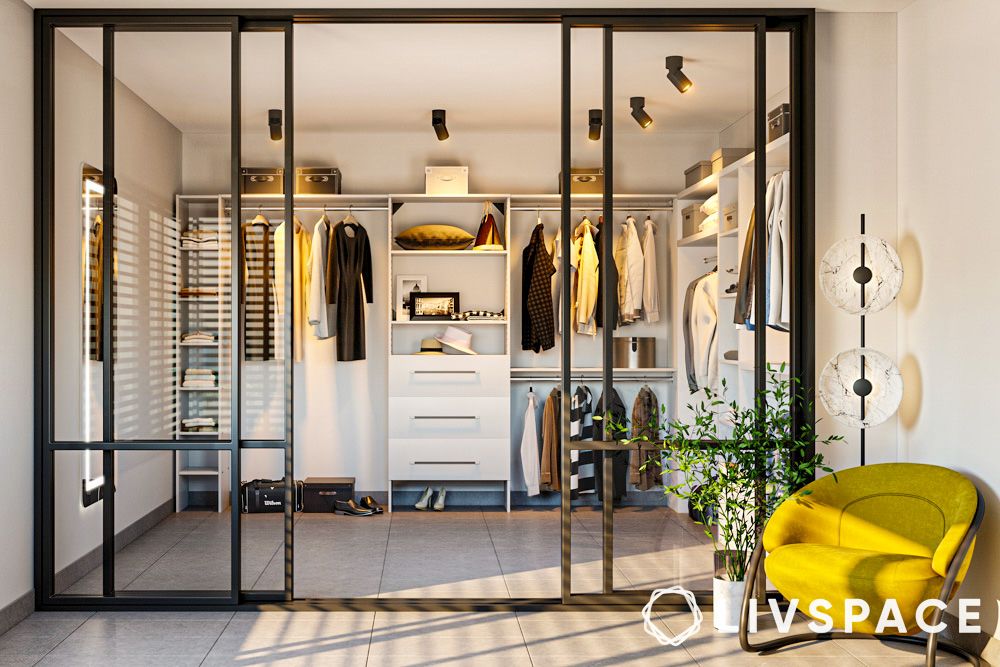 A walk-in wardrobe with an open layout gives your room a bigger feel by letting light circulate and offers a chance to showcase your style with various colours and textures. Just keep it organised, neatly hanging or folding clothes and arranging shoes for easy access to avoid it turning into chaos.
Modern wall decor ideas #30: Mix and match wall decor elements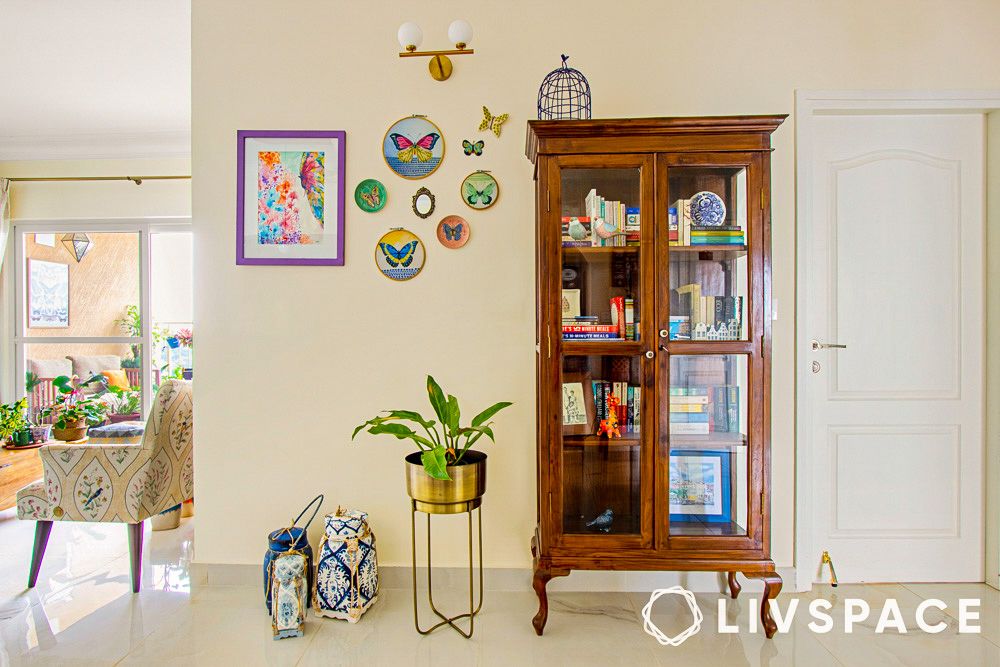 Spruce up your wall with a mix of hand-painted plates, your kids' art, some paintings, a cool light and a bit of greenery. Just keep the colours in check, so it's artsy and not chaotic. Now you have a trend-proof wall that you can always switch up!
Modern wall decor ideas #31: Aesthetics in gold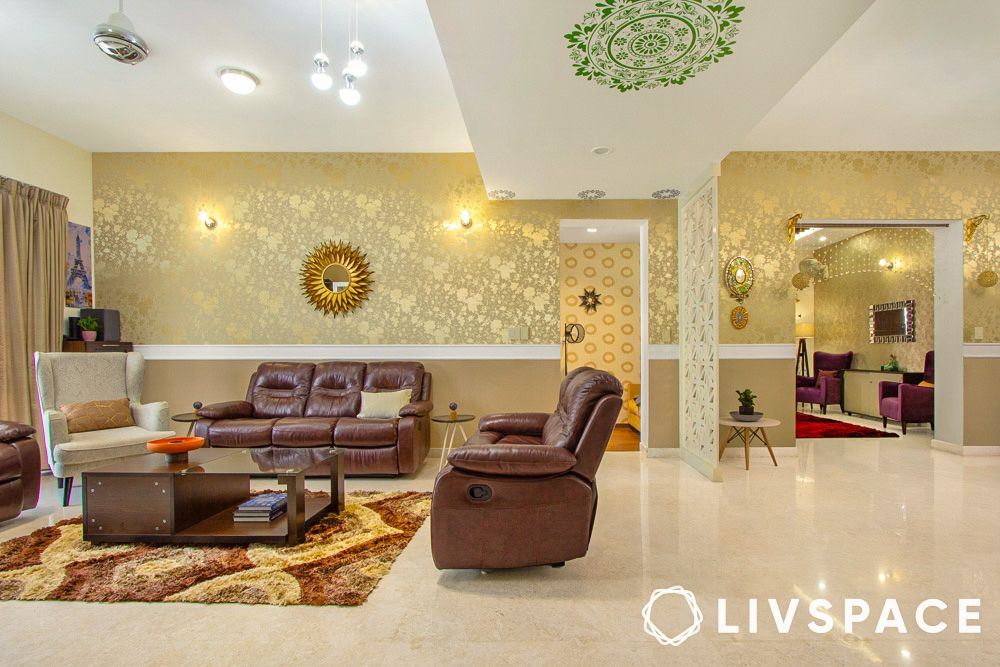 Deck your wall with a tinge of gold for a luxurious, spacious and bright feel. With various shades like pale yellow to deep brown available, pick the gold tone that blends seamlessly with your home's colour palette, whether it's pairing gold wallpaper with silver accents or opting for gold-framed mirrors alongside bronze furniture.
Unique wall decor ideas #32: Get a striking wall clock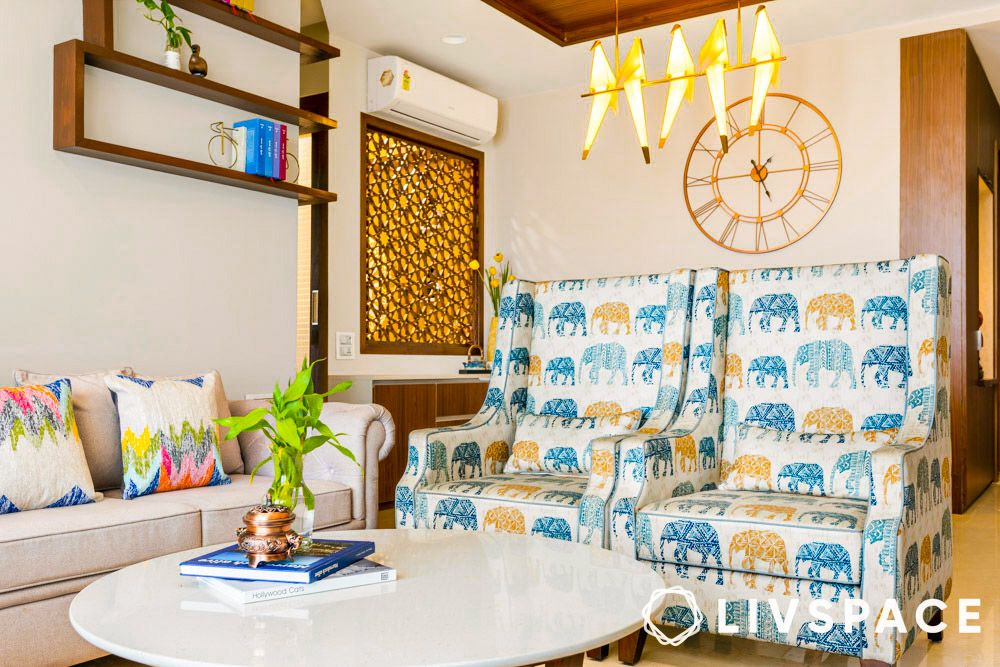 Let your wall chime your time with a statement wall clock made of wood, metal, glass or even stone. The blend of a wooden frame and a metal dial adds a touch of rustic and industrial charm to the clock.
Unique wall decor ideas #33: Add some Warli wall charm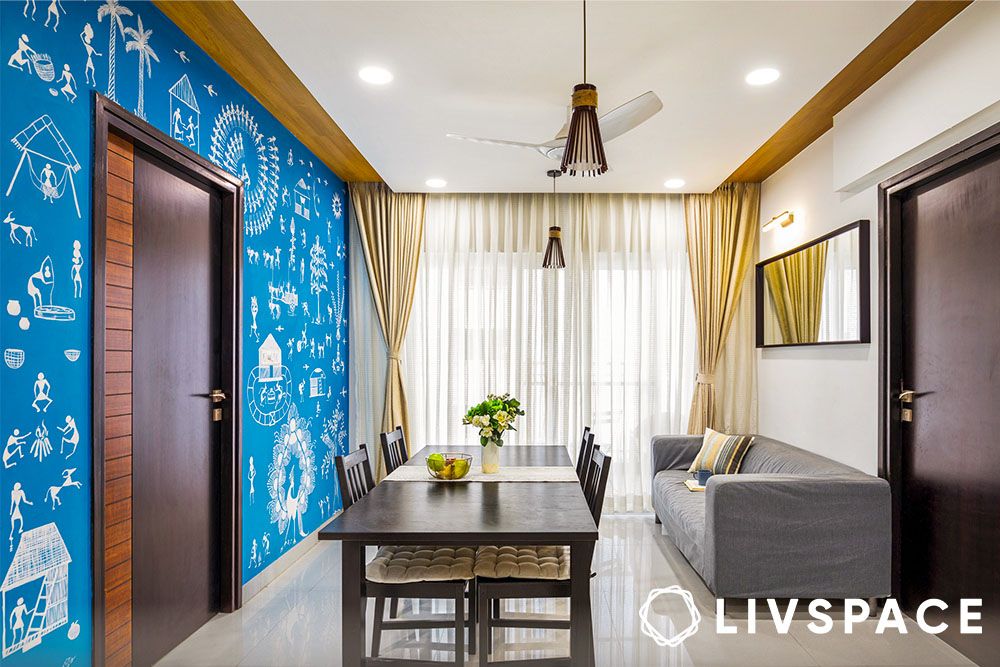 Warli art is known for its simple, geometric shapes and stick figures, which give it a distinctive and eye-catching look. Infused with inspiration from Indian tales and mythology, it adds a meaningful flair to your home decor, whether you're crafting paintings, prints or even furniture.
Unique wall decor ideas #34: The trendy twist of open wall storage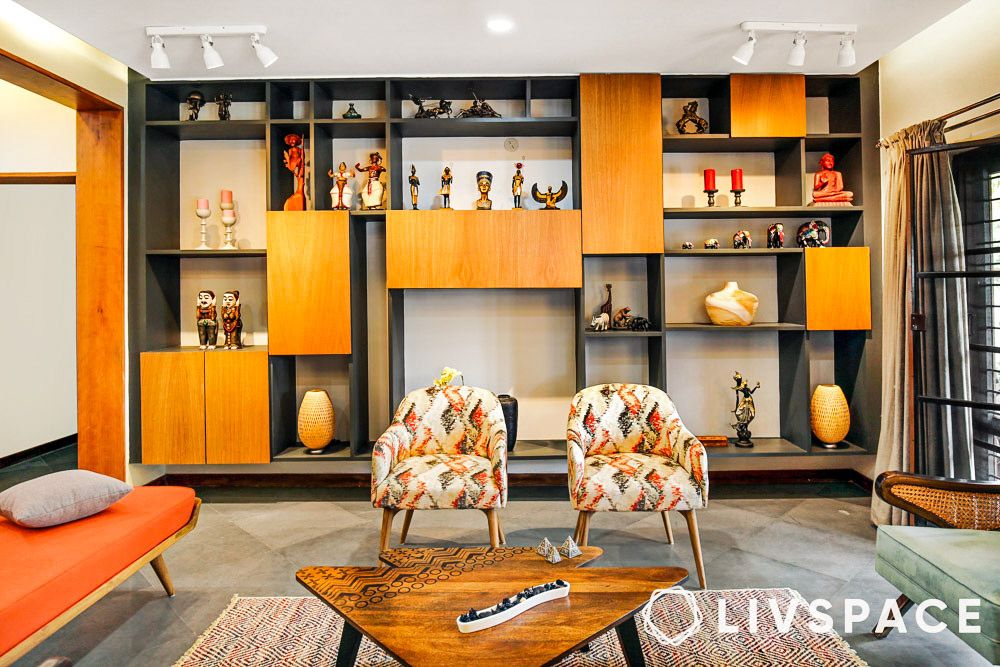 If your room is flooded with sunlight, go for a storage unit with glass doors. For spaces with less natural light, consider one with solid doors or go doorless, and spice it up with baskets or trays for a personal touch.
Unique wall decor ideas #35: Drive your walls wild with mounted automobiles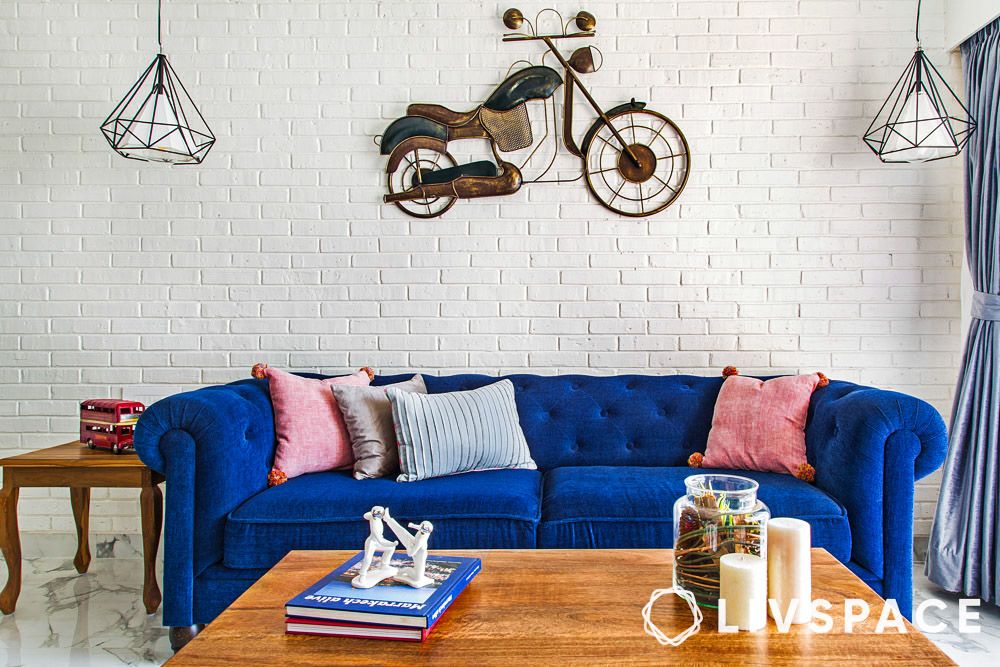 Automobiles are not a common choice for wall décor, so it will definitely make a statement. You can hang them from the ceiling, mount them to the wall, or even use them as freestanding sculptures. This could include vintage car parts, posters or memorabilia.
Simple wall decor ideas #36: A mash of pop culture aesthetics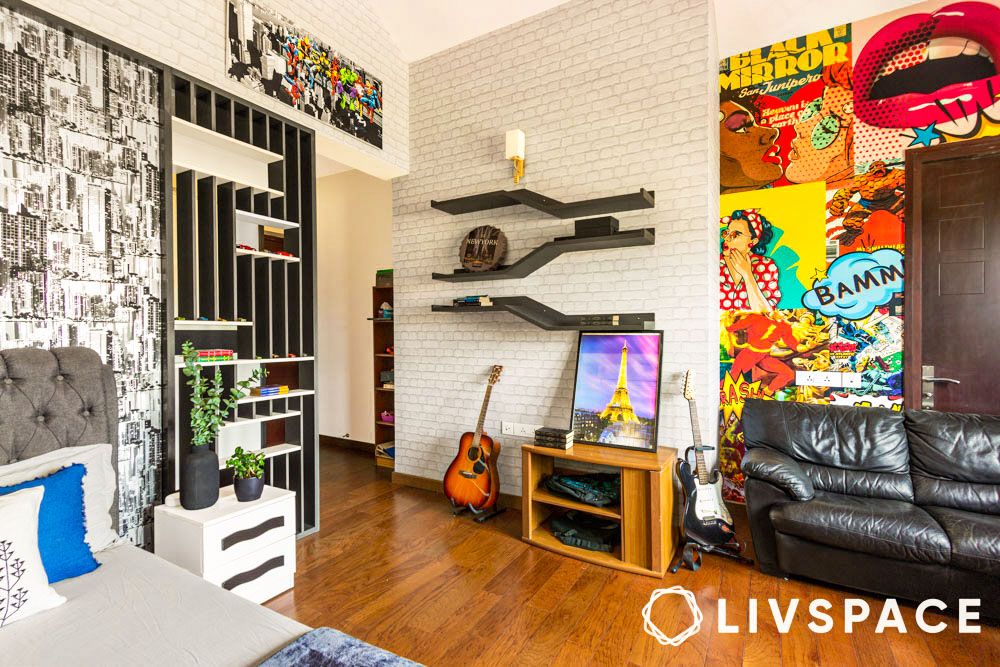 Create a striking vibe with a mix of a brick wall, stylish floating shelves and personalized text. If your brick wall looks too new, give it character by sanding or applying a light whitewash. Measure your wall accurately for the right-sized shelves and letters, and enhance the look with plants, photos or decor. No brick wall? Faux brick wallpaper or panelling can do the same job too!
Simple wall decor ideas #37: Bring your beloved city to life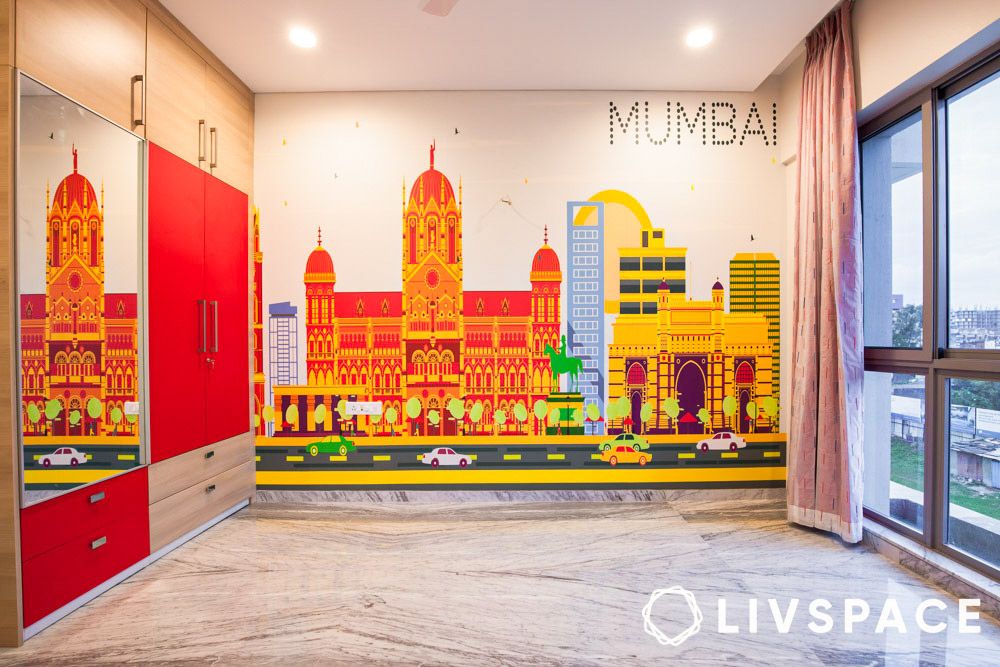 Feeling lost in a new city? A colourful cityscape of your favourite city can be a great way to bring some of the excitement and energy of that city into your home but consider your colour scheme and height placement. Spice it up with city-themed accessories like maps and souvenirs or, create a gallery wall with smaller cityscapes for a personalized touch.
Simple wall decor ideas #38: Newspaper clippings edition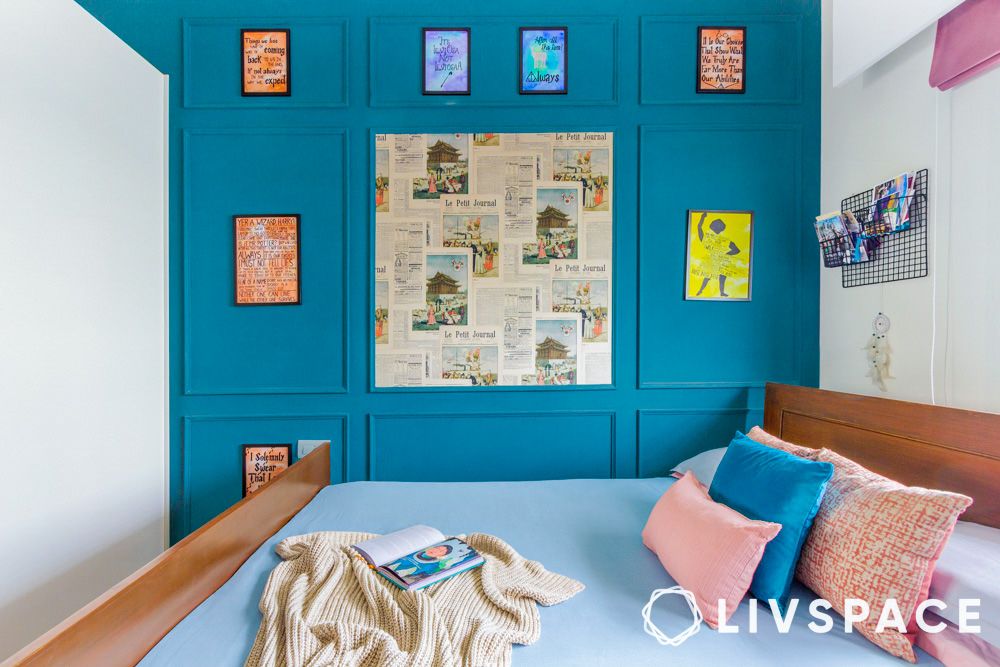 Pick newspaper clippings with diverse fonts, colours and images to craft eye-catching wall decor. Stick them on the wall, use removable tape, or mount them on poster board or canvas for a personalized touch. Add a frame for a polished look, and if your space has a vintage vibe, let the newspaper collage blend in or pop with a burst of colour around it.
Wall decor ideas for bedroom #39: Revitalise your walls with stencil charm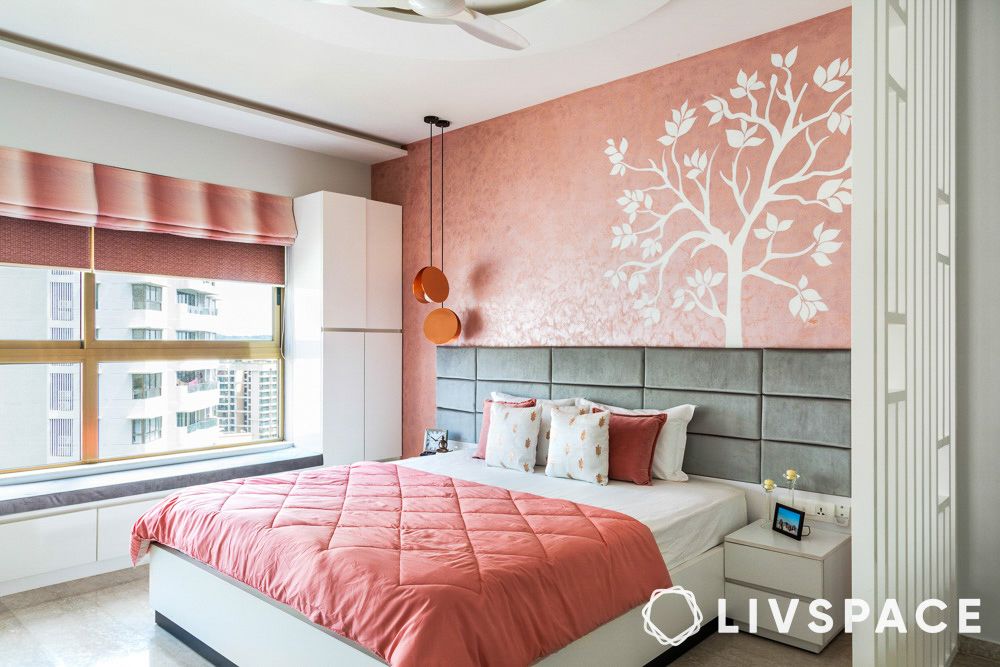 Wall stencils or stencil wallpaper designs for a living room are often made from durable materials like Mylar or plastic. Grab a stencil brush, painter's tape, level, pencil, and your chosen paint colour, then apply a base coat matching your stencil's background. Once dry, secure the stencil with painter's tape, use a lightly loaded brush, and gently dab the paint through the openings for a flawless finish—just be mindful not to overload the brush to avoid any paint bleeding.
Striking wall ideas #40: World map walls that wow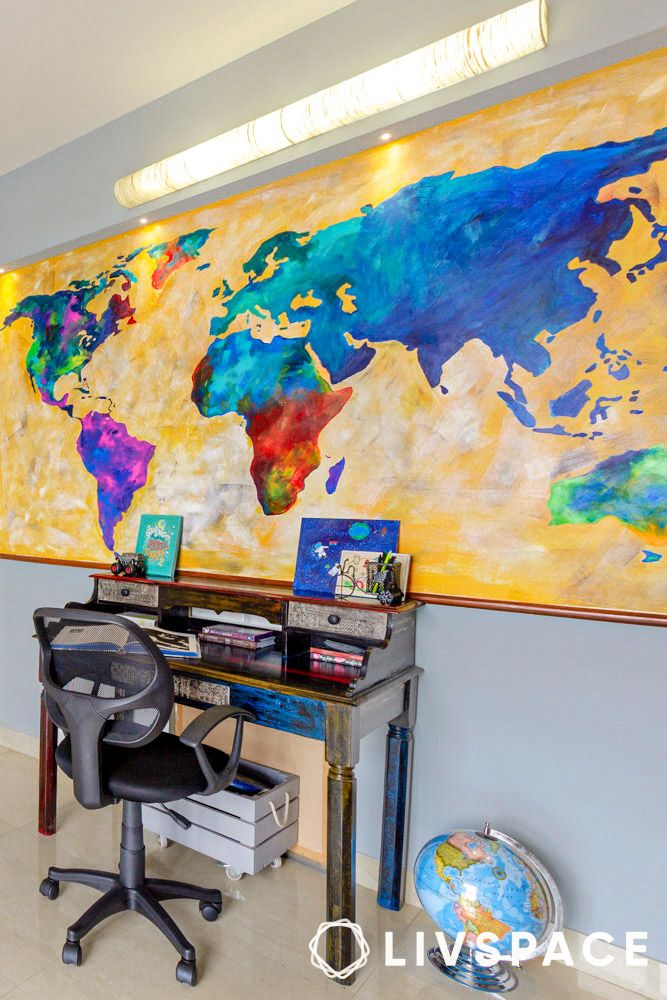 If you've been lucky enough to travel the world, a world map can be a great way to display your memories. Pick a map colour that matches your room, and it can also double as a fun tool to teach your kids about countries and cultures.
Striking wall ideas #41: Artistic ornamental wall moulding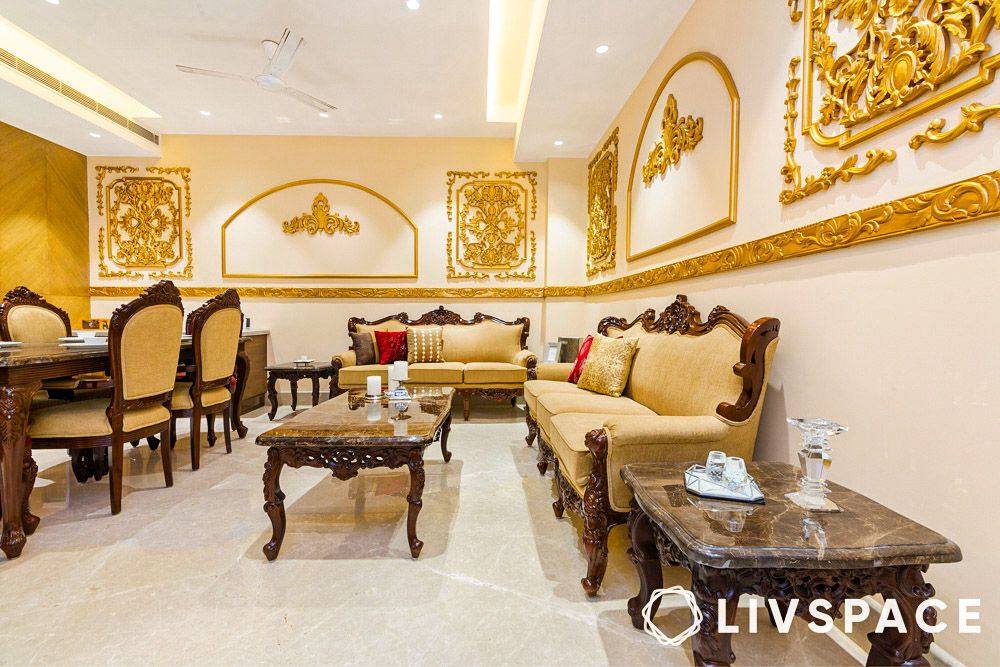 Turn your walls into royalty with stylish ornamental moulding, introducing visual interest, the illusion of space, and the ability to define specific areas—like creating a cosy dining nook in an open kitchen-living setup. This versatile wall decor idea can also enhance any existing architectural features in your room.
Striking wall ideas #42: Some abstract artistry for your walls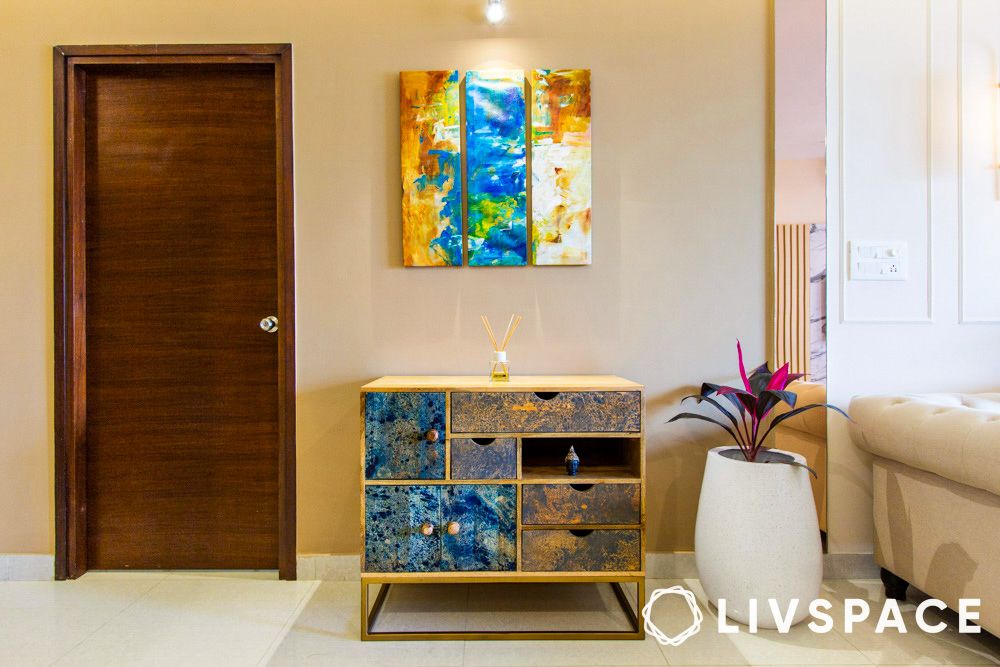 Not sure where to begin with abstract art wall decor? Check out online sources or flip through magazines for inspiration. Explore local galleries, art fairs or online shops for abstract art, and if you're budget-conscious, thrift stores and online marketplaces are hidden gems. Or you can create your own abstract art for a uniquely personal masterpiece.
Striking wall ideas #43: Walls scones stealing the show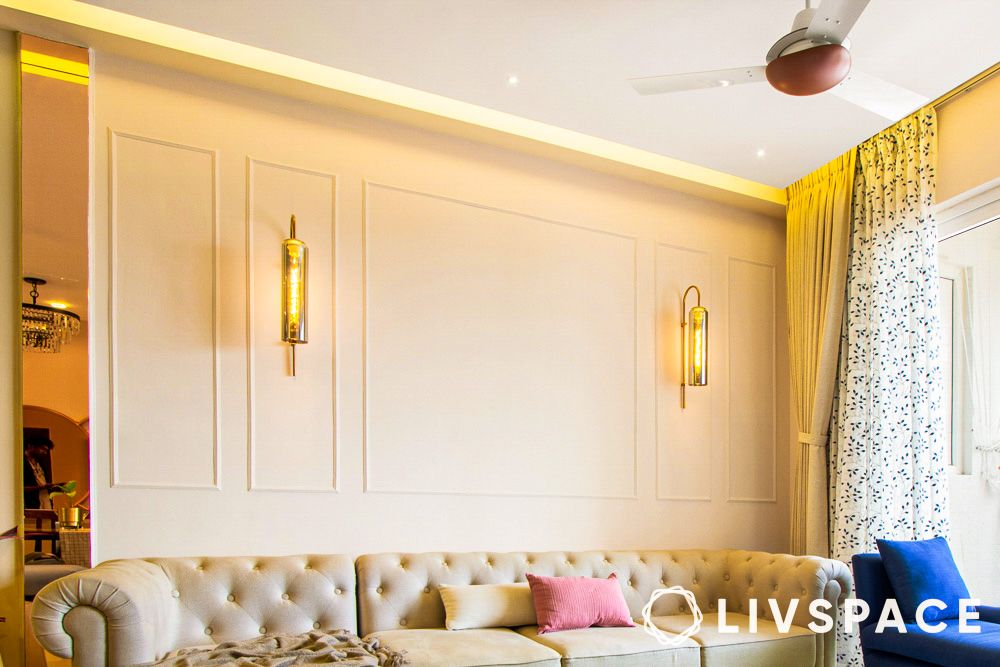 Light up your home with cosy wall sconces that cast a warm, inviting glow. Your fireplaces or arches can be highlighted with wall scones and set the perfect mood with a dimmer switch for adjusting the ambience.
Quirky wall decor idea #44: Honeycomb shelves steal the show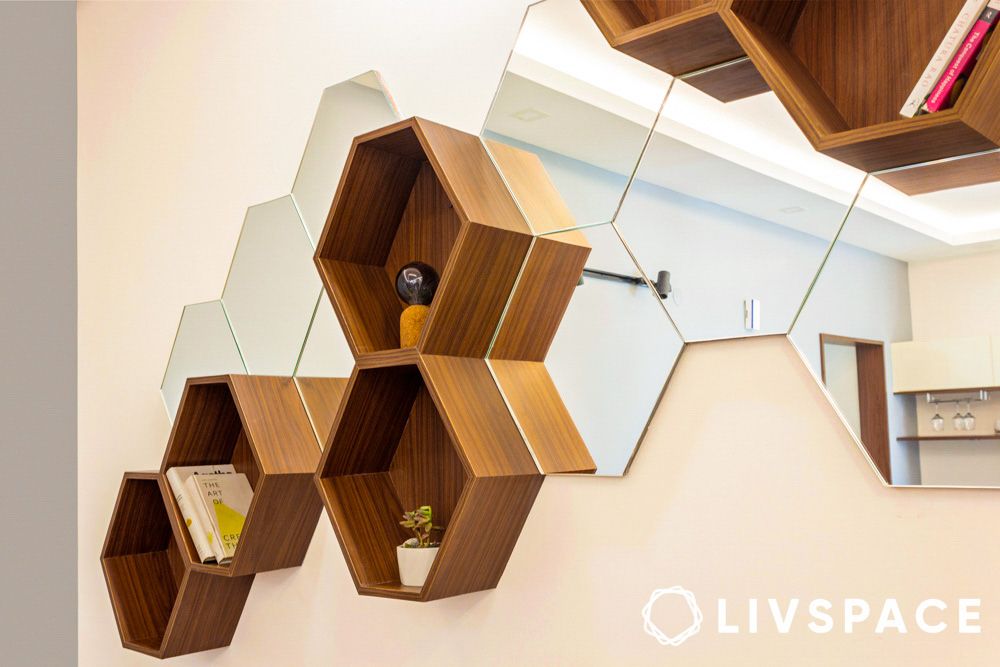 Get this ready-to-go set with sturdy wall fittings – it's pre-assembled for easy moving. Or, if you're feeling hands-on, just set your meter saw to 30 degrees and breeze through the project – no need to adjust it again, ensuring each of the 6 pieces forms a flawless hexagon.
How Can Livspace Help You?
We hope you liked our wall decor ideas! If you want wall decorating options that are unique, stunning and durable, look no further. Book an online consultation with Livspace today.
Disclaimer: Please note that all information in this article is accurate as of the publication date. Costs, budgets, materials, finishes, and product availability from the Livspace catalogue may vary. For the most up-to-date details, consult with our designers who can provide information on pricing and availability.