A very unique design at Adarsh Palm Retreat.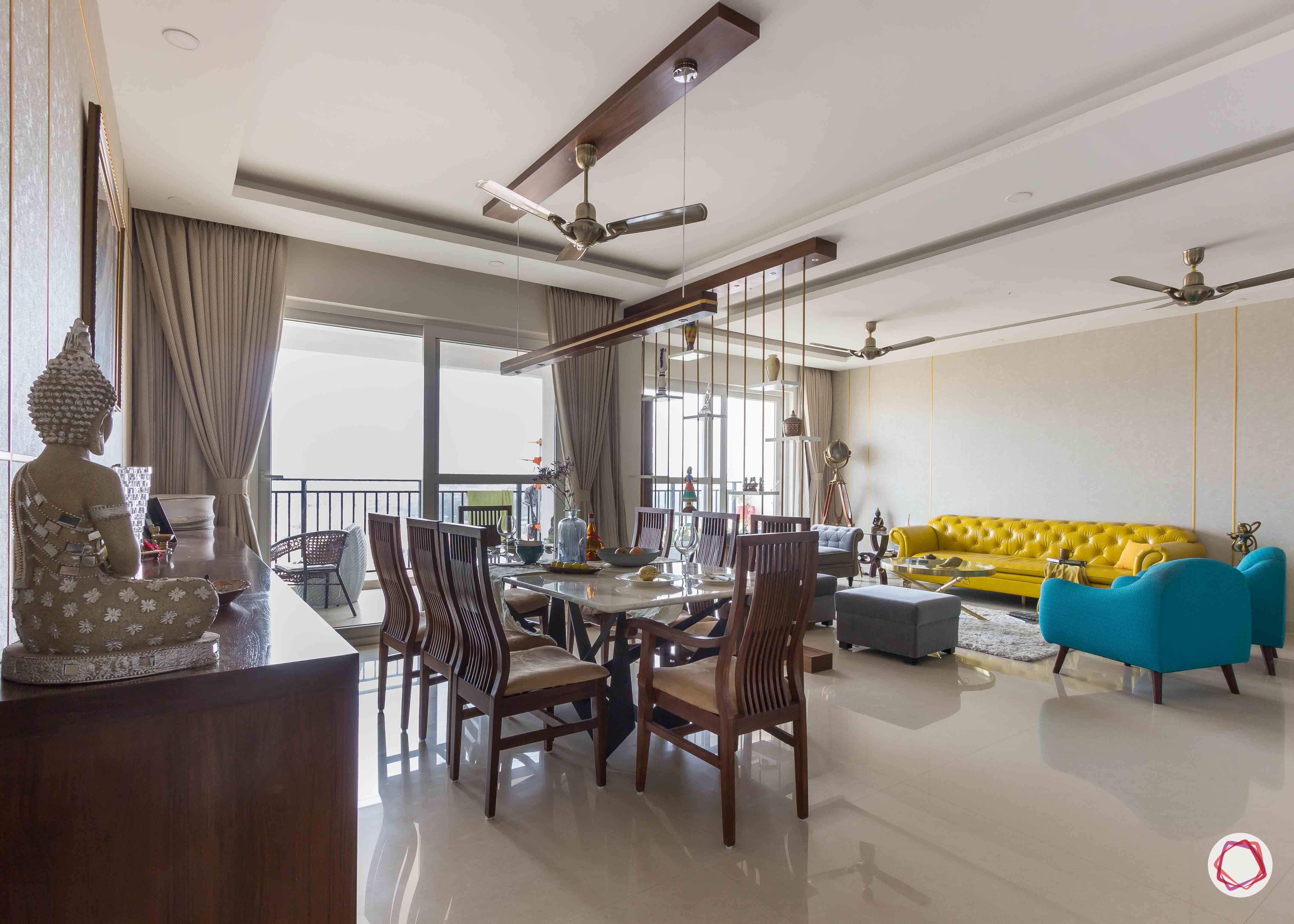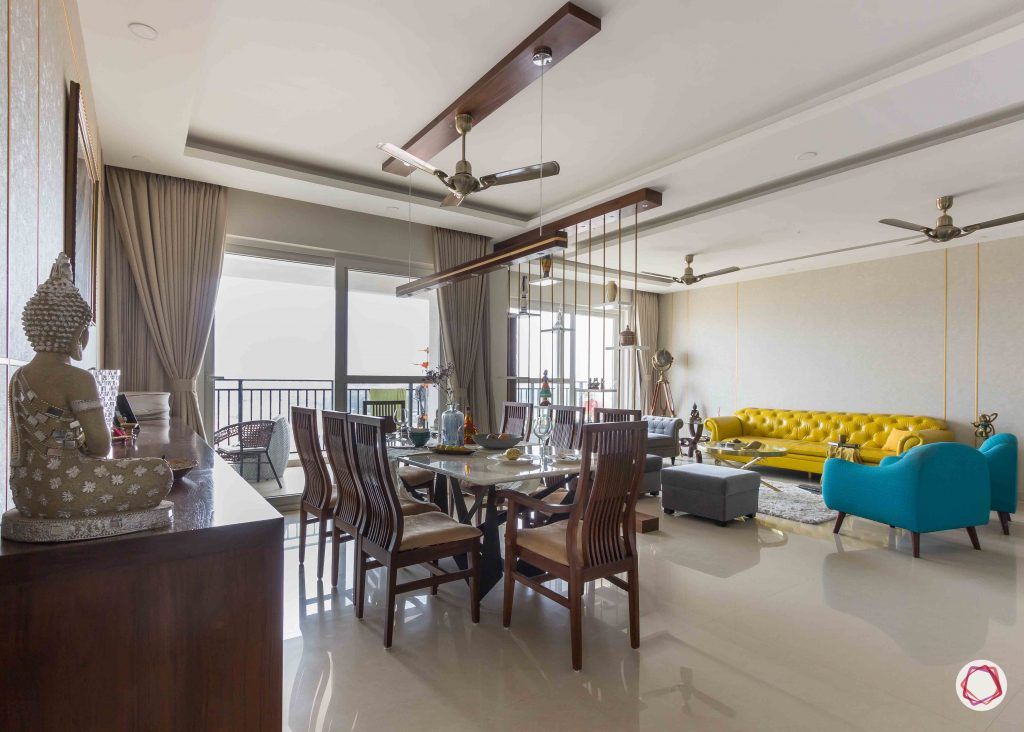 ---
Who livs here: Rajat Malhotra with his wife Payal, kids Tushar and Akshita, and his mother
Location: Adarsh Palm Retreat, Sarjapur, Bengaluru
Size of home: A 4BHK spanning 2,500 sq ft approx.
Design team: Interior Designer Shreya Mehta with Quality Managers Saravanan T and Vishnu Benz
Livspace service: Full home design
Budget: ₹₹₹₹₹
---
The minute we laid our eyes on Rajat and Payal Malhotra's home, we were spellbound by the beauty of it. Having settled well in Bengaluru for the past seventeen years, this couple decided to get their new home designed by a professional. All they wanted was a home that exudes positivity and has minimum, but essential furniture. Shreya Mehta, their designer is great at understanding what her clients want. The spacious layout of this home allowed her to display her potential brilliantly.
With bright pops of colour and subtle gold hints in the living room to a fourteen-foot-long crockery unit, this home has some striking elements to showcase. This home comes to life in more ways than one, all thanks to the combined efforts of Shreya and the couple. You have to take a tour of this address to believe our words and draw some inspiration.
A Divine Welcome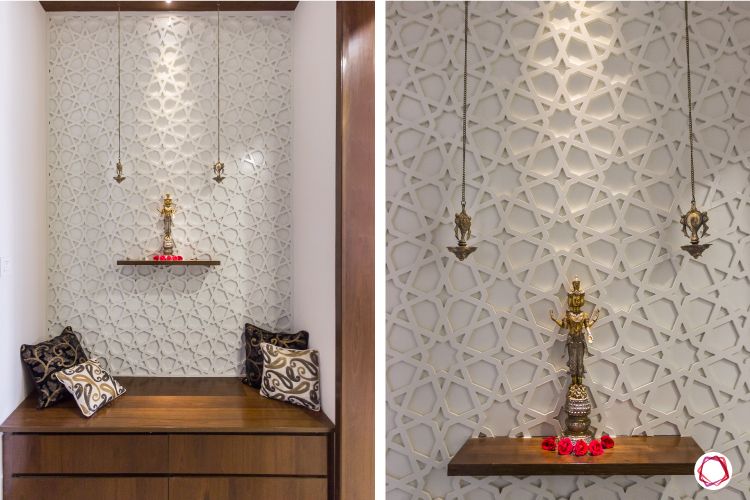 They say that every home has a story to tell and this one definitely hides a lot of fun facts within its walls. As soon as you step foot in this 4BHK, a serene corner welcomes you. The couple wanted to place an idol at the entrance but keep it from looking very traditional. Shreya suggested this modern yet classical jaali panel as the backdrop and a simple wooden ledge with two hanging diyas on either side. The seating under it can be used to store things, making this corner extra functional as well!
A Stunning Living Room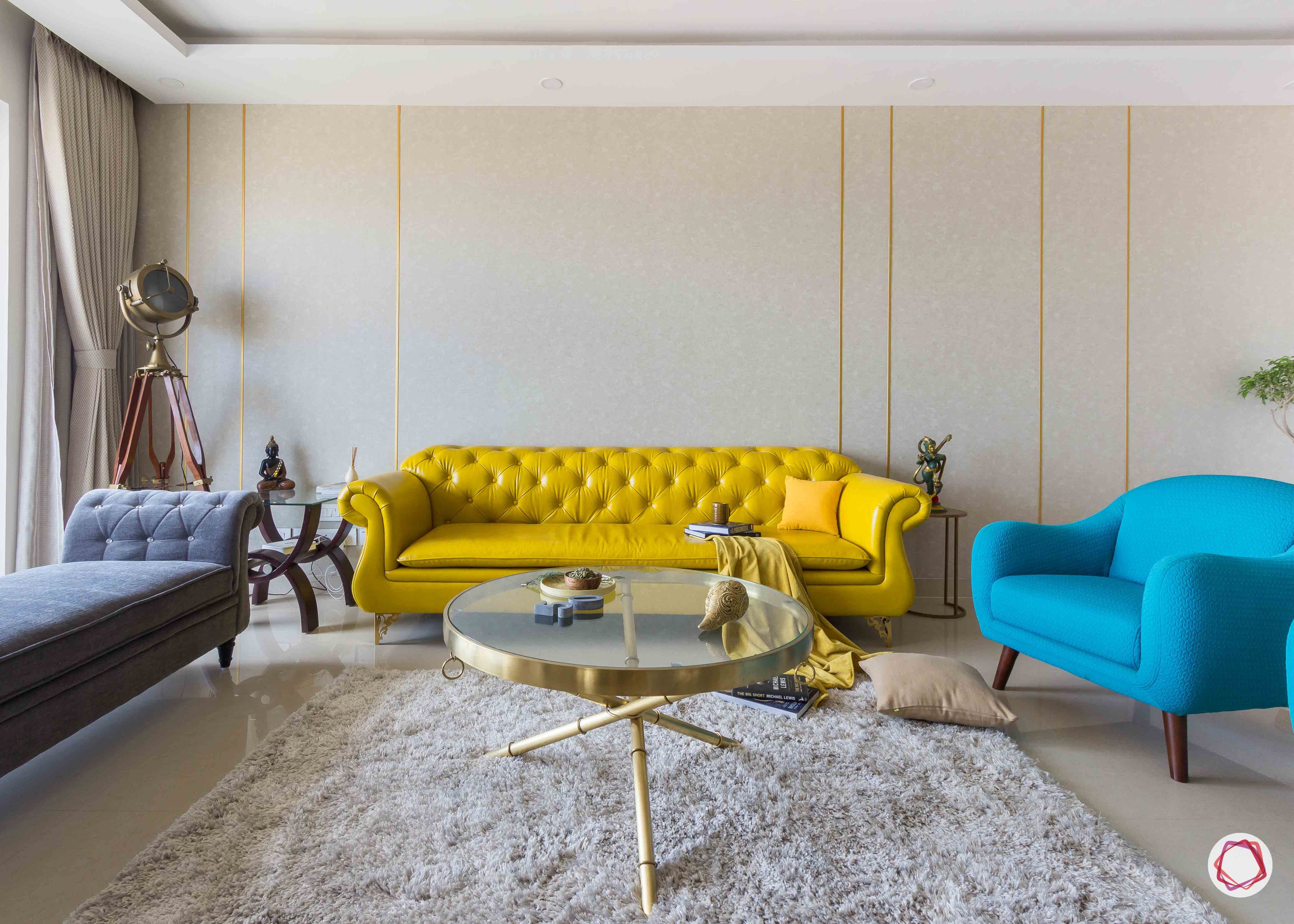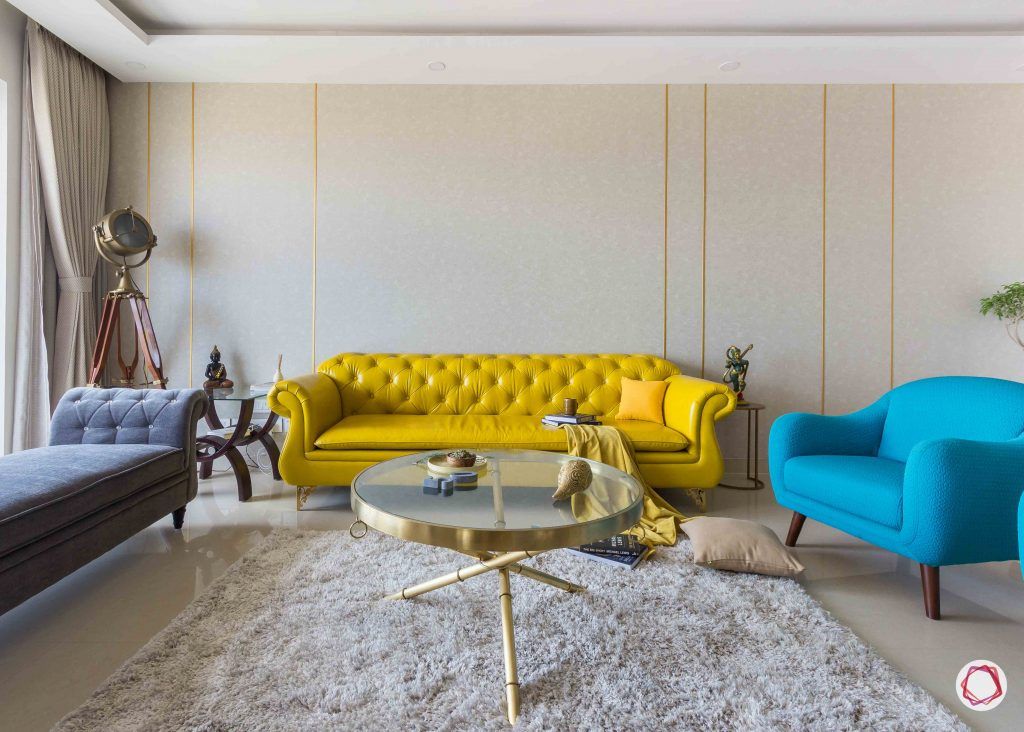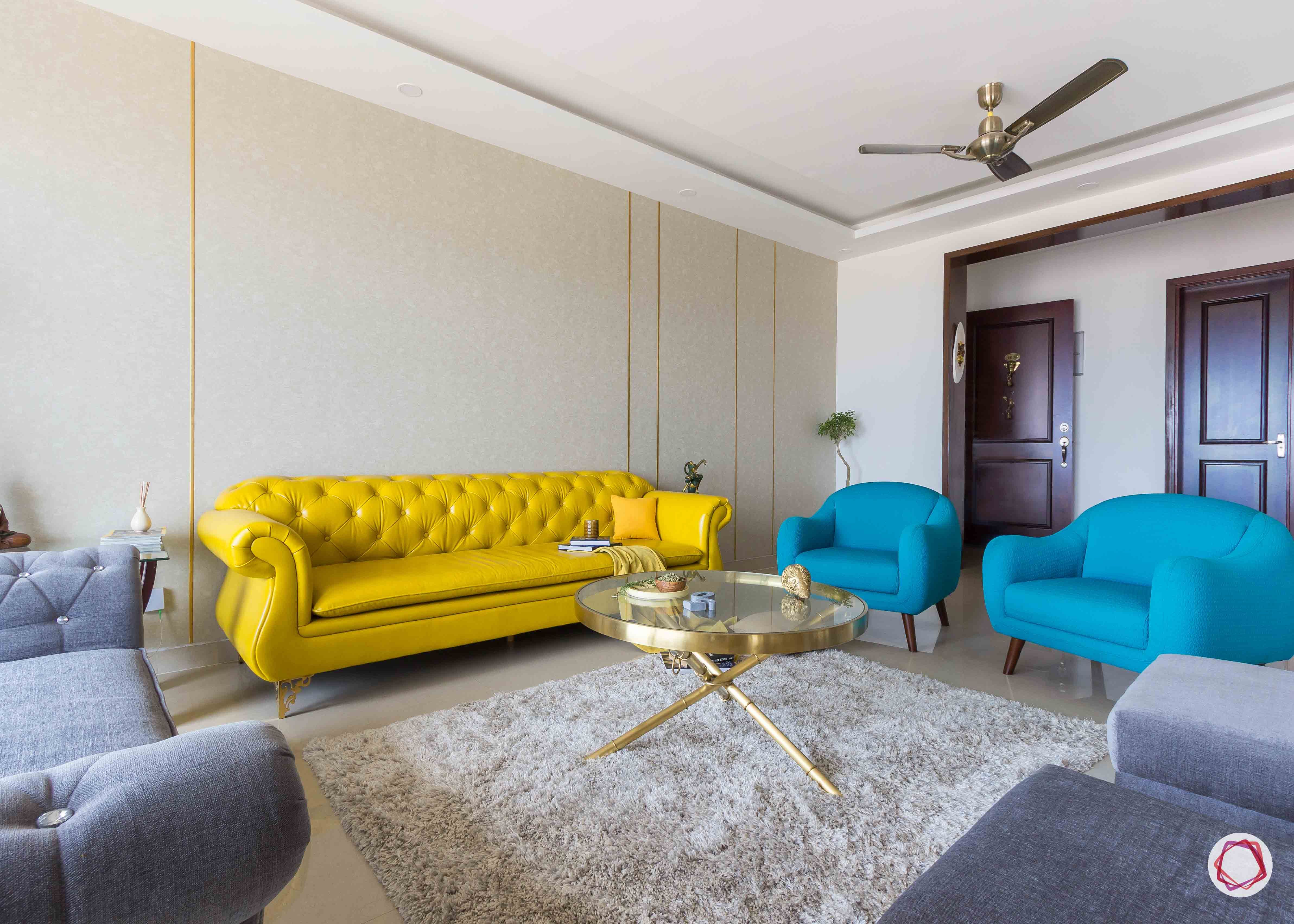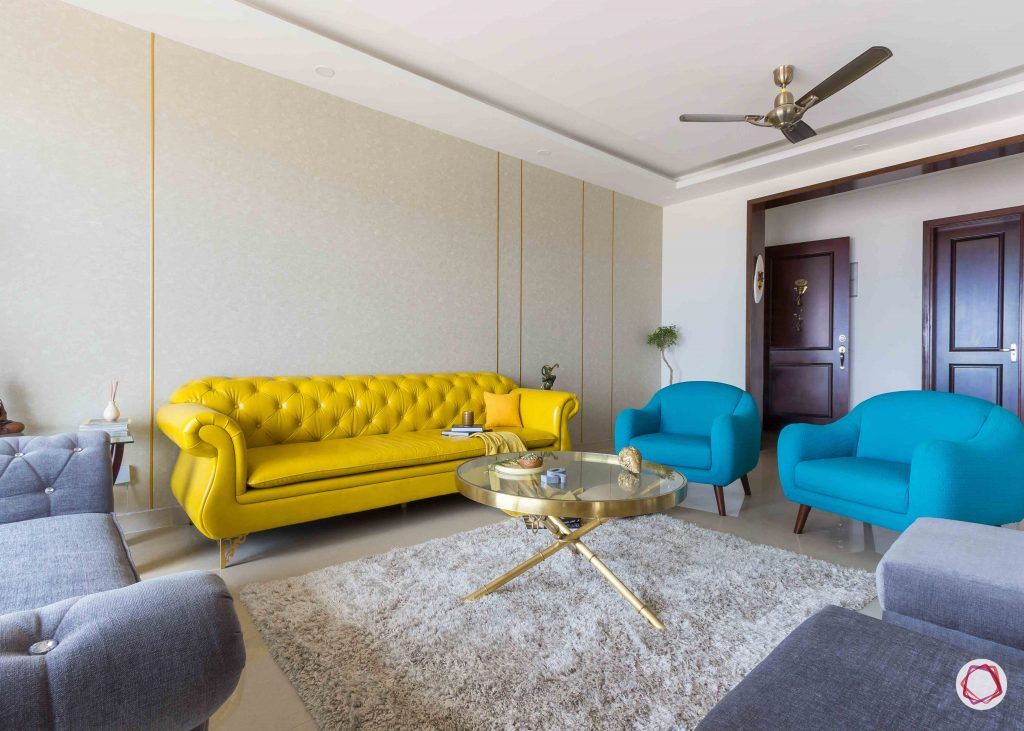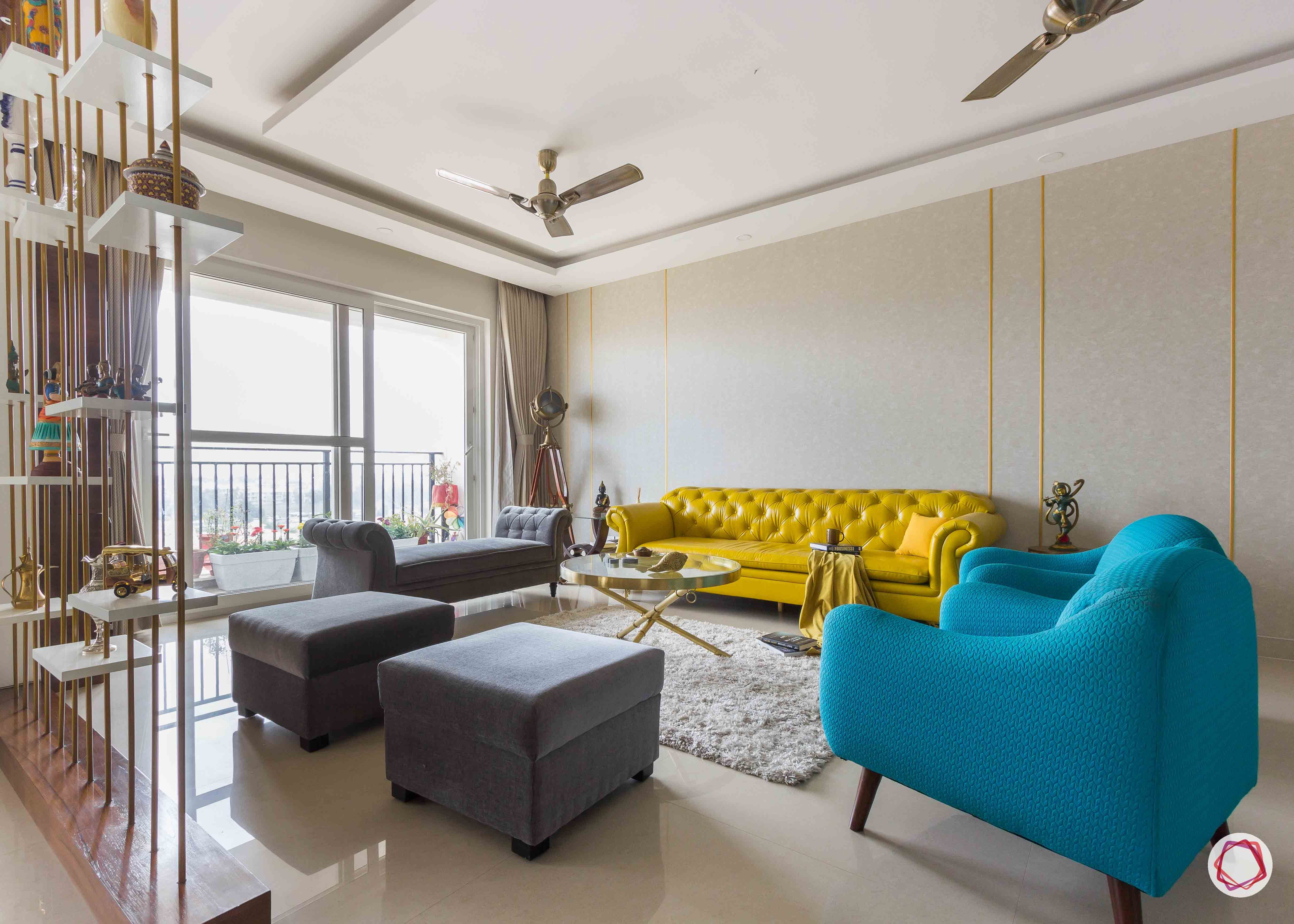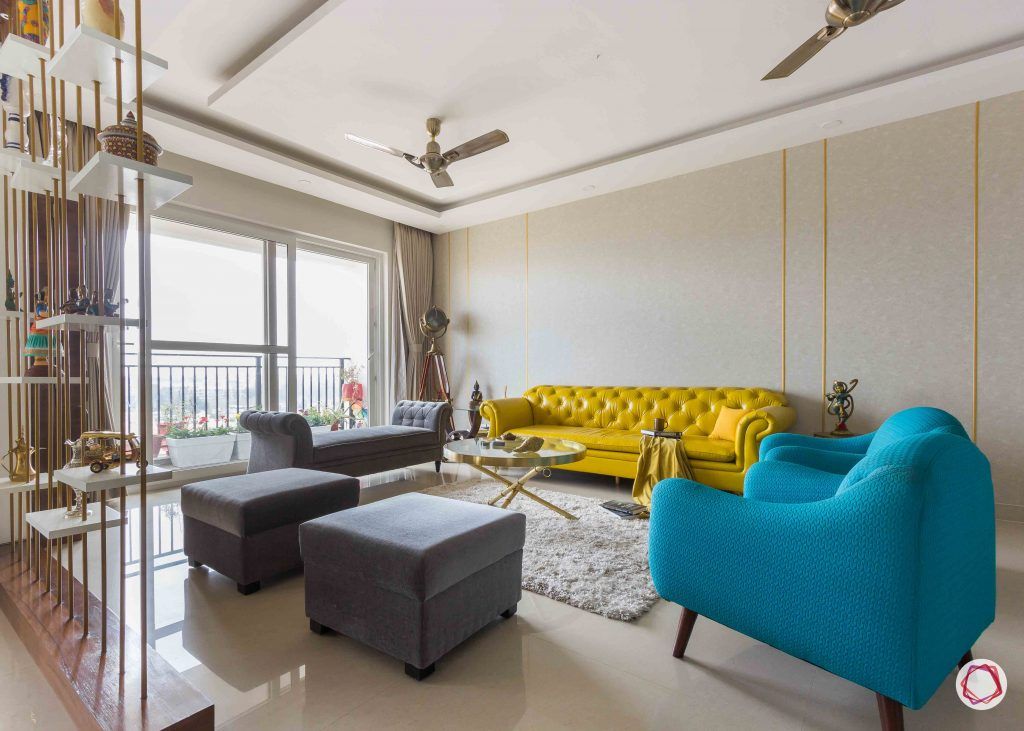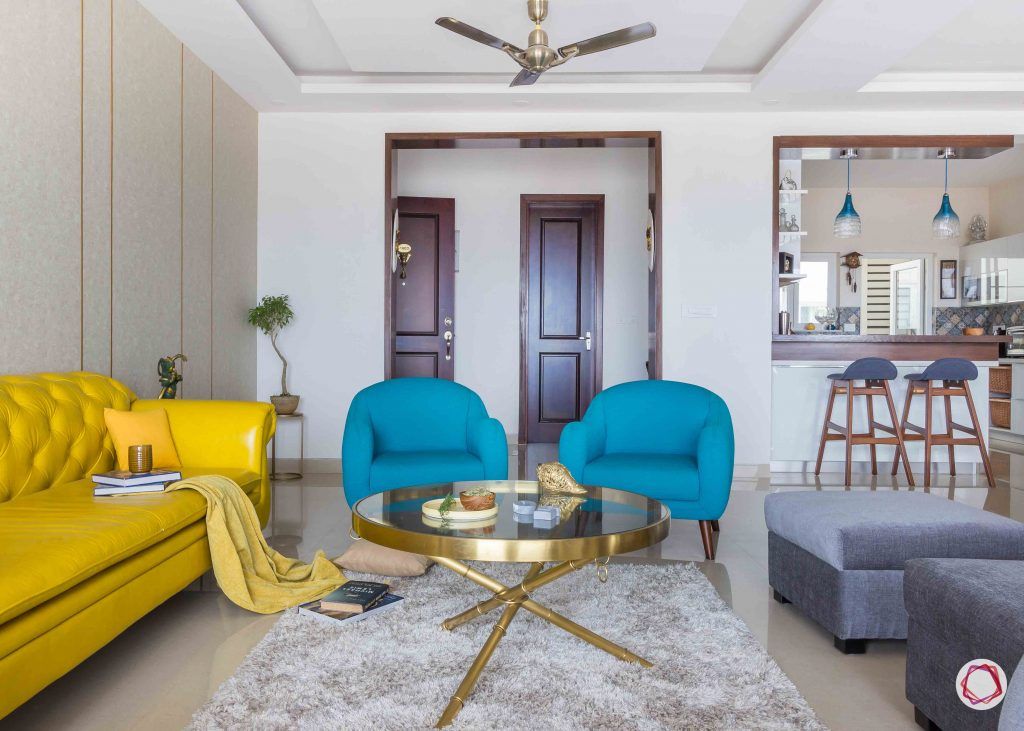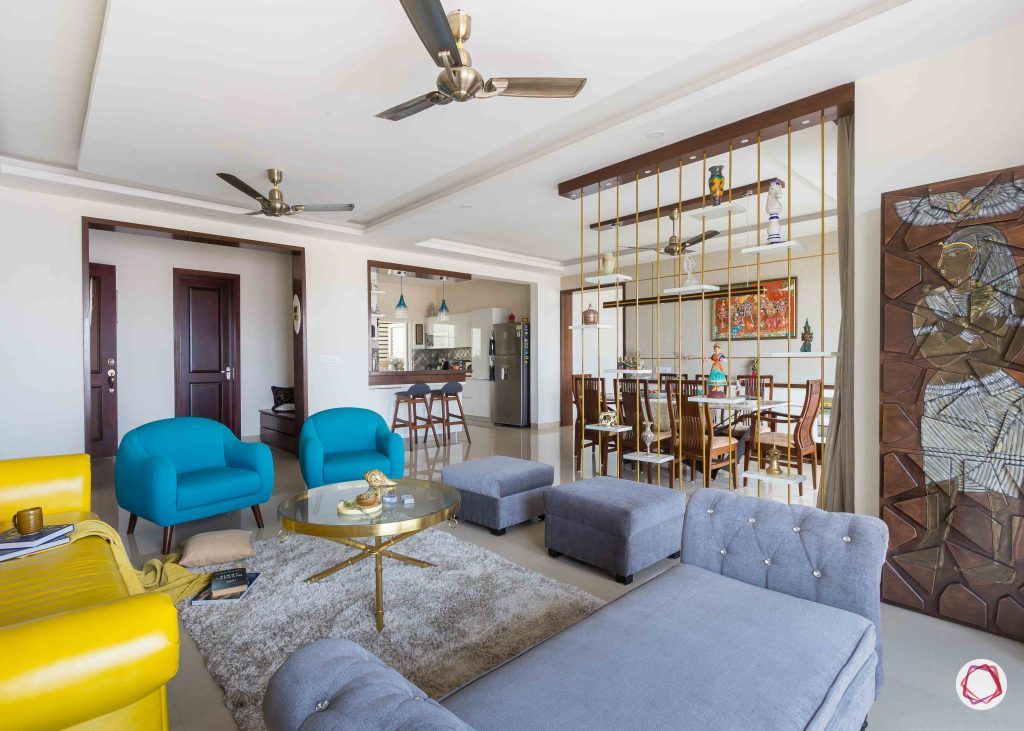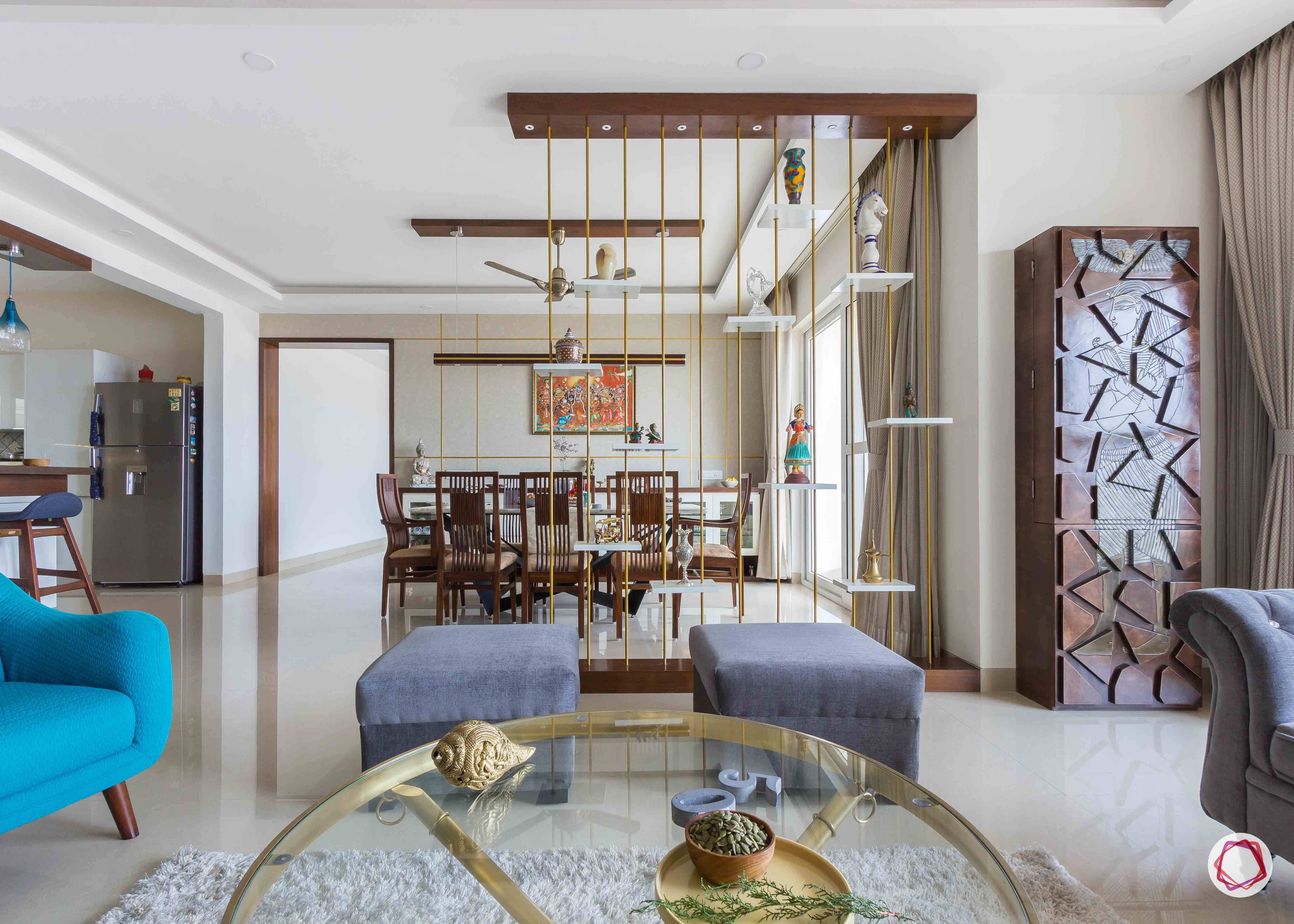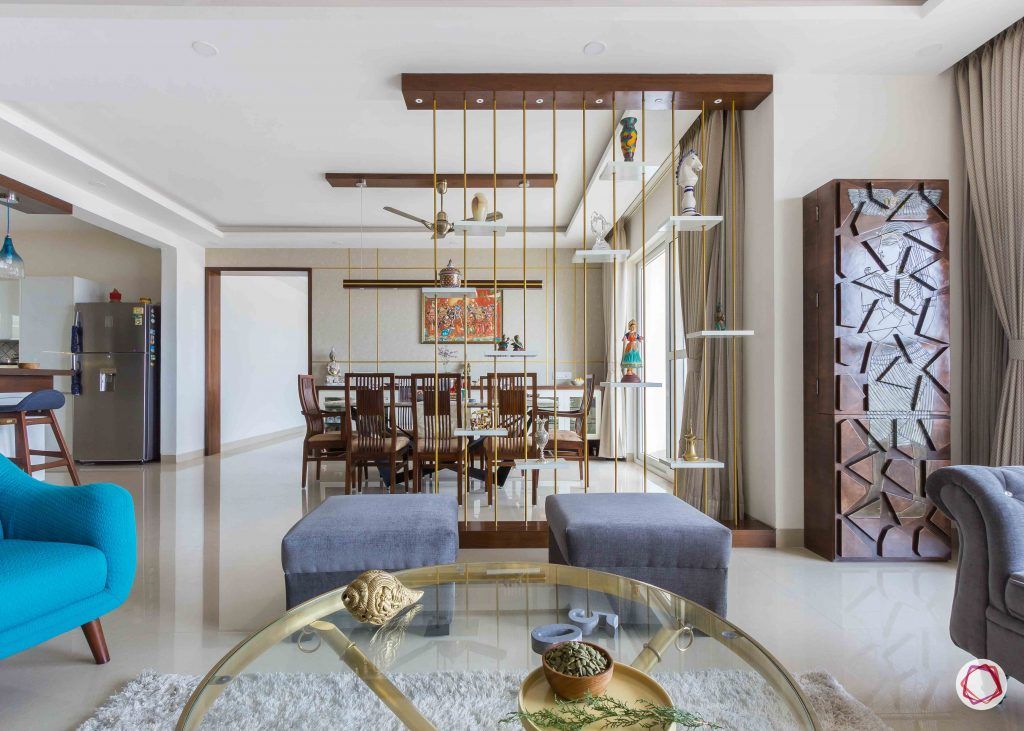 There are some rooms that just make us wonder how it would be to sit and lounge around in that space. The living room has such contrasting colours that it creates a great impact on anyone who visits the family. The first thing that they wanted was a divider that separates the living and the dining areas, but at the same time it should not feel too heavy on the eyes. Therefore, Shreya gave the couple this minimal divider with shelves that are perfect for displaying artefacts. Going with the theme of the room, she also gave them golden trims on the wall that look unique and stylish. The furniture looks quite comfortable and serves the purpose of being a casual seating area for the family and their friends.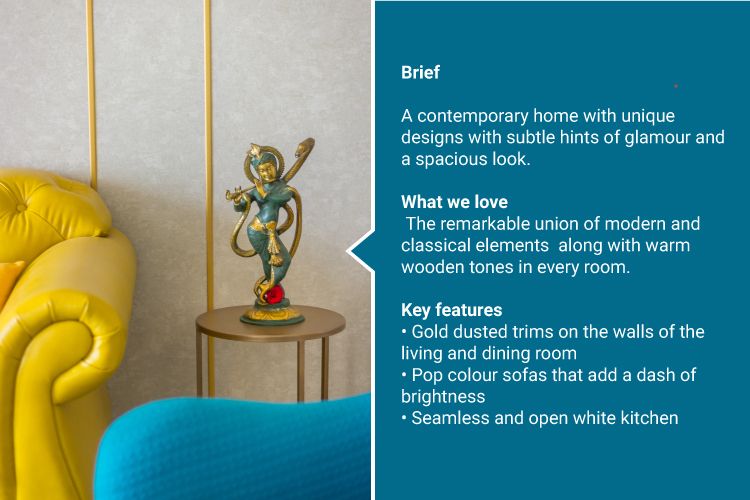 Luxury Marries Style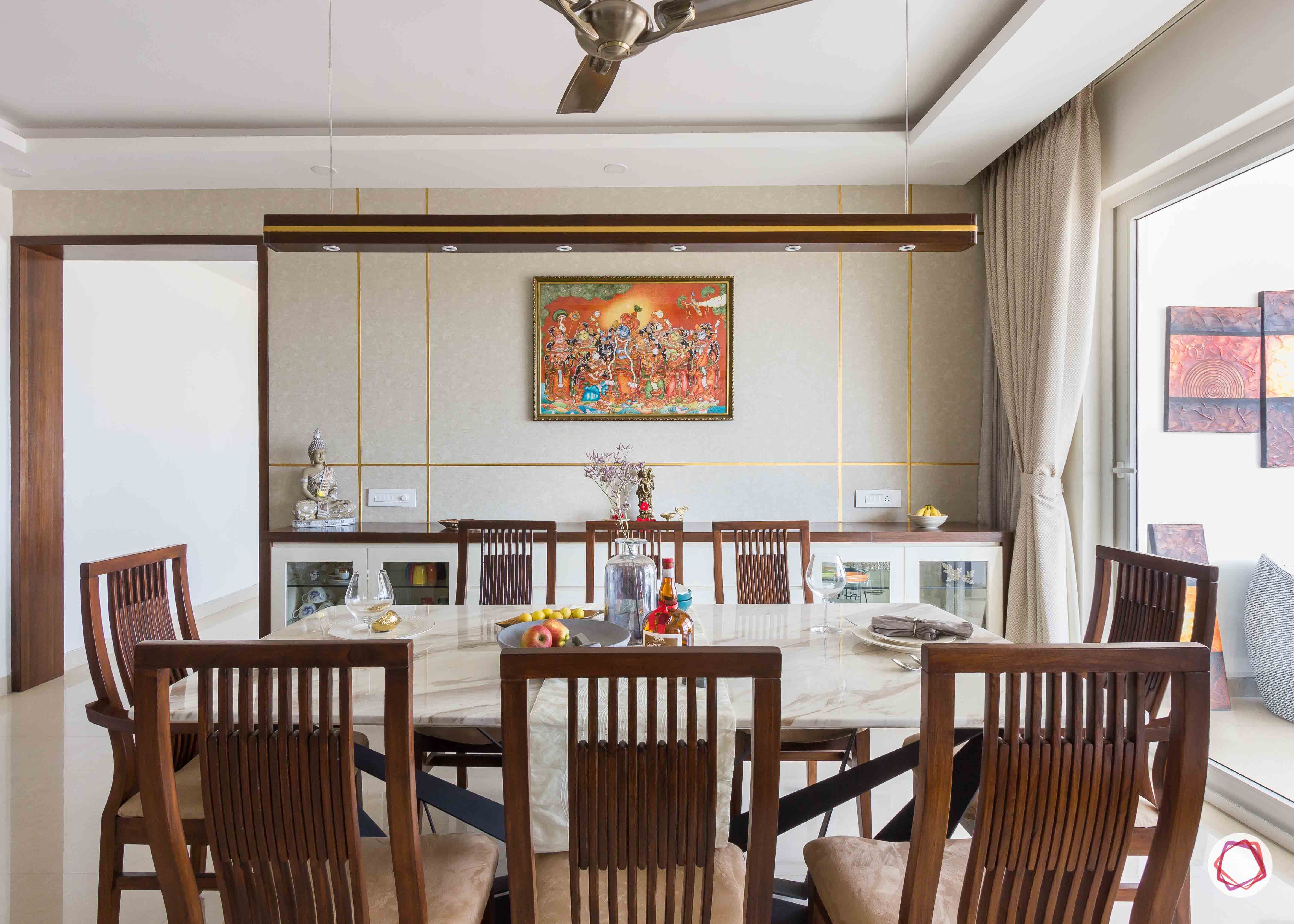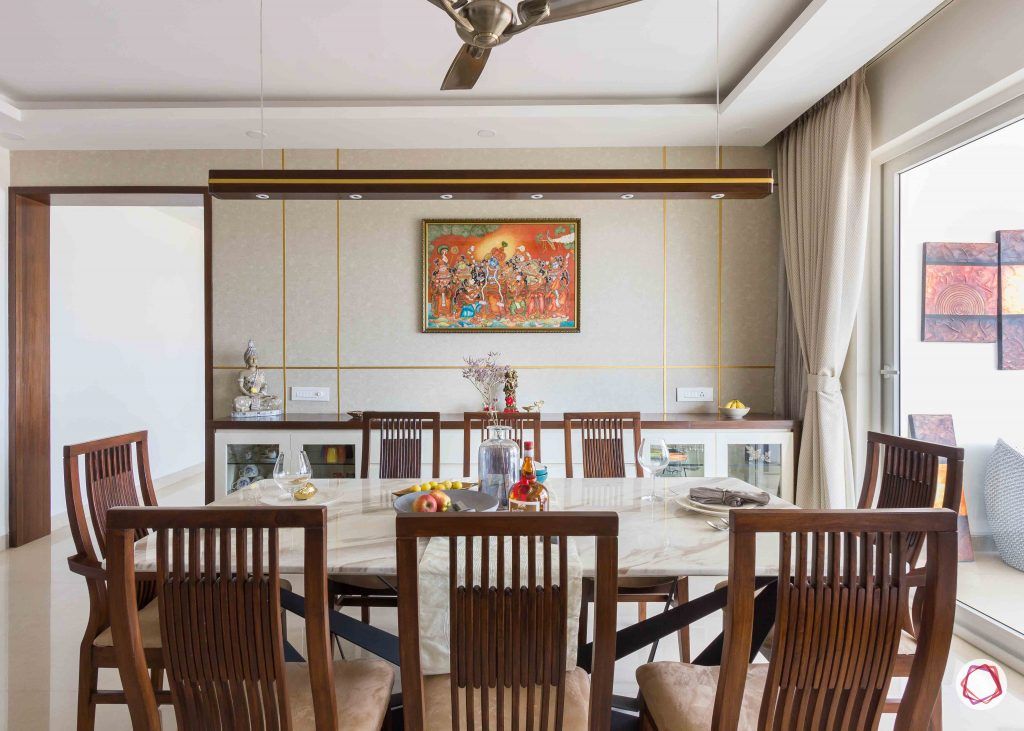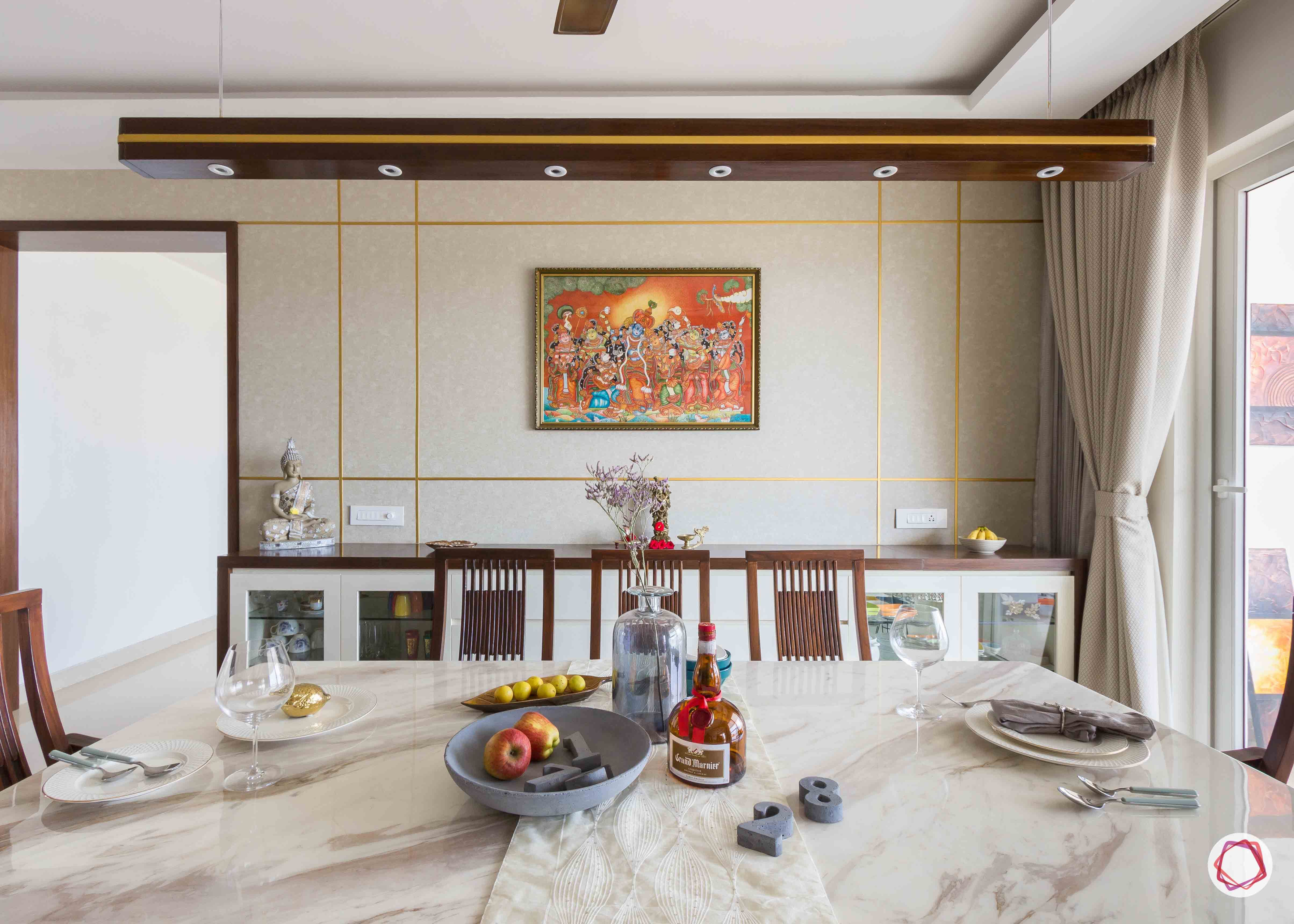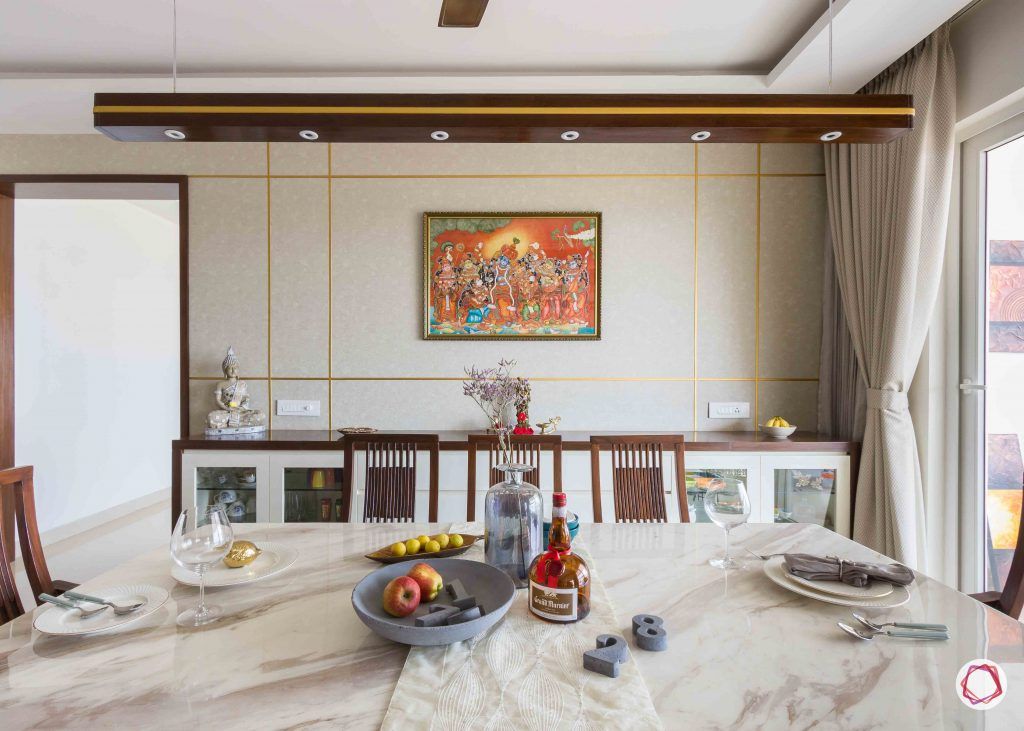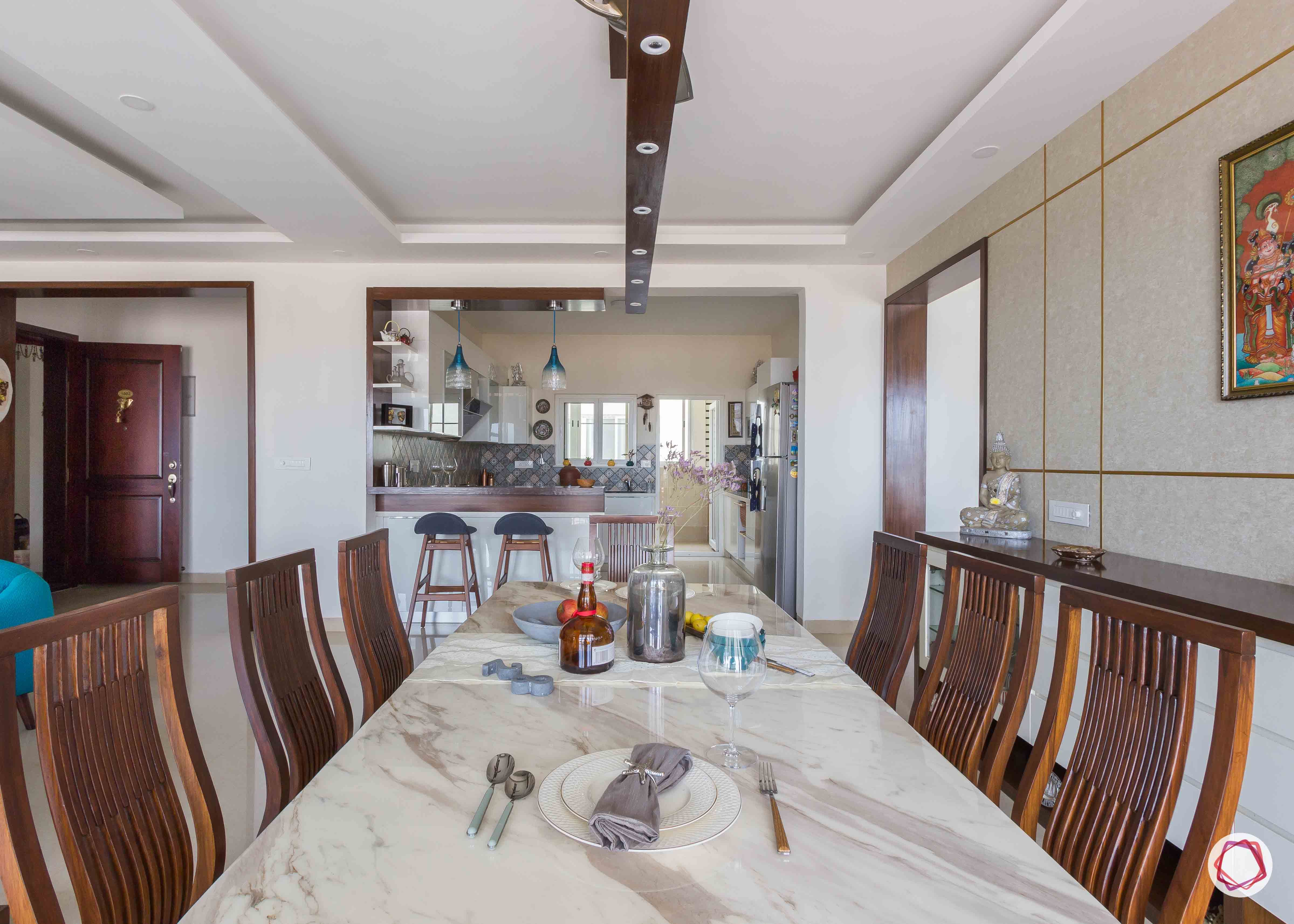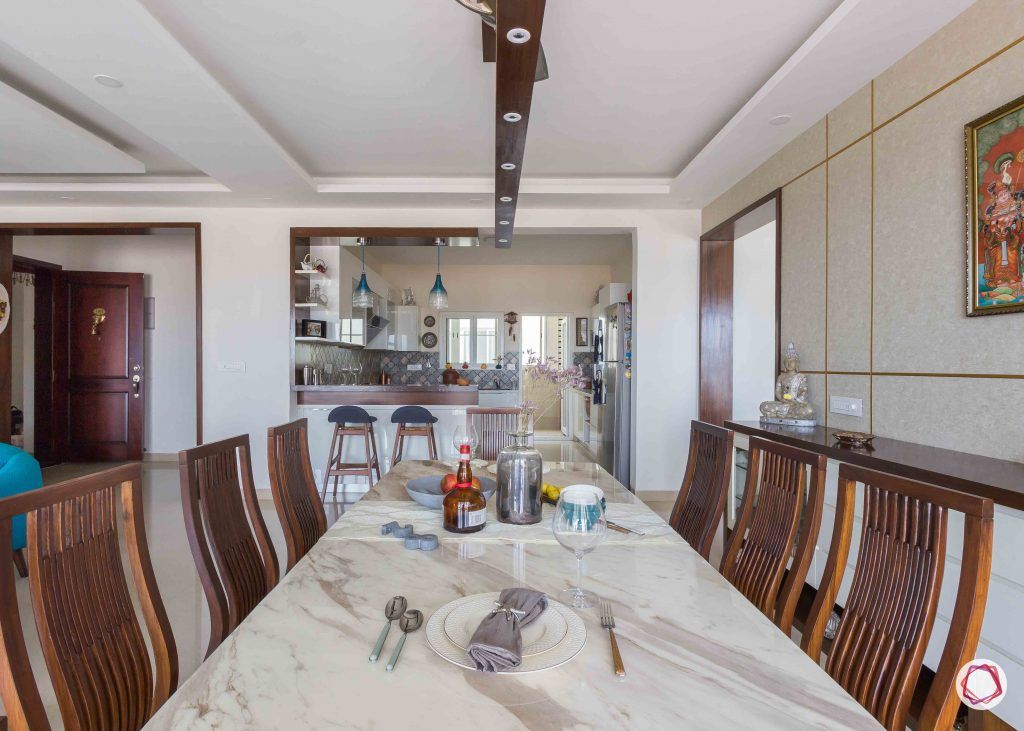 The dining room features a luxurious eight-seater and a marble top dining table that the family purchased for their home. If you notice carefully, the wall over here also has similar golden trims that spill over from the living area. Shreya has given them a modern veneer lighting fixture with focus lights that illuminate the dining table beautifully when lit. The most striking element of this space is definitely the fourteen-foot-long crockery unit. In conversation, Payal told us that she was very particular about having a long unit, so that it is comfortable for her to manage things when guests come over.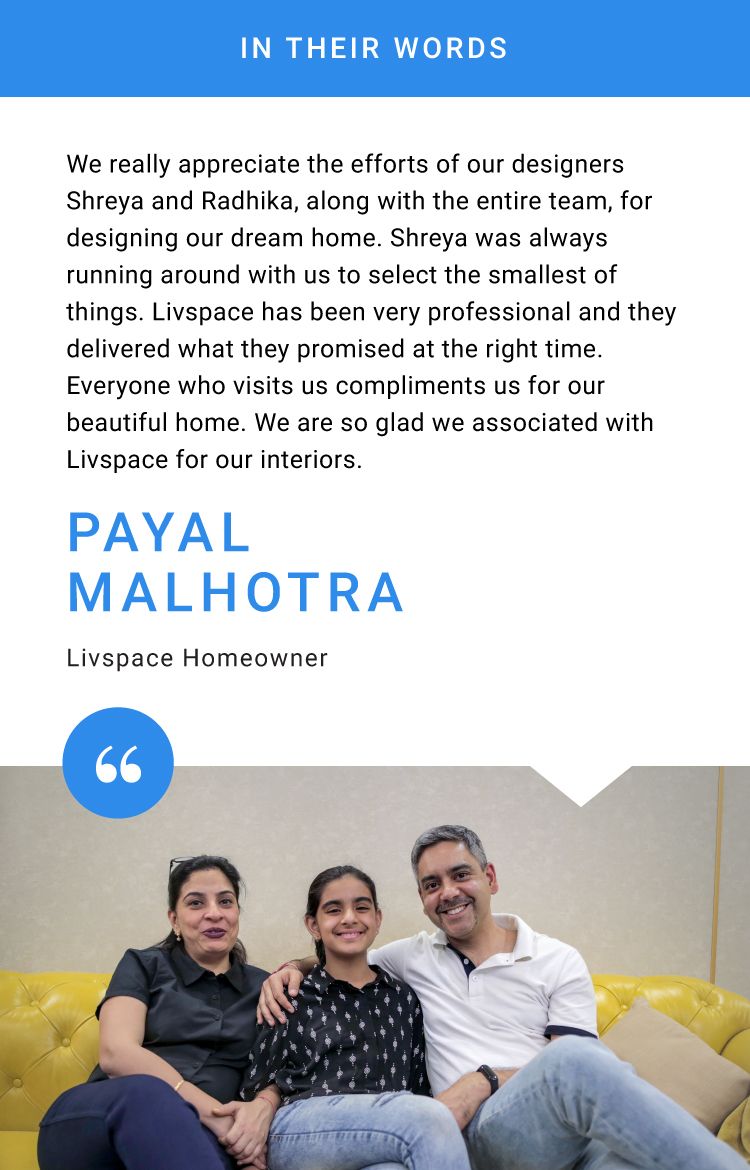 A Spacious Kitchen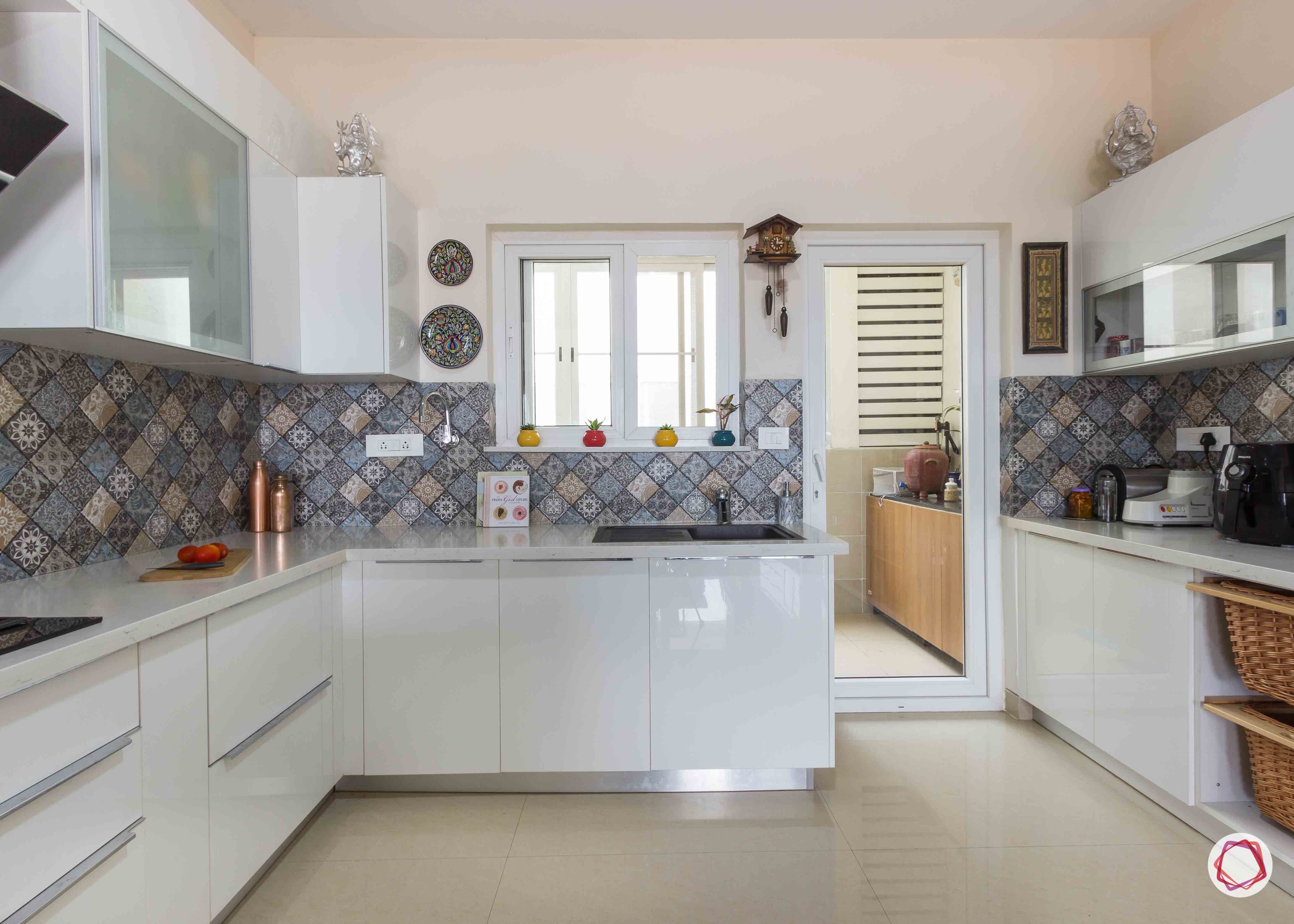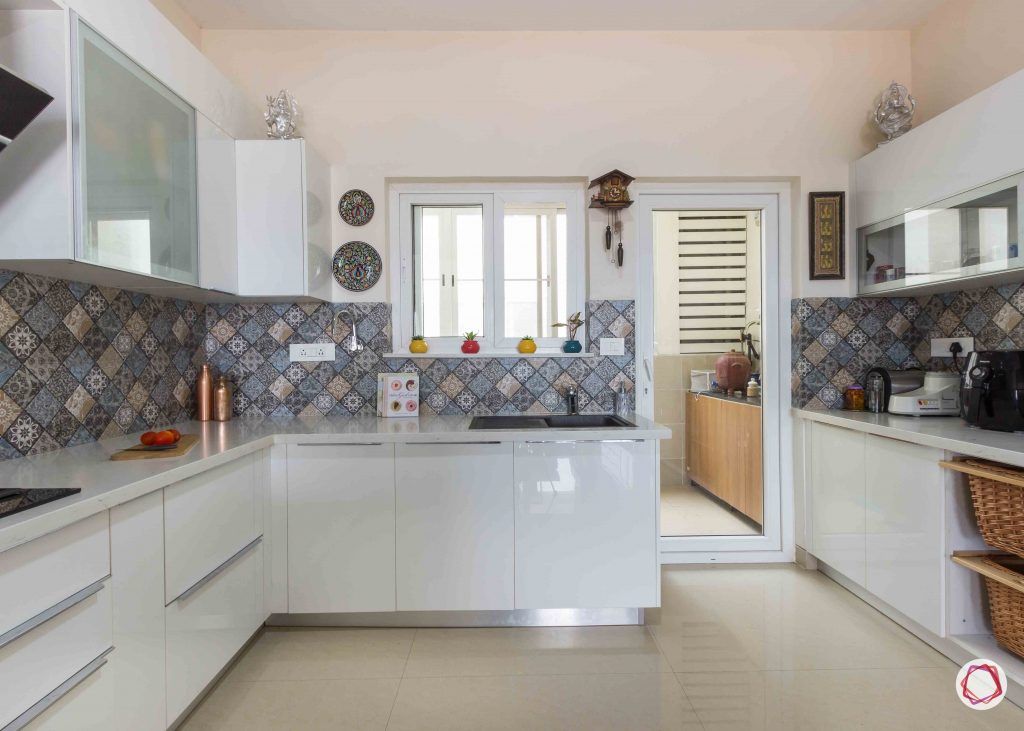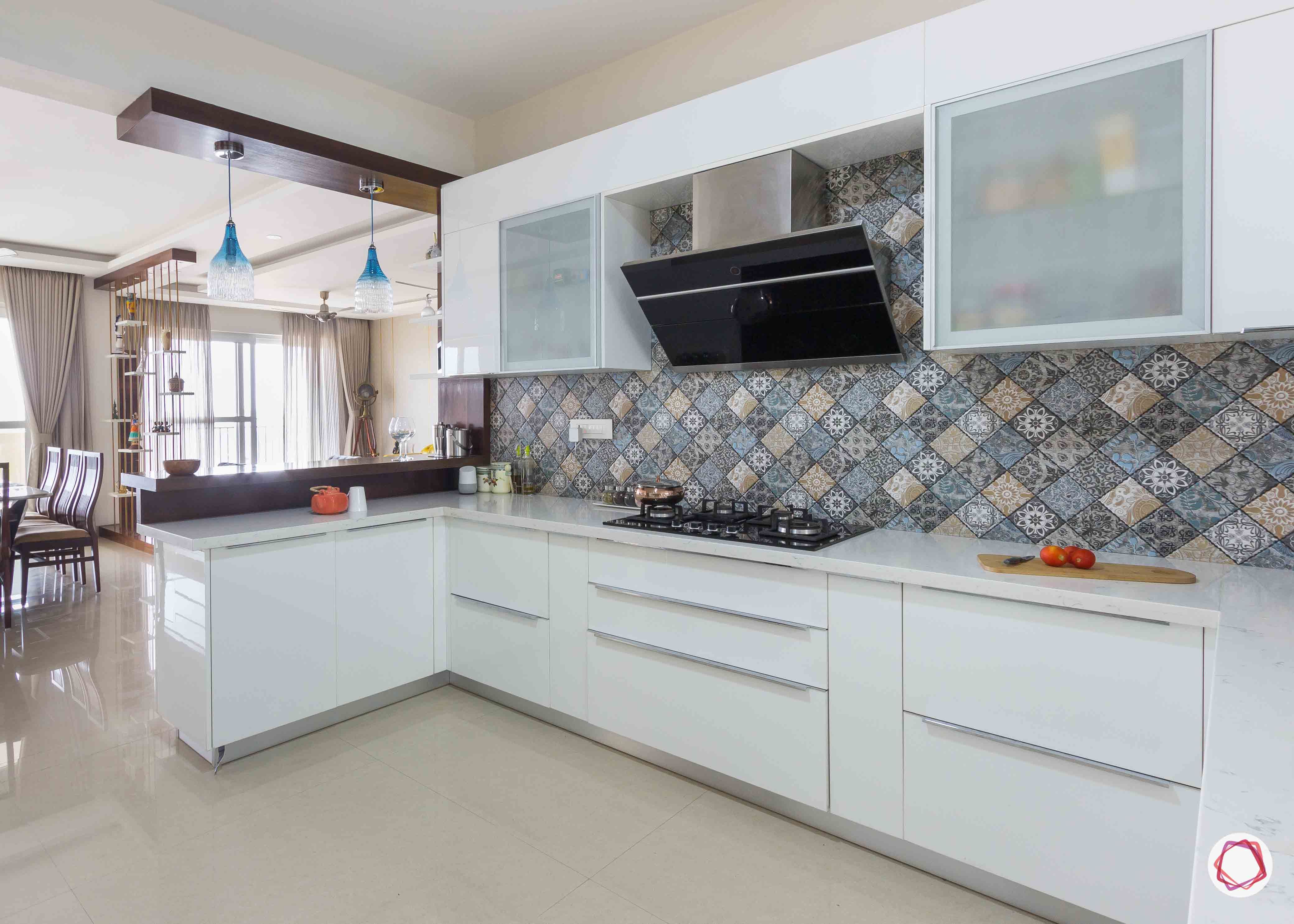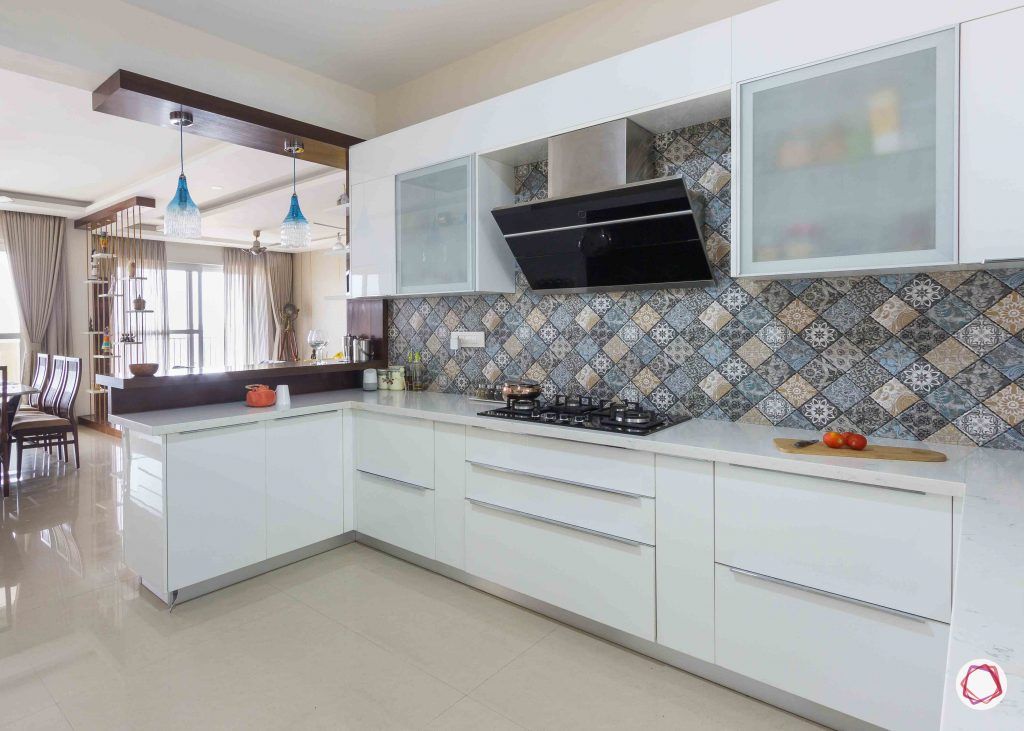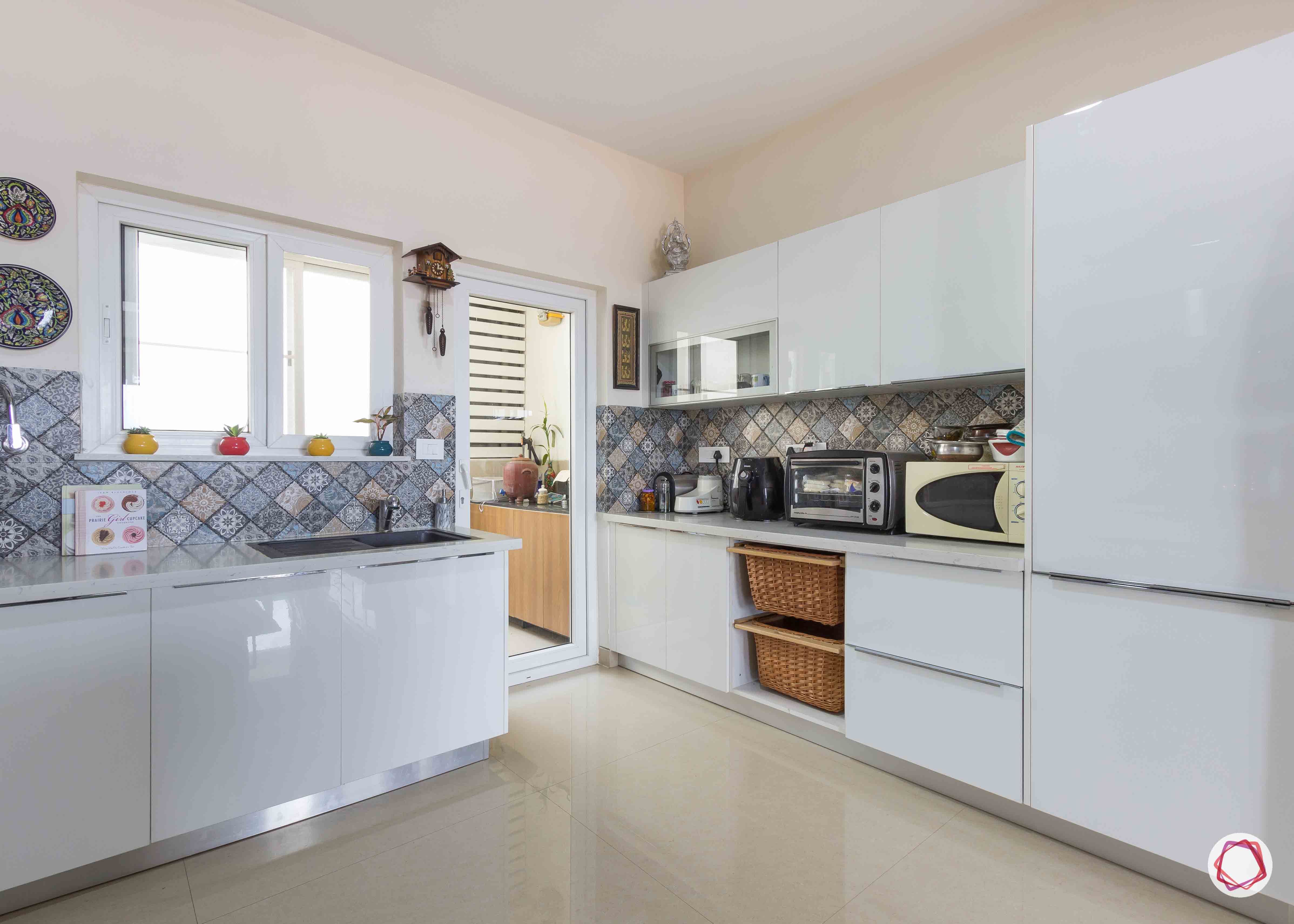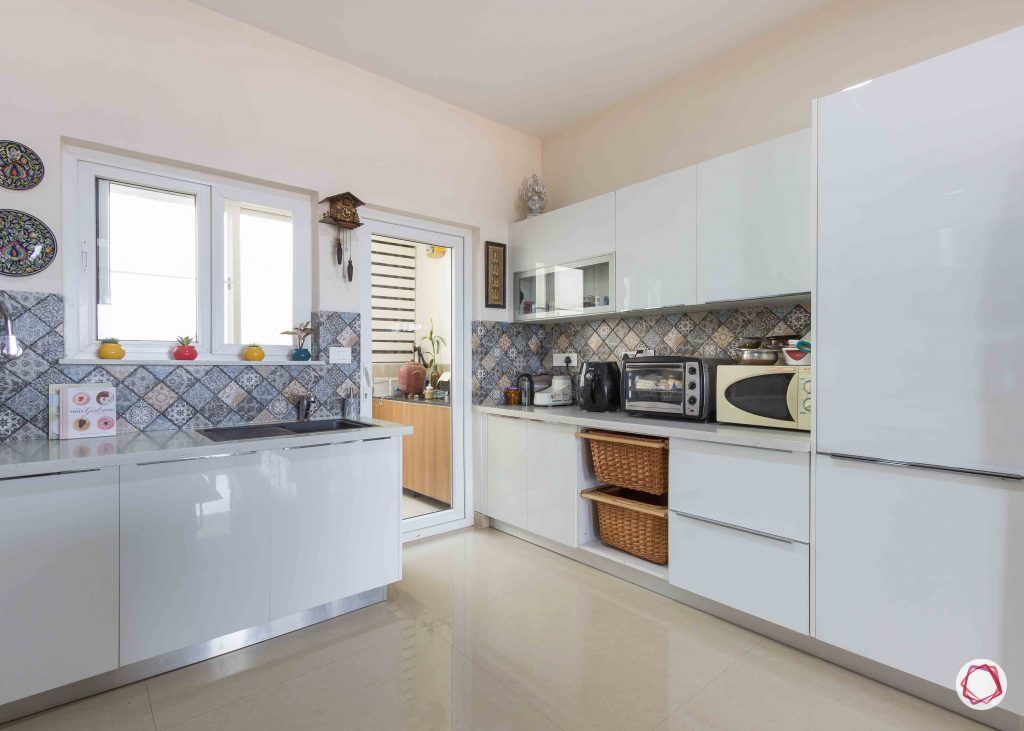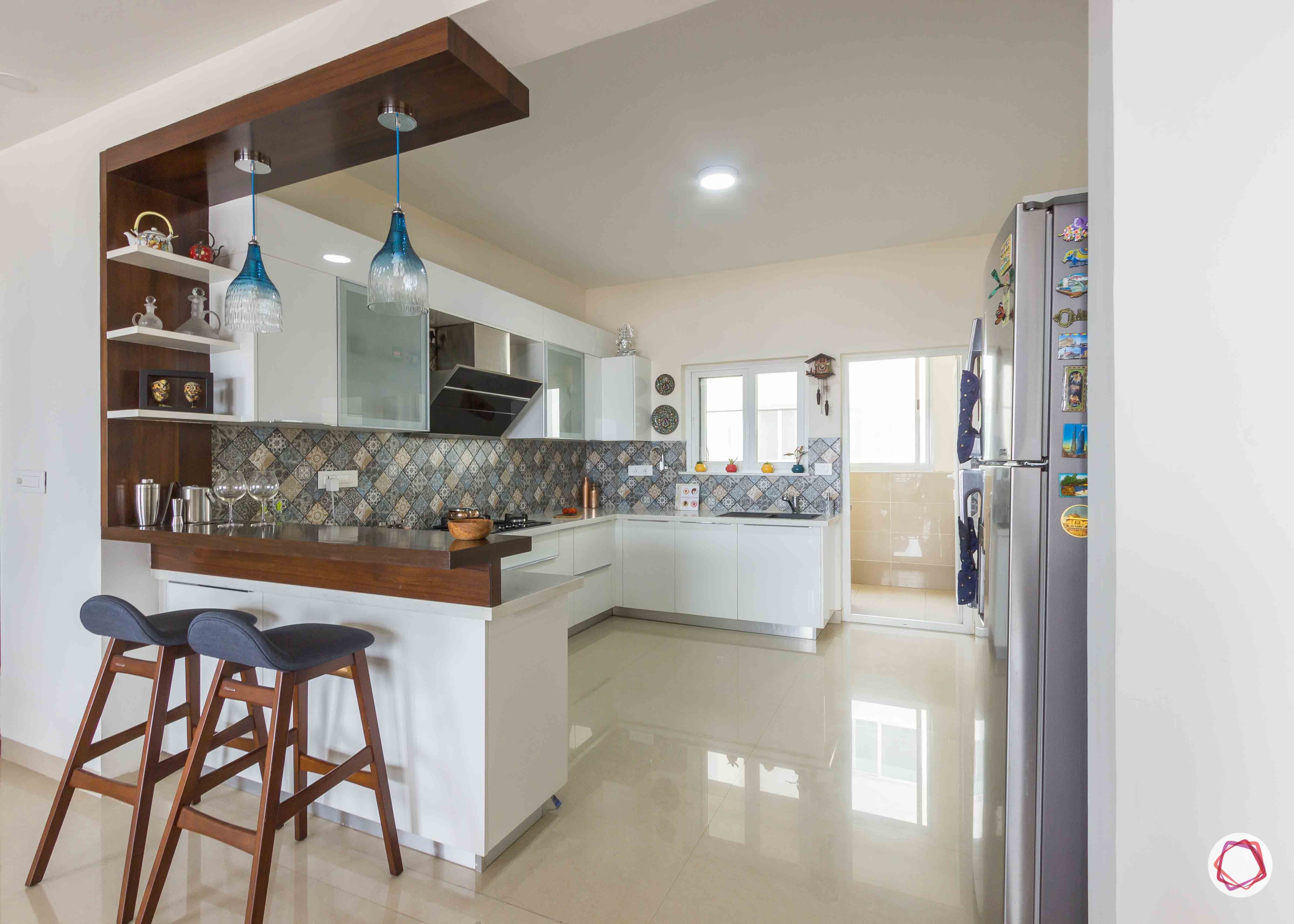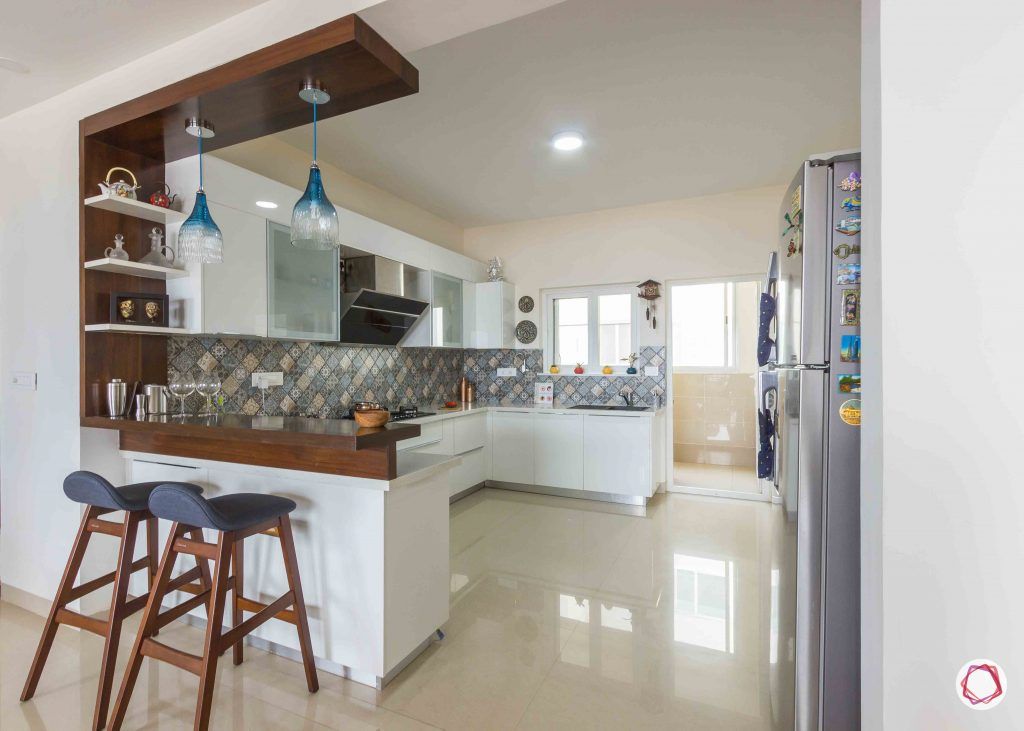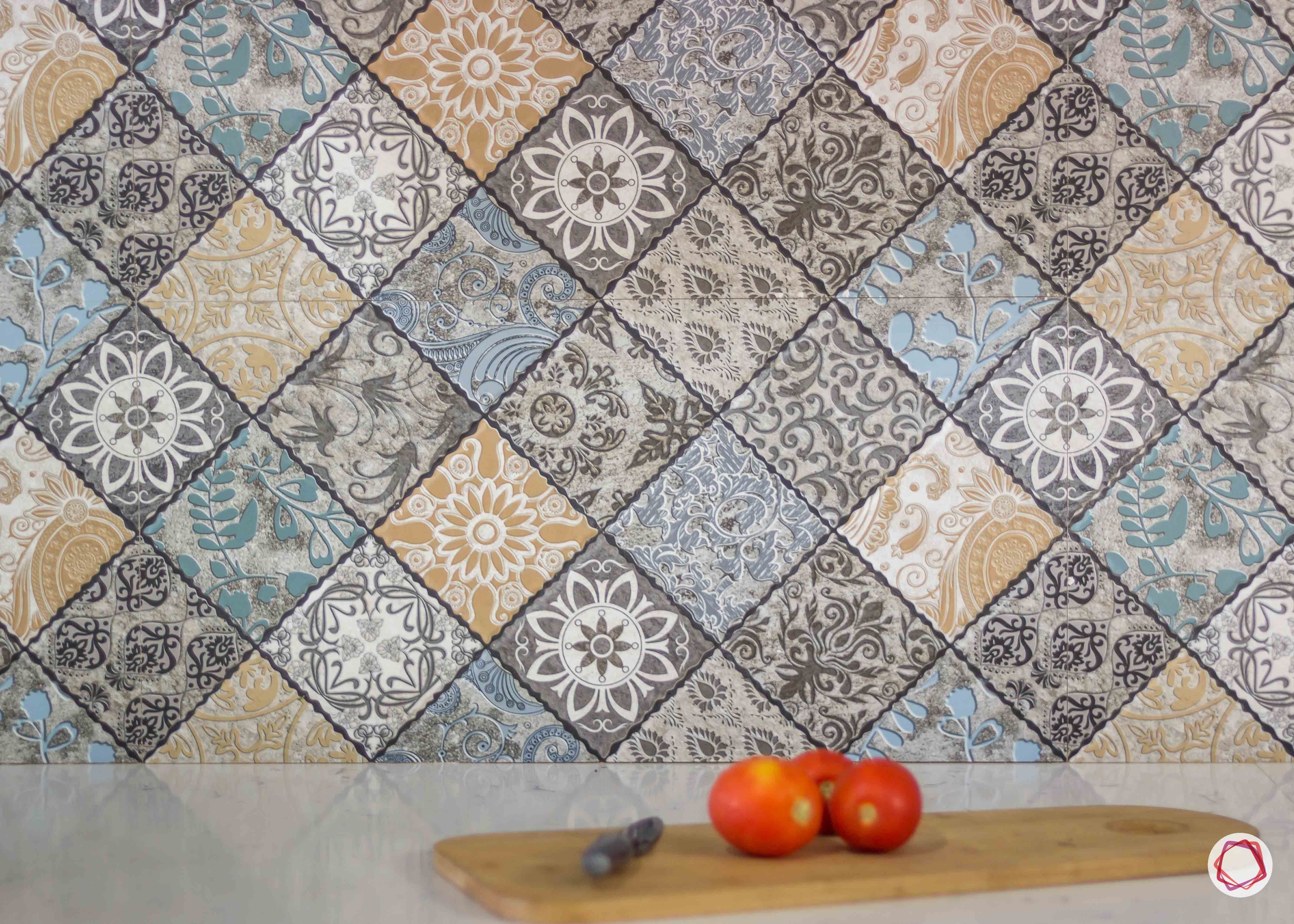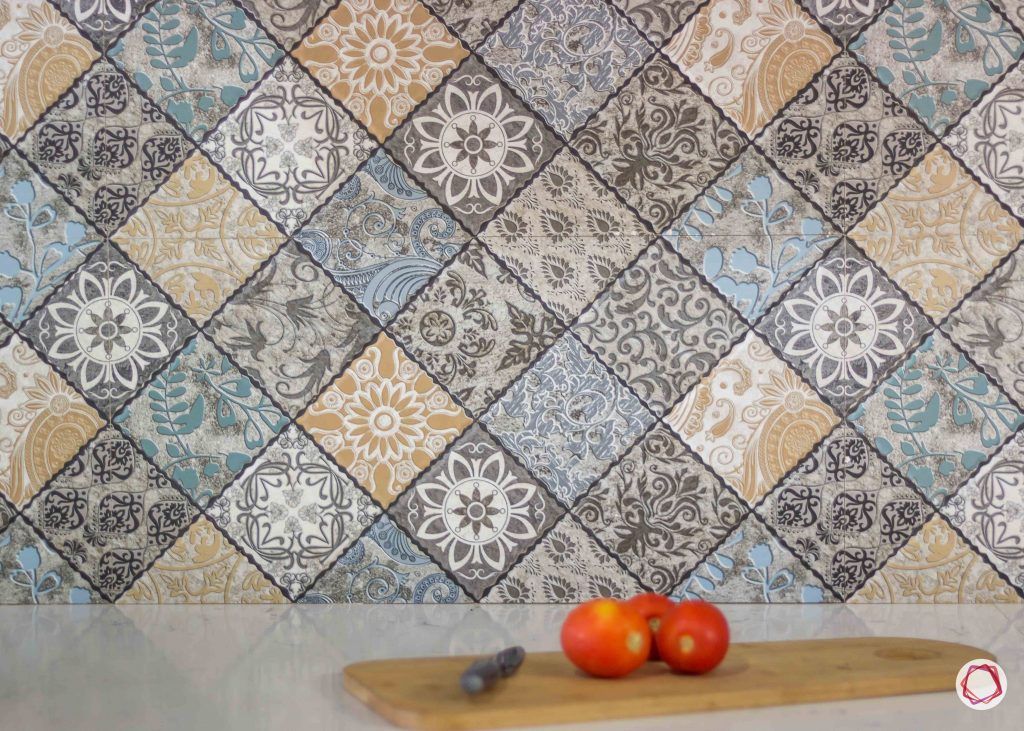 Payal was sure that the kitchen has to be an open kitchen, since she wants to feel connected with the family at all times, even when she's busy whipping up meals. That's how Shreya moved things around that created an open layout for their kitchen. A breakfast counter meant that the couple could enjoy their quick cup of coffee together in the comfort of their kitchen. Featuring glossy white membrane cabinets and sparkling white quartz countertop, this sleek space is rather easy to maintain. The backsplash weaves some pattern and interest into this simple but functional modular kitchen.
Playful Pinstripes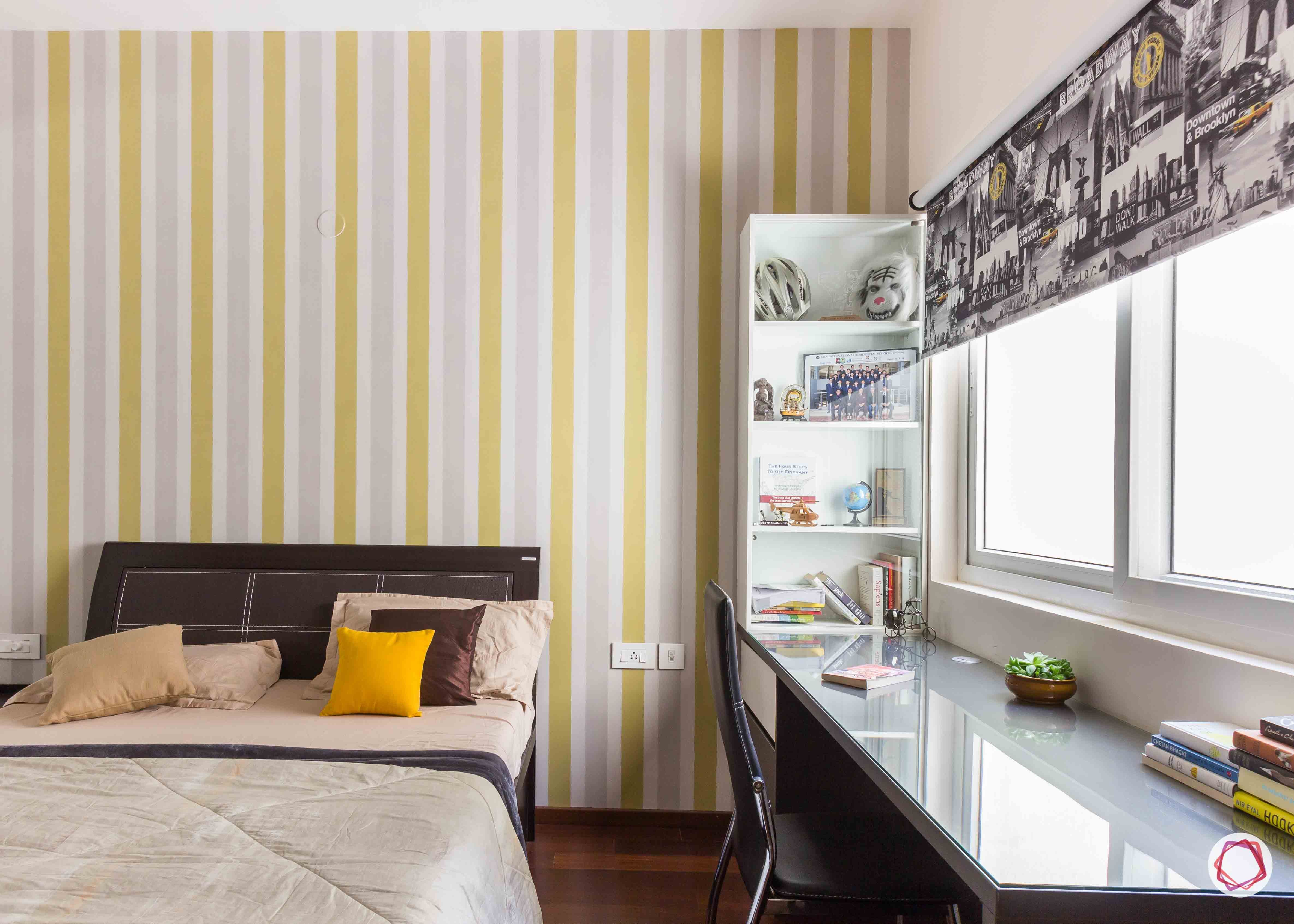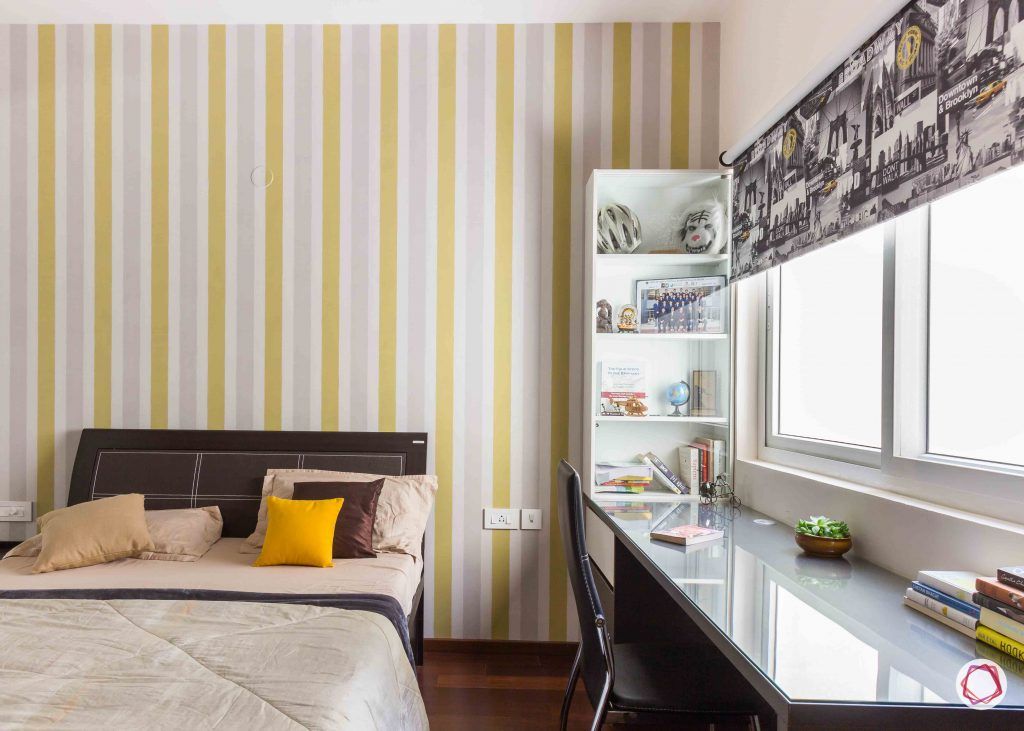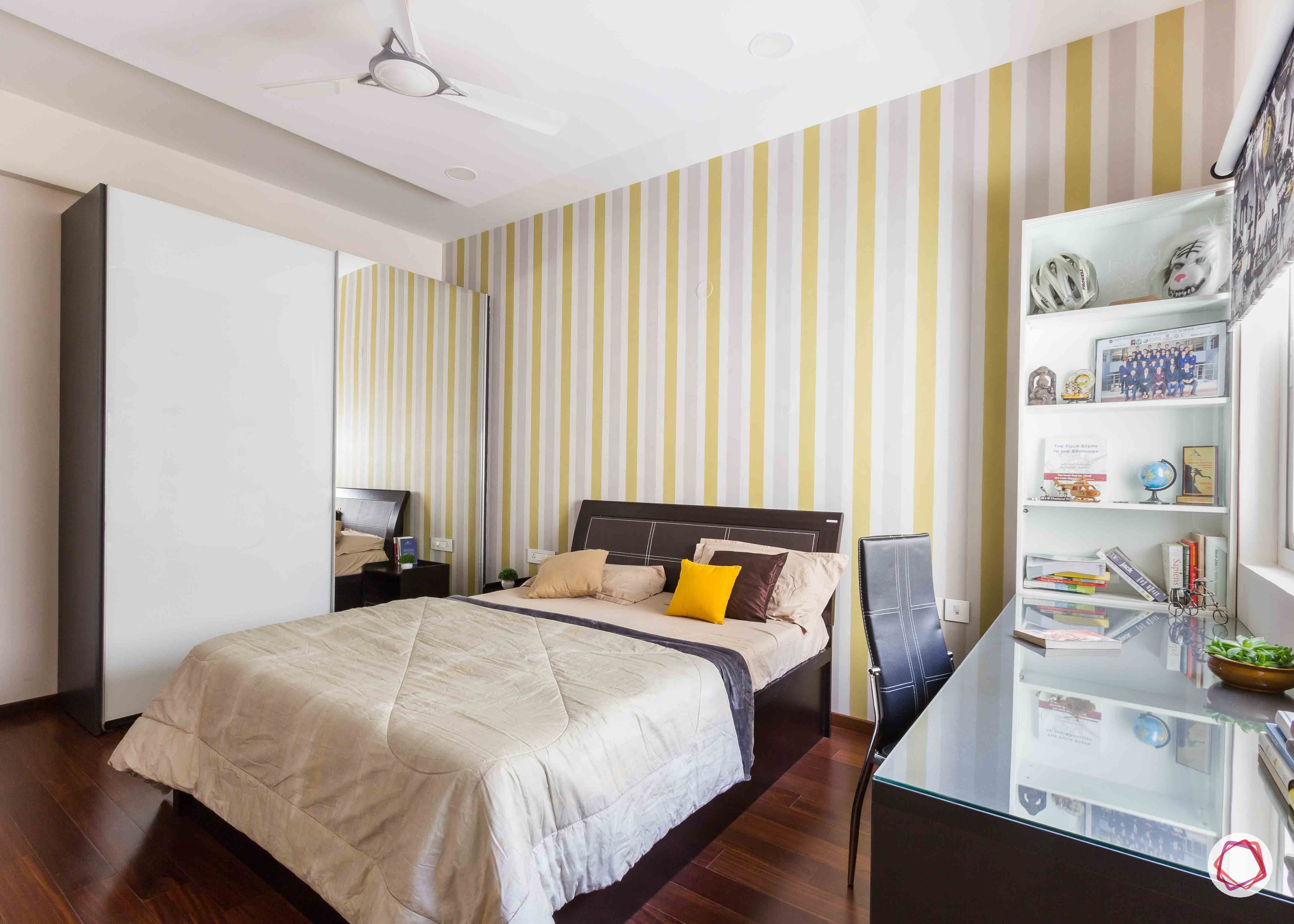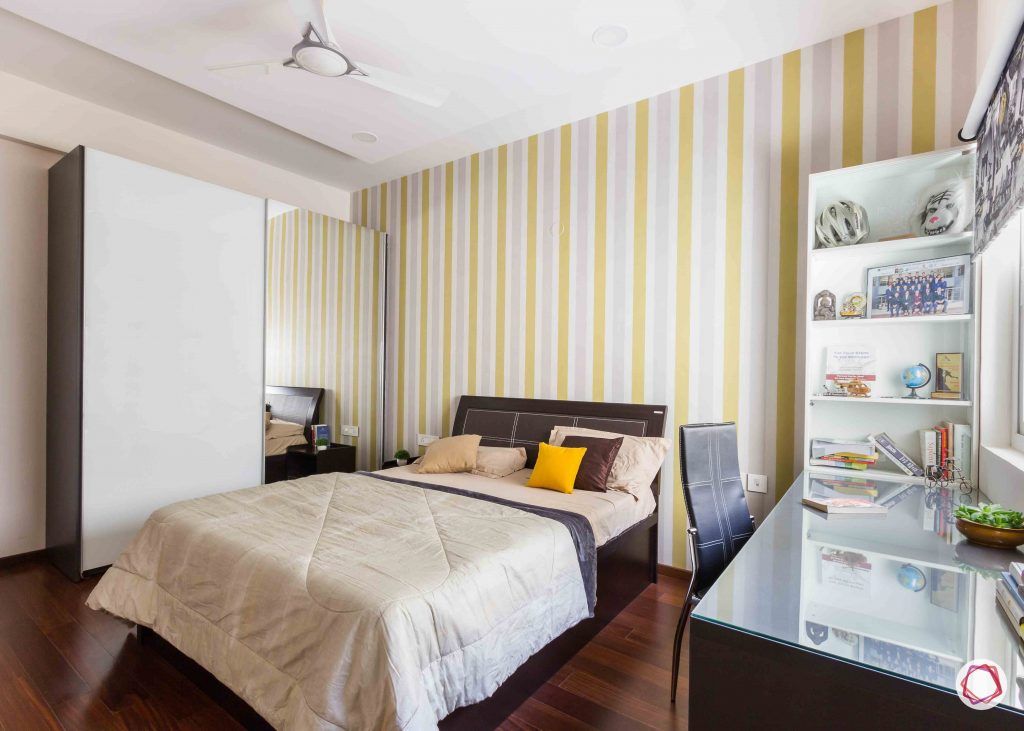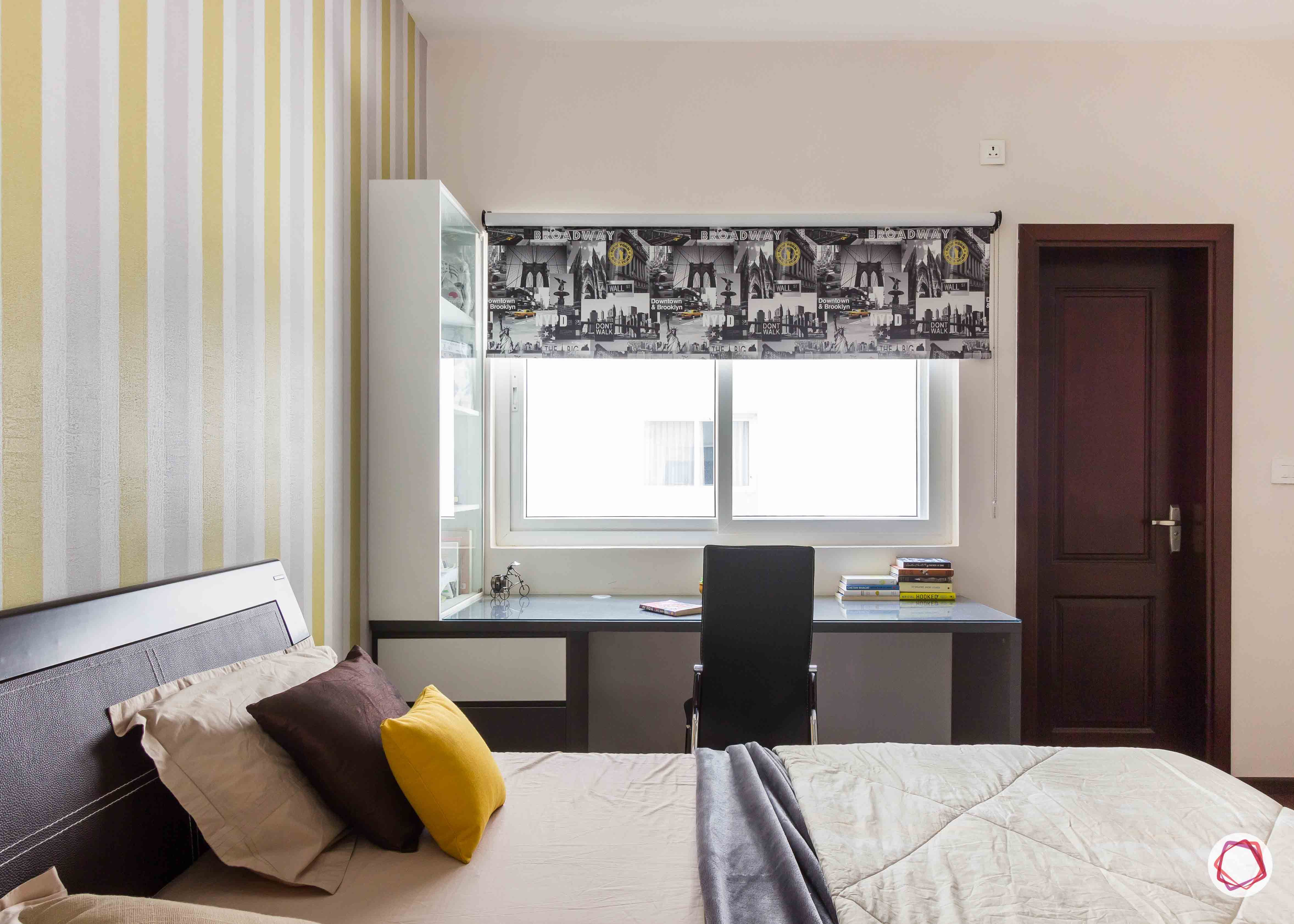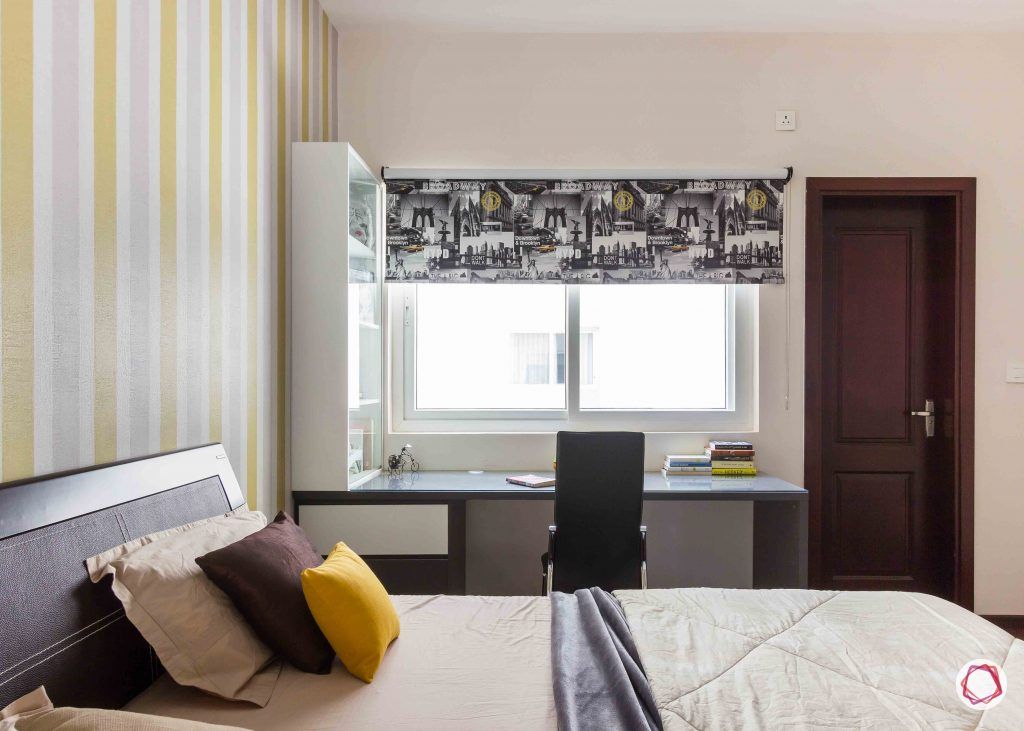 This room belongs to the couple's son, who stays at a boarding school and visits home regularly. He was very sure about getting stripes on the wall and Shreya decided to give him a combination of yellow and grey that does not look too loud or dull. The study table features a glass shutter cabinet where all his trophies and awards are displayed proudly by him. The wardrobe is a simple sliding one with a mirror shutter on one side.
Tantalising Teal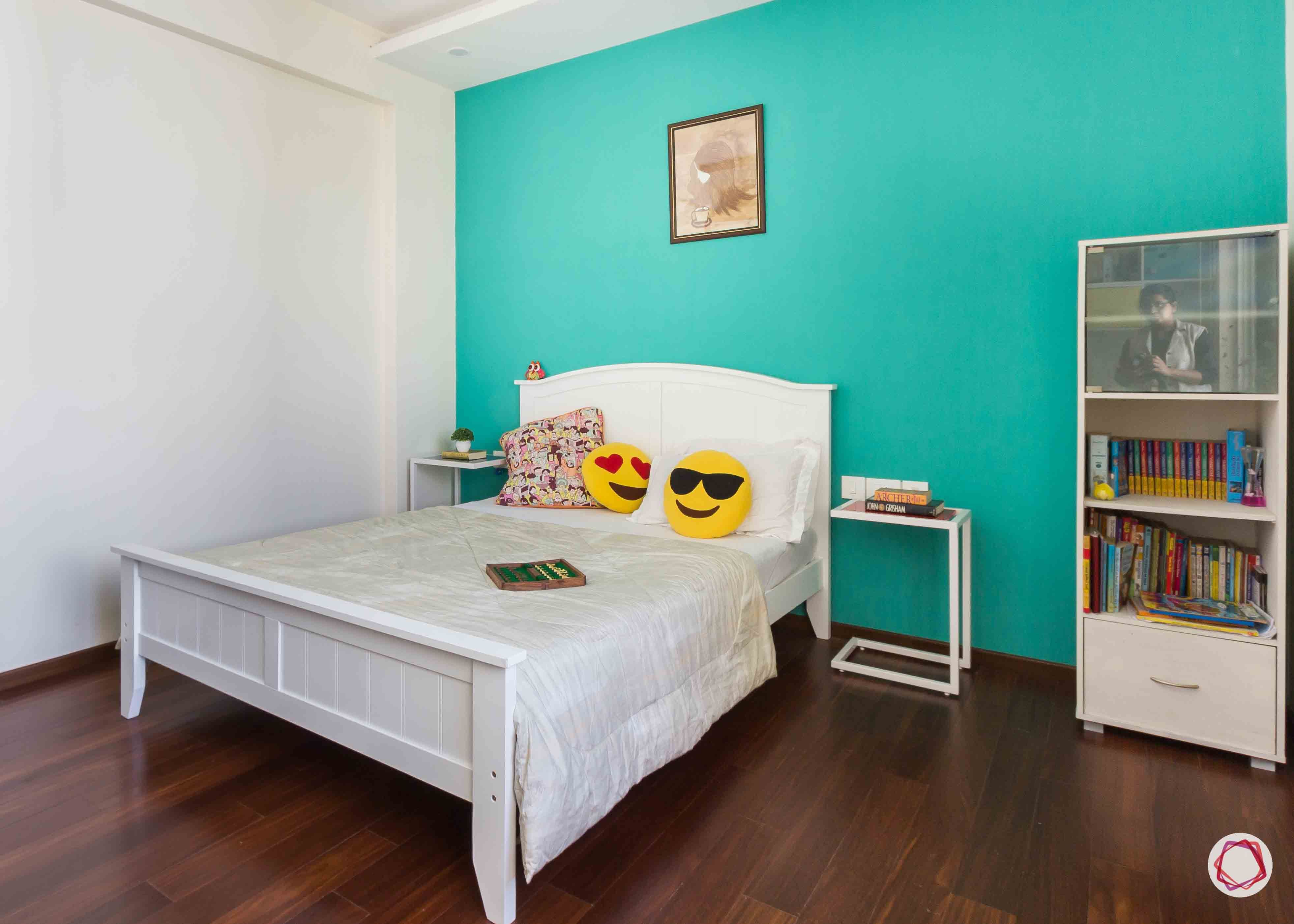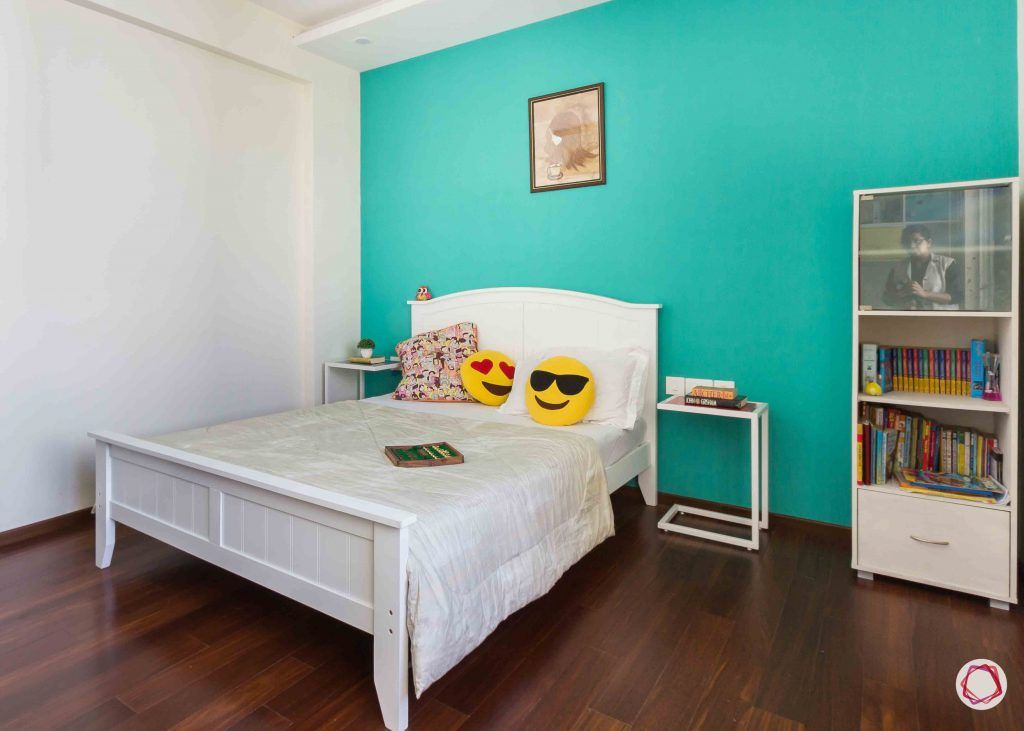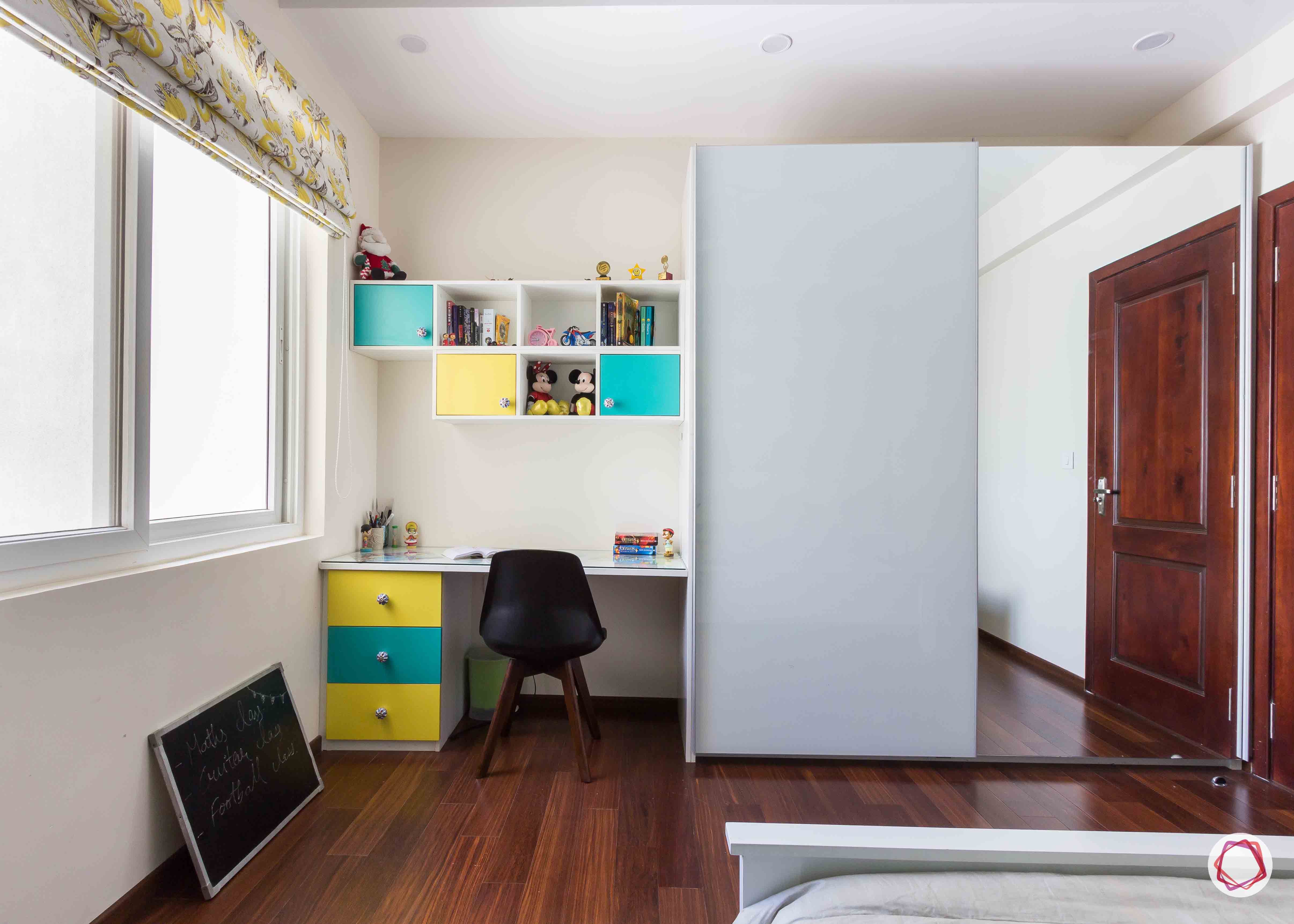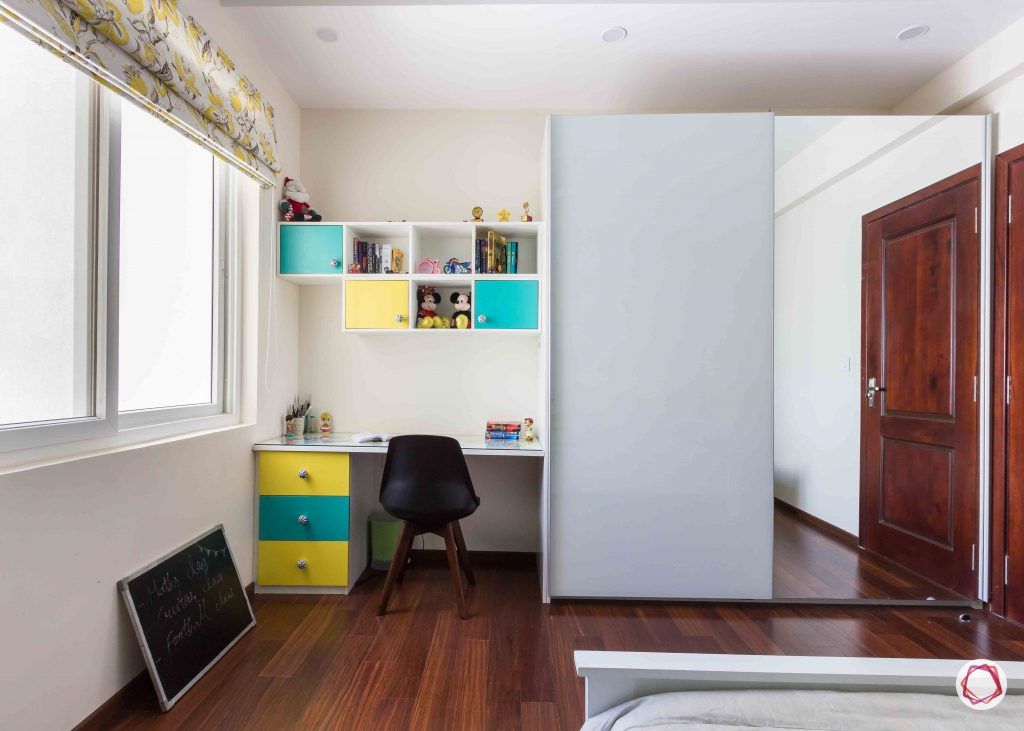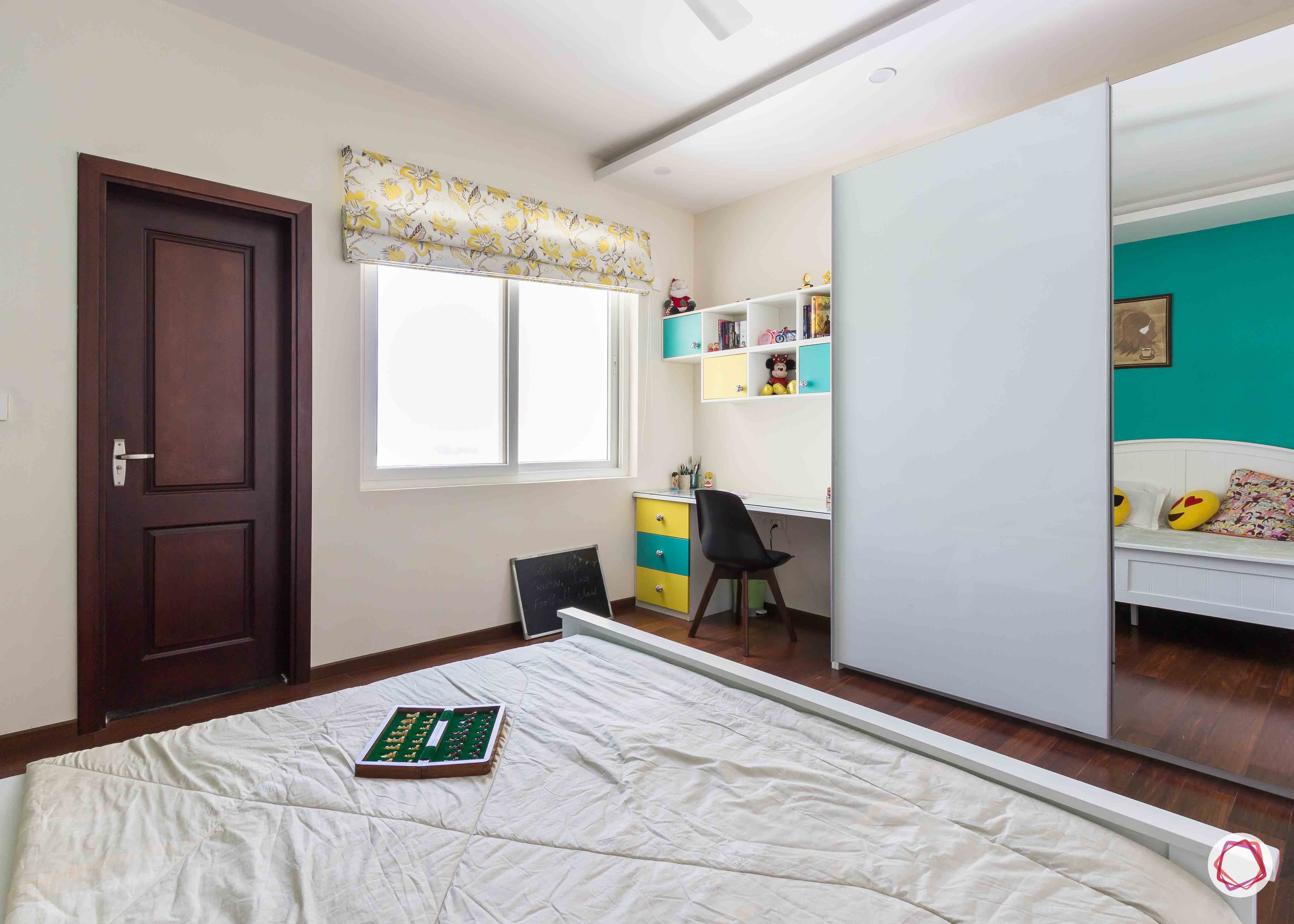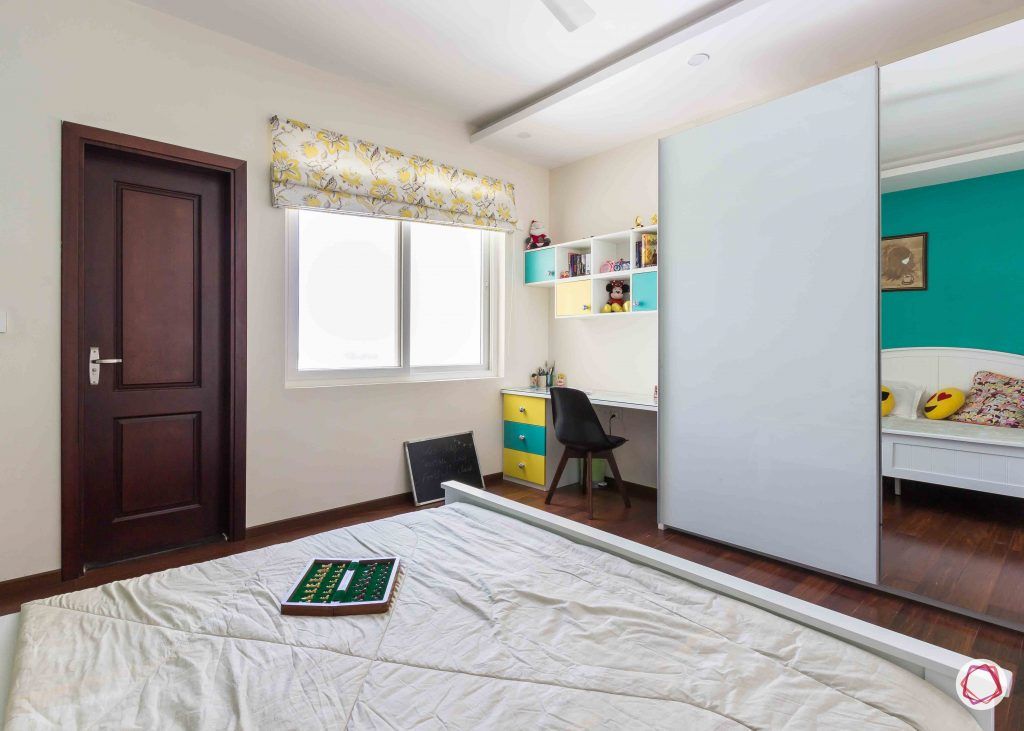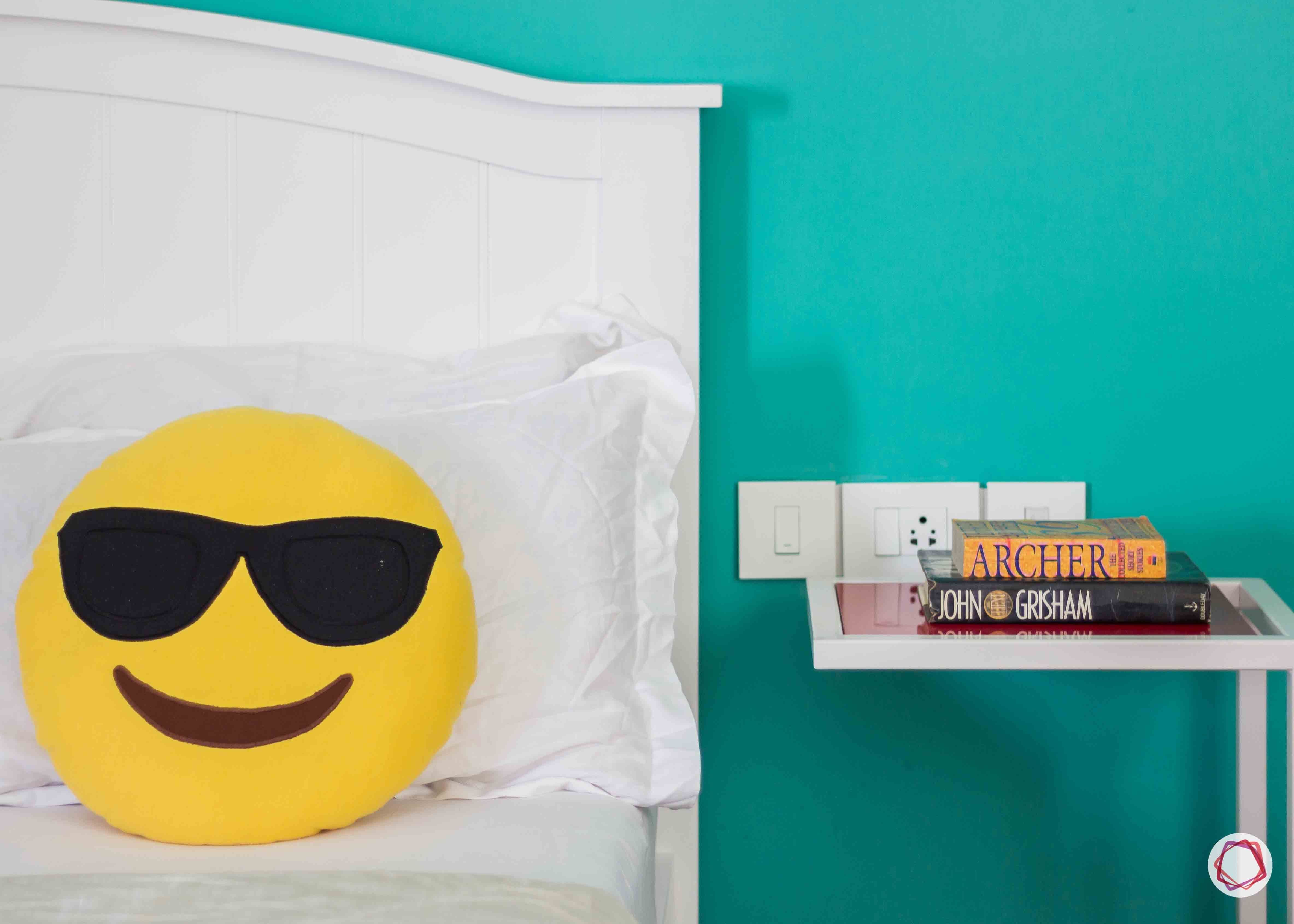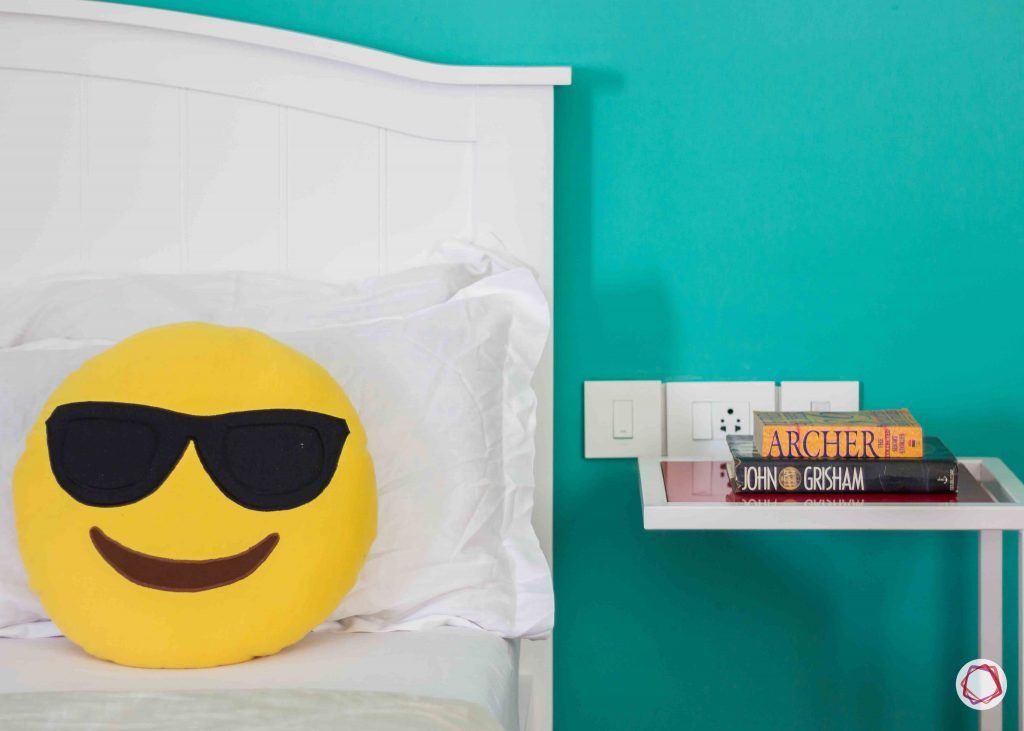 The couple's daughter, Akshita, was very particular about having teal walls because she loves this colour. Shreya was more than glad to paint the wall with this beautiful shade of blue and she kept the rest of the room very simple. The study unit has a good mix of shelves and cabinets with drawers for convenience.
Serene Spaces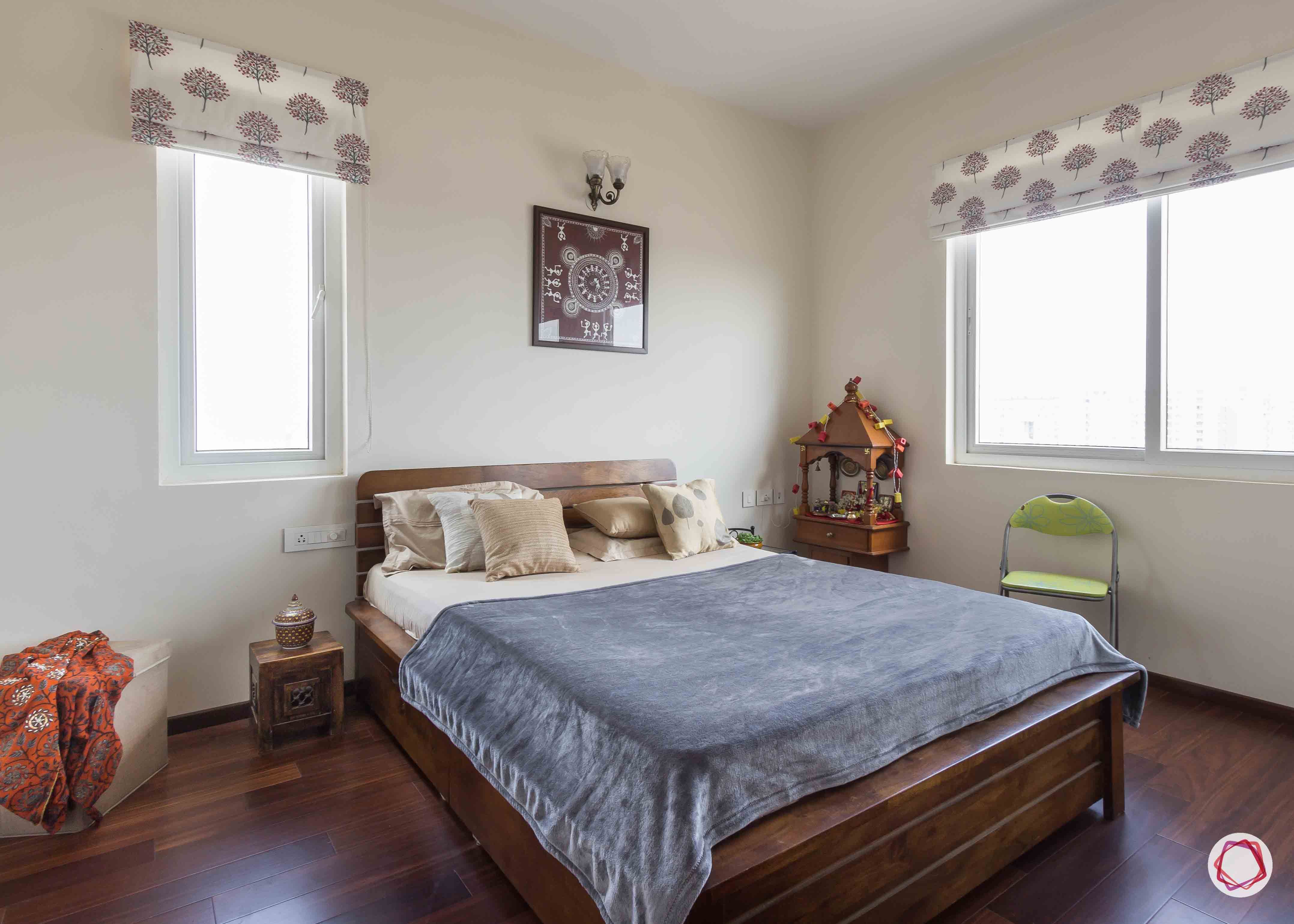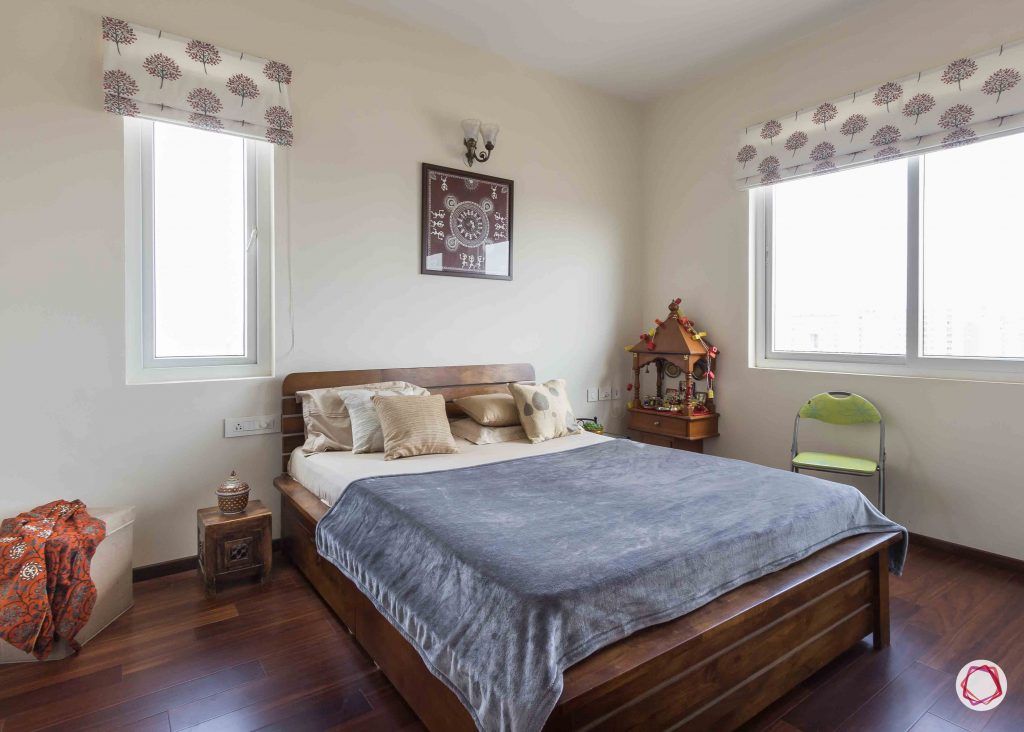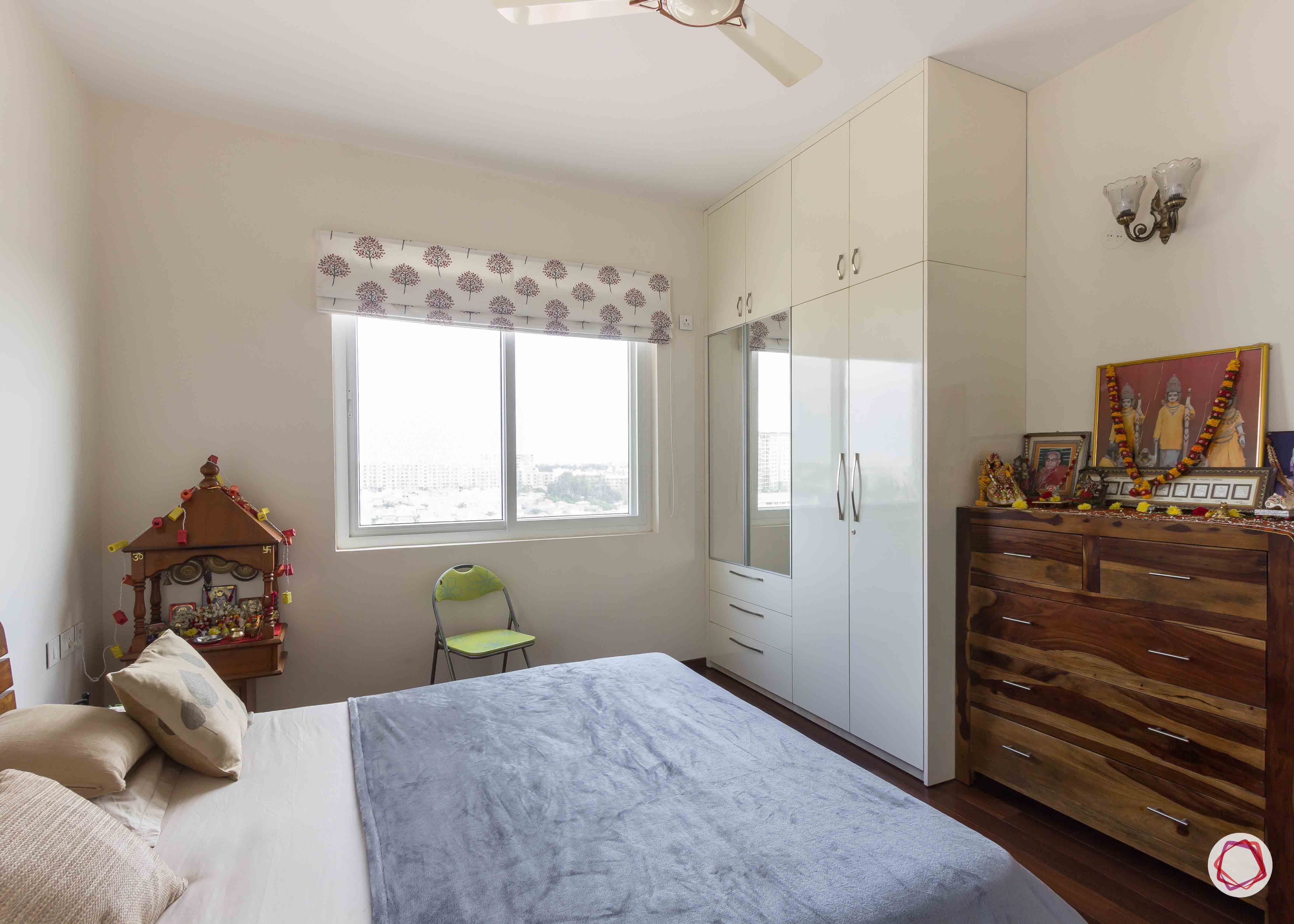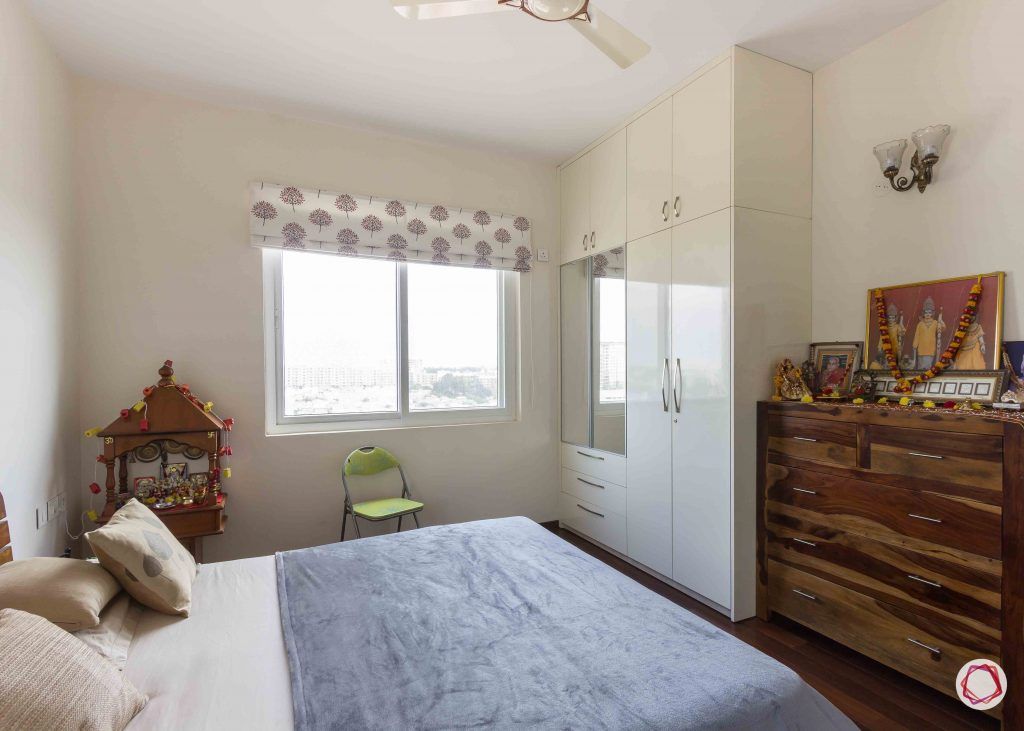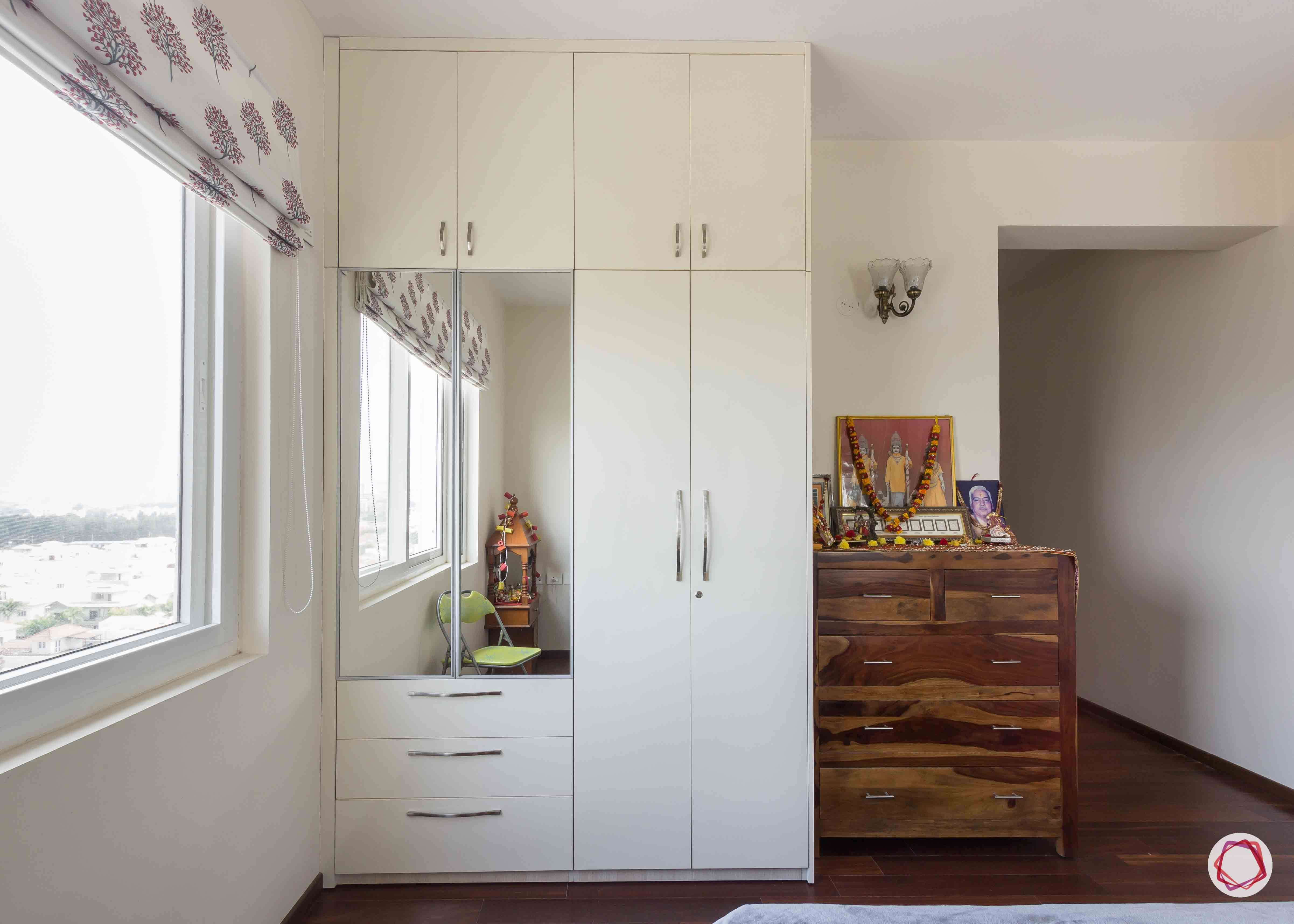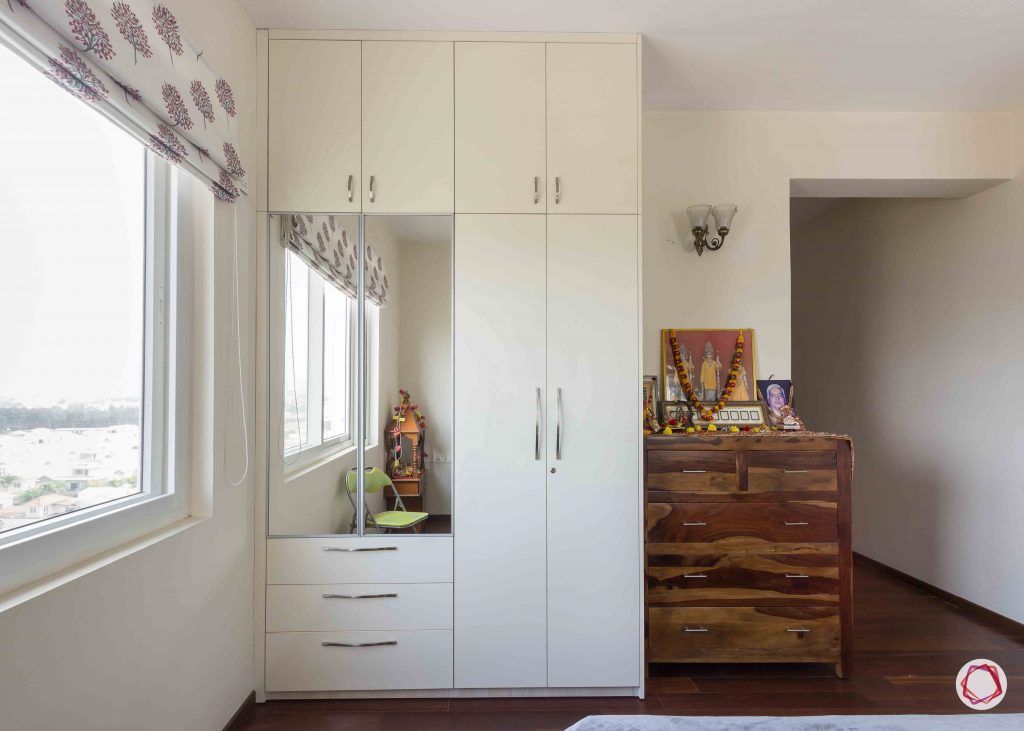 Rajat's mother, Jyoti wanted her room to look very spacious and receive a lot of direct sunlight without any obstruction. The wardrobe is customised to have hangers and drawers that are easy-to-use and can be handled by her. The room also accommodates pooja corners that fit snug in here. While simple, the room packs everything that she needs.
Splashes From the Sea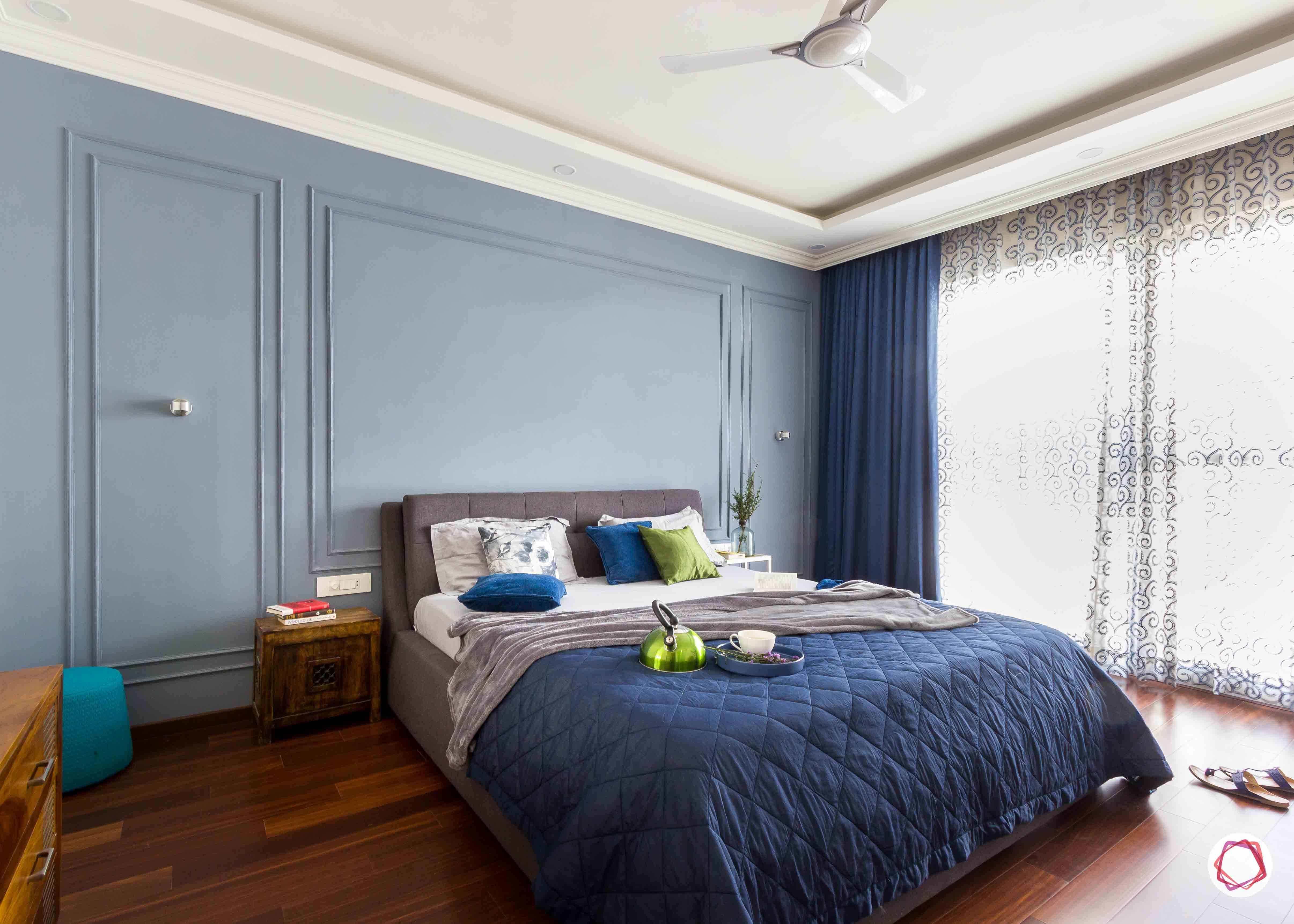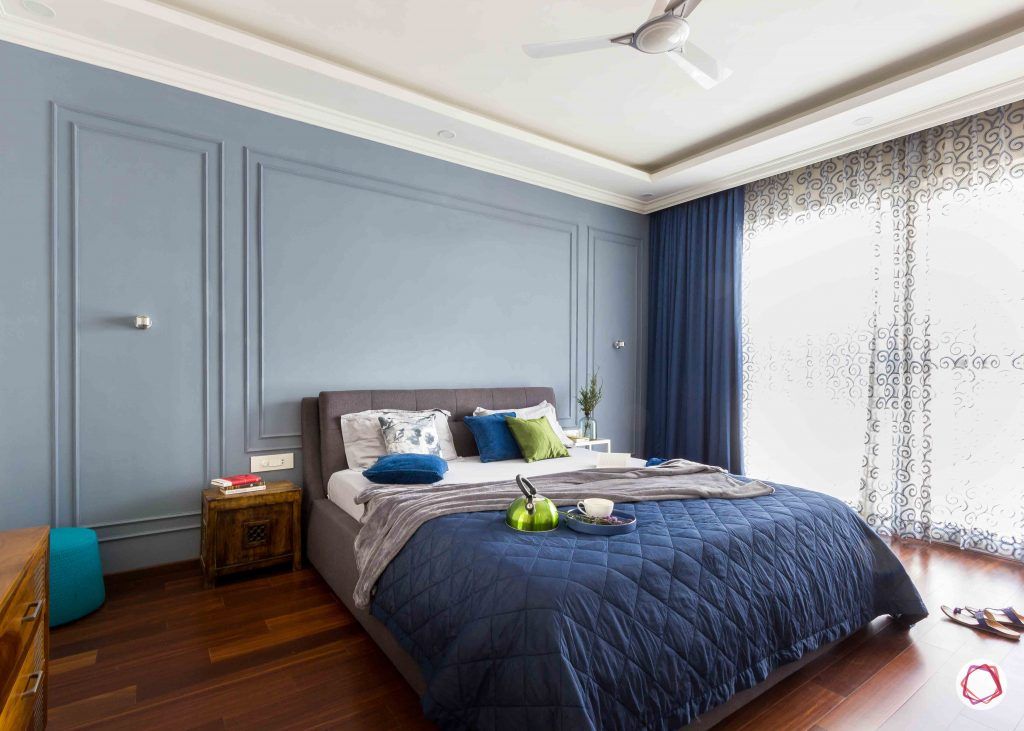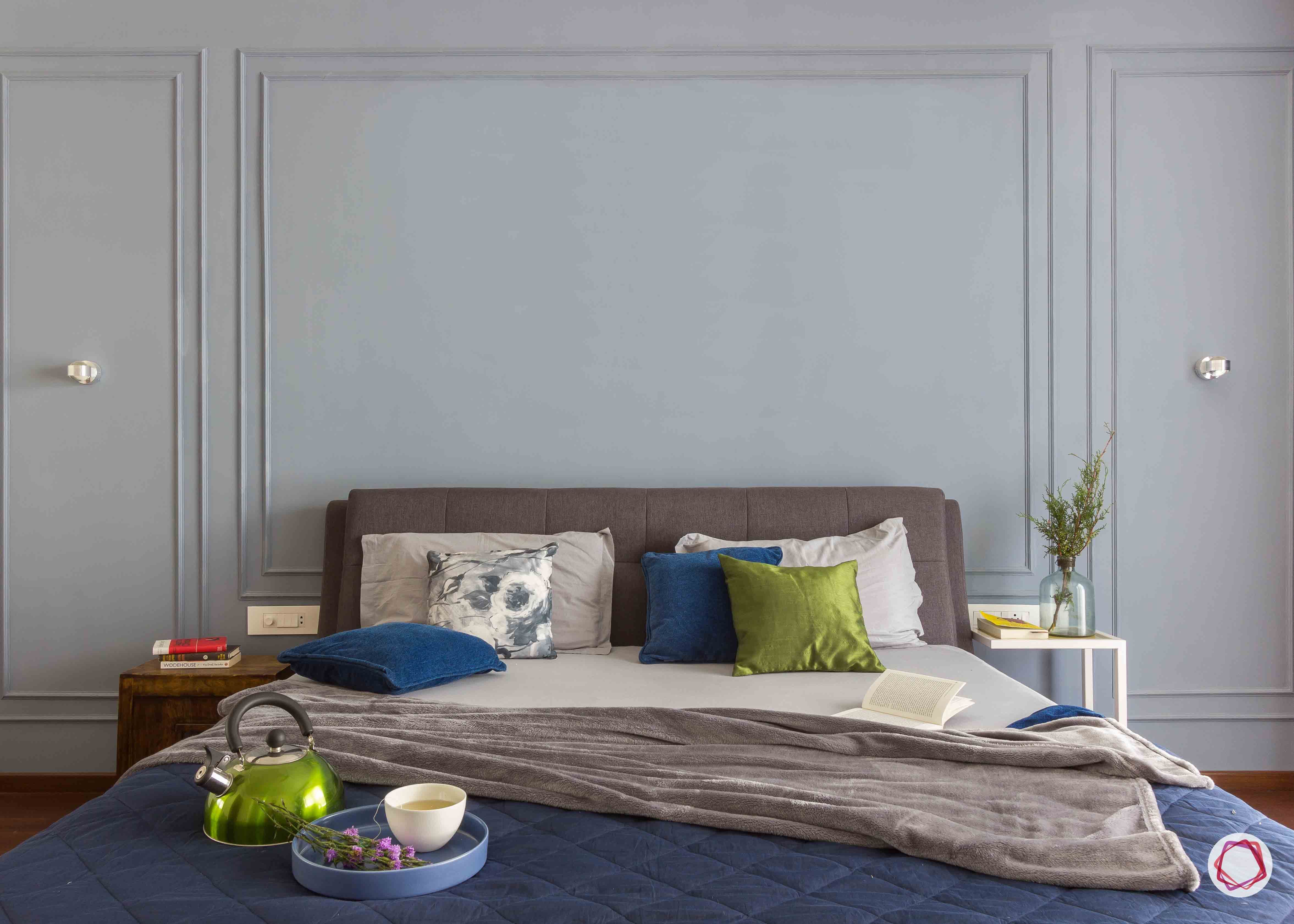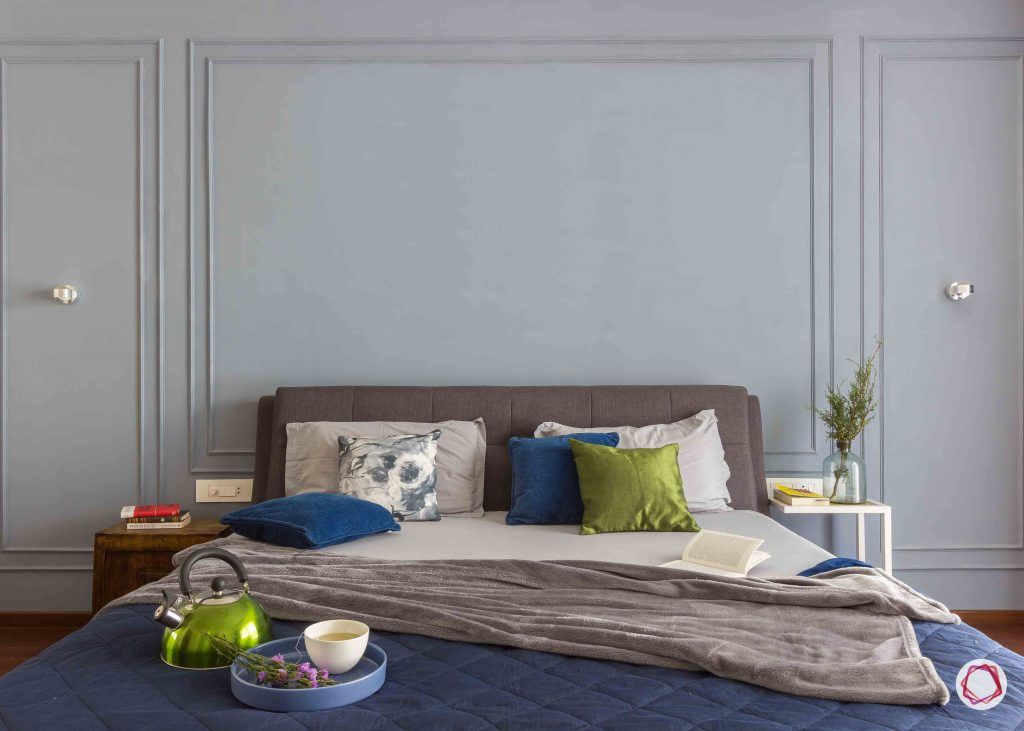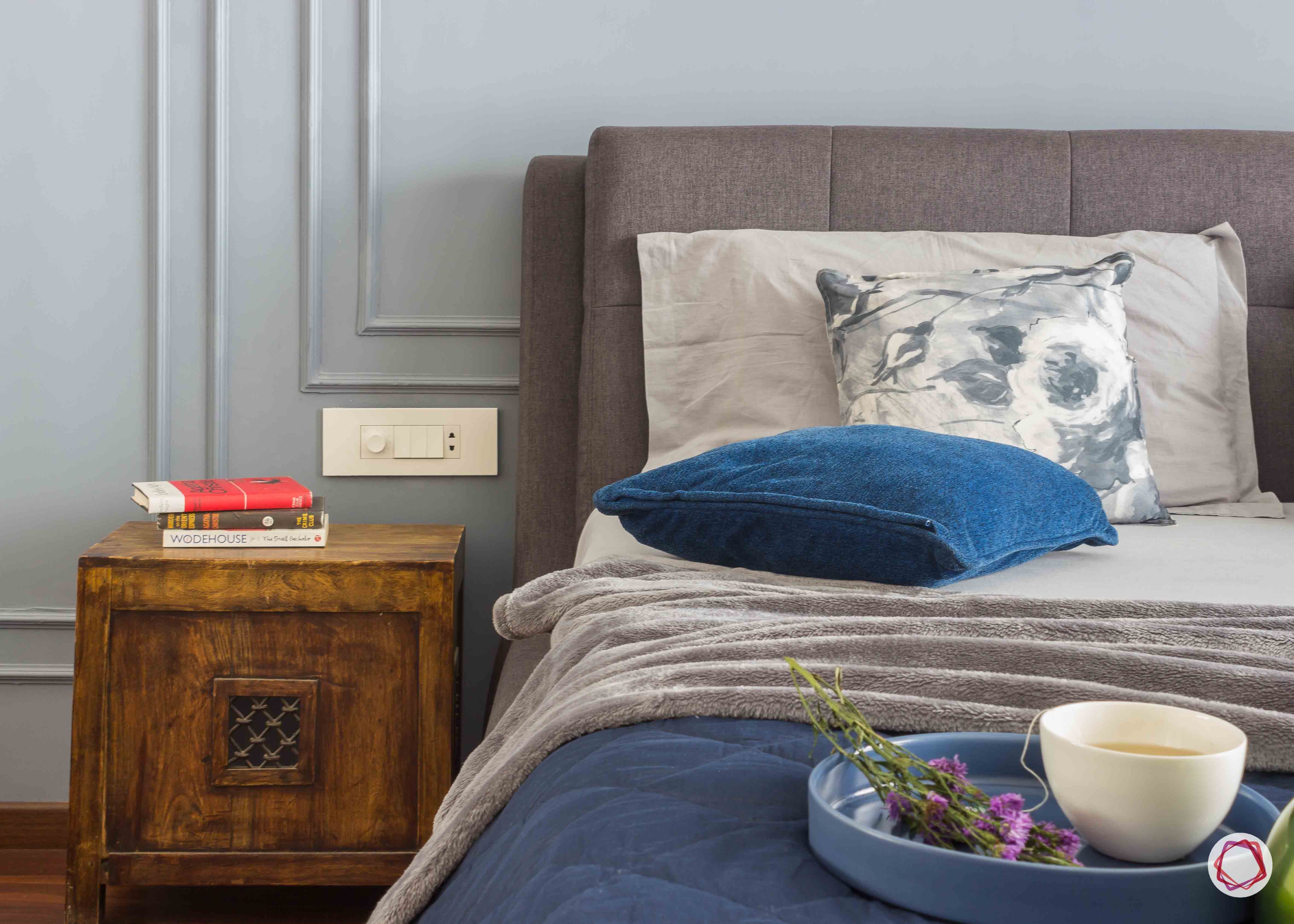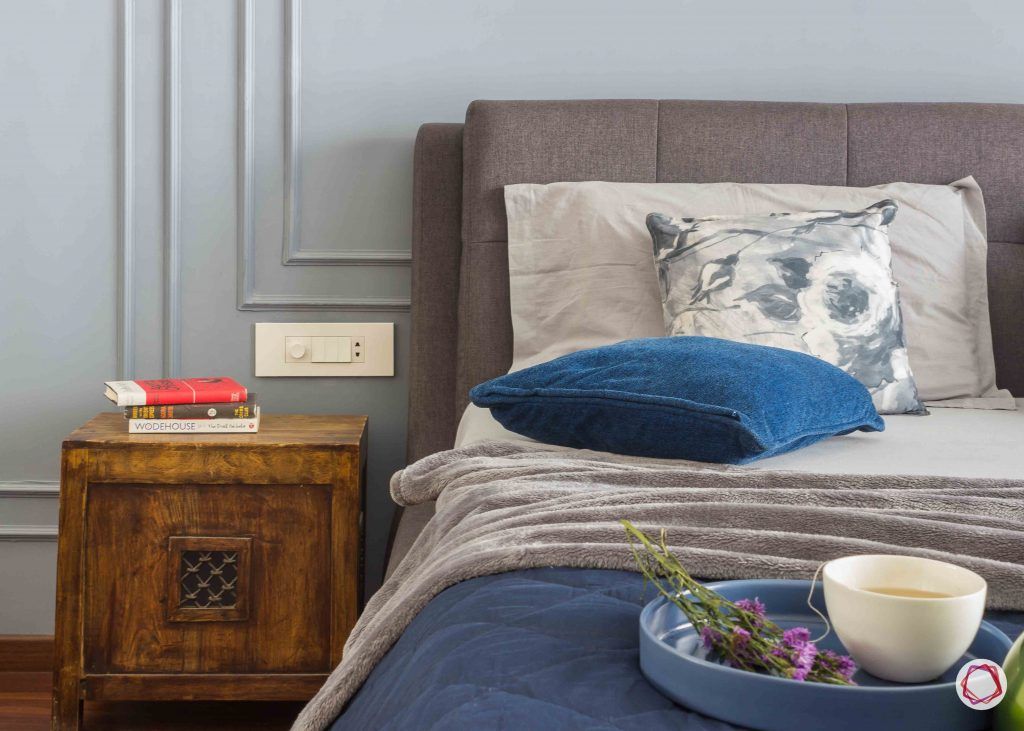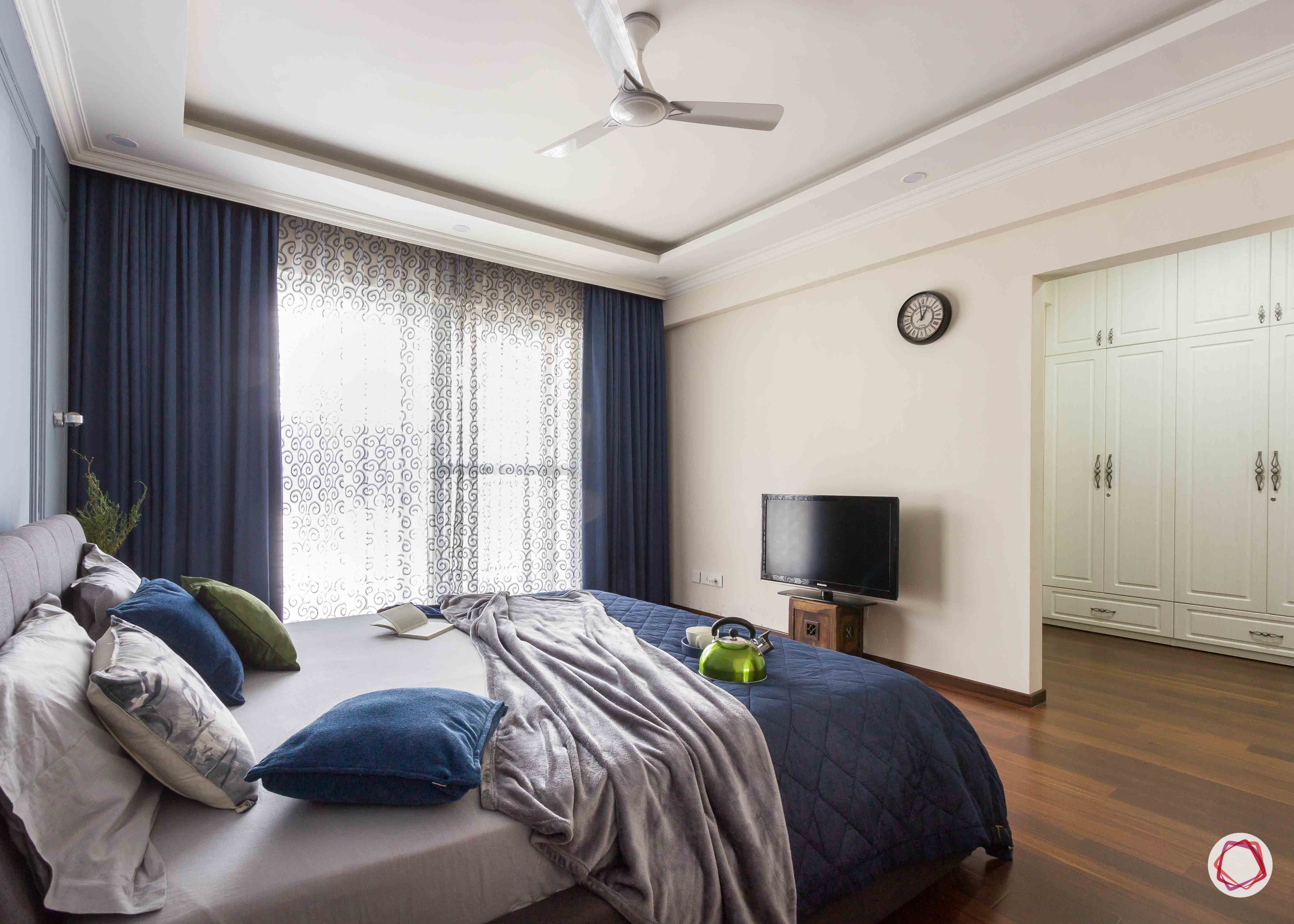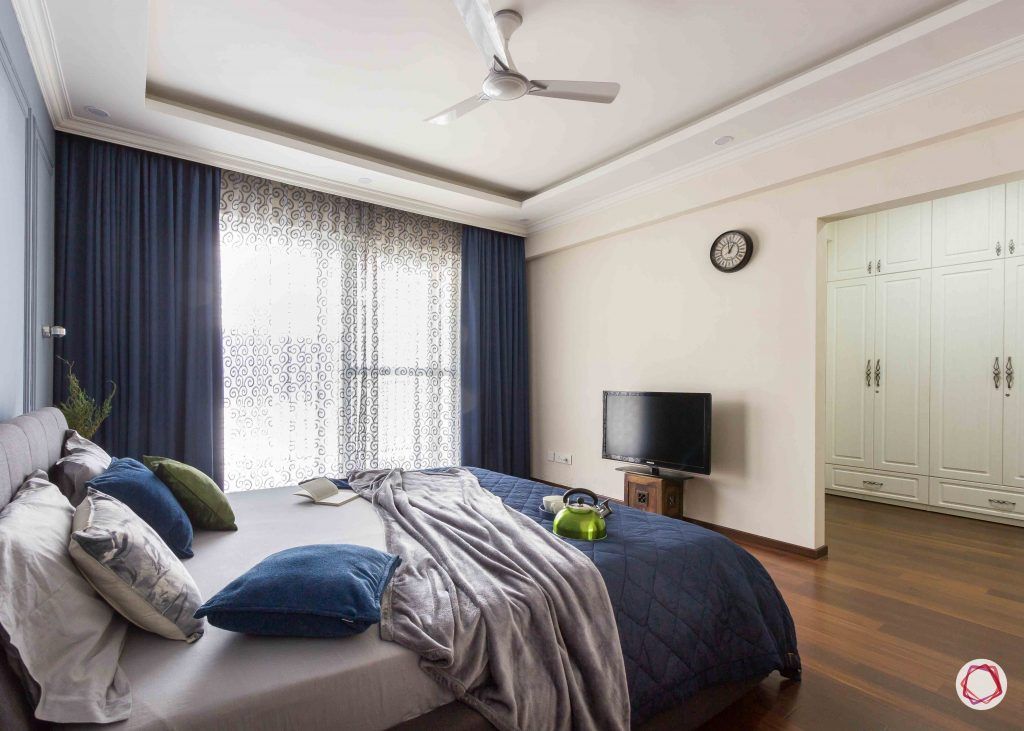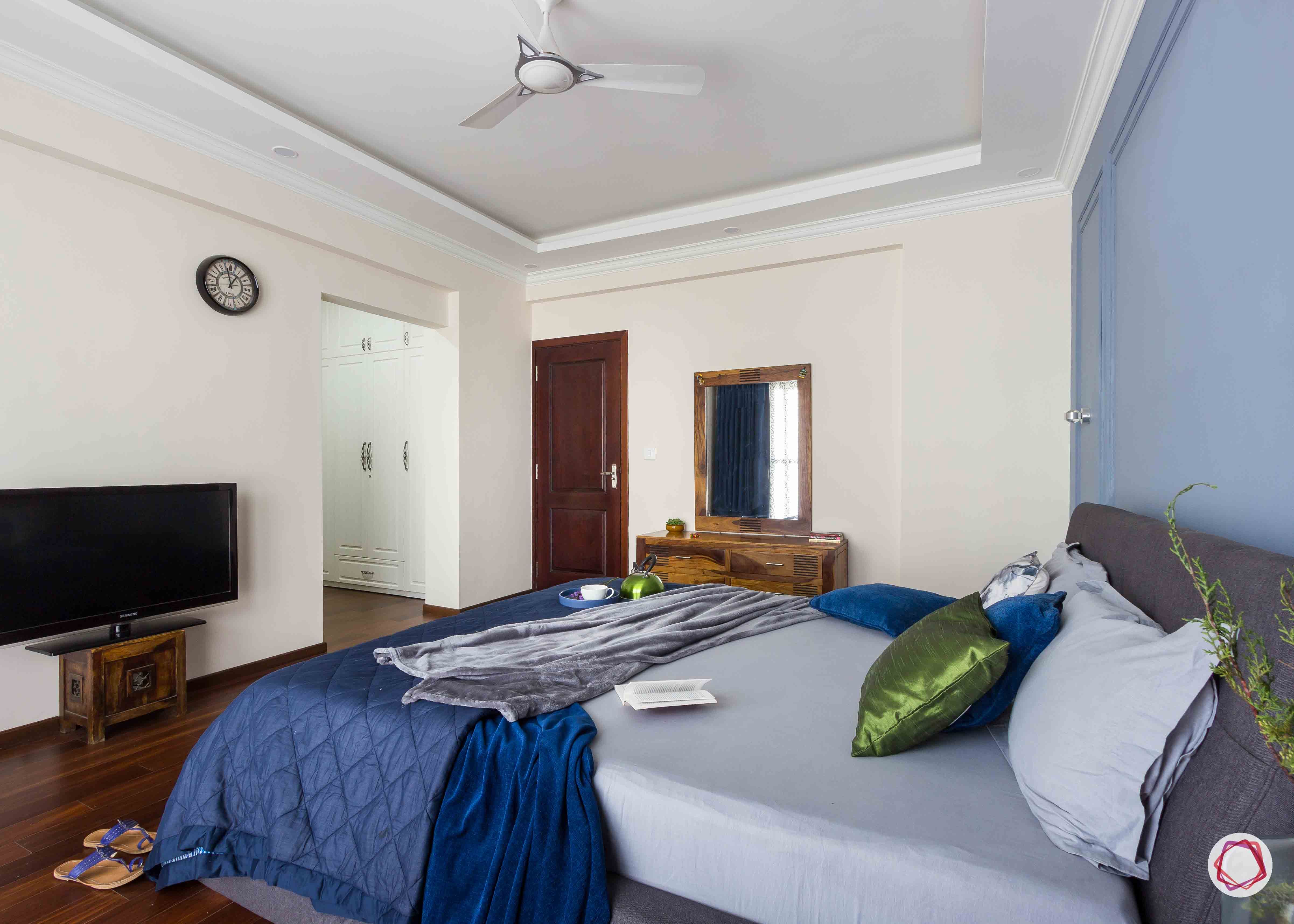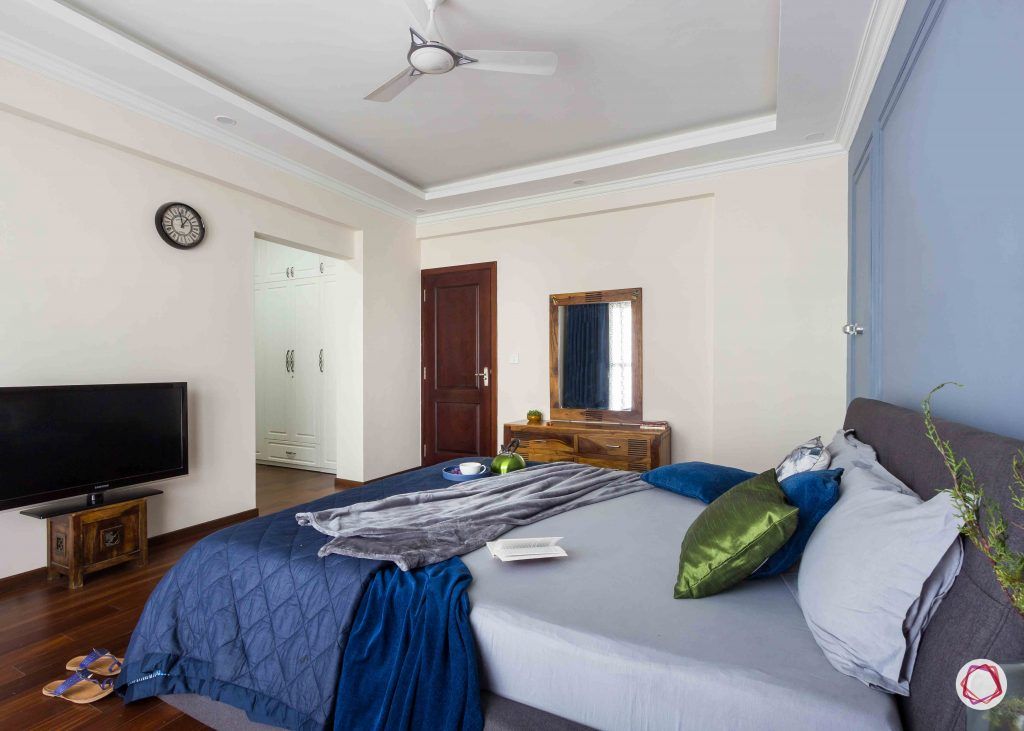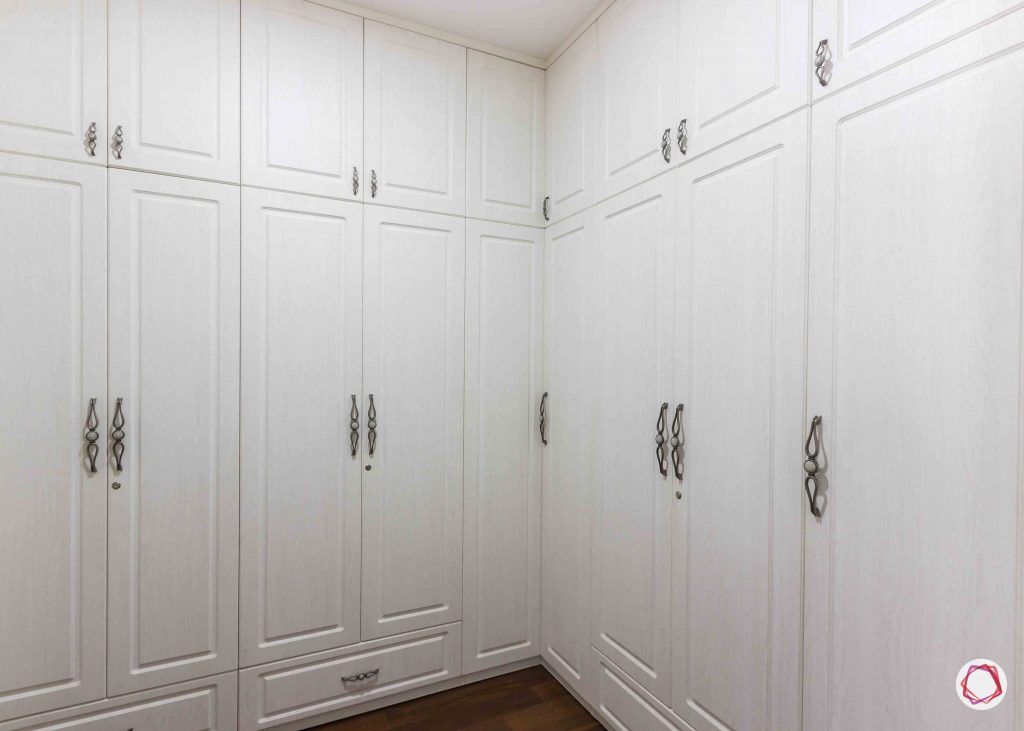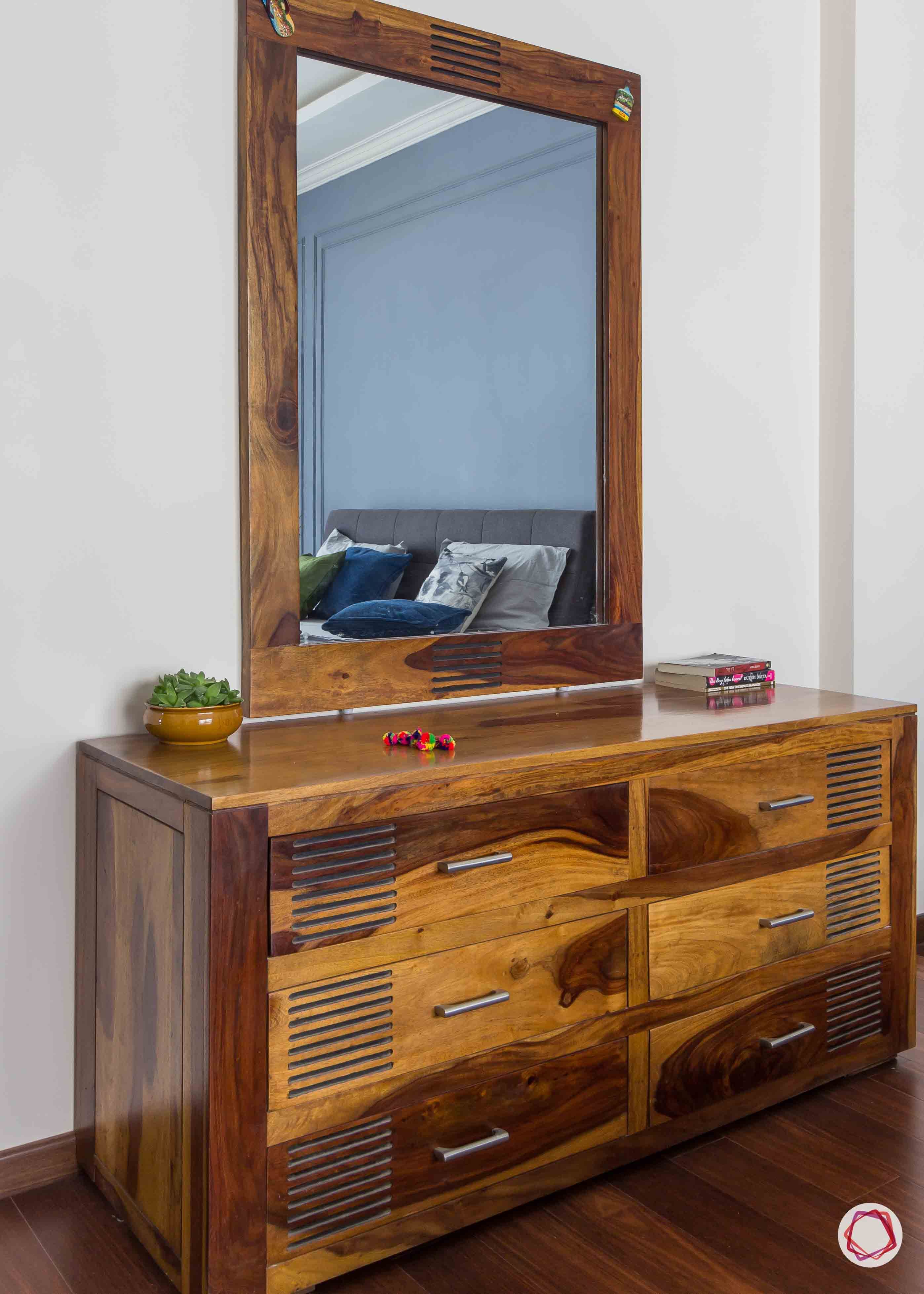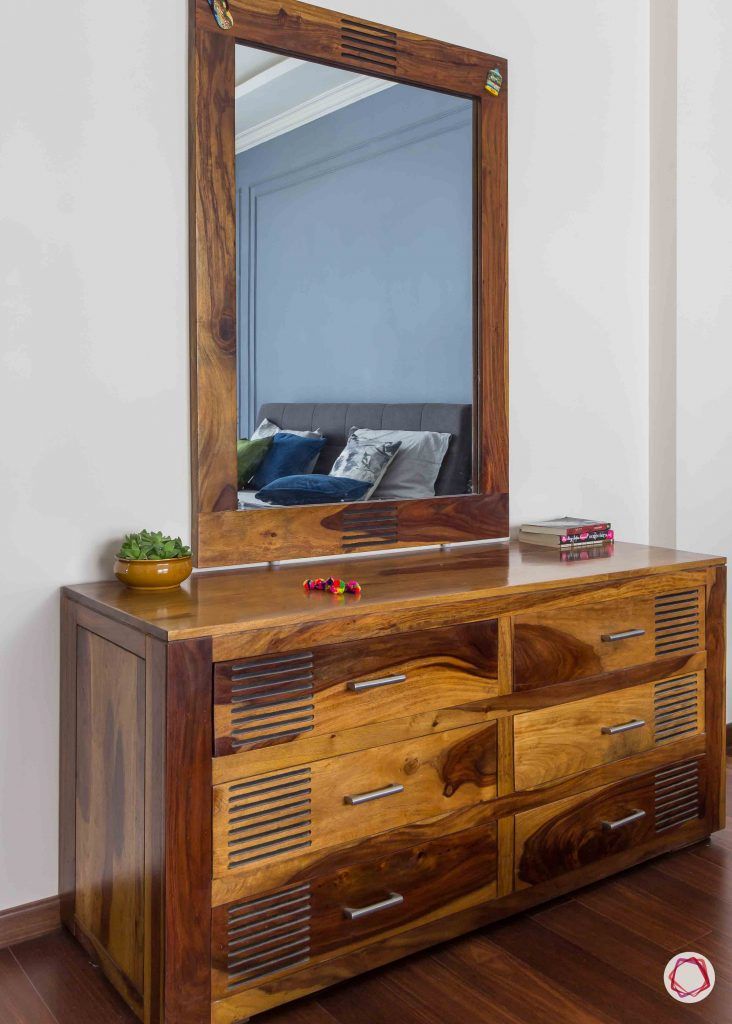 The master bedroom follows a calming blue theme. And if you ask the couple their favourite part of the house, they would point to their walk-in closet. Shreya has customised the cabinets and given profile shutters alongwith classical handles that match perfectly with the design. To add an intriguing touch to the walls, she has also given trims behind the bed. Hints of wood add warmth to this room, while wall sconces and sheer drapes fill up the room with ample light.
"I really enjoyed designing for the Malhotra's. They were crystal clear about certain things that they wanted at home and that made my task so much more simpler. They have a very refined taste and I worked around the same lines. I gave them designs that would match their style and I had complete freedom to use my creativity. My Design Manager, Radhika was also very supportive throughout the process."

-Shreya Mehta, Interior Designer, Livspace
If this beautiful home was not enough inspiration, then you take a look at this Modern Home for a Young Globetrotting Couple that we designed at Eastwood Township.
Send in your comments and suggestions.