This 3BHK at Embassy Pristine is tailored to perfection.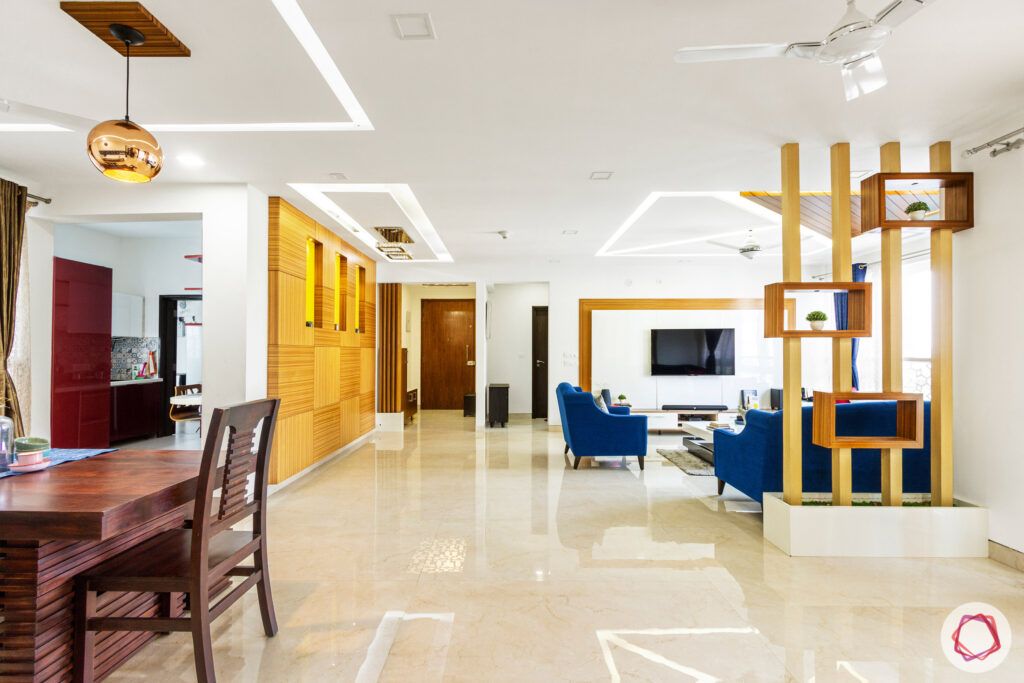 ---
Who livs here: Rohit & Ruchi Jain with their 2 kids
Location: Embassy Pristine, Bellandur, Bangalore
Size of home: 3BHK spanning 2,200 sq ft
Design team: Interior Designer Chandrashekhar & Design Manager Prithvi RN
Livspace service: Full home design
Budget: ₹₹₹₹₹
---
A home is more than walls, floors and ceilings; it is, in fact, a little capsule of a dream rendered into reality. Customising your home to match your dream is entirely unique feeling. Thus, Rohit and Ruchi Jain didn't want to miss out on this feeling for sure! So when they decided to do the interiors for their spacious apartment at Embassy Pristine, they picked Livspace to design for them.
Rohit was very clear that he did not want the hassles of coordinating with a crowd of vendors. So our model of end-to-end interiors with a single point of contact attracted his attention. He asked the design team headed by Prithvi RN to replace the flooring of this 3BHK in Bangalore and provide turnkey customisation to suit his tastes.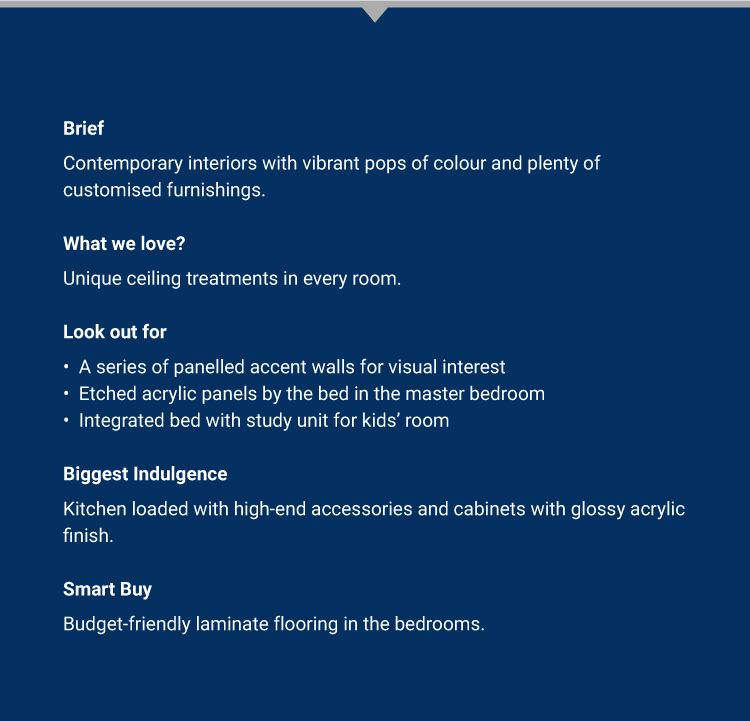 Accents, Trims & More at Embassy Pristine
Rohit & Ruchi's home has several features for visual interest. And one of them is right at the entrance. This highlight wall with veneer panels and yellow back painted glass pockets also functions as a display unit. Moreover, the scooped boxes in the wall can be used to keep artwork or collectibles as there are spotlights to highlight them!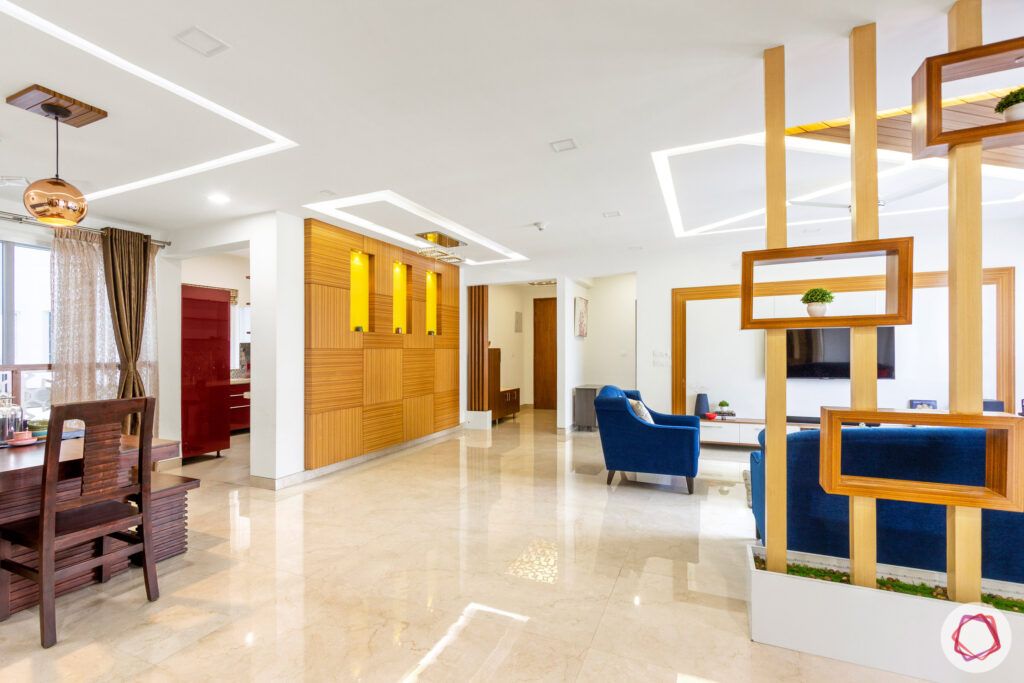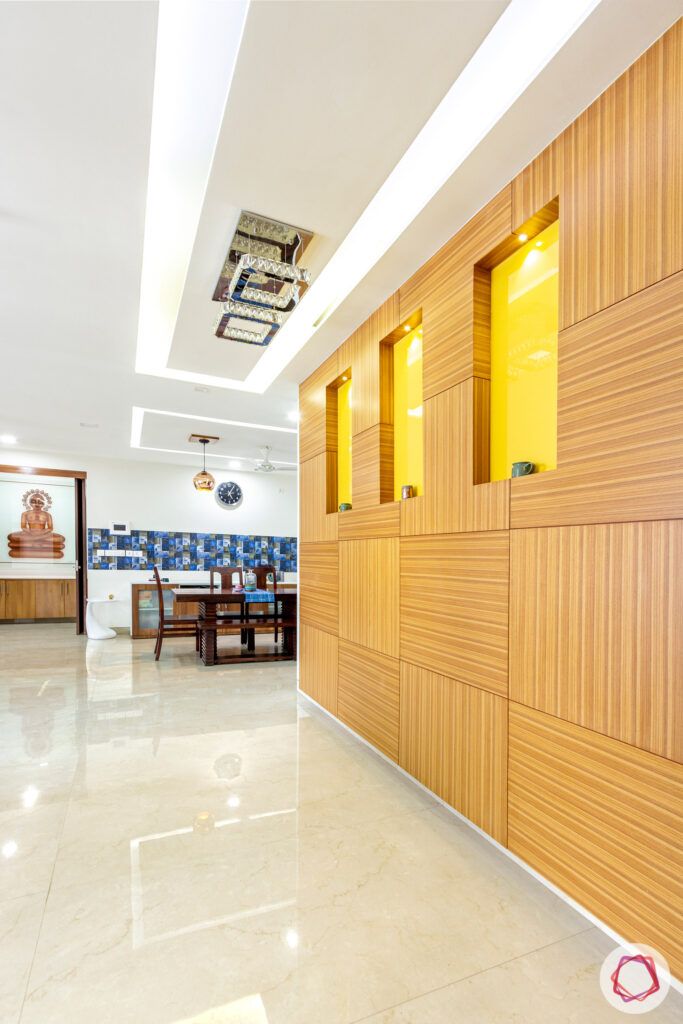 Neat Designs & Flashes of Blue at Embassy Pristine
The couple has picked all their living room furniture from the Livspace catalogue including a tufted blue couch, armchair and a daybed. Beyond cleverly sectioned partition that also serves as shelves, we see another accent wall with similar veneer panels for continuity. Besides this is an image of Buddha on etched glass within wooden frames.
The entertainment unit blends in base cabinets from our catalogue with custom-made UV laminate back panel and wooden frame. In fact, there is an inherent neatness about this design that alludes to a great piece of customisation.
Rohit was very keen on having interesting ceiling treatments and the design team presented him with a number of options. And he loved this particular design with veneer details.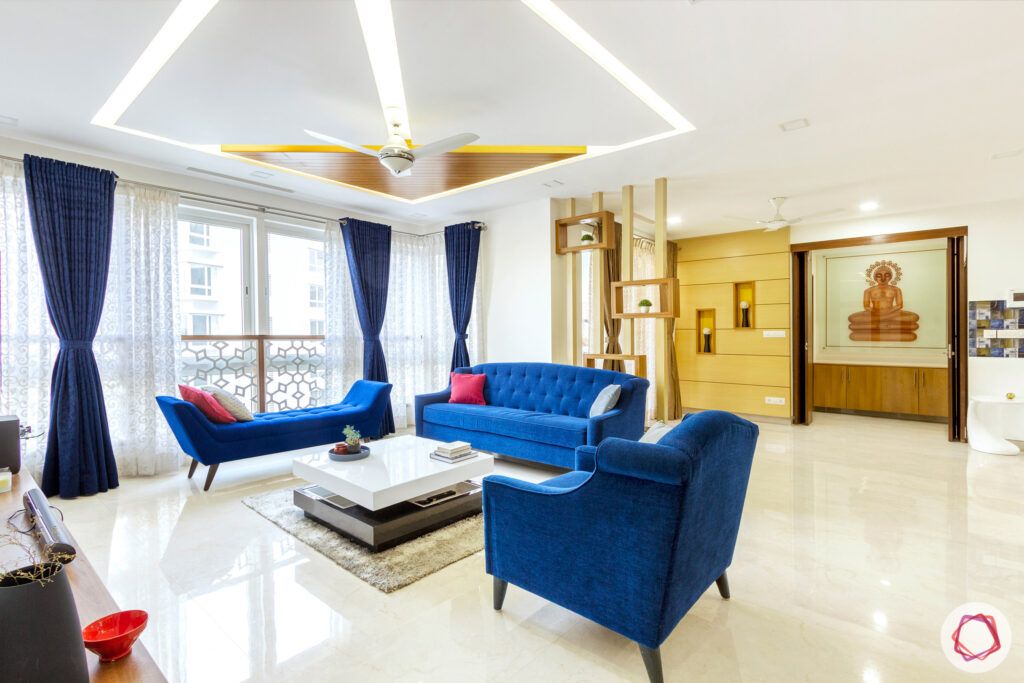 Tiled & Textured at Embassy Pristine
The dining room in this home was designed with a clear input from the couple; they wanted this space to have a wall panel of tiles. The abstract deep and light blue tiles have a textured presence that highlights the dining area. So the design team suggested a simple false ceiling design to not draw attention away from the walls. The dining set with two chairs and two benches is a contemporary piece from our catalogue.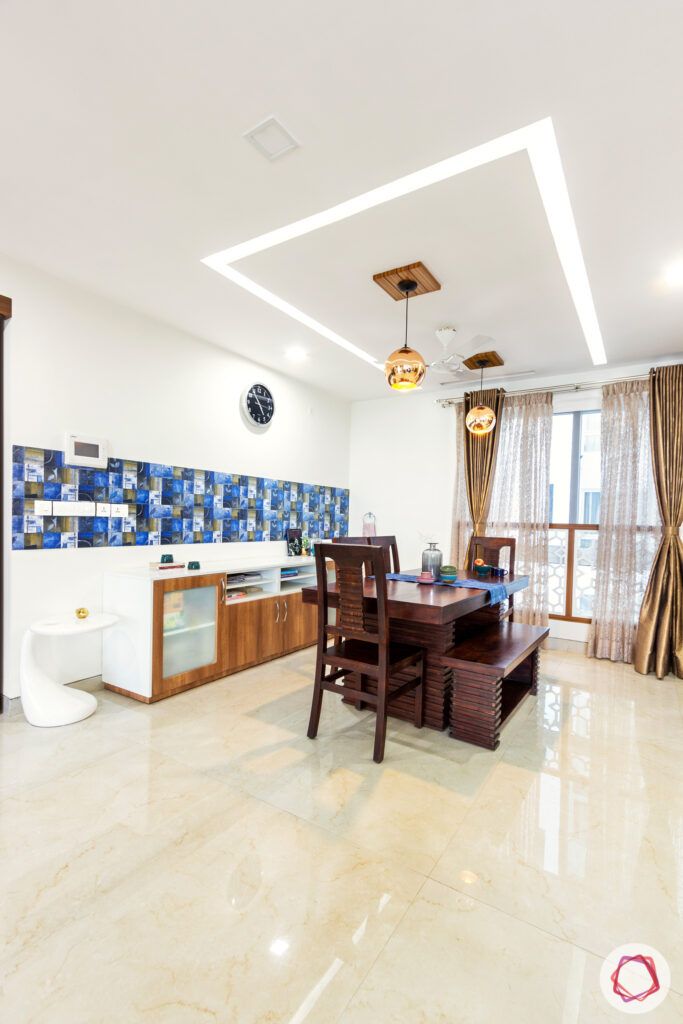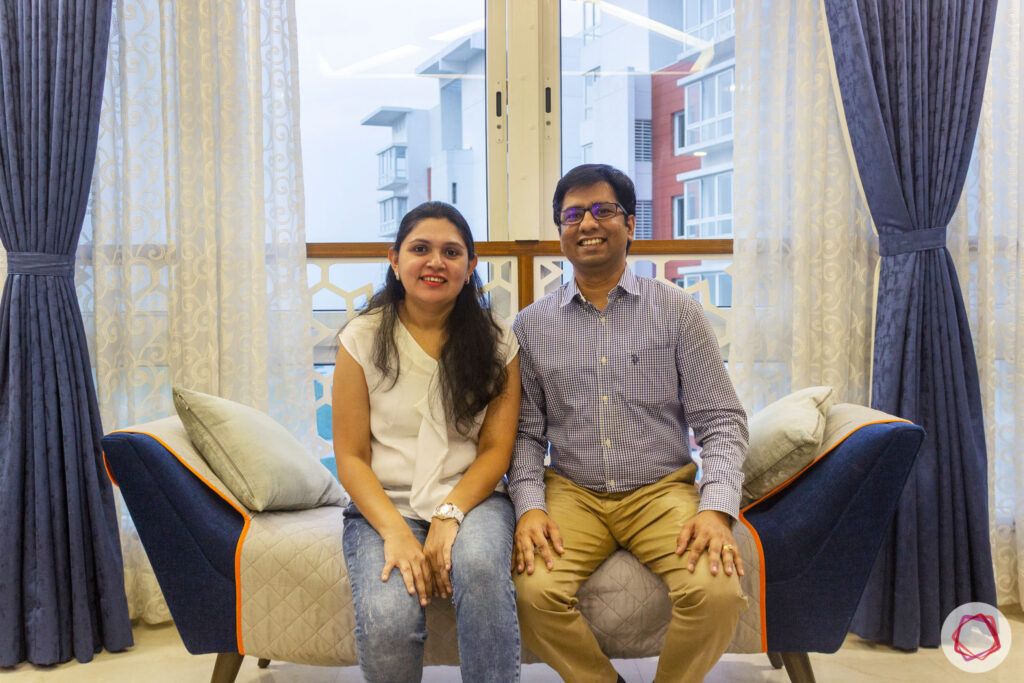 "The Livspace design team offered us unique designs that were well-suited to our tastes. But we were sold on the idea of getting our interiors done from Livspace primarily to avoid coordinating with a lot of people; a single point of contact helped to keep the process of installation smooth."
Rohit & Ruchi Jain, Livspace Homeowners
A Dose of Glossy Reds at Embassy Pristine
The biggest splurge in this 3BHK in Bangalore is the kitchen. Thanks to a plethora of storage options panty pull-out, tall unit, roller shutter unit, wicker baskets and corner unit. All the lower cabinets have been replaced by drawers and cabinets, with a glossy red acrylic finish. In addition, the countertop is a smooth white rendition of Corian stone. But what really caught our eye was the stack of open shelves, which is rare in modern kitchens but exceedingly useful. It shows that the design team has covered all the bases with this kitchen by providing every possible kind of storage!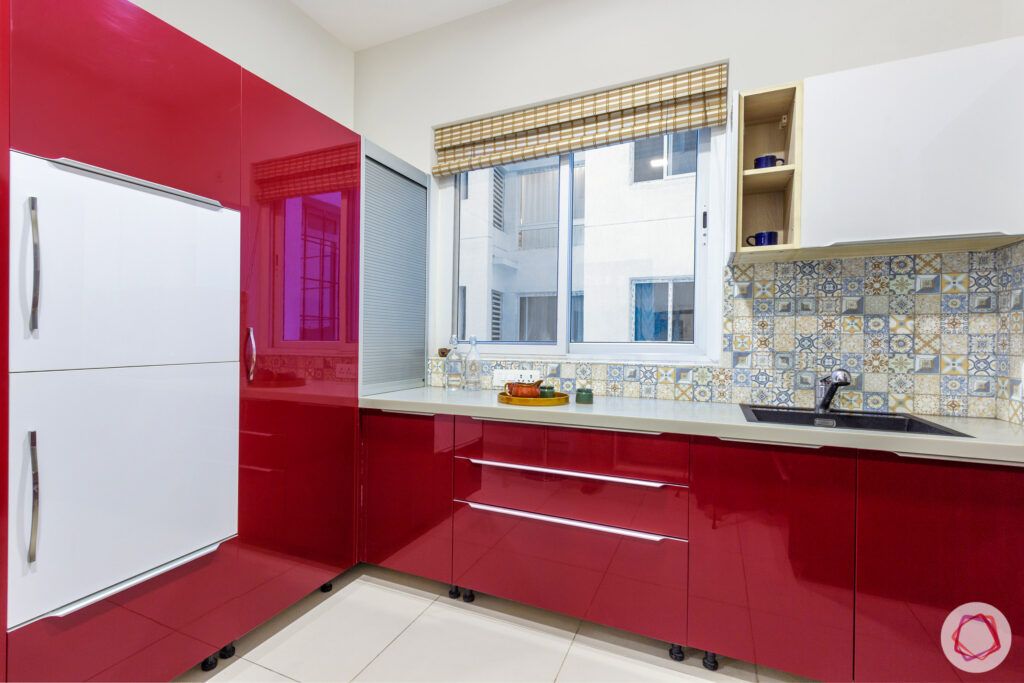 Sauve & Spacious Bedroom at Embassy Pristine
Rohit and Ruchi's master bedroom is massive. Needless to say that the design team had to create zones within it so that the space doesn't look blank. First, they started with the entryway to this bedroom that has a custom pigeon-box style cabinet with alternate open and closed modules. And then the sleeping zone is dominated by a custom-made bed and floor to ceiling leather panelling. On either side of the bed, we have acrylic sheets with jaali designs and diffused backlighting.
Next to the bed is an accent lounge chair and a bunch of ottomans in pastel shades. This comprises the lounging area of the bedroom. The door leading to the bathroom is framed by two full-length mirrors on either side; this serves as the dressing zone. The end-to-end wardrobe in white laminate finish is a highlight in itself. It stands out for the frosted glass shutters and the TV unit integrated in the centre.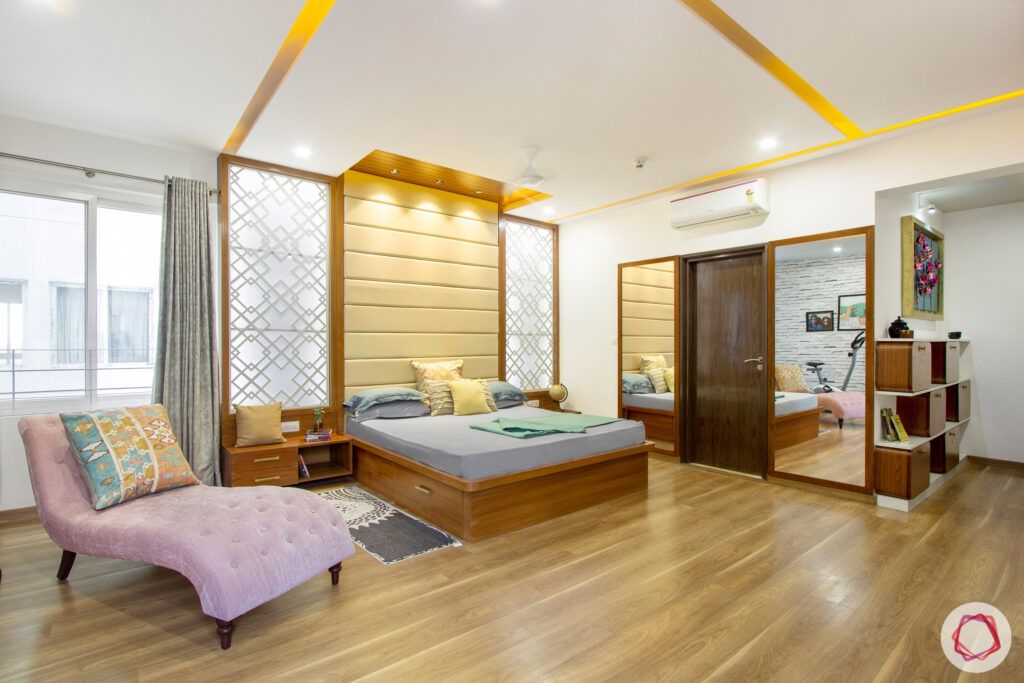 Vivid & Vibrant Kids' Room at Embassy Pristine
The couple was particularly enthusiastic about designing the kids' room for their son and daughter, who is still a toddler. They envisioned this room to be vibrant and playful. Hence, the bright splashes of orange violet and blue. They opted for a customised and integrated unit that comprises bunk beds, study units, storage units and a slide! The exposed brick wallpaper behind this integrated piece matches the shade of laminate flooring used in this room.
In addition, the design team suggested a custom wardrobe for this room that has back painted glass shutters. This was to ensure that the wardrobe matches the bright and colourful tone of this space. The false ceiling in this room also has a playful vibe with a scooped and rounded design.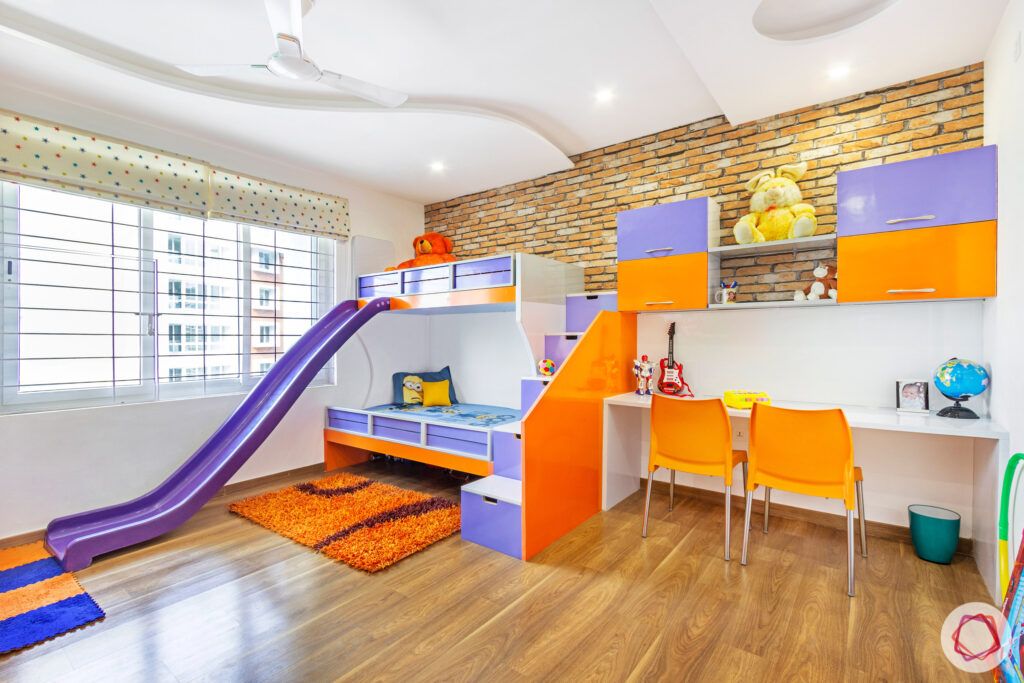 Neat & Neutral at Embassy Pristine
The guest bedroom has been designed keeping the couple's parents in mind. There is limited experimentation with colour here. But the red patch in the end-to-end wardrobe stands out. The membrane shutters for the wardrobe is suitably demure and matches the neutral tone of the headboard. The work station in this room is a blend of wall cabinets from our catalogue and an extended ledge that is custom-made.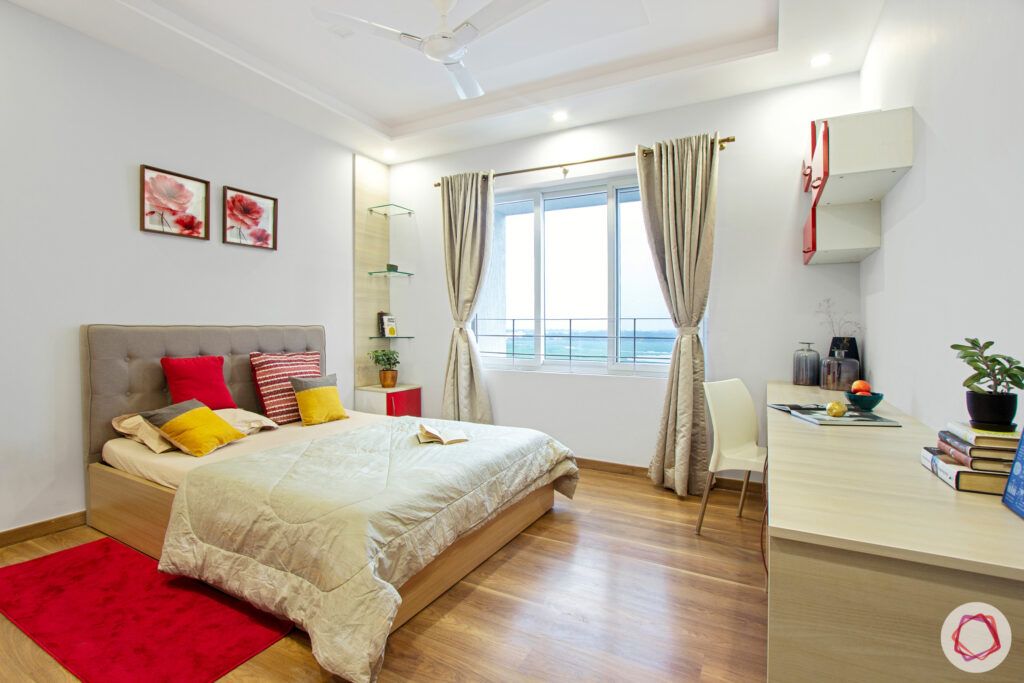 "Rohit & Ruchi were a very friendly couple who paid a lot of attention to detail when it came to the interiors for their apartment. Moreover, they were very patient and gave us an ample amount of time to finalise the design so that the final product, which is their home, would be perfect."
Prithvi RN, Design Manager, Livspace
Also, if you enjoyed reading about this spacious and customised 3BHK in Bangalore, check out Summery Decor for a Sprawling 4BHK Villa in the tech capital.
Send your comments & suggestions