A common misconception among homeowners is that interior design is expensive. However, good design can be cost-effective too, as you'll be able to see from this beautiful home in Cleo County, Noida. Leena and Pankaj had a strict budget which had to be adhered to. As such, our designer, Seema Joshi, ensured the couple got their dream home, within a budget of only ₹11 lakhs!
At first, the couple approached Livspace to only get their false ceiling and living room done. However, they were so impressed by our work that they decided to get their pooja room and master bedroom designed as well!
---
Who Livs here: Leena Sood, her husband Pankaj Mahajan, their baby daughter and Leena's mother
Location: Cleo County, Noida
Size of home: A 3BHK + servant's area spanning 2,100 sq. ft. approx.
Design team: Interior Designer Seema Joshi and Project Manager Mohit Bishnoi
Livspace service: Living room, pooja room and master bedroom with false ceilings and painting
Budget: Around ₹11 lakhs
---
IN A NUTSHELL

Design Brief

A home with a minimal base, pops of vibrant colours and some planters—all completed within a budget—and without changing the existing furniture

What We Loved

The way a combination of pop colours, gold accents and mirror panels has been used to create a minimal yet glam effect

Look Out for

— The hanging planters in the living room
— The pooja room that was built after breaking down the servant's area
— Mirror panelling in the dining area that creates the illusion of space

Smart Buy

The pooja room

Biggest Indulgence

The partition in the living room


3BHK Cleo County Noida Floor Plan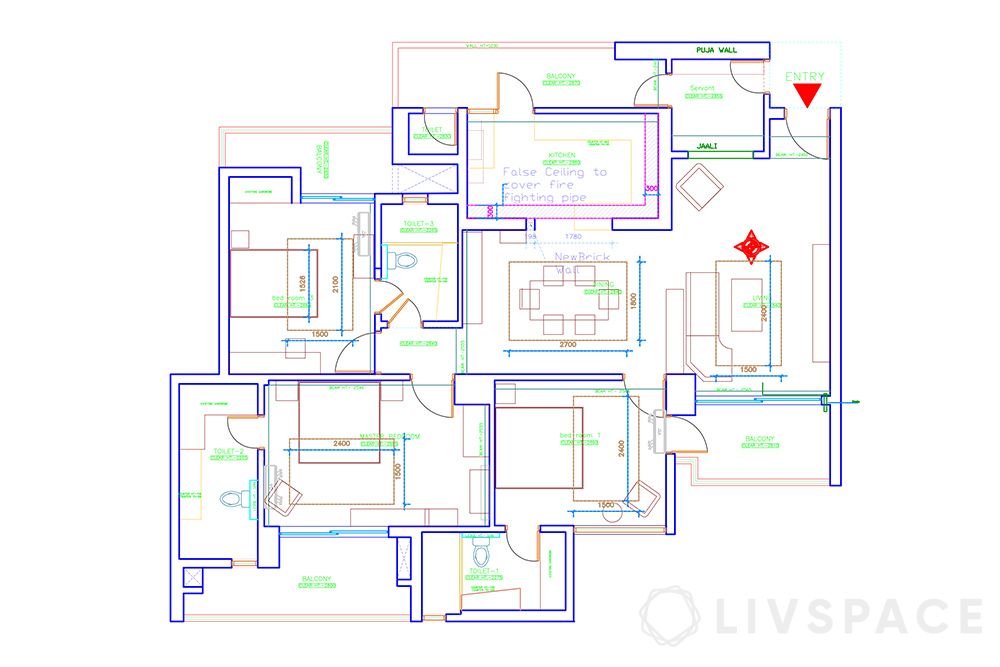 What Went Into Creating Leena and Pankaj's Dream Home at Cleo County, Noida
Every homeowner comes with certain unique requirements. As interior designers, it's our aim to ensure these needs are met, such that our homeowners get their dream home! Similarly, Leena and Pankaj also had certain asks, and here's how we delivered on them.
Also Read: This Elegant Classical-Themed Gurgaon 3BHK Will Inspire You to Live in Luxury!
Leena and Pankaj's Requirement #1: Pops of Colours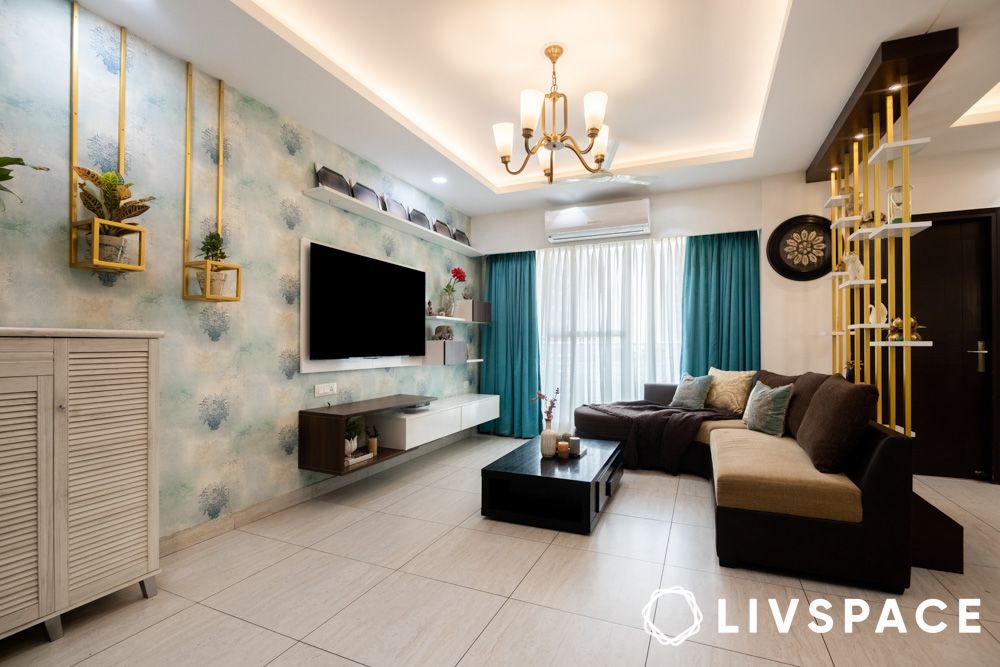 Leena and Pankaj wanted some bright colours in their home. However, they wanted the overall look to be minimal.
Livspace Solution #1: Minimal Base With Vibrant Blue Pops
A minimal base, as per Leena and Pankaj's needs
The furniture, ceiling and flooring feature neutral colours
However, vibrant blue curtains and a soft blue accent wall add a pop
Additionally, gold accents provide a touch of glam
Leena and Pankaj's Requirement #2: An Element of Freshness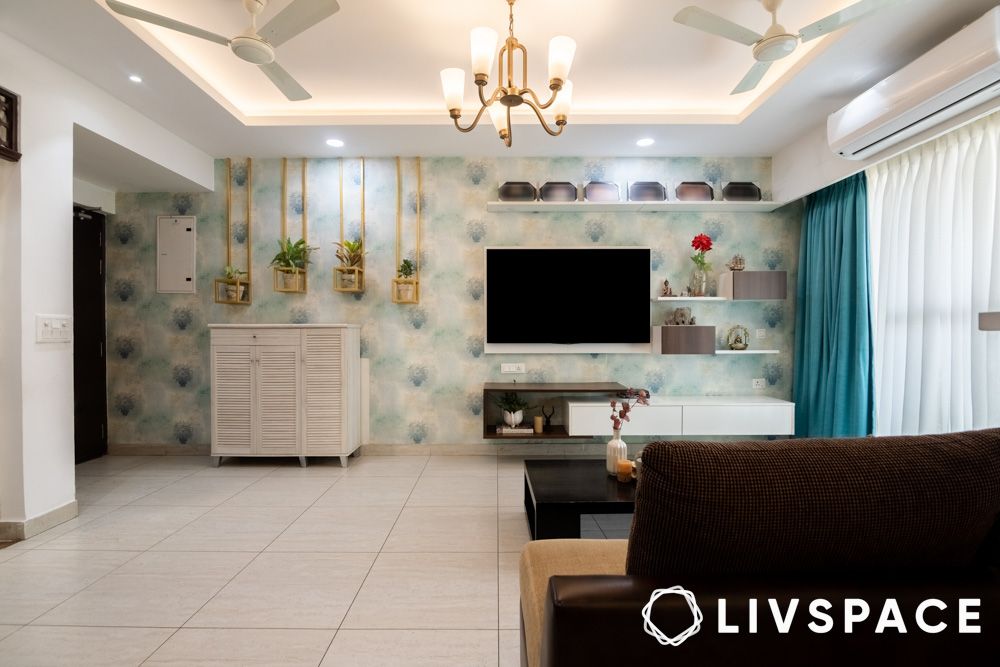 The couple wanted some greenery in their home in the form of plants.
Livspace Solution #2: Hanging Planters in the Living Room
Hanging planters against the texture-painted wall
This adds an element of freshness and is a unique alternative to regular plants
Leena and Pankaj's Requirement #3: A Minimal Partition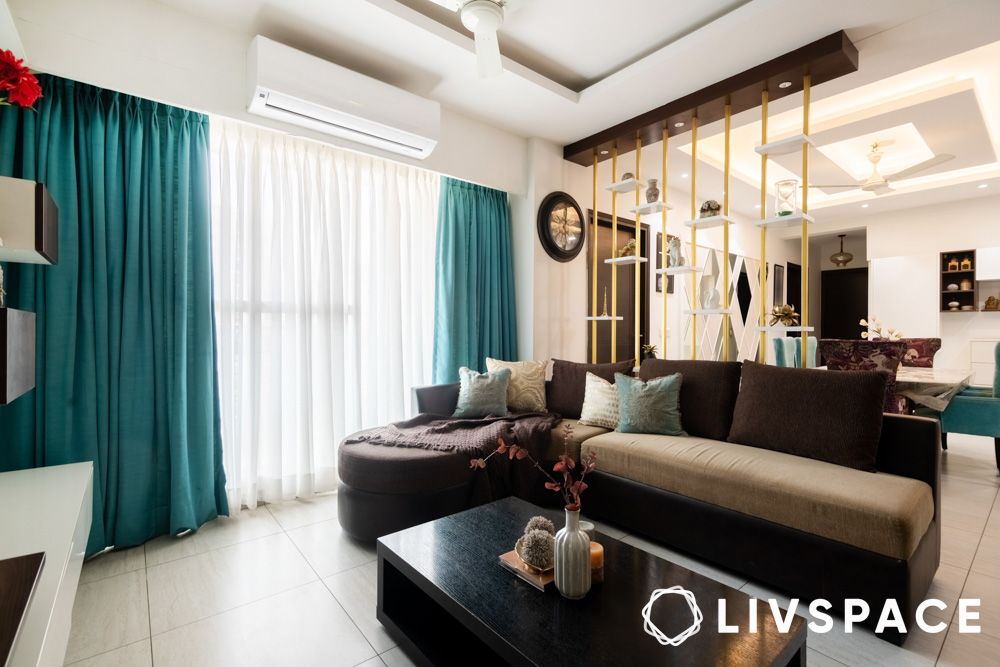 Considering the open layout of their home, Leena wanted a partition that would help in displaying decor but not segregate the living and dining areas. However, she was very precise about one thing: she wanted a simple partition unit which was light and minimal.
Livspace Solution #3: A Partition Made of Glass
Glass for the partition creates a light appearance
Hints of gold to elevate the glam factor
Leena and Pankaj's Requirement #4: A Spacious Pooja Room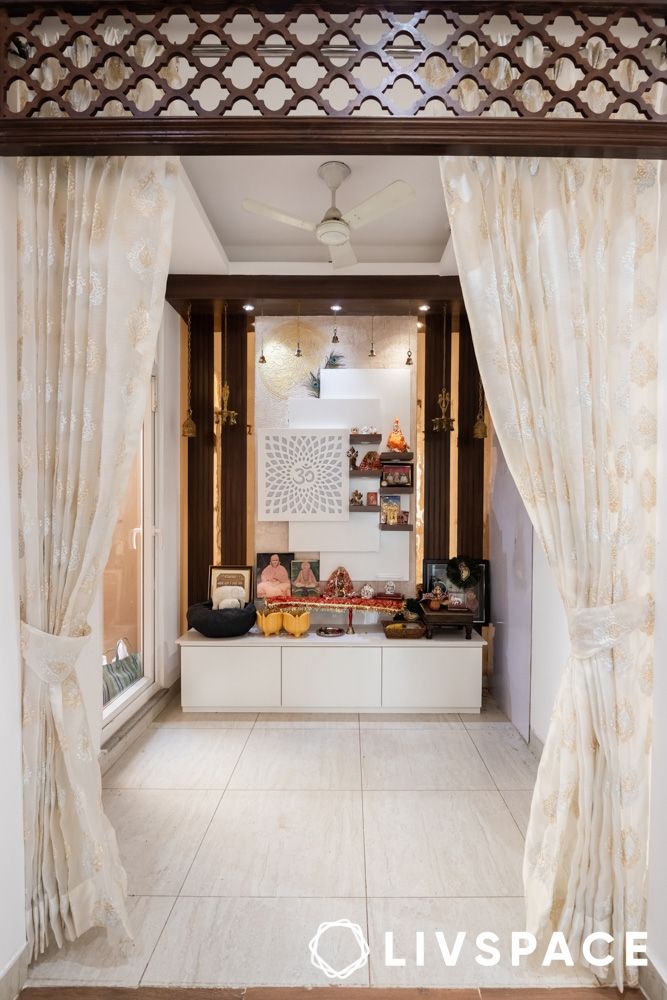 A pooja room is a must in most Indian homes! Leena too wanted a separate pooja space, a place that could accommodate multiple people during havans, prayer sessions and festivals.
Livspace Solution #4: Servant's Area Converted Into a Pooja Room
Seema broke down the separate servant's area and closed the entrance
She created a private nook for the pooja room
Also Read: A Lesson in Luxury, This Gurgaon Home Is a Paradise of the Most Beautiful Colours
A Visual Tour of This Beautiful Home
Join us as we take you on a tour of this minimal yet glamorous home in Cleo County, Noida.
#1: The Luxurious Living Room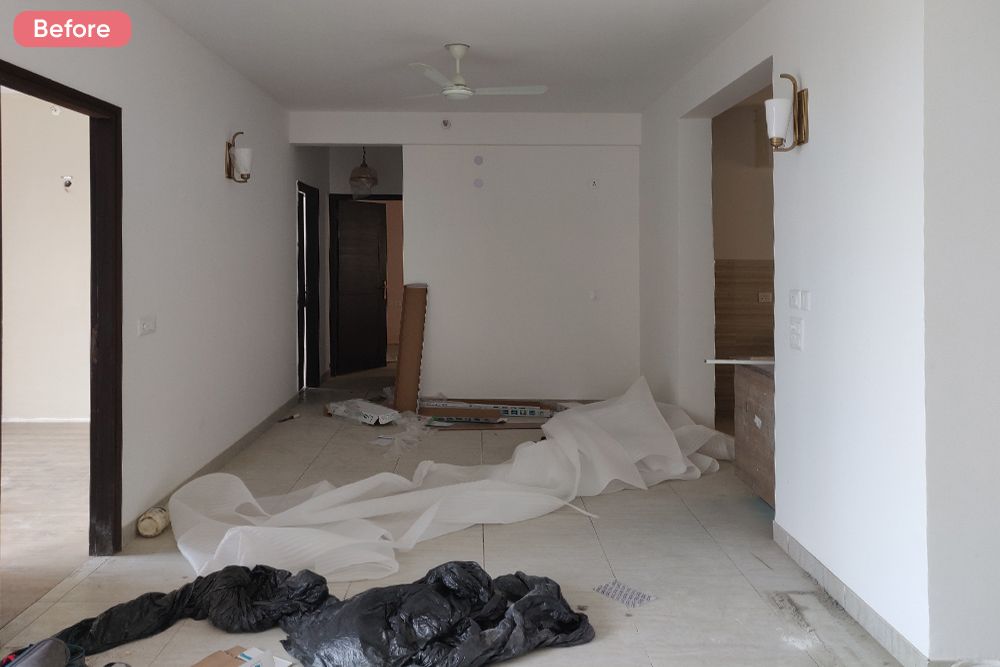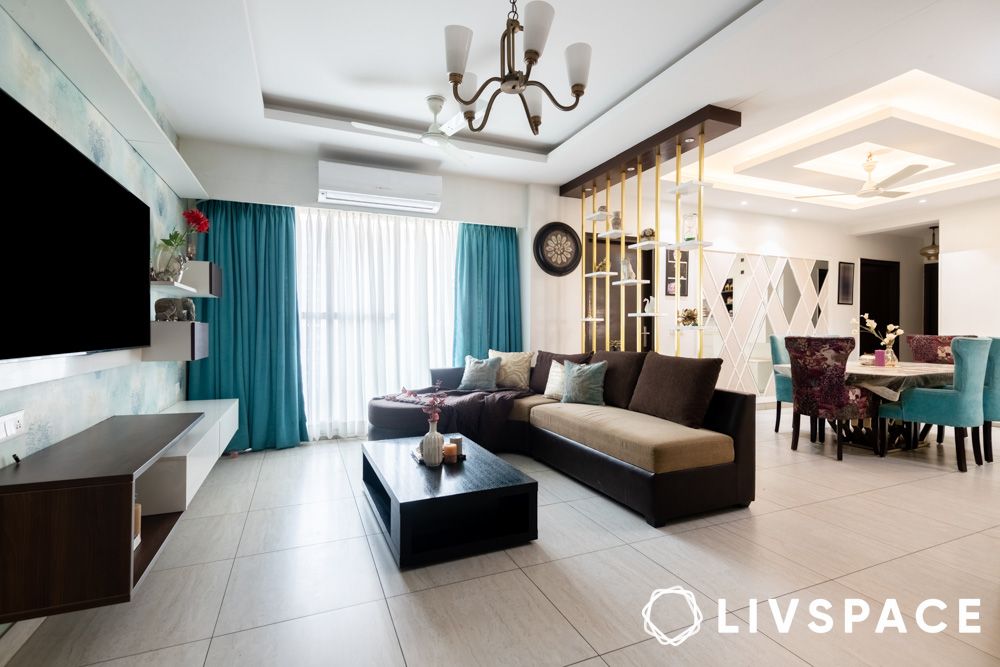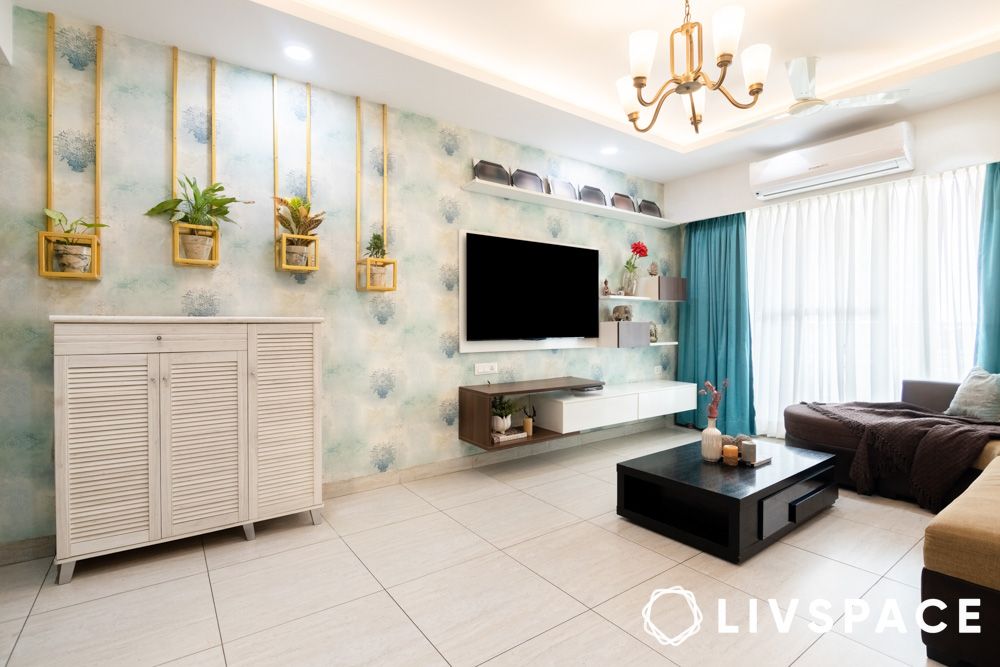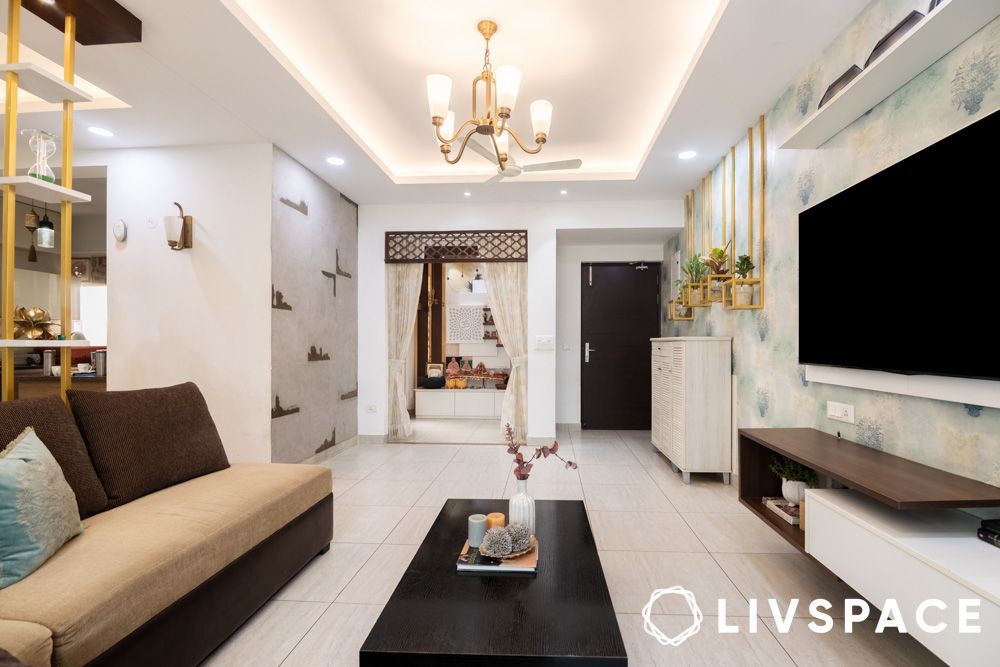 The overall look is minimal yet glam
One of the main asks was a light partition for decor
Additionally, we also gave the couple a light and sleek TV unit and some hints of greenery
Budget Buy: The TV unit and storage rack are made of laminate.
#2: The Space-Efficient Dining Room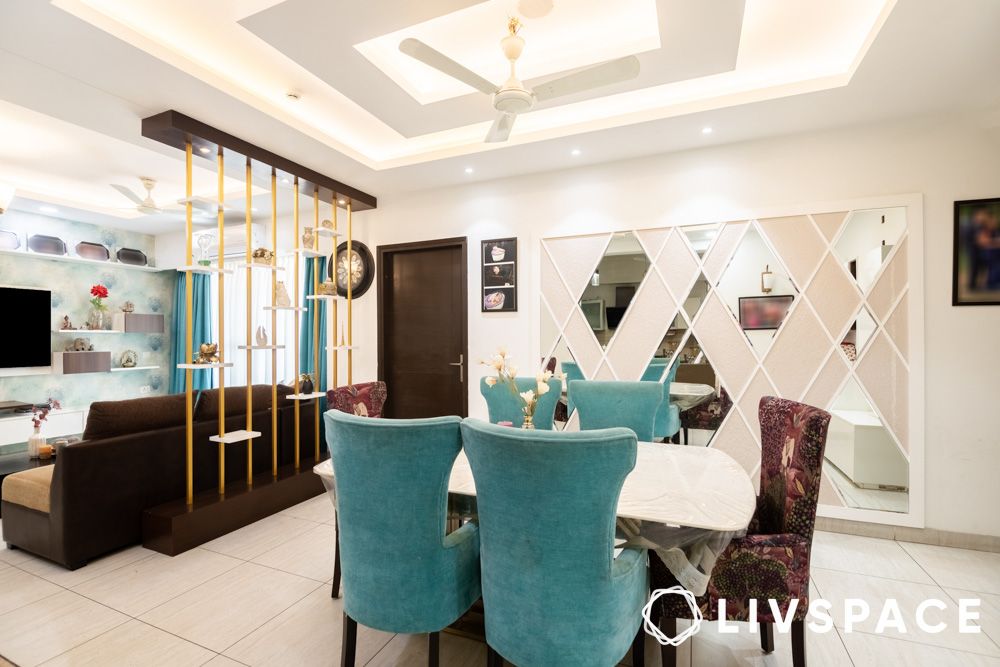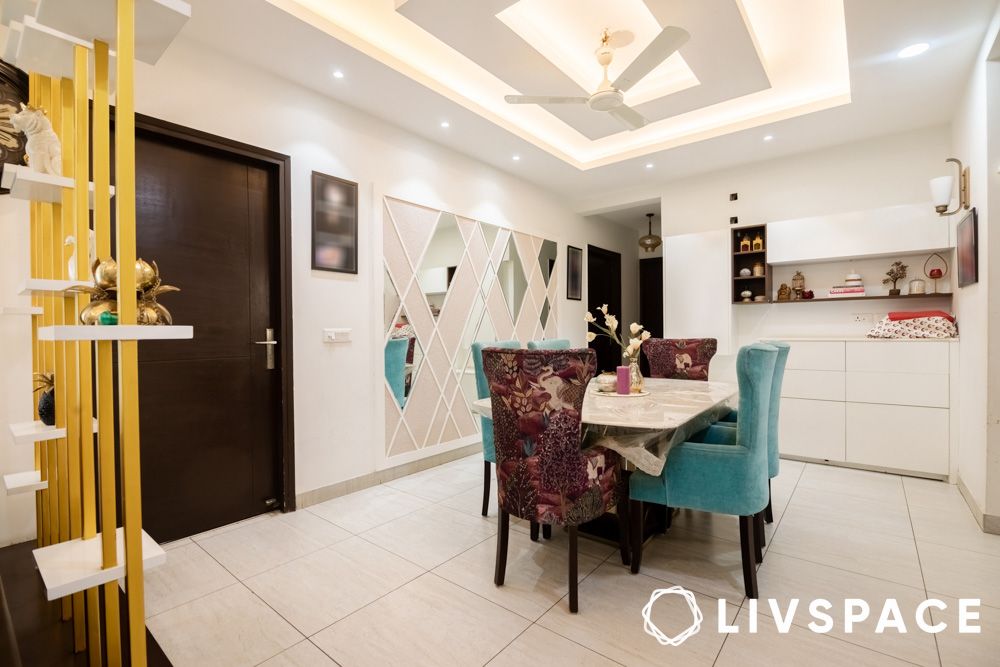 The dining space was quite compact
To make the space look bigger, Seema created a wall with glass panelling
Glass can create the illusion of space
Additionally, the false ceiling with lighting helps in brightening up the space and making it look bigger
Livspace crockery cabinet in white with some display space and plenty of storage
Budget Buy: The crockery cabinet is laminate.
#3: The Elegant Master Bedroom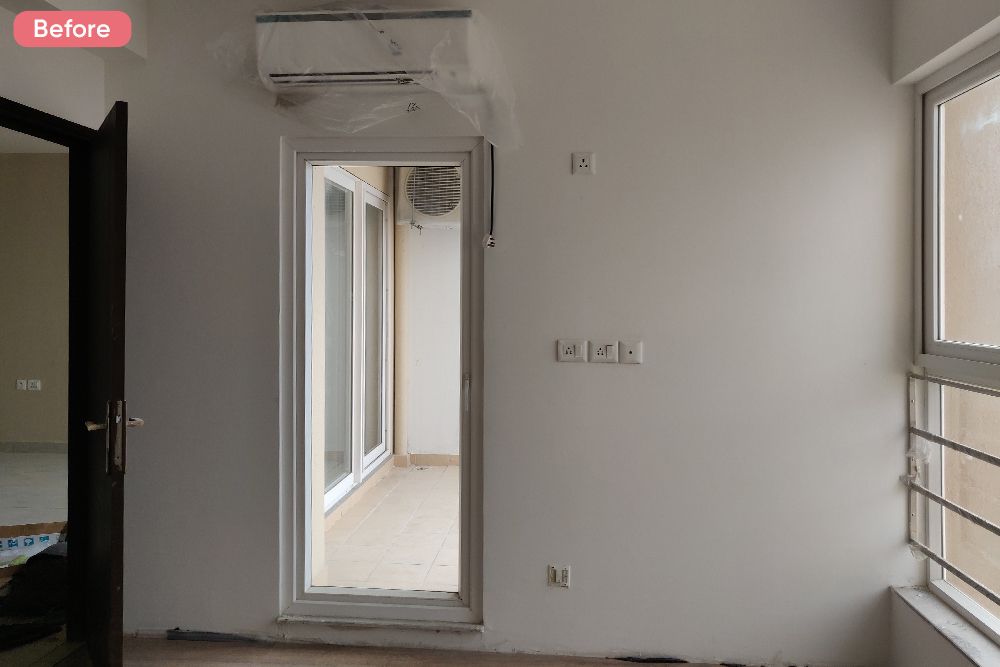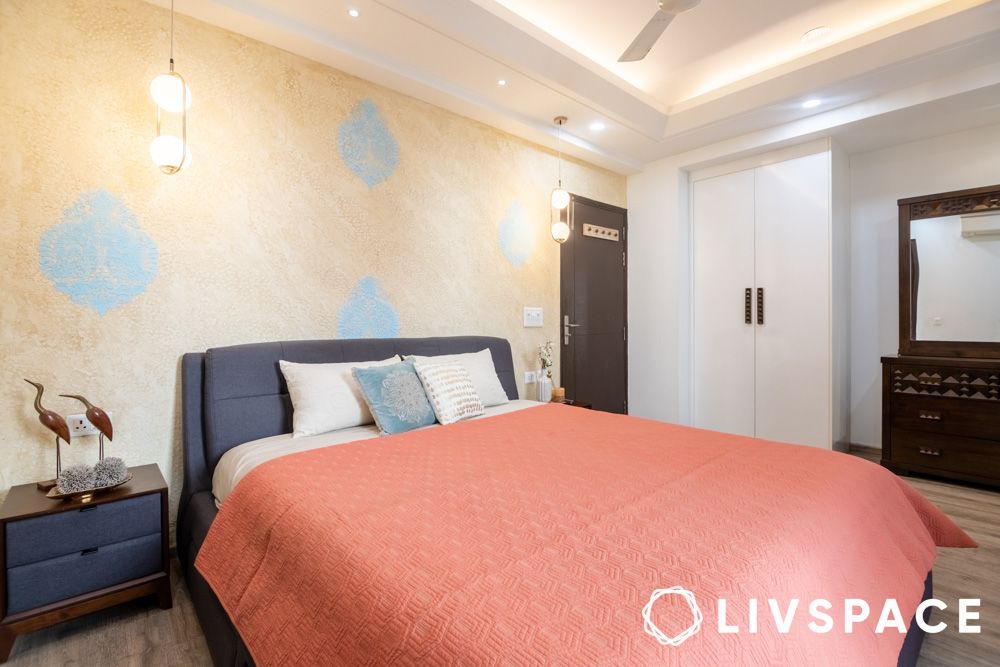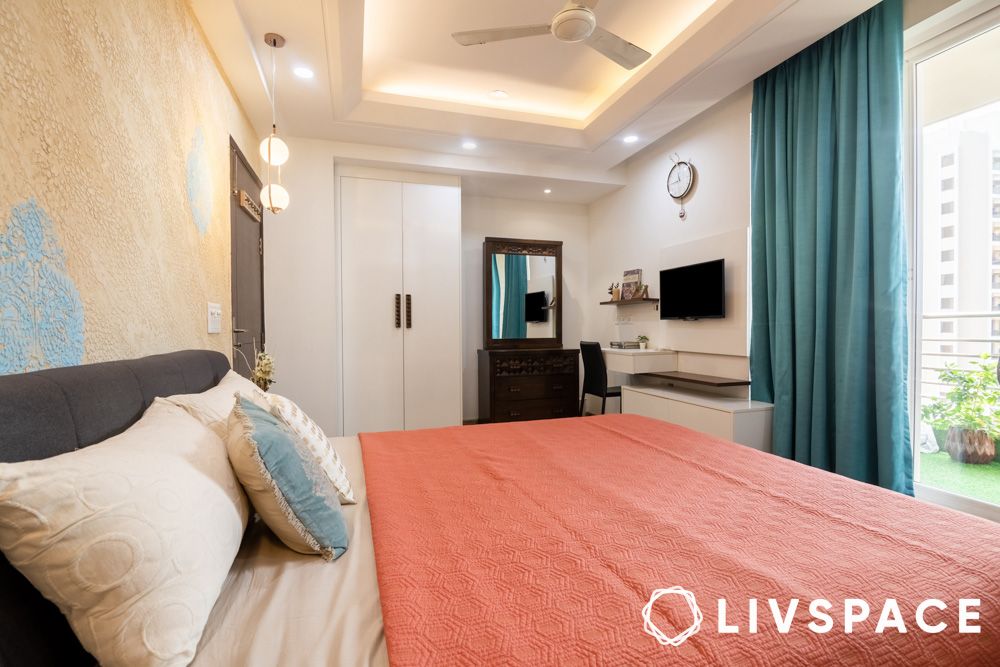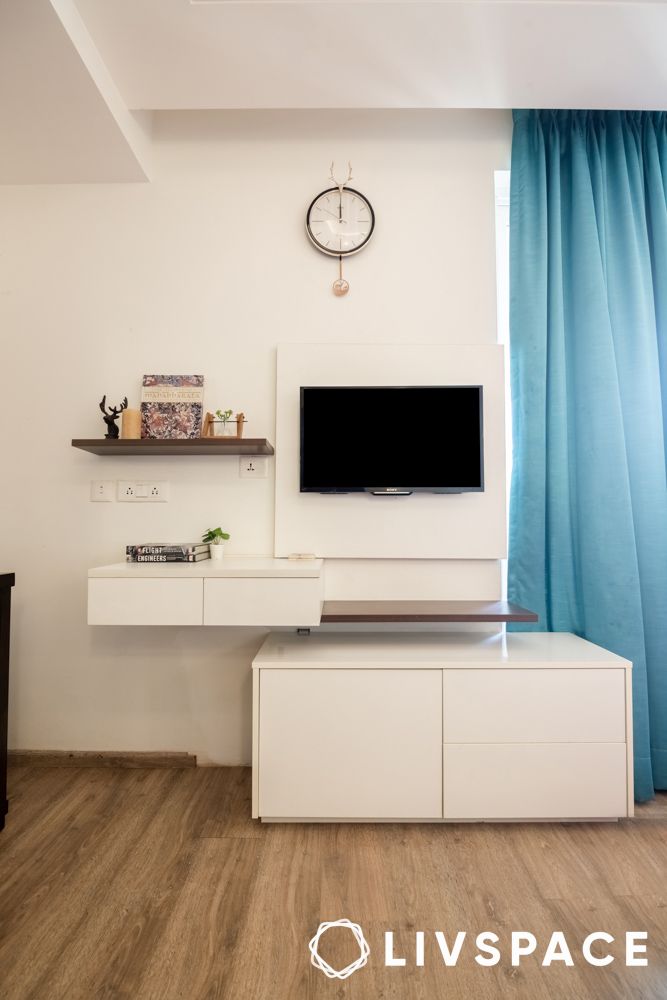 At first glance, Leena and Pankaj's master bedroom stands out due to its simplicity and elegance. However, there are so many design secrets hidden in this room!
Pankaj often needs to work from home. During the 1st phase we gave them a modular TV unit
Once we started the 2nd phase, we attached a modular study unit in the same material and colours for a seamless look
Additionally, the beams on the false ceiling were uneven. To save the height, Seema created a cove in a tapered shape instead of opting for multiple levels
Budget Buy: Laminate TV unit, wardrobe and study unit.
#4: The Divine Pooja Room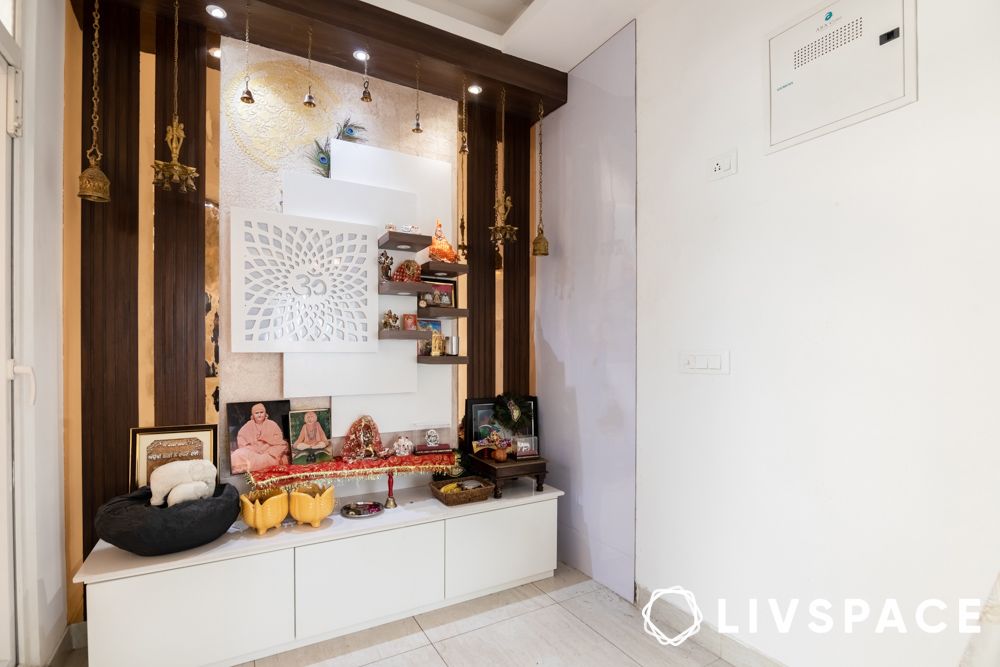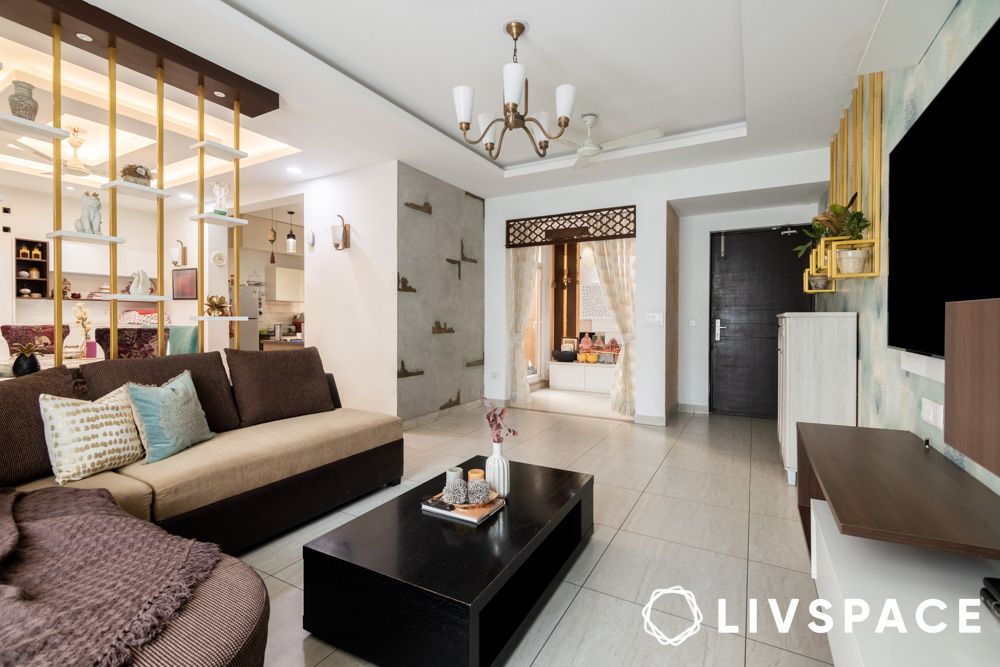 Our designer Seema tells us that for the pooja room, Leena came to her with an image and wanted the exact same design. Once Seema delivered the completed unit, Leena loved how the design turned out!
The pooja unit stands out due to the vast number of finishes
While the lower storage area is modular laminate, the rest is customised
The veneer side panels and jaali partition give this unit a traditional look
Moreover, the side panels also feature acrylic mirror-finish strips
The backpanel has a Duco finish as well as some texture paint
Budget Buy: The laminate storage drawer
Check out this plush home in Noida:
How Can Livspace Help You?
With 146 quality checks, we ensure that you get the best-quality materials for your home
Our experienced designers will work with you to design your dream home
We have delivered over 50,000+ happy homes
If you want beautiful interiors for your home, then look no further. Book an online consultation with Livspace today. You can also visit us at the Livspace Experience Center in Noida. Have any thoughts or suggestions you'd like to share with us? We're all ears! Drop us a line at editor@livspace.com.
Disclaimer: All contents of the story are specific to the time of publication. Mentions of costs, budget, materials, finishes, and products from the Livspace catalogue can vary with reference to current rates. Talk to our designer for more details on pricing and availability.
Please note that the designs showcased within the story are subject to availability and will vary based on the year the homes were designed in. Consult our designers for more details on the latest designs.