Featuring an eclectic mix of styles against modern settings.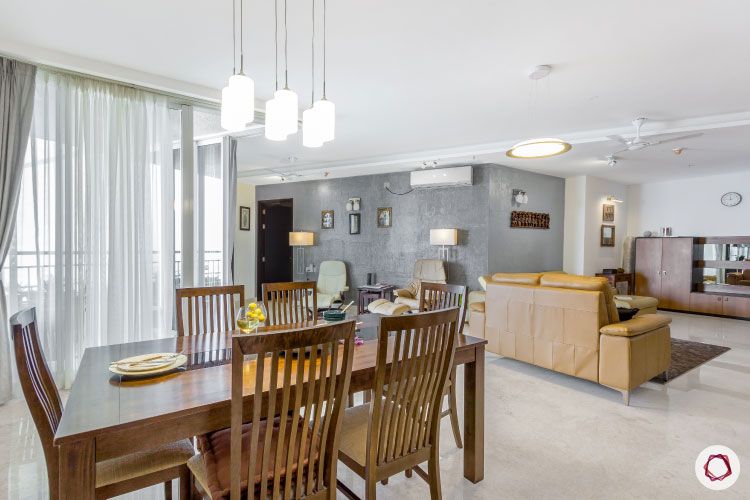 ---
Who livs here: Rohini Kamat and Keshav Kumar with their daughter Shambhavi and his parents
Location: Brigade Exotica, Old Madras Road, Bangalore
Size of home: 3BHK spanning approx. 1,825 sq ft (carpet area)
Design team: Interior designer Jyoti Phadke and Project Manager Karthik S
Livspace service: Full home design
Budget: ₹₹₹₹₹
---
Home is a place where one can relax, dive into hobbies, enjoy some quiet time and get work done. That's how Rohini and Keshav, a busy pair of techies, define their dream home. Their idea of a perfect home also includes plenty of room for their 4-year-old daughter to play and their elderly parents to move around without stumbling on stray pieces of furniture.
To make this dream home a reality, they needed more than cosmetic design solutions. Eventually, our designer Jyoti Phadke struck a chord with this well-travelled couple and they opted for end-to-end interiors from Livspace. Moreover, she used their penchant for handicrafts sourced from different parts of India to add personal touches to their home. The blending of ethnic accent pieces and modern design has made this sprawling 3BHK inherently functional and effortlessly chic. Take a tour of this beautiful home.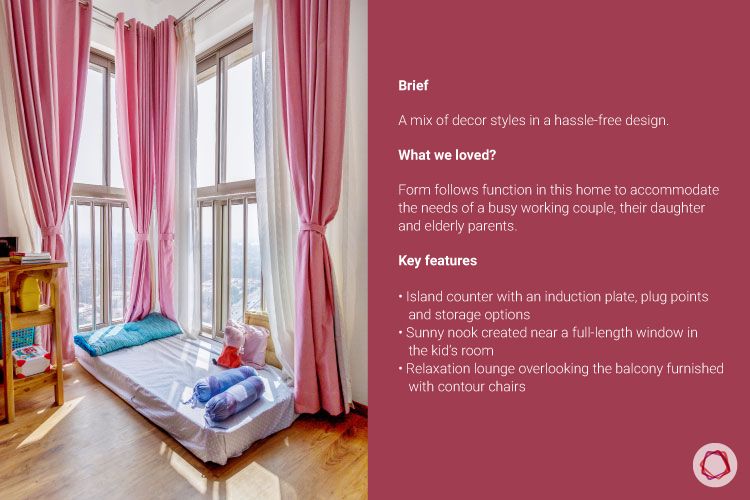 A Shoe for Every Sole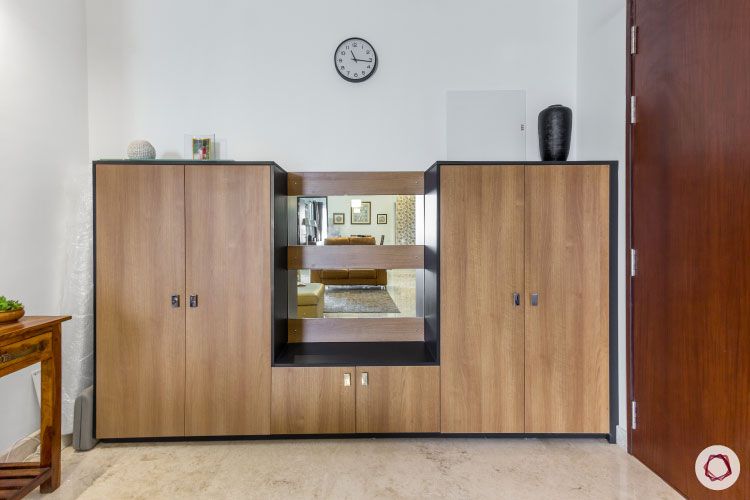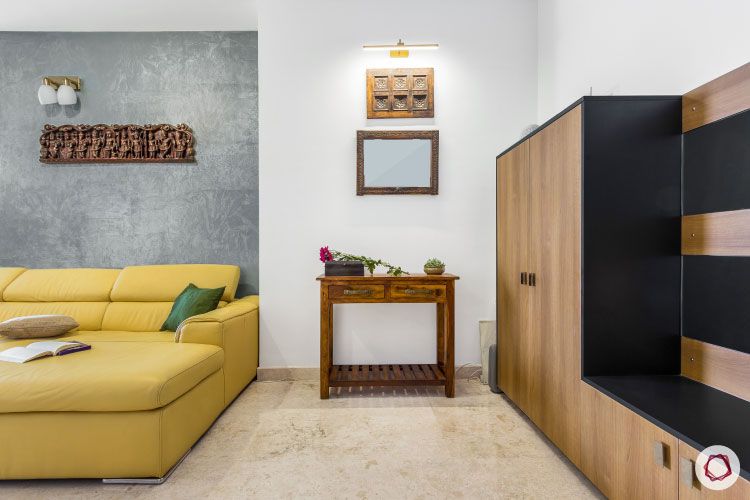 The first thing you notice on entering this home is a colossal shoe cabinet. Carefully crafted, this cabinet topped off in laminate accommodates 44 pairs, and it is only seems fair to call it a shoe wardrobe!
Indie Meets Europe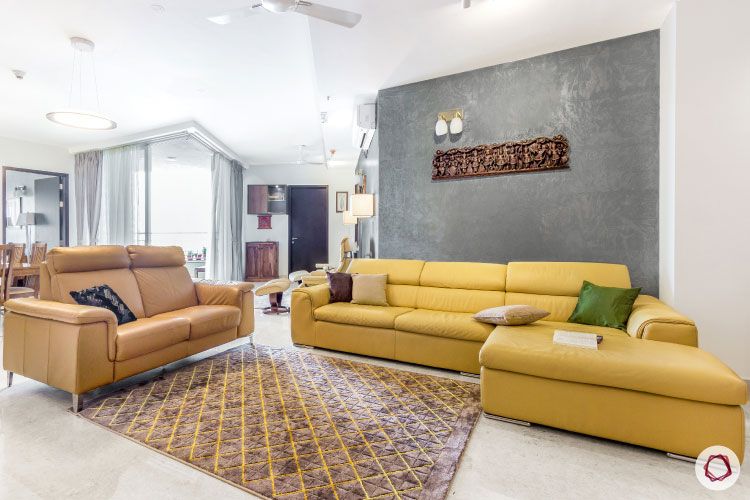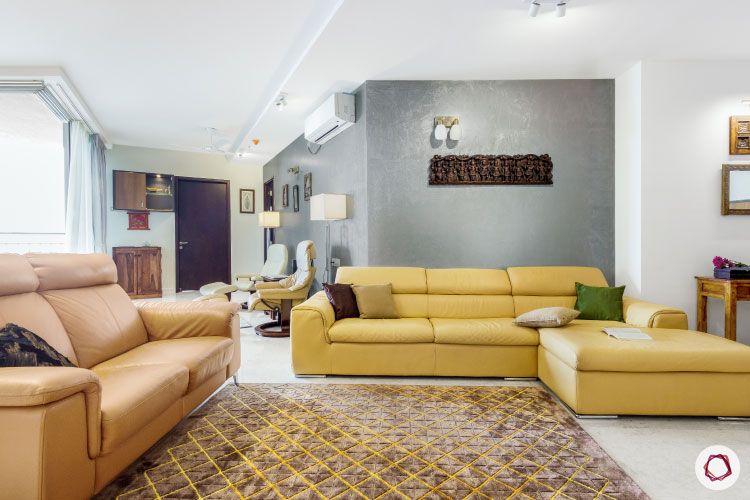 Their couches are essentially Western in style which matches the Spartan simplicity of their TV unit. The Rajasthani wood carving on the wall behind the L-shaped sofa is in stark contrast to the European vibe of the furniture. The panel of the TV unit and the highlight wall in the seating area are both shades of slate, adding continuity to the space.
Timber Tales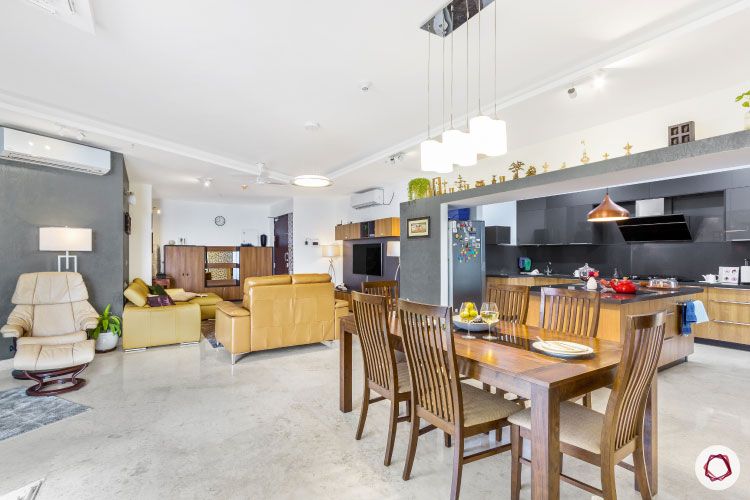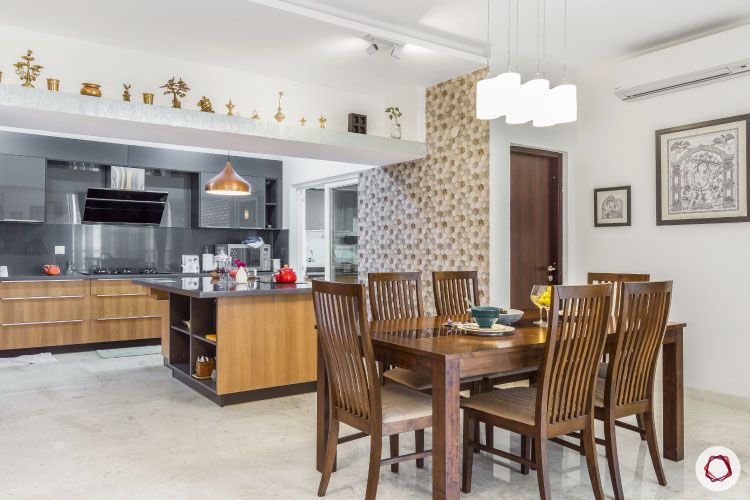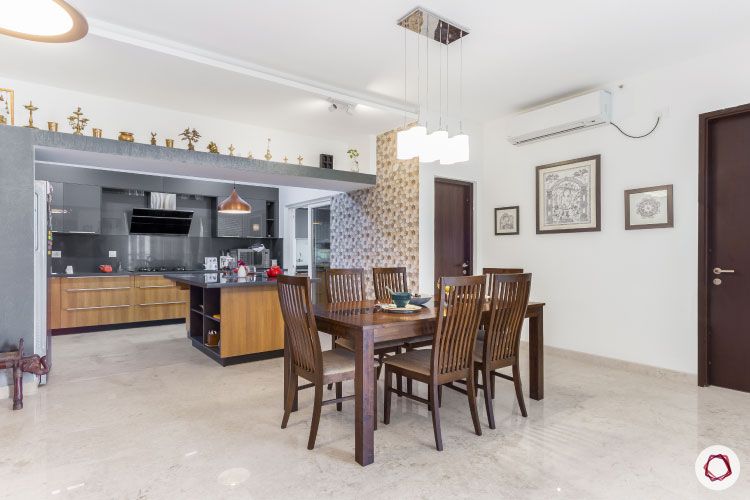 Rohini and Keshav have a taste for temple art and their home is a testament to their artistic inclination. Rohini's Mandala paintings grace the walls of the dinning space. Keshav's chosen art form is photography and he has shot a series of ancient temples around Bengaluru. His works also find their way in various nooks and niches of their home. An assorted collection of brass artefacts is displayed on an open loft in the dining area just before the kitchen. These rustic collectibles gifted by Rohini's mother serve as a surprisingly ethnic gateway to an ultra-modern kitchen.
Lounge with a View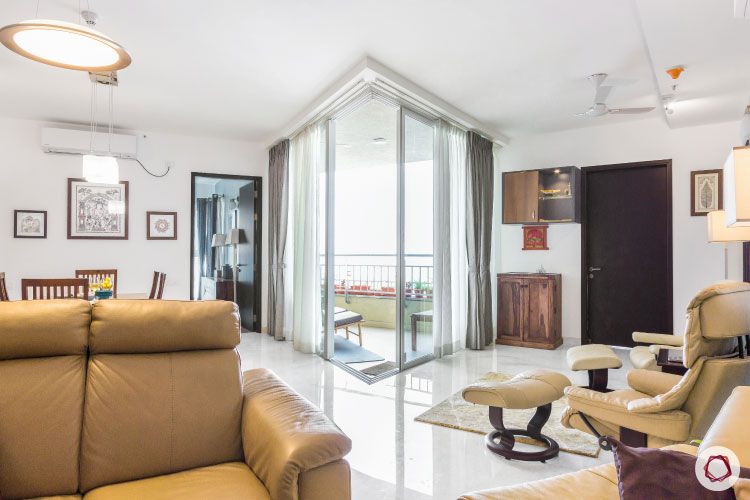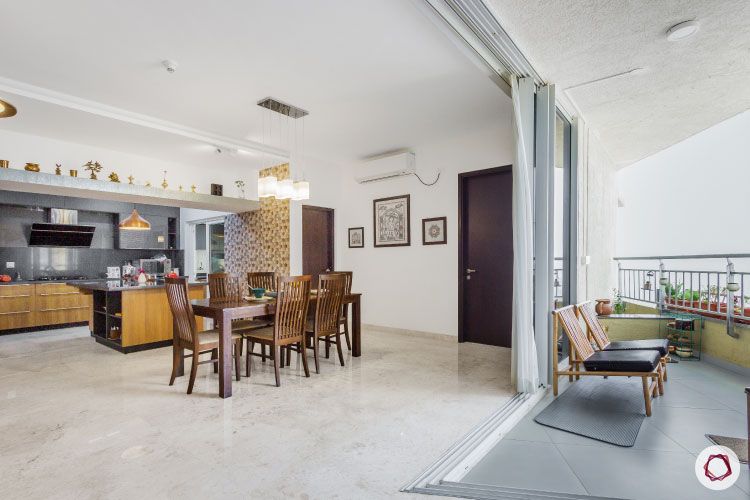 Both Rohini and Keshav work for IT firms and they needed a space that would serve as a suitable workstation at home. Not to mention a nook for them to unwind after a long day. This lounge facing the balcony fits the bill for their needs to a T.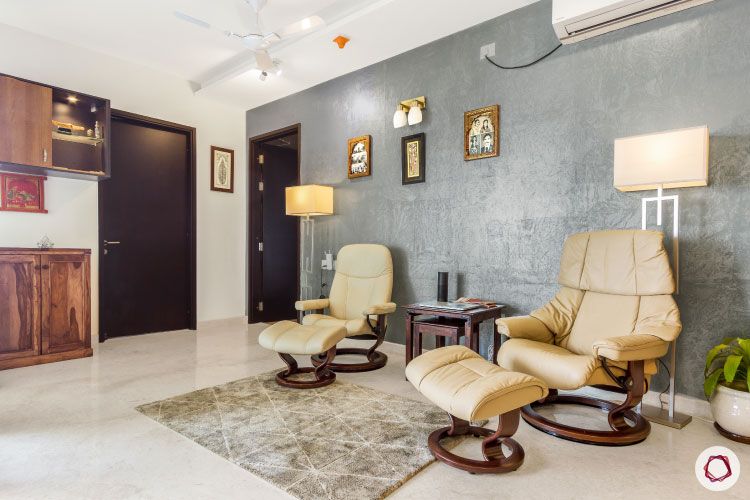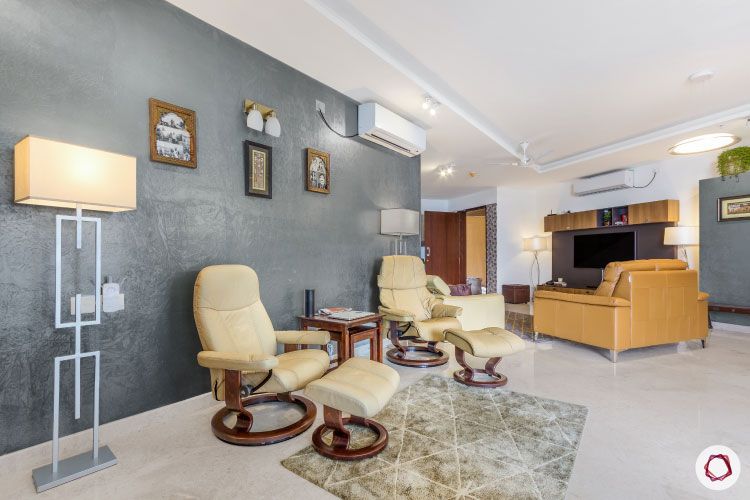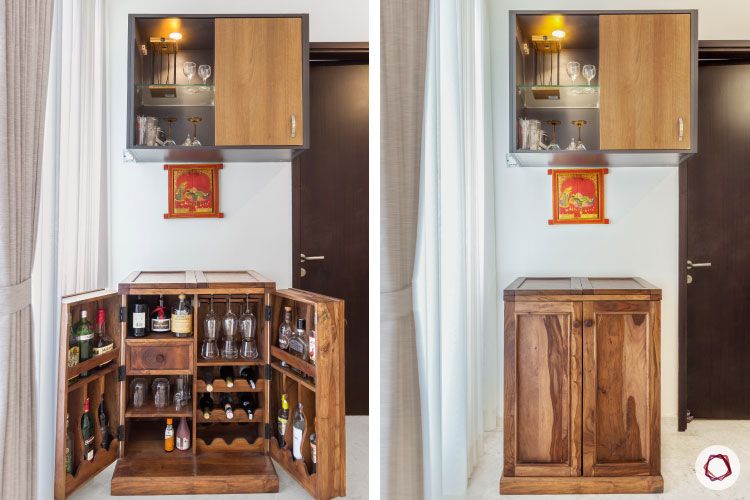 The French doors leading to the balcony meet at right angles; thus, this space has the best view in the entire house. And looking at the two comfy contour chairs with footrests here, all you want to do is just sink in! If that is not enough invitation to relax, there is a wall-mounted liquor cabinet and mini bar too! Drinks anybody?
Crafted In Kalinga Stone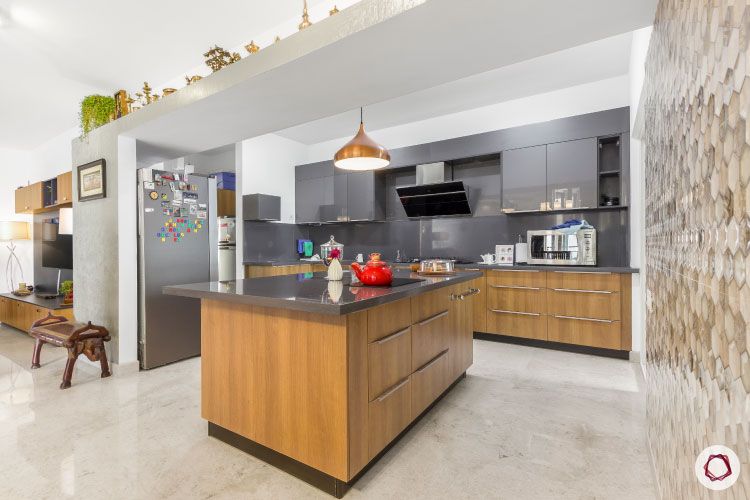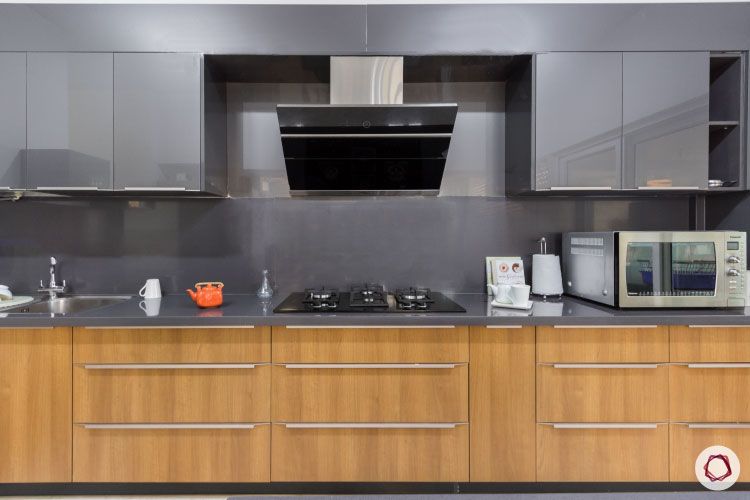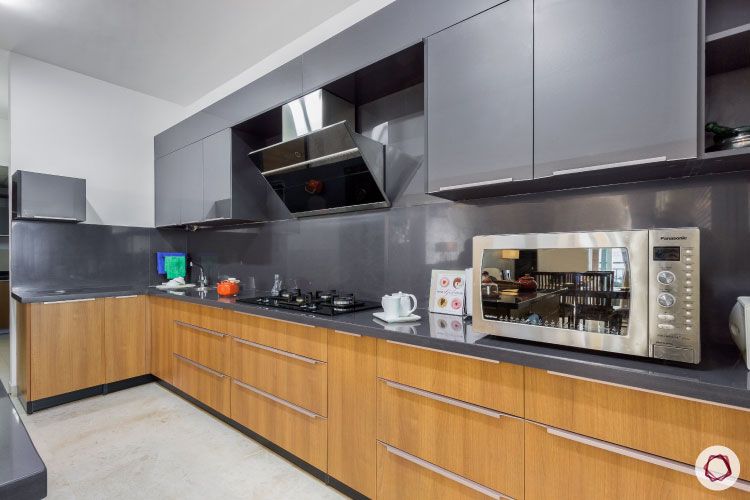 The open kitchen with an island counter is the highlight of this home. The kitchen has three distinct areas: utility, a pantry fashioned from an unused room for household helps, and the cooking area with a hob and a chimney. The wall-mounted cabinets have silver grey membrane finish matching the colour of the Kalinga stone countertop. There are no shutter cabinets below waist-level, only drawers furnished in walnut finish membrane. This is for the convenience of Rohini's in-laws, ensuring they do not have to bend down frequently to operate the lower cabinets.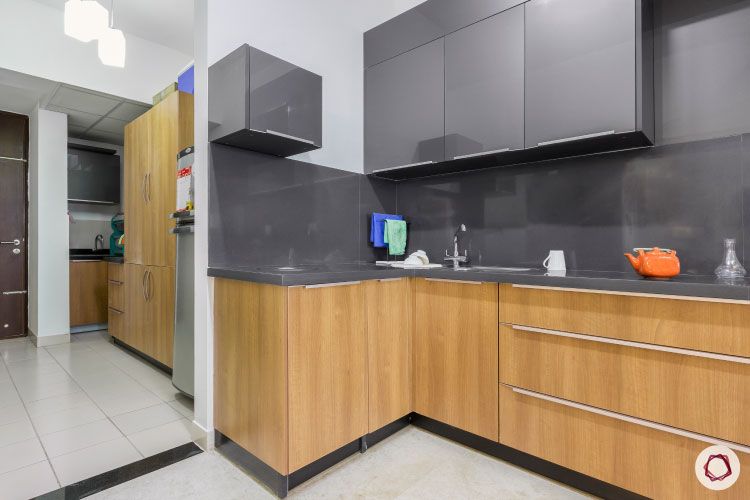 There is a rather clever trash basket concealed within an unit by the sink. Rohini wanted this mechanism to be replicated from her workplace and Jyoti was happy to oblige. She also wanted specific cabinets for appliances like vacuum cleaners, which was provided from the Livspace modular range.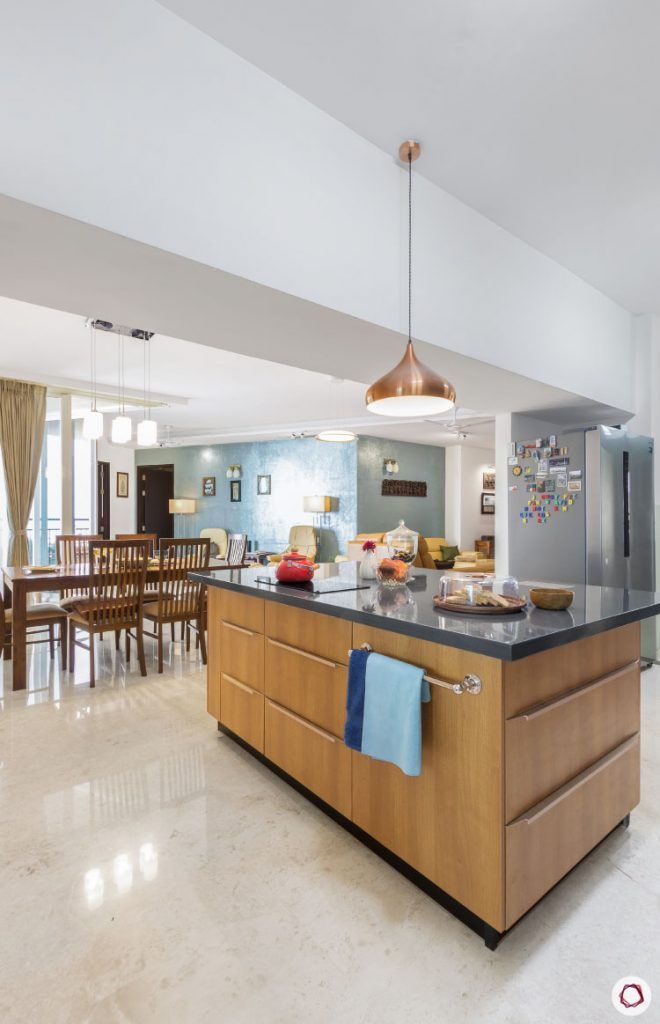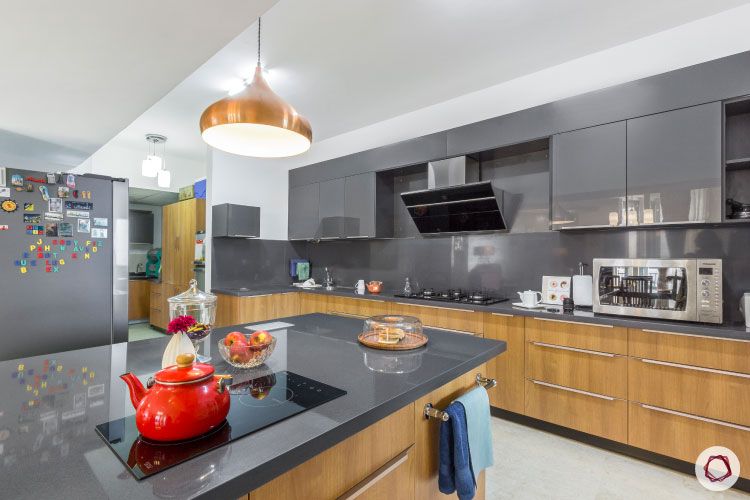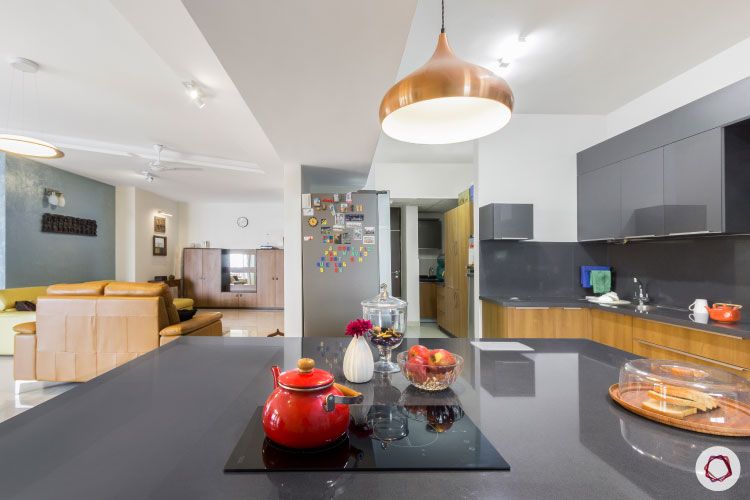 The real star of the kitchen and the house is the multi-functional island counter. The island was initially planned as a solo culinary work station for Keshav, who loves to cook and believes that too many cooks spoil the broth! However, it has turned out to be that and much more. The counter has a induction point in the centre that is used for light cooking, and it has modular storage too. The countertop of the island also conceals electrical plug points so Rohini and Keshav can plug in their laptops as they work while having breakfast or use electrical appliances like hand blenders for cooking.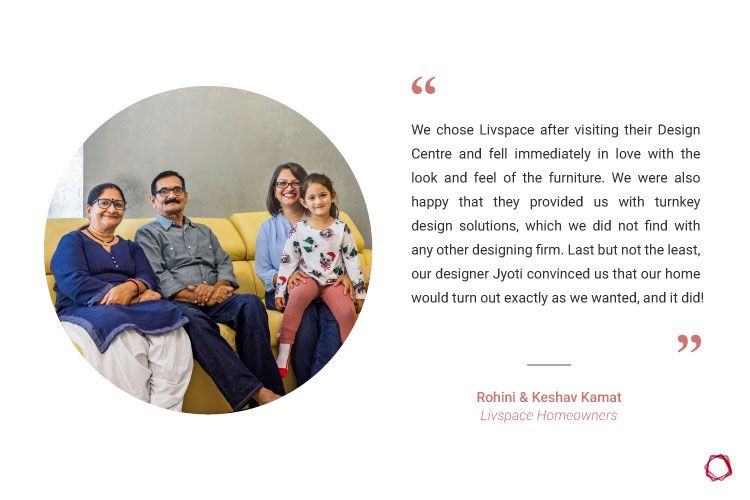 Breezy Blues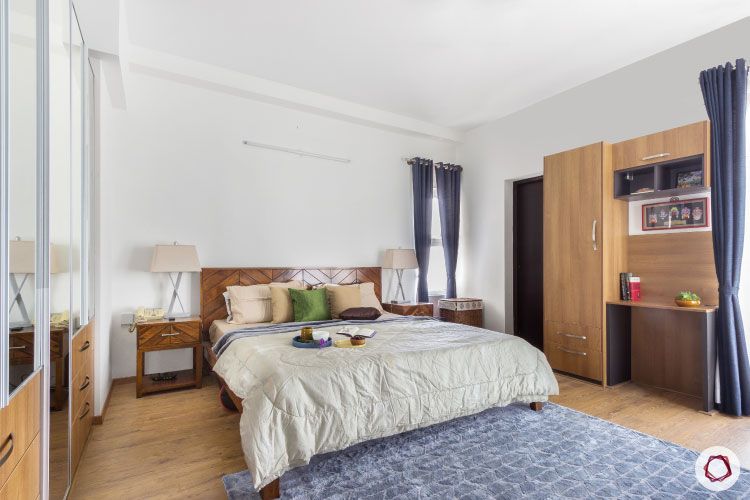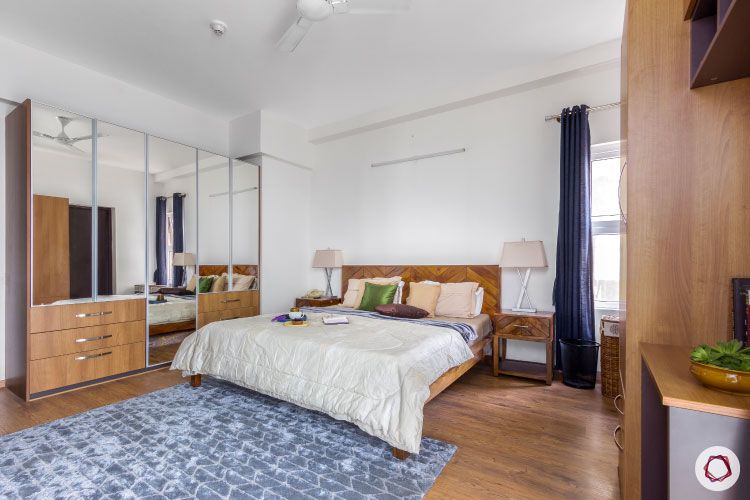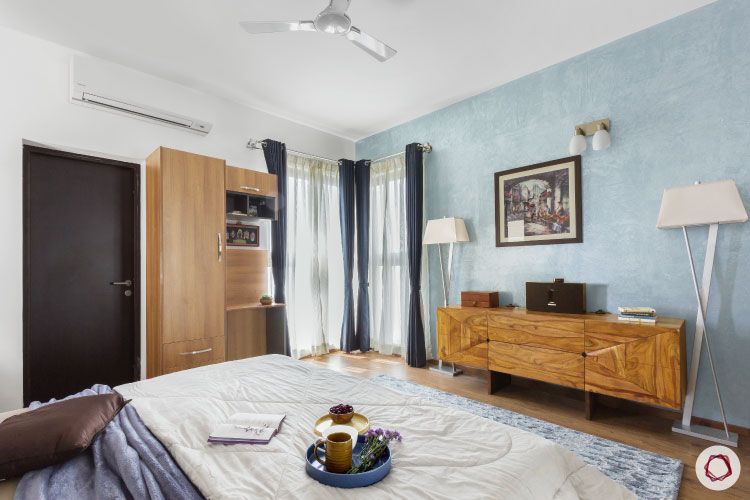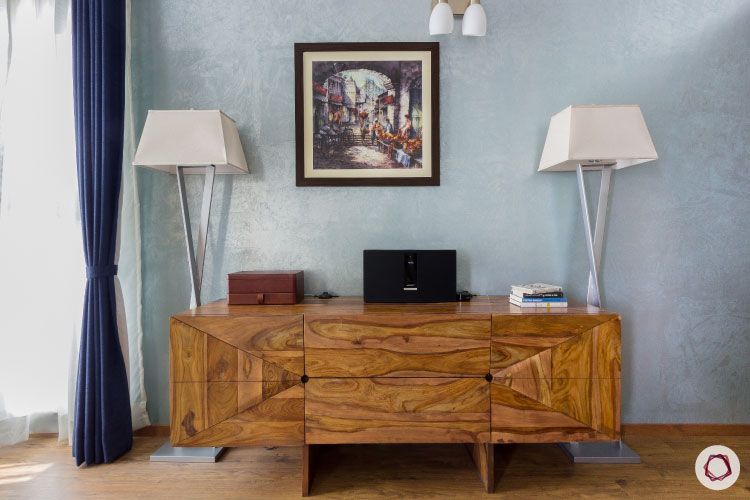 The master bedroom stands out for its relative simplicity to the rest of the house. The solid wood bed and side tables are from our catalogue matching the warm wooden tones of the floor. The room has been furnished in a mix of muted sky blue and deep navy blue. A pair of tall floor lamps and an identical shorter pair of table lamps add a touch of glamour to the room.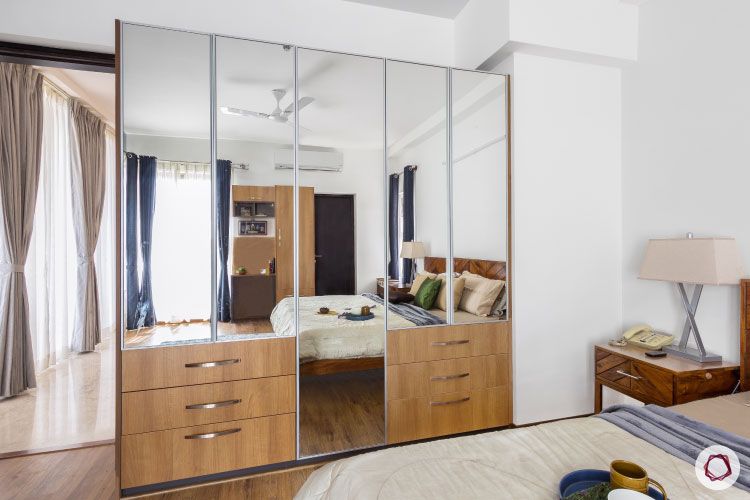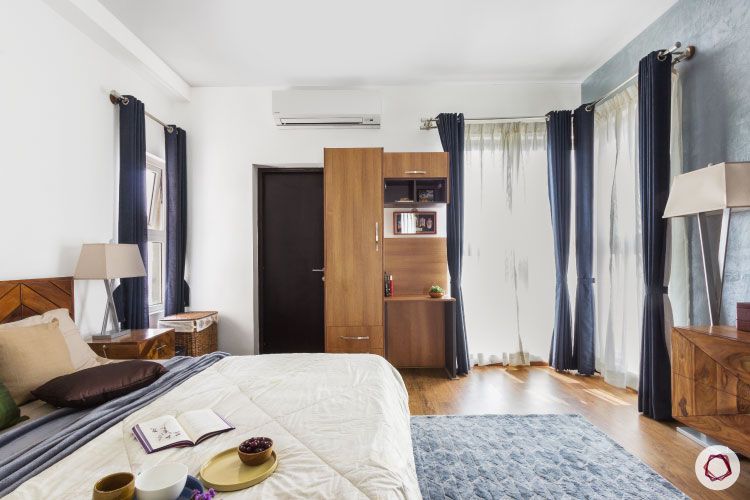 Jyoti provided a dedicated workstation in the bedroom so that the couple can work in privacy. The cabinet next to the worktable is for storing linen. Rohini wanted to have plenty of mirrors in the room without making it cluttered. So, they opted for a wardrobe with mirrors for shutters. The mirrors also enhance the effect of natural light in the room.
Sugar, Spice and Everything Nice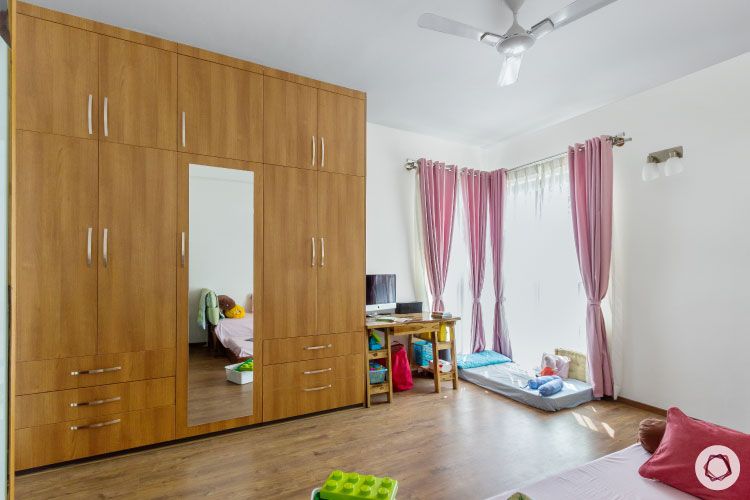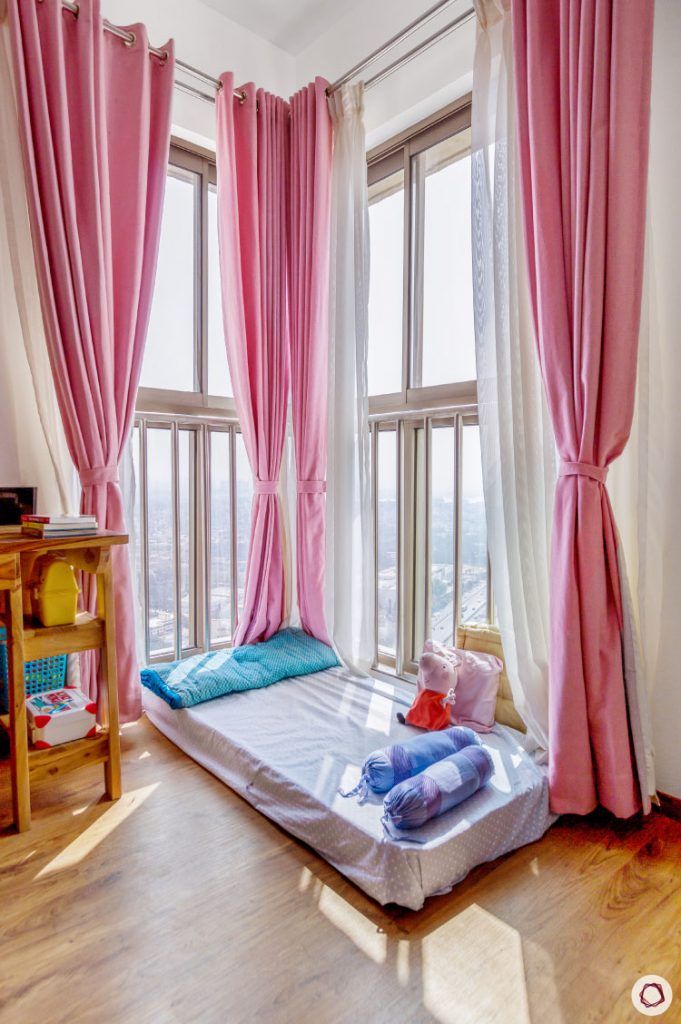 The room that belongs to Shambhavi is a bright and sunny haven. We fell in love with the sunbed created for her on the floor just by the full-length windows. Jyoti ensured that the little girl stays safe by reinforcing the windows with metal rods. As it is the 33rd floor, one can never be too careful!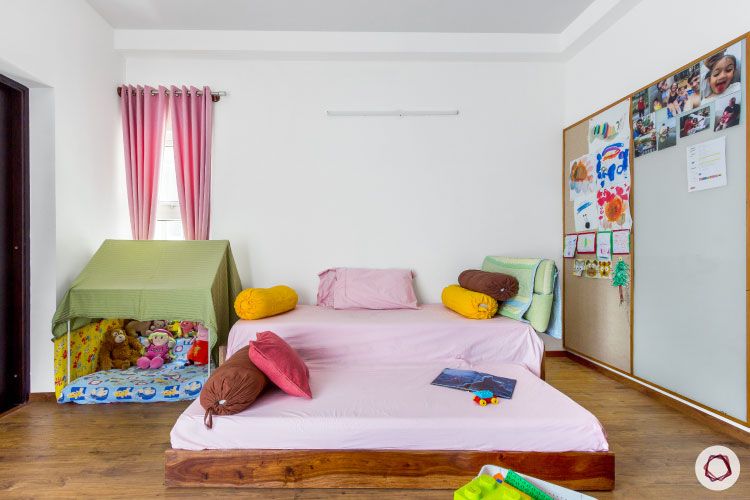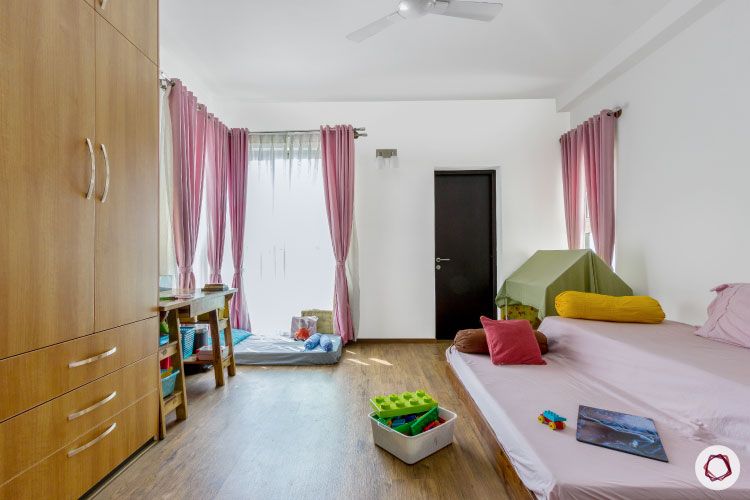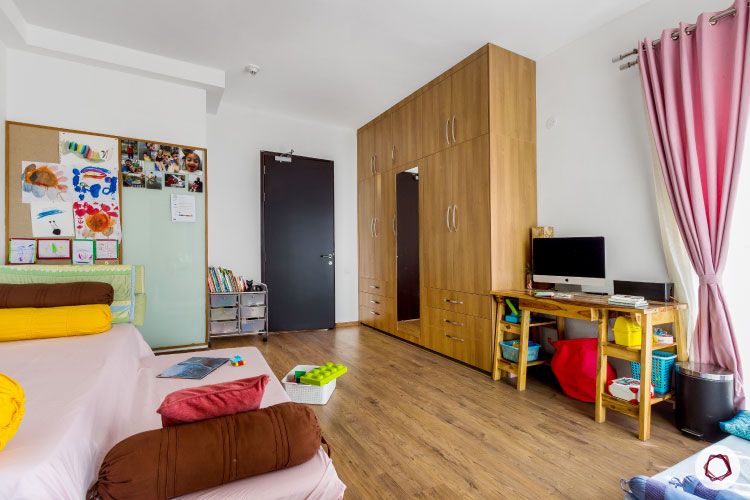 Shambhavi has a tiered pull-out bed and her very own tent but the real attraction of her room is something else. She has a full-length soft board to pin up her favourite pictures and a similar-length whiteboard to embark on creative journeys. And what is best, she can do so without causing any damage to the walls in her room!
Grace and Beauty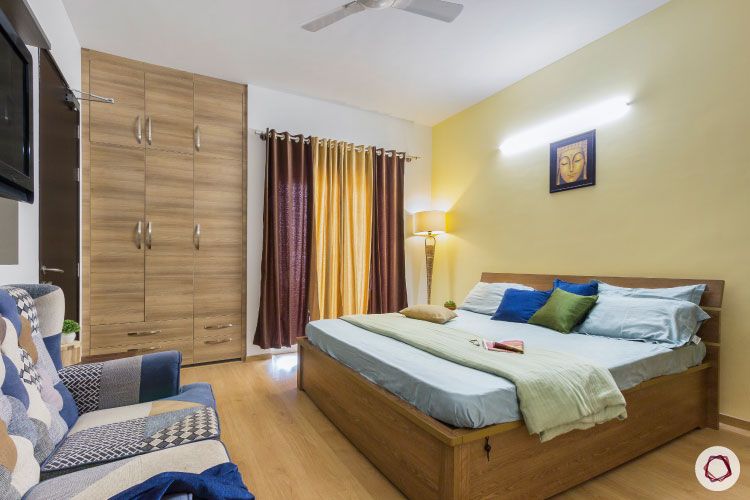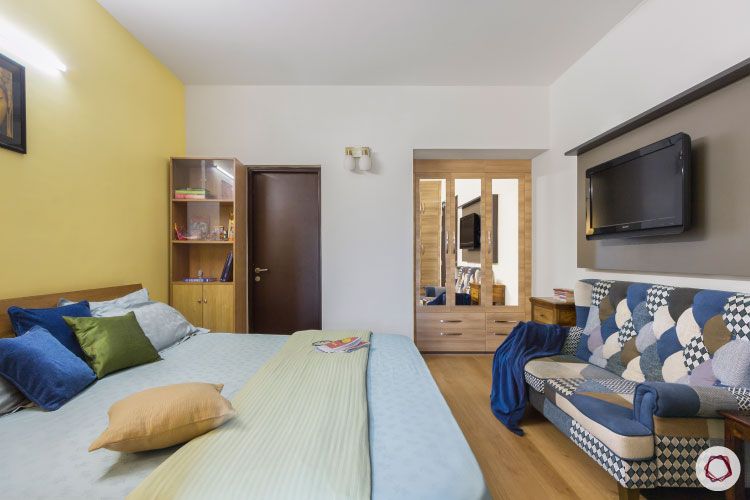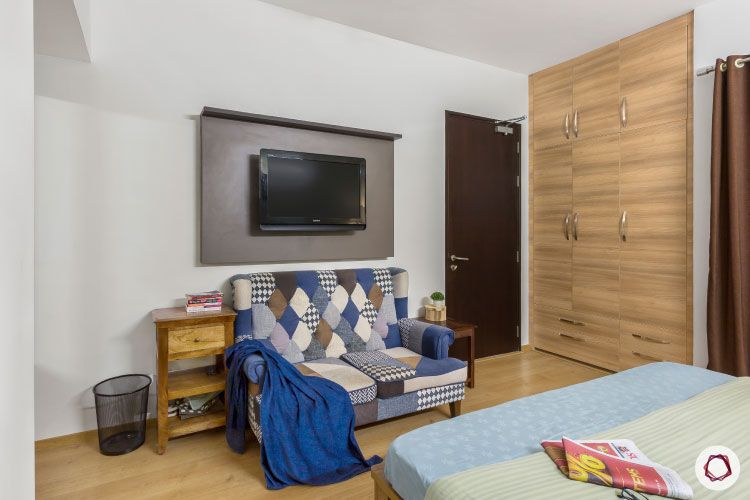 The elderly couple in the house have a room that is graceful in its simplicity. Since the bed was part of their original furniture, everything else has been designed to match it. This is the only room in the house that has a bright yellow highlight wall which is a step away from the European colour scheme that was followed throughout.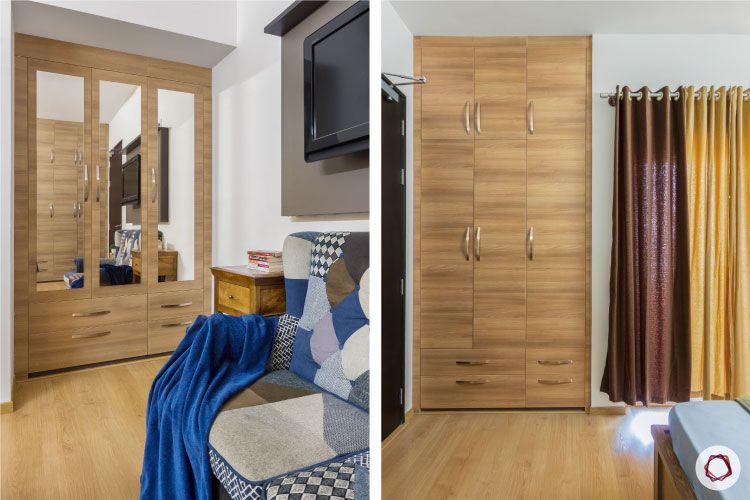 Rohini was very particular that the room should have no jutting edges or even heavy furniture that may cause her in-laws to stumble. Hence, Jyoti has placed the TV on a grey laminate panel and skipped shelves or open ledges altogether. Even the wardrobes in this room have been cast into niches to ensure that the mobility of the elderly couple is not interrupted.
Bathing in Sunshine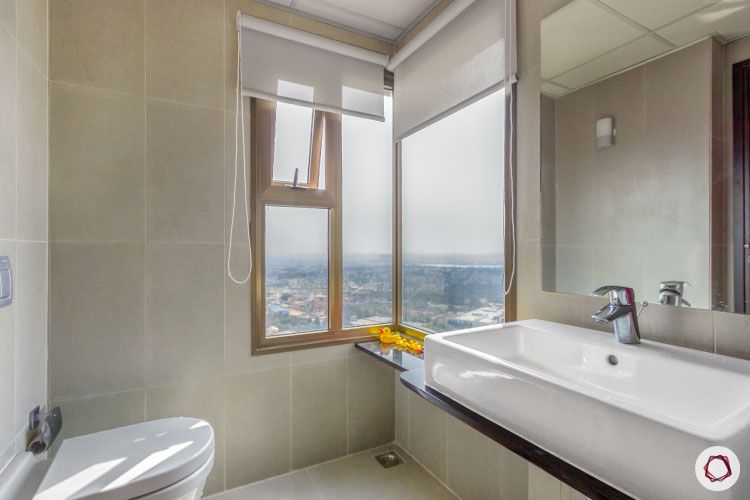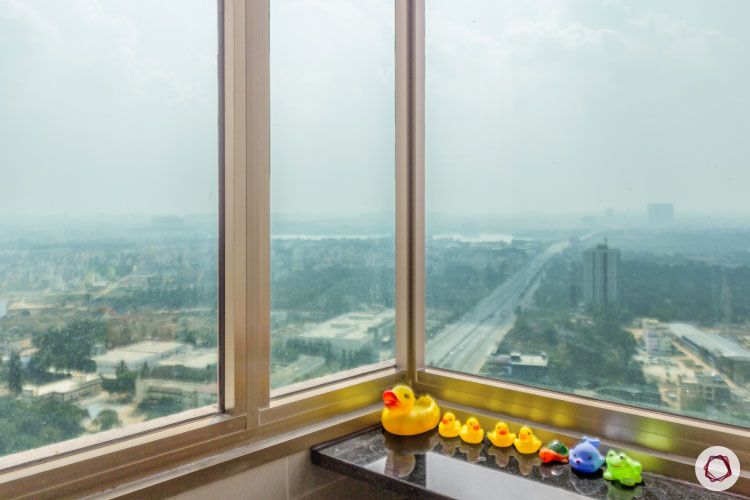 Being on the 33rd floor has its perks. In this case, the perks include large bathroom windows with a hawk-eye view! The bathrooms are bathed in so much sunlight that the family has to pull down the shutters in the afternoon when it gets too warm.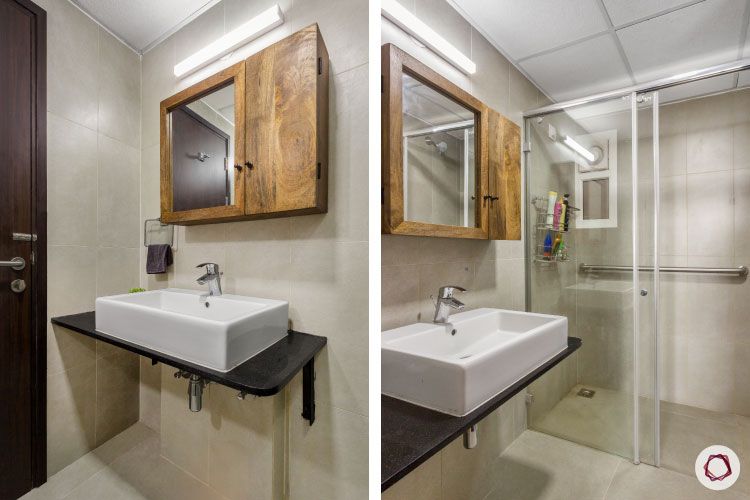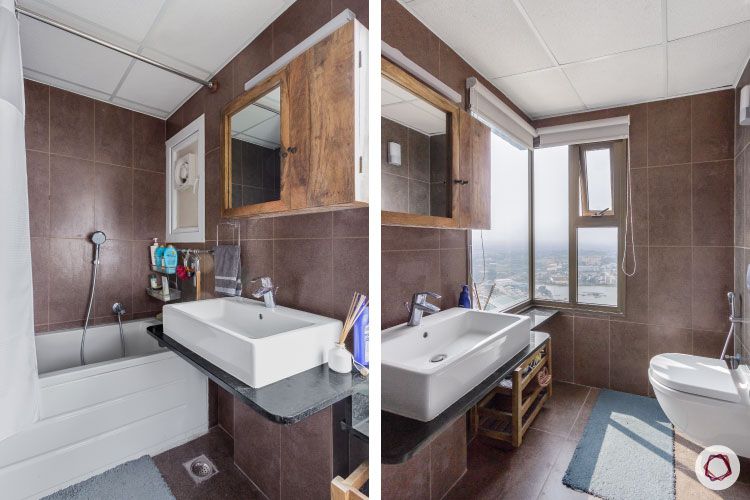 One of the bathrooms has a shower cubicle and the other has a bathtub. Both the bathrooms have simple yet elegant fittings that concur with the taste of the family.
"Rohini and Keshav have great taste in furniture and an inherent sense of style. So, it was an absolute pleasure to work with them. There were no creative differences as our aesthetic sensibilities matched. It makes me very happy that I was able to design a classy and functional home just the way they wanted it."
-Jyoti Phadke, Livspace Designer
If you loved this contemporary home, also check out This Family Home Comes Alive with Plush Interiors.
Send in your comments and suggestion
— editor@livspace.com