"A house is made of bricks but a home is made of stories," says Rithu Premnath, proud owner of 7BHK Livspace home in Mumbai. And we absolutely concur. That is why, the luxurious interior design of this dream home is composed of design expertise, efficient execution and loads of personal touches. The design team headed by Nishi Jain delivered this mammoth home in just 3 months, which is an achievement in itself. This is considering the fact that almost every inch of this 7BHK was customised!
But seeing is believing. So, let's not waste any more time in giving you a tour of the luxurious interior design of this home.
---
Who livs here: Rithu and Premnath with their sons Gaurav and Roshan
Location: Rustomjee Seasons, Bandra, Mumbai
Size of home: A 7BHK spanning 2,500 sq ft approx.
Design team: Interior Designer Nishi Jain and Project Manager Mayuri Gawde
Livspace service: Full home design
Budget: ₹₹₹₹₹
---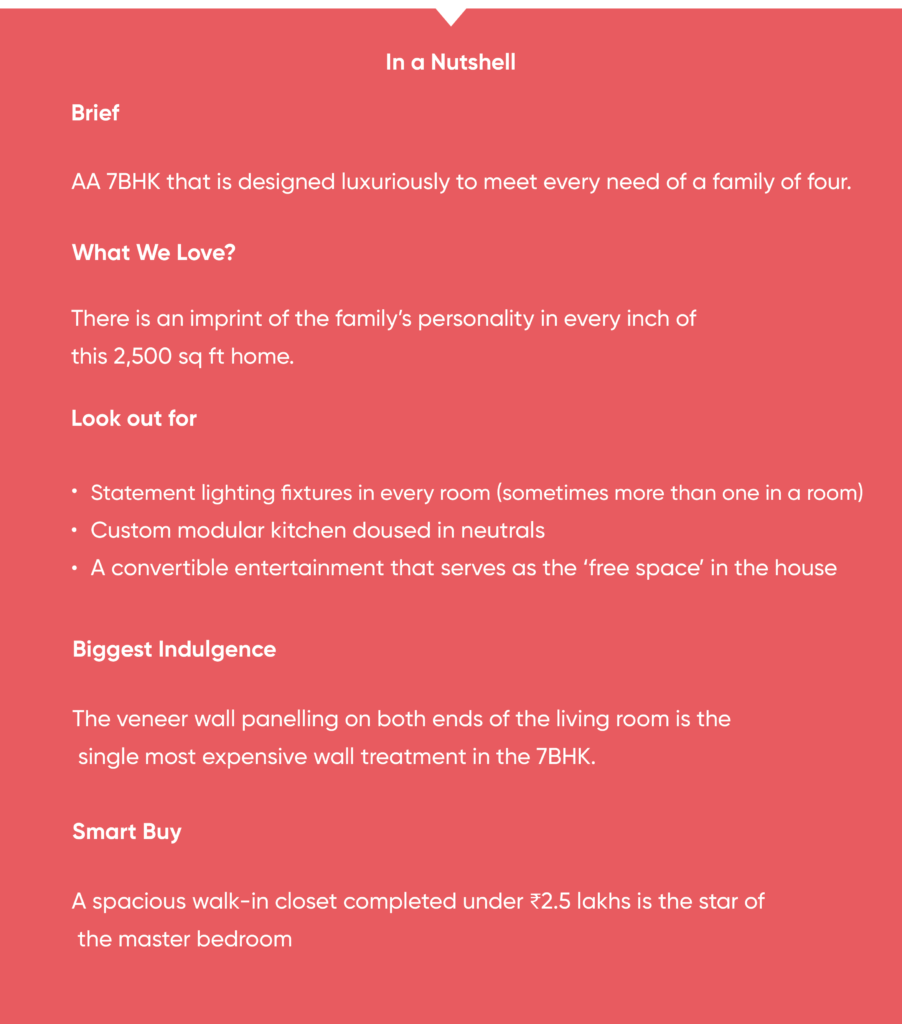 A Luxuriously Long Living Area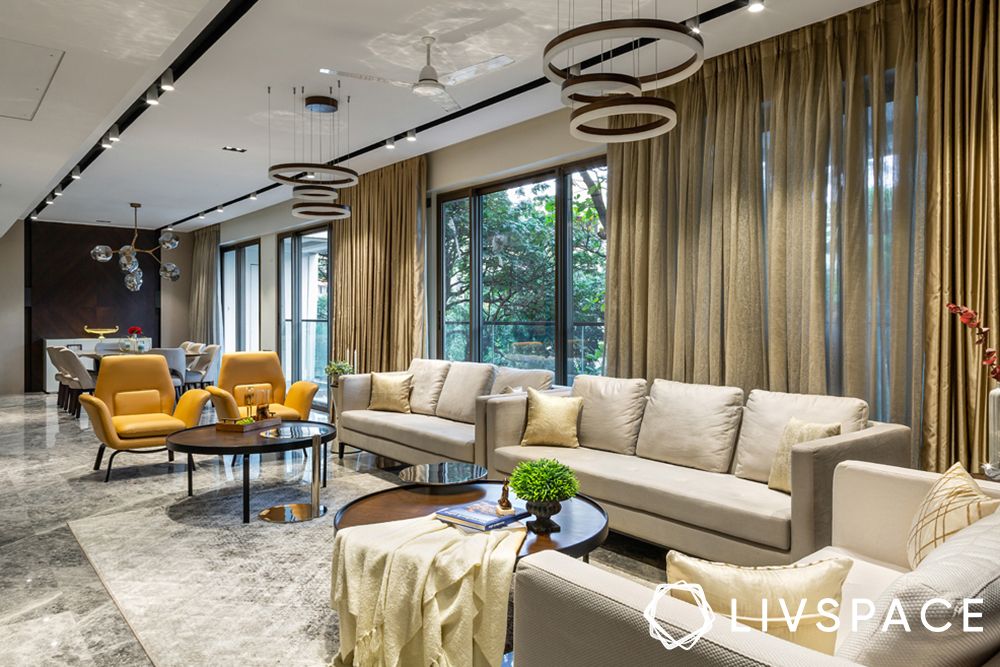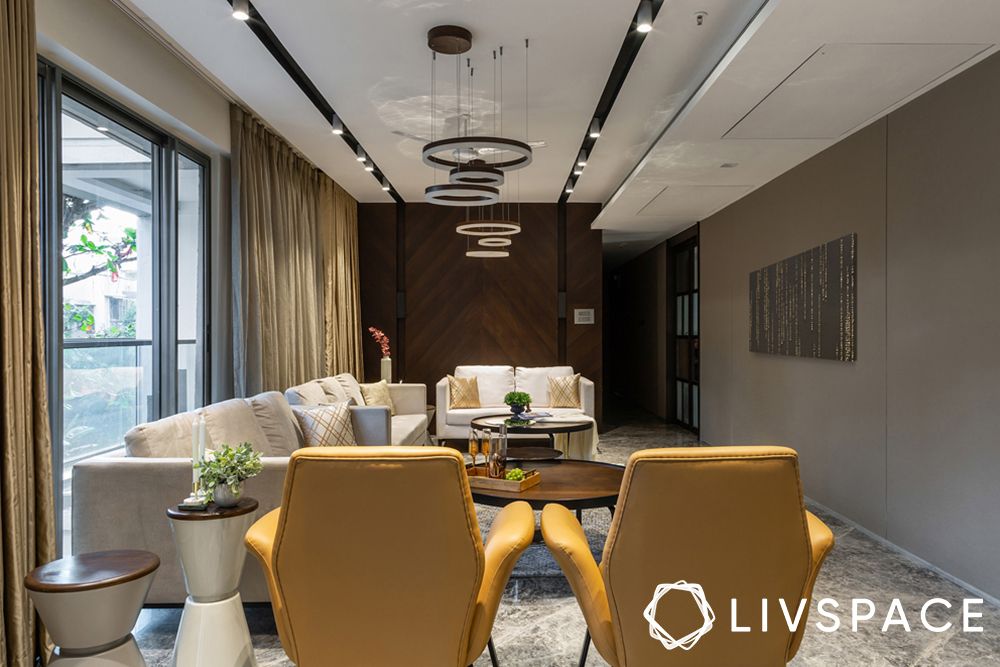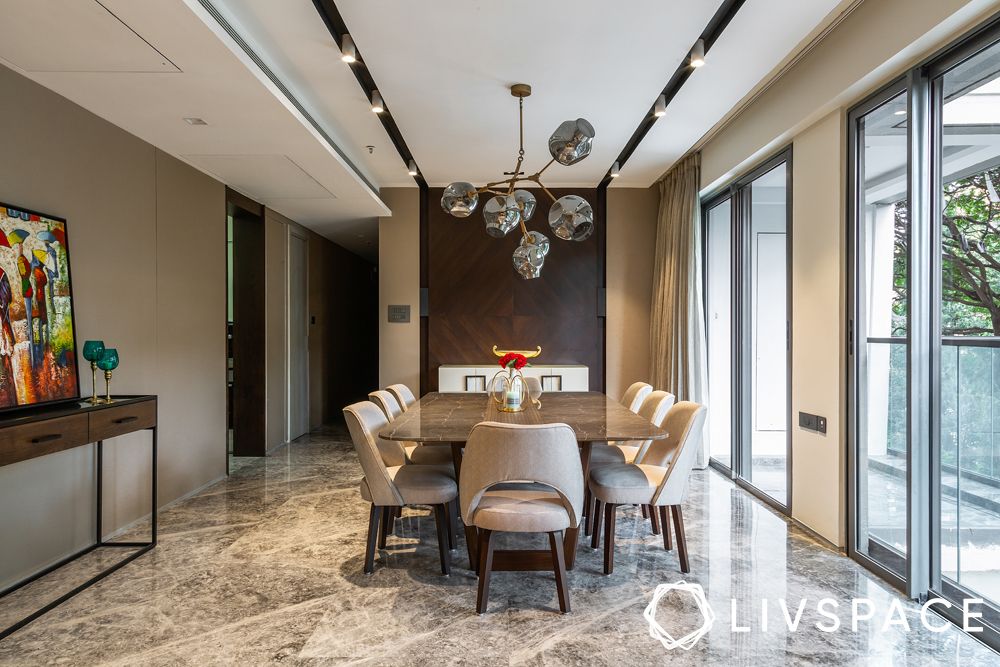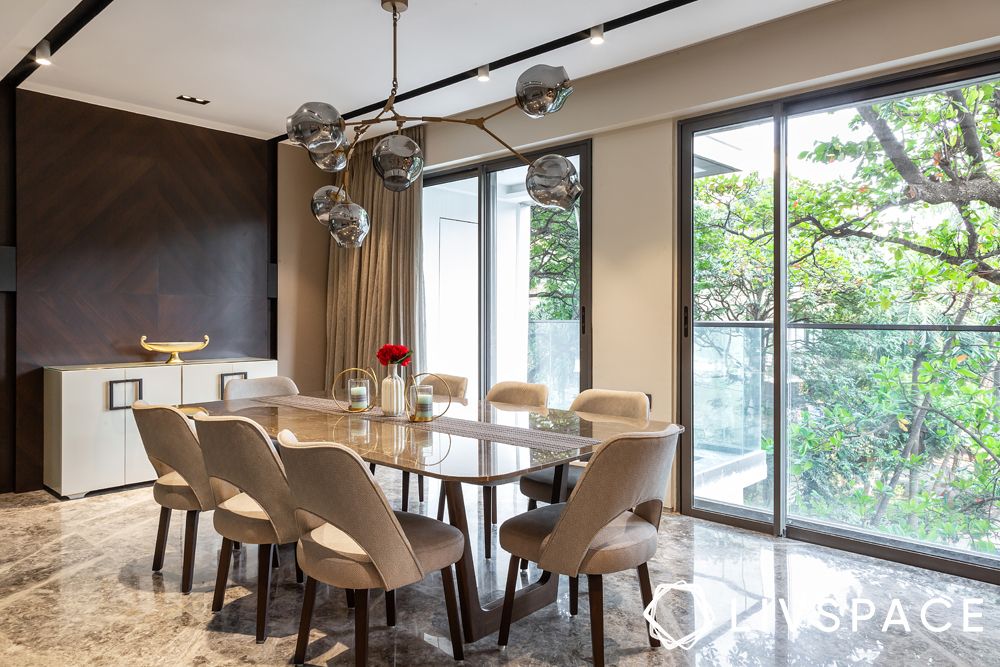 This 7BHK was basically created by combining two adjoining 3BHKs. So are we surprised by the size? More accurately, the length of the living room. Elegant veneer panelling at both ends holds this massive space together. The drawing area cuts quite the impression with custom cosy custom-made furniture made on site. The dining gets its touch of class from the exquisite marble-top dining table. The massive lighting fixtures (also duly customised) are the showstoppers in this space. But the real star of the show is the abundant natural light streaming in through the large French windows.
Parallel Kitchen Doused in Neutrals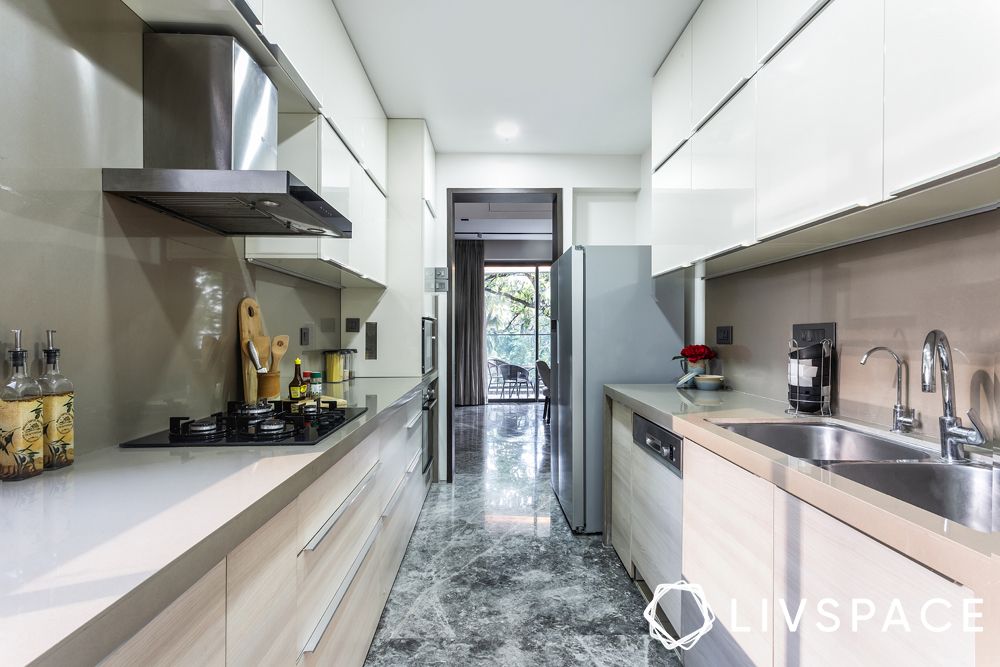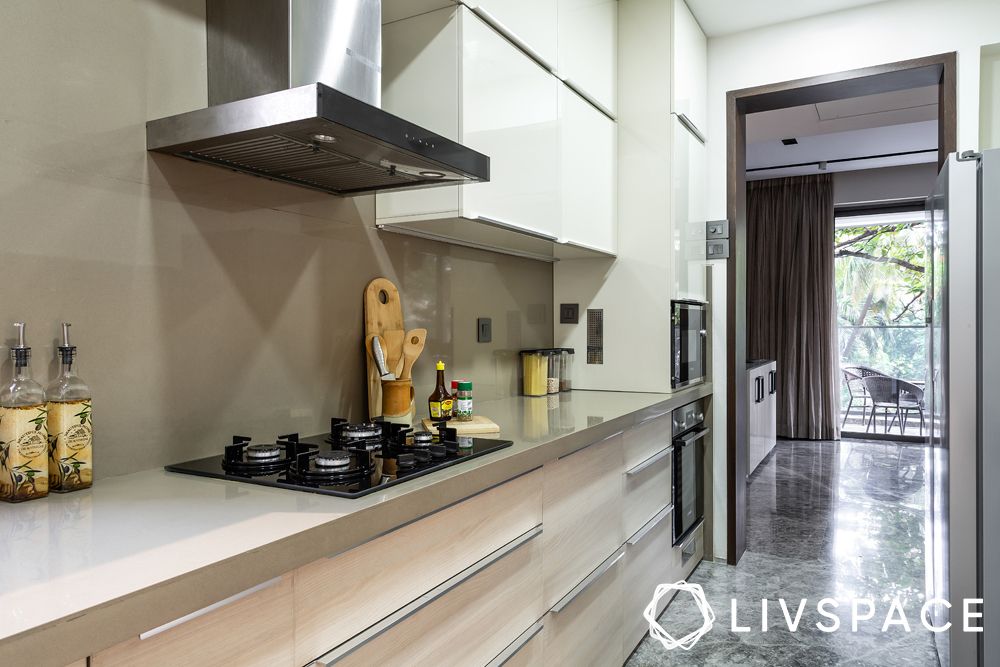 Compared to the luxurious interior design featured in the rest of the house, the custom modular kitchen is pretty basic. Nishi chose laminate finish for the base cabinets and PU finish for the wall cabinets. Prem jokes that Rithu deliberately wanted a small kitchen because she did not want to spend too much time in there, and Rithu agrees wholeheartedly! It is this friendly banter between the couple that gives this spacious house the feeling of a home.
End-to-end design solutions are what we wanted and Livspace delivered. Everyone including us was surprised that they could deliver such a huge house in just 3 months' time. Plus, every bit of this home is tied up neatly by the thread of Nishi's design.

– Rithu and Premnath, Livspace Homeowners

Tranquil Vibes for the Prayer/Reading Room
The couple did not want a typical pooja room in a mandir style given the modern style of their home. So Nishi suggested a display cabinet kind of design for the pooja room with open niches and closed storage. The backlighting has turned this piece into a work of art!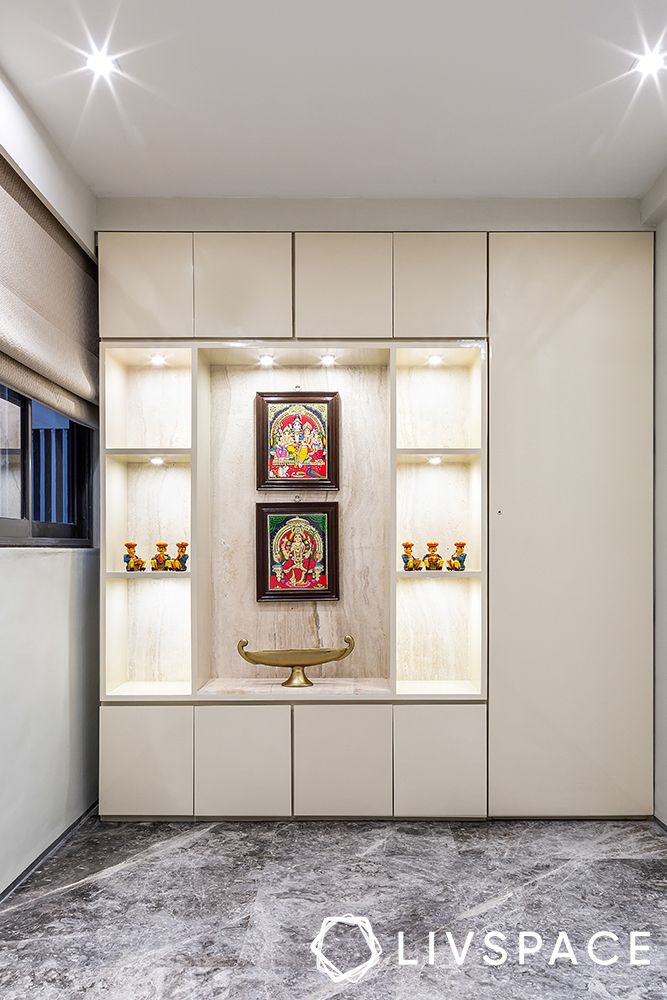 But that is not all. The pooja room is not just for prayer. This space had an existing niche that Nishi has transformed into a reading area. And she has done this with the help of racks and an open shelf cabinet to store books as well as a comfy armchair.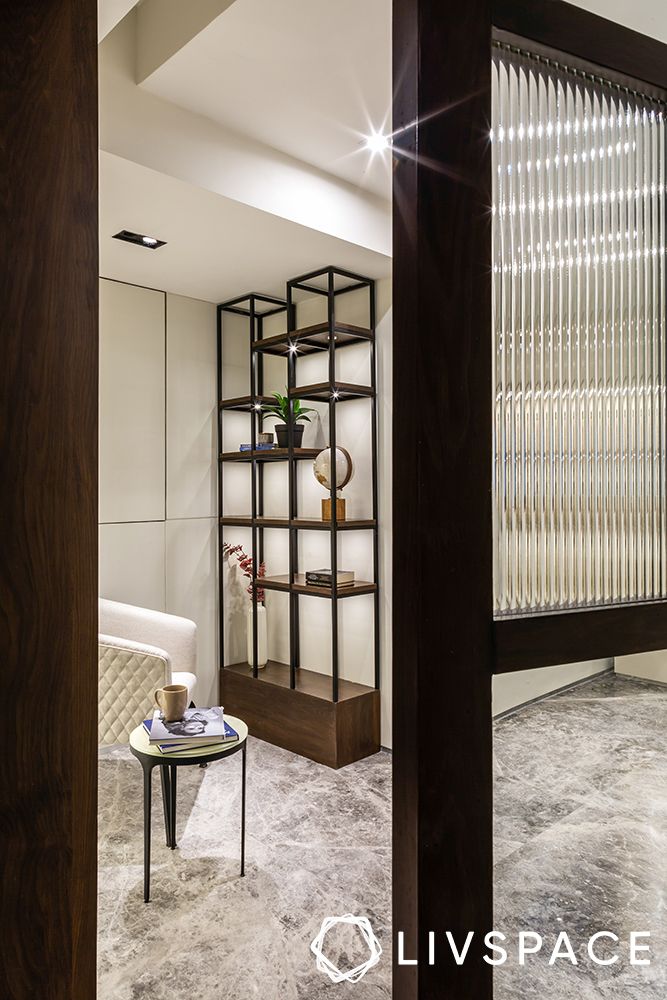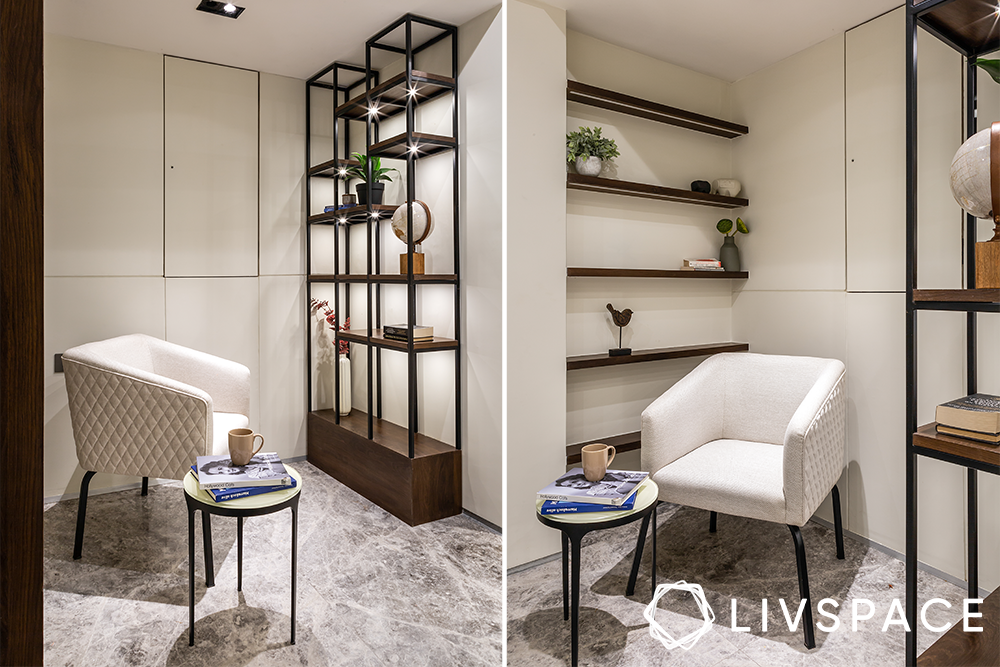 The Room of Requirement
The family has an entertainment room that Rithu describes as the 'free space' in the house. This room furnished with Spartan simplicity is similar to the room of requirement used by Harry Potter and his friends in the Hogwarts castle; it serves its purpose according to its user's needs. The acoustic paneling on the wall cuts out noise while the poufs ensure easy seating. A TV unit on one side and a mini bar on another ensures that this room can serve as a gaming room for the couple's boys and also as a space to host parties.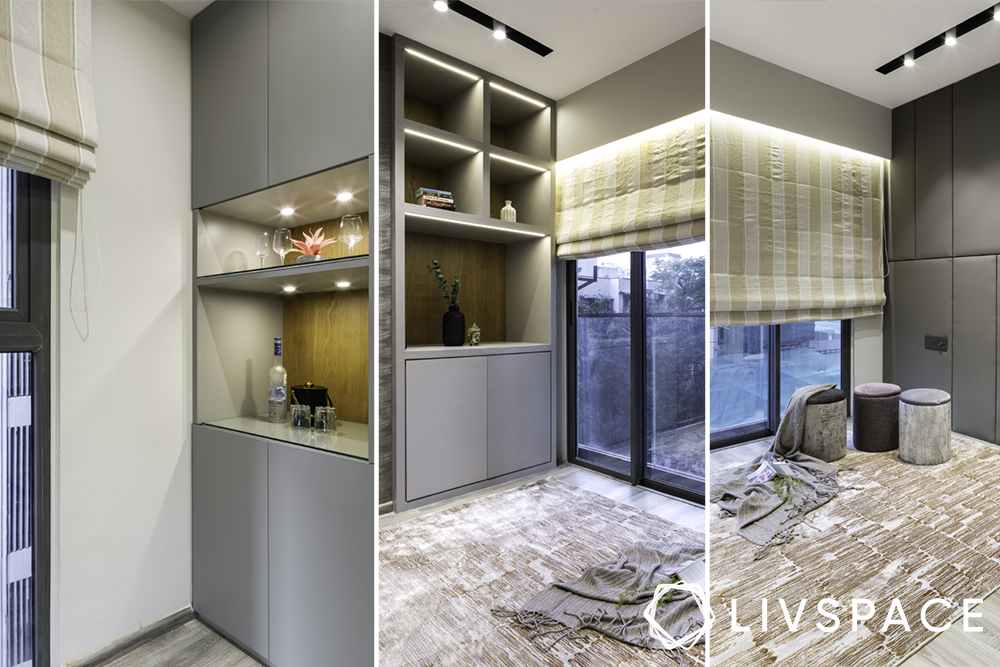 The Bedroom That Has It All!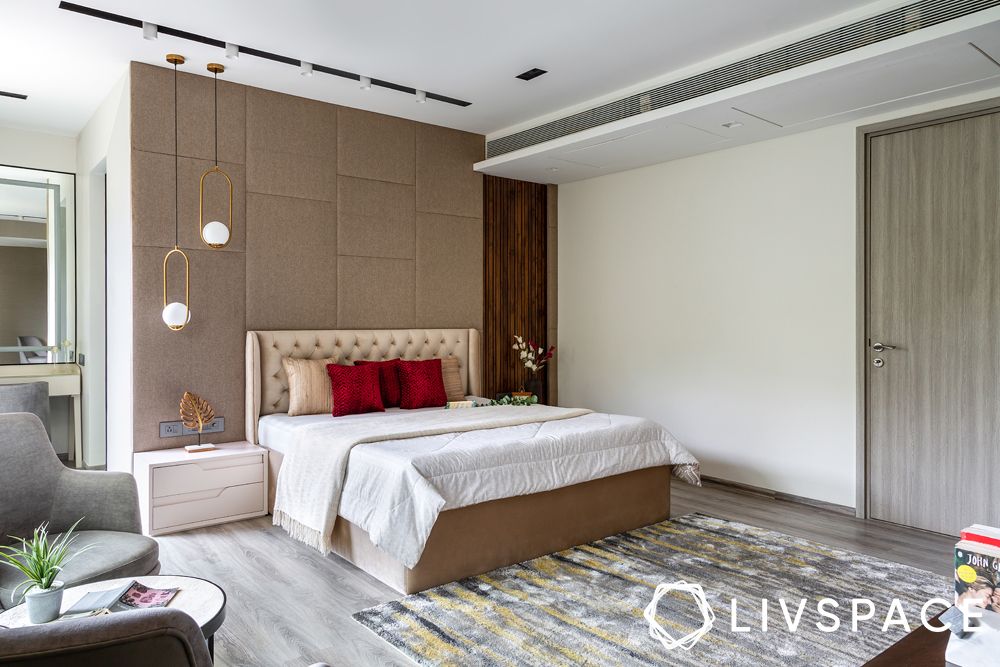 If there is one thing that all members of this fun-loving family agree on then it is sheer superiority of the master bedroom over all other rooms. Nishi created Rithu and Prem's bedroom by combining two bedrooms and hence, its size alone is noteworthy. However, the key to the luxurious interior design of this room is space utilisation. The bed rests against a fabric panel, which is the accent wall for this room, And it is highlighted by a pair of pendant lights.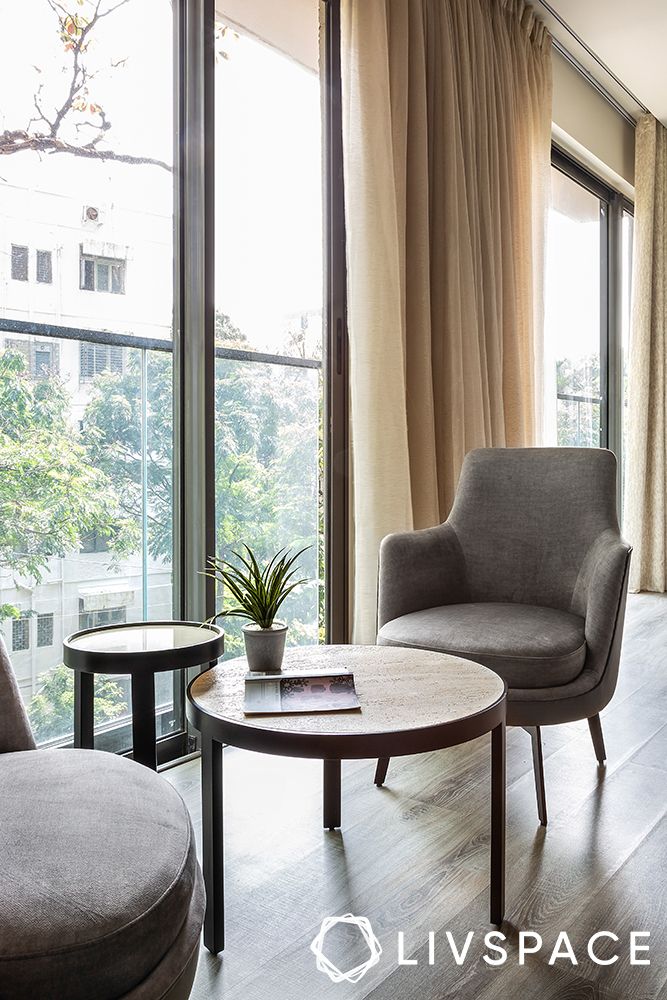 Diagonally from the bed, we see a sitout designed to take advantage of the plentiful light this room receives through its glass walls.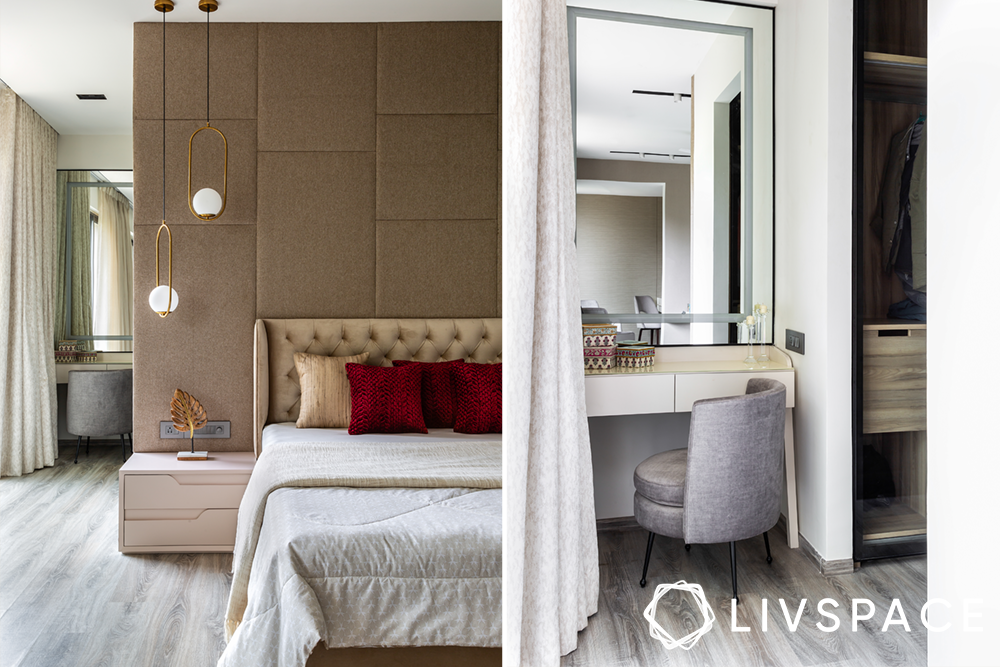 Can you spot Rithu's dresser just behind the accent wall? What is not so obvious to spot is the walk-in closet it leads to. The parallel closet has 9 feet of glass shutters running across the length of the room. It comes with internal lighting too. This massive closet cost just under ₹2.5 lakhs. Can you believe it! For a better look, watch the video tour!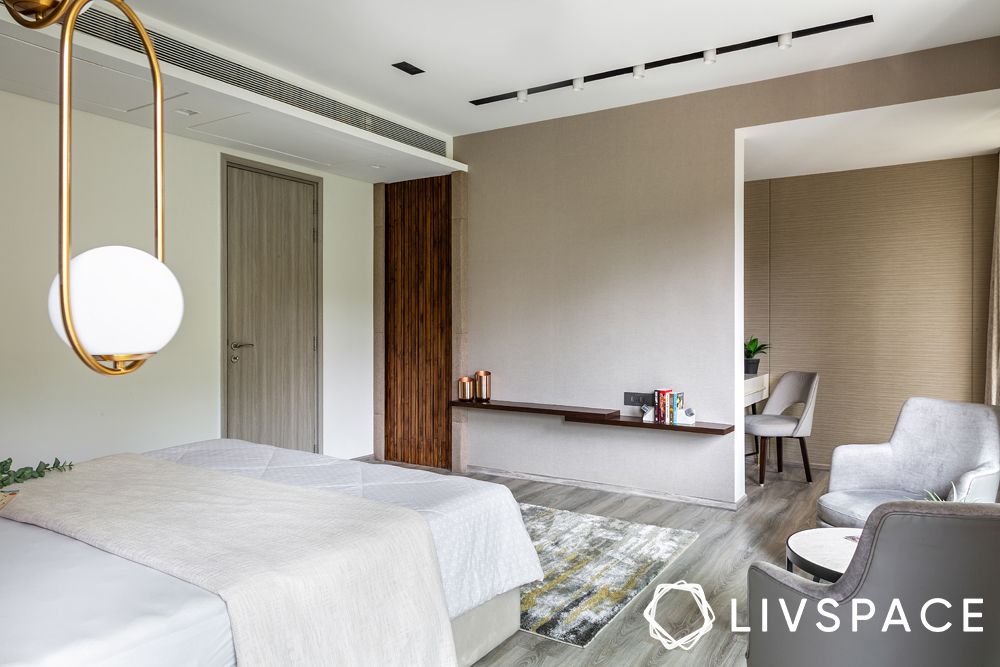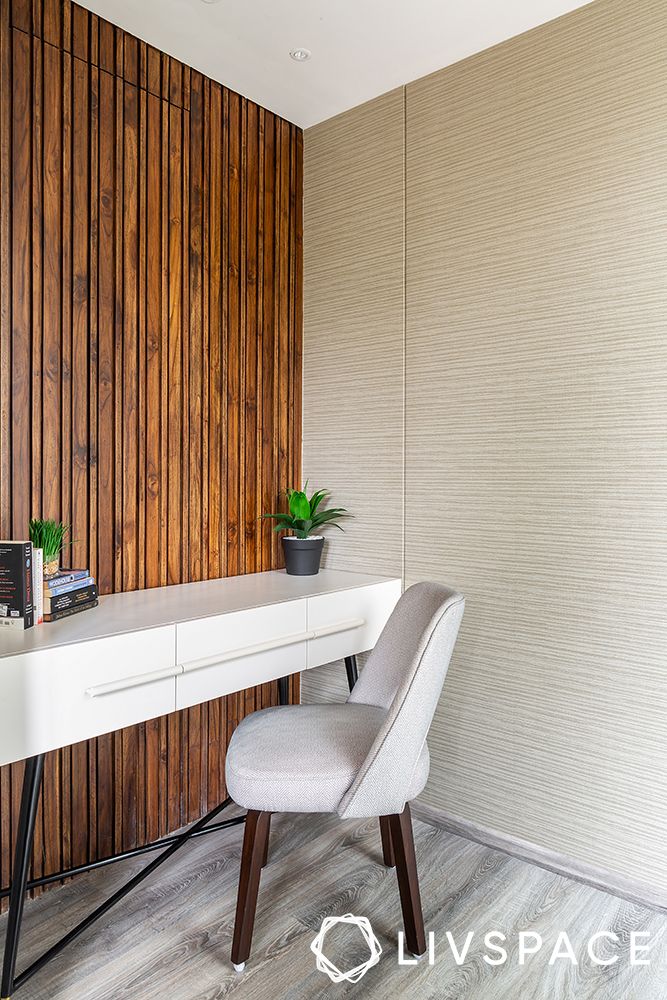 On the opposite side of the dresser, another niche leads up to Prem's study. This space looks super tidy thanks to the console-like study table and teak wood panelling.
A Room as Modern as the Man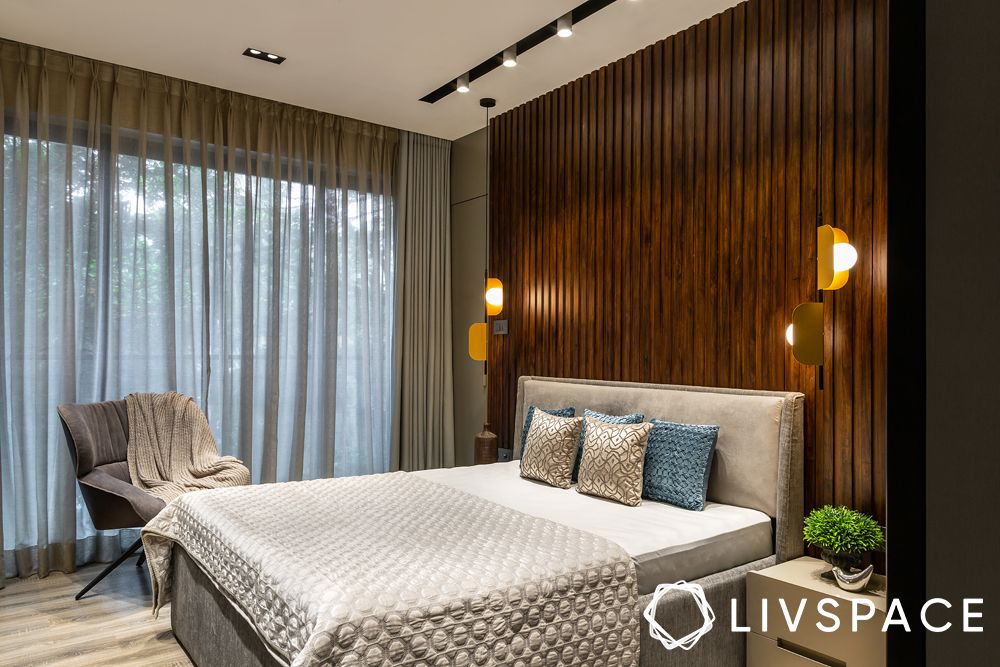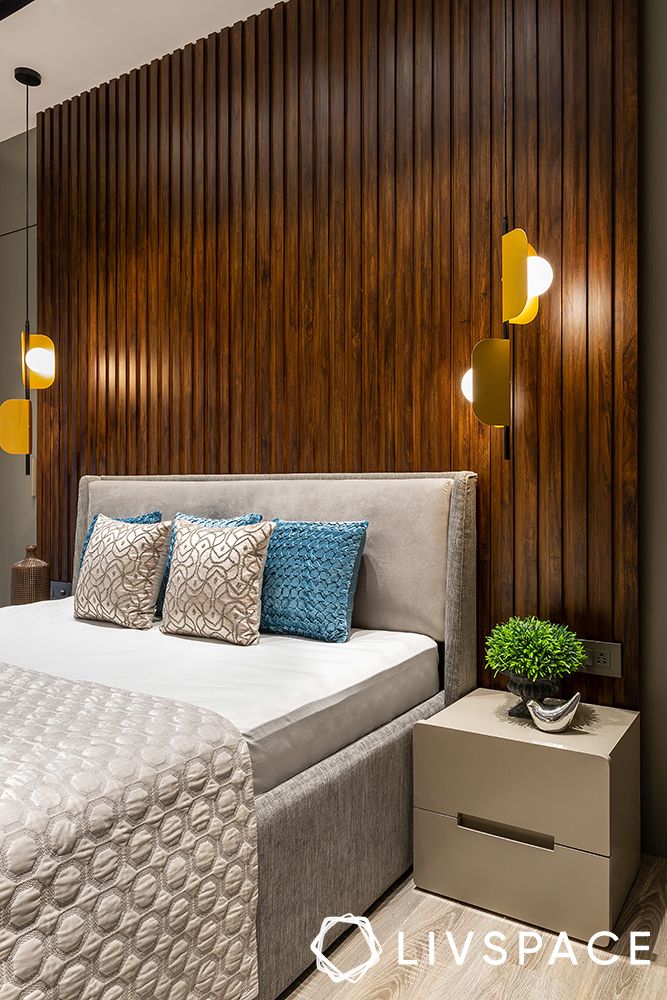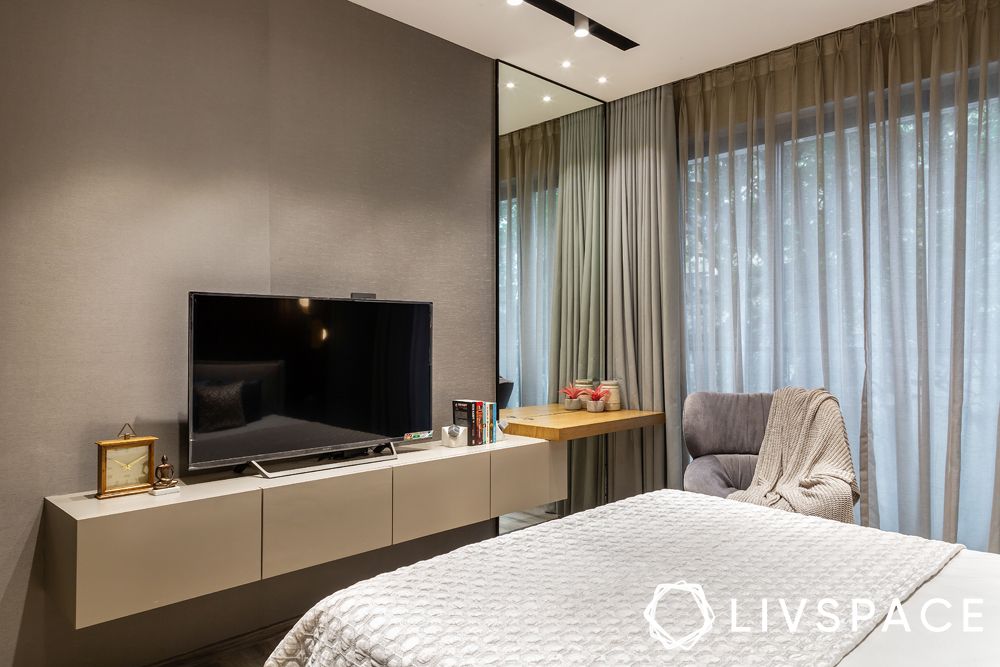 Gaurav is the oldest of the boys. He wanted a bedroom that looked like a swanky hotel suite – modern, plush and a little dark. Nishi ensured that his room was all that and more. The dark wood paneling gives this room a distinct focal point. The accent lights are equally modern and geometrical in shape. A sliding wardrobe and full-length mirror comprises the plush design of this room.
An Industrial Endeavour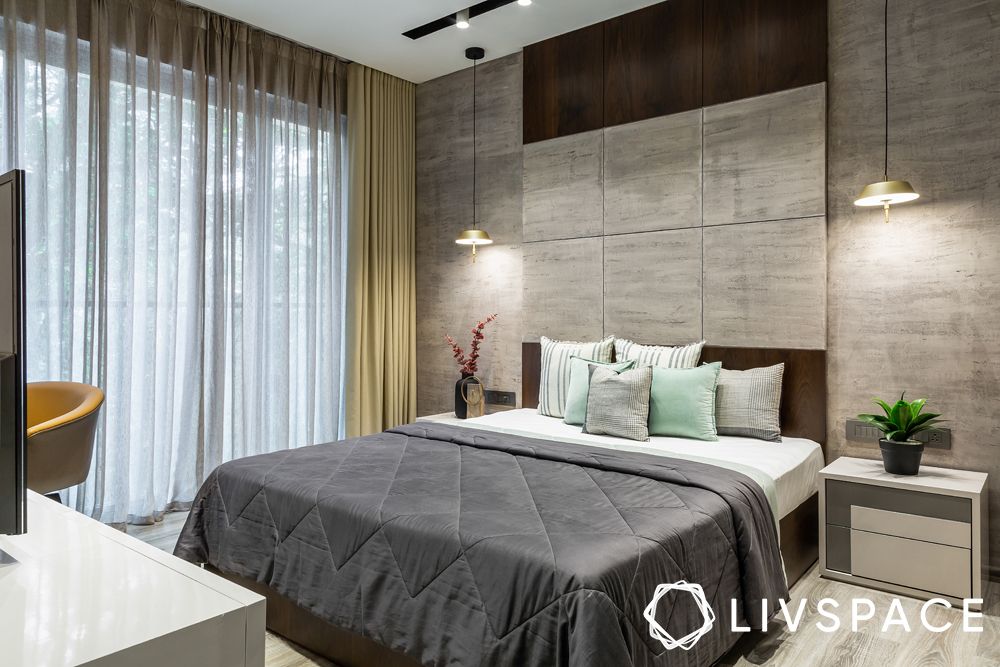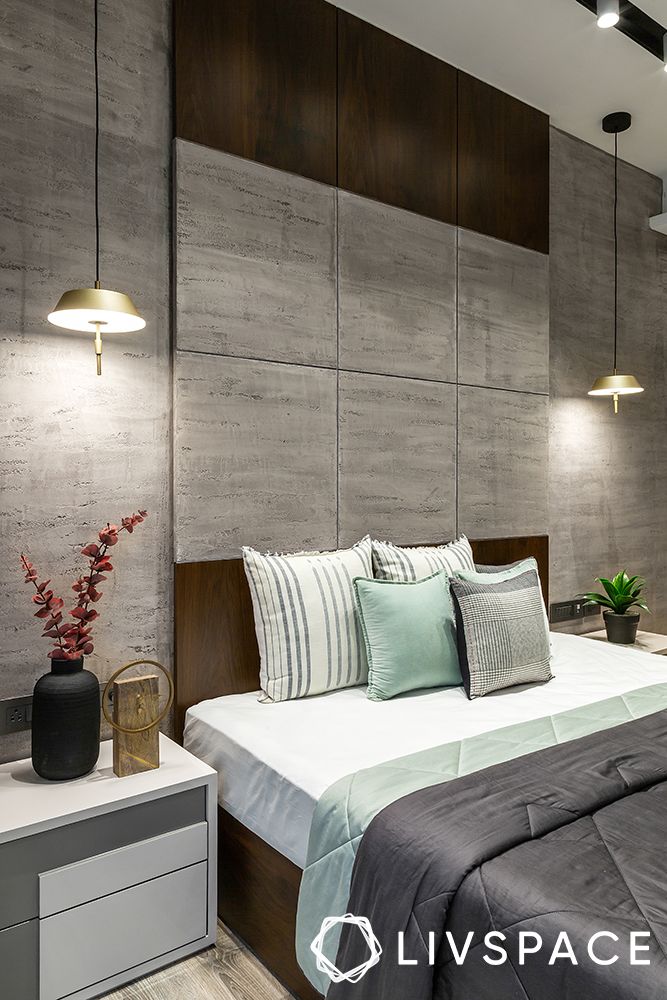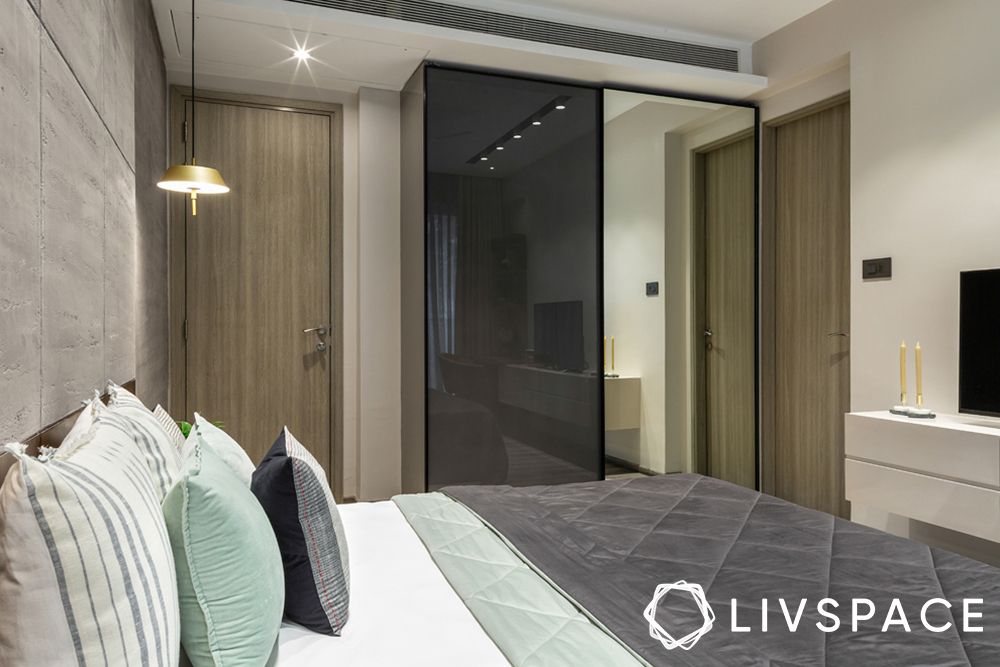 Roshan, the youngest member of this family, had his heart set on an industrial look for his room. He also wanted his love for all things grey to reflect in his room. The matte grey texture painted wall adheres to both his requests. His study unit too is a compact and rustic space with open ledges. A sliding wardrobe, half in PU and the other half in mirror, completes this room.
Yours Graciously, The Guest Room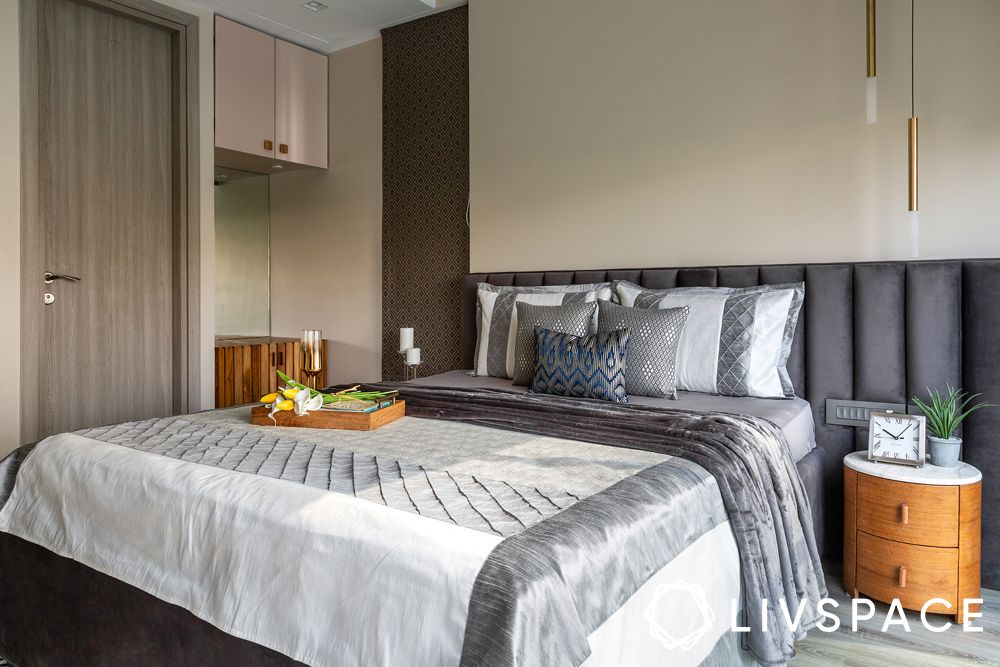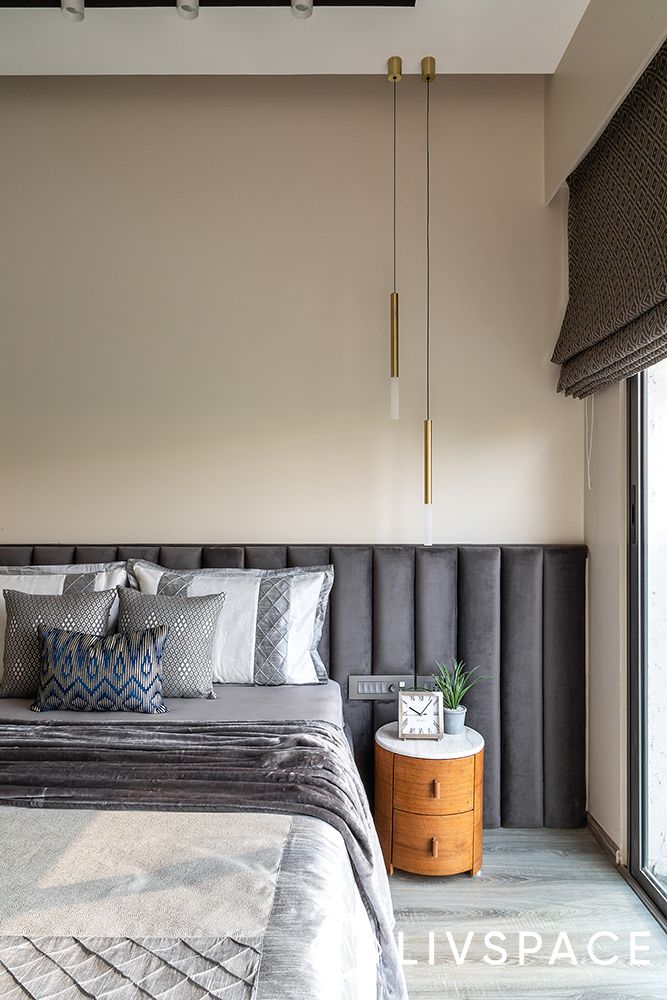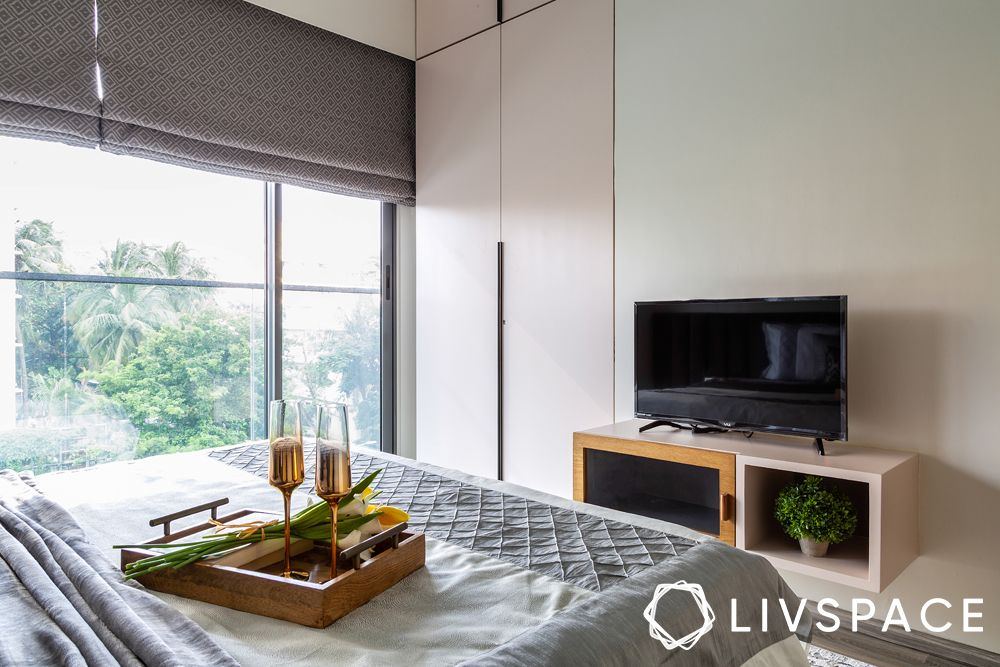 The guest bedroom is the simplest of the lot but by no means less pretty or functional. We love the extended headboard that cushions the wall. The PU-finish wardrobe here blends in with the wall giving it a seamless look. Also, the space given to unpack which seems like a rather sensible addition.
Designer Speak
Working with Rithu and Premnath was a sheer pleasure. They were intuitive and paid a lot of attention to the details of our design plans. The fact that they understood and agreed to most of our design suggestions made it very easy for us to deliver their home on time despite extensive customisation.

– Nishi Jain, Interior Designer, Livspace
If you love the luxurious interior design of this home just as much as we do, also check out this plush, tasteful, fresh and enviable Mumbai home designed by us.
Send in your comments and suggestions.