Top interior designers in Bangalore, deliver a cosy home!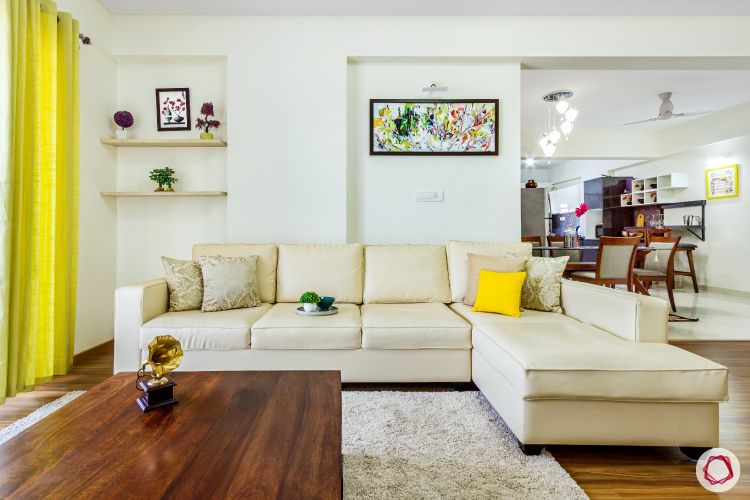 ---
Who livs here: Ankush Koul and Deepshikha Pandit
Location: Definer Hi Life, Bangalore
Size of home: 3BHK spanning 1,709 sq ft
Design team: Interior designer Nandhakumar Ramasamy and Project Manager Uma Maheshwari
Livspace service: Full home design
Budget: ₹₹₹₹₹
---
When Ankush Koul and Deepshikha bought a swanky new flat at Definer Hi Life, Bangalore, they agreed on one thing: they wanted an interior designer to help them create a picture-perfect home. So, when they were searching for top interior designers in Bangalore, they come across Livspace's website. And fell in love almost instantly!  
While their initial plan was just to get their living room and kitchen done, they decided to do their full home after being impressed with what they saw at our Experience Centre on Lavelle Road. A meeting with our designer Nandhakumar Ramasamy soon entailed. Their home now is a reflection of the couple's personality – happy and bright.
Nandhakumar ensured each room has the perfect ambience. Right from the classy entryway to the cosy study! Here's the tour.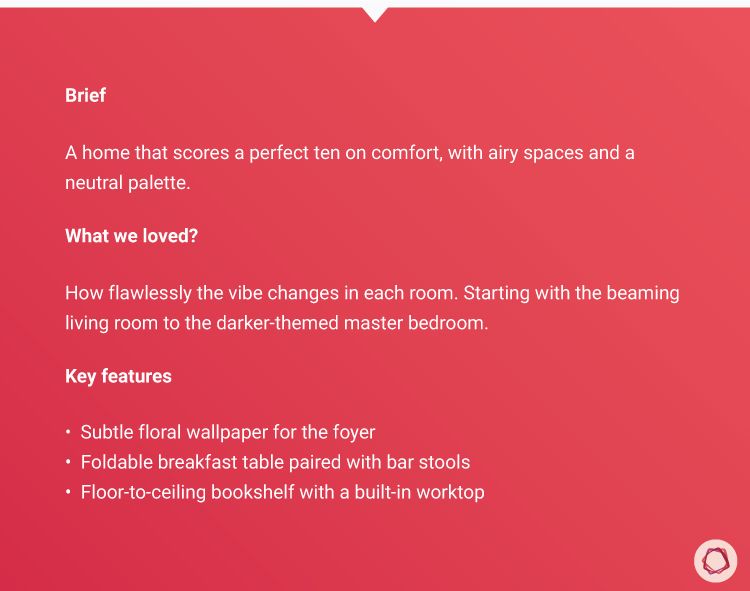 Elegant Entrance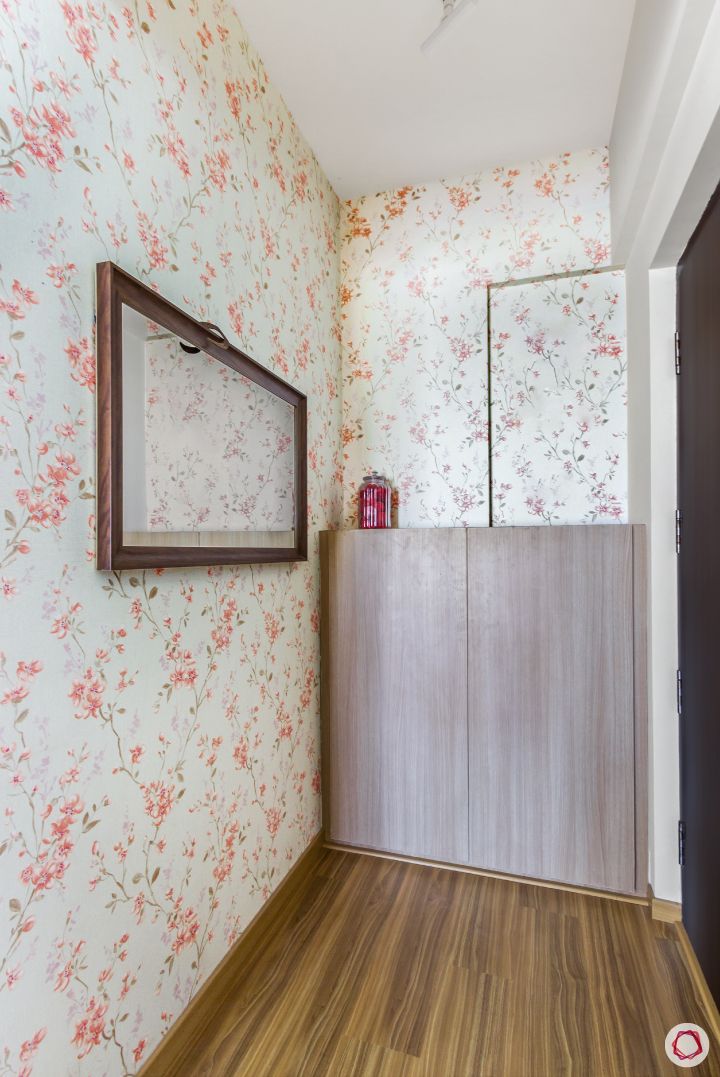 We love soothing entrances. And so does Ankush and Deepshikha! So Nandhakumar put in a subtle floral wallpaper all around to set an ambience as soon as you enter. Take a moment to notice how a lone wood-framed mirror adds a touch of softness to the place as well. In addition, a custom-made shoe cabinet in laminate grey complements the newly done up wooden flooring. 
Of Woods and Whites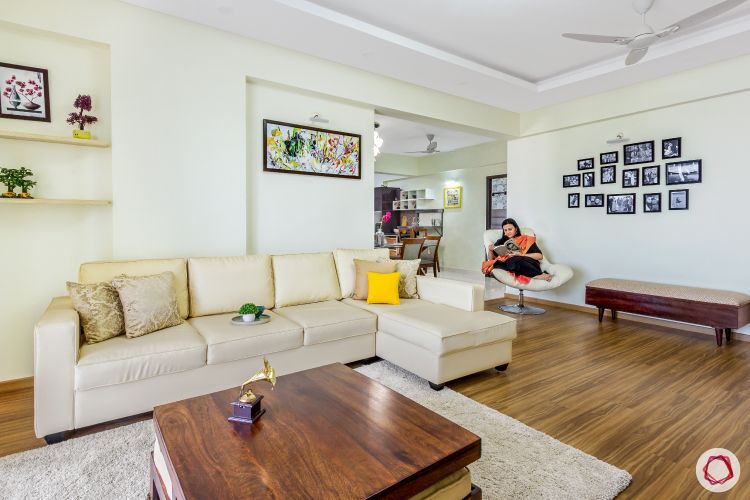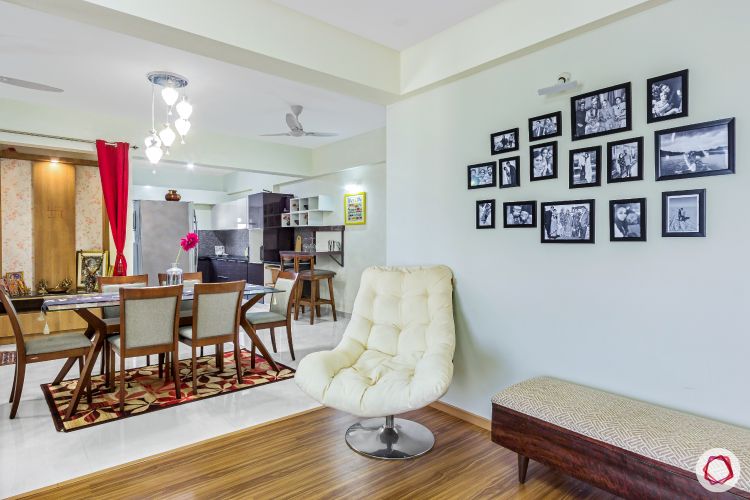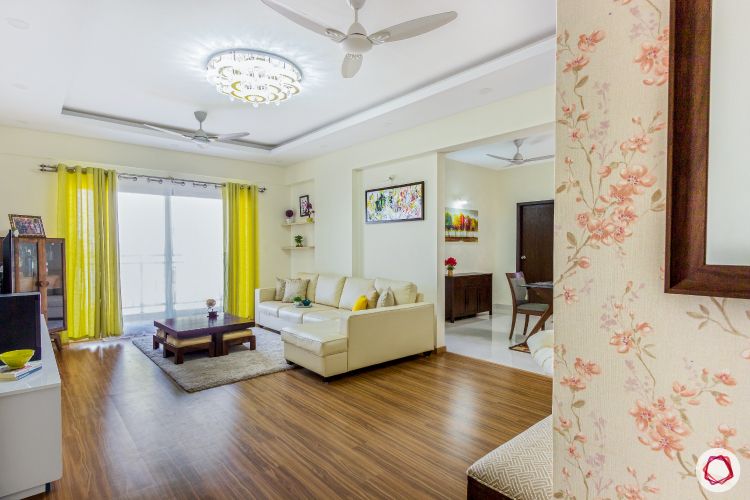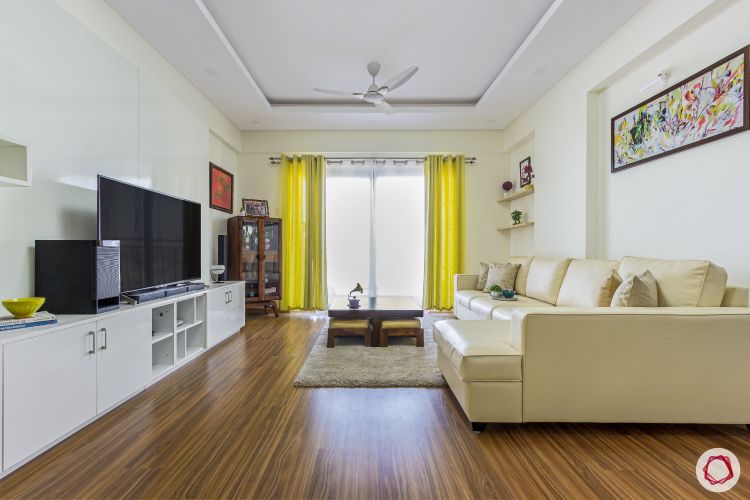 Comfy, airy and plenty of breathing space define this living room. "Ankush and Deepshikha wanted the living to be in white and wooden tones. So it's been designed in a breezy neutral palette," explains Nandhakumar.
We love how there's ample seating options without looking overwhelming. On one side, you have a beige L-shaped sofa and a coffee table with four seats neatly tucked under it. While on the other end, you have a single chair and a sleek cushioned bench under a photo gallery wall. 
The couple didn't want a bulky TV cabinet. As a result, Nandhakumar put in a low wide unit that doesn't take a lot of space. The white laminate element adds to the vibe of the room. Also, if you look closely, you would notice a white panel behind the TV unit. It adds a touch of elegance to the space. The pop of yellow for the curtains is refreshing among neutrals. Doesn't everything sit beautifully on the dark wooden flooring? 
Statement Dining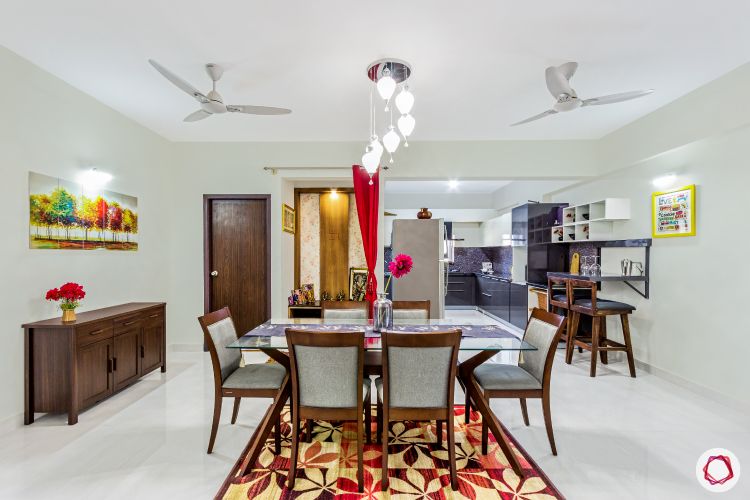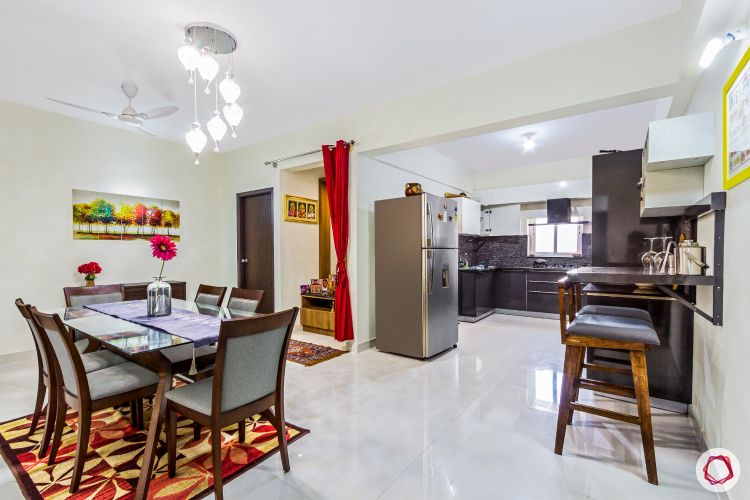 The dining room is all about making a statement with wood. The nook flaunts a glass top table paired with six chairs. Of course, the focal point is the accent light that centres the dining nook. A rug in hues of red and brown gives the space a touch of dimension. Besides this, Nandhakumar placed a minimal wooden buffet table.

A Classy Pooja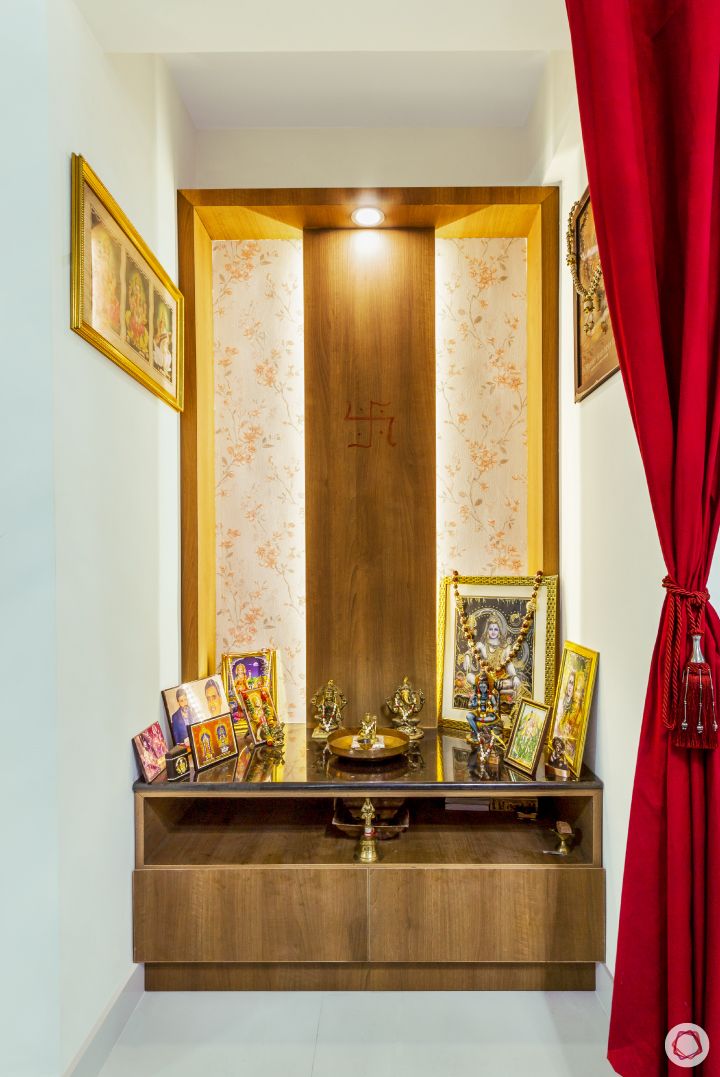 The divine corner of this home is the very definition of elegance. Standing in a wooden tone laminate, it flaunts the same subtle floral wallpaper from the entrance as a back panel. It's been fitted with cove lights to set the perfect ambience needed in your pooja. Featuring two drawers and a wide open shelf, the surface has been topped off with granite. 
"We are very happy with our designer Nandhakumar's work. Our home looks gorgeous! Right from the light-coloured living to our dark-hued bedroom, everything is cosy and comfortable. It looks and feels like a home now." 

– Deepshikha Pandit & Ankush Koul, Livspace Homeowners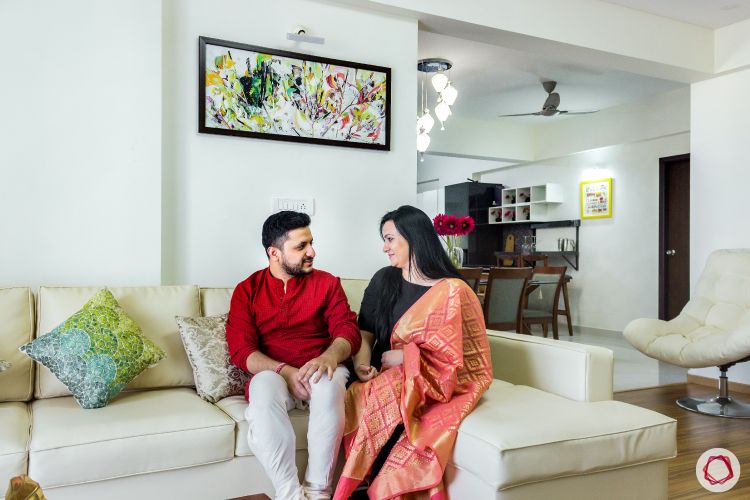 A Plush Kitchen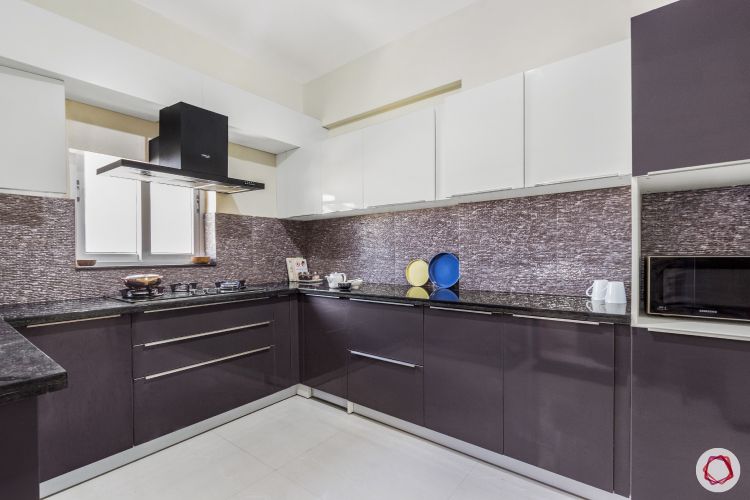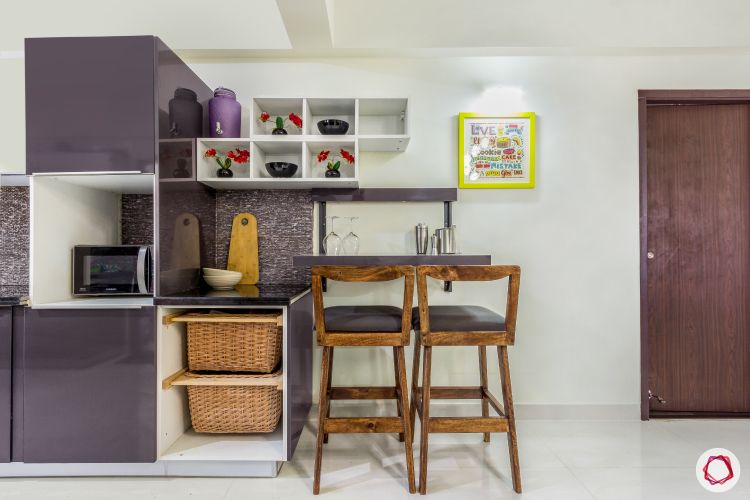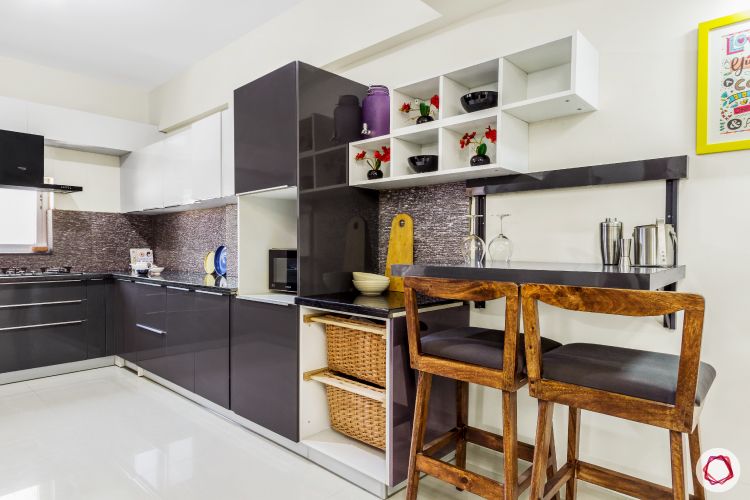 We love fuss-free kitchens. And that's exactly what this kitchen is all about. Dressed in slate grey and pristine white laminates, the open kitchen looks plush and bright. Thanks to its U-shaped layout, edge profile handles, and ample storage, the kitchen scores a perfect score in efficiency. While the countertop is in traditional granite, the backsplash flaunts light grey textured tiles. 
There's storage options all around. From the tall unit to wicker baskets and plenty of drawers, space has been optimised perfectly. The couple wanted a breakfast table as well. But Nandhakumar didn't want them to lose all that precious space by putting a regular breakfast table. As a result, he put in a foldable option that's paired with two bar stools.
Shades of grey for the bedroom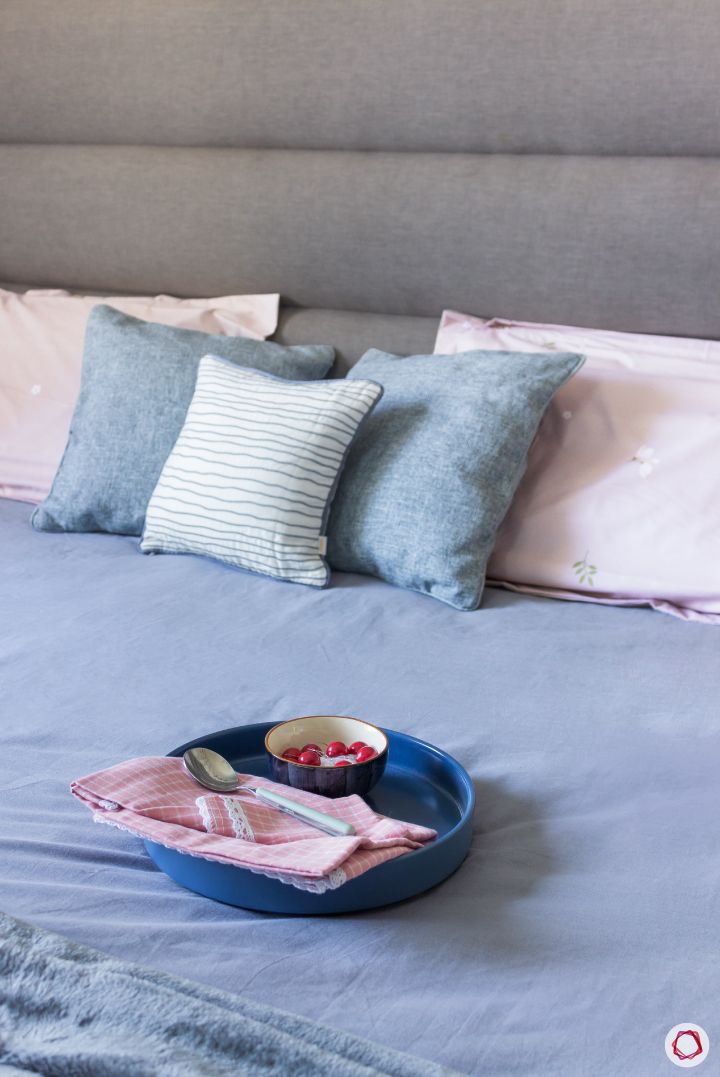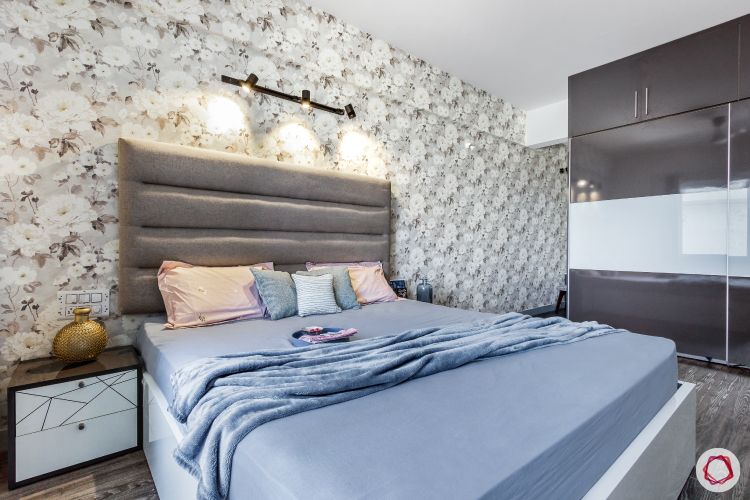 While the entryway and living stand brightly, the master bedroom is a different story. "We wanted a bedroom in hues of soothing grey," reveals Deepshikha. As a result, Nandhakumar placed a subtle grey floral wallpaper for the centre wall and a darker hue for the headboard. The bedroom is the couple's favourite part of the house. 
A hydraulic bed, side tables and chest of drawers have been placed after selecting it from our catalogue. The wardrobe stands out in the same headboard colour. In addition, a lacquered glass panel runs along the centre of the wardrobe. 
Notice how the flooring matches with its surroundings? This is thanks to a light grey vinyl sheet placed over the flooring.  
Wooden Warmth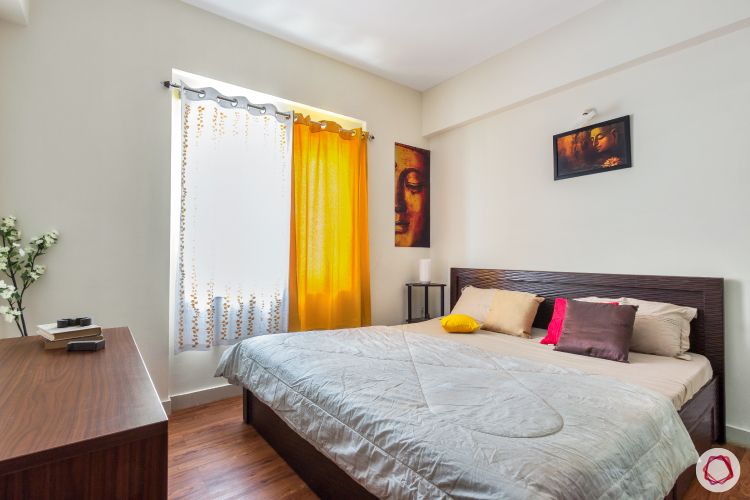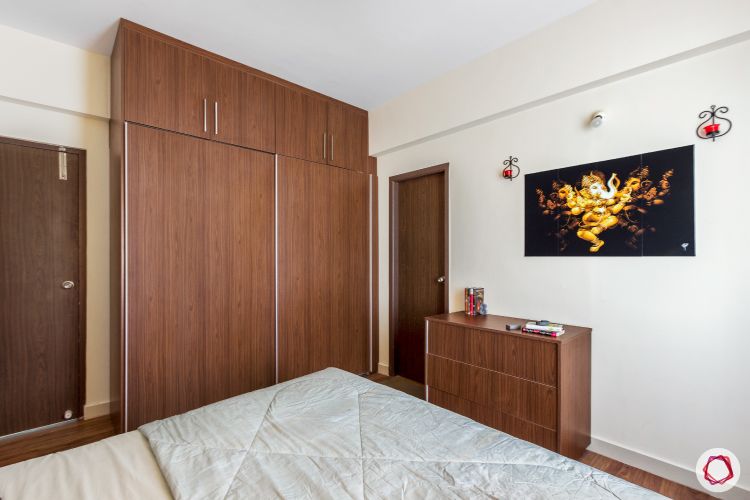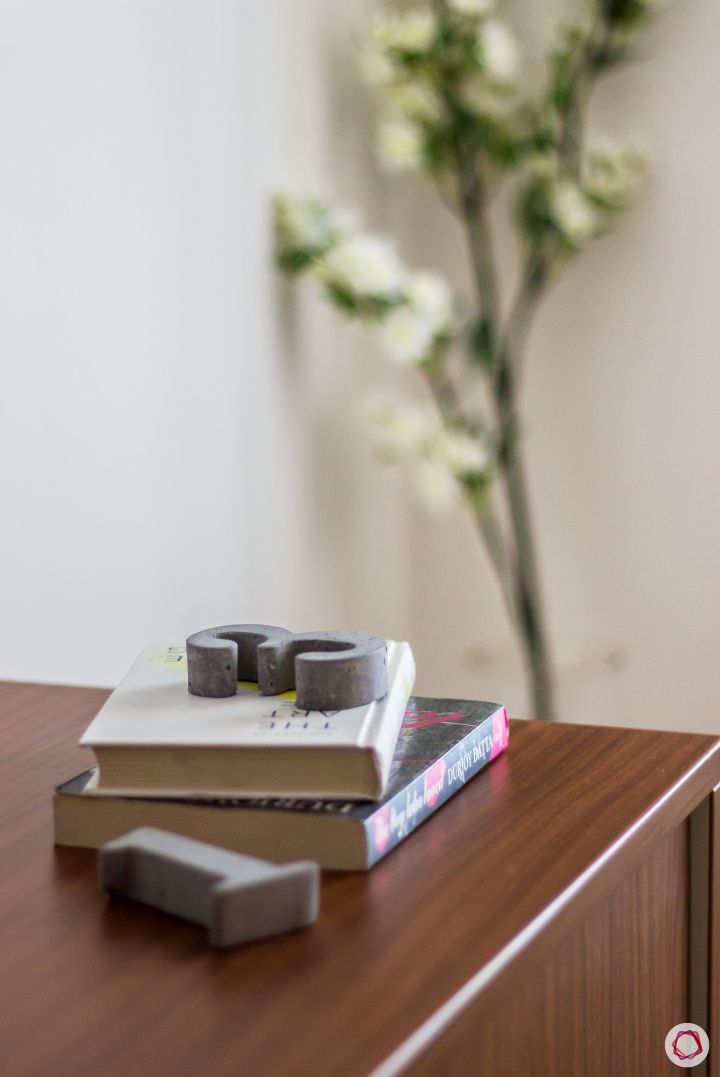 Something about wooden interiors always makes a space inviting and cosy. Just like this bedroom. Deepshikha's parents room is an ode to traditional wooden interiors. From the chest of drawers to the laminate wardrobe with lofts on top and the bed itself, everything is in a beautiful dark wooden tone. Moreover, the flooring has been done up in the same dark hue to match with its surroundings. We love how the pop of yellow for the curtain enhances the vibe of this room. 
A Reader's Favourite Nook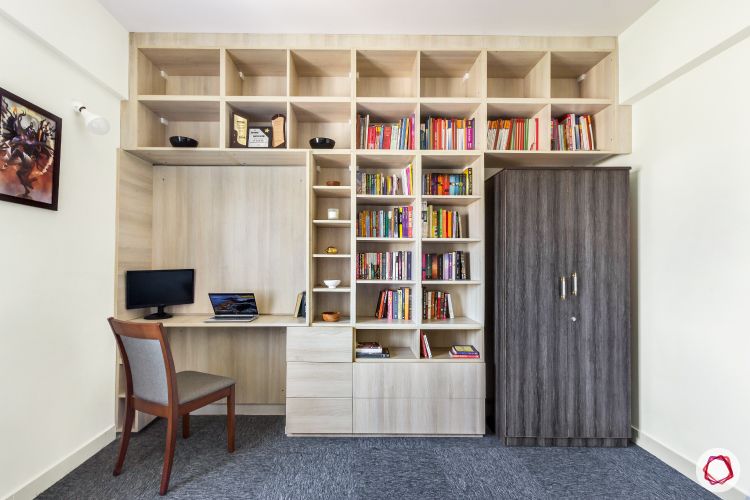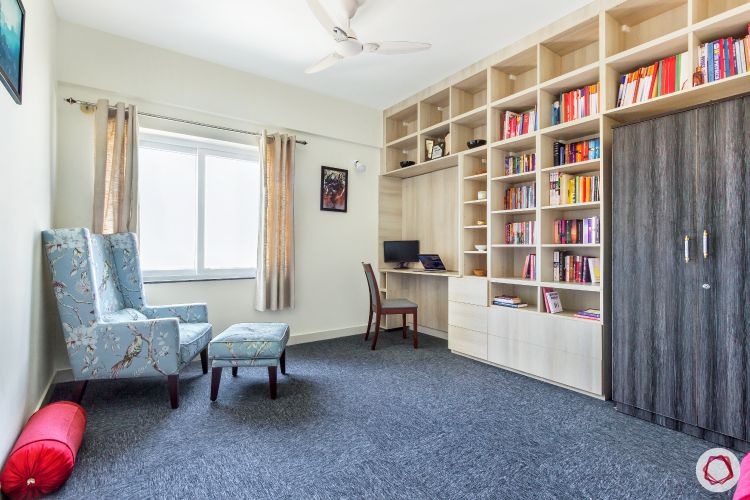 Who wouldn't want to sit back in this powder blue armchair and snuggle with a book? Being an ardent reader, Deepshikha loves spending time in the study. Of course, the highlight of the study is the floor-to-ceiling shelf that can house pretty much anything. Flaunting plenty of open shelves to stack books and collectibles, the unit also features drawers as a storage option. On one end, you have a worktop where you can comfortably do your things. And, on the other end, Nandhakumar crafted the right space for the couple to fit an existing wardrobe. 
Because the flooring has been done in carpet, the couple can even prop on the ground with a book or a hot cuppa.
"From a designer's point of view, this was a dream project. I was given complete freedom to experiment with designs and it was an absolute pleasure working with Ankush and Deepshikha."

Nandhakumar Ramasamy, Interior Designer, Livspace
Also, if you enjoyed this home tour designed by top interior designers in Bangalore, take a look at Stylishly Minimal 3BHK by Livspace. You could also check out other Bangalore homes we've done. 
Send in your comments & suggestions.