The COVID-19 pandemic has completely changed our plans for the year, and consequently, the decisions we need to take. For those of us waiting to move into our new homes or get home interiors done, you probably feel that your plans have been derailed or think of home interiors as an indulgence you cannot afford. We at Livspace have channelled the same concerns as you and have been coming up with ways to ease the process on new homeowners.
Livspace Advantage is the answer to a situation like this. It's a simple plan to help you get all the essential interiors so that you are ready to move in quickly and get the interiors you need within budget.
Livspace Advantage's all new budget-friendly offers are perfect for new homeowners who are feeling the pressures of the pandemic – in terms of finance, ease and safety. It covers a home's most essential fittings – think kitchen, wardrobes and storage units.
In a nutshell, with Livspace Advantage, you:
Get the essentials: This way you can concentrate on getting only the absolute essentials of your home decor done first (so it's ready to move in) and get the rest of your interiors bit by bit later as is convenient for you. We're talking about kitchen cabinets, wardrobes, TV unit, study unit, foyer unit and shelving – convenient, right?
Get express delivery: You also don't have to worry about delaying your moving in as we're providing express delivery for our projects.
Get budget-friendly home interior packages: If you are concerned about having to spend a lot on your dream interiors, fret not! Our packages cover what's absolutely essential for you, so that it's lighter on the pocket.
Let's look at some of the burning questions you may have:
What's the bare minimum required to move into a home?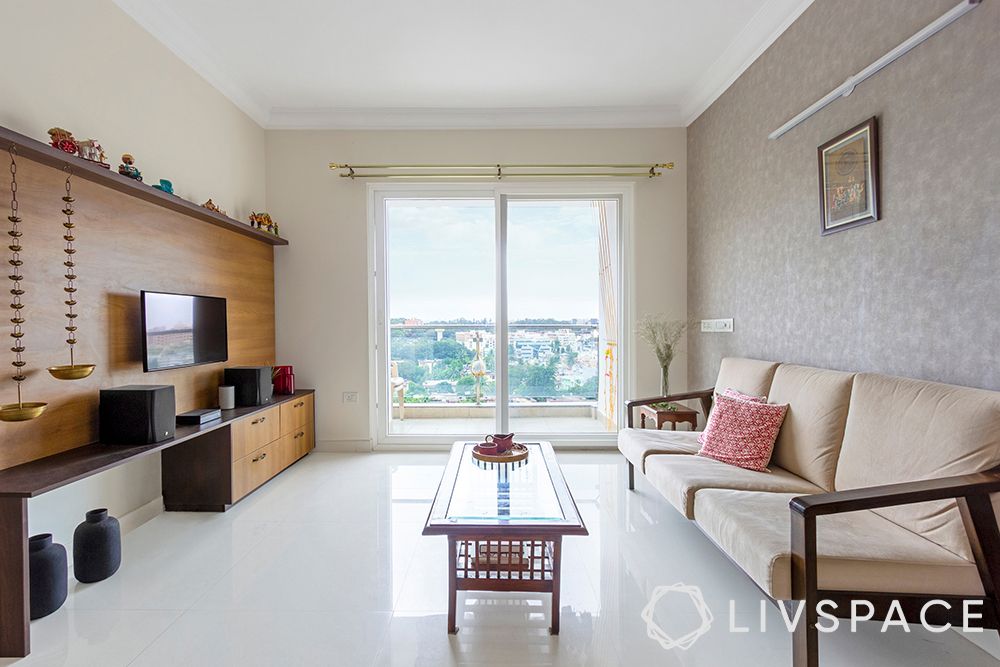 A Livspace home is designed to be functional and cosy above all, no matter what the budget. Similarly, our new and budgeted homes, too, celebrate a practical look with timeless staples that are absolutely essential for every home. And modular storage units are at its core. It covers a variety of essential storage units like kitchen cabinets, wardrobes, TV unit, foyer unit, study unit and shelves, designed to fit into any space.
What makes them great and better than traditional units are that they are budget-friendly bespoke units that can be unassembled and easily transported in case you need to move to another home.
Highlights of Livspace Advantage
Our packages cover the basics of everything you will need for a new home in pocket-friendly ranges. Our kitchens start at prices as low as ₹1 lakh! You can then go on to build your interiors with decor and furnishings or keep it functional as it is.
How does Livspace ensure a safe experience?
To guarantee safety of all our customers, we do online consultations and minimum contact installations in just 45 days! This way, you can avoid frequent visits to the site and meetings with carpenters and other stores
Here's a checklist of the basic modular fittings you need for your new home
Modular kitchen with storage
Wardrobes in some or all rooms
TV unit for the living room
Study unit or vanity unit
Bathroom storage
Shoe rack or foyer storage unit
Crockery unit
Mandir unit
We have a wide variety of materials and finishes to choose from as well. All storage modules come in MR Ply, MDF or BWR (Boiling Water Resistant Plywood) in frosty white or laminate finish.
Furthermore, we understand that not every home is a blank canvas for a designer and homeowner to work on. Therefore, we've included these additional services as finishing touches to a flawless design such as false ceiling for sufficient light, safe and sturdy tiling, necessary plumbing for the kitchen and bathrooms, electrical fittings and basic painting.
How do I get these essentials?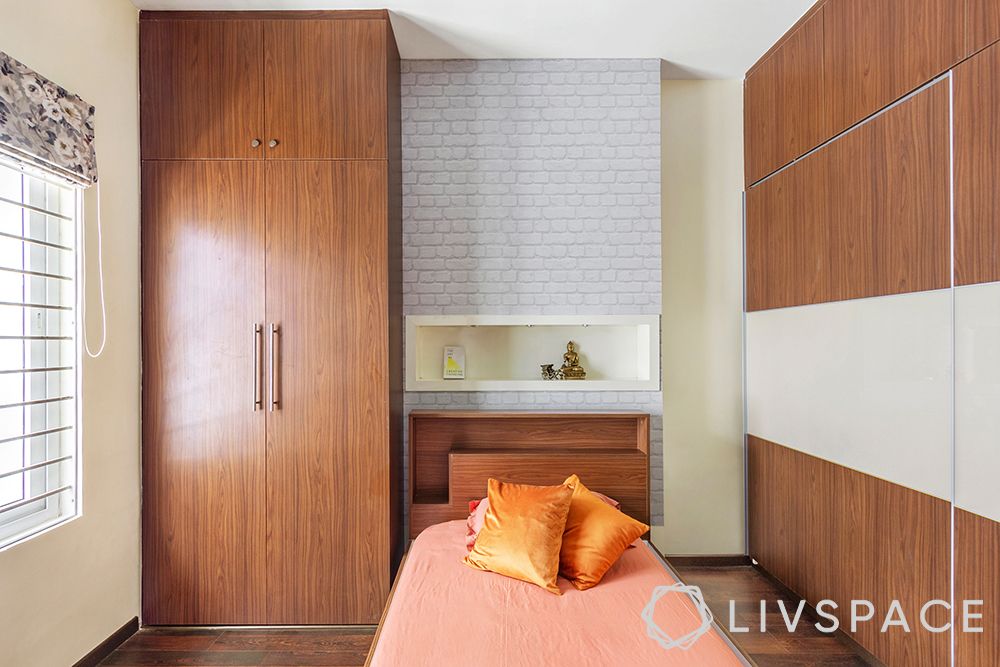 The booking process for Livspace Advantage's essential interiors is planned to provide faster and better services for homeowners who are looking to move into their new homes quickly. Once you sign up for an enquiry, you will be briefed on all the available offerings to find the most suitable option for you.
How long will this take?
Day 1: The process starts with a 15-30 minutes briefing call with a Livspace studio partner.
Day 2-3: Explore a wide variety of looks and products that will determine the estimate of the project. Finally, you will then have an option to visit our experience center or opt for a personalised walkthrough of the proposal.
Day 3-5: By now you will have a rundown personalised 3D design through an online consultation or in-person proposal. You can then get a clear picture of the final design, quote and timelines.
By Day 5-7: Complete the booking process by paying an amount of ₹9,900 only!

How can I rely on the quality?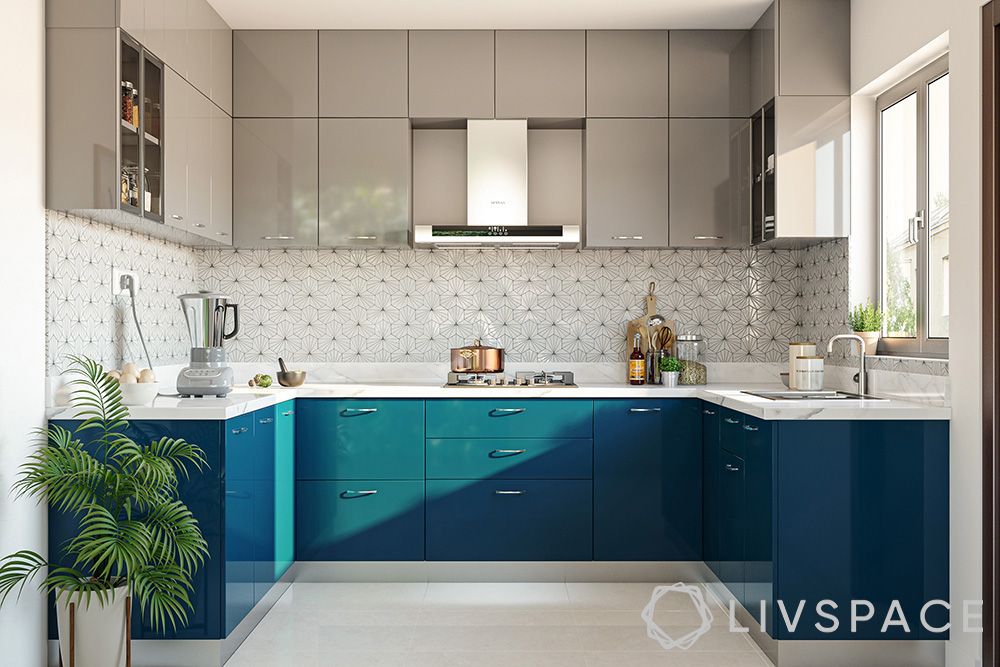 Livspace takes a number of measures to ensure the best of quality so you get a bang for every buck! We have 146 quality checks in place for this.
Almost all kitchens, wardrobes and living rooms require durable storage modules.
These modules are termite and borer-proof, making this low maintenance and long lasting
They are made of 11 layers of veneers for durability and strength
All storage modules come with soft close hinges and drawers, giving you a seamless and convenient experience
Products and modules are hand-picked by designers to ensure low prices while retaining high quality designs
When can I move in?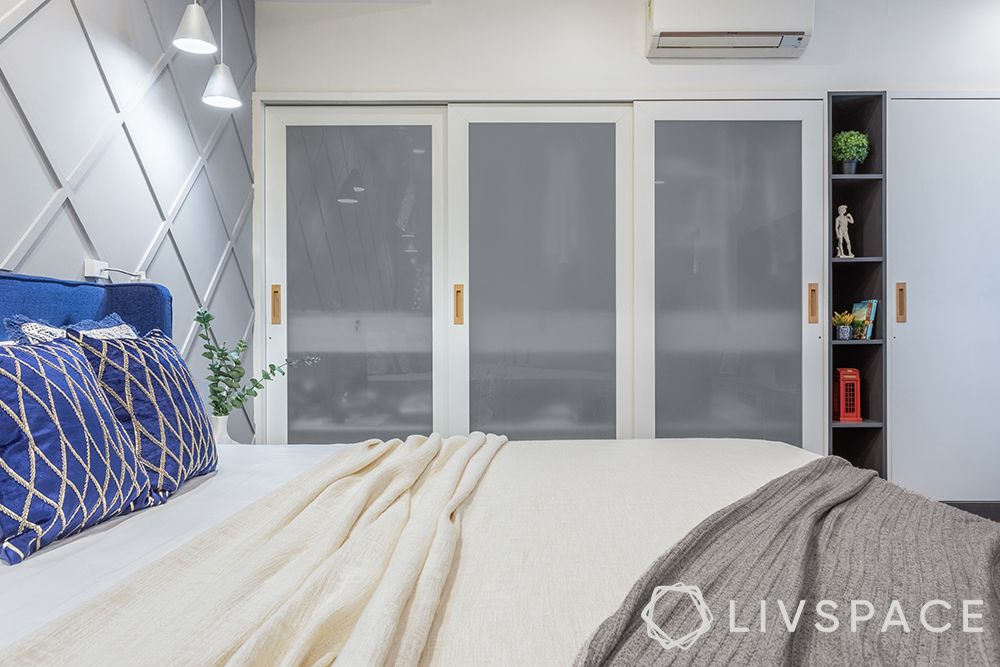 Livspace Advantage ensures that your home is completed in 45 days.
Moreover, the design comes with a 10-year product warranty and 100% fulfillment of Livspace Quality Promise. If you want to know more about home essentials, find out What is a Modular Kitchen & How Much Does it Cost?
Send in your comments & suggestions to editor@livspace.com