Wall design is more than an exercise in aesthetics: It involves a substantial amount of time and cost. So, whether you choose modern wallpaper designs for rooms or paint them in the old-fashioned way, you need to make sure that your decision is an informed one.
As we are predominantly addressing Indian homeowners like you, it makes sense to understand what are the types of wallpapers used in India. Unlike in the West, where the types of wallpaper are often used across the house, Indians typically use wallpaper types to create accent walls. This aesthetic choice impacts the availability, price and cost-effectiveness of wallpaper types in India.
If you have any questions related to wallpaper ideas for your rooms, we have got you covered! Let's begin by checking out the types of wallpapers available in India.
What Are the Types of Wallpaper Designs Available in India?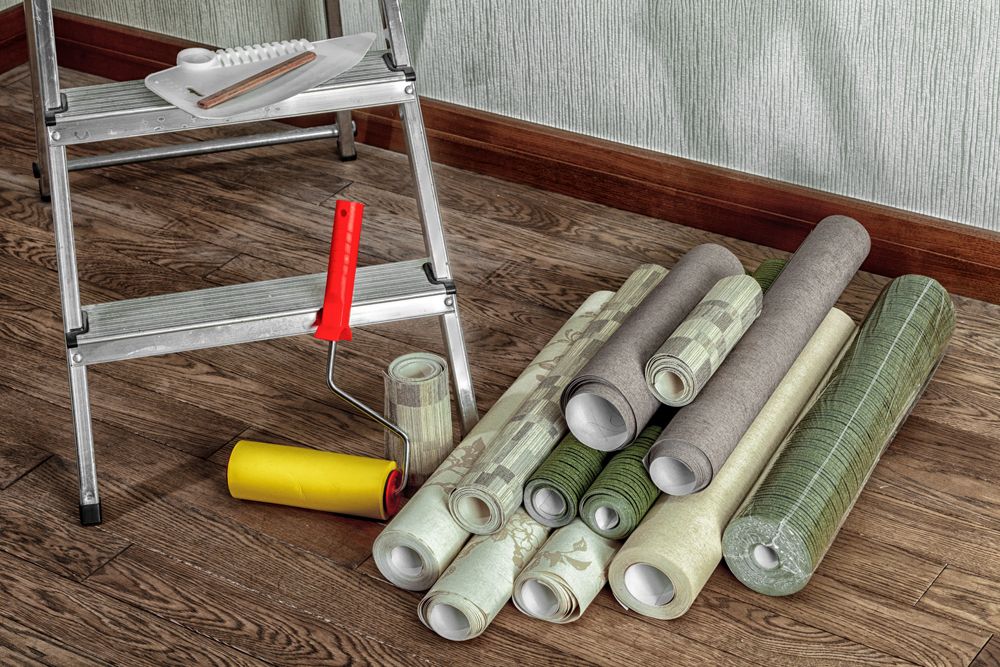 #1. Paper Wallpaper for Rooms
Among the different types of wallpaper, this is the most common one. For paper-based home wallpaper, a decorative design is printed over a paper base. The sheet may or may not have a top coating to seal the design. It's cheaper in comparison to other types of wallpapers and is the most obvious choice for wallpaper for living room.
#2. Paper-Backed Vinyl Wallpaper for Rooms
The base paper here has liquid vinyl coated over it, on which the design is printed. It is often wipeable, resists moisture and is affordable too.
#3. Non-Woven Wallpapers for Rooms
This wallpaper type is composed of natural or synthetic fibres that give the final design a sophisticated appearance. These are easy to apply as well as to remove but are expensive in comparison to the first two types of wallpapers.
#4. Solid Vinyl Wallpapers for Rooms
For this type of wallpaper, a solid sheet of vinyl is applied over a paper or fabric, and the design is printed over the vinyl sheet. This makes the wallpaper more durable and washable.
#5. PVC or Coated Vinyl Wallpapers for Rooms
As one of the most affordable wallpaper options for walls, this type is moisture-resistant because it's essentially a layer of acrylic sprayed on or coated over a paper base. However, the designs for these types of wallpaper won't have a refined finish.
Also read: Wallpaper Ideas To Transform Your Dining Experience
#6. Fabric Wallpaper for Rooms
If you are looking for an alternative type of wallpaper for your house, fabric is a unique option that you can consider. It will Either be a fabric-based wallpaper with the design printed over it or fabric-backed one that has a vinyl layer with the design on it.
Livspace Recommends
#7. Fibreglass Wallpaper for Rooms
One of the most durable and environment-friendly wallpaper options is fibreglass wallpaper. Wallpaper made of fibreglass is a type of cloth made using fibreglass. Dolomite, soda, silica sand, and lime are all natural products that are produced using fibreglass.
#8. Liquid Room Wallpaper Designs
Similar to paints, liquid wallpapers are water-based options for decorating your room's interiors. They are made from environment-friendly components including plant fibres, glues, additives, etc. They don't contain any poisonous or harmful compounds, hence, completely safe for your home.
#9. Bamboo Room Wallpaper Designs
Wallpapers made from natural bamboo are handmade wallpapers, hence, completely natural. They are made from natural, environmentally friendly materials. Bamboo wallpapers are made using sticking vines or reeds of bamboo on glue-backed paper.
#10. 3D Wall Wallpaper Designs
3D wall wallpaper designs use "indented" rectangles to provide small-scale, condensed look. Designers can get that delicate 3D effect by shadowing the top left corner of the rectangles that gives the illusion of depth with its concave look. They are amazing, décor-enhancing elements for any room in your home.
#11. Brick Wallpaper Design Ideas
Exposed brickwork is a popular and an inherently attractive style if you're looking to add a rustic charm to your home. It offers a texture and burst of colour that a paint or normal wallpaper cannot.
#12. Natural/Floral Room Wallpaper Designs
Natural wallpapers are one the most popular wallpaper options across India. Floral wallpapers have been a part of room decor from ancient times. Not only these wallpapers are easy to find, but also make one feel more connected to nature.
#13: Photo Wallpaper Designs for Rooms
Photo wallpaper designs can also be called custom wallpaper designs. You can get your picture or any picture of your choice customised as a wallpaper. They are widely used to create accent walls.
#14. Black Wallpaper Designs for Rooms
Black wallpaper stands out in contrast to light wallpapers; it is the first thing you see when you enter the room. Dark hues have a tendency to be more dramatic when it comes to changing the mood of the room.
Why Should You Consider Wallpaper Design Ideas for Home?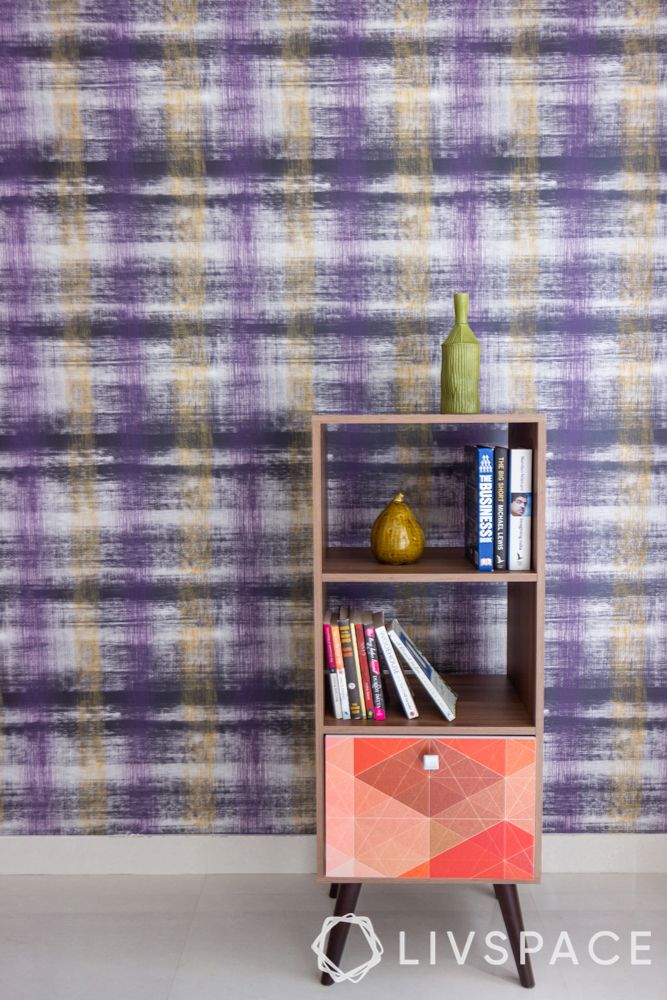 1. Applying Wallpaper for Rooms is Quick
Beautiful wallpapers can be applied really quickly. Covering your walls with beautiful wallpaper is a job that can be done within a couple of hours. This is a sharp contrast to paint, which takes time to apply, requires several coats and also takes time to dry.
2. Opting for Wallpaper for Rooms Is Also Cleaner
Unlike during painting, your house won't smell or be covered in dust after applying wallpaper. Technically, you don't need to move your furniture, cover them with plastic sheets or move out for a day to apply wallpaper to your walls. It's a cleaner process than painting.
3. Wallpaper for Rooms Can Give an Instant Makeover
It gives your home an instant makeover. All it takes is one striking wallpaper to change the entire look and feel of your room. The effects are decisively instant.
Also read: 8 Out-of-the-Box Ideas to Dress Up Your Walls
Modern Wallpaper Designs for Rooms Or Paint: Which is Better?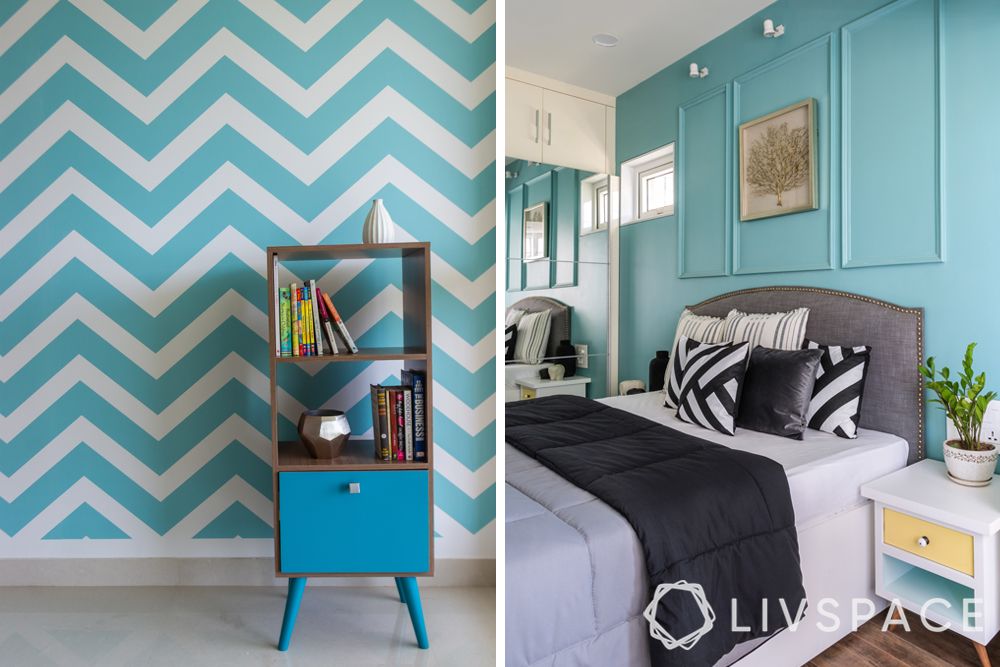 Both paint and beautiful wallpapers have their own pros and cons for Indian walls. One of the important aspects to consider specifically pertaining to India is heat and moisture.
You cannot use a wallpaper design for home walls that have proximity to moisture or too much heat (like the walls near the kitchen or bathrooms). Moreover, if you are living in a hot and humid climate like Mumbai, you might want to consider paint for areas that get plenty of sunshine. Even the best wallpaper for walls doesn't stand heat.
For a complete breakdown of the pros and cons of high-quality paint vs. best wallpaper for walls, click here.
Why Should You Choose Wallpapers for Your Home?
#1: A Good Wallpaper Design for Home Can Make Rooms Look Larger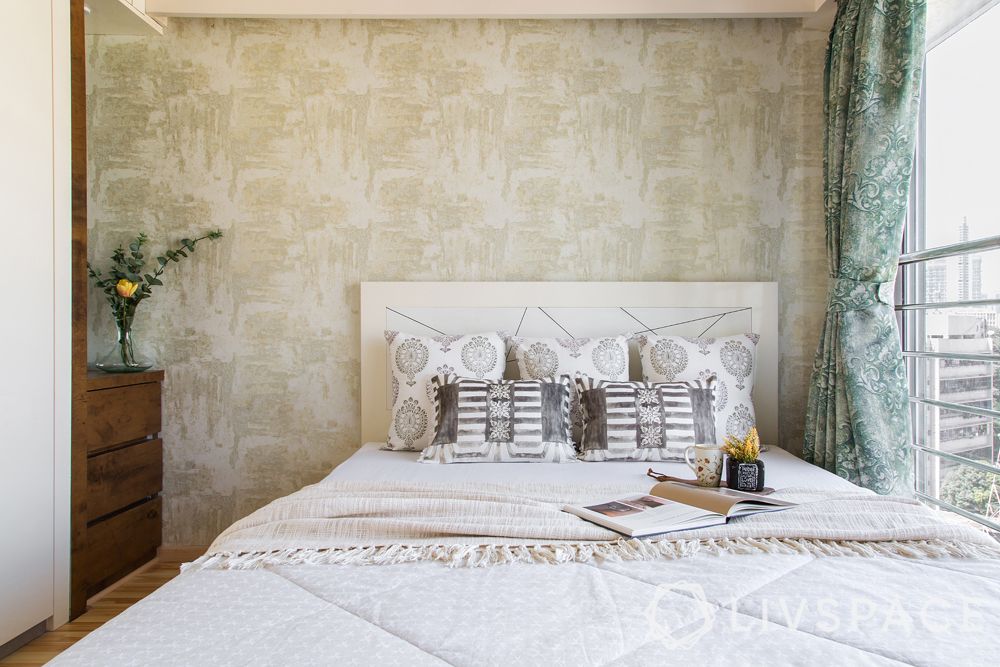 A neutral wallpaper for bedroom design is a good choice when you have a small room. A wallpaper that has lighter colours and subtle patterns can make a room look larger than it is. Abstract or diffused wallpaper for bedroom tends to give compact spaces an air of roominess.
#2: A Wallpaper for Home Walls Helps Brighten a Space
You can make a dark passageway or cramped corner look well-lit if you choose the right wallpaper for that room wall. Consider a colourful wallpaper for that home wall. Pick a shade that reflects light instead of absorbing it. Pastels and whites are excellent for bringing a sunny disposition to dark spaces.
#3: A Wallpaper for Home Walls Can Hide Flaws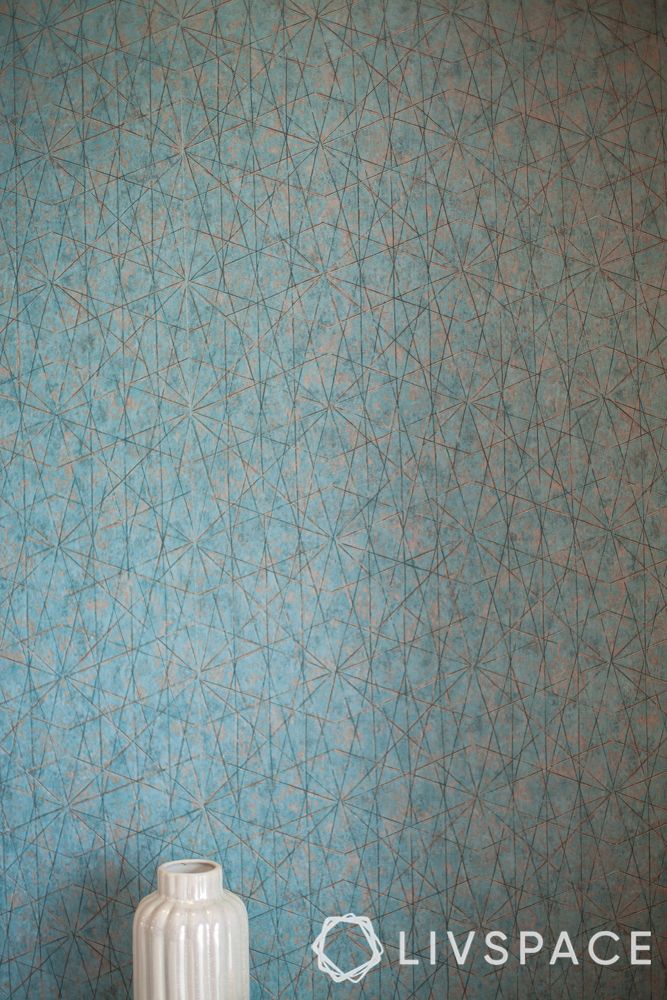 If you are looking for the best wallpaper for room wall in India, choose texture. Texture, both real and perceived, can help hide undulations on the wall or architectural flaws. For instance, this wallpaper for living room with its 3D effect pattern covers up the dents on the wall beautifully. Paints typically don't work in this regard unless you sand the wall and cover imperfections with putty.
#4: A Wallpaper for Home Walls Adds Dimension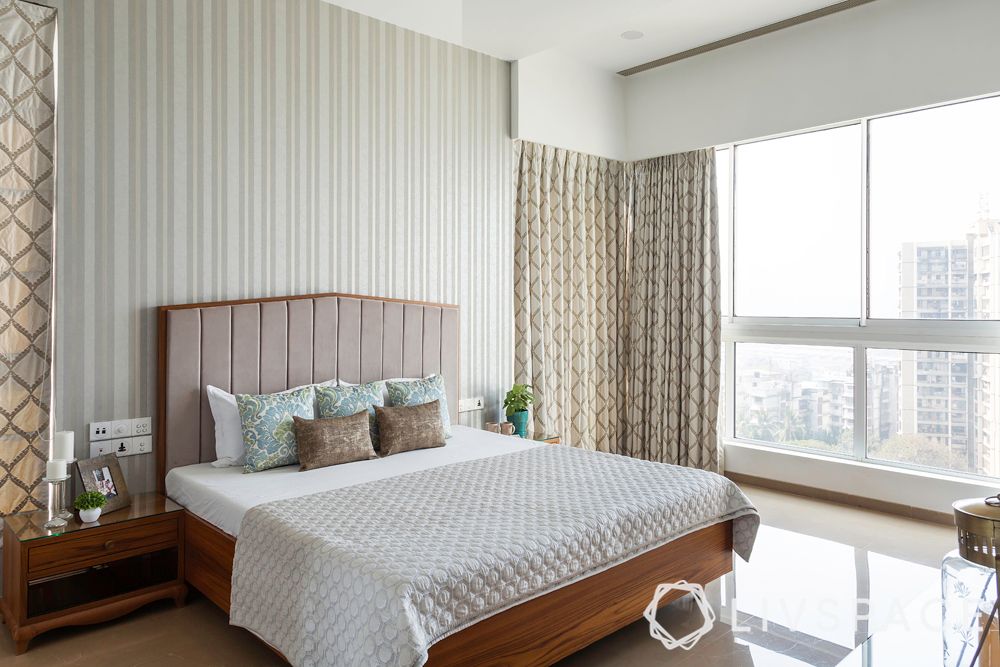 Vertical lines tend to make the ceiling look taller than it is. Naturally, a wallpaper for bedroom design with repeating vertical lines is an excellent way to make spaces look taller. Wallpaper for bedroom designs can be monochrome or in contrasting shades.
#5: A Wallpaper for Home Walls Can Segregate Space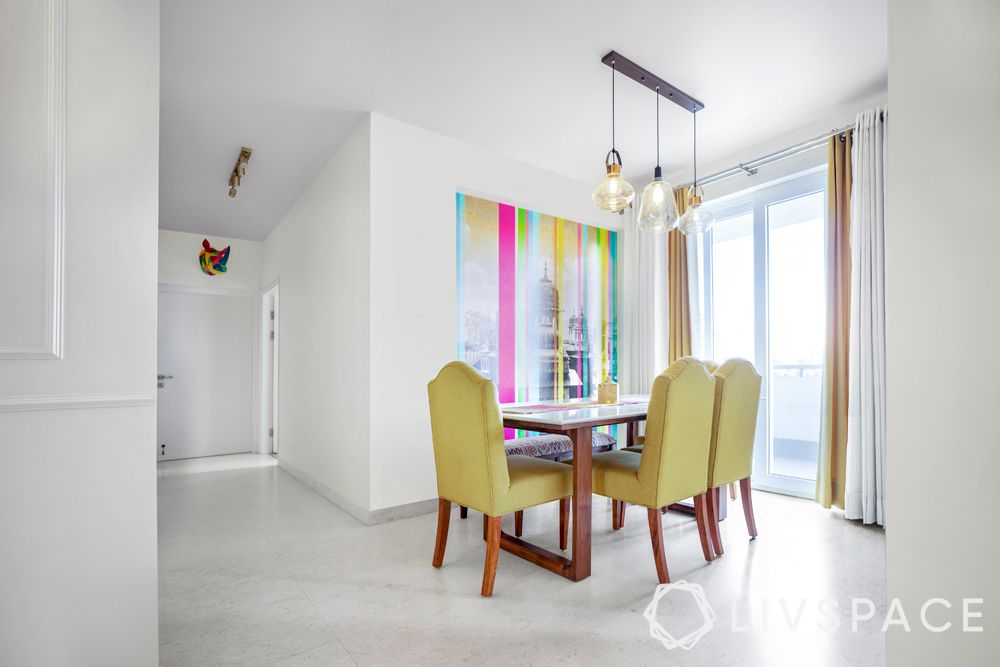 Beautiful wallpapers for living room can be used effectively to segregate space without adding physical dividers. And unlike dividers, they do not consume floor space. If you're wondering how to choose wallpaper for living room, take a cue from here.
#6: A Wallpaper for Home Walls Sets the Tone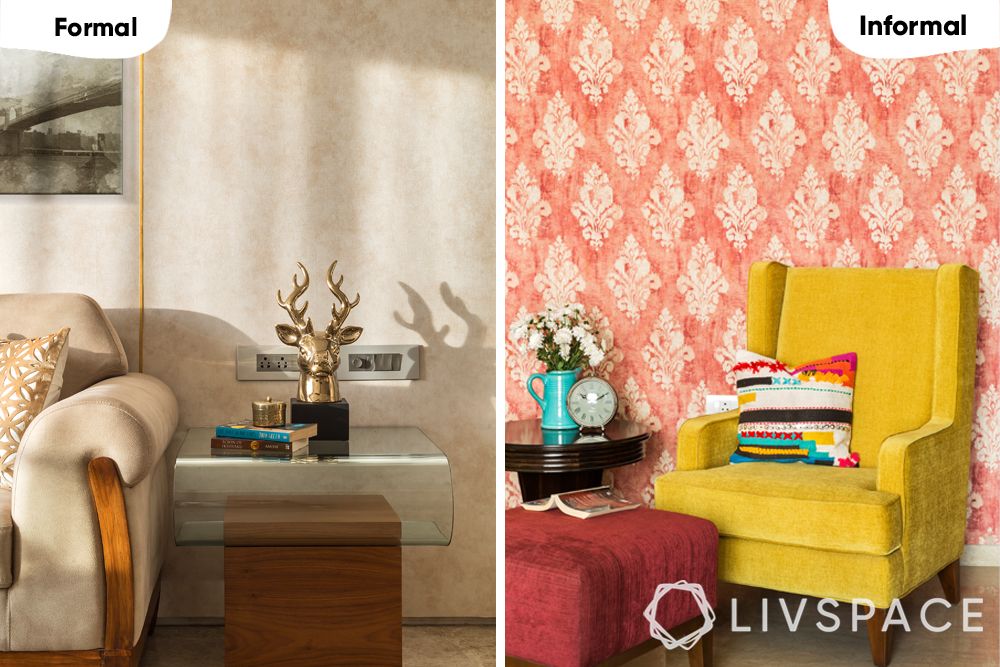 A plain wallpaper design or ones with very subtle patterns can give your space an air of formality. Similarly, a bright wallpaper with geometric patterns or block prints can make a room appear casual and informal instantly.
So, how to choose wallpaper for the living room? As there are different wallpaper types for every kind of room, choose wallpaper for the living room based on the theme you'd want it to reflect.
#7: Wallpaper Designs Are Not Just for Walls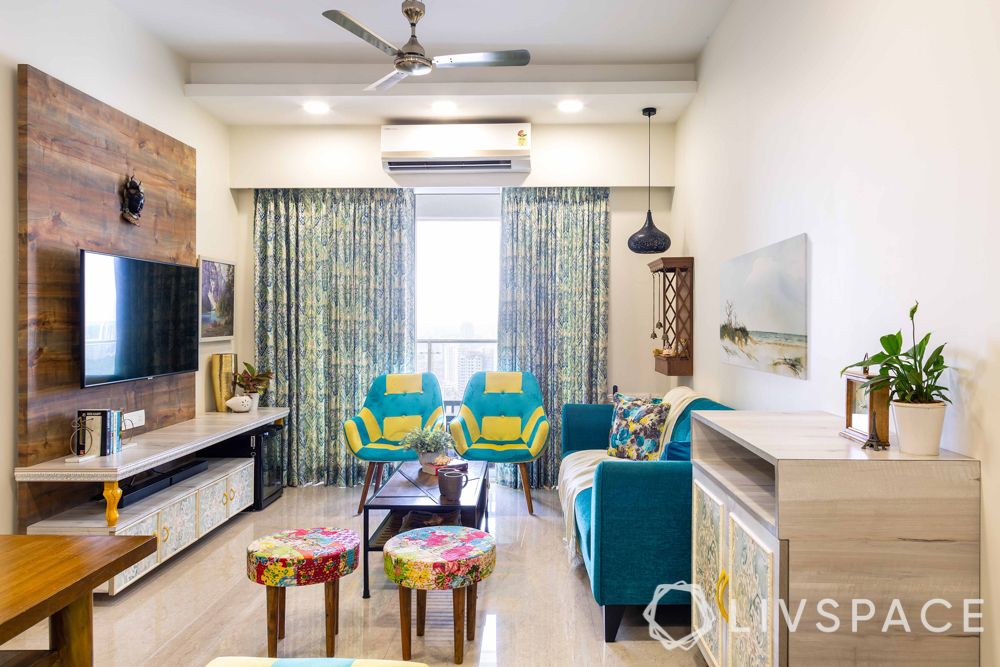 Did you know that wallpaper for home walls can be used as finishes for cabinets too? In this home, the TV unit and crockery unit have a customised wallpaper finish that is very affordable.
You can explore the full home here.
Similarly, wallpaper for home walls can also be used to cover up ceilings to make a unique statement!
How Long Do Wallpaper for Home Walls Last?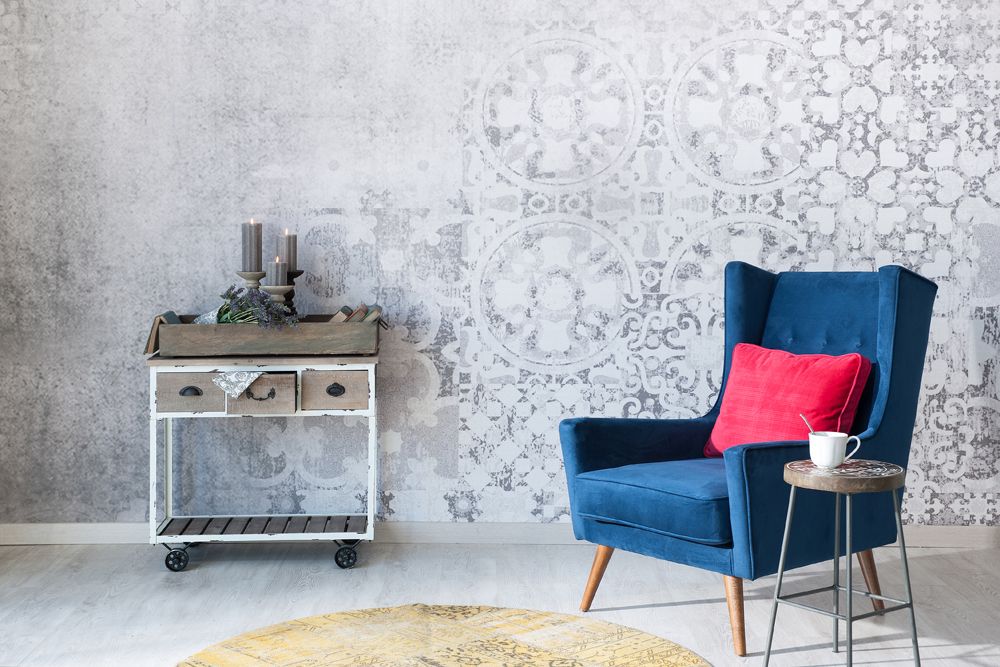 Depending on the material and quality of wallpaper types, they can last up to 15 years. This makes wallpaper for home walls an exceedingly cost-effective option for your walls.
Livspace Recommends
How Much Do Wallpapers Cost in India?
If you're wondering how much is the cost of wallpaper, we'll have to break it down for you in a number of ways. The wallpaper rate per sq.ft. starts from ₹40 for very basic ones and can go up to ₹200 or more, depending on the quality and material.
In fact, the cost of wallpaper per sq. ft. often doesn't include the cost of wallpaper installation in India. What's the cost of wallpaper installation? It can start from ₹8 per sq. ft. and go up to ₹50 or more, according to the complexity of your wallpapers.
The cost of wallpaper for a room can be anywhere between ₹15,000 to ₹50,000. It depends on a number of factors like size of the room, number of rolls required and quality of the wallpaper. One average-sized room should take 3-4 wallpaper rolls, considering one roll covers 57 sq. ft. In fact, if you're going for designer wallpapers, the cost of wallpaper design for home can increase significantly.
If you're wondering about the cost of wallpaper for one room, it should cost between ₹2500 to ₹15,000 or more, depending upon the style and design of the wallpaper, the size of the wall and installation charges.
So, Are Wallpaper Design Ideas Really Cost-Effective?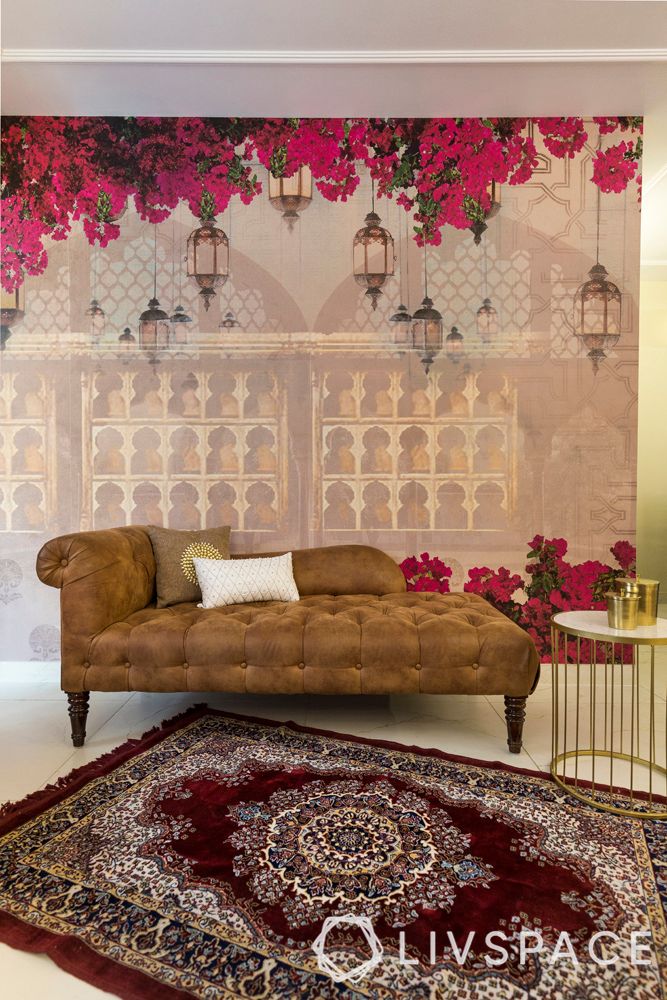 The simple answer to the question of wallpaper cost is that cost and cost-effectiveness are not the same metric. But cost-effective means that you are getting your money's worth.
Wallpapers for rooms are a cost-effective option because they are durable, have hassle-free application. Moreover, when used just for accent walls, wallpaper for bedroom and wallpaper for living room are cheaper than special types of paints like texture paint. And remember, whichever types of wallpaper you choose, they will always be cheaper to paint the house.
Dos and Don'ts of Wallpaper Ideas for Home Walls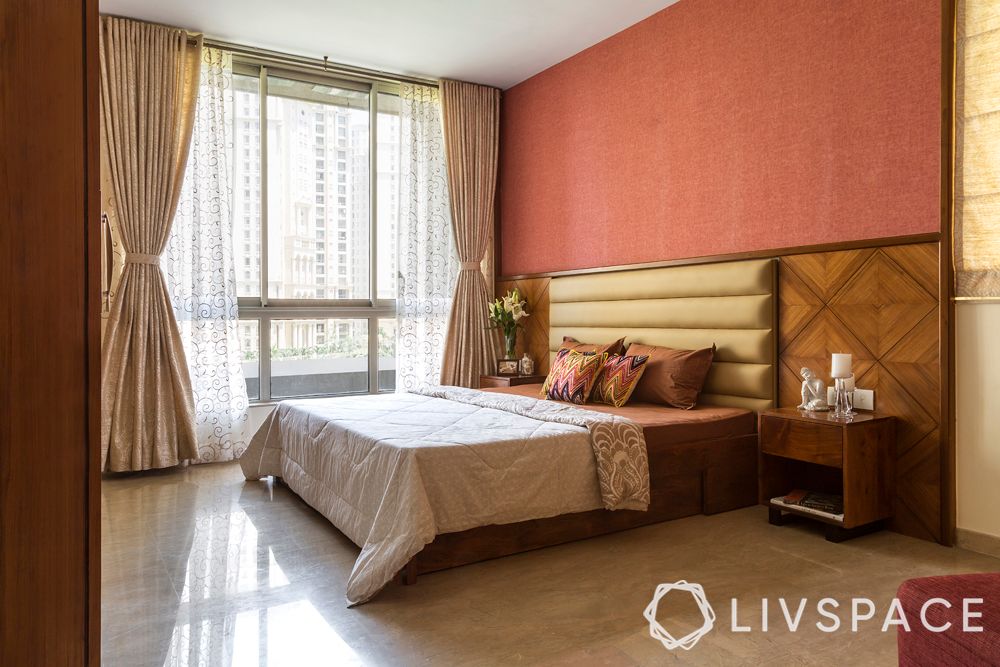 #1: Wallpaper for rooms tend to fade when exposed to direct sunlight. Therefore, don't use them on walls that face the sun directly.
#2: Moisture-prone walls (like those in the kitchen, bathroom or outside the house) are not ideal for wallpapers.
#3: Wallpaper for rooms are not only for walls. Use it to enhance ceilings or even furniture pieces for an impressive detail in the house.
#4: Working on a tight budget? Use good-quality wallpaper for rooms to highlight only a column or a niche in the wall. That's all it takes!
#5: Don't be afraid to mix things up. Combine bold painted walls with neutral shades or fine print wallpapers for a different type of contrast.
If you need inspiration for picking wallpapers for rooms, check out our stunning new designs.
How Can Livspace Help You?
If you want stunning wallpaper ideas or home interiors, then look no further. Book an online consultation with Livspace today. Delivering safe home interiors has been our No. 1 priority. Click here to find out how interiors are being delivered following all safety protocols.
Wondering how our customers feel about working with Livspace? You can check out the Livspace reviews here!
Send in your comments and suggestions to editor@livspace.com