Choosing the correct bathroom tiles design may completely transform the look and feel of your bathroom. The possibilities are unlimited when it comes to seeking out the best bathroom tiling ideas for your home. With some Livspace inspiration, your morning thinking space may be transformed into a rainbow of colours, shapes, sizes and textures.
Continue reading to learn about the best bathroom tiling ideas available in the Malaysian market and which ones would work the best in your home.
Bathroom Tiles Design #1. Geometric Tiles
Geometric patterns have a way of making a striking impression. These patterns are so appealing that they can make a big difference even in the smallest of bathrooms. We chose black and white bathroom tiles in a cubic geometric pattern for this space. Match it to the vanity, and you're set! Make sure the floor and wall colours don't match.
Maintenance
These tiles are quite durable and simple to clean. You only need soap, water and a sponge to get the job done.
ALSO READ: 7 Best Small Bathroom Decor Ideas to Make the Most of Space
Bathroom Tiles Design #2. Penny Tiles
Penny tiles have been adorning bathroom walls for a long time. These are timeless bathroom tiles that will never go out of style. Penny tiles are usually circular and ideally a quarter of an inch in diameter, as the name suggests. Porcelain, whether glazed or unglazed, is a wonderful choice for this style of tile. You may also go for one of the trendier bathroom tiling ideas by using glass or metal on the walls.
Maintenance
These tiles are also easy to maintain. You can easily clean them using a neutrally concentrated cleaning solution and a damp mop. 
Bathroom Tiles Design #3. Terracotta Tiles
Do you enjoy having an earthy, rustic atmosphere in your home? Then terracotta tiles are the way to go for you. These bathroom tiles provide such a welcoming atmosphere in your bathroom that you will enjoy spending time there. They are a little more difficult to keep clean than normal porcelain tiles but are well worth it. To add interest, you can use two different colours of terracotta tiles or combine a variety of sizes.
Maintenance
Terracotta tiles absorb liquids or water rapidly due to their porous nature. As a result, it's critical that they're installed correctly. Use a moderate floor cleanser on a regular basis to clean them.
Bathroom Tiles Design #4. Herringbone Tiles
The herringbone-patterned bathroom tiles design is one of our favourites. This pattern is adaptable enough to be utilised with any type of bathroom design. We have used a cobalt blue colour in this bathroom for the wall tiles. Although blue is a popular bathroom colour, we went with a unique hue that you wouldn't expect to see. This hue of blue looks great with sleek and stylish black fixtures. 
Maintenance
Dust can be easily removed from the tiles by wiping them down with a mild detergent and clean water. To keep the sheen, you can also lightly polish them with a soft pad, if necessary.
ALSO READ: 10+ Practical and Stylish Bathroom Ideas To Save Your Bathroom from Clutter
Bathroom Tiles Design #5. Terrazzo Tiles
Terrazzo tiles have become so popular that they have replaced marble, granite and other high-end materials. Terrazzo is made up of small pieces of marble, glass, shell, quartz and/or granite that are embedded in concrete to give it a smooth finish. These bathroom tiles are adaptable to your demands and come with a slew of advantages, including the fact that they are durable. Did we mention that they also add a touch of luxury to your bathrooms?
Maintenance
These tiles are also easy to maintain. You can easily clean them using a neutrally concentrated cleaning solution and  a damp mop. 
Bathroom Tiles Design #6. A Combination of Two Tile Shapes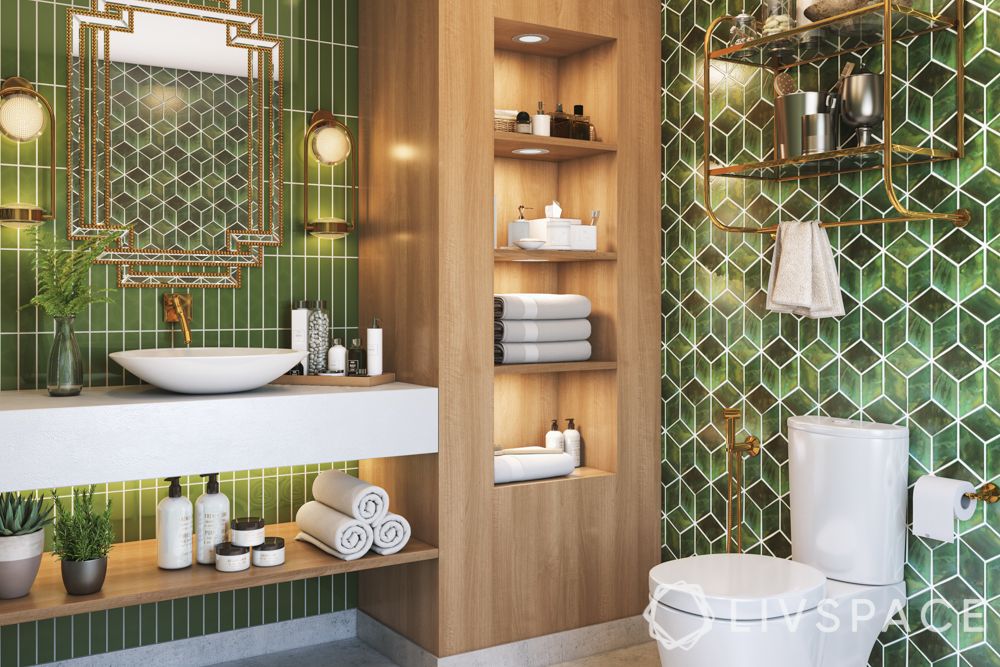 This trend, which is kind of a spin-off of geometric tiles, focuses on combining two tiles with different patterns but the same colour in one bathroom. Make sure you're combining two simple patterns into one complex one. For example, if one wall has hexagonal tiles, the other should have a simpler subway-tile pattern. To ensure design homogeneity, always use the same colour.
Maintenance
If your bathroom tiles become dirty or grimy, keep a solution of water and vinegar handy to spritz them. Then, use soap, water and a sponge to clean them. To keep the grout safe, you may need to reseal it every few years.
Bathroom Tiles Design #7. Monochrome Tiles
Monochrome tiles can create a stylish effect in your bathroom. Floors, backsplashes and even shower cubicles can all benefit from them. To achieve an ideal bathroom tiling design, we recommend combining various patterns and textures. Choose vinyl tiles because they are long-lasting, simple to install and, of course, attractive.
Maintenance
During installation, make sure the vinyl tiles are correctly sealed to prevent debris and grime from getting caught in the seams. Soap and warm water should suffice for routine maintenance.
Are you planning to give your bathrooms a new look? We sincerely hope so! If you are searching for a comprehensive makeover, take a look at this: 7 Best Small Bathroom Decor Ideas to Make the Most of Space
How can Livspace help you?
Did you find these bathroom tiles designs inspiring? You can also get such beautiful bathroom designs for your home with the help of Livspace. All you have to do is book an online consultation with our design experts to get safe and quality interiors. You can learn more about COVID-19 safety protocols here.