A decent bathroom design may make your mornings immeasurably better, whether you have a large bathroom or a small room with barely enough space to scrub. For a stylish bathroom, we have a range of bathroom design ideas that excel in both aesthetics and functionality, with plenty of storage solutions. Take a peek at what bathroom renovation ideas we have to offer!
Bathroom Design Ideas #1: Aesthetics
The aesthetic is the first thing that comes to mind when thinking about bathroom design ideas. Many people are opting for high-end interiors for their houses, and this includes the bathrooms as well. Aesthetics are important, and having a unique bathroom even more so!
1. A Stylish Sink is one of the Best Toilet Renovation Ideas
A beautiful sink is a foolproof way to enhance the design factor in any bathroom. To complete the look , add a contemporary faucet to the space. Even if they merely come in to wash their hands, your guests will appreciate your taste. Another one of the toilet design ideas is to use a vessel sink in there as it tends to add opulence to your bathroom.
2. Dry and Wet Area Partitions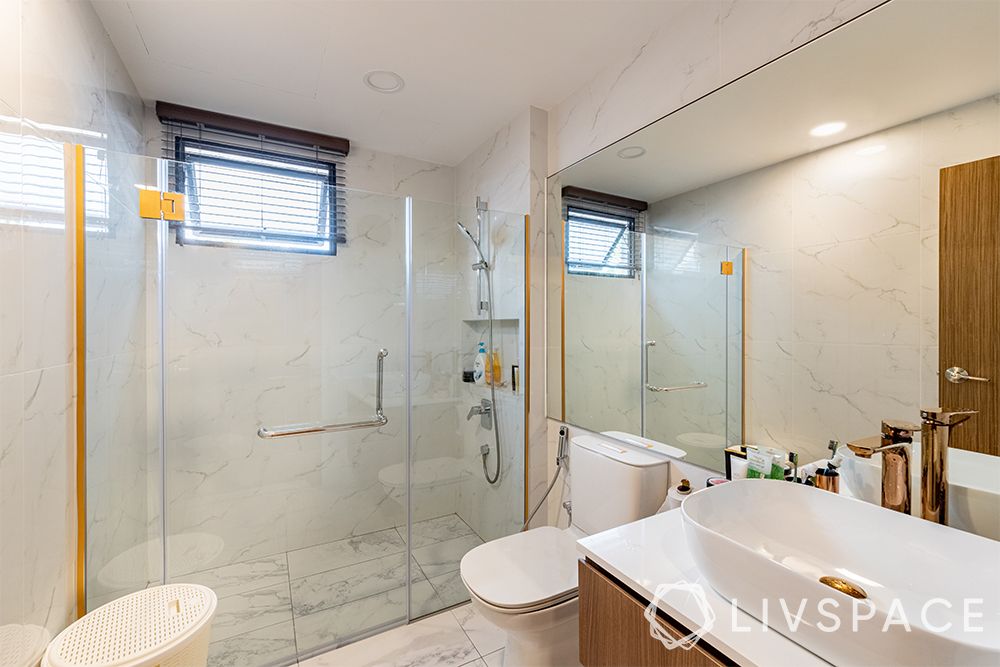 Adding a partition between the wet and the dry areas is a clever approach to create clean lines and is one of the most efficient bathroom renovation ideas when it comes to modern interior design. The toilet area is separated from the shower area with a glass partition in the above image; this arrangement is one of the most ideally suited bathroom design ideas for small areas as it saves space. This will also prevent water from leaking into the rest of the bathroom. Plus, the added advantage is that you have a separate wet area for showering and a separate dry area for grooming and getting ready.

ALSO READ: 10+ Practical and Stylish Bathroom Ideas To Save Your Bathroom from Clutter
3. Attention-Grabbing Tile Patterns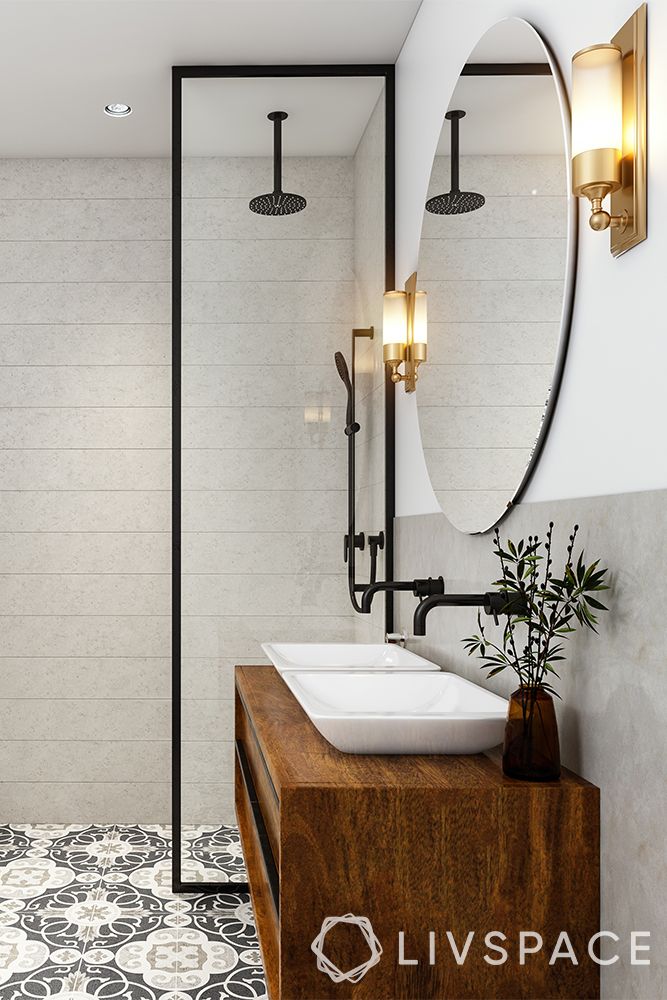 When it comes to bathroom design ideas, one of the most important aspects to consider is the tiles and their patterns. Vibrant patterns can make even the tiniest of bathrooms stand out! Similar to how the size of your toilet tiles can create the illusion of space, their colours and positioning can do the same. Darker-hued tiles, for example, can make your area appear smaller but lighter, neutral palettes can make your space appear larger. When it comes to toilet tiles, the same holds true.
4. Bathroom Design Ideas with Marble Walls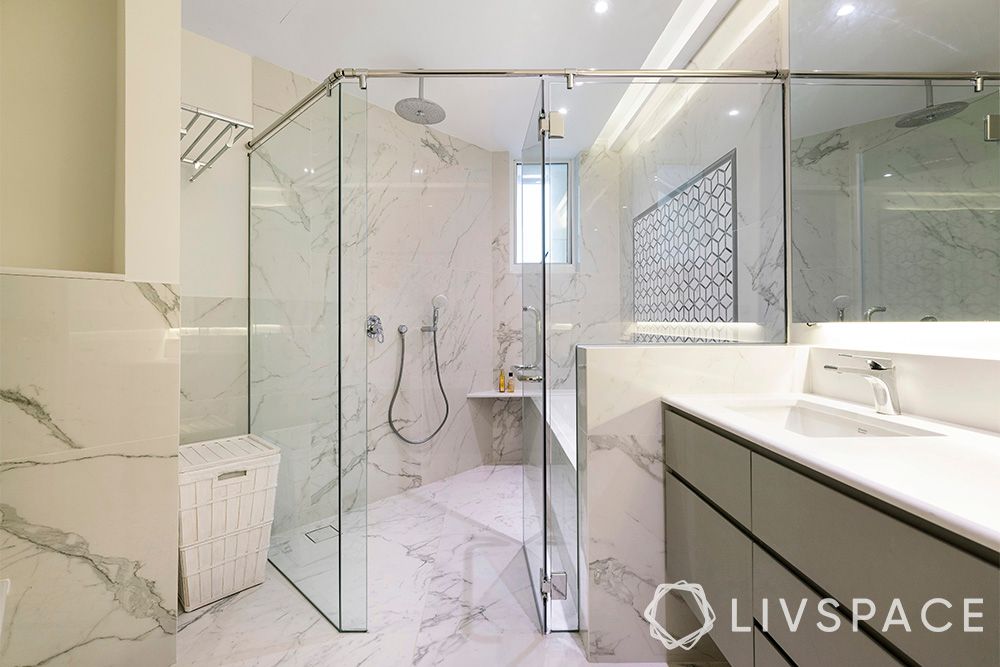 We all admire how marble can help create a rich and classy appearance. The marble-printed walls and toilet tiles in this gorgeous bathroom make it stand out despite the muted colour scheme. The visual qualities of multicoloured marble bathroom wall and floor tiles are wonderful and can be matched to any toilet design ideas. Marble is a good choice for bathroom floor tiles because of its waterproof features. These tiles are perfect for those spaces that exude elegance.
Bathroom Design Ideas #2. Functionality
In today's fast-paced world, having a bathroom that is simple to use and has all of the fundamental modules within reach is essential. Take a peek at some of our bathroom renovation ideas that are both functional and beautiful.
5. Toilet Design Ideas with Max Storage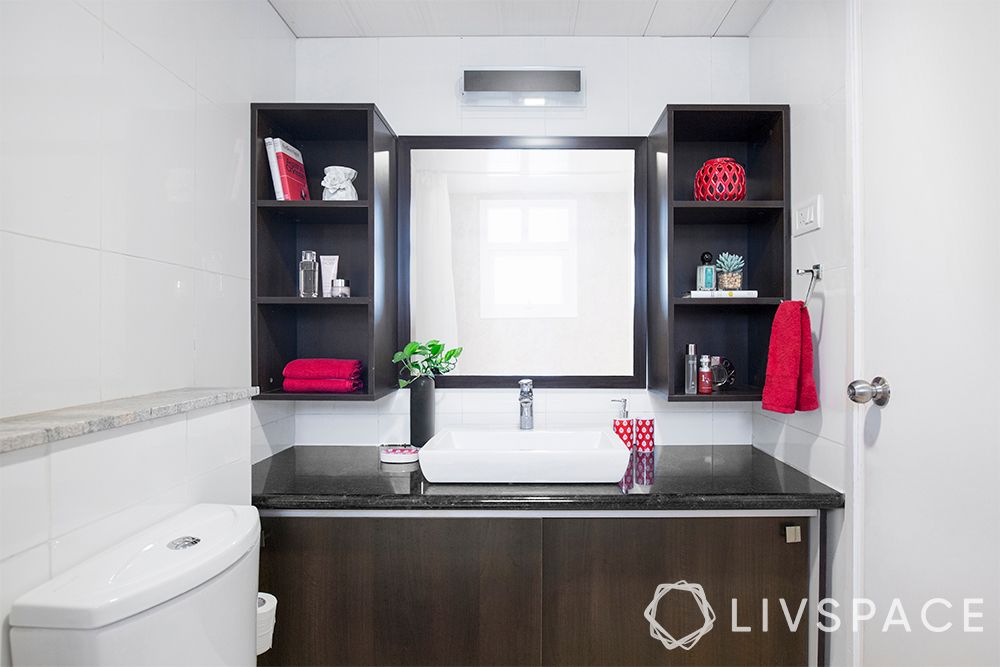 Seamless storage for bathroom designs is available in a variety of forms and sizes, and if you have a modern bathroom, you should acquire storage to match. Install soft-close drawers to match the rest of your bathroom's decor. However, drawers and cabinets aren't the only ways to store things. Racks and hangers are also included in your bathroom storage options. Bathrobes and towels also require their own hangers and racks. Make room for them as well.
6. Light Fixtures above the Mirror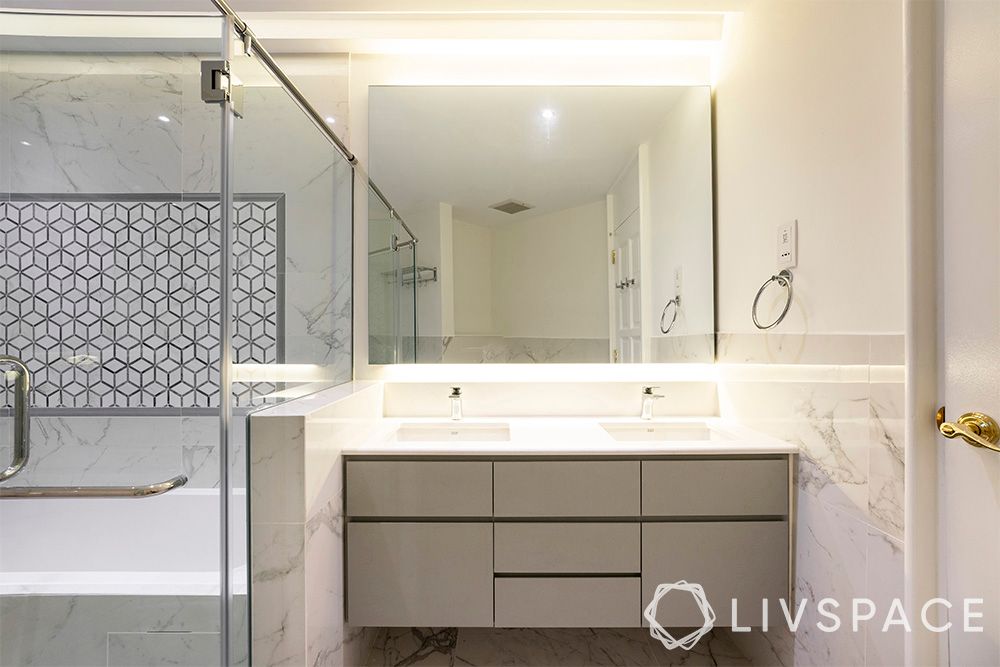 Mirror, mirror on the wall! There's no such thing as too many mirrors in the bathroom. Make a more functional and warm environment for yourself by installing bright lighting above your mirrors. The addition of a white light above the mirror makes grooming easier and adds to the brightness of the space.
7. Wooden Cabinets for a Warm Touch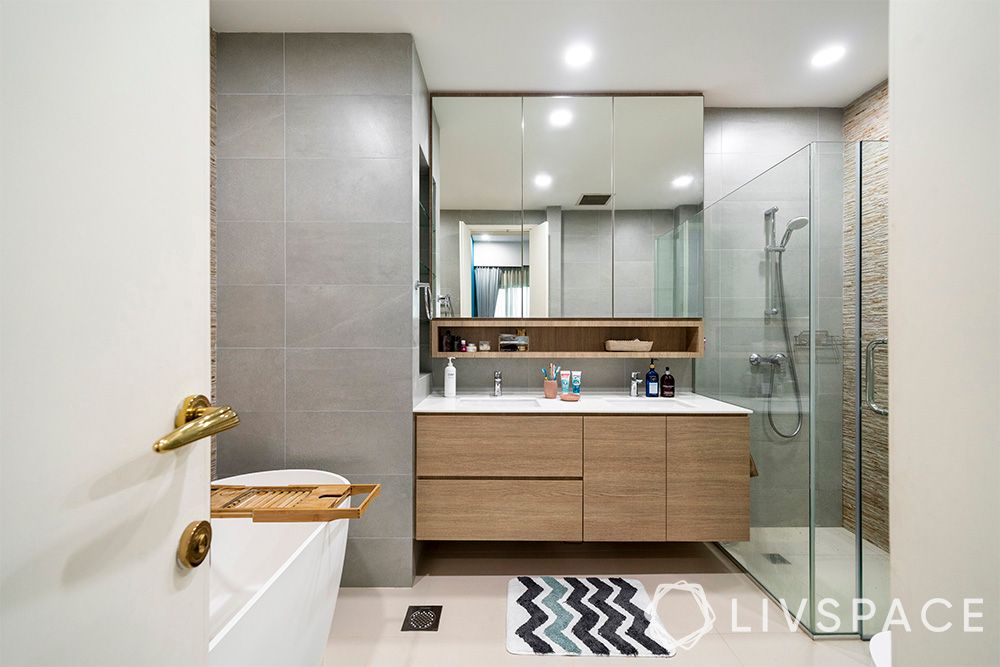 Washroom design should have clean lines, despite the addition of many items, because clean lines ensure you can make the most of a small space. The wood cabinet adds to the room's warmth and, generally, are a good option for bathroom design ideas as they can fit well with any pattern, colour and type, and add a touch of luxe to the spaces.
8. Glass Doors for Shower Cubicles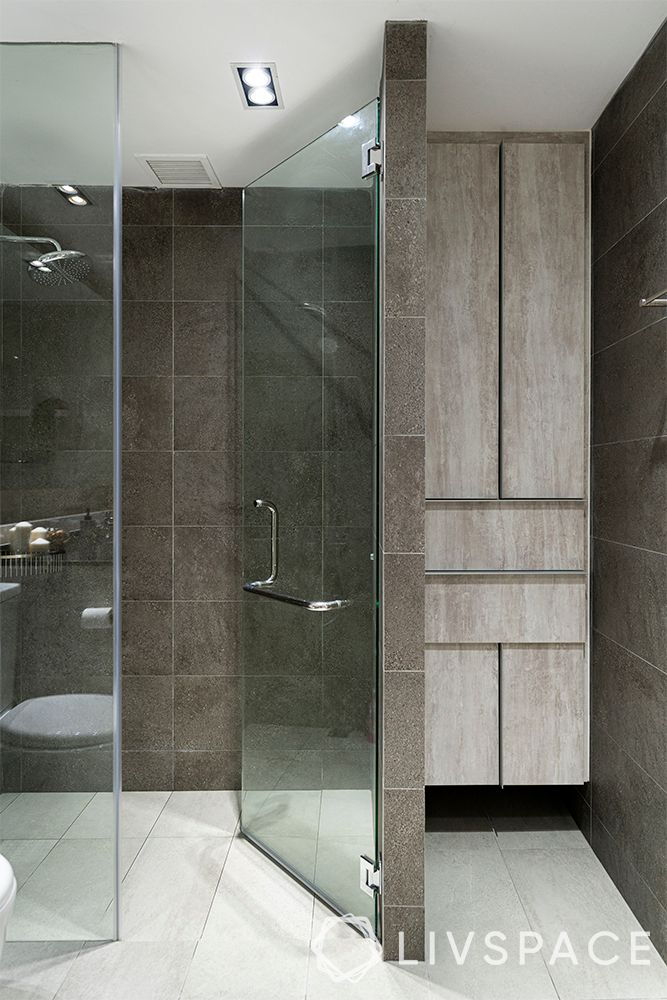 A glass shower cubicle prevents water from seeping into the rest of the bathroom, allowing plenty of area for grooming and using electrical appliances. You don't have to be concerned about any danger as you get ready! This bathroom, for example, can be described as compact and space-saving. Every sanitary necessity is fixed on the wall, allowing plenty of room on the floor. The shower cubicle's sliding doors are also ideal for small bathrooms.
Are you planning to give your bathrooms a new look? If you are, take a look at these 7 Best Small Toilet Renovation Ideas to Make the Most of Space.
Bathroom Design Ideas #3. Storage
Today's households include a lot of storage. Because each person has different demands and requirements, storage in the bathroom is a crucial consideration. You may make the most of your area by implementing any of the suggestions below.
9. Storage Units under the Sink for Maximum Storage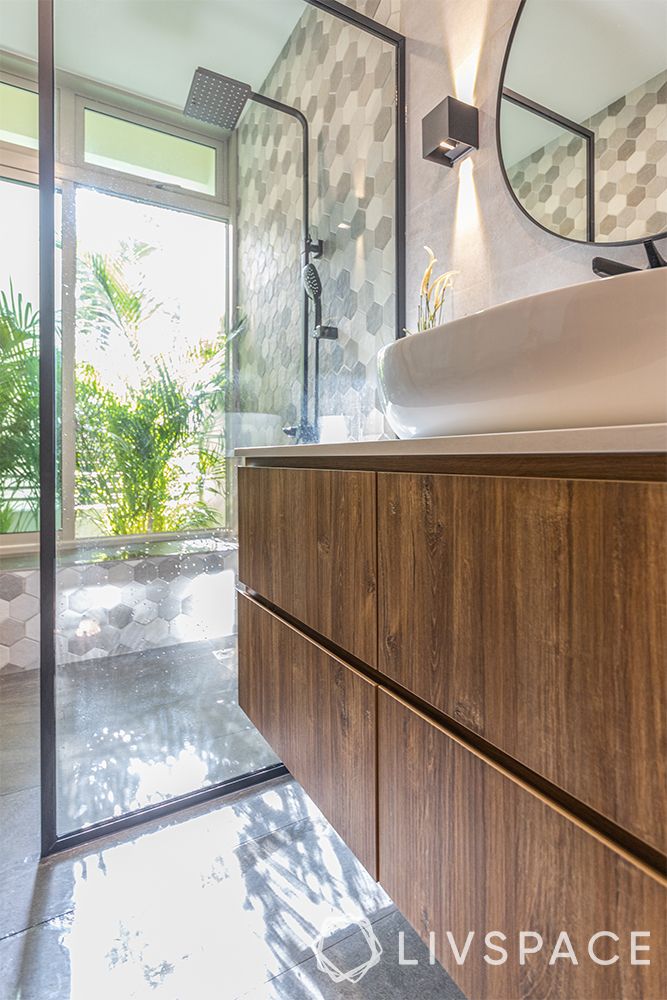 This is one of the most prominent toilet renovation ideas for small and compact homes. For storage, this compact bathroom design combines sleek shelves and a slim storage unit under the sink that allows you to store the toiletries or the towels for easy access. This is a great design for a small house.
10. Wall-Mounted Storage Units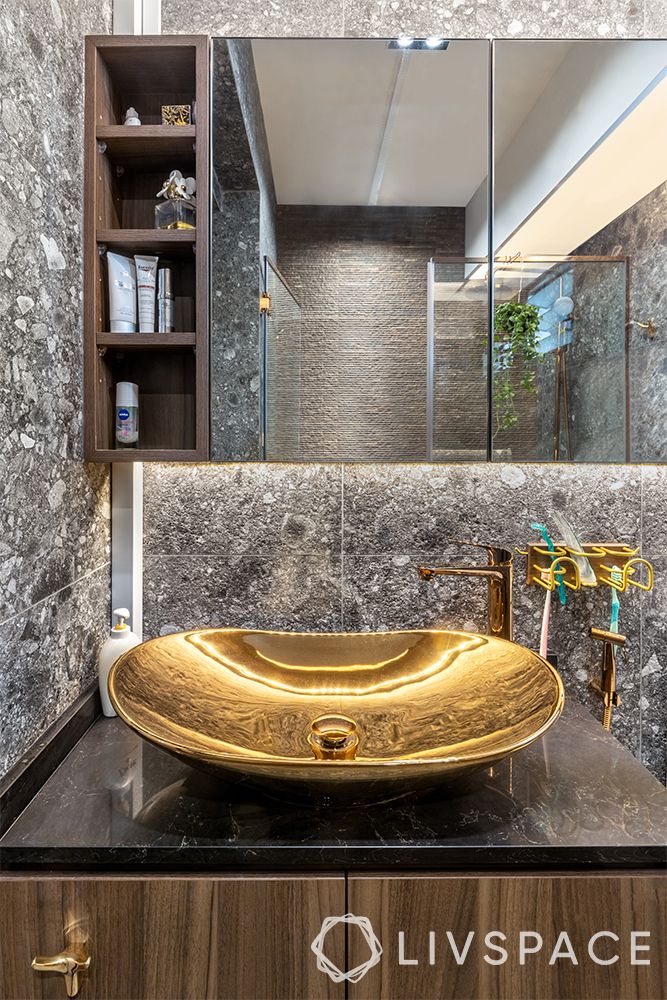 Storage makes life easier, but don't limit yourself to under-the-sink vanities. A wall-mounted unit provides more storage for your accessories and toiletries, while the sink unit can accommodate all of your towels and bathrobes.
11. Glass Shelves for Storage with a Classy Look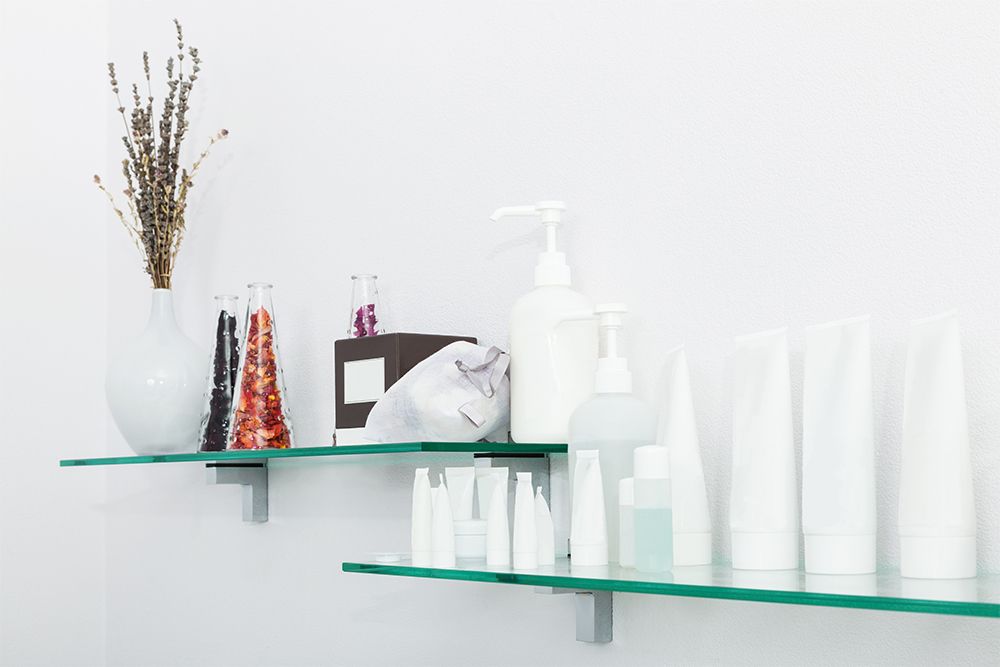 Bathroom design ideas with black or white walls and glass shelves have a certain allure. It's such a lovely contrast. The glass shelves appear and feel delicate but if they are properly installed, they can hold a substantial amount of toiletries. Heavy items should be stored on the concrete surfaces in a bathroom while lighter toiletries should be kept on the glass shelves. As an option to glass, you can consider wooden shelving as well, but make sure it is in the dry area of the bathroom. Wooden shelving also requires maintenance every 3-4 years.
ALSO READ: 7 Best Small Bathroom Decor Ideas to Make the Most of Space
How can Livspace help you?
Did you find these bathroom design ideas inspiring? You too can get such beautiful bathroom tile designs for your home with the help of Livspace. All you have to do is book an online consultation with our design experts to get safe and quality interiors. You can learn more about COVID-19 safety protocols here.