At Livspace, bedroom interior designs are tailored to the homeowners' needs. We have bedroom interior design ideas that cater to both big and small bedroom designs. Over the years, we have discovered several differences — some big, some small — when it comes to designing bedrooms of all sizes. So here's our complete guide on small bedroom design ideas vs large bedroom ideas to help you understand the differences and figure out what works best for you.
#1: Tailor the Layout to Maximise Floor Space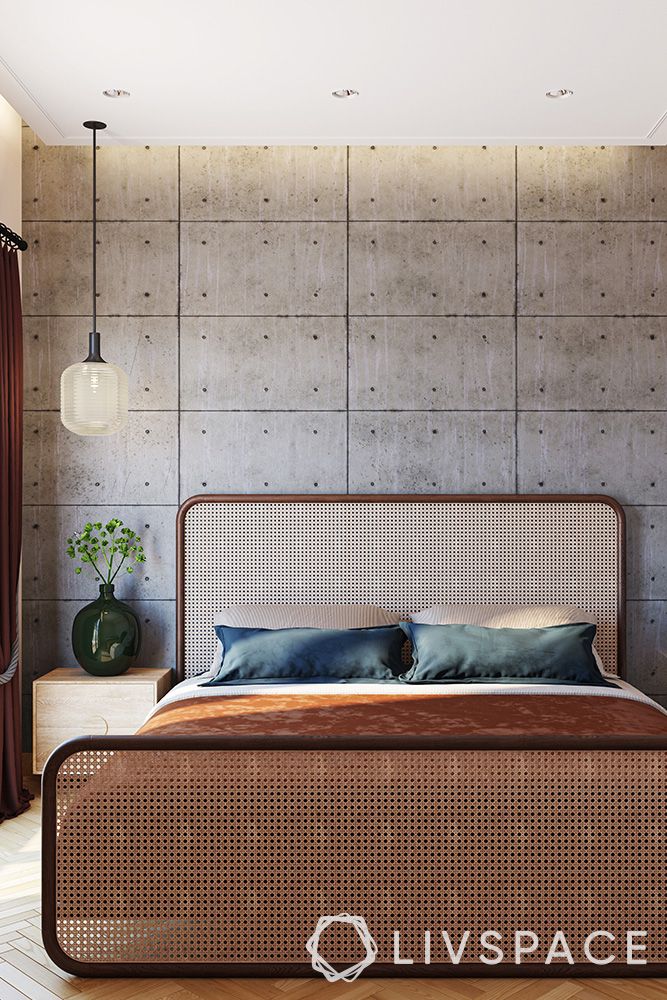 Saving the floor space in a small bedroom interior design takes priority. Thus, it is better to choose a layout where you can easily set the furniture into. Also, be careful with where you place your bed. It is a good idea to place your bed in the middle of the room as it frees up floor space. However, you can even corner your bed to give you some extra room.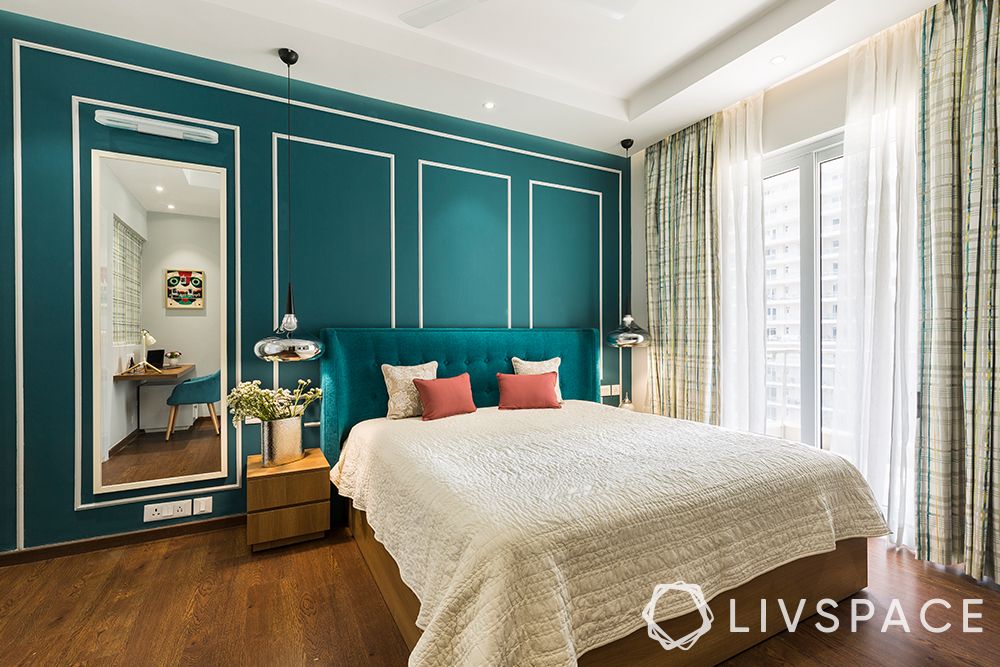 Large bedroom interior designs can also come with challenges.Experts recommend that you look at your big bedroom design as a sea of opportunities. For example, you can create a comfort zone with comfy seating or you can make a niche and use it as a walk-in wardrobe or dressing area. And the kind of layout you have is no hindrance to your design ideas, until and unless you are obstructed by a structural challenge.
#2: Grace Bedroom Interior Designs with Unique Ceiling Ideas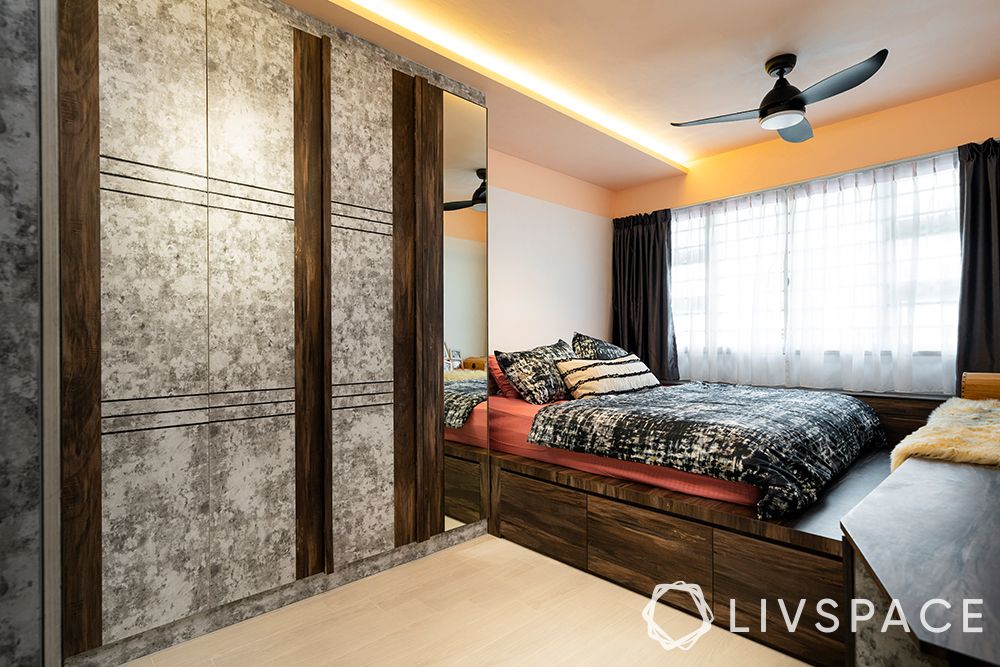 Instead of taking up unnecessary space, look upwards to ceiling designs that can easily infuse new spirit into your master bedroom ideas. Your small bedroom interior design can have a simple light ceiling design, as we see in the above picture. Cove lights give this room a warm look. You can also use recessed lights or pendant lights to brighten up the room. However, feel free to ditch the idea for an elaborate ceiling as you may run the risk of making the room look too closed in.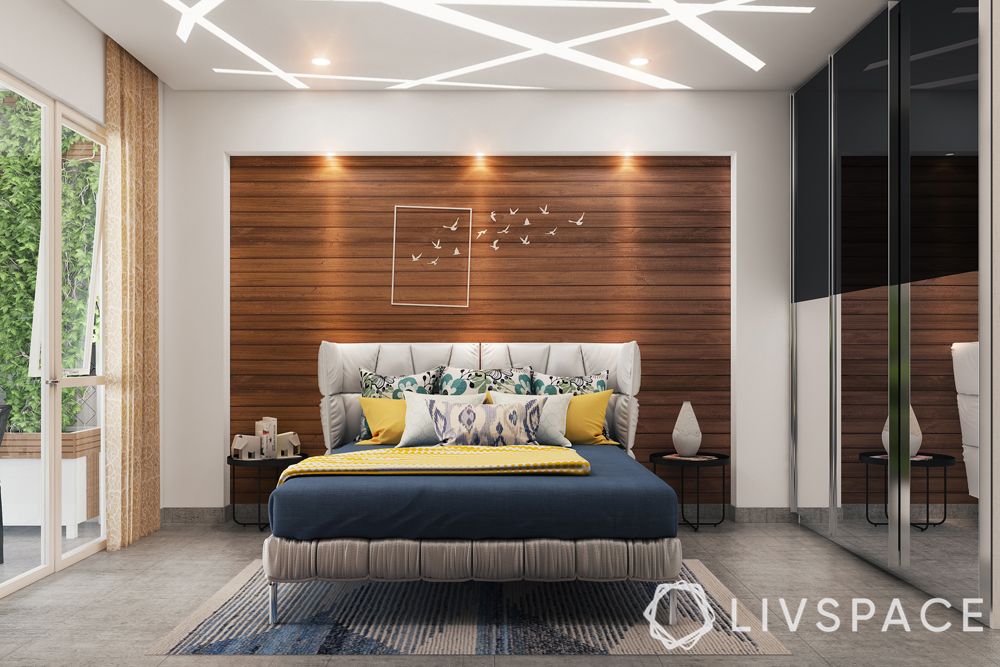 Some large bedroom ideas involve experimenting freely with ceilings of bedroom interior designs. Stylish ceilings can add dynamic character to a big bedroom design. The creative use of ceiling lights in the bedroom depicted above is a good example of a large bedroom that utilises a comprehensive source of ceiling lights while retaining its elegance.
#3: Clever Lighting for Bedroom Interior Designs of All Sizes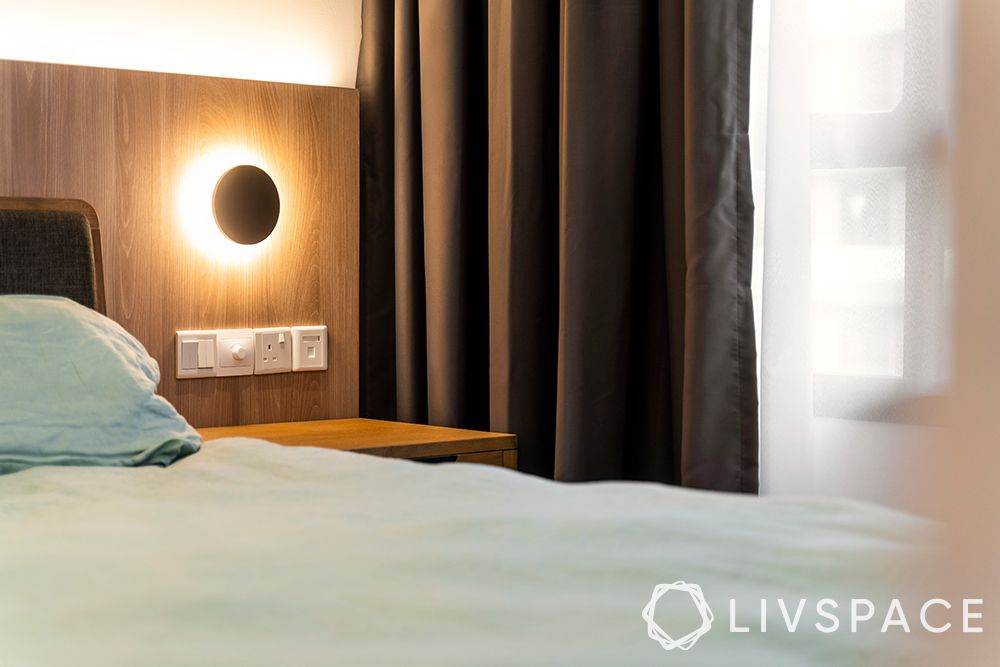 Small bedroom interior designs can be lit up evenly by layering the lighting fixtures. However, we recommend using floating light fixtures so it does not eat up floor space. You can opt for recessed lights, cove lights, wall sconces, or even statement pendant lights that can be a focal point.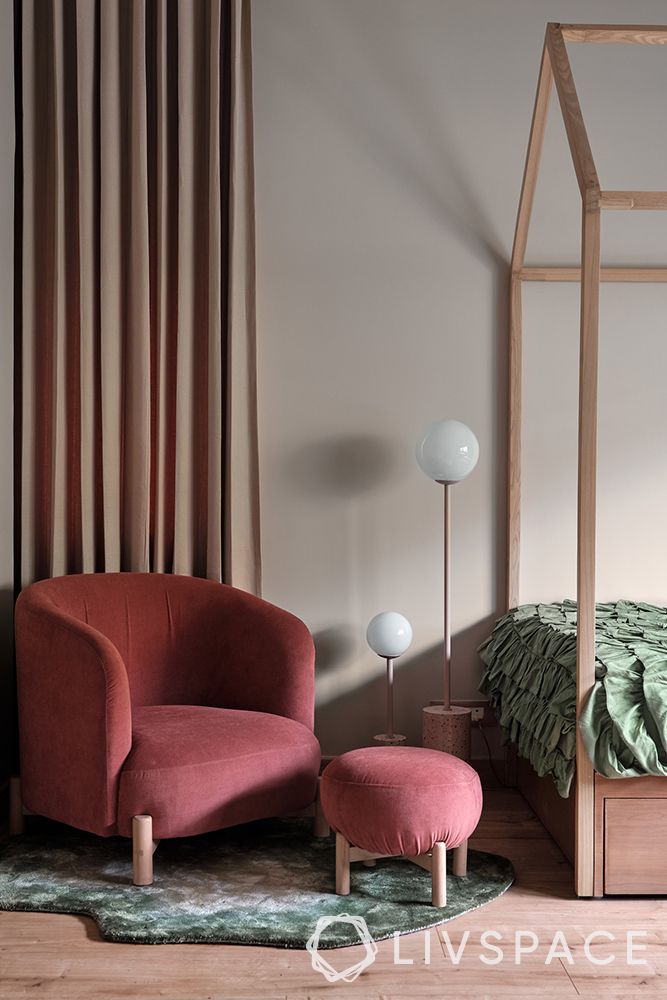 Large bedroom ideas do not limit any kind of lighting options for the homeowner. You can also use floor lamps for your big bedrooms. The bedroom seen in the image above is from one of our Livspace homes, and is one of our favourites! Make sure to choose fixtures that light up every nook and cranny cleverly to avoid a dingy setup.
#4: Colour Your Way Through Bedroom Interior Designs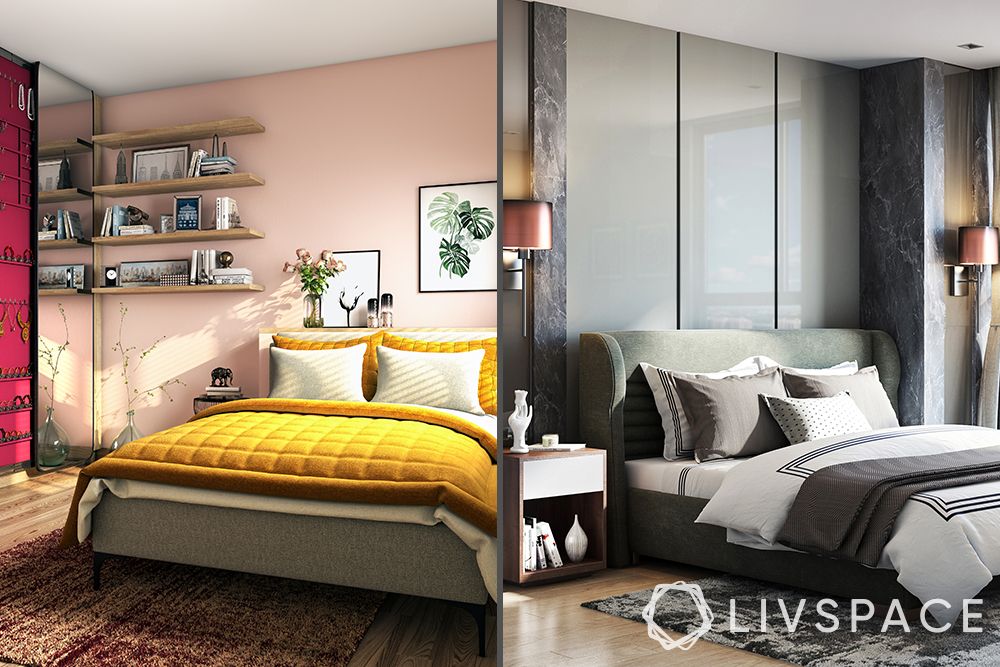 If you need colouring tips for your small bedroom interior design, we recommend you stick to a neutral palette or muted tones. This will give a cohesive look to the small bedroom design. If you want to experiment with darker colours, make sure to balance it out with pops of bright colours to avoid making the room look chaotic.
Master bedroom ideas for a big bedroom design includes playing up with quirky colours and accents. Pastel blues on the wall of the bedroom seen above (left) makes it look like a soothing sanctuary. On the other hand, the image of the white bedroom (right) features an accent wall with its marble-like wallpaper, which lends a luxe appearance to the white bedroom. Unlike small bedroom design ideas, designers encourage homeowners to go for bold and dynamic patterns to balance out the look in big spaces.
#5: The Most Important Piece of Furniture:The Bed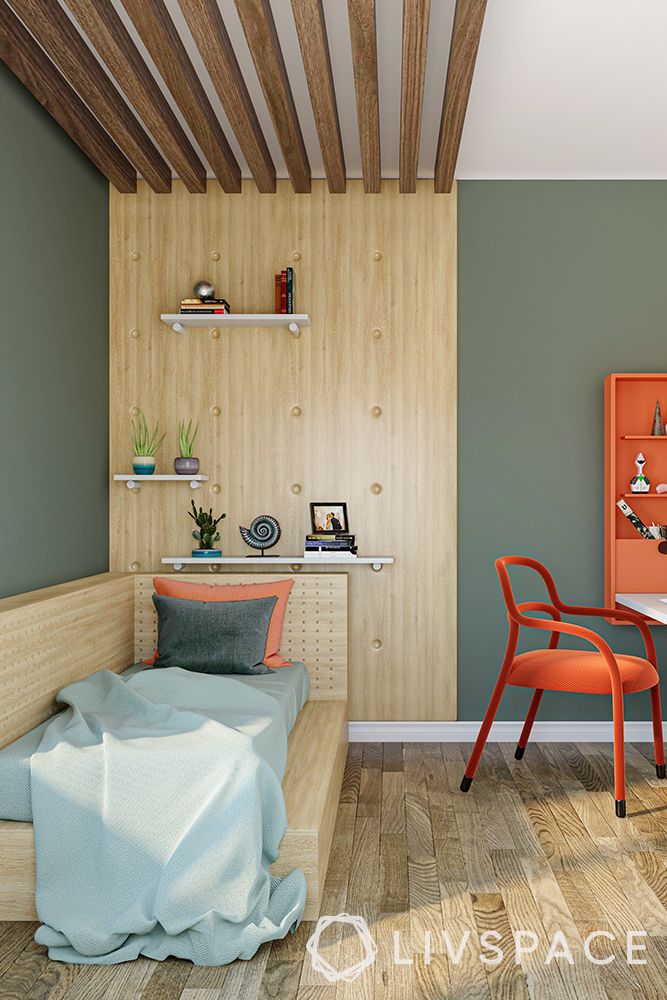 Small bedroom design ideas dictate that you get a bed that is custom-made to fit your needs. It is better to set it up in a niche and to use it as a multipurpose unit. How do you do that? Opt for a hydraulic bed that has concealed storage, build the wardrobe around it or fit drawers within it.
Homeowners can choose a bed size that fits their personal tastes when it comes to big bedrooms. Prioritise your comfort and aesthetic when it comes to a large bedroom. However, your bedroom interior design ideas should not be devoid of a bed that can possibly give you storage options. So consider all your options before splurging on an expensive bed.
#6: Customise Bed Headboards for Your Comfort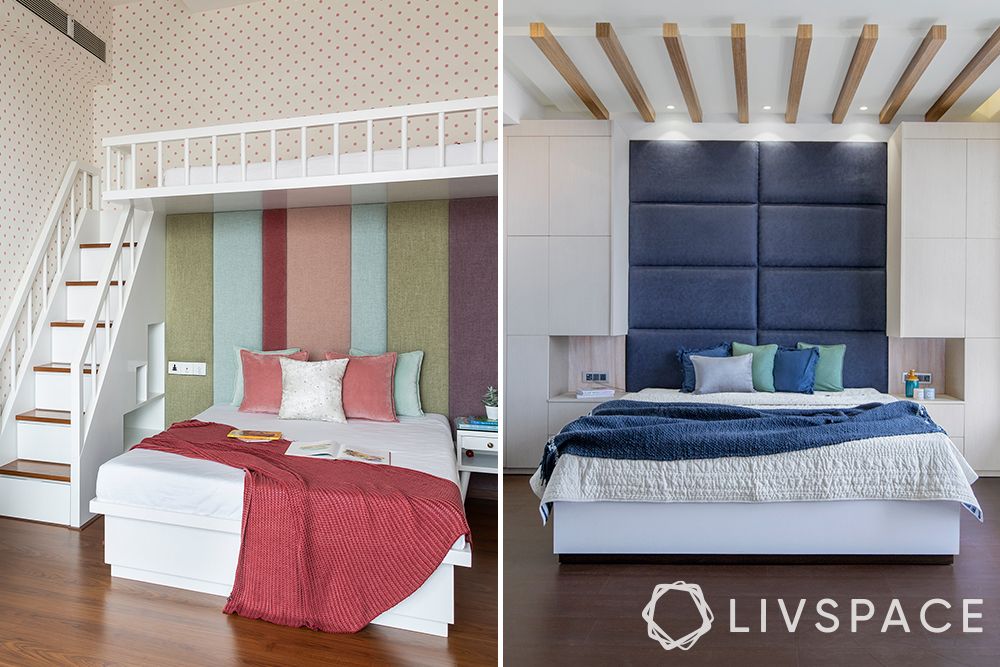 Contrary to popular belief, bedroom interior designs with longer headboards in smaller rooms are considered a better option. Why? They add visual height to a room, tricking the eye into believing that the room is taller than it is. One other idea that can work is to opt for a multipurpose headboard so it can have functional value too. A multipurpose headboard can essentially be extended to have shelves, drawers or floating display units.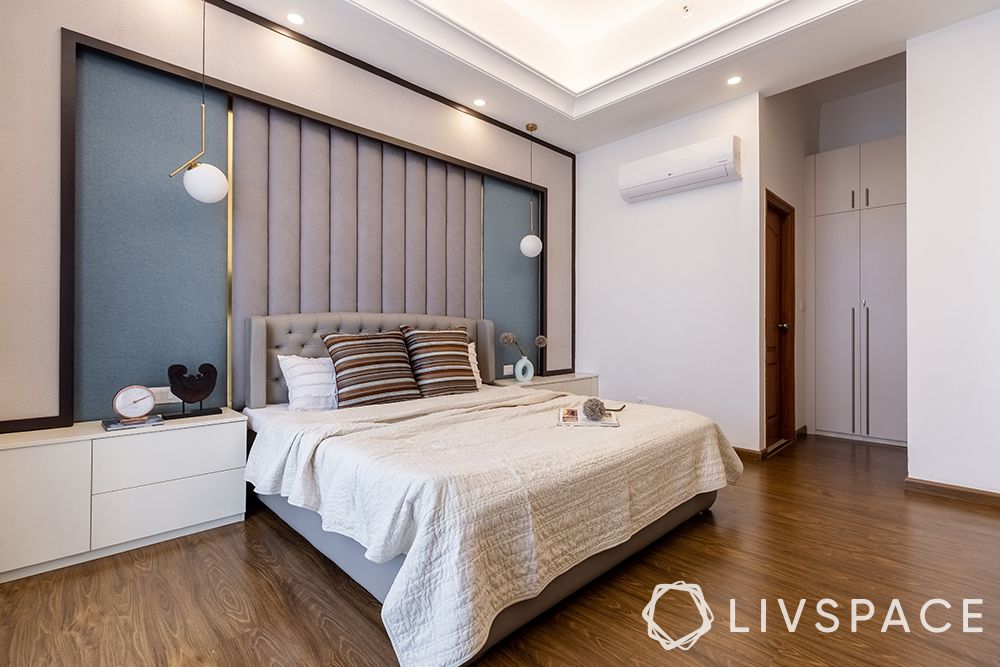 There is a direct limitation to having a large headboard in a large space. However, having a small headboard opens up more avenues to experiment with the wall against which your bed is placed. You can add accents, wall trims or, as in the above case, plush elements like fabric or upholstery to make the space more elder- and child-friendly.
#7: Complete Your Bedroom Interior Designs with a Wardrobe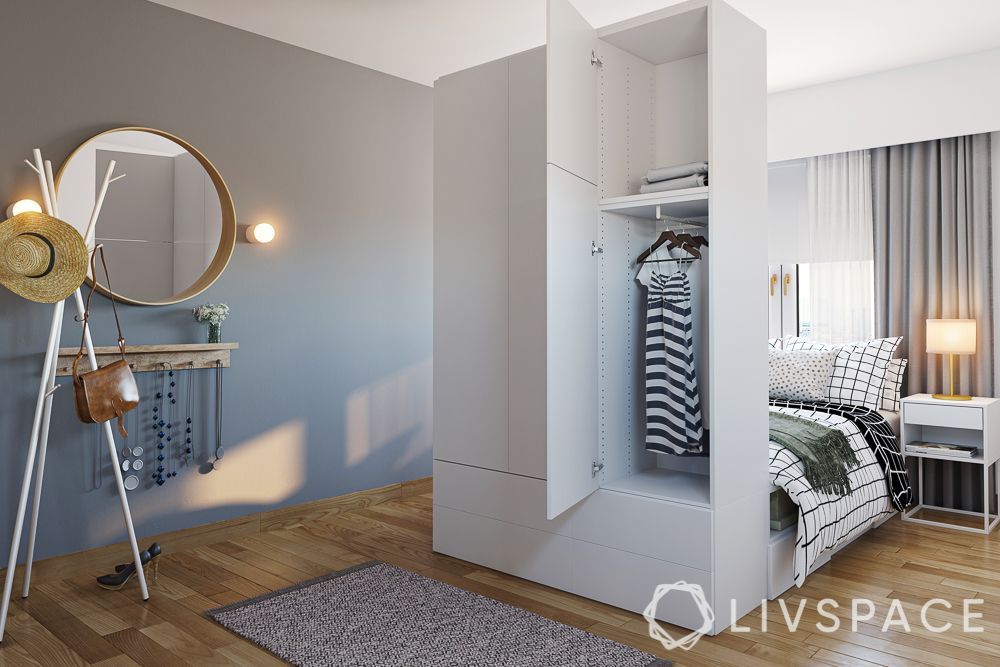 The wardrobe is the second most important part of a modern bedroom interior design. It is the biggest source of storage in the room. And in a compact space, fitting in a wardrobe can be a real challenge. But there's no reason to fret! Our designers can cleanly work with the layout of the bedroom to give you the best wardrobe design for your space and your needs. Take the master bedroom ideas from this IKEA bedroom. It presents a good example of how we can incorporate a wardrobe in our bedroom without taking up too much floor space.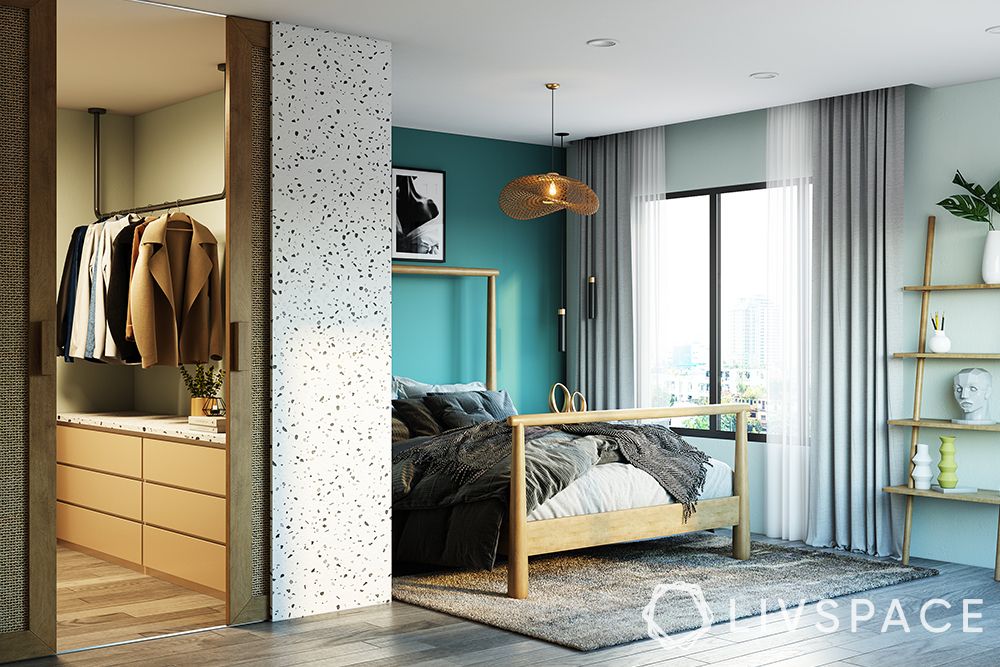 When it comes to the large bedroom ideas, walk-in wardrobes are a great advantage. If you have the floor space, opt for a walk-in wardrobe. However, if you feel like it, you can get a wardrobe customised to suit your needs. Floor-to-ceiling wardrobes that pan out and cover lofts are also a preferable option among homeowners.
#8: Take a Chance on Dressers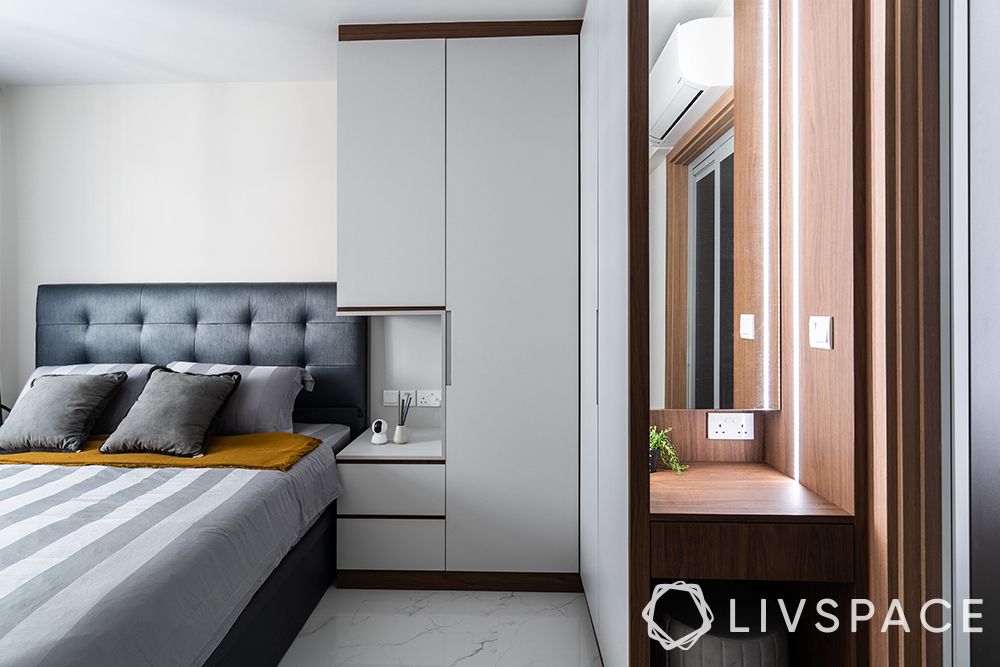 Dressers have also crept their way into the modern bedroom interior design. If you do not need a ton of space to get ready, a sleek dresser can easily be fitted into your small bedroom design. You can get inspiration from this bedroom seen above that has fit a dresser into a niche.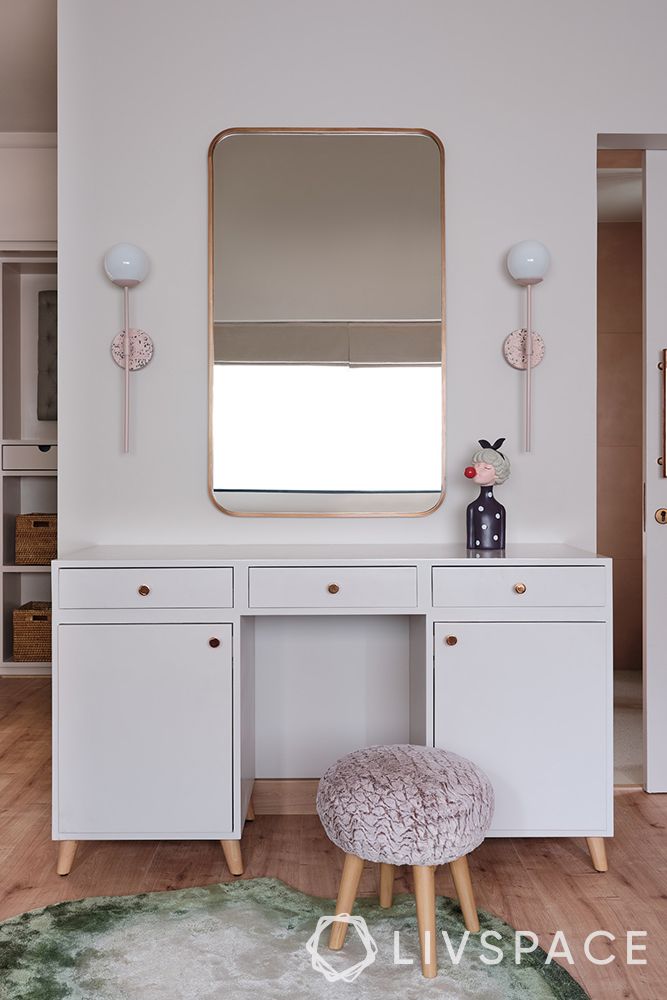 Elaborate dressers in bedroom interior designs have their own charm. This sleek yet chic white dresser is a place where anyone would love to get ready at. You can customise your dresser according to your tastes as well. In a large layout, a corner dedicated to a dresser would keep the clutter low and allow you to get ready peacefully.
#9: Opt for a Versatile Bedside Table in Bedroom Interior Designs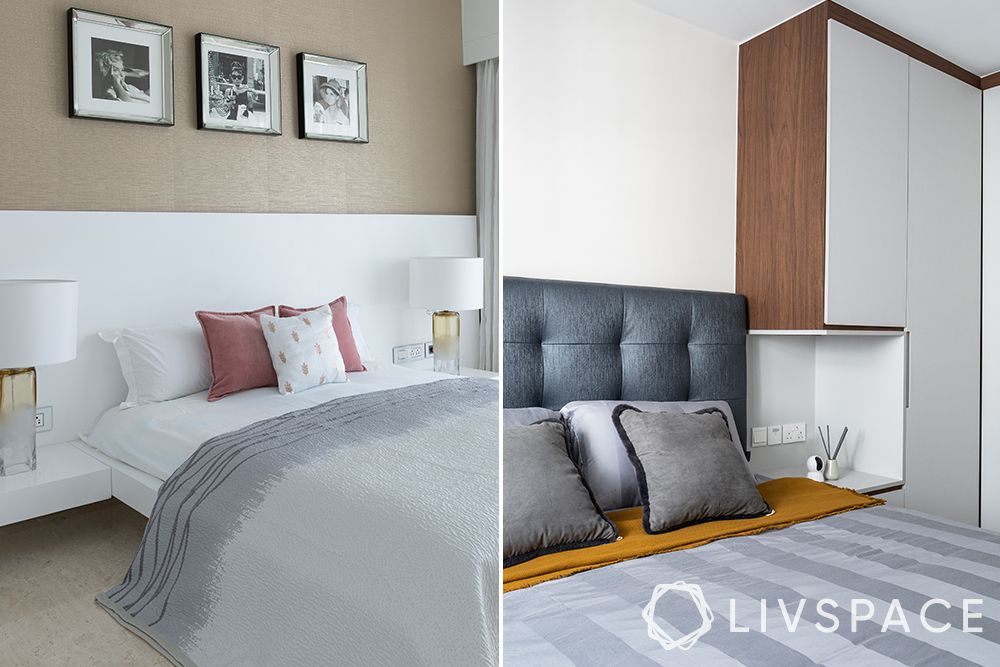 Every modern bedroom interior design has a bedside table. Think you have too small a space to get one? Well, think again! You may not have the floor space to incorporate a chest of drawers but you can always opt for floating tables. Even better, carve out a niche in your wardrobe and use it as a bedside table, as you can see in the picture of the bedroom on the right.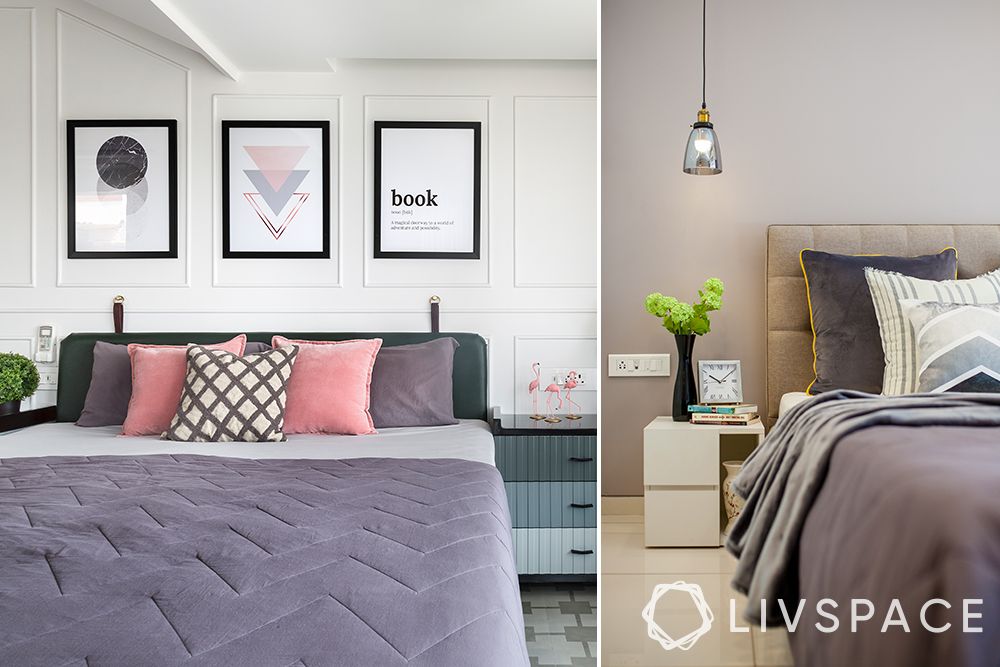 We love bedroom interior design ideas that carefully balance form and function. That is why bedside tables are one of our favourite things to play with! Look at the above examples; the bedroom in the left-hand-side image has a chest of drawers for a table and the one on the left has a compact box with storage for a table. Since large bedroom layouts have the floor space, you can incorporate these ideas as you see fit. If you still feel aesthetically inclined towards floating shelves, you can get them customised too!
#10: Seating for Your Bedroom Interior Designs?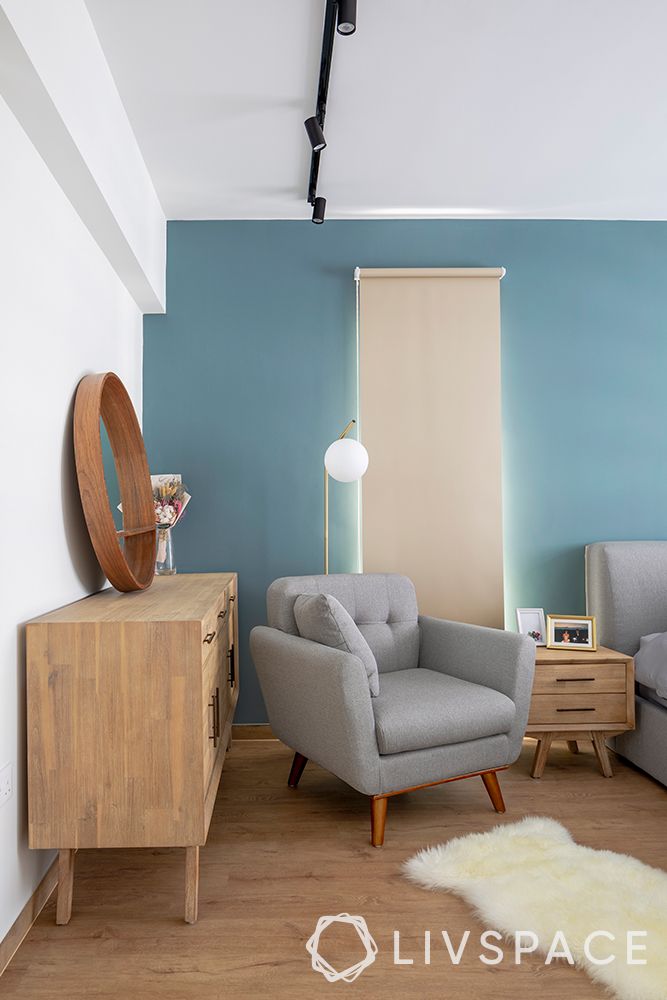 Don't shy away from incorporating seating in your small bedroom interior design. You can get creative with the space and build a cosy corner for yourself to read or have your evening tea or coffee. This does not require a lot of effort but just a comfortable chair tucked in a corner. You can add plushies to make it extra cosy.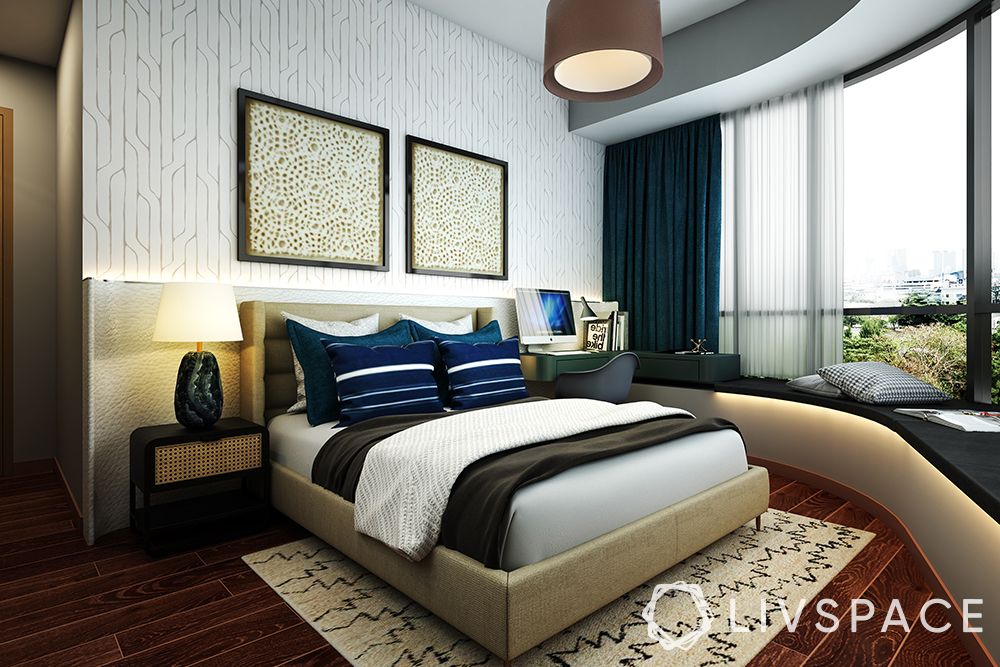 When creating zones in their bedrooms, most homeowners prefer to add a seating area in their bedroom too. It helps greatly when you're chatting with friends and family in the bedroom. The seating can be in the form of a cosy corner, bay window seating or simply side seats.
#11: A Common Space to Work and Unwind in One — The Bedroom Office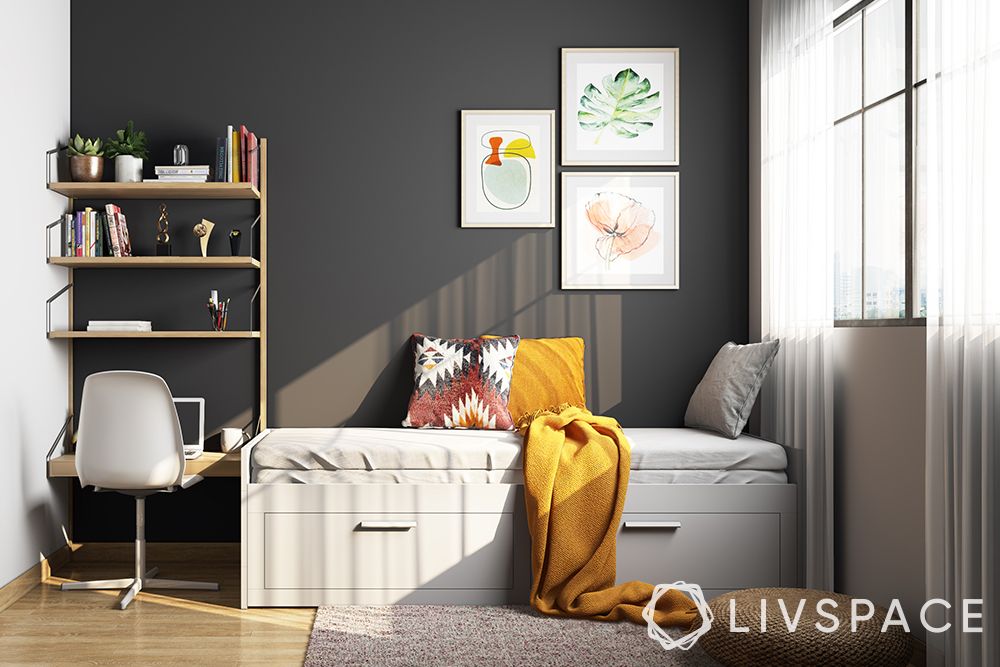 Since work from home has become the norm, most homeowners are seeking a home office. Having one in your bedroom is a smart decision if you do not have an extra room to spare; you get the privacy you desire. Incorporate the office in compact bedroom interior designs by fitting it in a corner. In the room depicted above, the shelf has been extended to act as an office desk. You can also opt for a foldable table or floating desk in your compact bedroom.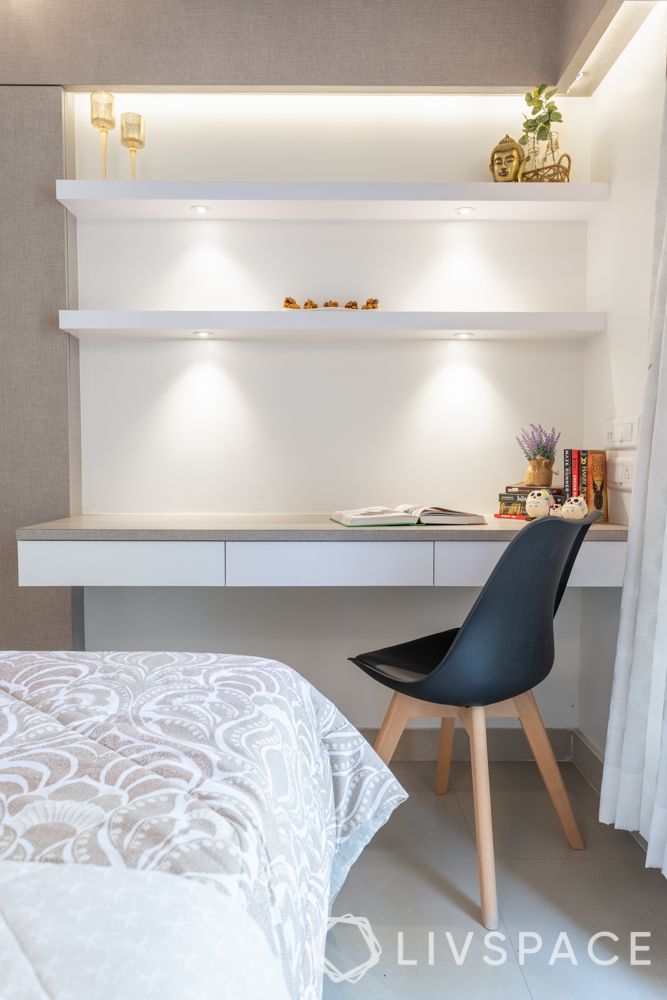 Pick a niche in your big bedroom design to place your home office. Then, you can either buy an independent table and chair for your needs or get your home office custom-made. When we made the above home office, we also made sure the space got ample light. Love the design and want it in your space? You can reach out to us for something similar!
How Can Livspace Help You?
Want stunning interiors? Livspace can help you! All you have to do is book an online consultation. If you prefer meeting in person, you can also find Livspace designers at the IKEA Damansara store. Hurry up and get quality home interiors from the best in the industry!