One of the first tough decisions to make when it comes to decorating a bedroom is to determine its colour palette. Whether you go for a neutral colour scheme or something a little more daring, the appropriate colour palette may help you create a welcoming and customised environment in your bedroom. However, creating a coherent bedroom colour scheme without carefully considering all design components, such as the best bedroom colours suited to your space as well as the colour chosen for the bedding, can be difficult. Here are 10 bedroom colour ideas to get you started if you're ready to add some colour to your space.
Bedroom Colour Ideas #1: A Classic Neutral Bedroom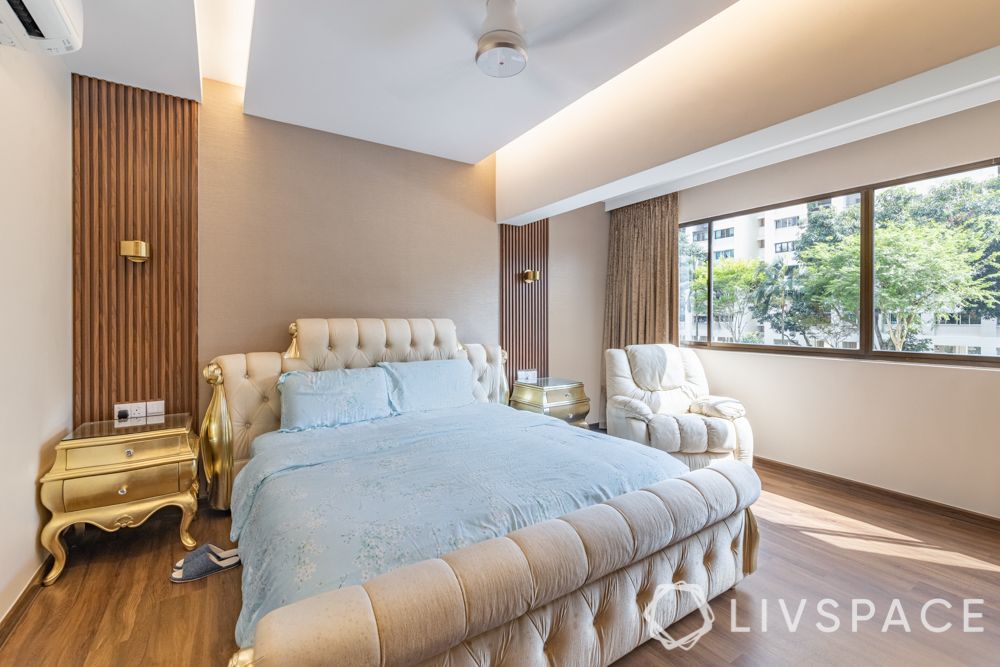 Neutral bedroom paint ideas, like this bedroom decor, will always be a classic option; the immaculate light blue sheets in this bedroom ensure a hotel-like look. Its year-round appeal works from bright spring days to snug winter evenings, and it can be accessorised with any other bedroom colour ideas, making it a true design chameleon. For a peaceful and simple aesthetic, add cohesive but unusual details (that metallic nightstand is great!).
Bedroom Colour Ideas #2: Timeless Black and White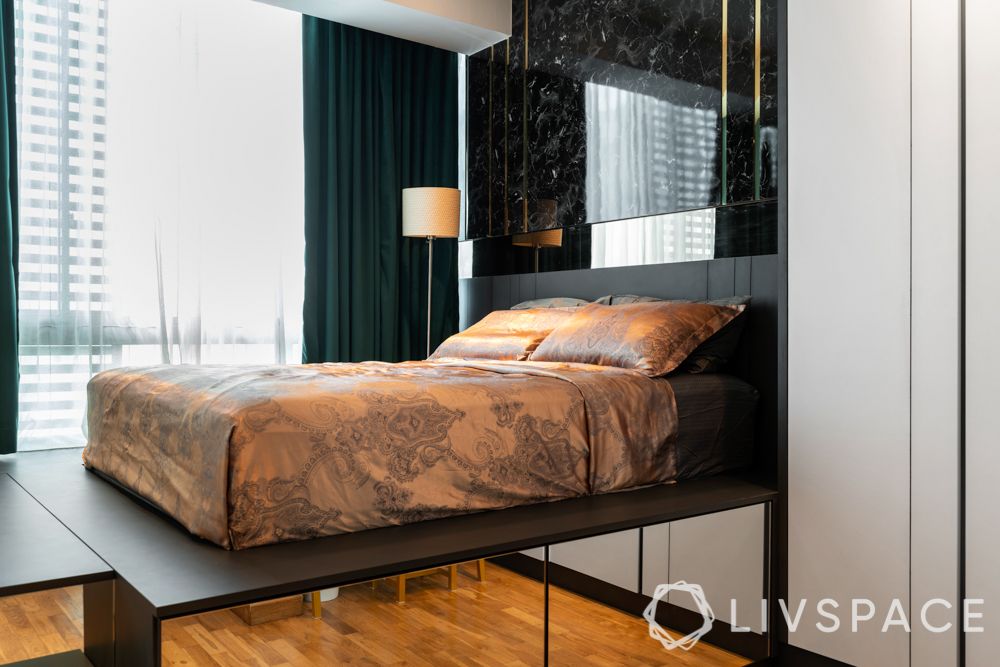 Black and white are the best bedroom colours since time immemorial as they make for an ageless combination. Depending on which colour you pick as your lead hue, black and white bedroom ideas can completely change a space. You can create a sensual, moody as well as a stylish space by using black and its sub-tones as the primary bedroom paint ideas, and keeping accents and accessories white.
Bedroom Paint Ideas #3: Trendy Very Peri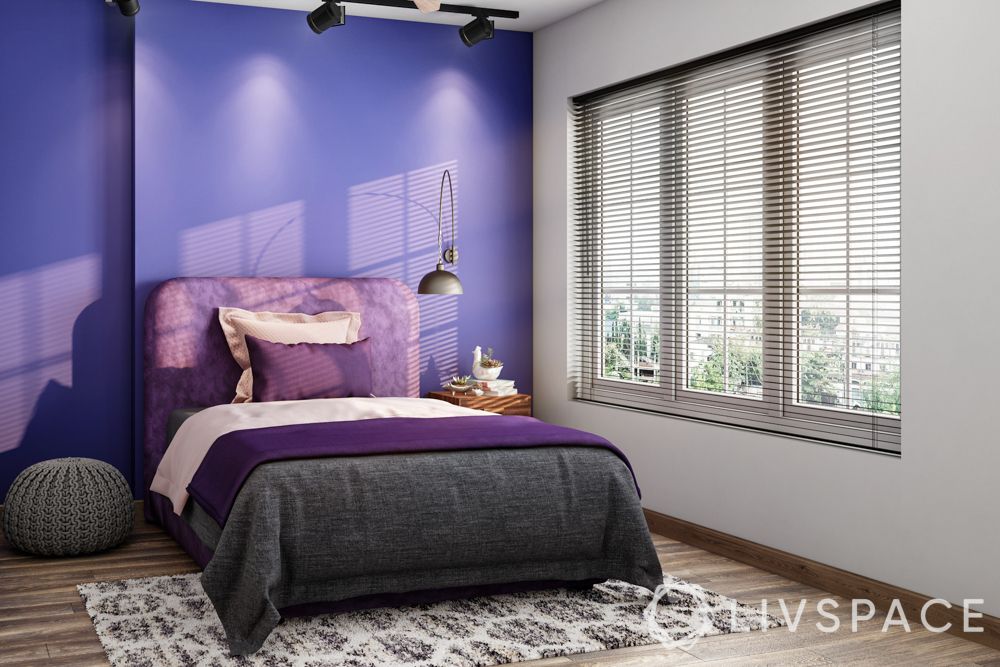 If you are a fan of style and trends, you'll undoubtedly want to join the Pantone colour of the year bandwagon! The very lovely Very Peri is the colour for 2022, giving our spaces a dreamy and celestial vibe. Mix Very Peri with uncomplicated and subtle bedroom colour ideas because this shade needs its own spotlight. To give your Very Peri feature wall the attention it deserves, use a neutral colour like white to ensure the star attraction gets the eyeballs.
We hope you liked learning about the several bedroom paint ideas you can try at home. Check out 10+ Stunning Bedroom Colour Ideas and Pairings You Must Try at Home for more ideas on the best bedroom colours and decor options out there.
Bedroom Colour Ideas #4: Brick Wall with Complimentary Colours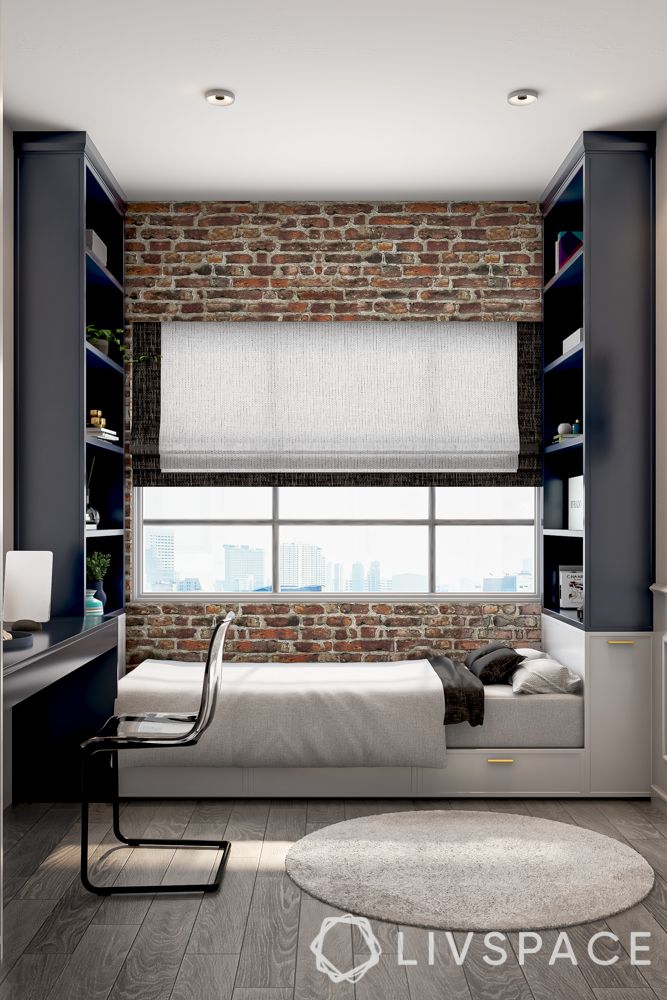 You don't always have to come up with new methods to spice up your home decor. If you already have a theme going on at home, you can take advantage of it. The uncovered walls in this above bedroom area add a lot of character to the space. To make the most of this industrial-style bedroom, use complementary bedroom colour ideas for the other walls. And there you have it — a quick and easy approach to achieve the industrial style.
Bedroom Grey Ideas #5: Play with Monochromes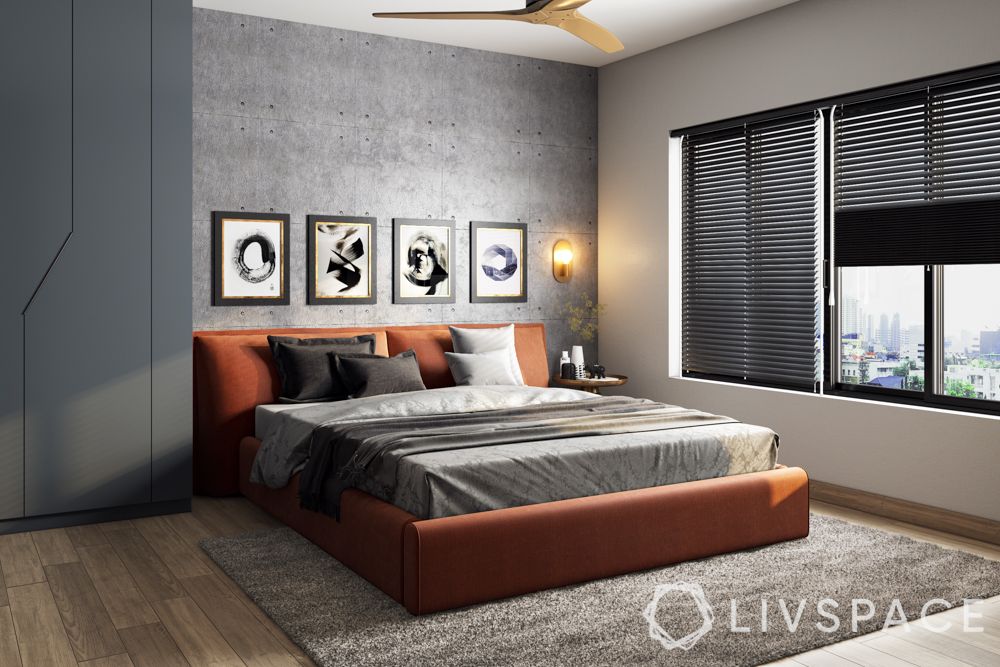 When it comes to a list of the best bedroom colours you could choose from, grey may not be your first pick. However, when done correctly and in the proper mix, it may be a strong competitor for the best bedroom paint ideas. To make the most of the shade, choose textured walls and neutral, complementary colours.
This way, you may keep the monochrome colour scheme throughout your bedroom without overwhelming it with bright colours. However, choose your grey colour carefully because many bedroom grey ideas have warm or cool tones. This could also have an impact on the overall ambience you want to create in your bedroom.
Bedroom Paint Ideas #6: Tranquil Green, Crisp White and Cranky Rust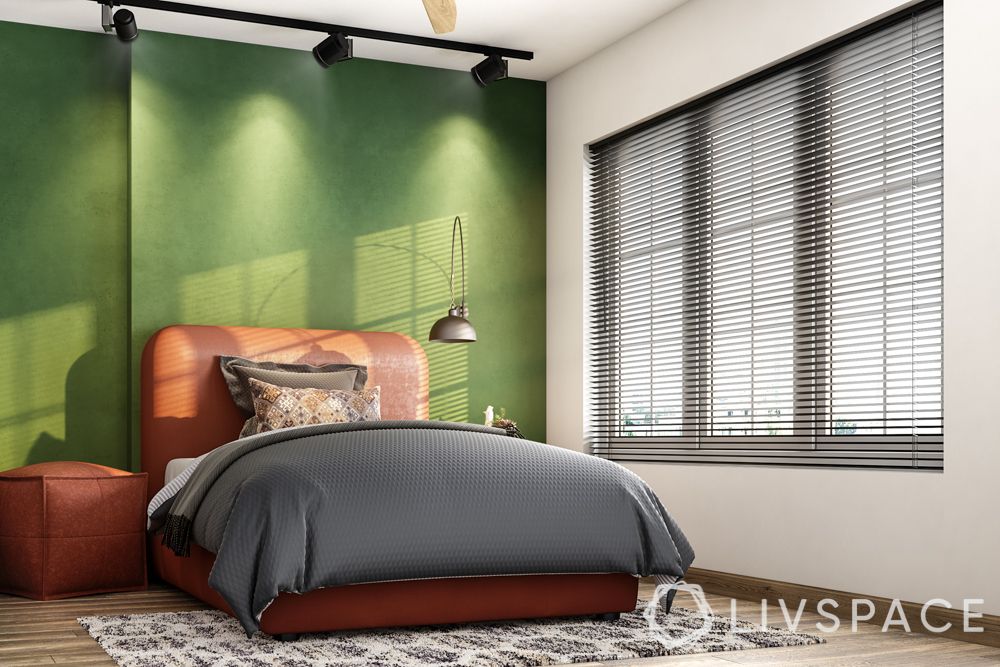 Green is a relaxing colour that works perfect in a bedroom, especially when coupled with a neutral such as crisp white. These green-and-white bedroom ideas with rust accents are particularly well-suited to mid-century modern or dark bedroom themes. The combination adds a splash of colour while remaining subtle and basic. This calm bedroom has a classic, timeless sense thanks to the gentle, muted blue-greys and leafy greens. The cold colours are kept at bay by the creamy white walls.
Bedroom Colour Ideas #7: Create a Mélange of Textures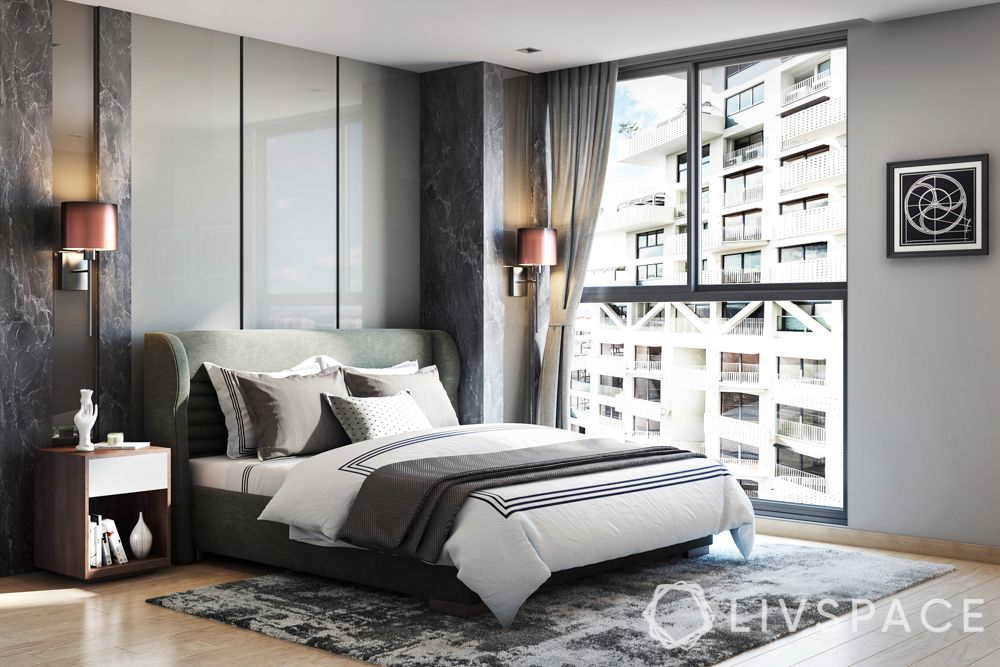 Who says your bedroom colour ideas need to be all about bedroom paint colours? If you enjoy trying new things, this approach to room colour choices can be right up your alley. Instead of using standard paint, experiment with textures shaded in various colours for your bedroom walls. To make an effect on your feature wall, use a combination of gloss and matte finishes. You can have both textures in the same colour or play around with different tones. It will stand out no matter how you personalise it!
Also read: Top 5 Small Bedroom Ideas You Should Know About While Designing
White Bedroom Ideas #8: White-and-Brown Bedroom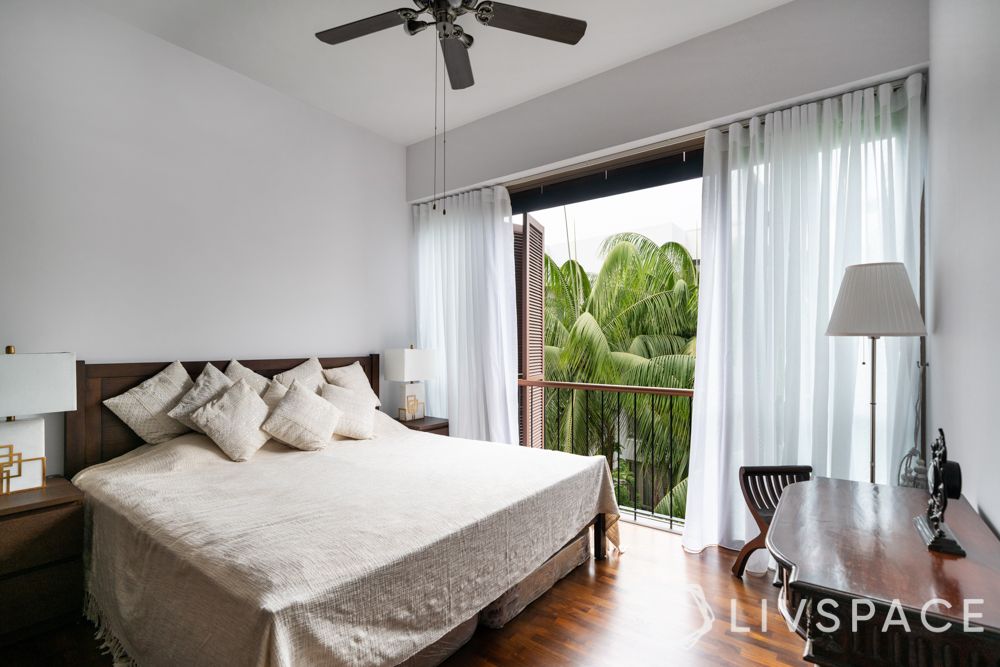 Simple white walls and bedding with natural wood elements are featured in this Scandinavian-inspired apartment. The wood softens the white, making it less harsh and impersonal. A light wood flooring will keep the space feeling light and airy, but darker stains will give the space a more grounded sense. In a reference to smart but elegant, nutmeg-hued furniture goes wonderfully with luscious white. These bedroom colour schemes look great with dark woods and are ideal for transitional homes that want to maintain traditional aesthetics.
Bedroom Colour Ideas #9: Pink and Pastel for the Kids' Bedroom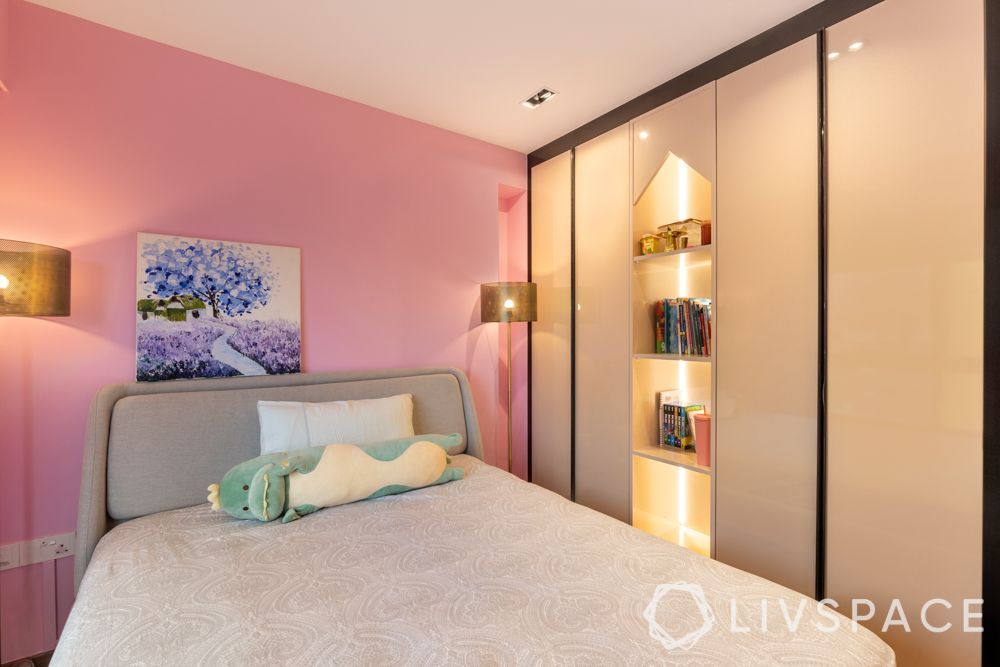 Pastels may appear to be appropriate for a child's room and we cannot find a reason why not. They can, however, create an effortlessly stylish adult bedroom too. Use a creamy neutral on the walls to balance out the pink and pastel colours. As accents, use only two or three complementary pastel colours. Natural wood completes the simplicity of the space.
Bedroom Paint Ideas #10: Grey, White and Blue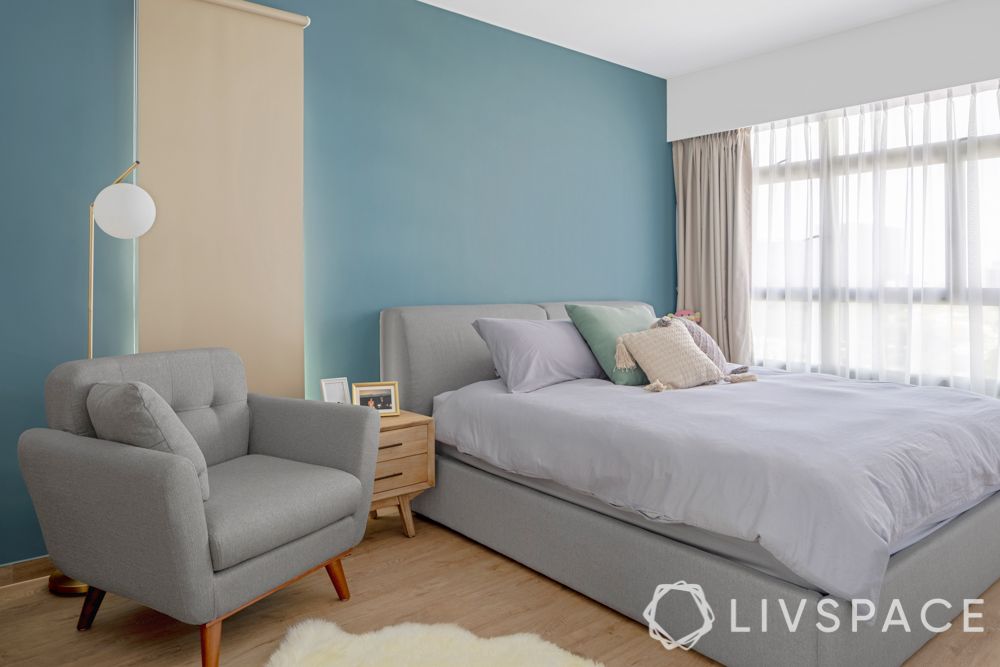 While cream, blue and white bedroom ideas can be overpowering, this bedroom demonstrates that they can also be simple and unobtrusive. Allow your room's blues and whites to take centre stage, with cream touches woven in throughout. You can also use a muted grey-and-blue colour palette for a relaxing, spa-like bedroom. Choosing tones that are similar to one other helps things blend together in the area, making it easier on the eyes. Adding some natural plants to your bedroom will give it a great finishing touch.
Want to add some wallpaper designs to your bedroom? Read this The Ultimate Guide To Selecting the Best Wallpaper Design for the Bedroom.
How Can Livspace Help You?
Want stunning interiors? Livspace can help you! All you have to do is book an online consultation. If you prefer meeting in person, you can also find Livspace designers at the IKEA Damansara store. Hurry up and get quality home interiors from the best in the industry!