Struggling to make the most of a small kitchen or kitchenette? You're undoubtedly well aware of how difficult it is to keep things organised in a small kitchen. It might be difficult to know where to begin organising when pots and pans are spilling out of drawers and appliances are overflowing on the kitchen counter. We have gathered small kitchen design ideas for you in this story which will definitely work for you.
You may save your grunts and sighs since little compact kitchen designs are both functional and attainable! This collection of modest small kitchen design ideas will serve as a practical guide to making the most of limited kitchen space.
Small Kitchen Design Ideas #1: Outlining the Parts of a Kitchen
The first step in dealing with small kitchen spaces is to comprehend the various zones. The components that make up a full kitchen are equally important!
Worktop Station
Worktops are probably the most important component because they're where a lot of the culinary magic happens. Worktops are the areas above lower cabinets that are typically at waist height. These are the ones who take the brunt of everything that happens in the kitchen. As a result, it is critical to ensure that your work surface can withstand heavy loads; materials that are easy to maintain and durable, as well as heat-resistant materials, are desirable.
Cabinetry Area
Cabinets, which serve as the kitchen's storage units, are required in every kitchen. Cabinets can span simply the lower half of the kitchen or be supplemented by loft-style cabinets, depending on the amount of vertical and horizontal space available. A kitchen's cabinets will surely have drawers; if there are any dead corners, replace them with magic cabinet units.
Essential Appliances
A conventional kitchen comes with a list of necessary appliances for the area to function. A stove and hob, a refrigerator, a microwave oven, and a sink are usually included on this list. A normal oven for baking and grilling can be accommodated in larger kitchens including food processors, toasters, grinders and larger refrigerators with two or three doors. When building a kitchen, it's critical to assess and decide on the best location for larger appliances. You won't be able to move these appliances around freely once they've been repaired. Smaller appliances, on the other hand, may be readily lined up on the counter and moved around.
ALSO READ: "A Quick Guide to Get the Right Kitchen Cabinet Design in 2021"
Small Kitchen Design Ideas #2: Which Finish to Choose?
Finishes! This is the very first point that has a lot of homeowners scratching their minds. Any kitchen design is incomplete without the use of finishes. They serve a practical as well as an aesthetic purpose: you don't want to be concerned about the finish of your cabinets if there are spills or leaks! Here are a few other types of finishes to think about:
Matte vs Glossy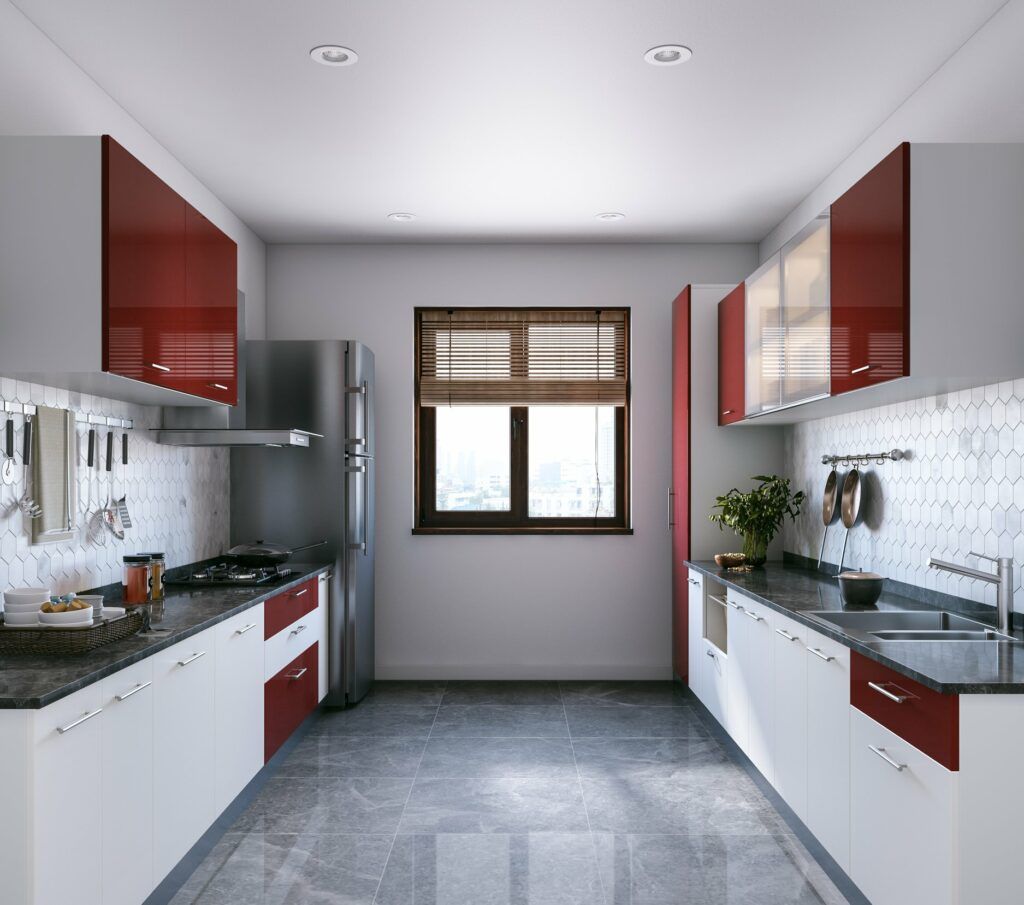 Glossy finishes are ideal for modest, small kitchen designs. They reflect light to make the room appear larger and brighter. Because of the flat surface, they're also easier to clean. If you choose a glossy laminate or acrylic, you can choose from a large range of colours, making your kitchen design more customizable.
In a small kitchen design, matte finishes appear regal and understated. Darker colours should be avoided at all costs because they can make a space appear cramped. Dark colours, on the other hand, when contrasted with lighter shades and an overall matte texture, can produce a dramatic kitchen décor that wows.
Acrylic vs Laminate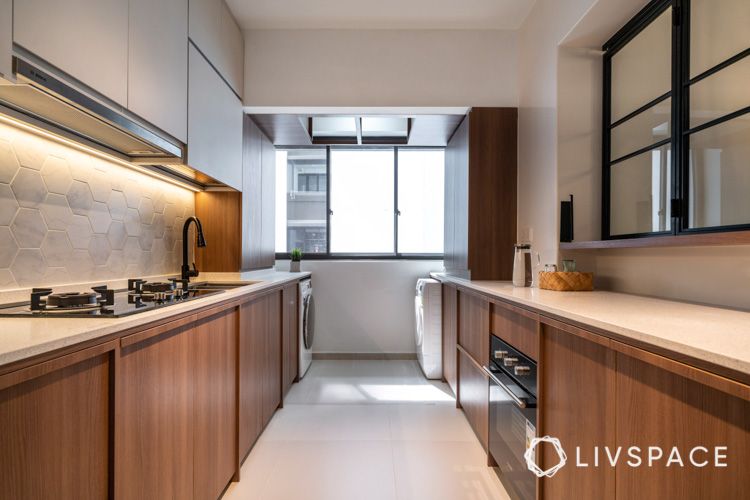 Laminates are a fantastic choice for cabinets in small kitchen designs since they come in a variety of textures, colours, and finishes. Designers can add depth and colour to a room by using different textures. It also ensures that the cabinetry is long-lasting, easy to clean, and maintain.
Acrylic is a non-toxic, reflective surface that reflects ambient light and is available in a number of colours. Given that it has a high-gloss finish, the texture options are limited. They are, however, long-lasting because they are scratch-resistant and do not fade over time.
Small Kitchen Design Ideas #3: Make your Kitchen Look Seamless
Whites, greys, translucent pastels and light earth tones are classic colour combinations that help reflect light and make a small space appear larger. These fundamental tones give your kitchen an airy effect with infinite colour pop options, perfect for accentuating flower and fruit plates, pots, appliances, and bright-colored dining ware!
Once you've got all of the essential components in place, it's just a matter of outfitting the kitchen in a way that looks good and allows you to whip up culinary marvels with ease. Here are some practical design guidelines to help you bring your small compact kitchen ideas together:
Handle-less Cabinets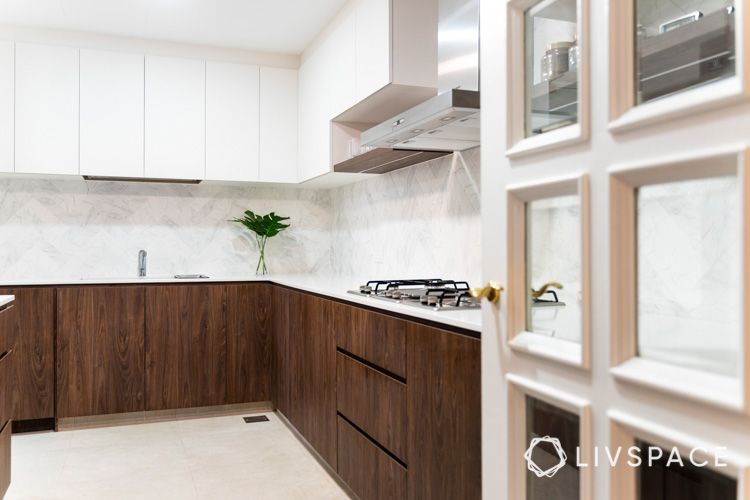 Swap out handles with handle-less cabinets in small compact kitchen designs to eliminate visual clutter. These normally feature a hidden groove that can be pulled out or built-in edge profile handles that don't detract from the otherwise clean cabinetry face. They're also the safest bet if you're undecided about the handle style, finish, or material to go with.
White Overhead Cabinets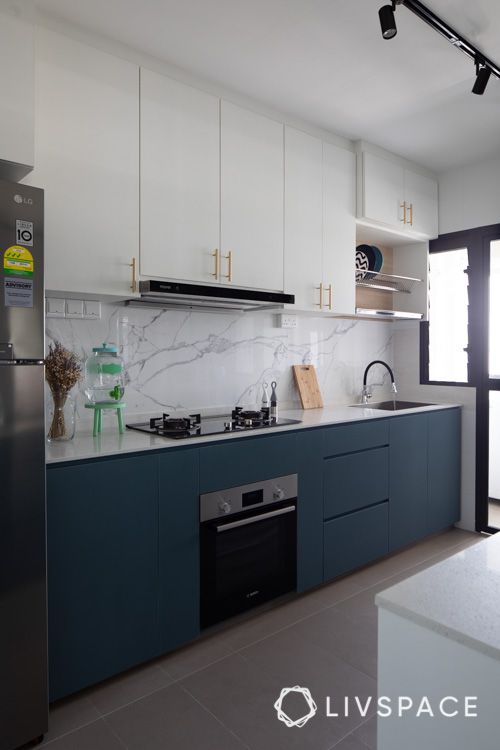 Using white over-head cabinets to maximise space visually and spatially is a clever trick. These blend perfectly with most white walls, optically reducing bulk without sacrificing practical storage space. Overhead cabinets are another good use of vertical space since they lead the eye higher, making the room appear taller. In terms of small kitchen design, the use of lower cabinets in contrasting colours creates a dramatic but not overpowering impression.
Choose Pull-out Drawers
When it comes to organising a small space, it's all about finding innovative storage solutions that make the most of the space you have. When you separate your storage according to demands, it's easier to organise small compact kitchen ideas. The countertops keep clutter-free, and you'll always find what you're looking for, thanks to zone systems and designated placements for everything. Consider storing utensils in cabinets behind the stove for easy access. Cleaning materials should be kept away from cutlery and plates, preferably under the sink.
Small Kitchen Design Ideas #4: Smart Solutions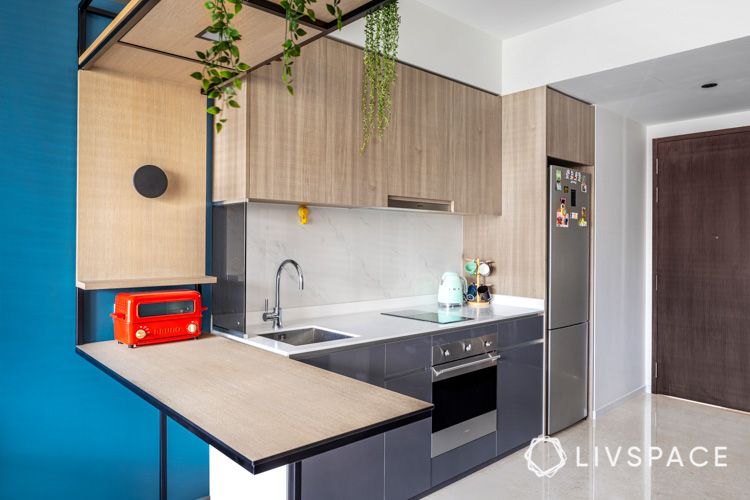 Going beyond traditional storage space and embracing clever solutions is the final leg of the design journey when it comes to small kitchen design ideas.
Make sure to hang storage racks that can also serve as industrial decor on bare walls. Consider a pull-out pantry, which can be tailored to fit even the smallest vertical areas.
Use a carousel rack to make corners work for you; a solid yet light one spins effortlessly to give you rapid access to objects in the back. Cleaning supplies are kept out of sight but perfectly organised in stainless steel trays mounted on the insides of cupboards.
Customize a small area with small compact kitchen ideas to make the most of your available space. Put dead corners to work, for example, and keep utensils organised while maintaining a visually pleasing design.
It is critical to maintain and clean a kitchen once it has been constructed. This secures the space's long-term viability. It's no wonder, then, that the material's endurance ensures that the budget for kitchen renovations remains closed until you open it!
If you enjoyed this article, you might be interested in reading "A Quick Guide to Get the Right Kitchen Cabinet Design in 2021"
Send in your comments and suggestions to editor.sg@livspace.com