You certainly spend a lot of time in your living room entertaining your family or binge-watching Netflix, making it the most essential room in your house in terms of decor. The living room is the first room we start decorating and where we welcome our visitors. Therefore, making a few significant living room decor decisions may help you create a room that is appealing enough for you to stay in.
Though there are some very apparent fundamentals you need to remember while decorating small rooms (a living room needs good seating, entertainment and must be comfortable), there are a few crucial measures you can take to create a genuinely lovely living room decor. These living room decor ideas can help you design and build a living room that is both beautiful and functional, whether you are beginning from scratch or planning for a living room makeover.
Living Room Ideas Paint Tip #1: Pick a Colour Palette Resembling Your Personality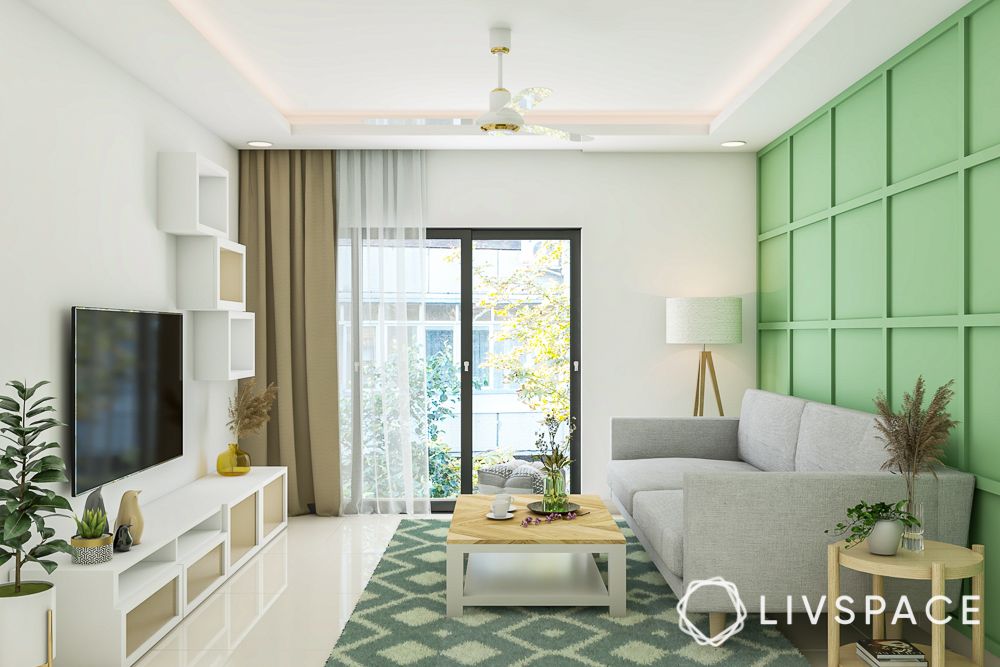 The colour scheme of your living room decor is an important element to develop a seamless look, regardless of whether you choose a monochrome style or wish to incorporate colourful living room ideas. This striking living room by Livspace begins with a foundation of whites and adds a tinge of light green to maintain a coherent look. A simple method to maintain a tidy and functional aesthetic in your living room decor is to have a colour scheme in mind while you assemble each component.
Living Room Decor Ideas #2: Use Furniture as Decor Elements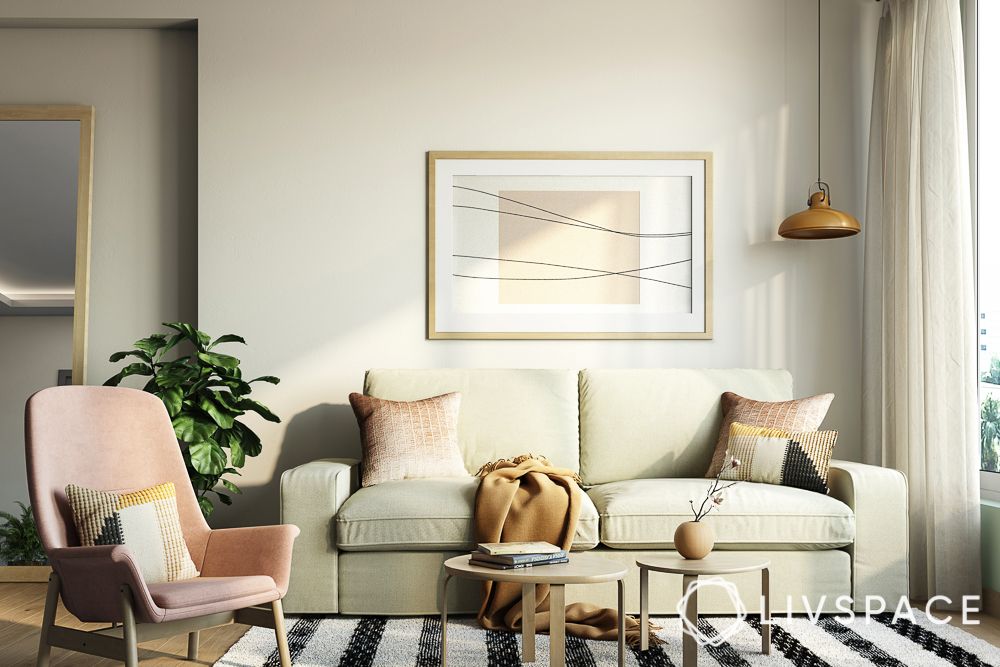 It is crucial to take note of your furniture inventory and be honest about whether it fits your space; you could be beginning from scratch or remodelling a place you have lived in for a while. In either case, it is time to let go and start over if you have been hanging onto that favourite old sofa or chair that is now probably outdated. In terms of size and style, the perfect furniture can make or break your living room decor.
Get small apartment living room ideas from this Livspace home pictured above. If you are a small family, this two-seater sofa and a chair is sufficient for filling up your living room space. However, a sectional sofa is ideal for big families since it offers enough room for everyone to spread out together and relax.
Also read: Top 5 master bedroom ideas & modern bedroom furniture ideas for an effective layout
Living Room Decor Ideas #3: Maintain a Balance between Beauty and Functionality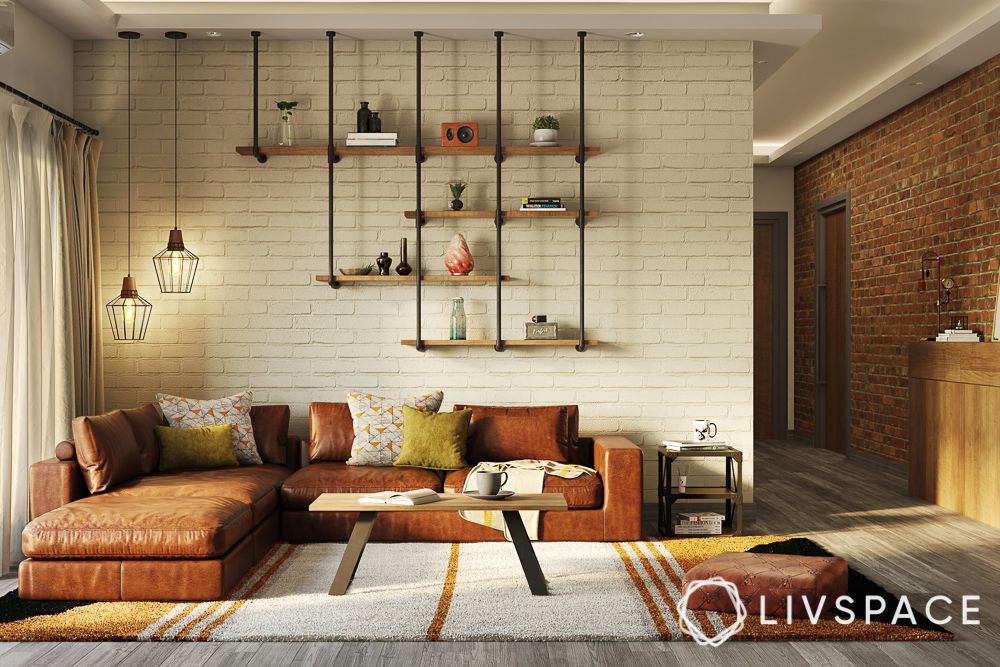 This living room is equal parts beautiful and functional, which is essential to creating a gorgeous living room decor. It's okay to want a dazzling space but you also have to live in it — and it is important to ensure your room works not only for your tastes but also for your lifestyle. If you need additional storage, look for attractive pieces that conceal your knick-knacks while blending well with your other decor.
Likewise, an ultra-stylish couch may catch the eye but what good is it if it is not comfortable? The most important element of a wonderfully designed living room is that it is a place you will actually want to hang out in.
Small Apartment Living Room Ideas #4: Get a Living Room Partition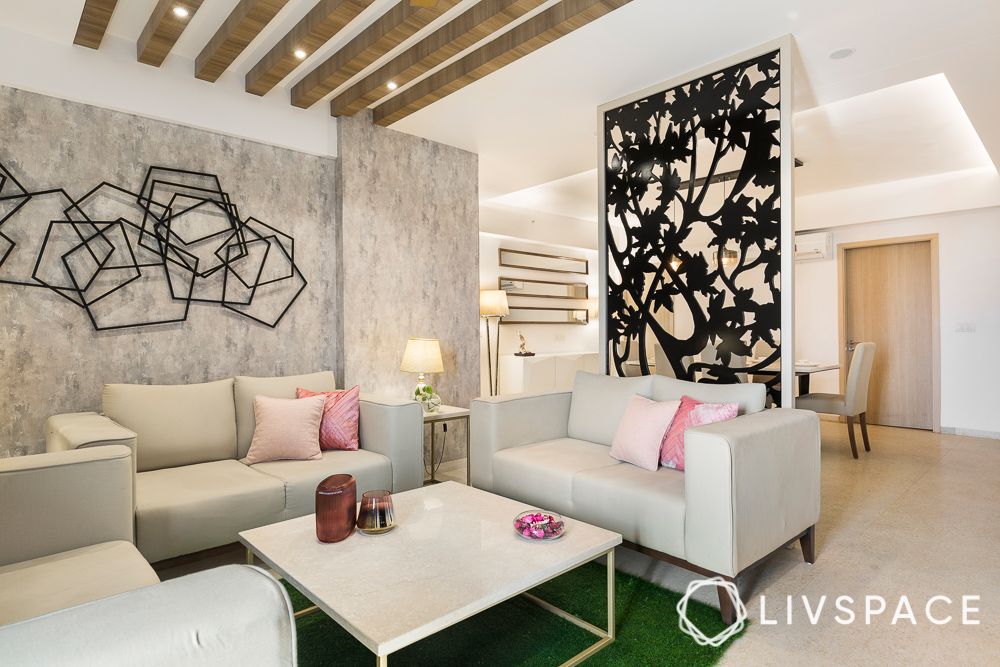 Living rooms are often divided by walls. They not only have a lovely appearance but also add a little bit of privacy. But our choice for living room decor includes a living room partition that divides two spaces of the house, such as the dining room and living room. Depending on your preferences and style, there are various types of living room partitions you may choose from.
Let's look at one of them. This living room divider hangs from the ceiling and is a permanent installation. It is built with the ceiling and floor already attached to it. Such dividers come in a variety of patterns and materials. These can be entirely closed or partially open.
Also read: Top 7 TV feature walls that make your living room appear bigger
Colourful Living Room Ideas #5: Get the Right Lighting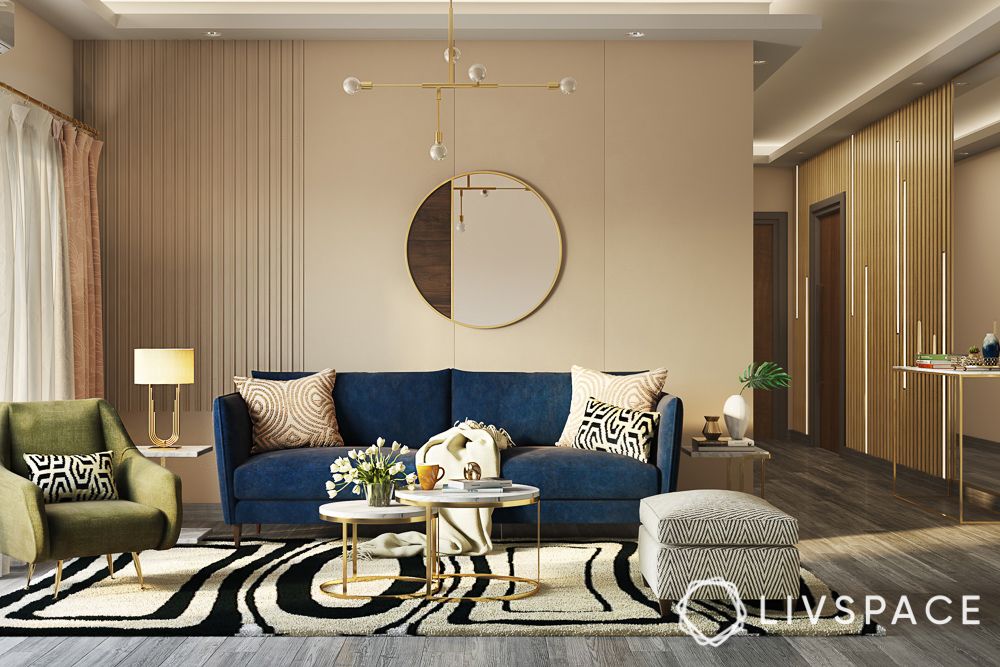 The right lighting arrangement can completely transform the appearance of your living area. Consider the height of the space from floor to ceiling when selecting lighting to complement your living room decor. You can pick from a variety of lighting options for your living area. Let's look at the top selections. Chandeliers, pendant lights, wall sconces, flush and recessed lighting are some examples.
Did you know that there are several types of lighting as well? You can use the following three forms to decorate your living space. Ceiling lights, which typically come in the form of chandeliers or pendant lights, hang from the ceiling. Floor lights, as their description says, stand on the floor. Table lights rely on the stability of a piece of furniture, such as a side table.
Living Room Decor Ideas #6: Get a Trendy Coffee Table and Rug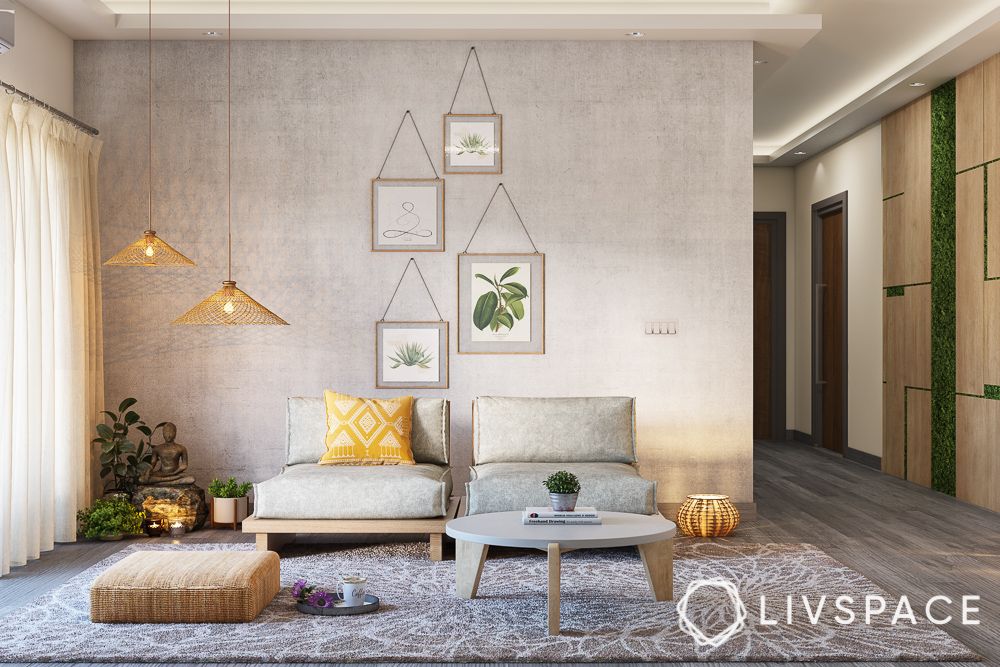 Remember that the sofa is a key consideration when choosing your coffee table. A coffee table should be roughly the same height as your sofa seat. A round or square-shaped coffee table will look great next to a sectional sofa. Additionally, an oval or square-shaped coffee table would look great with a standard, horizontal couch. Keep in mind that the coffee table is also a work of art and that you can experiment with marble, wood, glass or copper.
The best touch is what your feet appreciate. Rugs are another option for a consistent sense of warmth and relaxation when you think about colourful living room ideas. Rugs can be found in many different shapes, including square, rectangular, round and oval. Modern, contemporary, traditional, coastal, industrial, regional, mid-century, Scandinavian and Tibetan carpets are popular choices among many of our clientele. To liven up the look of your living room, you can place rugs underneath coffee tables or use them as living room decor pieces on the floor.
Living Room Decor Ideas #7: Get in Some Lush Greenery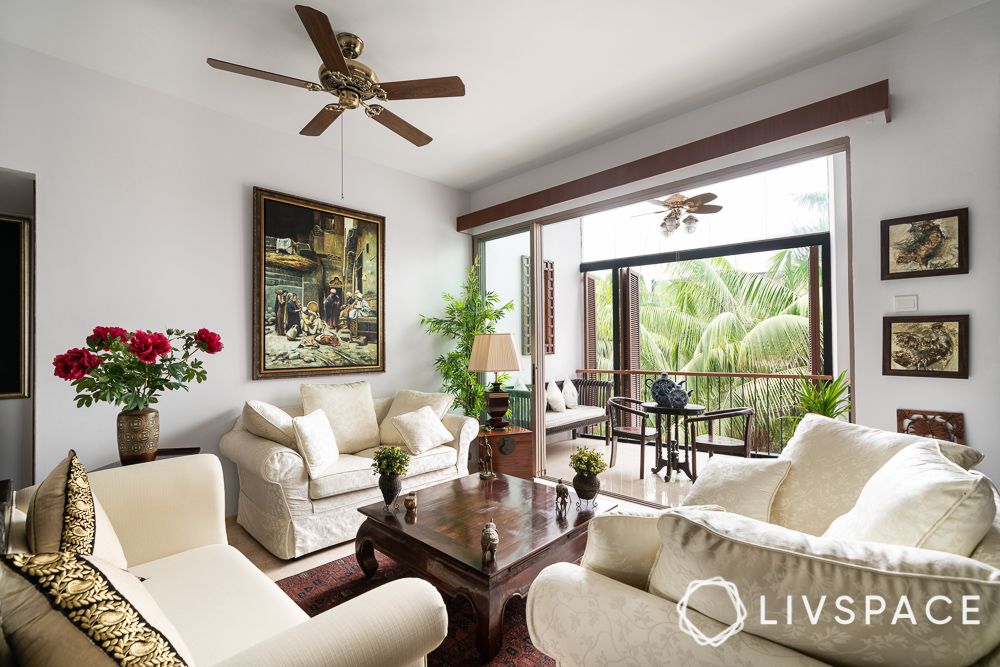 Plants are the ideal adornment when it comes to choosing simple living room ideas. What are you waiting for if you enjoy being surrounded by lush green plants and some fresh air? Succulents, ivy cacti, ferns, money plants and rubber plants are indoor plants that add a natural feel to your living room decor while also looking lovely. On a footstool, a side table, or even in the centre of your coffee table, you can put plants. Your plants can rest comfortably on window panes as well.
Want to decorate your living room with wallpapers? Read this article for some amazing colourful living room ideas.
How Can Livspace Help You?
Want stunning interiors? Livspace can help you! All you have to do is book an online consultation. If you prefer meeting in person, you can also find Livspace designers at the IKEA Damansara store. Hurry up and get quality home interiors from the best in the industry!