Remodelling or designing a bathroom is a major project which can come across as an intimidating task to a lot of people. Since, the bathroom is the room where people need complete peace and privacy, it is something that requires careful planning. It is also important to keep in mind that every homeowner will have their own requirements when it comes to bathroom decor. And to ensure that everything from lighting fixtures to the floor tiles are just what you need, we believe that everyone should have the basics sorted out. In this edition we are going to talk about bathroom design and everything that you need to keep in mind while planning a bathroom renovation. From thumb rules to compact bathroom secrets and trends, we have it all here for you!
Guidelines to design a toilet — A checklist
To begin with, we have created this handy checklist that has all the measurements that you need to keep in mind while you think about bathroom decor ideas.
#1: Entry Door
When thinking about the door for your toilet, we recommend you keep at least 32 inches of clear way. If space is a constraint, then make sure you have at least a 24-inch door. Also, the International Residential Code is silent on the door widths and heights of interior doors. Just make sure you check with your local codes for requirements before finalising on a bathroom design. In layman terms, just make sure your door opens comfortably and you have enough space for the same.
#2: Ceiling Height
As per the Building Code Requirement, the minimum height between the ceiling and floor should be 80 inches over the fixture and at the front clearance area for fixtures. A shower or tub equipped with a shower head shall have a minimum floor to ceiling height of 80″ above a minimum area 30 inches by 30 inches at the showerhead.
#3: Floor Clearance
Your bathroom design should be planned in such a way that there is at least 30 inches of clear floor space in front of bath fixtures and walls. A minimum space of at least 21 inches must be planned in front of the lavatory, toilet, bidet and tub and at least 24 inches must be planned in front of the shower entry.
#4: Lavatory Placement
As a rule of thumb, there should be enough clearance around the lavatory. The distance from the centre line of the lavatory to the sidewall/tall obstacle should be at least 15 to 20 inches. For practical reasons, make sure you maintain this distance. If it is not, there is a high chance that it will become very difficult for you to clean the lavatory.
#5: Shower Size
Don't want the wall to interrupt your long hot showers? We totally get it. So make sure you maintain the interior shower size as at least 36 inches by 36 inches. Although the Building Code Requirement says that even 30 inches by 30 inches is good enough for a compact bathroom.
#6: Lighting
While general and ambient lighting is a must, we also recommend that you have certain task lights in the functional zones of your bathroom, such as the vanity, shower and so on. The bathroom design should be such that at least one wall-switch control must be provided at the entrance.
#7: Storage
You might feel that you need too much storage space allocated in your bathroom design but that's not altogether true. It is advisable to always provide adequate storage space for bath linen, toiletries, grooming accessories and so on. These help your washroom to be clutter free. Your vanity should be able to take care of most of these requirements.
How to design a toilet without making it look cramped?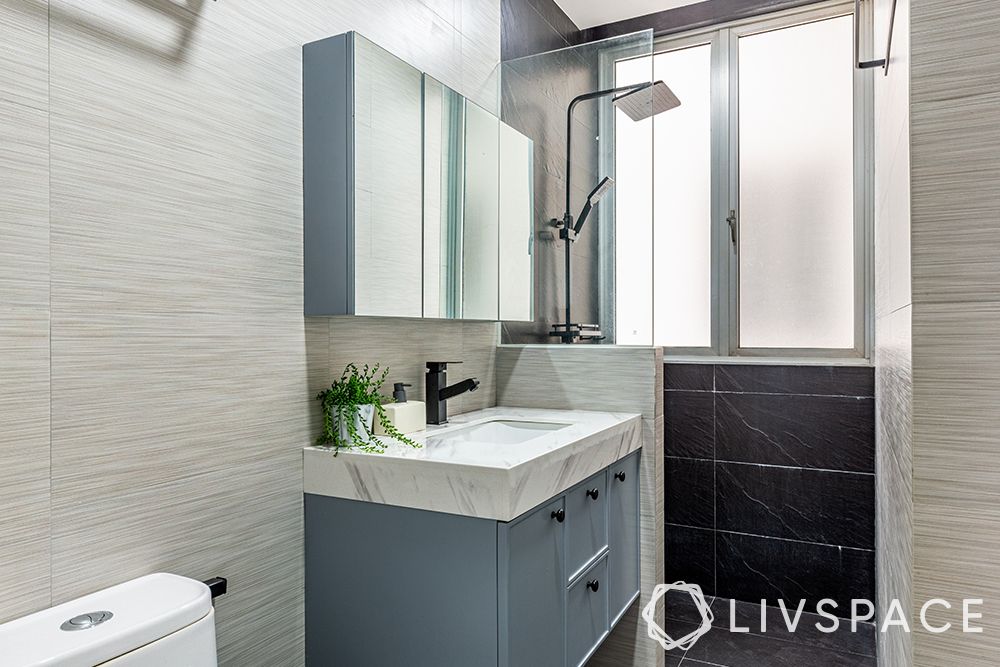 A small bathroom can limit your space but it should not make you compromise on the look and feel of it. You can easily get your dream bathroom if you apply these clever bathroom decor ideas and tricks.
Try one bold accent: It is often assumed that dark colours make small spaces look more cramped.Thus, it is better to use a bold accent that has darker shades. Dark colours and metallic pair quite well.
The Scandinavian style is a constant hit: Achieve the look by keeping the walls neutral and add a dash of colour if you want. Accessories are the easiest to play around with so start experimenting with them.
Make the floor your canvas: So what if your bathroom is small? You can still give it character by using a unique colour scheme paired with beautifully patterned floor tiles. Add corner shelves for extra space.
Optimise storage: Instead of a freestanding storage unit, go for in-built storage. This way your storage will be concealed in the wall and you will have enough free floor space.
Find a spot for everything: We understand that it is difficult to incorporate a complete vanity unit in a compact space. But you can still have all your essentials in your bathroom. All you need to do is get wall ledges pinned up at designated spots, like next to the plug point, next to the washbasin and so on and voila! You've got yourself extra storage without overcrowding.
Utilise wall space intelligently: Don't have free floor or counter space at all? Vertical storage is your go-to option! Create niches in your bathroom wall and place your items there. You do not need any extra space for this hack. An entire wall can be turned into storage with the right placement and material.
What is the Right Kind of Storage for Bathrooms?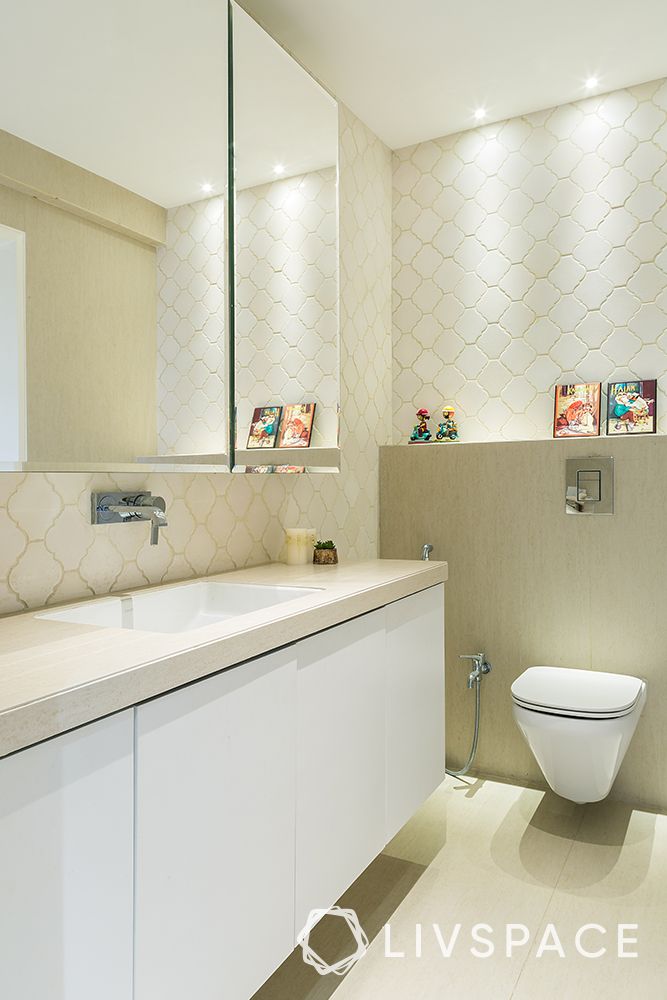 A bathroom design should prioritise functionality over design, always. We recommend that you stick to vertical storage in the bathroom as it is the most efficient way of adding storage in a small space. Get a vanity that has huge cabinets and drawers and additional counter space for everyday toiletries. A tall unit next to the vanity is the best way to maximise available corner space. In the shower area, install corner shelves where you can place your essentials. These are some of the basic types of stooges you must consider while designing your bathroom.
When Should You Renovate Your Bathroom?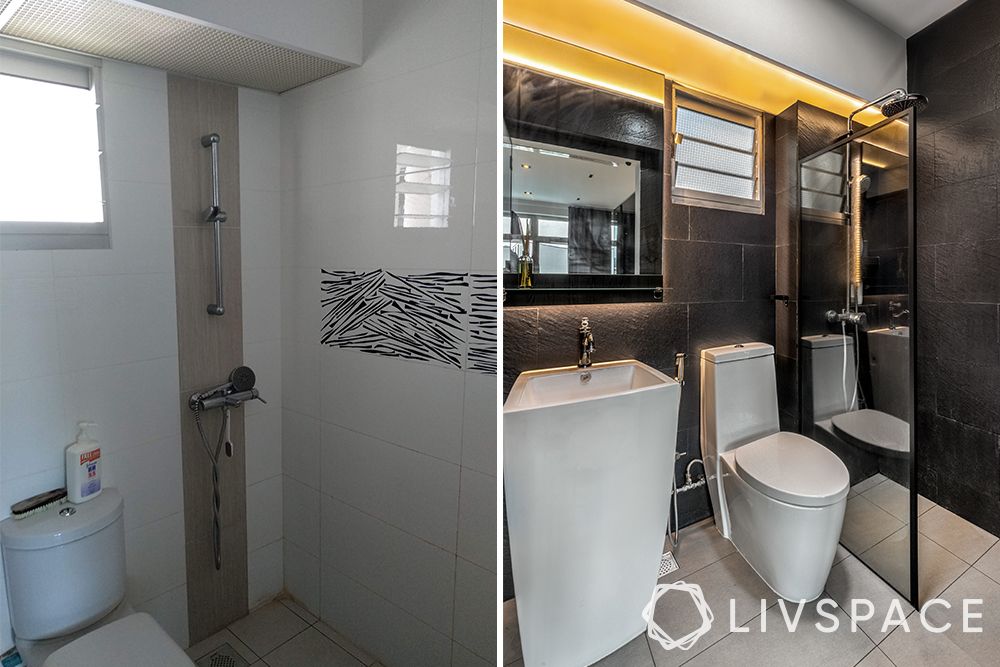 Bathroom renovation is one of the most important aspects of a renovation, especially in resale flats. This is because we want the space to look in sync with the rest of the home design while also appearing cleaner. There are a few things that you can consider which will help you decide if you do need a bathroom renovation and the extent of investment you need to do.
What are you looking for?
The first question you should ask yourself is what do you want from this bathroom renovation — a regular, functional space that serves your basic needs or a designer bathroom that is a luxurious sanctuary. Do you need your bathroom to be elder- or child-friendly? Or both? Then you would need to take decisions keeping in mind these parameters too. Another important question to ponder is how many people would be using the bathroom. Is it only for family members or guests as well? Answering these questions will help you and your designer decide the way forward.
Things you should keep in mind
Always go for easy and low-maintenance materials for your bathroom design.
Keep basic dimensions handy.
Be cognisant of the fact that conserving water is essential.
What should you definitely renovate
Floor tiles are definitely a good option to replace. New tiles can instantly amp up the look of your toilet and add a touch of style to boring interiors.
Shower cubicles are a powerhouse of dirt and water stains. Hack the existing glass shower cubicle and build a new one. Make sure you get a compact glass partition to sustain water splashes.
A good vanity unit goes a long way. You should invest in a material that won't wear out in humidity since your bathroom is going to remain damp.
Is the ventilation good?
This is a common mistake that most of us make while getting our bathroom design. We forget to account for ventilation. While an exhaust fan might seem enough, consider a window if possible, especially in the shower cubicle since it might get suffocating in there.
Are the fittings and fixtures leaky?
Leaky taps can have you running to your plumber every now and then. Avoid the hassle by making sure you get taps that fit just right. Top-mount sinks are the most common types of sinks and they fit in almost every kind of countertop. Shower heads come in different types and sizes like handheld, rain and so on. Check the water pressure in your toilet to know which showerhead will be the best.
What is trending in toilet design this year?
#1: Larger Shower Areas for Luxurious Baths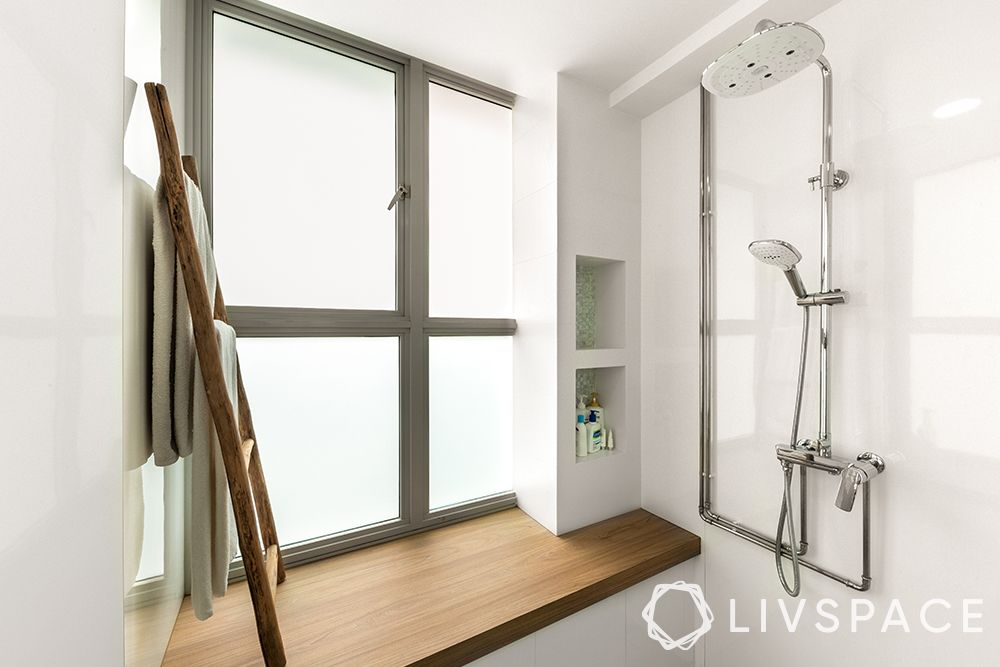 If space and budget permit, you should definitely consider getting a slightly larger shower area. Yes, it increases maintenance but since we are all spending a lot of time at home, you'd be really grateful for making this investment. Dedicating some space to seating is also good. In addition, you can have niche storage in the shower area instead of just shelves.
#2: Metallic Sanitaryware is Ideal for Damp Spaces like the Bathroom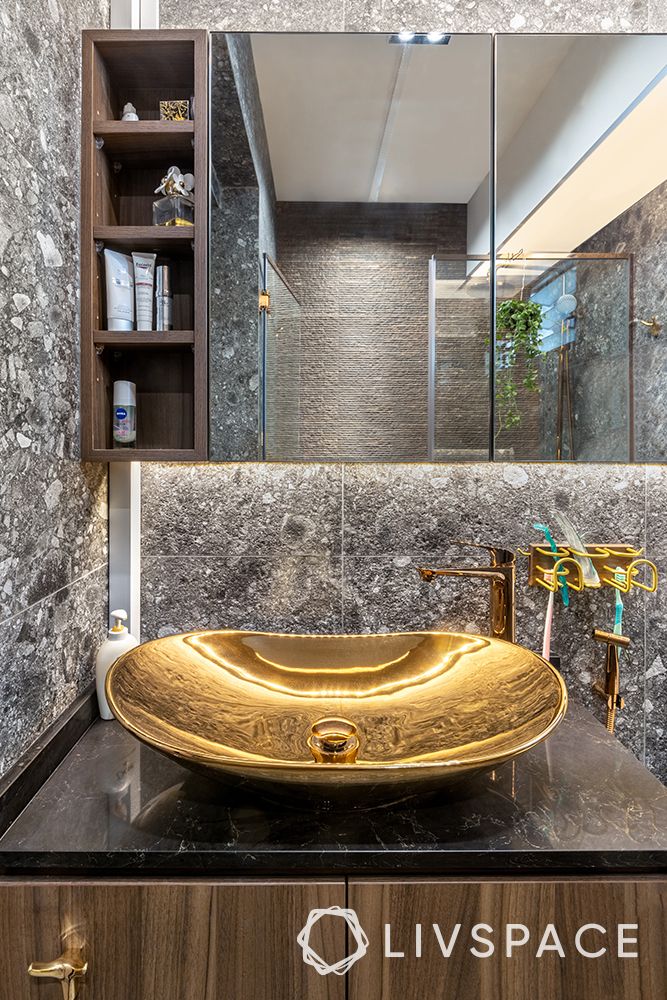 A little bling always goes a long way in turning the washroom vibrant. Metallic bathware or fittings are great bathroom decor ideas as they can really jazz up dull toilet design interiors. You can get taps and fixtures in shiny metal or go bold with a statement metallic sink like this one.
#3: Go Big With Mirrors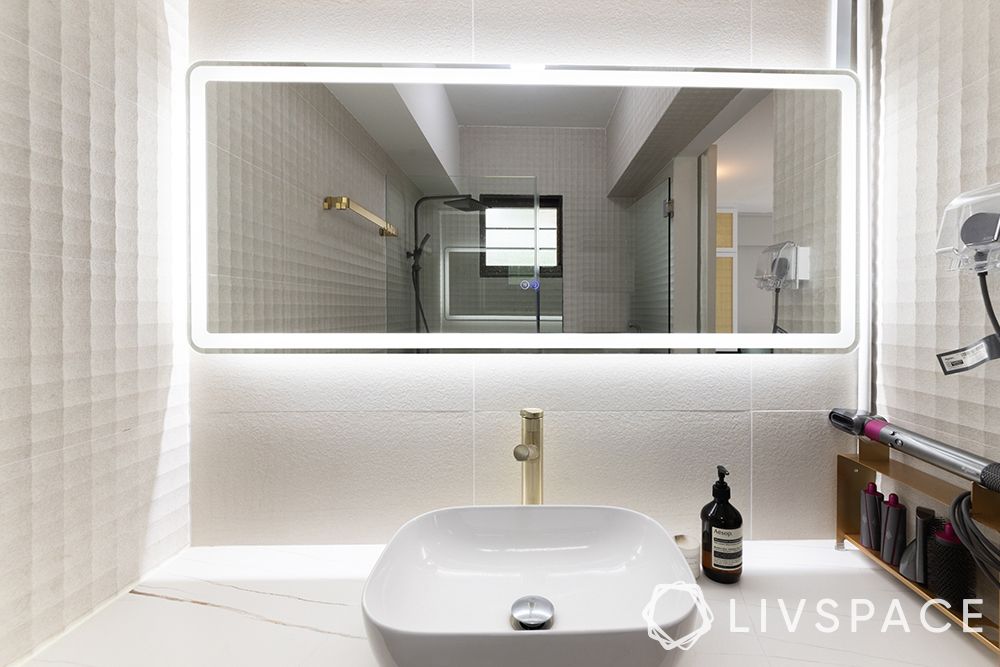 Get wall-to-wall mirrors for your bathroom. Bathroom design trend experts are hinting towards life-size mirrors for your vanity. We suggest you get some LED lights installed around it or get Hollywood lights to add zing.
#4: Floating Vanities Will Save Space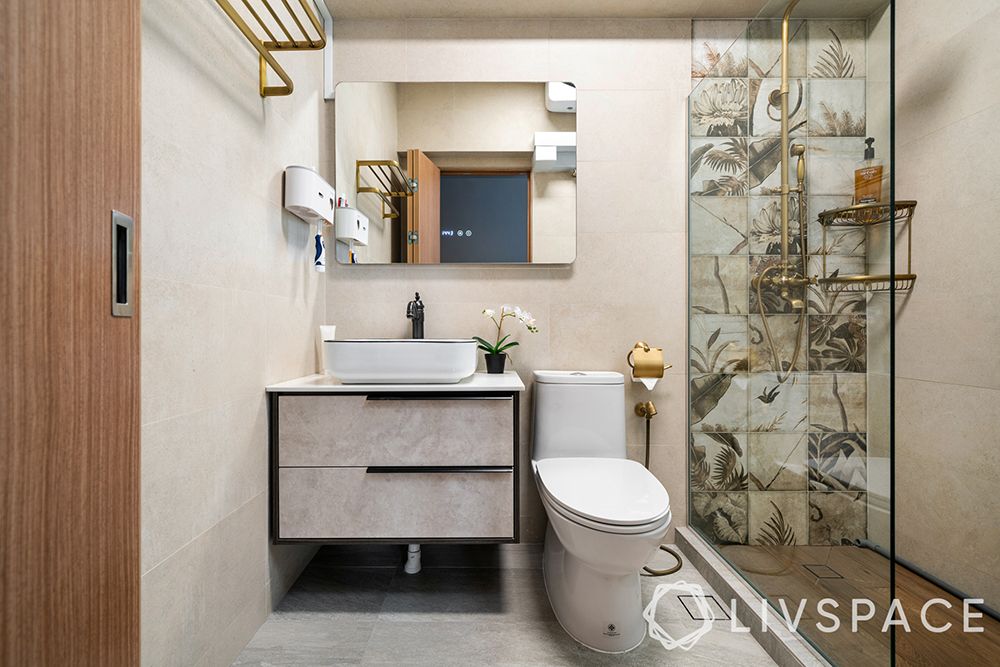 This is a practical trend that all of us should consider. Floating vanities not only look clean but also help you in keeping the floor free. It is also easy to maintain the bathroom since you can reach the bottom of the vanity easily.
#5: Use Homogeneous Floor Tiles Instead of Mix 'n' Match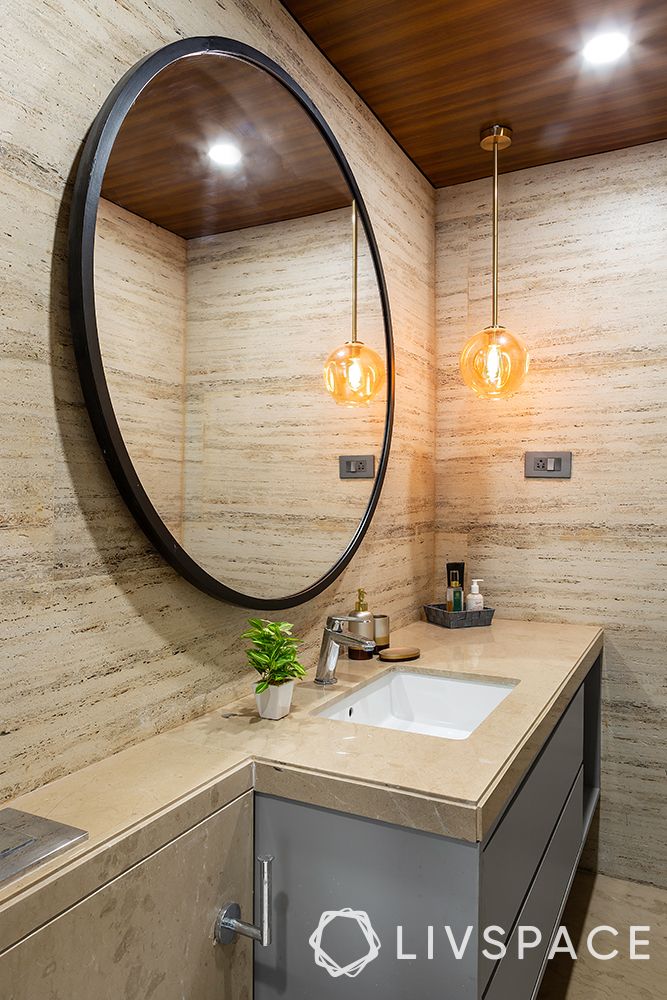 The time to mix and match designs and patterns is long gone. Our design experts recommend using homogeneous floor tiles in one pattern and colour throughout the bathroom to aim for a classic and evergreen look.
Here are 10 amazing bathroom designs from our expert designers
#1: Bold Blacks is Ideal for a Spacious Washroom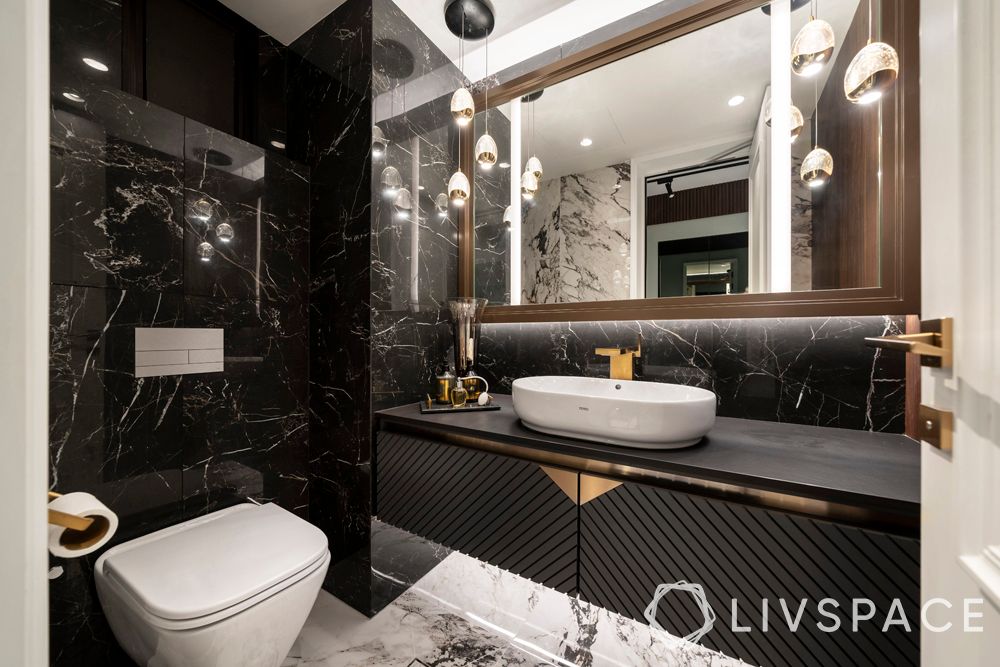 #2: Wood on White for a Sober Look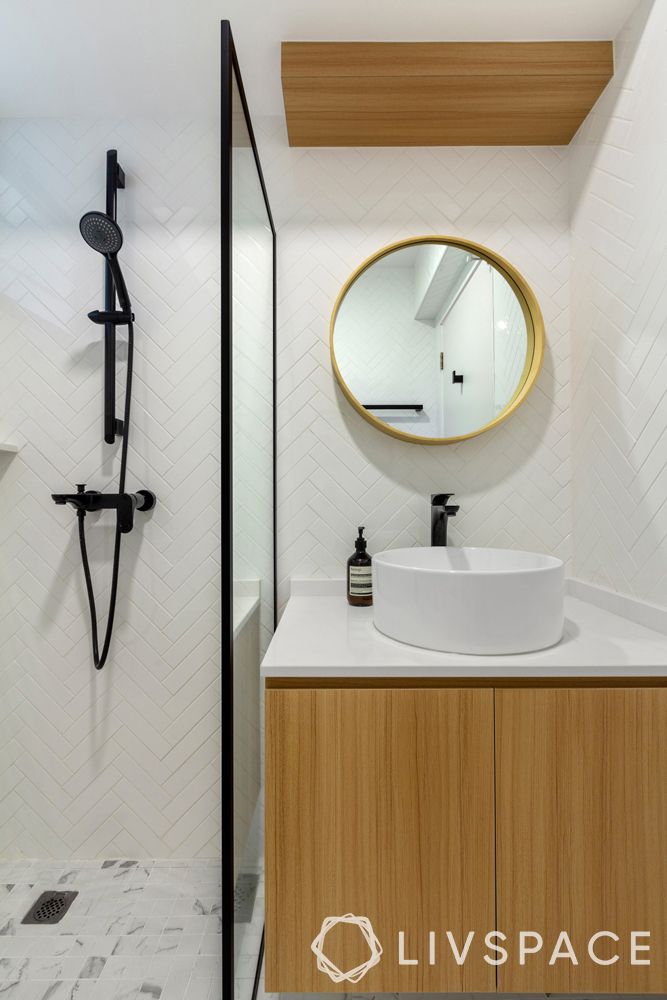 #3: Create a Calm Bathroom Atmosphere Using Mosaic Magic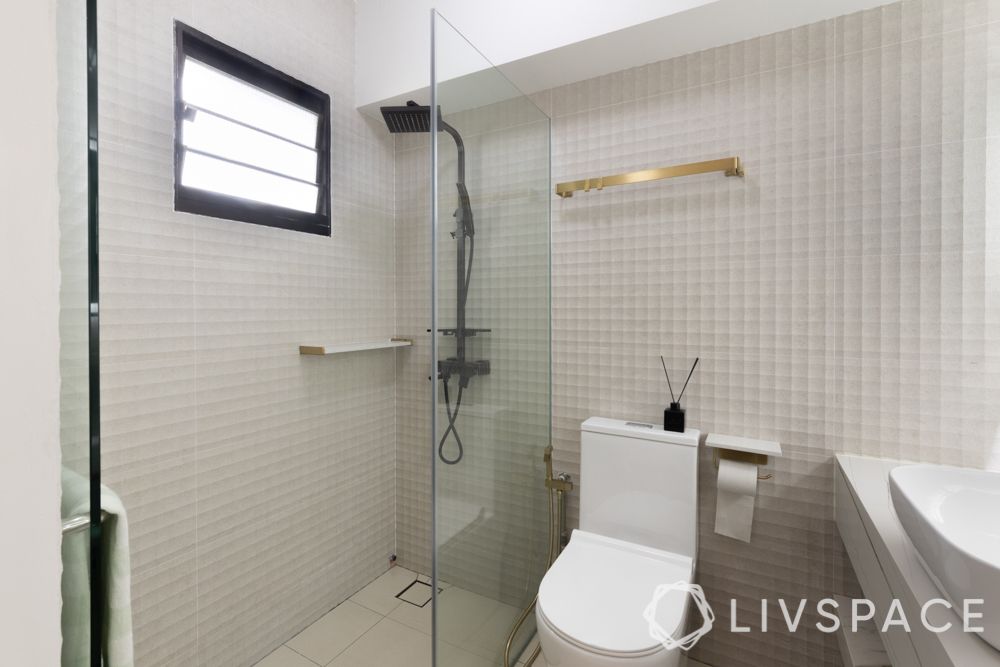 #4: A Separate Shower Area is a Functional Unit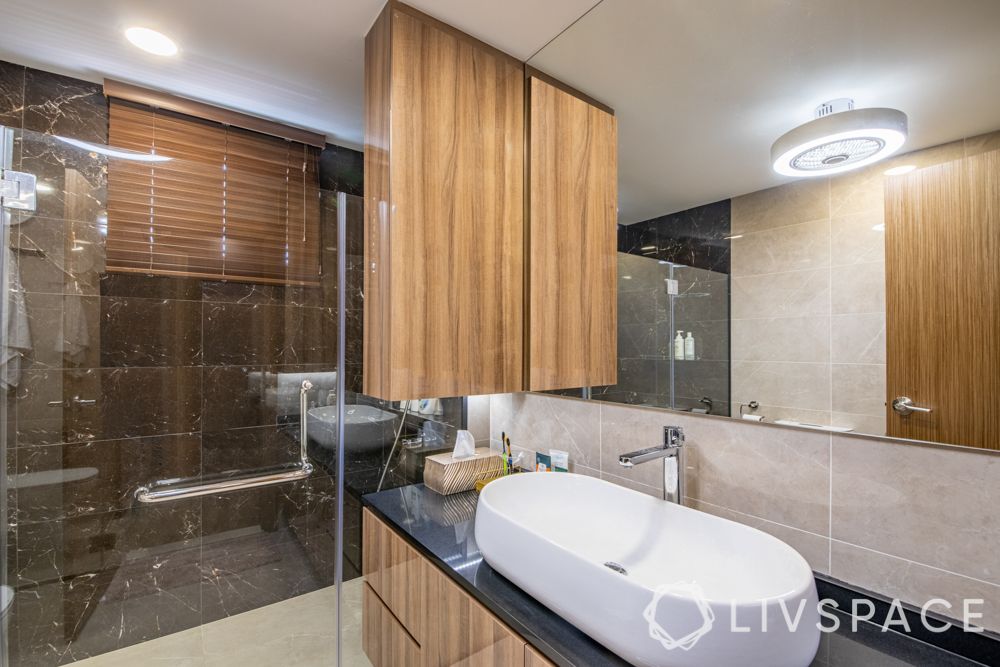 #5: Jazz it Up with a Touch of Bling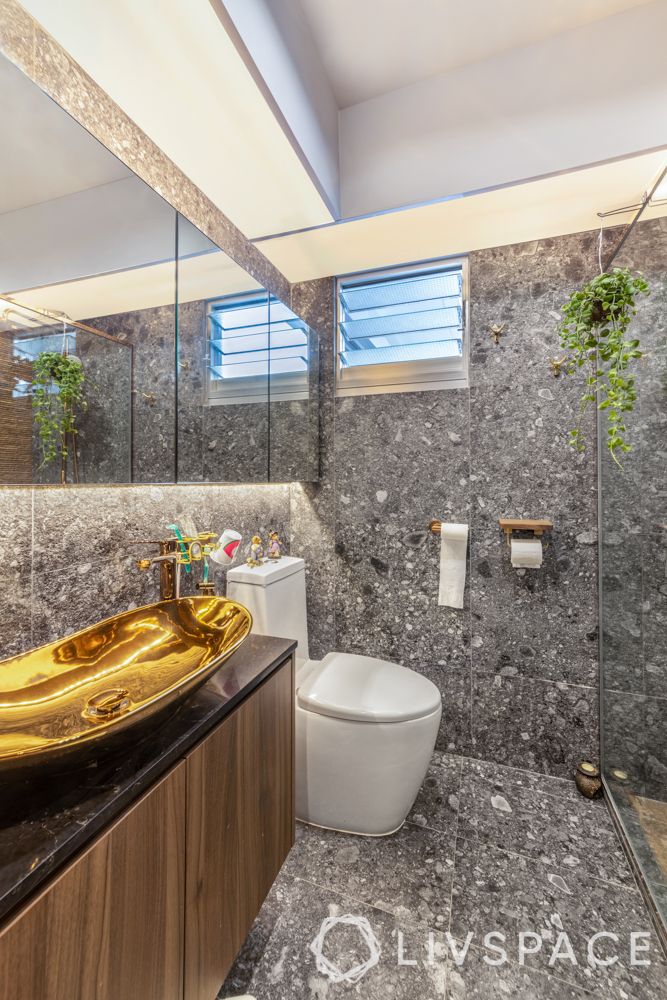 #6: Compact and Efficient Can go Hand-in-hand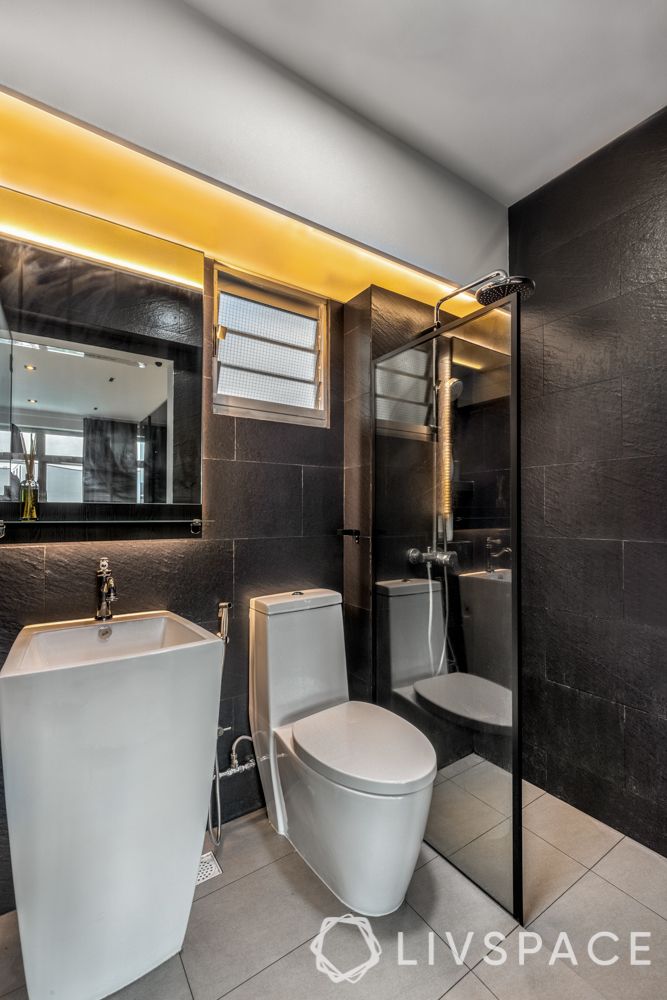 #7: A Hint of Pink to Add Spice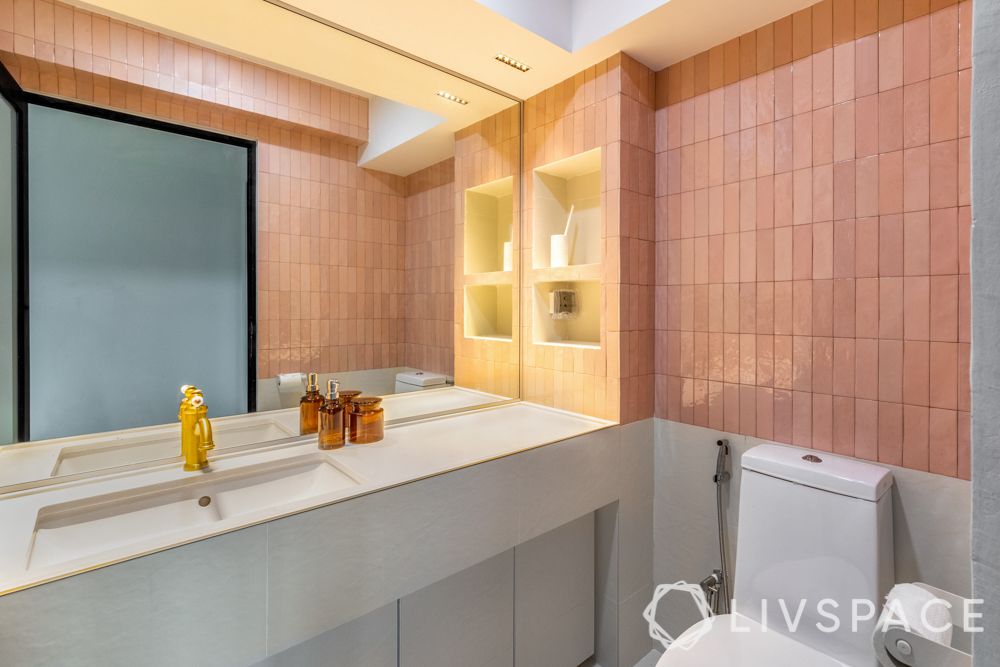 #8: Bring in a Functional Flair With a Hotel-Style Vanity Area
#9: Transport Yourself to the Tropics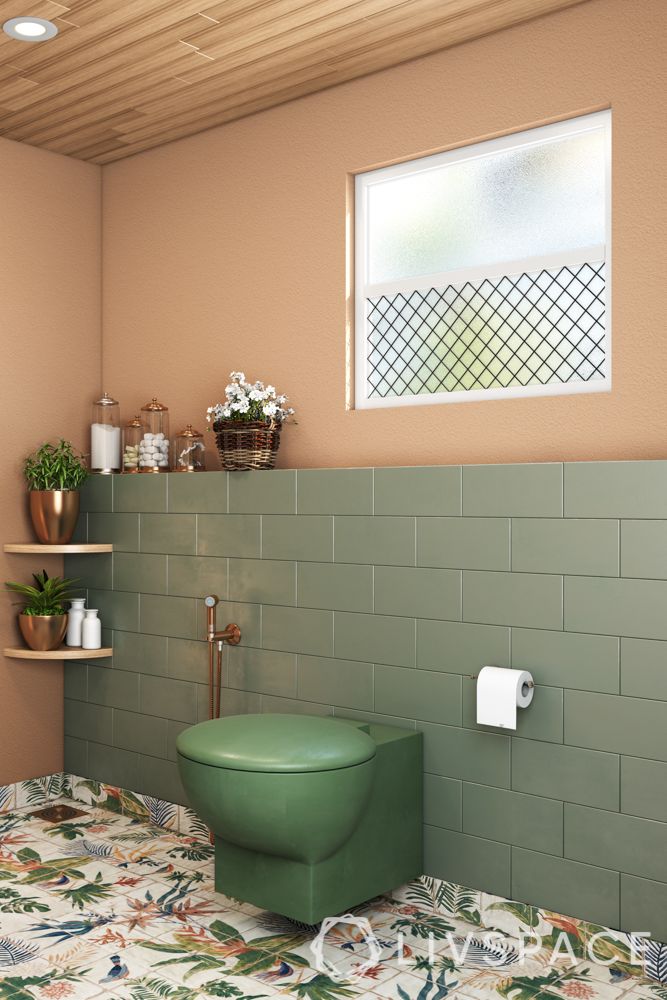 #10: Let The Floor do The Talking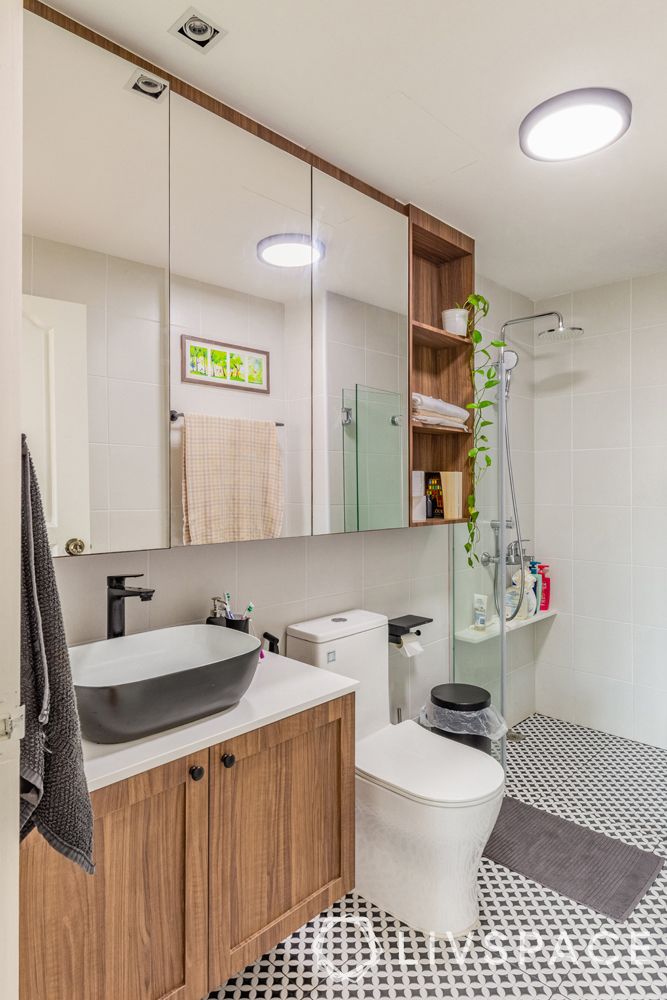 How Can Livspace Help You?
We hope you found our ideas useful! If you want your home to be just as beautiful, then look no further. Book an online consultation with Livspace today. Delivering safe home interiors has been our No. 1 priority.