Color is more than just a matter of taste. It represents moods, emotions, social situations, and much more. Color is silent, but it communicates more effectively than words. And it is colour that best defines Indian dwellings. Interior house colours are not only an important component of any home's design process, but they are also something that homeowners return to every time they repaint. So, if you're moving into a new home or getting your home painted, use these home decor color trends 2022 as a guide!
#1. Home Decor Color Trends 2022: Pantone Color of the Year — Very Peri
It is always a good idea for our homes to reflect the mood of the year in some way, just like we tend to with our clothes. The theme this year is to accept new possibilities and open oneself up to a new and altered world, as aptly portrayed in the current paint hues. This year, the Pantone paint color is Very Peri, a deep hue of periwinkle blue with vibrant red overtones.
Latest Paint Color Trends — How To Use Very Peri
The most obvious approach to incorporate this wall paint color is to utilise periwinkle blue furnishings or even a periwinkle blue accent wall. One of the ideal interior house colors for your child's bedroom is Very Peri. You can use periwinkle walls or periwinkle furnishings to create a unique look. You can also paint your kitchen cabinets in the Very Peri shade. The possibilities are endless.
Also read: Interior Design Trends That Will Rule the Roost in 2022 to know more about latest home decor color trends 2022.
#2. Home Decor Color Trends 2022: Mint Green for a Feeling of Calmness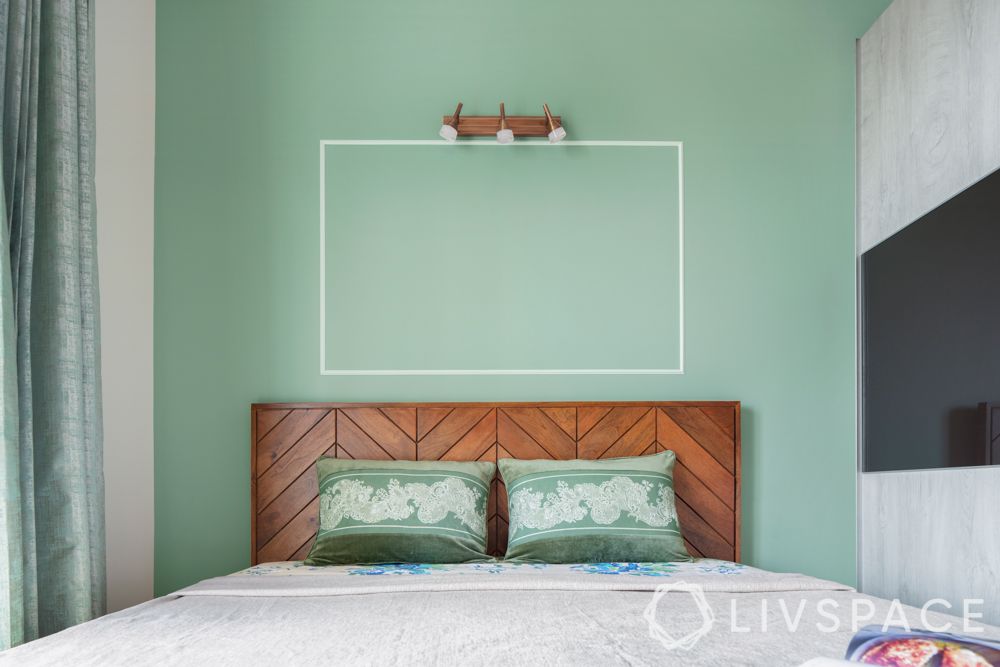 We all desired a sense of greenery in our surroundings during the pandemic . Furthermore, we want our home to be a safe and healthy environment for us. Mint green became a popular, covetable shade as a result of this, and it will continue to be a trendy home color in 2022 as well. Mint green has a nurturing quality to it that will make your house seem secure and tranquil.
Latest Paint Color Trends — How To Use Mint Green
One of the best and latest paint color trends that can be used in 2022, mint green is great as an accent wall and when it is paired with soft furniture, it is among the popular colors for home decor in 2022. It can be given a terrazzo texture and paired with tall plants such as monstera or fig, which are popular among millennials. Green interior house colors appear best with a rustic finish, so rattan cane or woven furniture will complement it beautifully.
#3. Home Decor Color Trends 2022: Earthy Shades for a Sustainable Home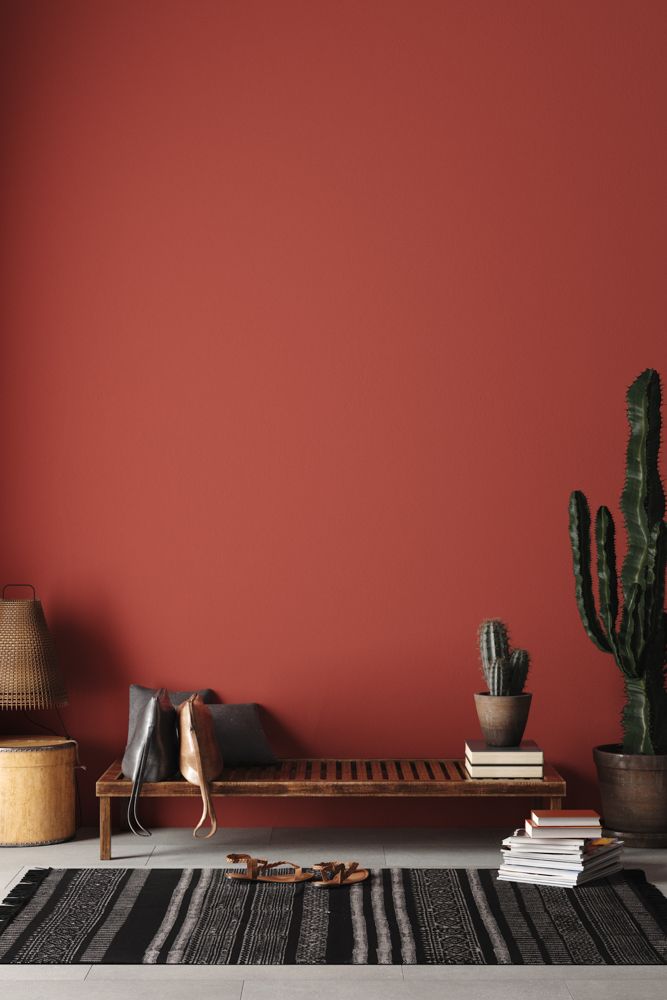 Almost two years of limited activity and (for the most part) working from home has resulted in certain mental shifts. The last two years have been littered with photographs of creatures emerging from hiding while we were cooped up at home, and of how visibility improved as emissions decreased and water bodies became cleaner. The world, in the words of environmentalists, was healing itself. In that same vein, our dwellings, too, should be calming and as close to natural as possible. In keeping with the concept of sustainability, earthy tones and choosing rustic house colors will rule the roost this year.
Earthy Shades — How To Use the Latest Interior Paint Colors
Rich browns, rusty reds and other earth-toned hues are the latest interior paint colors and can be used as accent walls or to paint a corner in the home. This color looks great with plants and woven textures like jute and rattan. Natural fabrics, such as linen, will further complement the color. Furthermore, red oxide flooring is expected to make a comeback to work with earth-toned walls.
#4. Home Decor Color Trends 2022: An All-White Backdrop for Home
White, the one color that will never go out of style, is again one of the wall paint trends to get behind this year. White walls are unrivalled in terms of adaptability and go well with virtually anything. So, if you want to play it safe, go with all-white walls and bring color to your home through furniture, furnishings and decor.
How to Use the Latest Interior Paint Colors with a White Backdrop?
Use white walls as a backdrop for vivid yellows, warm reds and soothing blues this year. Use a few green plants to break up the monotony, and let the decor and soft furnishings add texture and design to your interiors.
#5. Home Decor Color Trends 2022: Irish Coffee as a Shade of Contentment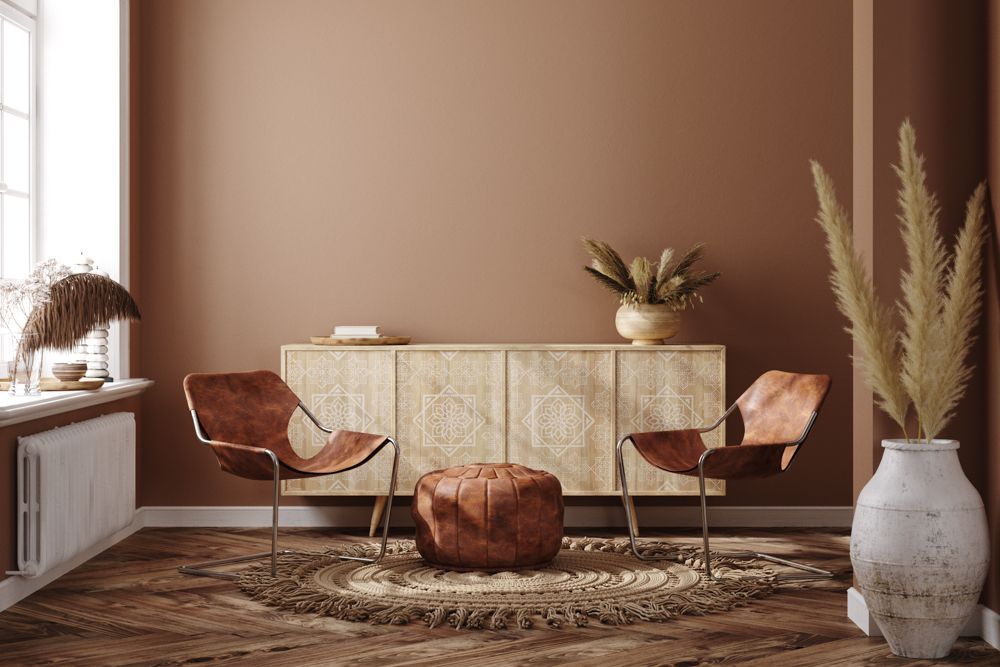 It won't be far off the mark to say that the last two years have indelibly altered our outlook on life and value systems. Our behaviour and consumption patterns have also changed as a result of this shift. A feeling of contentment emerges from a purposeful decision to consume less and use only those items that have personal value to us. And what could be more satisfying than a steaming mug of coffee? As a result, Irish coffee is one of the latest home color trends that will be seen a lot on our walls this year.
The Irish Coffee Shade — How To Use the Latest Home Color Trends
When it comes to the latest home color trends in wall paint, mocha or Irish coffee is one of the muted neutral interior house colors. As a result, you can use it to paint your entire house. You can also use a darker shade of coffee or brown to highlight particular walls or places. This color looks great with wood furniture, terracotta decor, linen and other earthy components.
Looking for more ideas for home decor color trends 2022? Here's Your Ultimate Guide
How Can Livspace Help You?
Want stunning interiors? Livspace can help you! All you have to do is book an online consultation. If you prefer meeting in person, you can also find Livspace designers at the IKEA Damansara store. Hurry up and get quality home interiors from the best in the industry!