Trying to find the right clothes when you have a messy wardrobe can be quite overwhelming. Especially if you're running late and don't want to change your planned outfit at the last minute. Luckily, we have the perfect wardrobe organiser ideas to help you get sorted. We've put together a list of organisation tips to make things easier with your IKEA wardrobe.
Read on to find out how you can easily create an organised wardrobe at home:
#1: Keep Sweaters and T-shirts on Shelves or in Drawers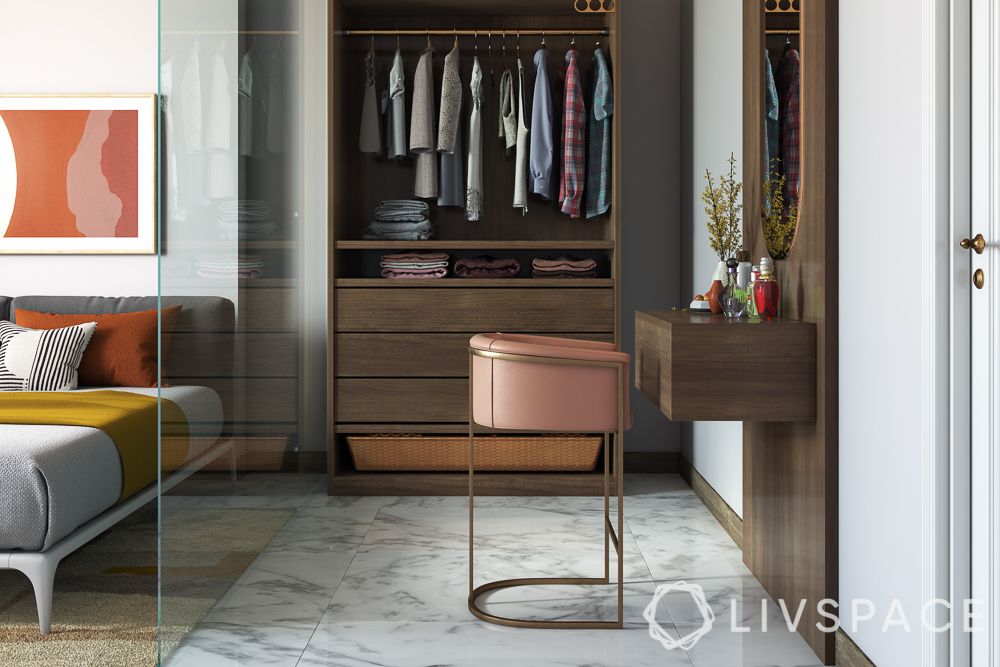 The way you organise your wardrobe determines how much effort you'd need to put into caring for your clothes. If you don't have a designated space for certain clothes, they might need to be steam-pressed more often to avoid creasing.
While setting up your IKEA wardrobe, be sure to store sweaters and shirts in drawers or on shelves. If you have specific shirts you wear often, keep them on shelves that are easy to access. For sweaters, you can store them in drawers if you do not use them as frequently.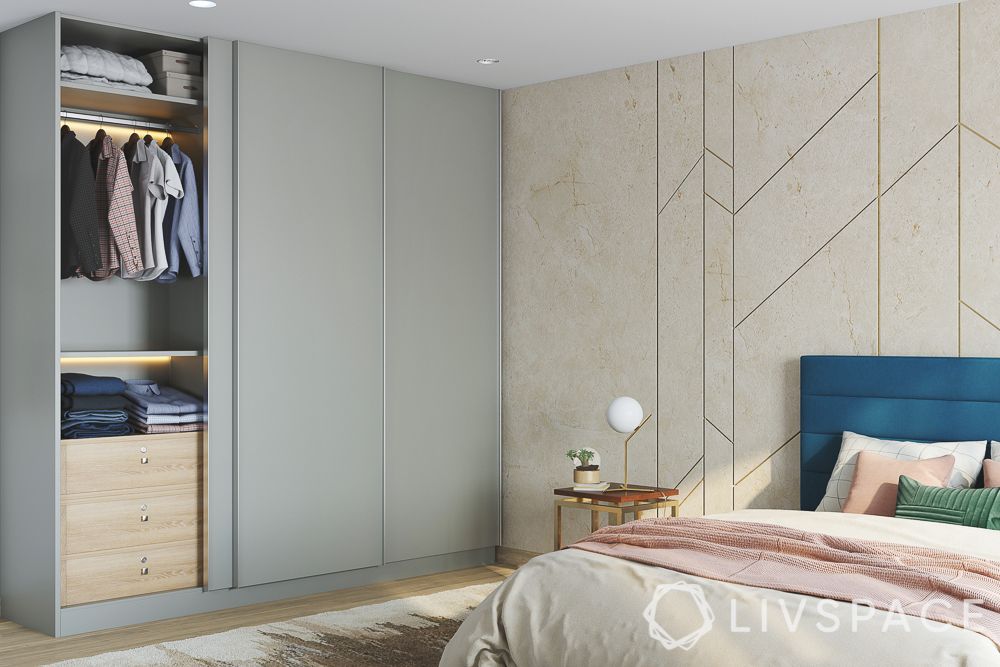 It's also important to note the material of your clothes when you store them. For humid climates, be sure to keep moisture absorbers in drawers that hold clothes made of wool or cotton. This can also save your drawers from mildew and keep your clothes fresh.
#2: Use a Two-Levelled IKEA Cupboard to Hang Shorter Clothes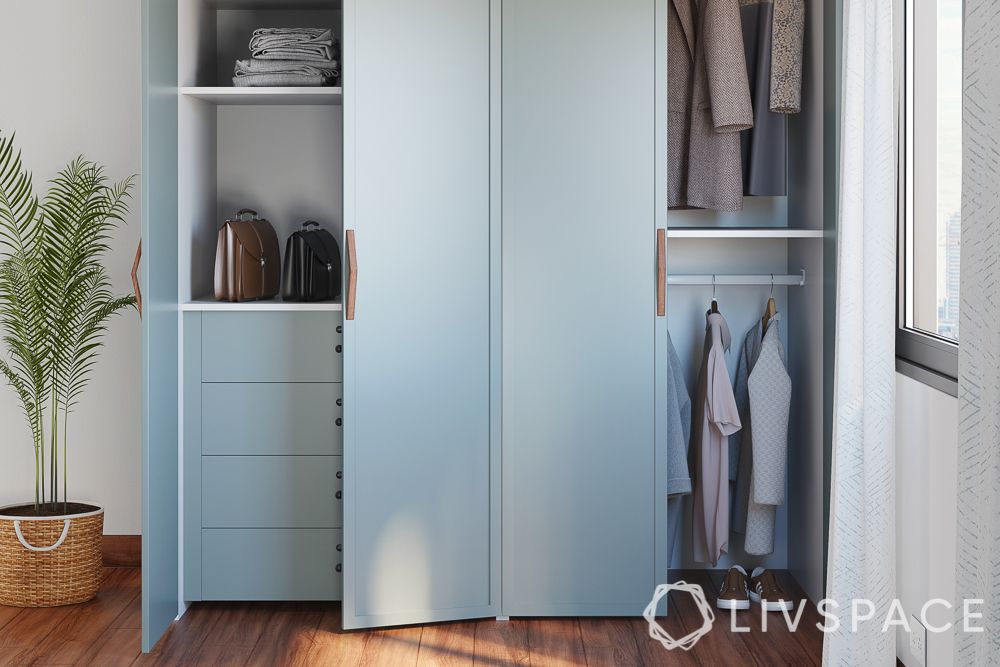 If you have many short clothes, a two-levelled IKEA wardrobe might do the trick as an effective wardrobe organiser. By having two levels of clothing rails, you can segment your clothes based on usage. Hanging your clothes also leaves more room for other items to be placed in drawers and on shelves.
To avoid creasing, hang coats and dress shirts vertically so they're good to go when you need them. This also helps reduce the number of times you have to press your clothes before getting ready.
#3: Store Jeans and Heavy Clothes on Shelves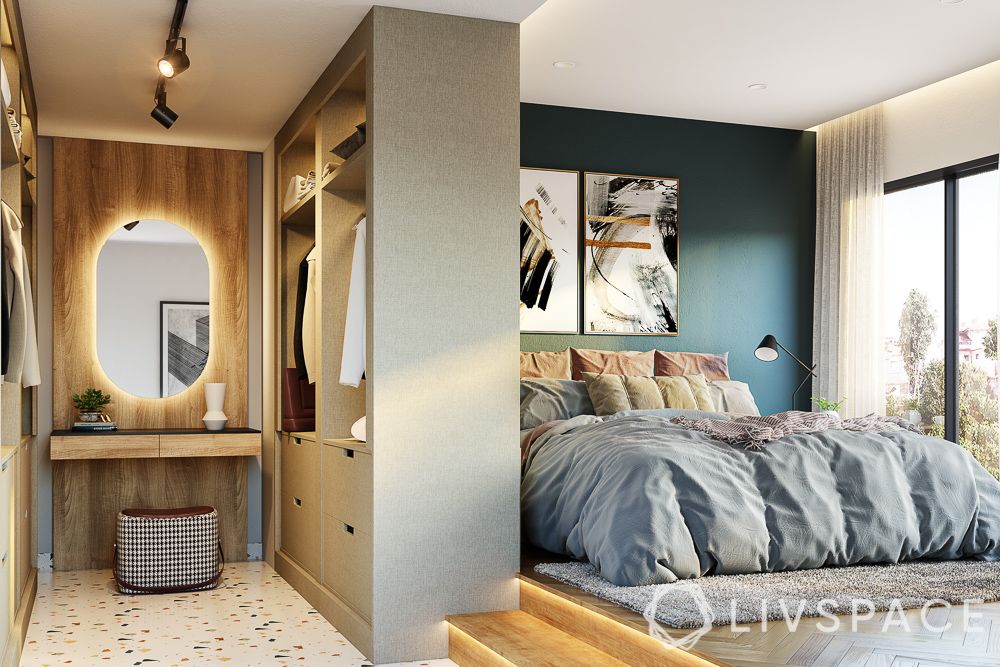 Certain types of clothes might be too heavy to hang vertically. In some cases, they might be bulky and take up a lot of space on your clothes rail as well. To make more room for other delicate items in your IKEA wardrobe, move heavier clothes like jeans to your shelves.
If you're thinking about walk-in closet organising ideas to help you get ready quicker, be sure to have the right lighting to make this happen. Besides organising your clothes, it's also important to be able to see where your things are. If your wardrobe does not have in-built lighting, go in for simple task lights to highlight the compartments in your closet.
#4: Use a Wardrobe Organiser to Organise Small Accessories
Nothing completes a perfectly organised IKEA wardrobe like a wardrobe organiser! These work especially well if you have multiple small accessories and no designated space to store them. When you're in a rush, all you'd need to do is pull open one of these compartments and you have immediate access to your masks, ties, socks etc.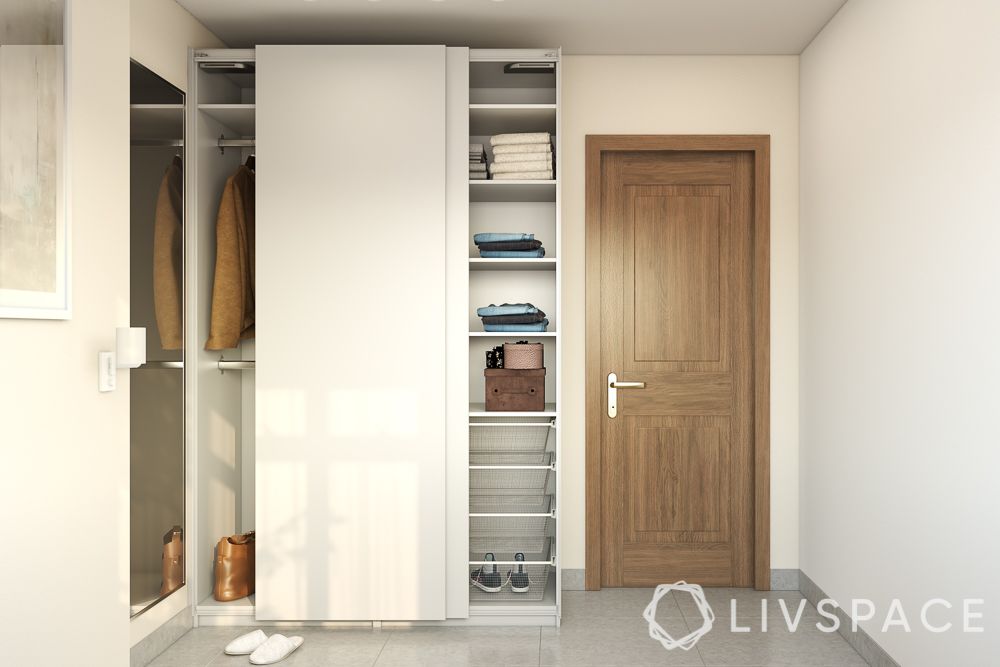 The best part about using a wardrobe organiser is that they're entirely multifunctional. You can use them to store whatever you like, based on your needs and requirements. Similarly, they are also available in a variety of styles that are sure to complement every IKEA wardrobe.
Also read: 8 Useful Tips for Personal Care at Home: With Ideas for Storage Boxes
#5: Hooks Are a Great Way to Hang Bags and Belts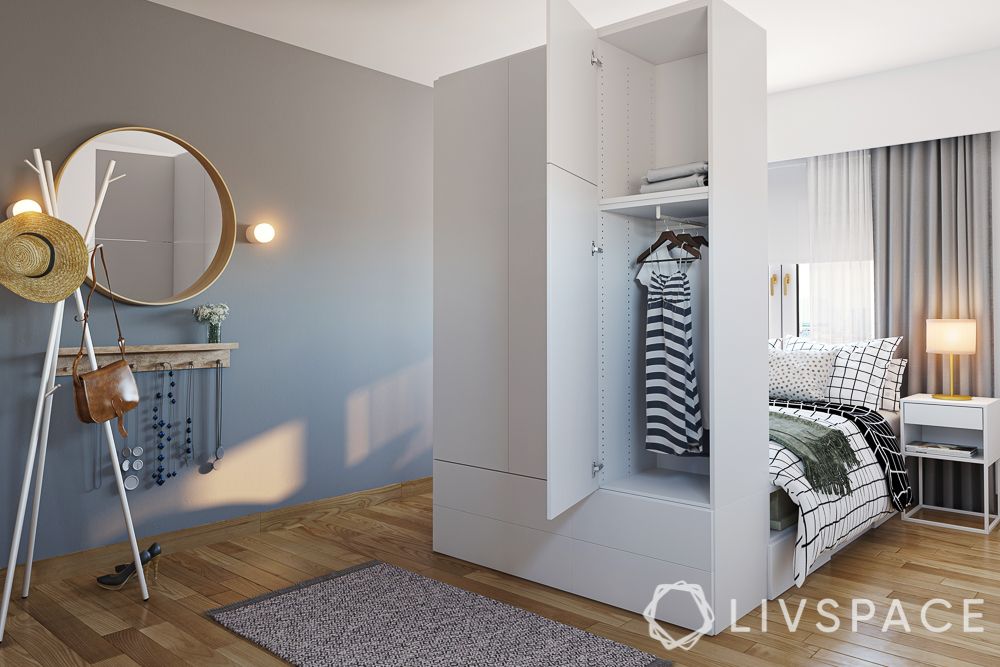 Apart from exploring closet ideas to get organised better, also consider using simple hooks and holders to store bags and hats. These hooks can be placed inside, or on the side of your wardrobe based on your needs. You can also place a few hooks behind your door to hang items for easy access on your way out. This is among the more easier-to-implement modern wardrobe ideas for bedrooms that are compact.
If you do not have a place for hooks, you can also opt for an open IKEA wardrobe to store accessories. With open shelving, you can easily see your bags, hats and other items without having to spend time looking for them. This is also a great option for those who have a large collection of accessories and prefer to have them on display.
#6: For Easy-to-Access Closet Ideas, Go for an Open-Unit IKEA Wardrobe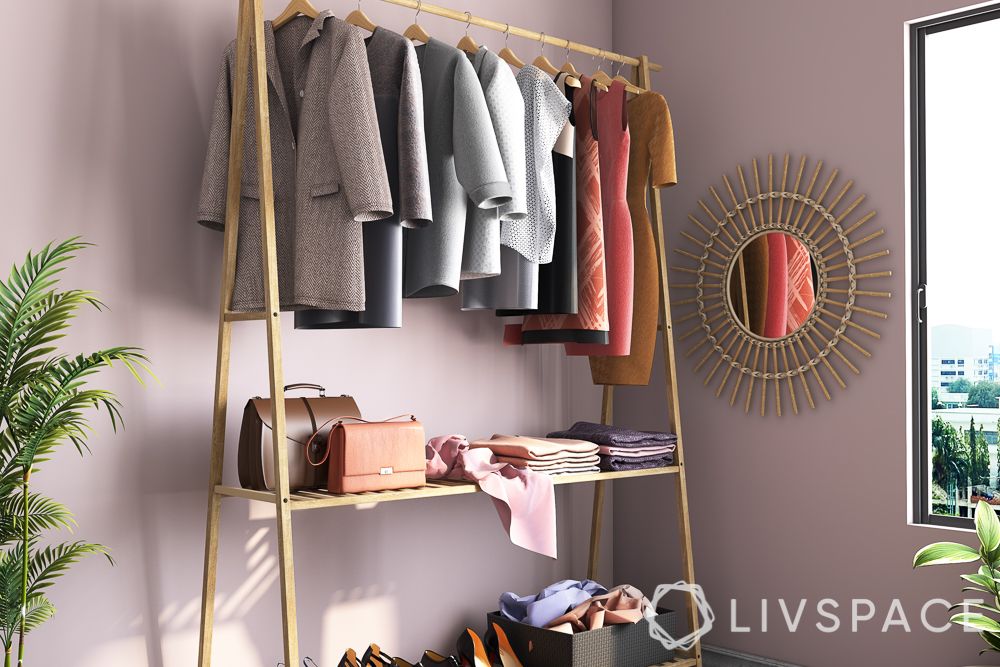 Open-unit wardrobes are a great option for easy-to-access items like clothes you intend to wear again. Certain clothes cannot be washed several times and might need to be left to air instead of going back into the closet. In such cases, opt for an open IKEA wardrobe that can help air out your clothes and shoes.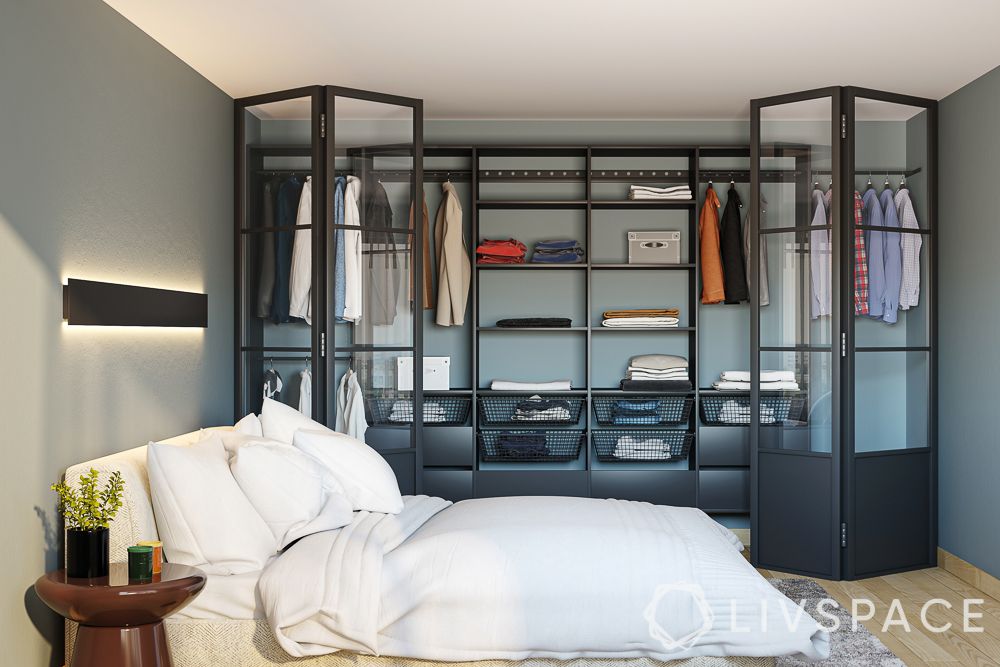 This type of wardrobe is also great for humid weather conditions as it boosts circulation and air flow, preventing moisture from accumulating. What's more, you have maximum visibility of all items stored in this unit, which makes it much easier to find things while getting ready.
If you're looking for modern wardrobe designs for the bedroom that offer maximum efficiency, open-unit closets are certainly for you.
#7: Kid-Friendly Wardrobes Can Help Kids Get Ready Faster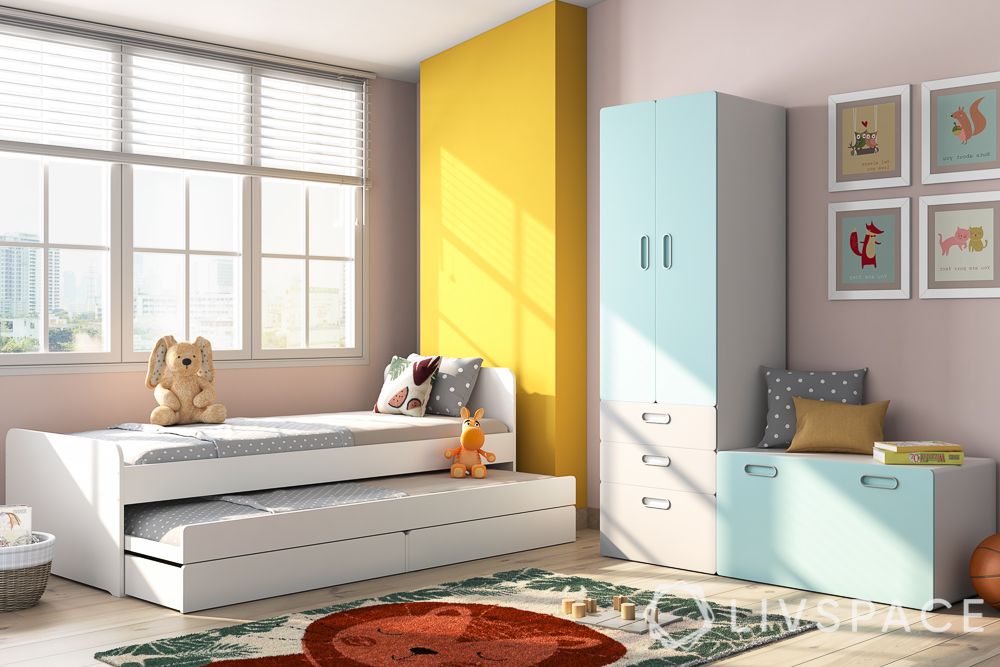 When it comes to kids, regular-size wardrobes might not be the most feasible option. For kids to be able to get ready independently, they will need closet options they can work with. To help them get ready on their own, opt for a smaller and kid-friendly IKEA wardrobe.
Store clothes at the same height as the child for best results. This helps them access their belongings without having to ask for assistance. Wardrobes with drawers at the bottom are ideal for storing shoes and other items your kids will need to get ready.
We hope you found these IKEA wardrobe organisation tips insightful. For more storage hacks, check out: 9 Types of Storage by IKEA to Help You Declutter Post-Pandemic.
How Can Livspace Help You?
Want stunning interiors? Livspace can help you! All you have to do is book an online consultation. If you prefer meeting in person, you can also find Livspace designers at the IKEA Damansara store. Hurry up and get quality home interiors from the best in the industry!