No one really knows the stress of setting up the interior design for living room until they become a homeowner. We spend a lot of time in the living room and that means it needs to be functional, cosy and aesthetically appealing. Thus, if you are playing living room designer for the first time, here is a simple yet concise guide to living room ideas you will need. Scroll even further to catch some inspiration from living rooms designed by Livspace. We bet you'd love to steal one for yourself!
Get Interior Design Ideas for the Living Room Layout
If your interior design for living room opens up directly to the kitchen, then you have an open layout. If your kitchen is concealed from the living room, it is considered to be a closed layout.
Ensure Privacy in Your Living Room with a Closed Layout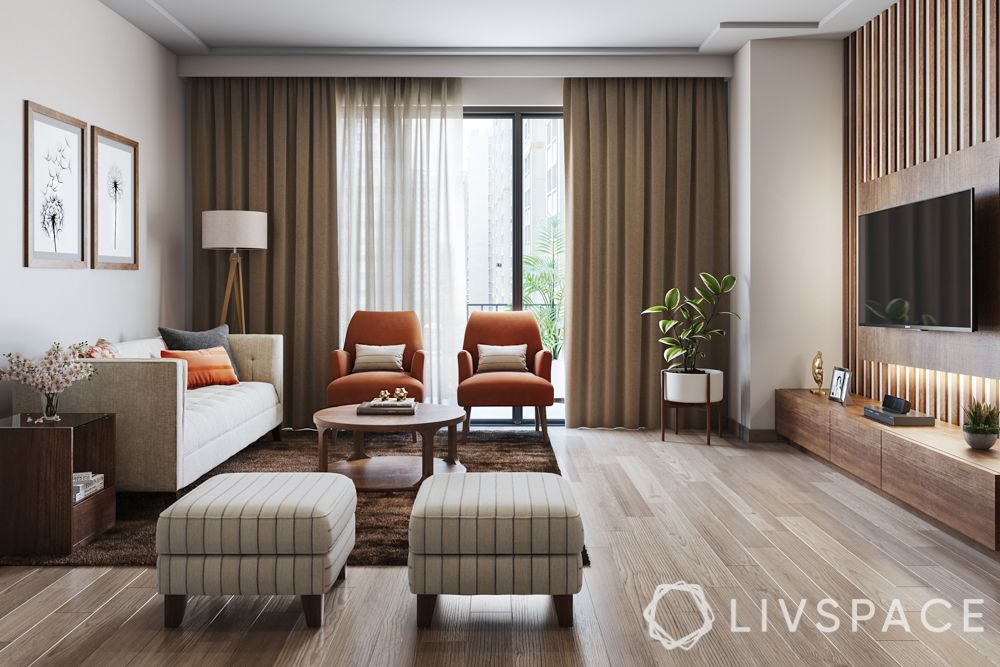 Neutral palettes work great in closed interior design ideas for living room as they can visually open up the space. On the other hand, one downside of a closed layout is that it may look cramped over time. To counter this, make sure you pick furniture that is the right size. It is also advisable to push everything against the wall to spare more walking space.
Maximise Safety with an Open Layout Living Room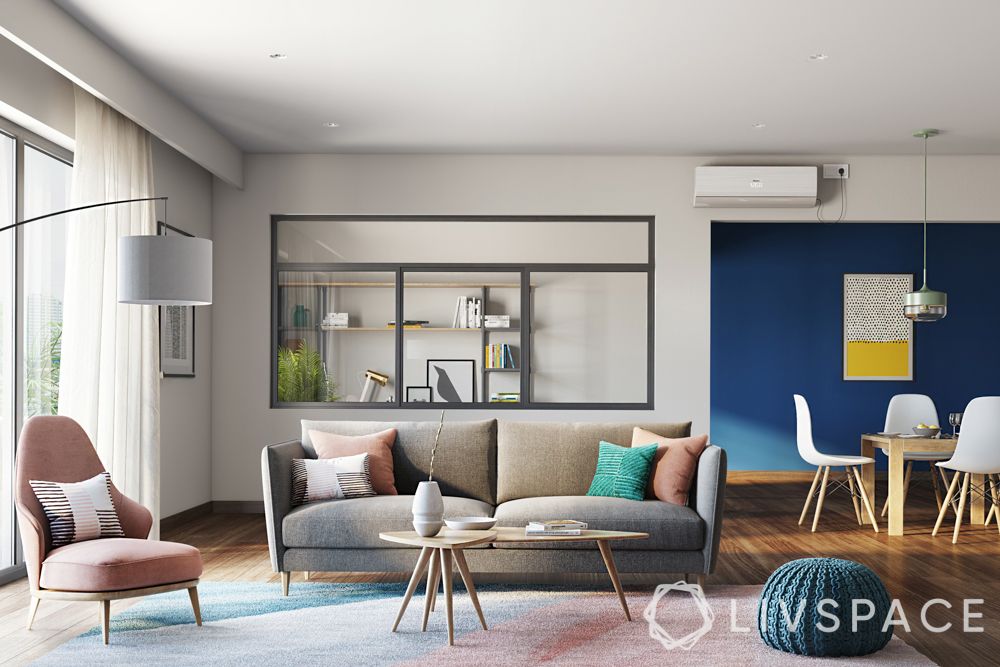 Living room ideas for open layouts is to use darker hues and to keep the space well-ventilated. This is because an open layout can require more maintenance as everything and its adjoining rooms are in plain sight. Another thing to do is to ensure that the space receives a generous amount of natural light. Take the Scandinavian living room above, for example. The natural light filtering in from the window lights up the whole area.
Determine Living Room Decor Ideas Based on a Formal or Informal Setting
Living room decor ideas are based on whether you want a formal or informal interior design for your living room. If you want your living room to serve as a space where you entertain guests, then a formal setting might be better. But if your priority is to have comfy evening meals on the couch, then an informal setting would be more your style.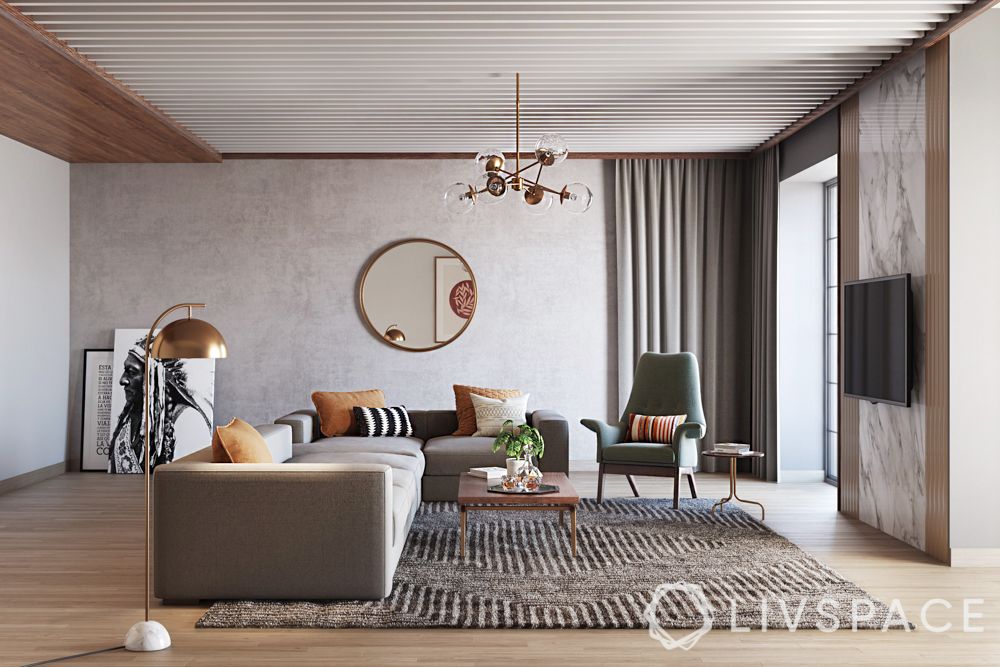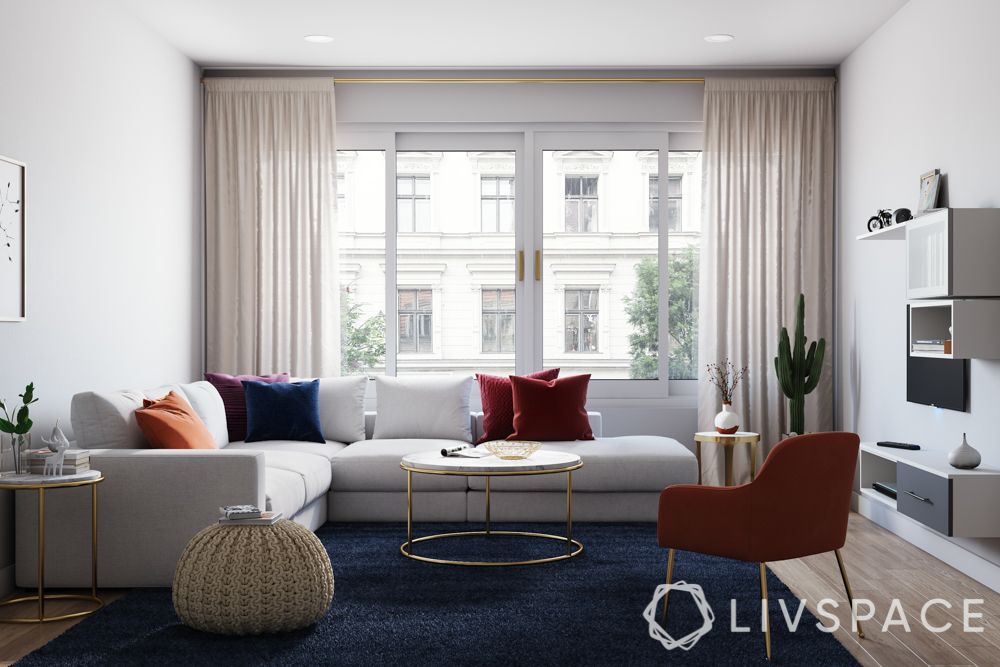 In an informal setup, it is best to have a TV unit and comfy chairs so that your living room is a relaxing abode. Other living room decor ideas in this setup could include adding souvenirs and installing mood lighting . On the other hand, interior design ideas for living room in a formal setup should have multiple seating options, a stylish coffee table as a centrepiece and decor items to match your aesthetic.
Also Read: 10 Unique Decor Ideas with 5 Must-haves for Every Living Room Design
Enrich the Interior Design for Living Room with the Right Flooring
The flooring of your living room design should reflect your style too. For an informal living room, hardwood or laminate flooring is a good choice as it balances the temperature. It does not get too cold not too hot. Wooden laminate flooring is ideal as it gives a warm, inviting look to the space.
For formal interior design ideas for the living room, go for traditionally favoured stone flooring such as marble or granite. You can also go for cement flooring as if your aesthetic bent is towards an industrial chic look or a minimalist living room.
Make Your Living Room Designer Approved with a False Ceiling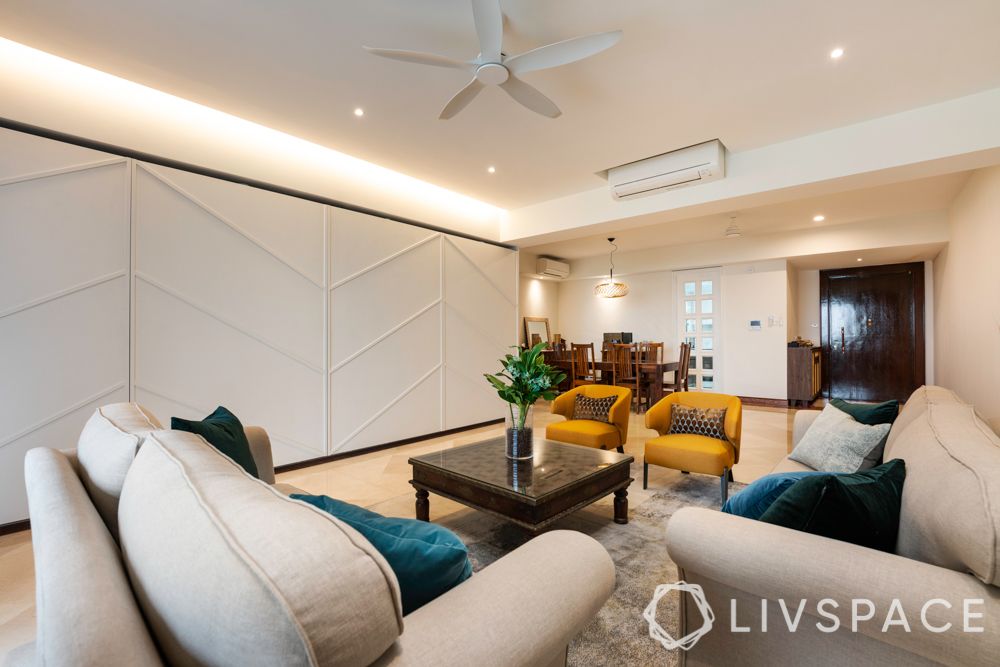 Formal and informal settings can also dictate living room ideas for lighting. In an informal setting, a fancy pop or gypsum ceiling may work great, while a formal setting can be beautifully adorned with track lights. However, adding a false ceiling is optional and can be kept aside altogether if your interior design for the living room has low ceilings or a compact space.
Ensure Cosy Seating in Your Living Room
Every living room designer enjoys picking out the seating for their living space. Understandably, this aspect can be a factor that determines how inviting your living room looks.
Invest in Comfortable Seating Options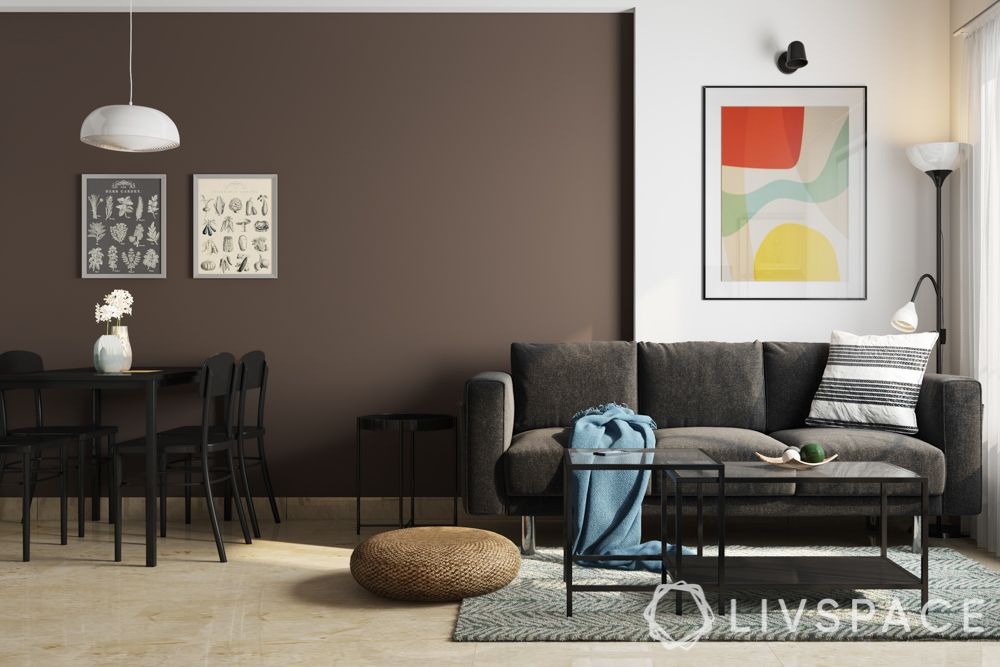 And no, we are not talking about just the obvious choice of couches. Make sure that you add extra seating in the form of ottomans and pouffes, for example. These occasional seating options are great for when you have guests over, or just when you want to cosy down somewhere different. The ones that you pick should be as comfortable as any other seating in the living room.
Select Tables for Style and Comfort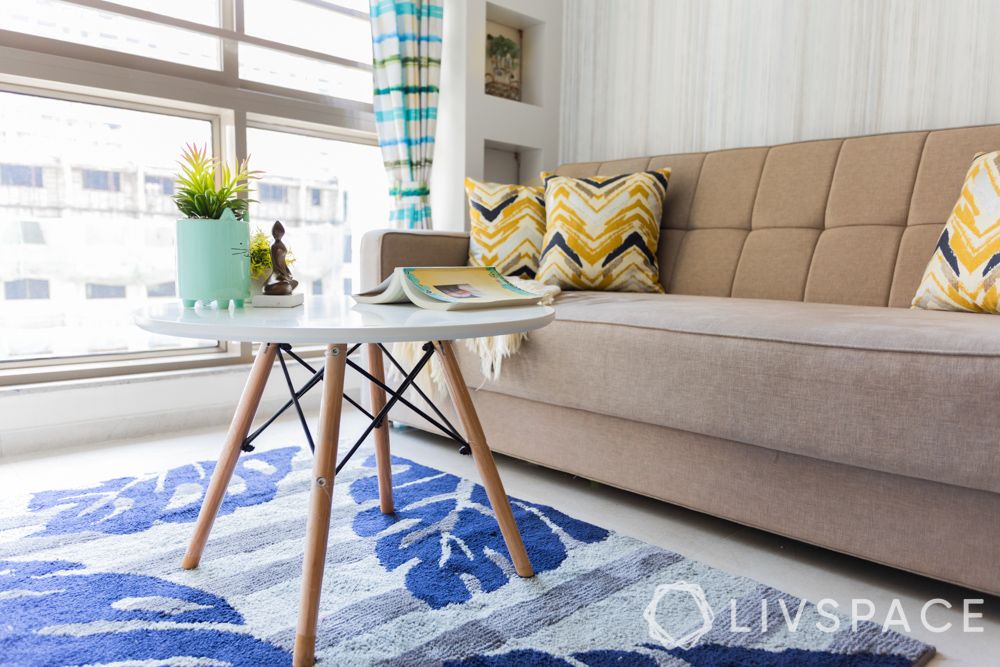 We love our coffee tables and centre tables in the living room. But also be sure to add side tables and end tables if the space allows you to do so. Trust us, you will not be disappointed with the results!
Storage and Display That's Meant to be Flaunted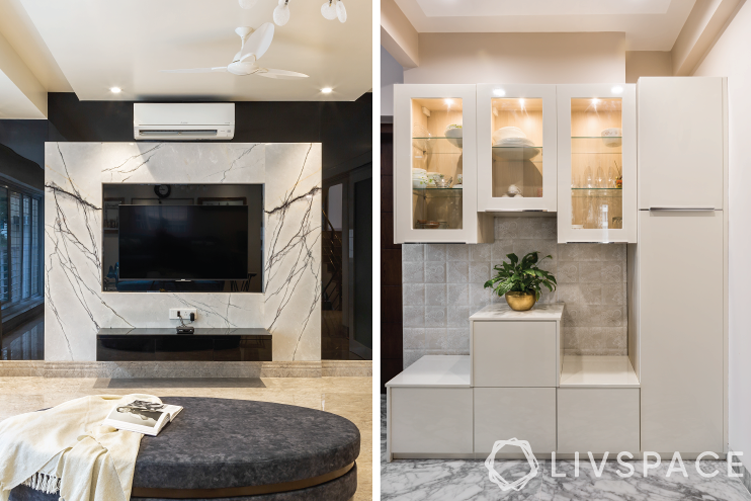 No interior design for a living room is complete without an entertainment set or a crockery unit. You can also switch these for a bar unit, bookshelves or any kind of personalised display unit that you please.
Pick a Colour Combination for Your Living Room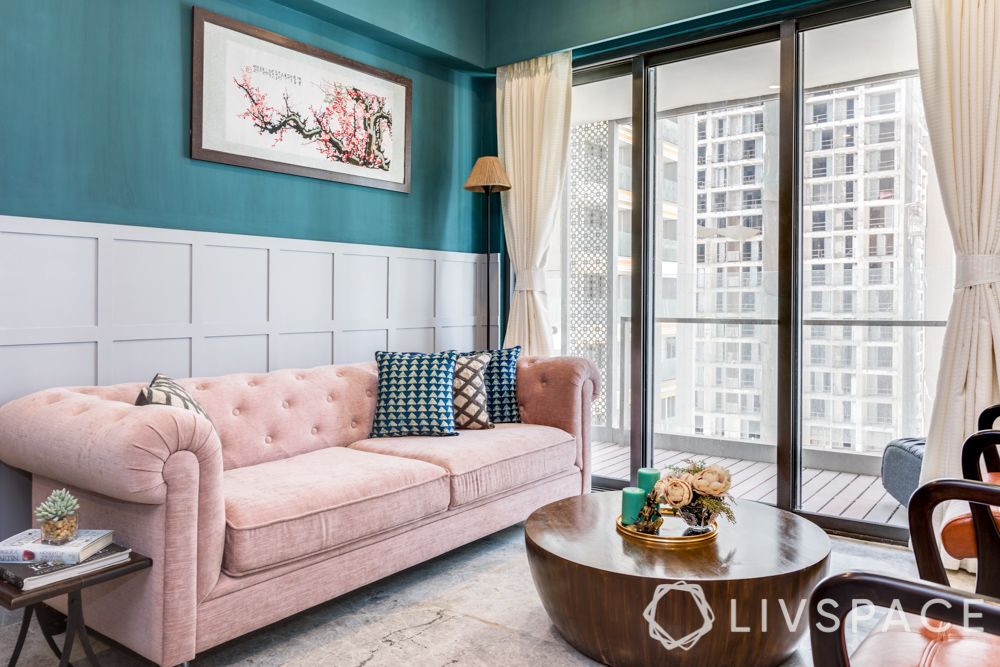 Painting the living room sometimes takes a back seat in homes. However, it can serve as a powerful tool to change the look of the interior design for the living room. Muted palettes and neutrals have long proved themselves to be a dependable choice in Malaysian homes. However, colours are being accepted more and more. Check out this article for more information on trending colours.
Explore Accent Wall Ideas for Your Living Room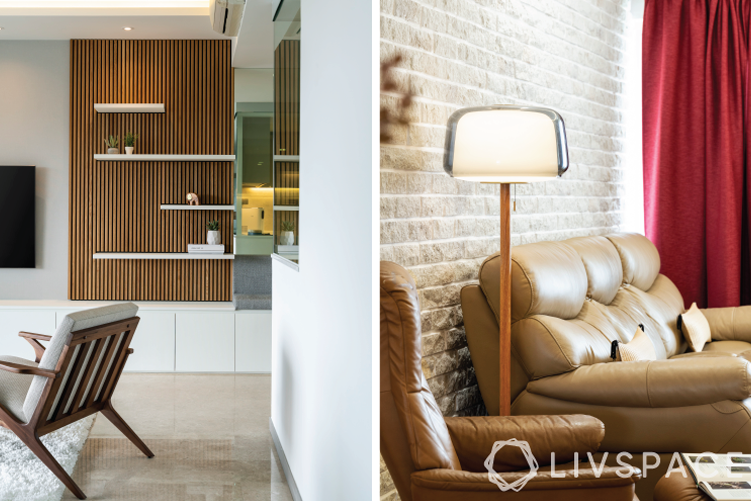 Accent walls add character to the interior design for your living room. In the living room picture above, you see wall panels and exposed brick walls, two rather popular ways to create accents. You can also try to dip your living room walls in a bold colour or try out texture paint. Wallpapers are another way to add an accent to your chosen wall. Trims can be used to create accents too.
Explore the Contemporary Interior Design for Your Living Room
Now that we have set you up on your path to making a stylish and functional living space, here are some Livspace designed living rooms to explore. From a minimalist living room to a Scandinavian living room, we have designed it all. Below are some inspiration-worthy examples.
#1: Minimalist Interior Design for the Living Room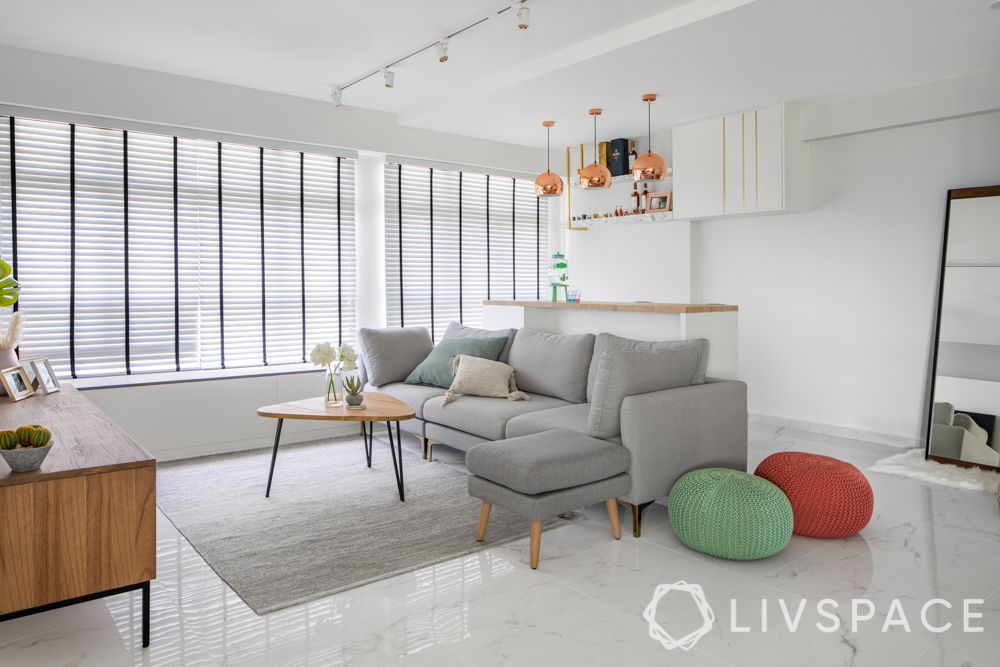 It is obvious that the interior design for the living room has to be practical as everyone in the house uses it. Switch to minimal designs to get the best out of form and function in your living room. This space, for example, has a clean, uncluttered and functional space that allows for ample walking space. Love minimalist living rooms? Read this!
#2: Flaunt That Quirky Furniture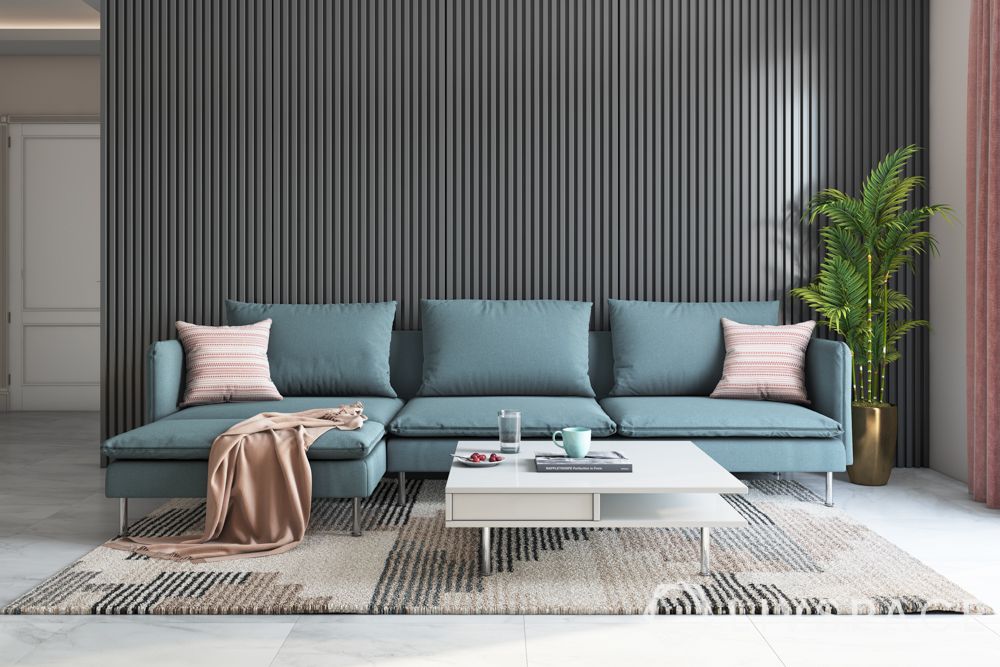 The best part about having a contemporary interior design for the living room is that it allows you the freedom to get creative. Here, the blue sofa is a befitting contrast to the neutral palettes in the room. However, there is another advantage too. This compact room needs a centrepiece without appearing cluttered or adding anything that makes the space look cramped. What better choice than to make the sofa the focal point?
#3: Interior Design for Living Room with Limited Space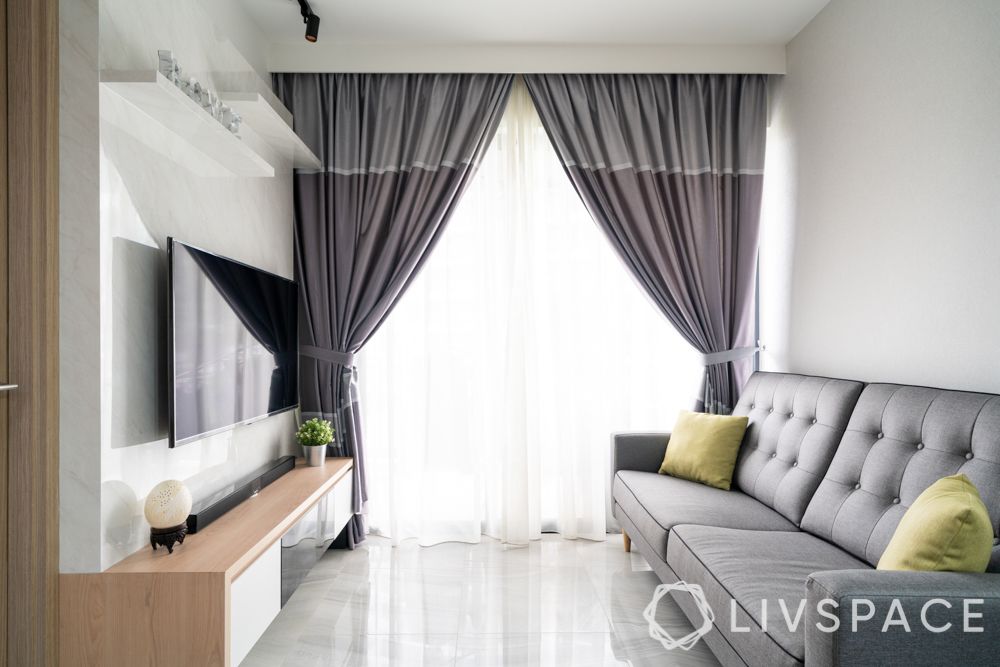 Compact living rooms can be tricky to decorate. However, there are several ways that designers deal with them. This particular living room has neutral palettes to appear bright and airy. It also has floating modular units for the entertainment set to save floor space. The sofa is pushed against the wall to do the same.
#4: Go for a Neutral Palette to Get a Chic Look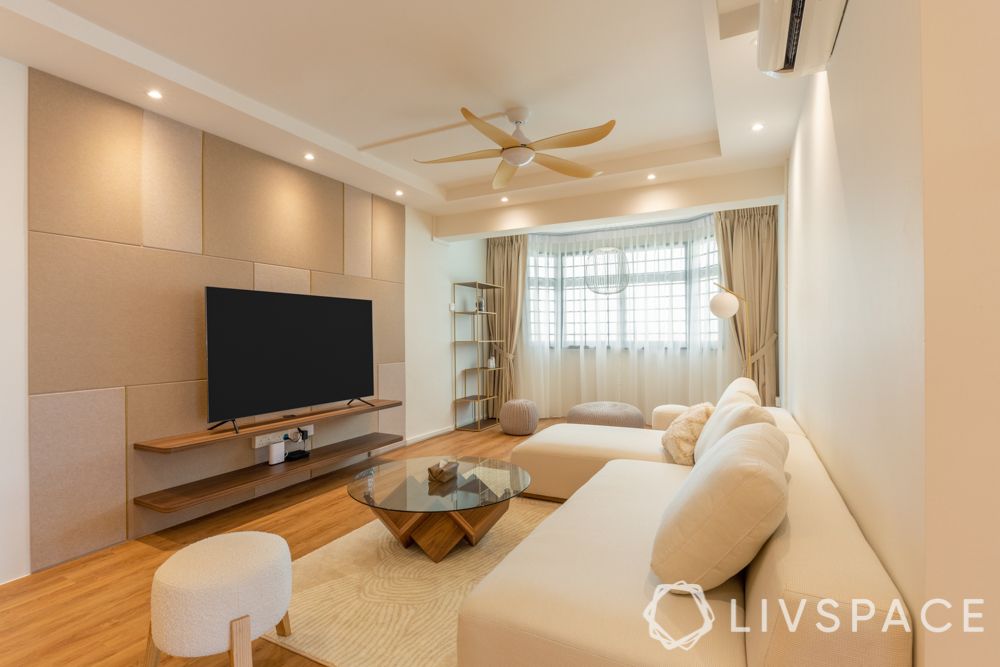 When dealing with an uber compact interior design for your living room, the best way is to use a neutral palette. Also make sure that you are using your space intelligently. This living room is a long one and so, our designers added a corner sofa, a pouffe and extra seating in the area behind the sofa. For extra zing, the TV feature wall flaunts a unique accent.
#5: Apply the Two-Toned Strategy to Your Living Room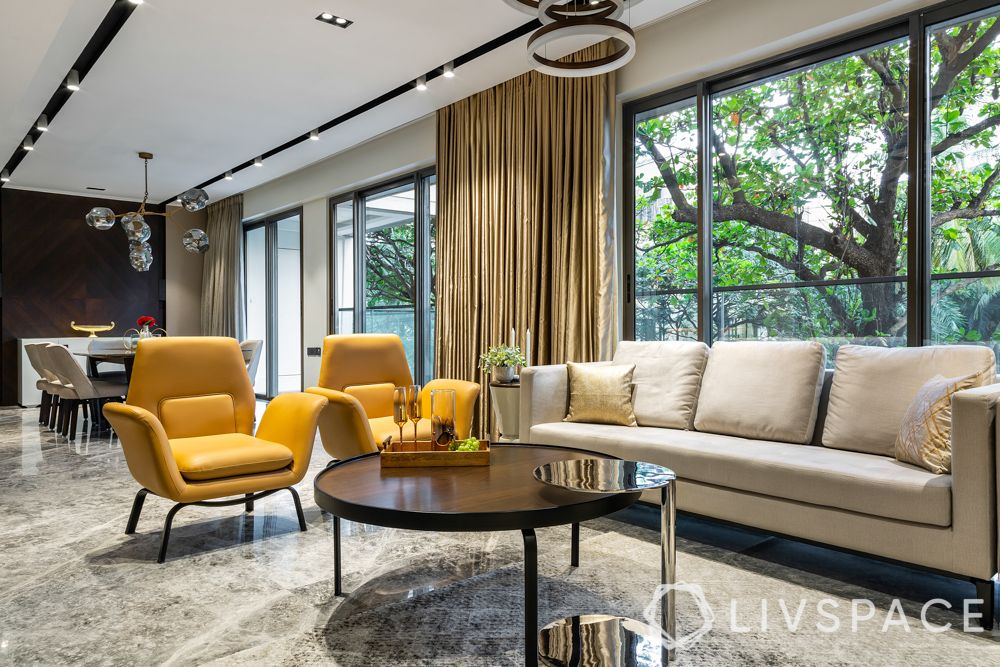 Neutrals are a popular choice but adding a little accent colour can make your living room even more stunning. Take the example of this living room. Bathed in neutrals, the comfy yellow chairs add extra glam to the room.
#6: Play with Prints and Patterns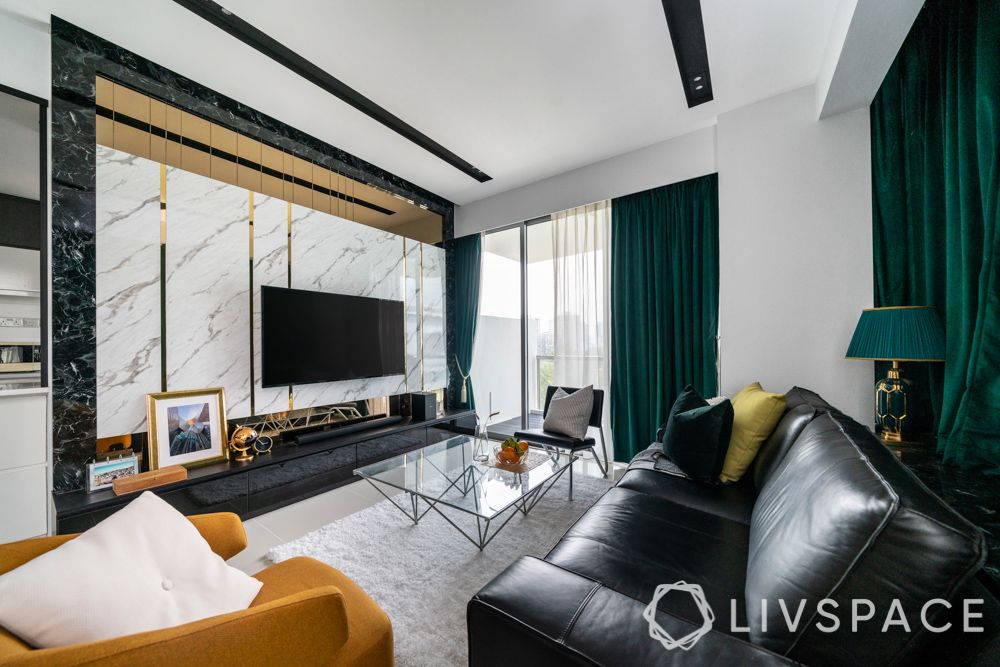 Patterns and prints are not to be shied away from when it comes to the interior design for the living room. Using them in the right way and in the right amount can add a lot of fun to your space. Notice how the marble-like backsplash in this living room gives it an instant boost in the living room depicted in the image above. It immediately becomes a focal point in the space.
Also Read: 5 Best Practical Modern Living Room Ideas for Your Home Interiors
#7: Alleviate Your Interiors Game with Catchy Accent Colours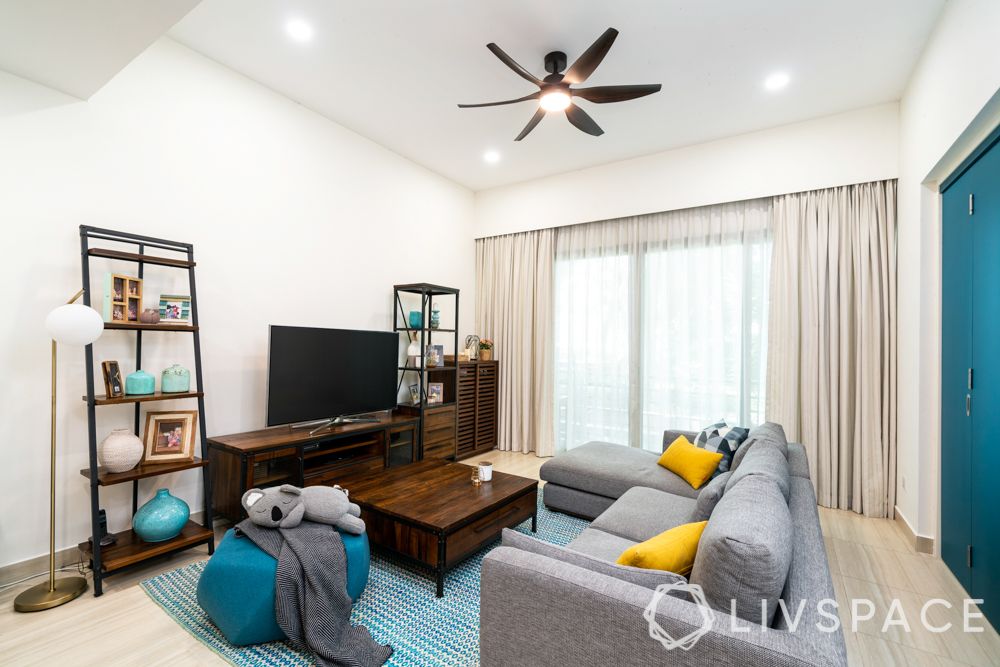 When designing a modern living room, it is best to stray away from outdated designs. This living room, for example, is in all sense a modern masterpiece. With just the right amount of accent colours, an L-shaped sofa and elegant TV unit, this interior design for the living room is Livspace recommended.
#8: Attend to Statement Design Details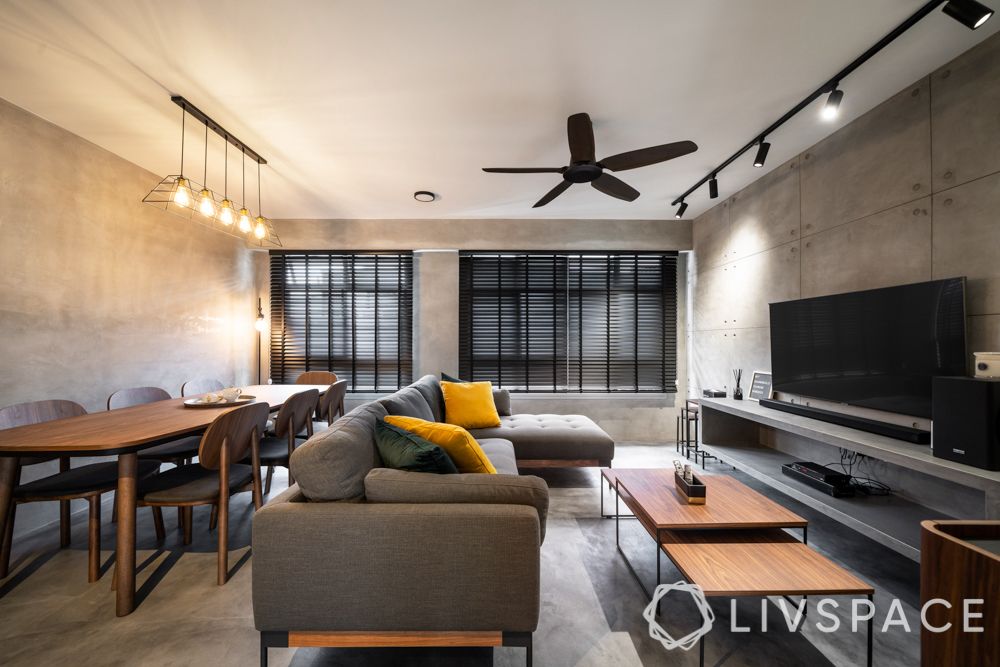 What do we do when a homeowner wants a specific style? We nail it! Along the way, we make sure that every detail matches with the specific aesthetic. At Livspace, we believe that the details make the design. It has definitely unfolded nicely in this industrial-style home.

Want to see more interior design ideas for the living room? Read 7 Best Living Room Designs For Your Malaysian Homes. Want your living room to look something like this? Contact Livspace and we'll do it for you!
How Can Livspace Help You?
Want stunning interiors? Livspace can help you! All you have to do is book an online consultation. If you prefer meeting in person, you can also find Livspace designers at the IKEA Damansara store. Hurry up and get quality home interiors from the best in the industry!