When you first enter your home, the first room you lay your eyes on invariably happens to be your living room. This makes it a pretty crucial area when it comes to design since it has the ability to make or break your mood every time you come home. How you choose to design this space also dictates how your home is perceived by guests and visitors alike. If all this information is making you feel a bit pressured, then lucky for you, you're in good hands when it comes to design ideas!
Everybody loves a well-designed living room and what could be better than creating one that is completely inspired by a brand like IKEA? So why not put the two together to get the most of it, which is exactly what we did. To give you the best design inspiration for your living room, we've put together a few tips you can follow based on some of our IKEA-inspired homes. Read on for more tips and tricks featuring some classic IKEA furniture to boot!
#1: Use Statement Furniture or Accessories to Add Interest to Your Space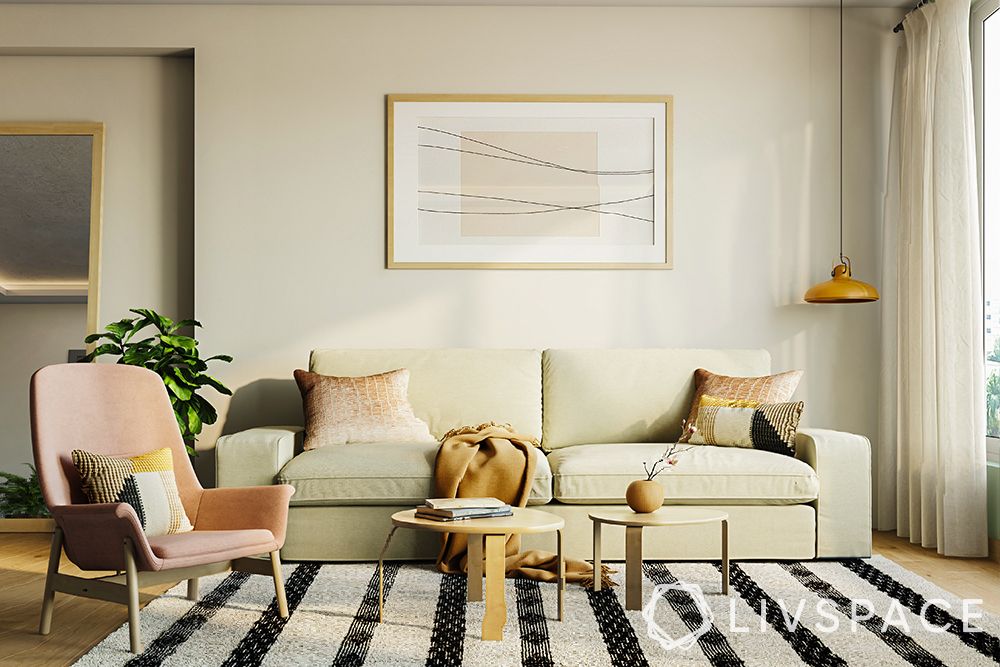 If you're someone who loves minimal interiors, you might not like the idea of clunky furniture or cramped spaces. So to keep things clean, you can choose to create a simple focal point based on the type of living room furniture you use. It's as easy as using simple accent chairs or a detailed rug to create interest.
And if bold accent chairs aren't your thing, you can opt for a simple high-back armchair in subtle colours, like the Vedbo from IKEA, to contrast with the rest of your palette. This helps bring in an element of colour to your living room while also keeping things minimal.
Similarly, you can also achieve this effect with accessories that play with textures. Throw in a textured rug or fabric throw pillows to add more warmth to your space.
#2: Natural Lighting Can Help Create an Open and Airy Atmosphere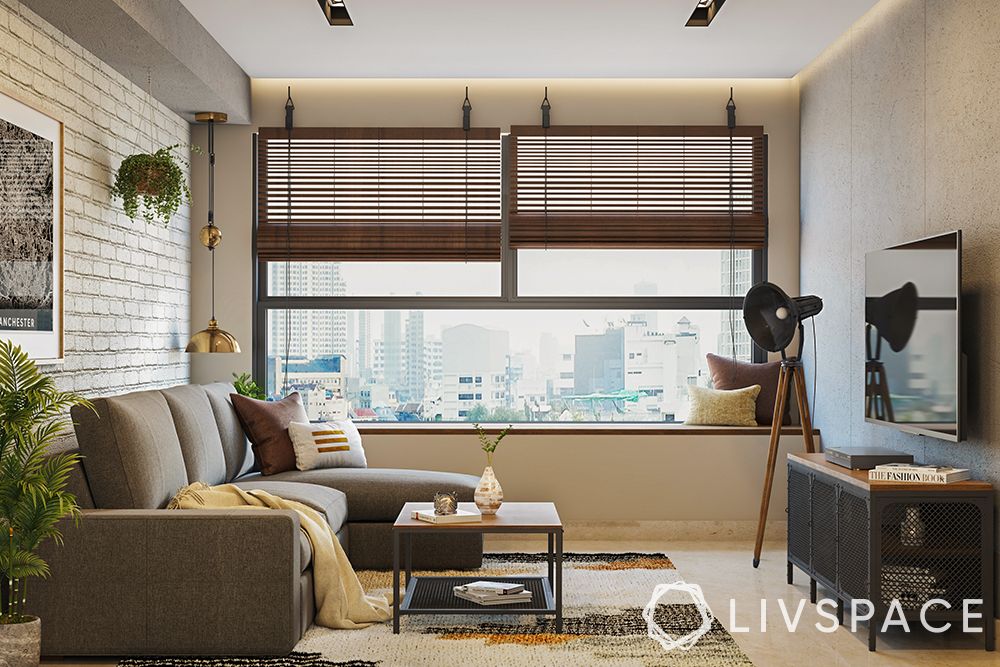 If there's one thing the pandemic has taught us, it's the importance of making our homes comfortable for extended use. As we've spent more time working from home and lounging around the house, we might have realised a thing or two. The most important being the need to receive plenty of natural light while still indoors.
Not only does the presence of natural light improve our mood and bring us some much-needed vitamin D but it's also crucial to your living room design. The more light you have flooding into your living room, the more open the space feels.
What's more, this also helps make your interiors seem brighter, which is helpful if you have dark-coloured living room furniture. So if you're planning your living room layout, be sure to account for a good amount of natural light.
#3: Fun Pastels Can Bring Your Living Room to Life with a Subtle Pop of Colour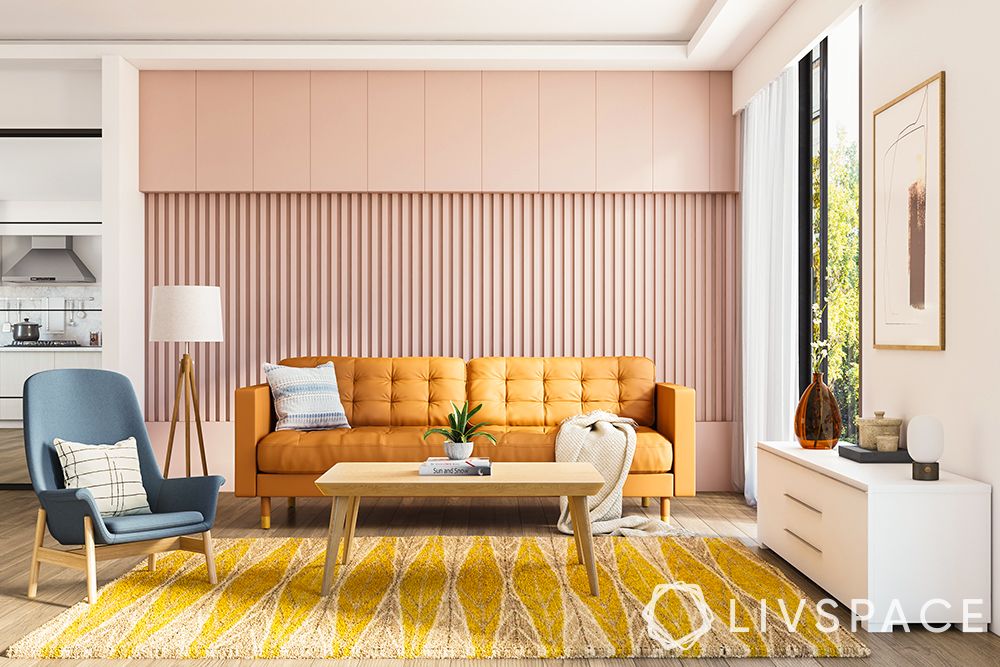 Nothing livens up a space like pretty pastels in white interiors. So when it comes to picking your colour scheme for your living room, you might want to consider pastels. We've already covered how you can use the Vedbo high-back armchairs from IKEA as accent chairs. But if you'd like to try something bigger, the three-seat Landskrona sofa might be your new favourite. The golden-brown shade of this beautiful IKEA sofa is also guaranteed to lend a subtle rustic touch to your interiors.
Besides going for a statement IKEA sofa, you could also try experimenting with a highlight wall in your living room. For this, you can either play with dark shades or pastels, or you can embrace a textured finish based on the look you prefer.
#4: Carve Out a Niche to Create a Personal Prayer Room or Reading Nook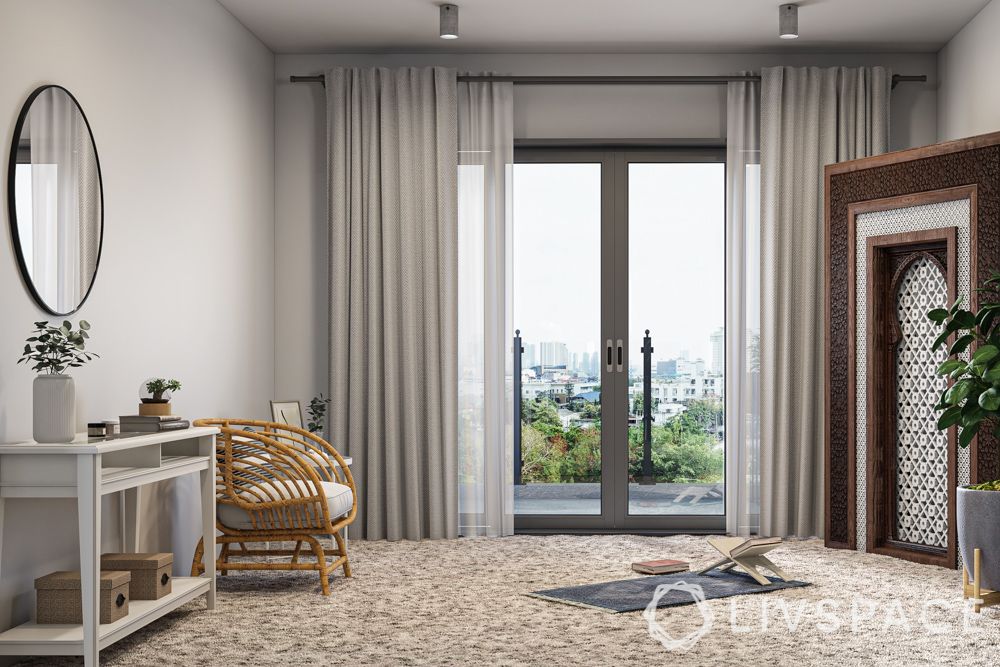 For spacious open-concept homes, you could take your living room design one step further by adding a separate nook to it. If you have a lot of floor space and no idea what to use it for, consider carving out a niche for specific activities.
In this IKEA-inspired home by Livspace, we've segregated the living room into two spaces to create a private prayer room for the homeowners. The space can either be used as a tranquil prayer room or a cosy reading nook based on their needs.
For this, a simple Buskbo armchair paired with the Liatorp console table from IKEA was used. The nook was also created by adding carpeted flooring to the area to separate it from the rest of the living room. So if you'd like to segregate space in your living room, consider using IKEA's Vindlum floor rug to recreate this look.
#5: Storage-Intensive Living Room Furniture Can Be a Game Changer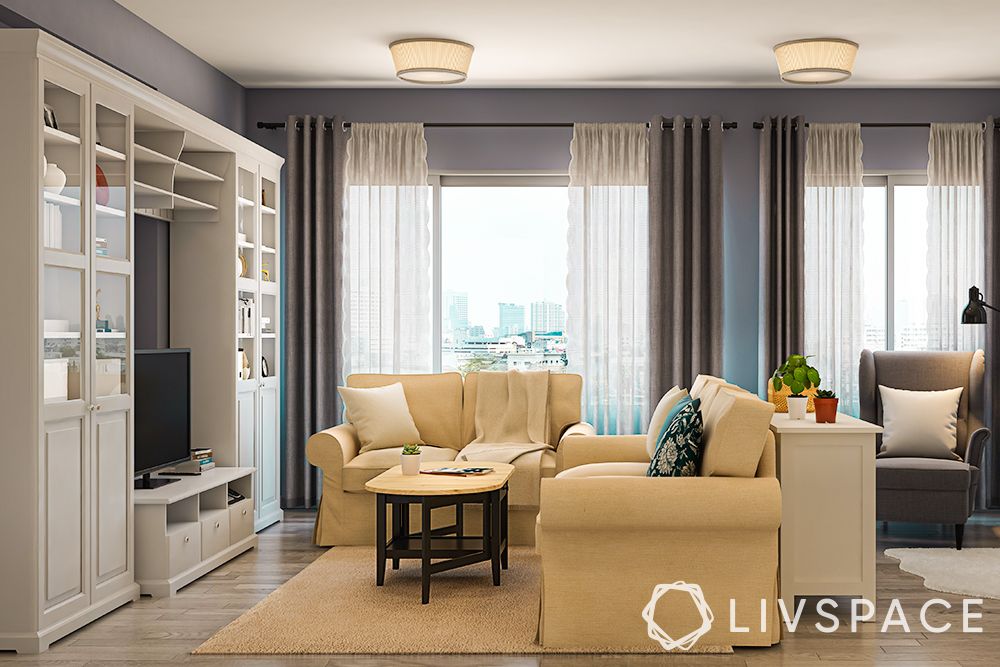 Now that you know how to make the best use of a spacious living room, what do you do with more compact spaces? This is where the use of multifunctional living room furniture becomes paramount. If you liked the subtle vintage look of this room, the Liatorp TV storage unit might be your next favourite investment.
Not only does it bring a clean look to the room but it is also highly storage-intensive, making it a great piece of IKEA furniture to have. What's more, it also doubles as a display unit where you can highlight small decorative items or books. Whatever the need, multifunctional storage units are sure to get the job done in any given space.
#6: Use a Simple Partition to Segregate Space in an Open-Concept Living Room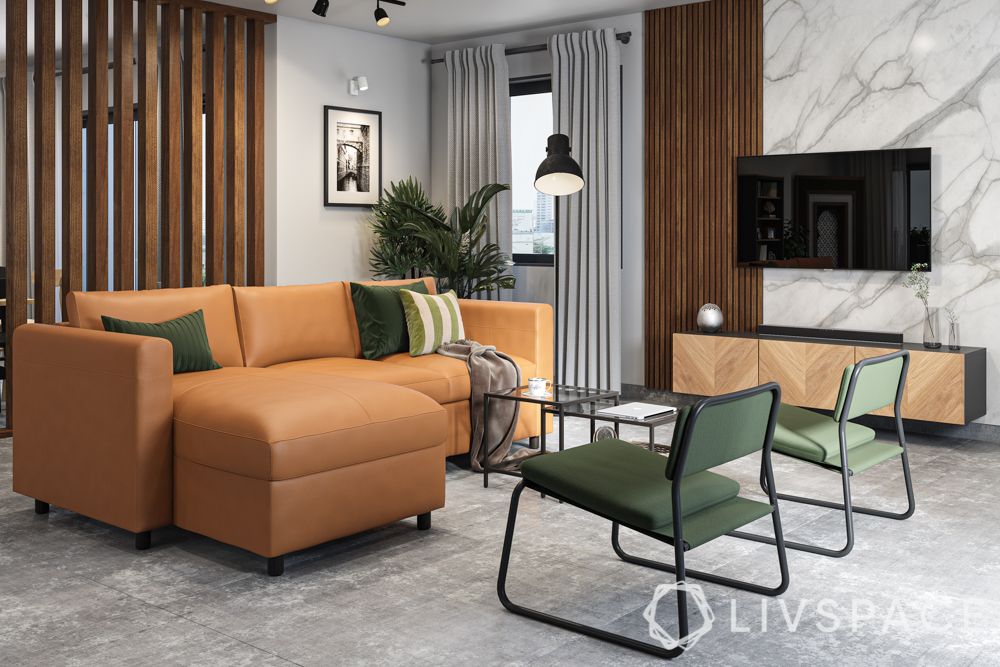 Though open-concept homes have their own charm, you might prefer to use separators in common areas. This will help give your rooms their own space without looking too cramped. In some cases, your living and dining areas might coincide, making it look cluttered. To prevent this, you can bring in a simple partition between both spaces to segregate them.
If you use a wooden partition, opt for rustic or earthy palettes to support the look. Here, this was done with colours such as golden brown and olive green, brought in by the Vimle IKEA sofa and the Linnebäck easy chairs respectively.
We hope you liked these easy-to-implement design ideas from our IKEA-inspired homes! For more design inspiration, check out 7 Clever Living Room Ideas to Keep in Mind While Designing.
How Can Livspace Help You?
Want stunning interiors? Livspace can help you! All you have to do is book an online consultation. If you prefer meeting in person, you can also find Livspace designers at the IKEA Damansara store. Hurry up and get quality home interiors from the best in the industry!