Every hall entryway or foyer design has a story to tell. When visitors come over, every detail of your hall interior design, from the wall colours to the hallway photos, can deliver an experience to them. And trust us, hall designs can create a memorable impression for anyone who drops in. Take a look at these creative and clever hall passageway designs that can inspire you to redesign your hallway!
Hall Interior Design #1: Mirror, Mirror on the Wall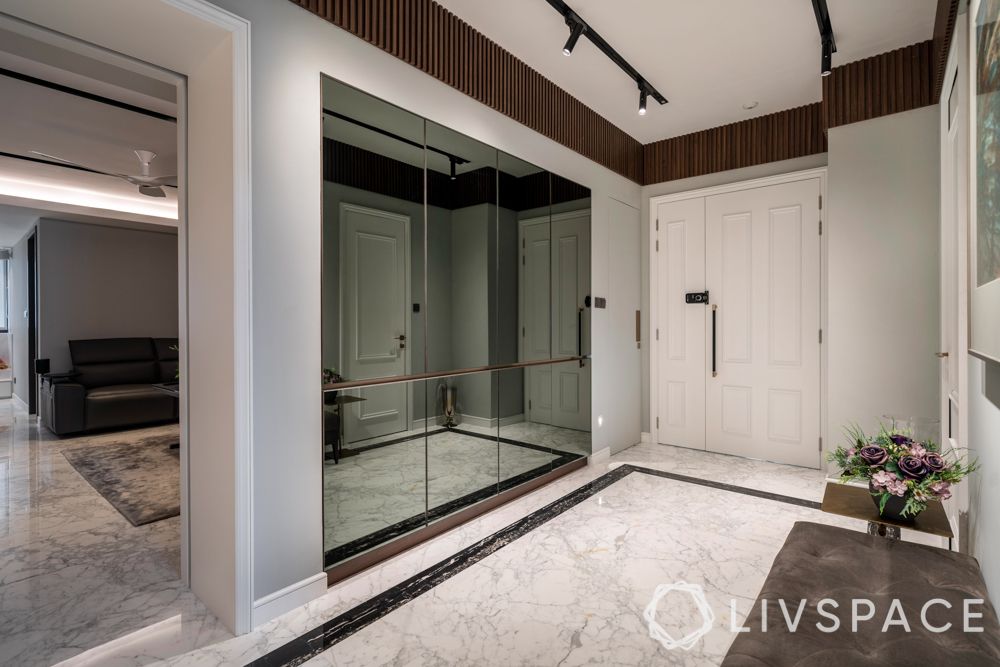 Installing a full-length mirror is an infallible way to create the appearance of space in your hall passageway and lighten up what may otherwise be a dark hallway. This one is our favourite to decorate a home entrance. If you want to experiment with your foyer design, you can install a single-wall shelf across the mirror and add a floral arrangement or a curio to take it up a notch.
ALSO READ: How to Design Your Foyer for Post-COVID Times?
Hall Passageway Design #2: Cosy Conversation Starters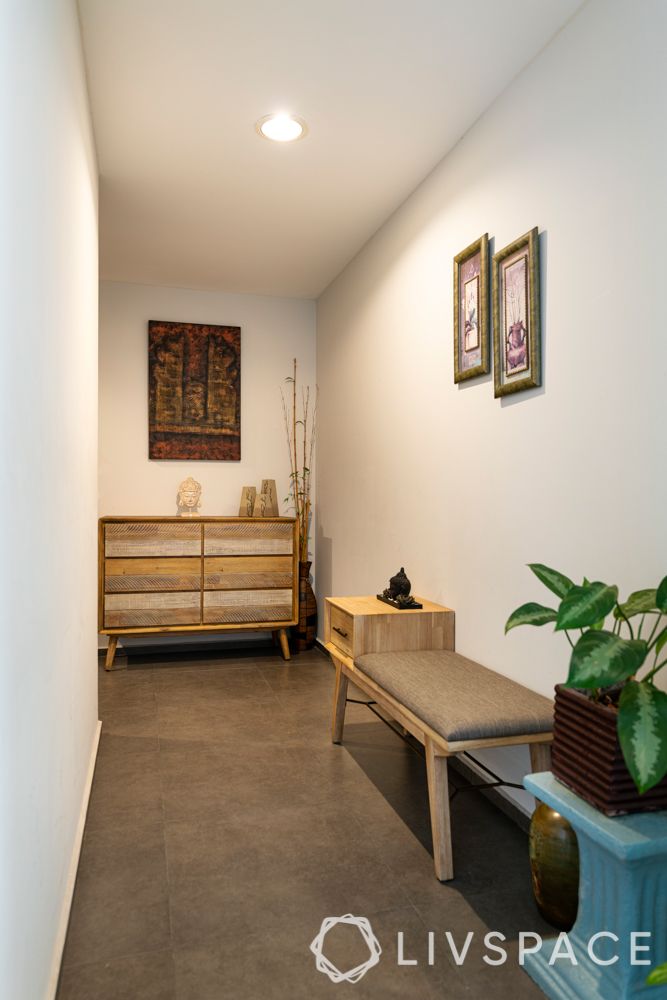 If you have a large corridor, make it into a nice chat area. You could even transform it into a date night zone with warm lighting, cosy seats and hallway photographs to set the tone. You can also place a wooden wardrobe unit for keeping shoes and umbrellas in the entryway. To finish the appearance, a few wall paintings will take the foyer design up a notch.
Foyer Design #3: An Art Wall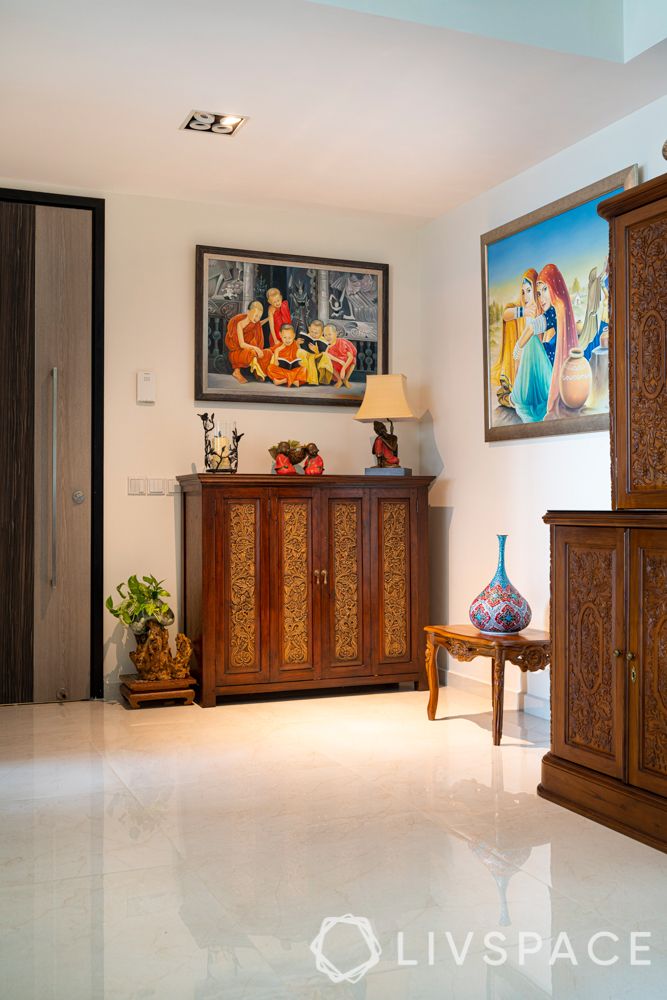 Arranging artwork in your home can be a trick task. You don't know which artwork will suit the best for a particular segment of home. But we're here to help! As it can be seen in this foyer design, the walls have been adorned by beautiful traditional paintings. You can also arrange paintings on the foyer wall based on your preferences. Small artefacts like the printed pot, carved wooden table, statues of Buddha and the lamp add to the beauty of this foyer design.
Hall Interior Design #4: Pendular Lights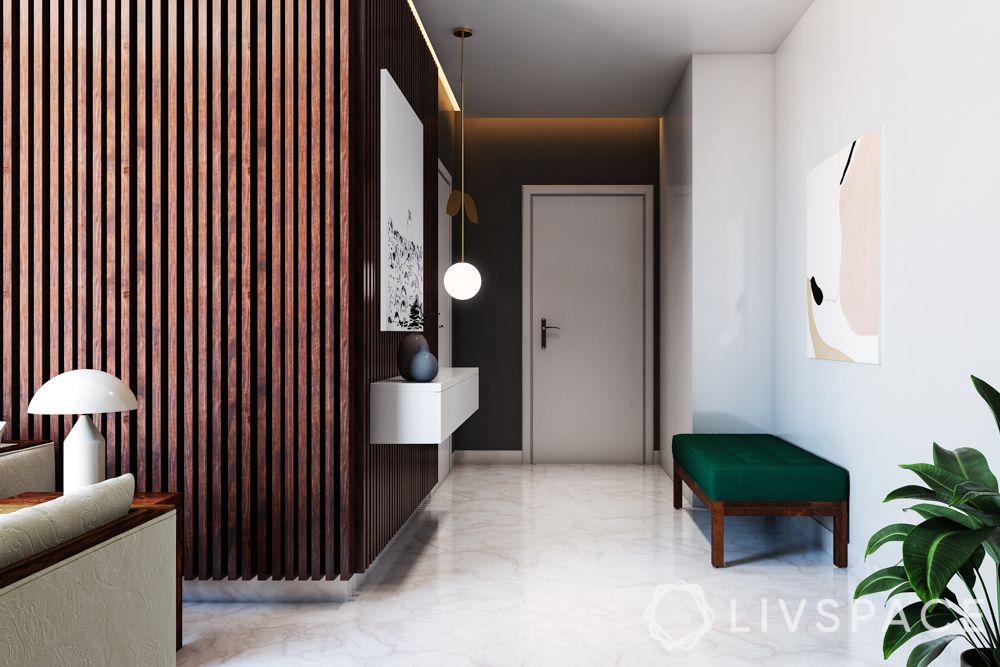 Pendant lights are a beautiful way to decorate a foyer. They make the space look bigger and luxurious. The globular pendant light seen in this hall design creates a wonderful look and makes the ceiling appear taller. Add in contemporary wall decor and a shelf decorated with fancy pots and your guests will be impressed from the moment they step in!
Hall Design #5: Showcase your Decoratives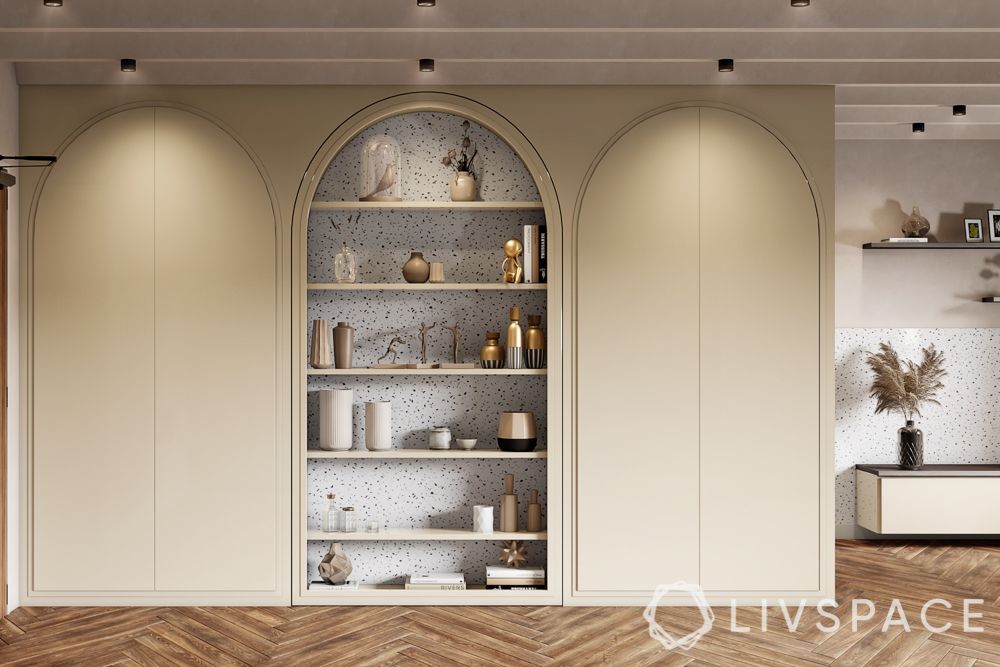 If you like to travel and collect the artefacts from different parts of the world, this is the place where you can display them at their best. This foyer has both open and closed white wooden wardrobe units. While the closed units provide optimum storage space, the open unit has been used as a showcase for decoratives.
Hall Interior Design #6: Keep It Minimal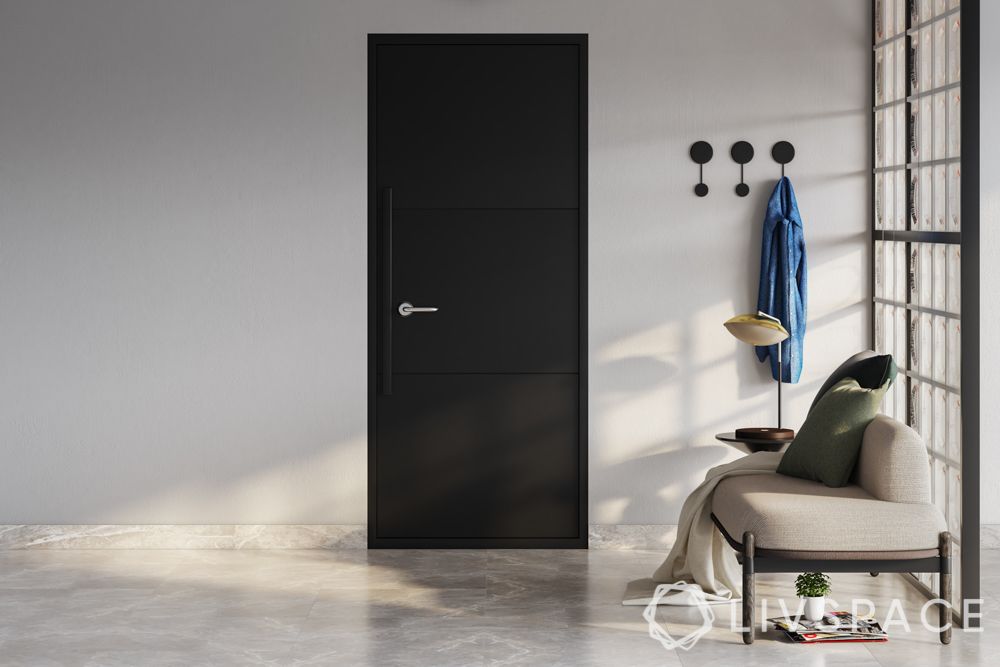 This Livspace home illustrates that sometimes less is more in classic Scandinavian design. This hall passageway has a smart and minimalist appeal, thanks to the white walls, straight lines and black accents. In a hall passageway, even a two-seater sofa and a floor lamp can add an aesthetic touch without taking up too much room, as is evident in this above image. Small potted plants can also complement the beautiful setting.
Hall Passageway Design #7: Classic Shoe Rack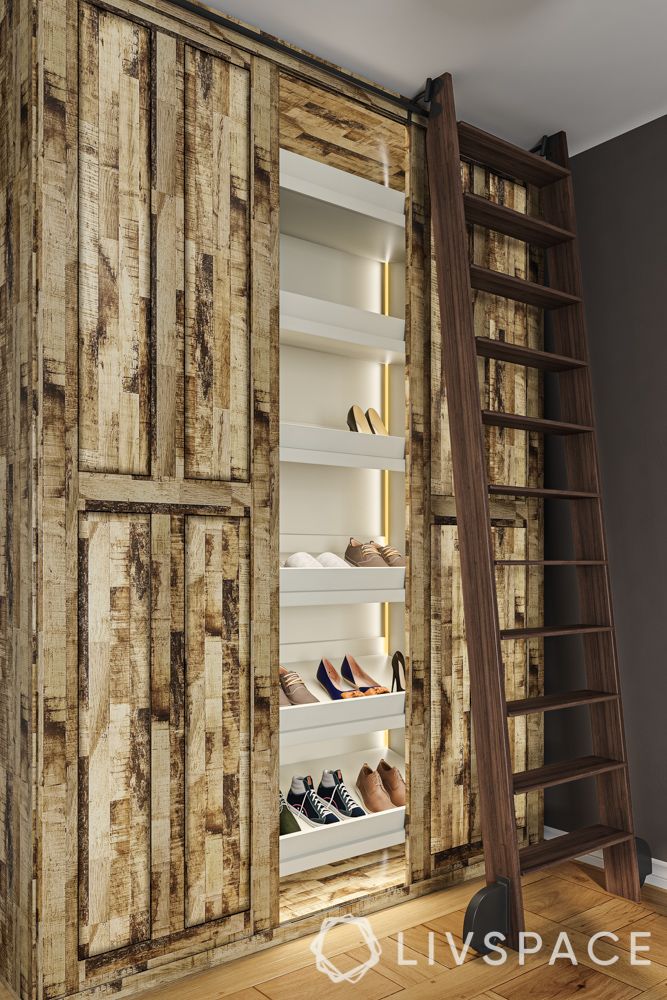 Multiple houses are in the habit of keeping a shoe rack in the foyer of their houses. While we agree that it is the most appropriate location for footwear, we also believe that it can be as stylish as it is functional! Just look at the wooden shoe rack with brown mosaics. The lights on the sides of each shelf give it a luxe touch.
ALSO READ: Best Hall Interior Design for Post-COVID Times
Hall Design #8: Make a Memorable Statement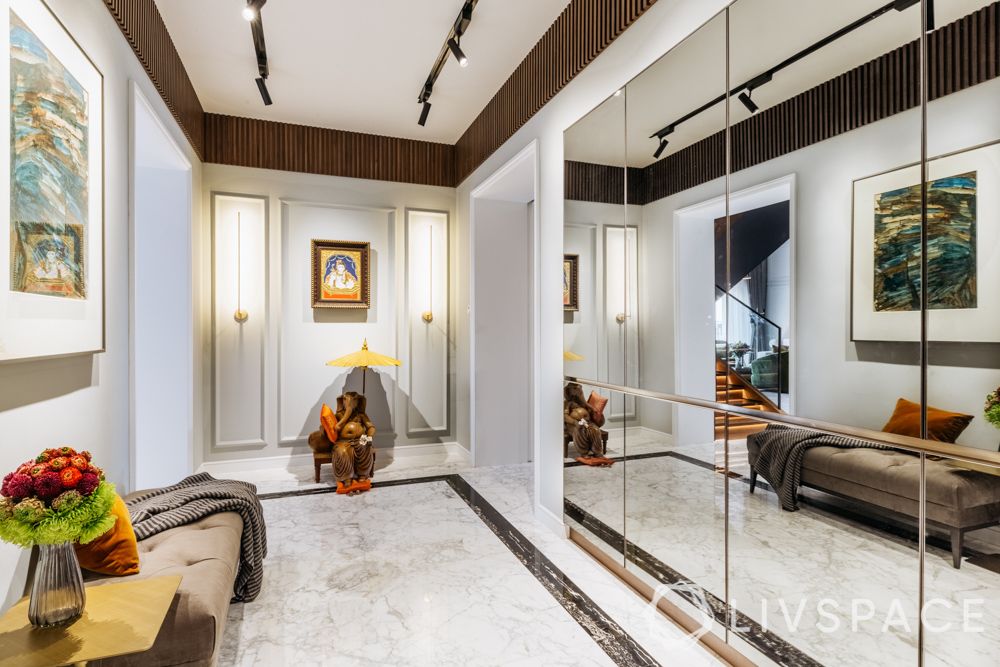 For a great first impression, consider creating a focus point in your hall interior design mixed with minimalism. If you believe in God, for instance, then you can put your deity's statue in the foyer as it is believed to bring positive energy and prosperity to your home. To round off the look, highlight it with spotlights.
How Can Livspace Help You?
Want stunning interiors? Livspace can help you! All you have to do is book an online consultation. If you prefer meeting in person, you can also find Livspace designers at the IKEA Damansara store. Hurry up and get quality home interiors from the best in the industry!