Scandinavian design is characterised by minimalism, simplicity and functionality, all of which are combined with the appropriate colours and furniture. White walls, minimalist decor, utilitarian furniture, and so on are all hallmarks of this design style. Our designers adore this design style, and homeowners can't get enough of it. Check out some of our favourite Scandinavian living room designs from previous projects.

#1: One with centered furniture layout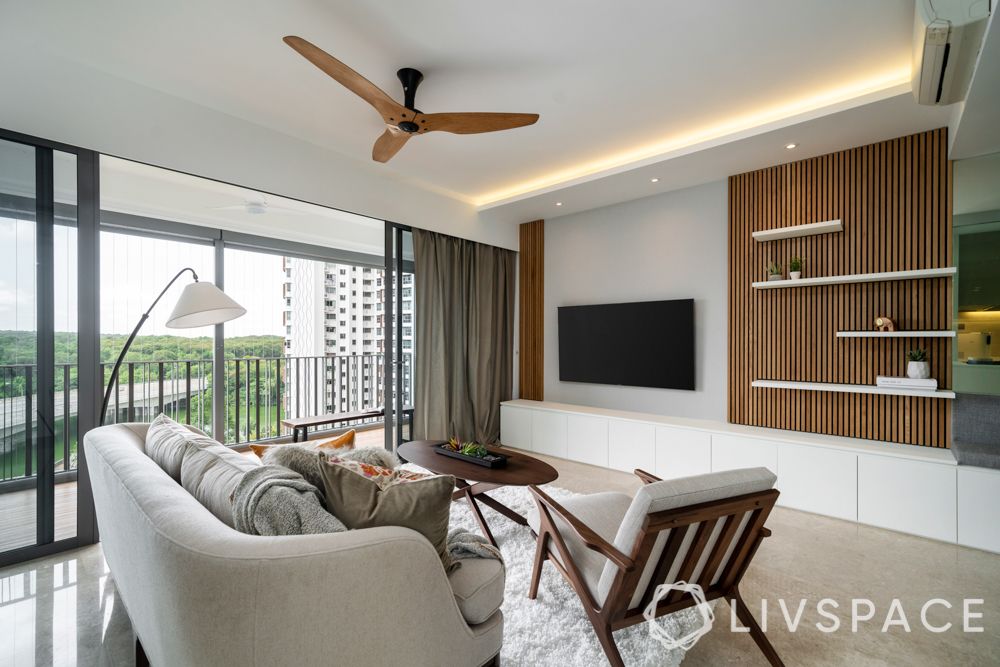 A clean, clutter-free living room is the ideal way to greet and amuse visitors while also making them feel at ease. While it is easy to make the space appear plain and uninteresting, our designers know how to avoid this. To achieve the desired effect, we chose a neutral colour palette and paired it with natural materials. We created a feature wall with an oak batten wall, vinyl wall covering, and laminates to offer the right final touch to this Scandinavian living area.
Get the look: If you're going to create a feature wall like this one, go with white walls. It will help to vividly emphasise the wall. You can add a mirror panel next to the fluted panels to further enhance the design's appearance. To complete the design, make sure all of your furniture is centred and add a fluffy white area rug.
#2: One with sleek grey and marble patterns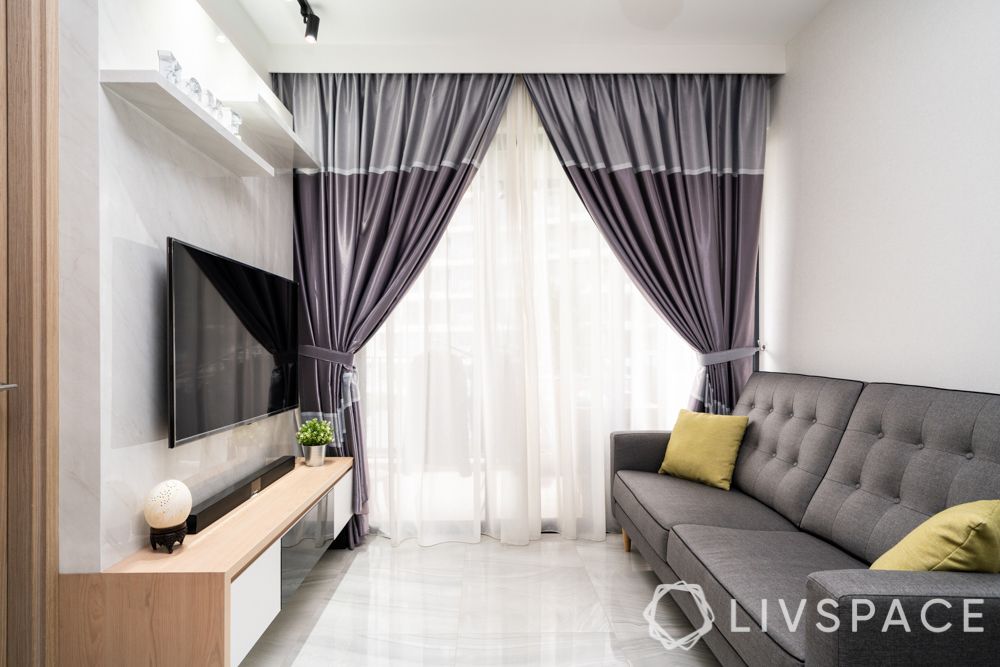 For small rooms, a Scandinavian aesthetic is appropriate. Why? Because this design style emphasises clean, uncluttered environments with only the most functional furniture. This light and airy living space is designed to be simple and well-organized. A wooden laminate and a back panel with a marble finish laminate are included on the custom-made TV unit with LED lights.
Get the look: Our designer suggests using monotones to keep the effect from being cramped. In such small settings, too many colours might ruin the aesthetic. If you want to keep things simple, a neutral hue of grey is ideal. Layered curtains in matching colours will help to complete the look.
#3: A luxurious but very Scandi living room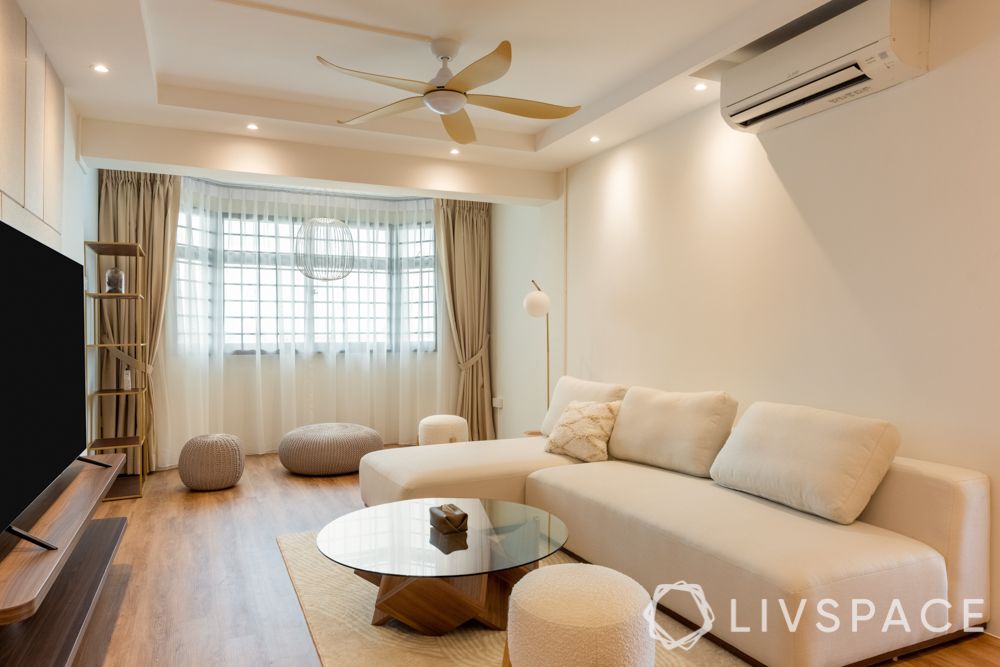 This scandinavian living room is relaxing yet stylish, with mostly white walls and furniture. An L-shaped white sofa was chosen since it can seat a large number of people at once. Additionally, certain pouffes and ottomans provide additional seats without overwhelming the room.
Get the look: When it comes to achieving the desired aesthetic, lighting is crucial. Ambient lighting is vital, and you should layer them if possible. The mood is set with neutral-toned drapes and furnishings, and a contemporary chandelier can be added for added effect.
#4: One with oodles of sophistication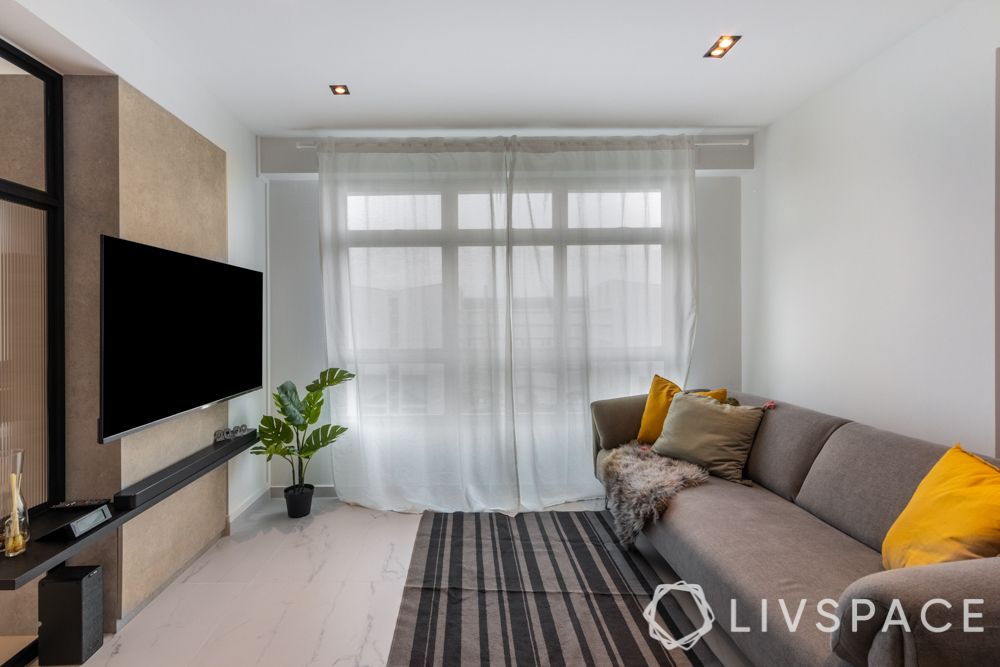 When it comes to decorating a Scandinavian living room, grey and white are a marriage made in heaven. With its white-painted walls that calm the mind, this area feels quiet and serene. The lone sofa in grey upholstery, which can sit two people, continues the minimalist aesthetic. Our designer added a matte black ledge to the TV unit wall to balance out the light colours and provide drama. The word to describe it is "sleek and minimal."
Get the look: Always choose sheer curtains to let in as much natural light as possible. Plants can also make a big impact in a plain Jane space like this by giving warmth and freshness.
#5: A Scandi living room with a twist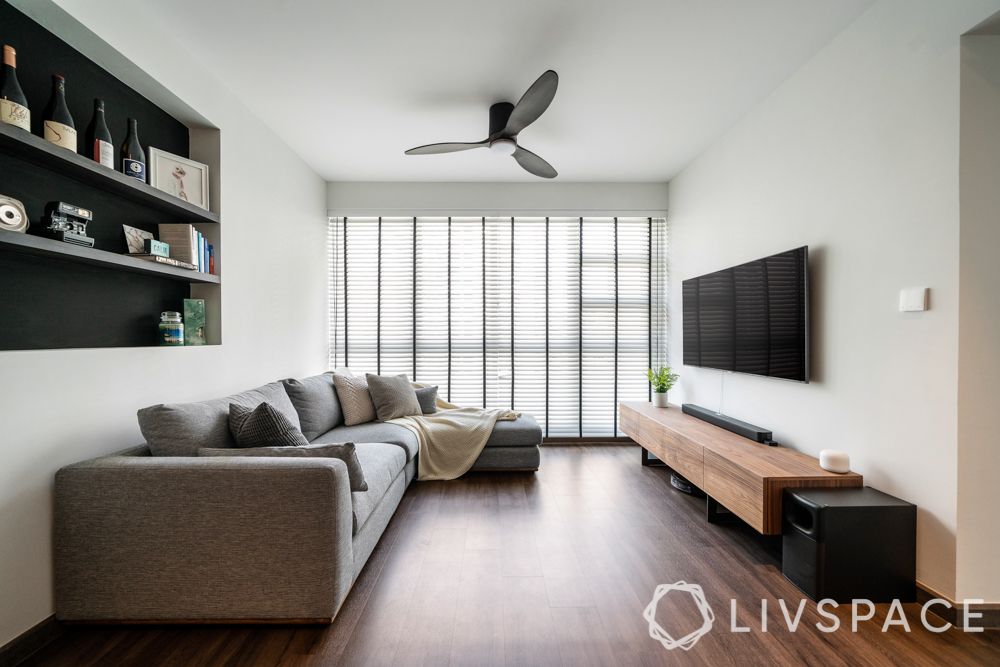 It doesn't mean you can't have some fun with minimal and Scandinavian spaces. Wall niches are a good option if you want to put objects on show without taking up too much space. Our designer built a unique display shelf with a faux wall made of plasterboard that blends in with the existing structural beam. For seating, an L-shaped sofa with grey upholstery is acceptable.
Get the look: To achieve a comfortable aesthetic, get your hands on a plush upholstery sofa and pile on the cushions. Make careful you choose a warm wooden floor.

Send in your comments and suggestions to editor.sg@livspace.com.