Bathroom design that is functional as well as aesthetic can make your mornings and evenings way more efficient as well as glamorous. But if you think that a compact bathroom is getting in the way of making your space work for you, you couldn't be more wrong! You don't have to compromise on the design and look of your bathroom just because it's small. With some clever bathroom decor ideas, you can make the available space look bigger and better organised.
And to make things even easier for you, we've got you these small bathroom ideas to get you inspired for your own bathroom. The tip is to invest in extra storage or keep it simple with designated zones. Take a look at these design ideas and pick a favourite!
Bathroom Decor Ideas #1: Let Mirrors Make a Statement
Bathroom mirrors, unlike people, always let you know if you have something green lodged in your teeth, never criticise you for gazing and add an infinite amount of style to your bathroom design. Let's concentrate on the latter for now. The appropriate mirror can offer a sense of spaciousness to a compact bathroom, boost natural light in case there is a window and bring a lot of design interest to the walls. So, no matter what size, shape, style or budget you're dealing with, bring in a stunning bathroom mirror to upgrade your bathroom space.
Small Bathroom Ideas #2: Go Bold with Wall Colours
Dark colours are frequently considered to make small areas appear more cramped. While this may be true to some extent, you may be able to overcome this dilemma if you choose the proper shade of dark. Of course, you'll need to add some finishing touches to complete the design. Dark colours and metal accents go together perfectly. This veined black bathtub and golden-bordered mirror, for example, look amazing against the dark blue walls.
If you are thinking about the bathroom design for your own space, read this guide for a smooth renovation.
Compact Bathroom Ideas #3: Keep It Simple & Scandi
We have a basic Scandinavian design to seduce you, which is the polar opposite of bold. This simple bathroom design would appeal to you if you prefer to keep things light and cheerful. The shower cubicle is elevated and separated from the rest of the bathroom by glass panels.
Bathroom Design Ideas #4: Splash Colours on Bathroom Tiles for the Floor
This one's for you if you are the kind of person who will not accept anything less than the best. So what if you have a little bathroom? You may still make it look nice by using bathroom tiles with a distinctive colour scheme and lovely patterns. The wall tiles of this bathroom are pistachio green and the floor tiles have leaf motifs in the same colour. For more storage, add corner shelves.
ALSO READ: 8 Useful Tips for Personal Care at Home: With Ideas for Storage Boxes
Bathroom Decor Ideas #5: Go for Maximum Storage
This is one of the best small bathroom decor ideas to implement especially when it comes to storage. Storage capacity does not imply a large amount of floor space. If you plan it correctly, your compact bathroom can accommodate a lot of items. In-built storage is preferable to a separate storage container as it saves much space. This way, your storage will be hidden behind the wall, leaving you with plenty of open floor space. You can even consider storage shelves to put behind the toilet. Don't forget to paint the walls with a splash of colour!
Small Bathroom Ideas #6: Do Not Overcrowd Counters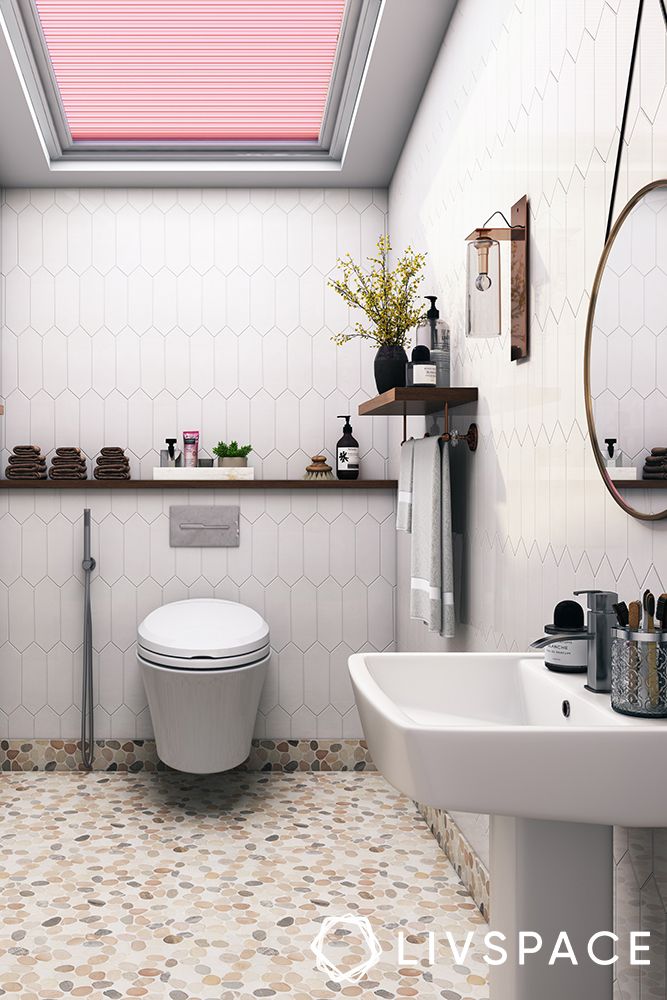 We understand how difficult it is to fit a full vanity unit into a small space. However, you can incorporate all your storage needs in your bathroom design if you follow this small bathroom idea. All you have to do is pin wall ledges at strategic points, such as next to the outlet, next to the washbasin, and so on. Instead of a full-fledged vanity, you may now store all of your belongings on these ledges. That is one of the most ingenious small bathroom decor ideas we've ever seen!
Bathroom Design Ideas #7: Wall Storage Is the Best
If you don't have any spare floor or counter space, vertical storage is the way to go! Make niches on the bathroom wall and store your belongings there. This hack does not require any additional space. With the appropriate arrangement and material, an entire wall may be transformed into storage. When using a wall next to your bathtub, just make sure your belongings are protected from splashing.
If you're looking for ideas to design your spacious bathroom, go here: How to Give a Stylish Look to Your Bathroom.
How Can Livspace Help You?
Want stunning interiors? Livspace can help you! All you have to do is book an online consultation. If you prefer meeting in person, you can also find Livspace designers at the IKEA Damansara store. Hurry up and get quality home interiors from the best in the industry!