Is your small bedroom design bothering you? Does it feel like there isn't enough space for everything you want? Worry not. When it comes to compact spaces, we have got several tips for you! From space-saving furniture to hacks for adding extra storage space, there are many ways you can optimise your space. Here are some of the small bedroom ideas listed below; try them out in your bedroom and see for yourself how these bedroom ideas for small rooms can work wonders.
#1: Pick the Right Colour Tones for Your Small Bedroom Design
One of the trusted bedroom ideas for small rooms is the use of light colours when it comes to tight spaces. They reflect more light and make the space appear bigger. This does not mean you cannot experiment with colours in your small bedroom interior design. Pick a wall in your room and turn it into a feature wall. Stick to a 20:80 ratio when it comes to colours. In this particular modern small bedroom design depicted above, thewall trims and pastel green colour to keep things interesting.
#2: Narrow Down on the Furniture You Need in Your Room
The two most important pieces of furniture in a bedroom are a bed and a wardrobe. However, if you need other pieces of furniture in the room, we recommend you opt for space-saving options. For instance, if you work from home and would like a desk in the room, opt for a floating one that can save you space and has a minimal look. You can also opt for multifunctional furniture that can easily be custom-made to save space.
#3: Small Bedroom Ideas to Add More Storage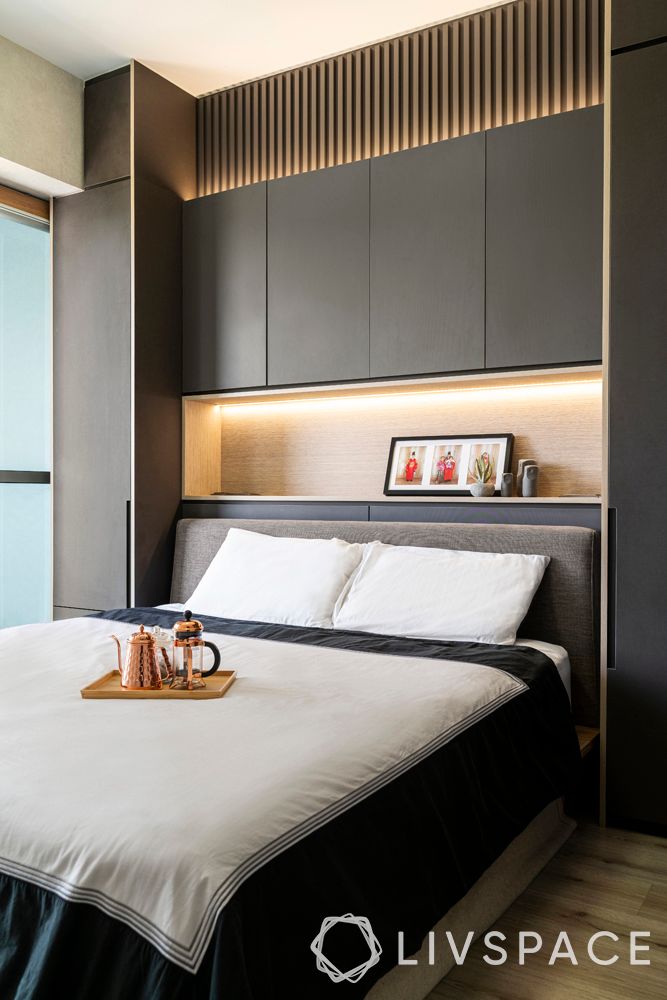 How do you make the most out of bedroom designs for small rooms? After multifunctional furniture, the next best option is to use your bare walls and turn them into strong storage units. You will be surprised to know that those bare walls can become storage units for a small bedroom design. We absolutely love the idea of having headboard storage and recommend that everyone try this tip in the above bedroom. Here, an entire headboard wall has been used to create cabinets and a display space. Your linen and heavy things can be stored in the cabinets while the niche acts like bedside table storage. You can have nighttime essentials like your watch, books, medicines and so on in that space.
#4: Select the Right Wardrobe for Your Small Master Bedroom Design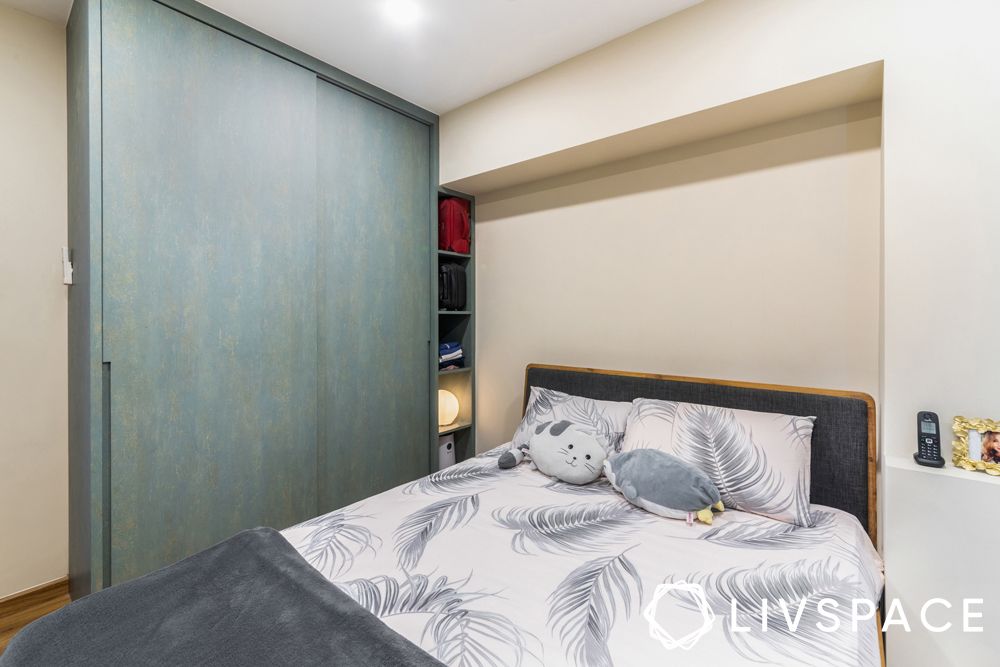 Sliding door wardrobes are a trend we all love when it comes to bedroom designs for small rooms. Our designers almost always tend to add these in any modern small bedroom design as such spaces do not have to have space to open a swing-door wardrobe, where you need to allow space for doors to open and close. To make the most of this tip, you can also add an open shelf next to the wardrobe to keep your bags and shoes.
#5: Lighting Bedroom Ideas for Small Rooms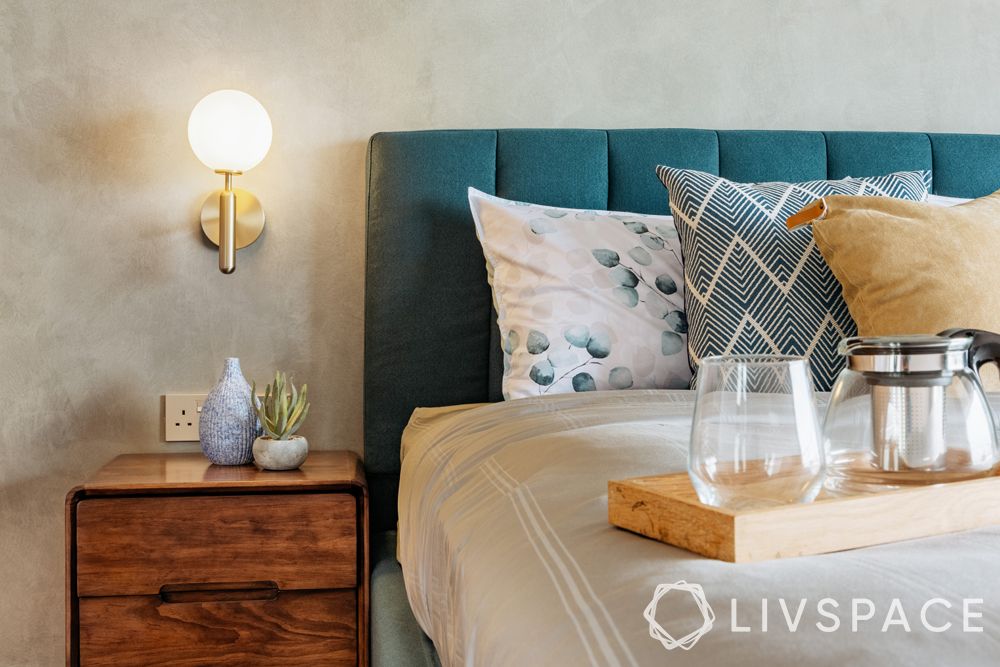 A mix of ambient and task lighting should be ideal for a small bedroom design. When opting for task lighting like lamps or pendants for the bedside table, make sure you get wall-mounted ones. A simple wall-mounted light can save a lot of precious space on your side table. Also, always choose lights with dimmers to create an unforgettable ambience. After all, even if it is a compact space, it is a bedroom and it has to be comfortable and cosy.
#6: Look at Small Bedroom Ideas to Make Clever Use of Available Space
Utilising dead spaces is one of the goals our interior designers believe firmly in. When it comes to compact spaces, creating multifunctional spaces are a must so that the homeowner can always have a little extra! For this condo, the designer added a bay window under which you can find bookshelves effectively turning it into a reading corner we all would love to have.
#7: Make Your Space Appear Bigger
Mirrors are one great way to create the illusion of space in your small bedroom design. They can fit anywhere as well. As you can see above, one of the bedrooms has mirrors on either side of the bed while another bedroom has a mirror wardrobe. Other reflective elements such as glossy laminates also add the illusion of space in a compact space.
#8: Let Symmetry Bring the Cohesiveness to Your Small Master Bedroom Ideas
Play by the rules of two to keep the eye from straying away from a pattern. For example, the two pendant lights in the bedroom depicted above balance out the space visually and make it seem more symmetrical. Another thing to notice is the use of straight lines and a geometric-patterned rug that helps to bring in symmetry. Symmetry helps in creating a visually appealing look and can be very helpful for small bedroom interior design.
We hope you have clarity on how to get the look right when you're getting your small bedroom renovated. If you are looking for more ideas, see 10 Small Bedroom Ideas to Make It Pretty and Functional.
How Can Livspace Help You?
Want stunning interiors? Livspace can help you! All you have to do is book an online consultation. If you prefer meeting in person, you can also find Livspace designers at the IKEA Damansara store. Hurry up and get quality home interiors from the best in the industry!