Is your cramped bedroom causing you stress? We're here to assist you. You do not have to compromise on design or comfort just because your bedroom is small. You can arrange your little bedroom to have everything you want with a little forethought and some amazing small bedroom ideas. These tips can help you make the most of your small space. Check out some of our favourite small room decor ideas to find which one works best for you.
#1: Go For A Simple Layout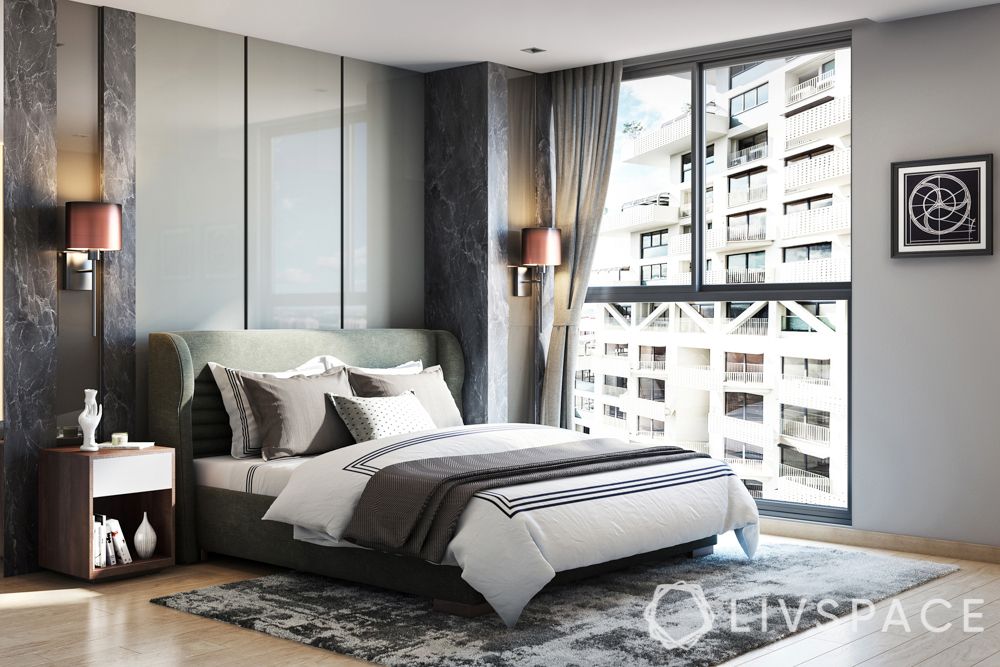 When you have plenty of area to work with, you can experiment with the positioning of your bed and the overall aesthetic of your room. However, in a small bedroom, it's critical to keep the layout simple. Place your bed against one of the corner walls, leaving plenty of room to stroll around. It can also be positioned in the middle of the main wall. If you like, you can move around freely and have more space for other things.
#2: Keep Furniture Minimal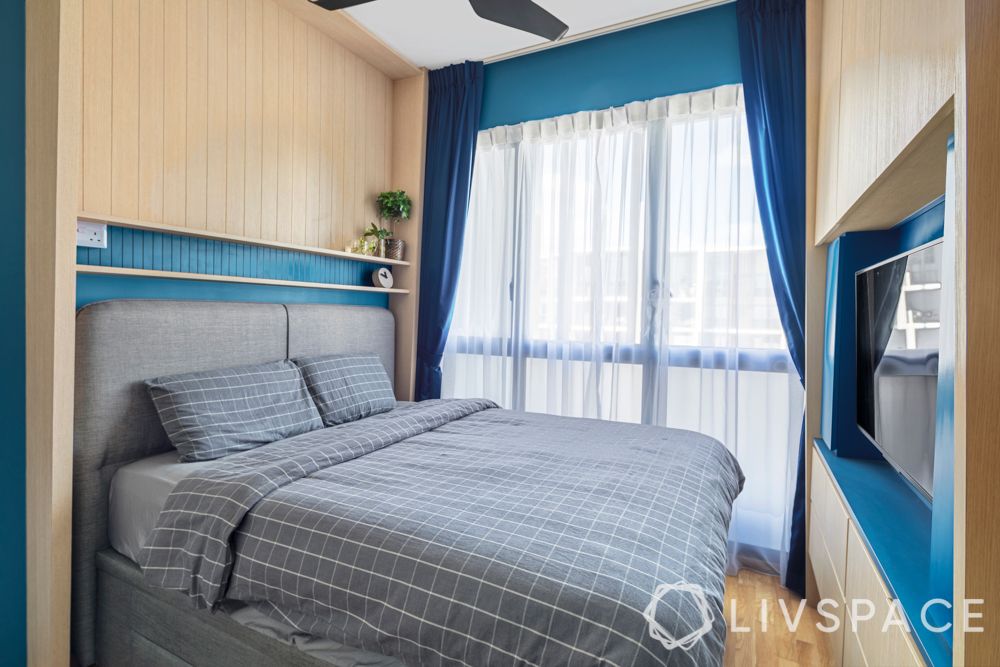 There are only a few basic design guidelines for a bedroom, and if you follow them, you'll be OK. But, wait, what if you don't have any more room? Then you'll need compact bedroom ideas, and we recommend sticking to the fundamentals. If at all feasible, keep only a bed and a small table on the side. Allow unfettered movement on the floor. However, remember to stick to the essentials of bedroom design. The homeowners in the top bedroom image used a feature wall and a TV unit on the opposite side, with lots of storage above and below.
#3. Allow Natural Light To Flow In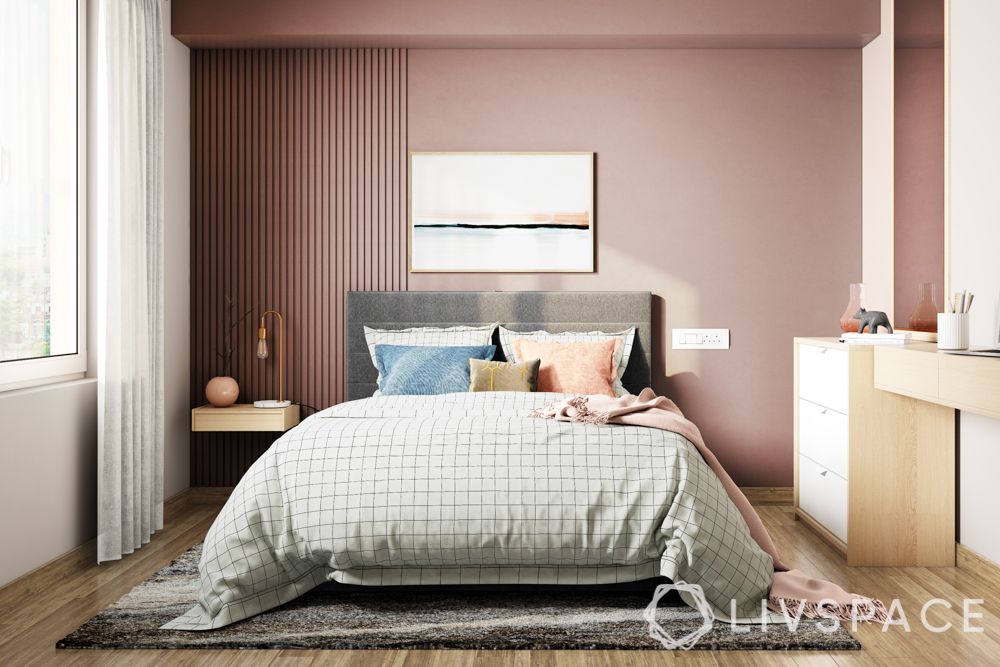 Of course, if you have a source of natural light in your room, it makes a difference. Be sure you don't restrict it in any way. If you don't have natural light, you can always use artificial light. Your best bets are pendants, compact table lights, slim floor lamps, and wall sconces. Before you go out and buy these, figure out what kind of lighting you'll need depending on ambient, task, and accent lighting.
#4. Opting For Wall Lights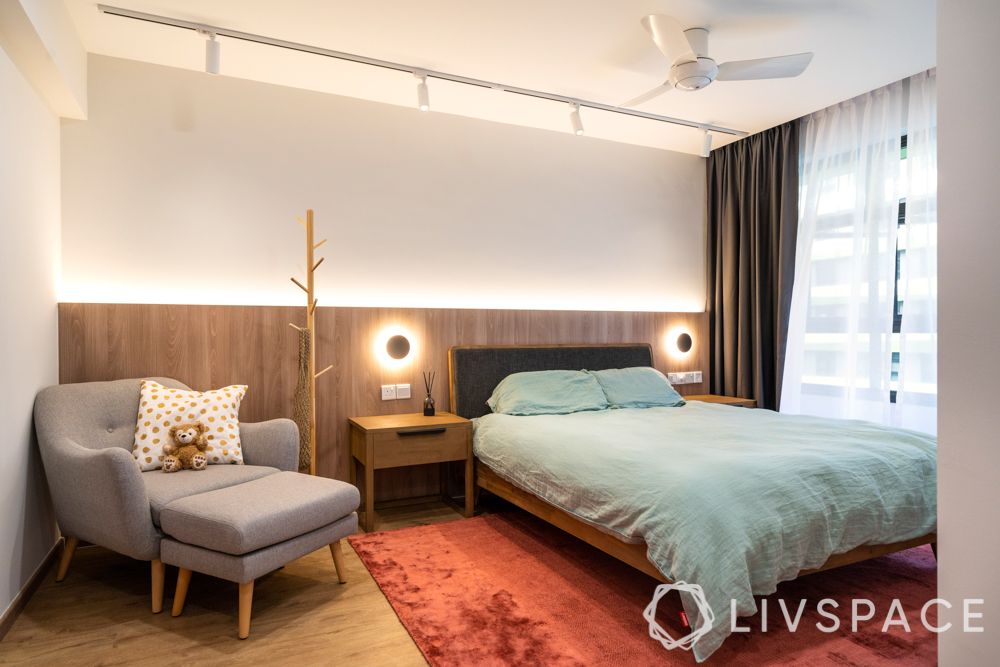 This is one of the best small bedroom ideas since they effectively give you more free space. Consider installing your lights on the wall instead of using hefty table lamps. This is especially beneficial if you only have a little nightstand or none at all. You can save vertical space by storing additional items on the side table.
#5. Full-Length Drapes Create An Illusion Of Height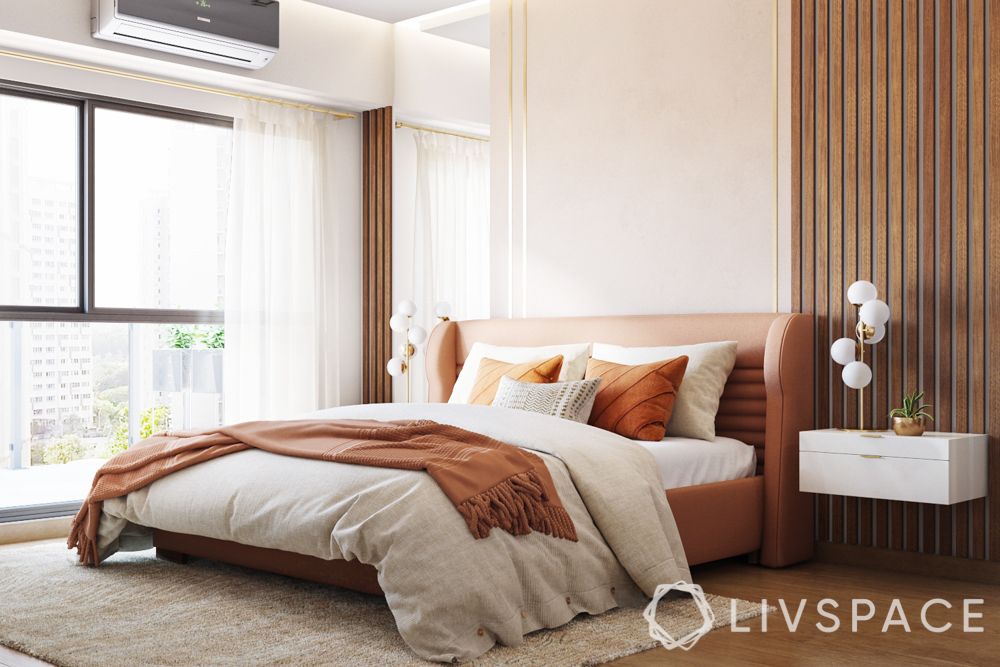 Hanging your drapes and drapery as close to the ceiling as possible is another wonderful option for small bedrooms. This approach adds visual length to your room, giving the impression that it is larger than it actually is. Also, for curtains, choose light fabrics—sheer cloth is ideal. This will let light enter the room while without making it appear clumsy.
#6. Plants Infuse Life Into Dull Rooms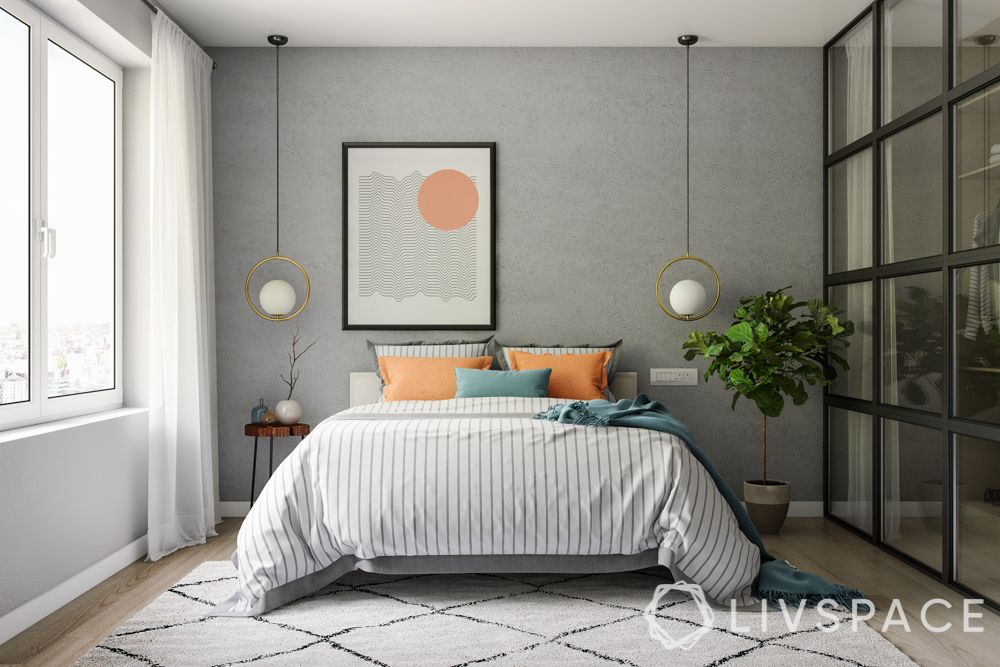 Why should plants be kept out of the bedroom at all times? You can also bring vegetation into your bedroom, which is especially appealing to plant enthusiasts. Choose a location and place your favourite plant there when it comes to decorating with plants. Not only will this give your interiors a fresh vibe, but it will also help to improve your spirits if the size of your space starts to irritate you.
#7. Hidden Storage With Fitted Furniture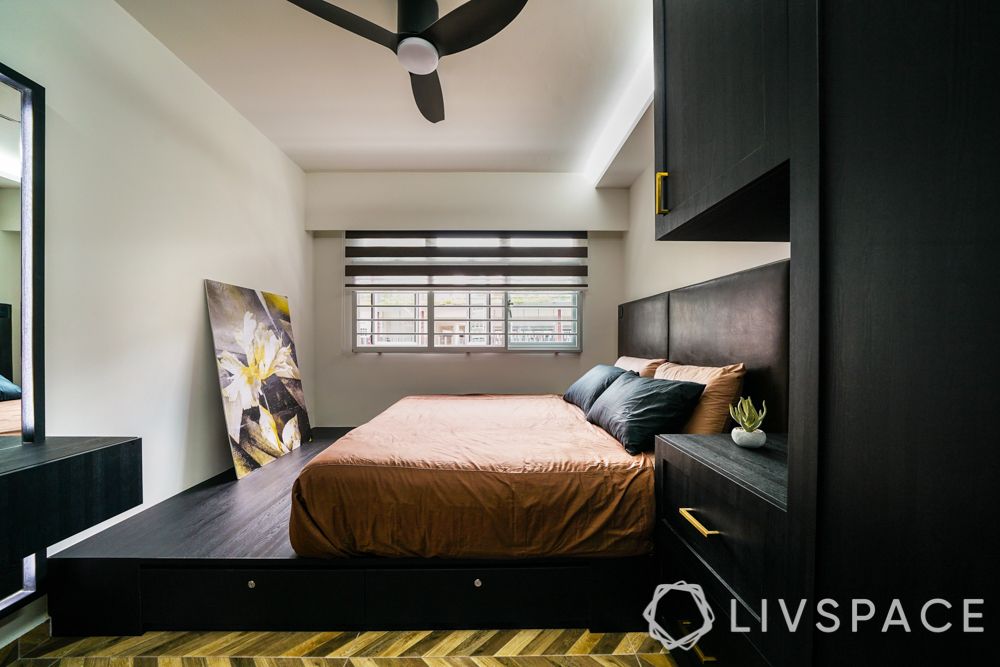 A small bedroom does not always imply a lack of clothing or accessories. It simply implies that you must utilise every square inch of available space. Hidden storage in the form of fixed furniture is one of the best solutions for small bedrooms. You can have a raised platform with drawers coming out of it. This is a clever technique to add storage without drawing too much attention to it.
#8. Small Room Decor Ideas With Rugs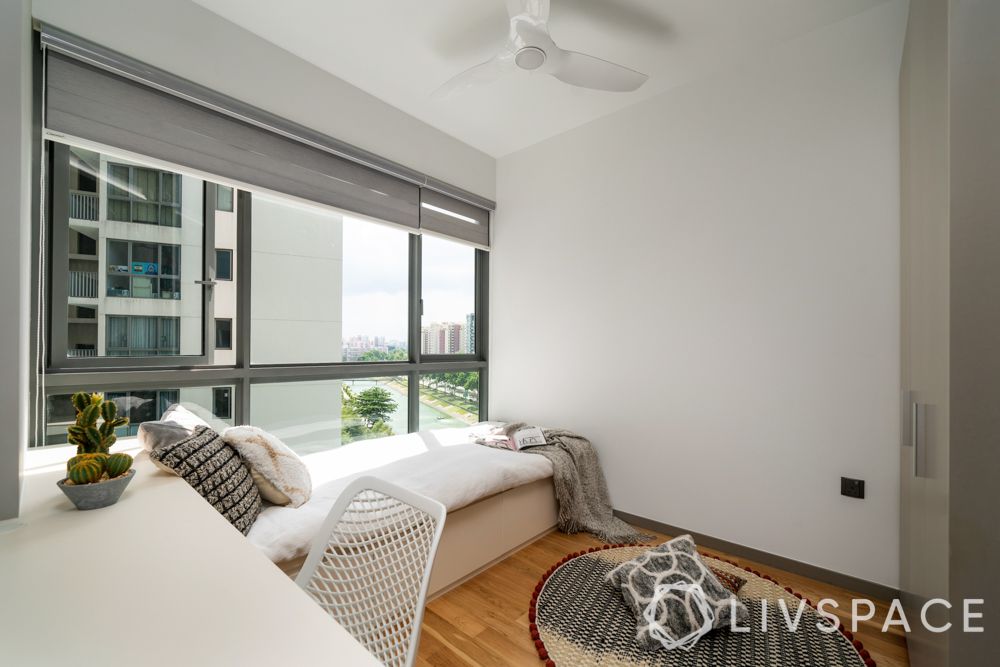 Look down instead of decorating your walls. In the form of a rug, you can add some texture to your floor. A little texture may go a long way toward giving a room more dimension. Choose a colour that blends well with the rest of your decor or go all out with a bright hue. You will not be disappointed.
#9. Platform Beds With Storage Underneath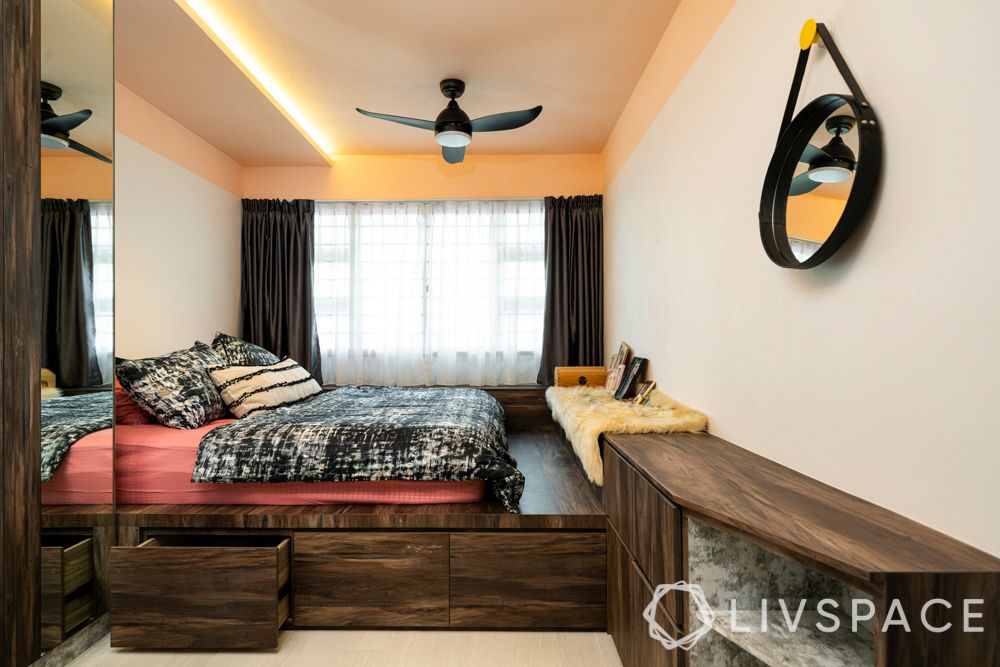 Another fantastic place to put extra storage is behind your bed. Platform beds are one of the most common storage solutions in Malaysian houses. You can choose between a standard bed with hydraulic storage and a platform bed for this. You can also seek a bed with a storage option or shelves. A platform bed can be used as a bed at night and as a temporary daybed during the day.
#10. Small Room Decor Ideas With Integrated Furniture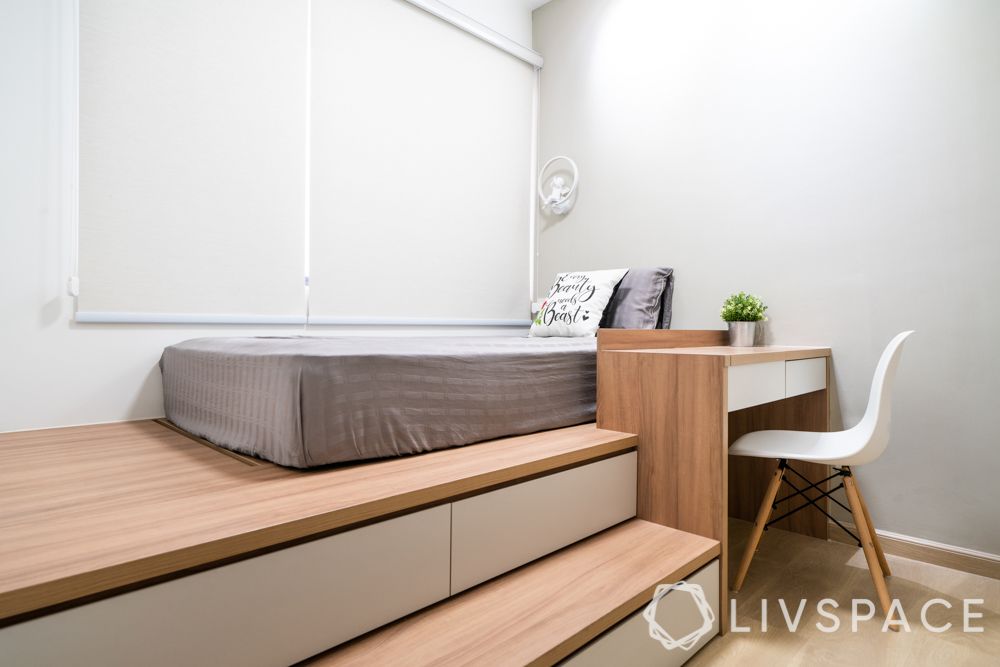 This is a fantastic hack. That's brilliant, a connected study table with a platform bed. So, if you have to work out of your bedroom since you don't have enough space, this is the one for you. Not only that, but you can also have secret storage beneath the desk and elevated platform. Now there's no shortage of storage space!
Those were some ideas for small bedrooms, but if you're looking for design tips for small homes, check this out: 7 Tricks to Save Up Space in Your Small Apartment Interior Design.
Send in your comments & suggestions to editor.sg@livspace.com