The way you decorate your bedroom can greatly influence the overall mood of your space. Should you embrace darker shades or keep things light and fun? Whichever you choose, there's a world of possibility you can explore when it comes to picking your bedroom colours. To inspire you further, we've put together a list of two colour combination for bedroom walls that you can try in your space. So read on to find your new favourite combination!
#1: A Lovely Yellow to Give Your Space a Sunny Disposition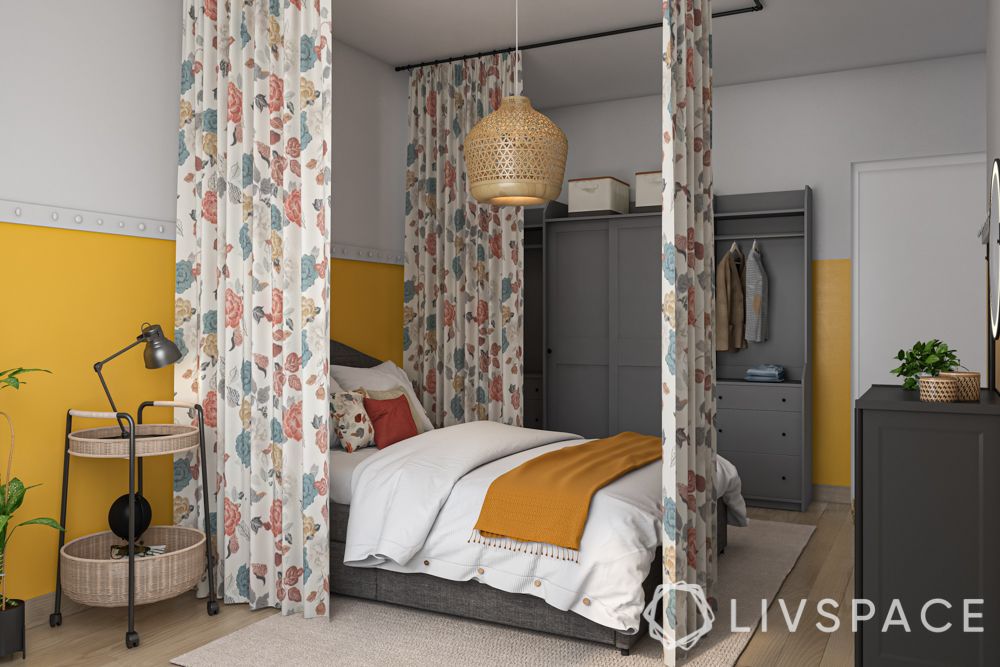 Yellow is often a colour that's associated with fun, happiness and sunshine. And that makes it a great colour to have in your bedroom! If you're someone who loves a bit of fun in the sun, consider going for a simple white and yellow two colour combination for your bedroom walls. This would also work really well to bring in some contrast to your space.
#2: Go Luxe with a Mix of Cream and Brown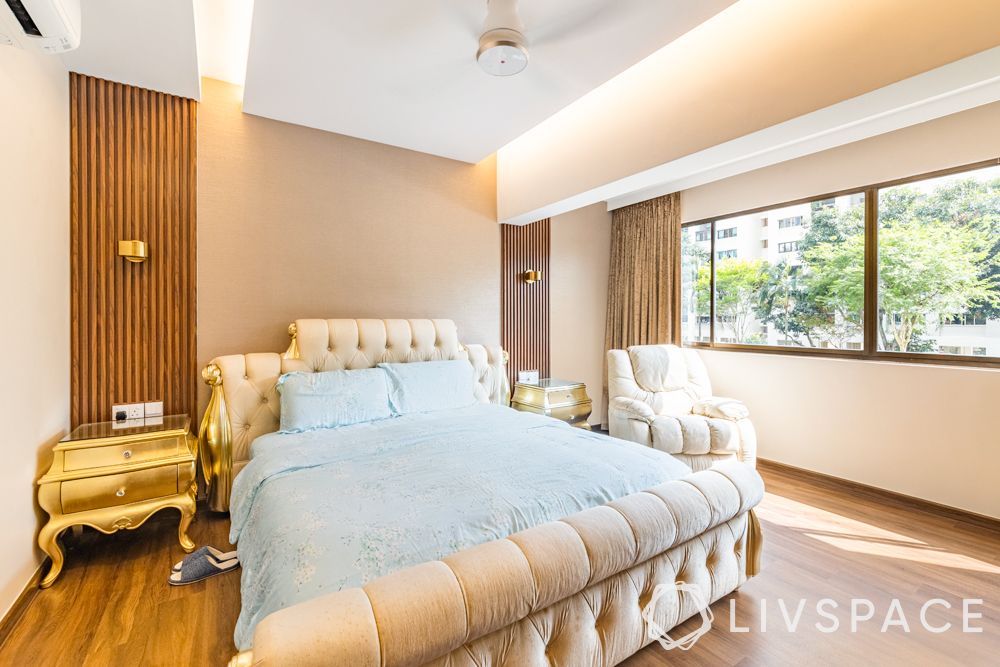 Love the luxurious look but don't want it to burn a hole through your pocket? We've got just the solution for you. Before you start decorating your space, this two colour combination for bedroom walls is something worth keeping in mind.
Cream and brown are two colours that often embody a sense of new-age luxe. When paired together, they can turn a simple space into a bedroom fit for royalty! So if you want that lush life, be sure to use palettes of cream and brown in your shortlisted selection of bedroom colours.
#3: Mix Shades of the Same Colour Family for a Gradient-Like Effect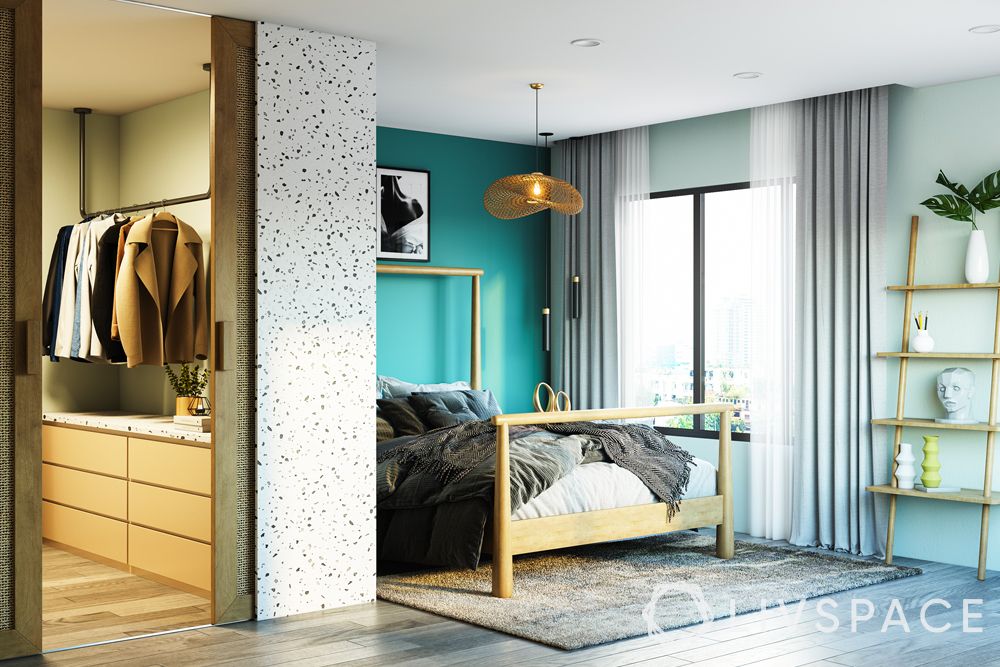 If you're someone who has one specific colour preference and doesn't want to stray too far from it, we've got just the thing for you. Instead of experimenting with room colour ideas you're not sure of, go for different shades of the same colour family.
Use each shade on two individual walls in your two colour combination for bedroom walls scheme. For example, you can get a bold turquoise on one wall and a paler version of it on the other. This way, you can also create a subtle gradient effect from wall to wall.
#4: Play with Different Texture Combinations for Out-of-the-Box Room Colour Ideas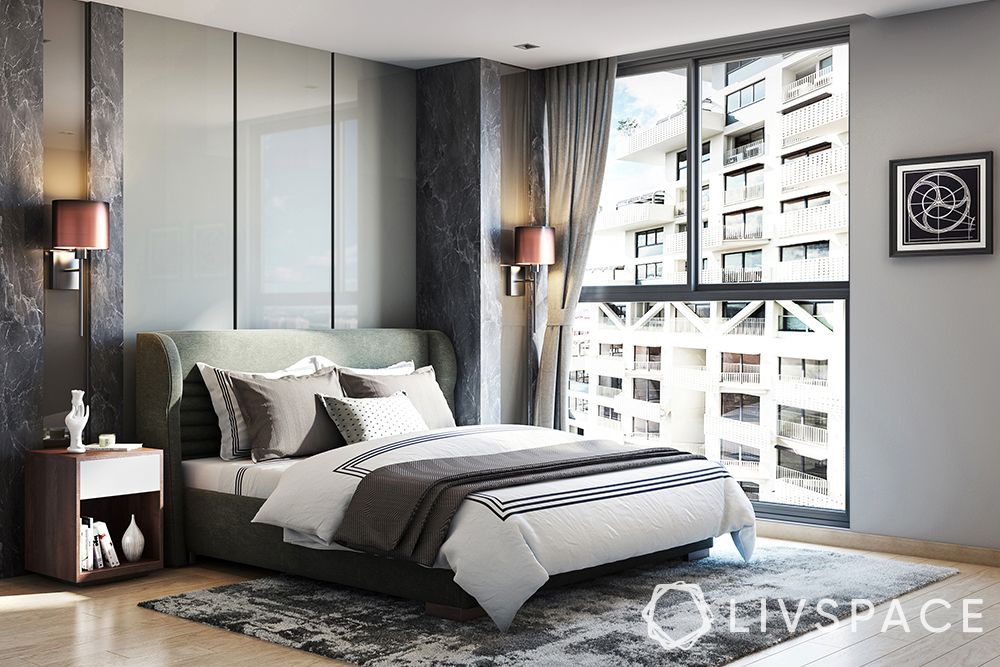 Who said your two colour combination for bedroom walls has to be all about paint colours? If you're someone who loves to try new things, you might just love this approach to room colour ideas. Instead of going for regular paint, you can play with textures shaded in different colours for your bedroom wall colours.
Try going for a mix of gloss and matte finishes to create an impression on your feature wall. You can either have both these textures in one colour or you can play with different shades. However you choose to customise it, it's sure to stand out!
#5: Experiment with Fluted Wall Panels for an Added Element of Interest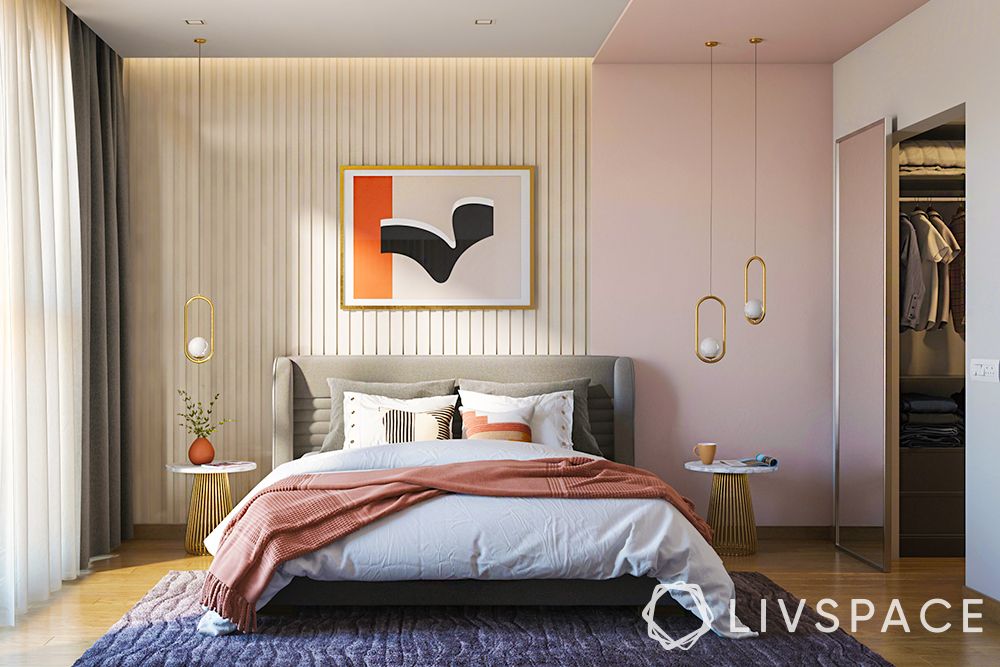 Looking for a way to spruce up your bedroom design without it looking too over the top? Perhaps you need some fluted wall panels to go with your bedroom wall colours. If you already have a specific colour in mind for your two colour combination for bedroom walls, you can add a fluted panel segment to it in a complementary colour. Here, the bedroom uses a mix of pastel pink with white fluted wall panels that help give this room a cosy-chic look.
#6: Bring Nature Indoors with a Green Feature Wall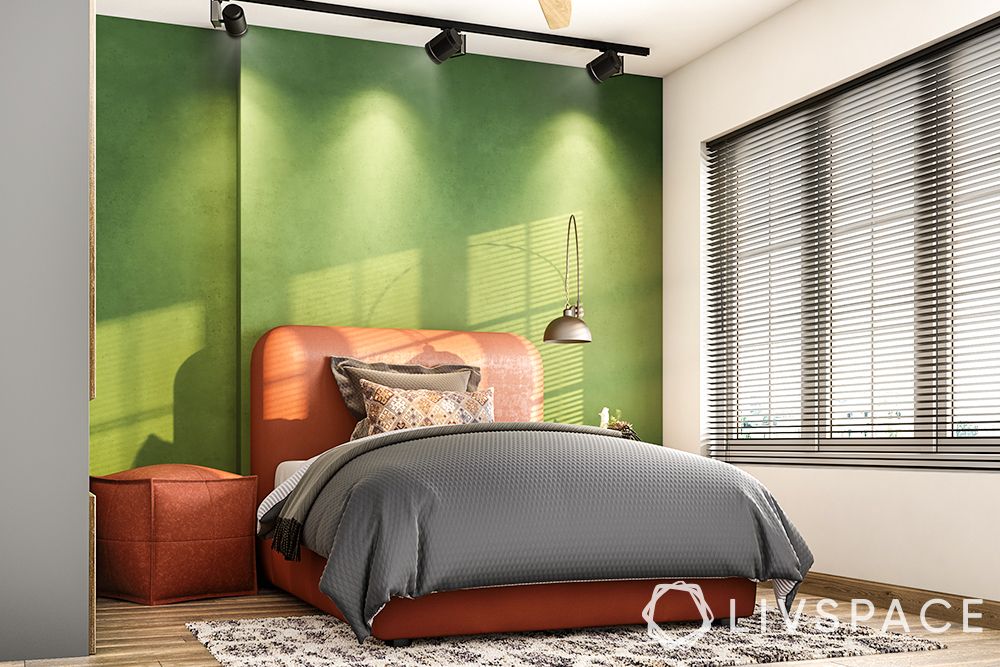 Colours that are reminiscent of nature are always nice to have. Especially when we live in cities that embody the concept of a cement jungle. While you might not have a lot of greenery to look at, you can at least feel refreshed by taking one glance at your beautiful green walls. So for a two colour combination for bedroom walls that are inspired by nature, go for a green and white scheme. You can further detail the walls with spotlights and a headboard in an earthy shade.
#7: White Paired with Wooden Accents is a Great Combination for a Classy Rustic Theme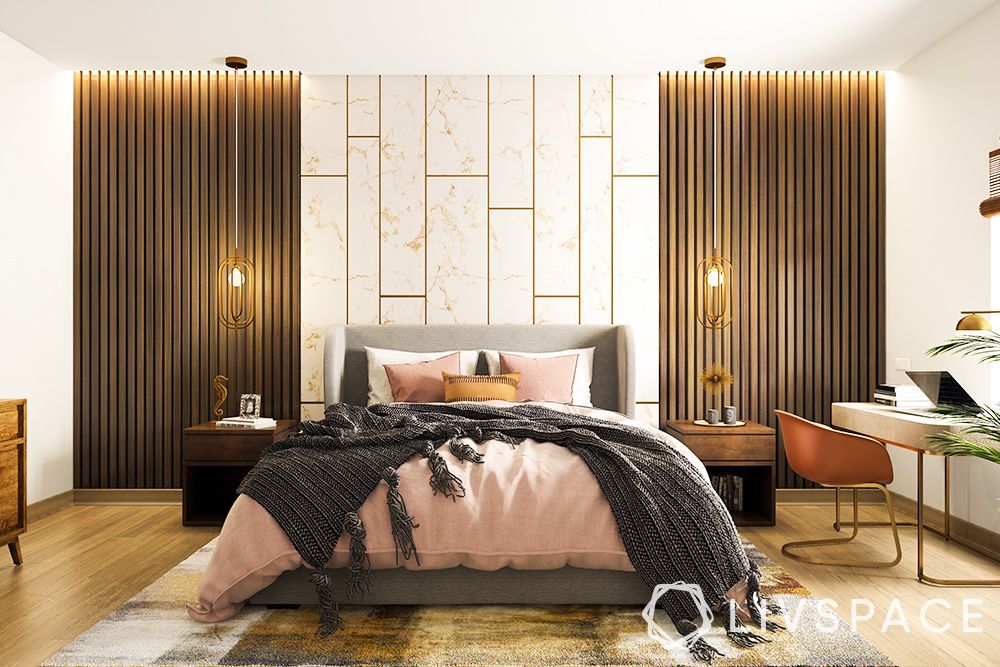 We've already mentioned why fluted panels are a great style statement for your two colour combination for bedroom walls. But why not take it a step further and turn it into a full rustic-themed look. White paired with wooden accents has long been a great choice for rustic-style interiors. It can help create a warm and inviting ambience wherever it is used, making it a perfect combination for bedrooms.
#8: Add a Pop of Colour with a Bit of Red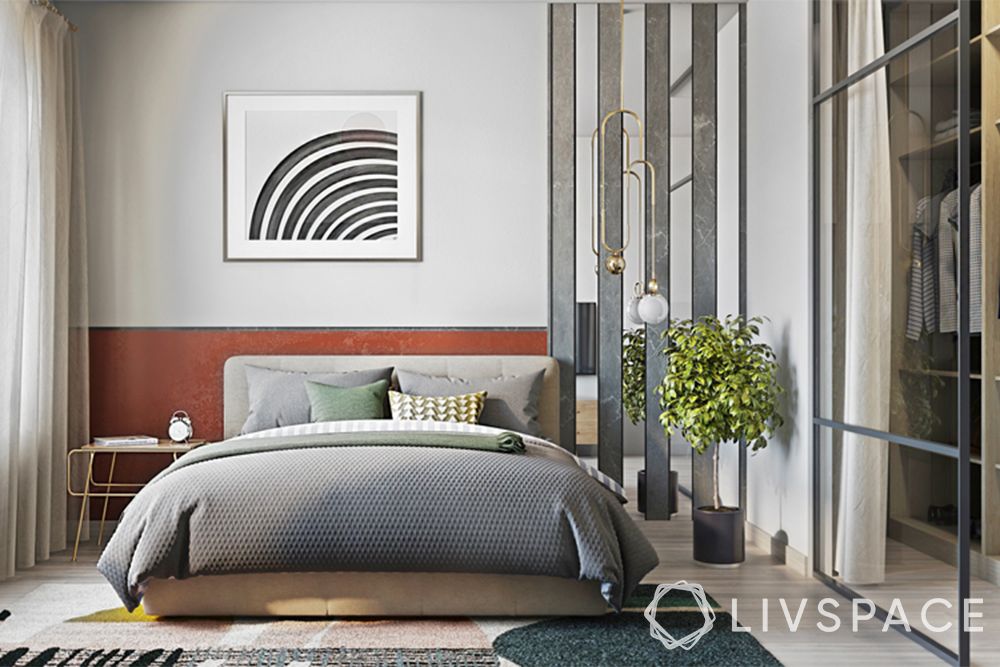 A fun pop of colour never hurt anybody! And if you're looking for a design featuring a two colour combination for bedroom walls that has space-enhancing qualities, you're in luck. If you have a low ceiling, try using a darker colour like a deep red at the base of your wall. At the same time, you want to keep the top part of the wall lighter to create the impression of length. This simple design trick can help make your wall appear higher than it is, and that too just at the cost of a can of paint!
#9: Mint Green Pastels Can Do No Wrong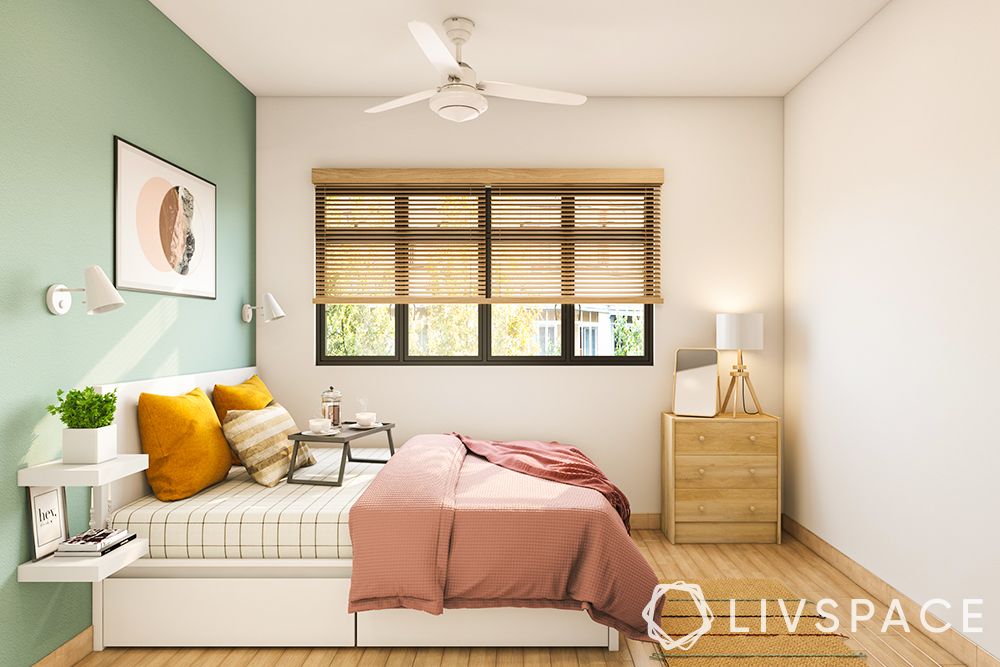 While we love our greens, you might prefer something a bit less bold and more easy on the eyes. If that's the case, you don't want to pass up an opportunity to try pastel palettes. Mint green as one of the colours in your two colour combination for bedroom walls design is sure to bring a sense of calm to your space without making it seem dull. Pair this with white walls and light wooden accents to further amplify pastel bedroom colours.
#10: Monochromes Don't Have to be Monotonous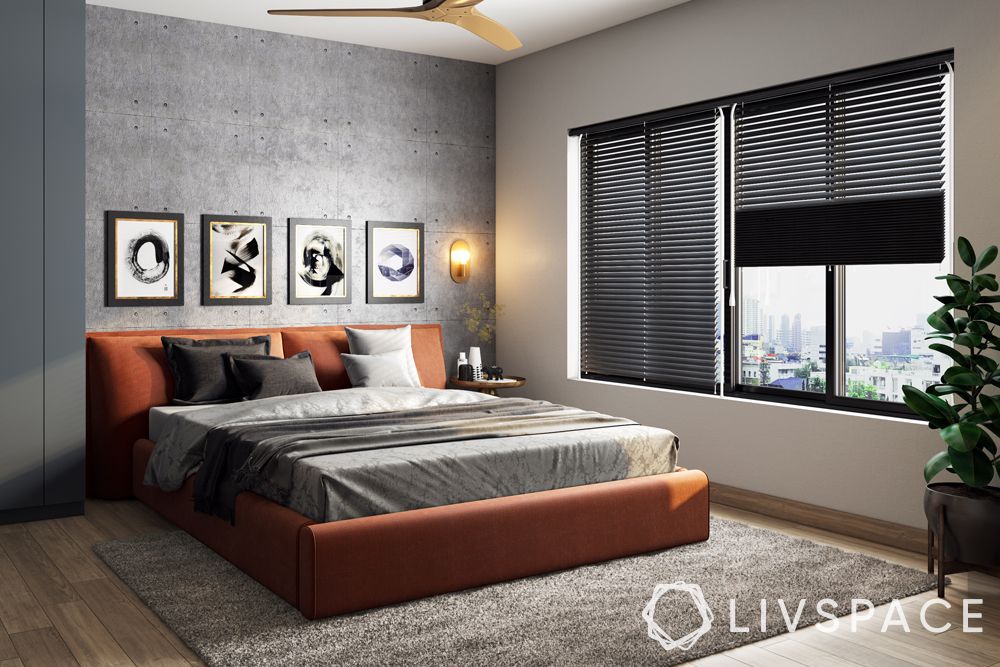 Grey might not be your first choice when it comes to bedroom wall colours. But when done right and paired well, it can be a great contender for a two colour combination for bedroom walls. To make the most of the shade, try to go for textured walls and pair it with colours that are neutral and complementary.
This way, you can continue the monochrome theme across your bedroom without overpowering the space with harsh bedroom colours. However, be sure to choose your shade of grey wisely as different shades carry either warm or cool tones. This could also have an effect on the overall vibe you're looking to build.
Also read: The Ultimate Guide to Selecting the Best Wallpaper Design for the Bedroom
#11: Embrace Minimalism with a Basic Black and White Combo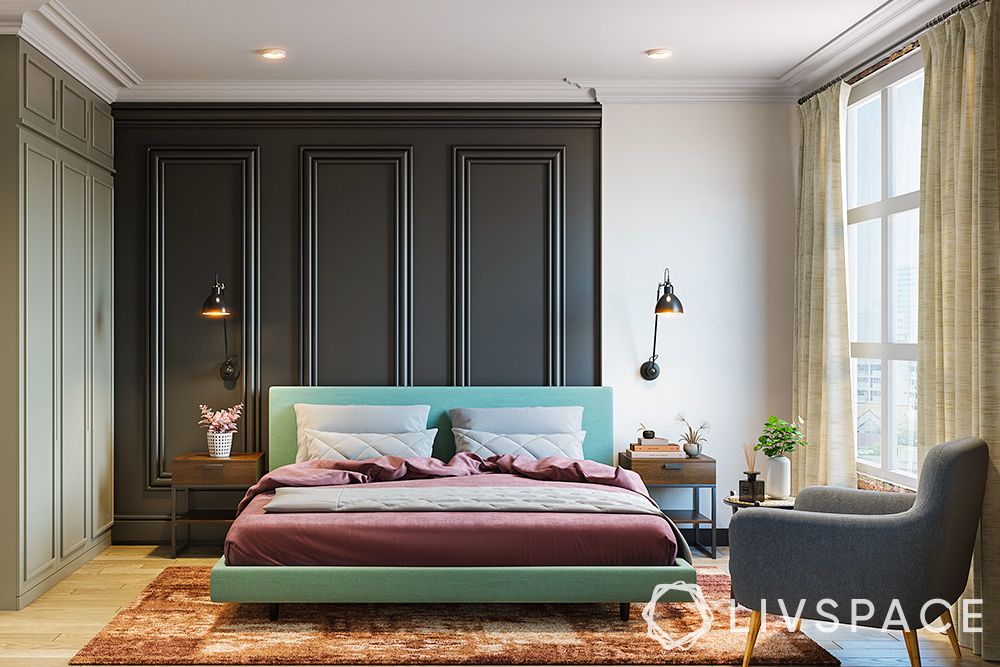 Sometimes, the simple things in life are all that matters. Instead of going all out with bright colours, you can also keep it minimal with a black and white two colour combination for bedroom walls. But also be sure to note that darker colours can visually affect the space in your room, making it appear smaller than it is. So if you have a big room, you can easily experiment with this combination. But for a smaller room, you might want to go for lighter bedroom wall colours.
Also read: Top 5 Small Bedroom Ideas You Should Know About While Designing
#12: Have a Brick Wall in Your Bedroom? Use it to Your Advantage!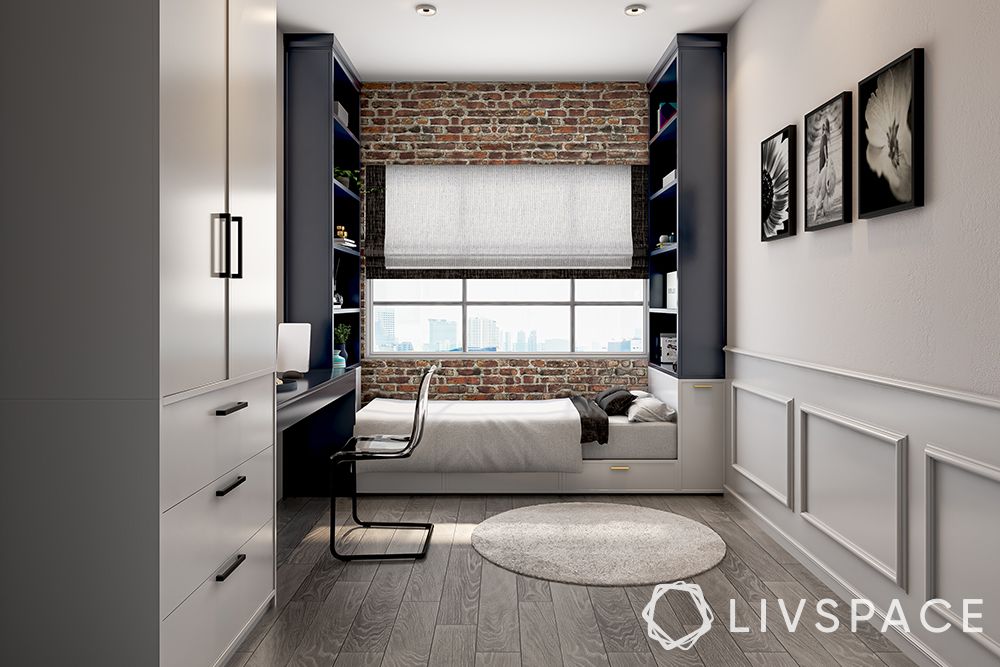 You don't always have to look for a new way to change up your interiors. If you have an existing theme going on at home, you can use it to your advantage. In this home, the bedroom area has exposed walls that bring in a lot of character of its own.
To make the most of this industrial theme, pair the other walls in your two colour combination for bedroom walls design with complementary colours. And there you have it, a quick and easy way to get the industrial look.
#13: Stay On-Trend with Pantone's Colour of the Year: Very Peri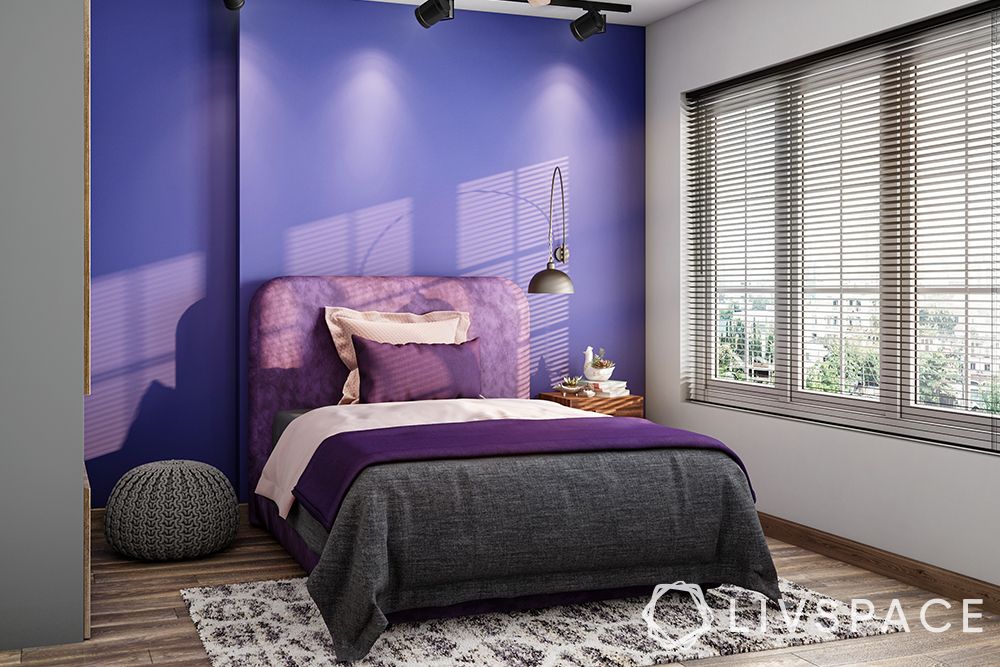 If you love a good trend as much as we do, you'd probably like to jump in on the Pantone colour of the year bandwagon as well! For 2022's shade, we have the beautiful Very Peri blessing our interiors with a dreamy and celestial vibe. Since this shade deserves a stage of its own, keep your two colour combination for bedroom walls design simple. Use a neutral colour like white to draw focus away from the rest of the walls to give your Very Peri feature wall the attention it deserves.
We hope you enjoyed reading about the various two colour combination for bedroom walls you can experiment with at home. For more inspiration on room colour ideas and bedroom wall colours, check out 10+ Stunning Bedroom Colours and Pairings You Must Try at Home.
How Can Livspace Help You?
Want stunning interiors? Livspace can help you! All you have to do is book an online consultation. If you prefer meeting in person, you can also find Livspace designers at the IKEA Damansara store. Hurry up and get quality home interiors from the best in the industry!