Planning to renovate your home interiors to give it a modern feel? We've got all the insider secrets and tricks that might help you turn your space into something truly unique. Scroll through to uncover the top modern house design hacks out there implemented by Livspace in Singaporean homes, from kitchen and bathroom tiles and breathing new life into old décor to creating legacy charm in a new home…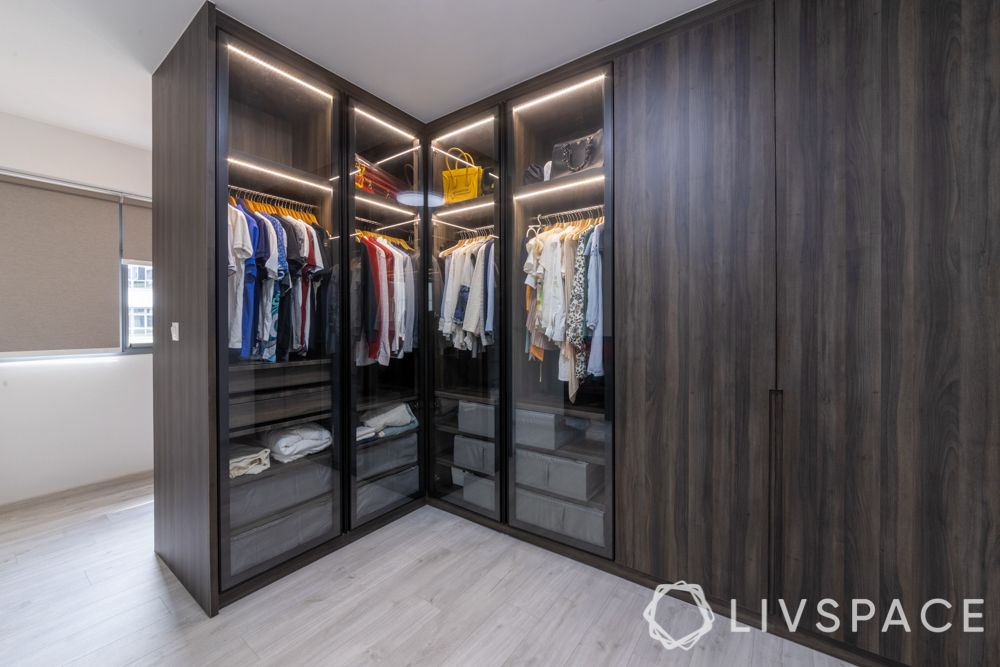 Location: Tampines Street 81
Type of home: 5-room HDB BTO
The biggest modern home design hack in this property is a luxury L-shaped walk-in closet. The wardrobe design features glass doors that put its contents on full display, and profile lighting that makes getting dressed a snap. Livspace designer Siang Wee proposed integrating two bedrooms into one huge master suite and installing a walk in-wardrobe in this freshly extended bedroom. This opulent L-shaped wardrobe has been carefully designed. Beginning from the materials chosen (black aluminium frames) to the internal configuration and the profile lighting system, the bespoke design took a lot of thought and attention.
ALSO READ: 10 Bedroom Wardrobe Designs That We all Love in Singaporean Homes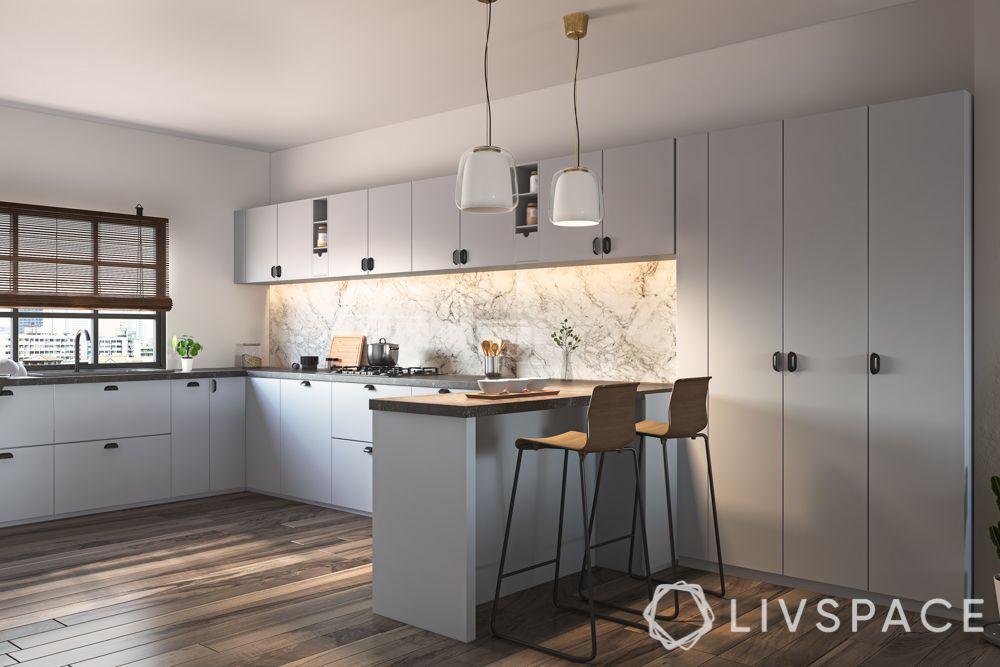 Location: 420A Northshore Drive
Type of home: HDB 4-room BTO
The largest issue in remodelling this kitchen, according to the Livspace designer in-charge of this BTO home renovation, was to create enough room to divide the wet and dry regions, and then enclosing the wet area with a sliding door. Within the dining area, the homeowners also desired a bar counter and a dry kitchen. Our designers created the kitchen to meet the needs of the young couple, with a few extra features that greatly increased the convenience. The dry space has a double-door refrigerator and a mini-bar, while the wet area has all of the kitchen appliances, a cooking area, and a washbasin.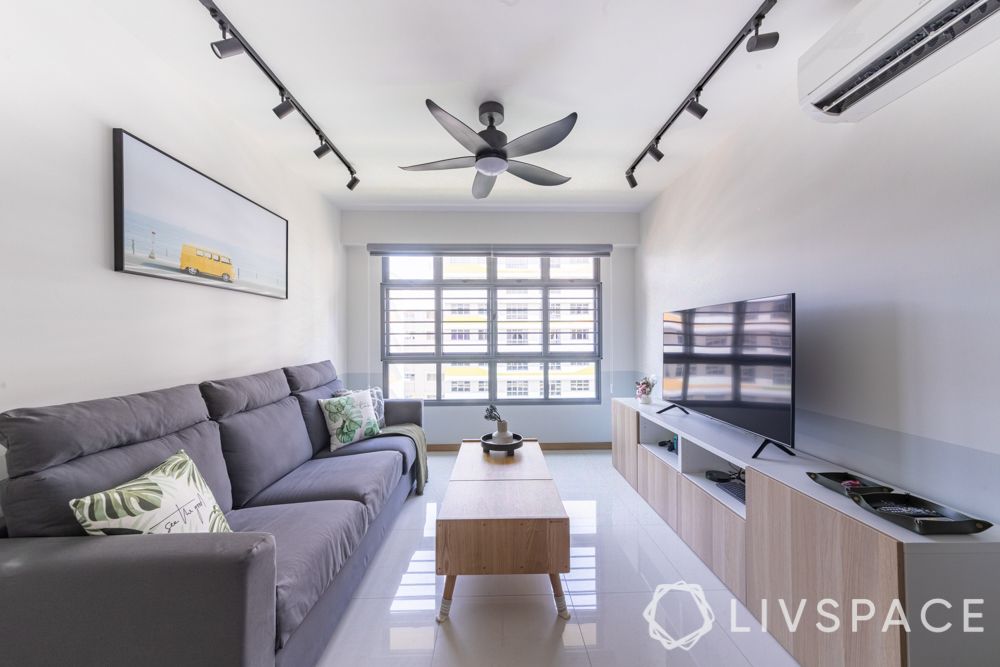 Location: 620B Tampines Street 61
Type of home: 4-room HDB
One thing to look out for in this modern house design is the storage-intensive TV unit and coffee table in the living room. The coffee table and TV console each include storage units, which come in handy for storing items that aren't used frequently. This is a great storage solution for growing families or multigenerational families in Singapore. The design of the living room of this 4-room HDB refurbishment exemplifies the simplicity and cosiness. The area radiates a hygge vibe with its two-toned wall, three-seater grey sofa, and light wooden furniture.
ALSO READ: 7 Smart HDB Design Hacks to Modernise Your Home Post Pandemic
4. Motorised Curtains with Plush Fabrics Are a Sure Yes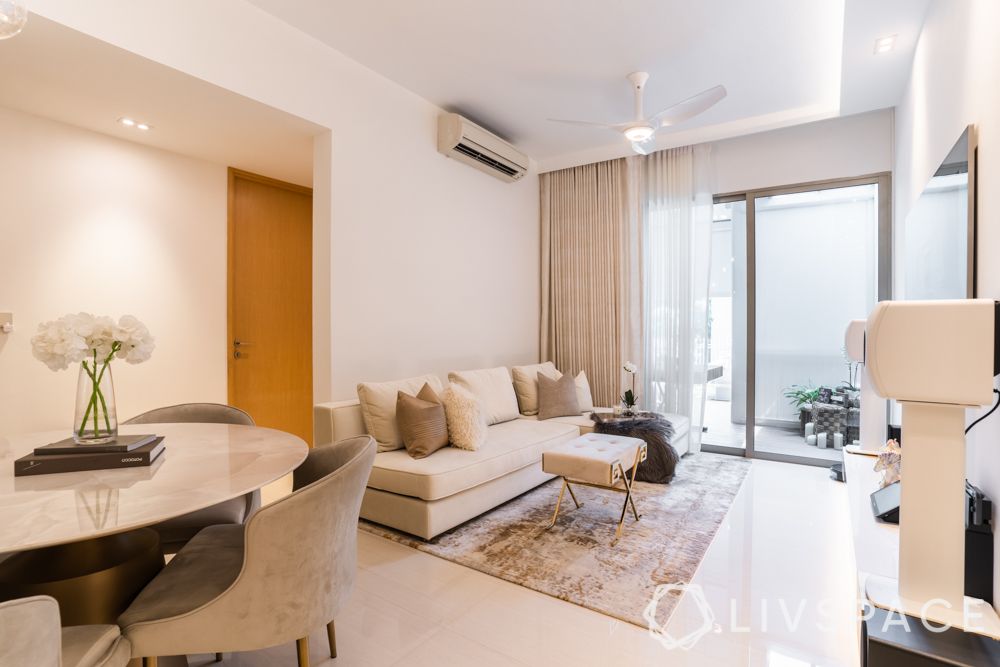 Location: 25 Terrasse Lane
Type of home: 2-bedroom condo
The biggest design indulgence in this 2-bedroom condo is the motorised curtains with plush fabrics. If you're planning to renovate your home, one of the first things you might want to consider is to invest in a motorised curtain system. These curtains relay convenience to the users and one does not have to put in strength to open or close the curtains; it's just a tap on the button. Adding to the advantage, they give a plush appearance to your home interiors.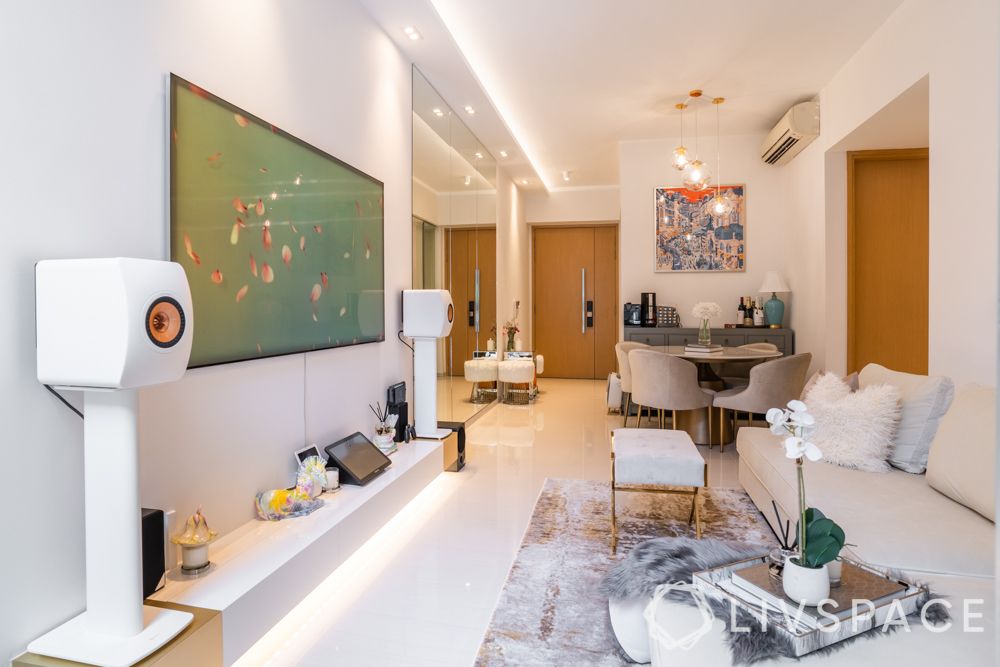 Location: 25 Terrasse Lane
Type of home: 2-bedroom condo
This entire home design is studded with smart lighting fixtures. Warm recessed lights illuminate the entire space. These lights will not only brighten your room with pleasant hues, but they will also save you money! These lights' unobtrusive appearance is ideal for creating a luxurious atmosphere. Isn't it simple but exquisite? Even in the bedrooms, the designers chose to put LED lights behind the bed-headboard to project light onto the wall to achieve a lively impression.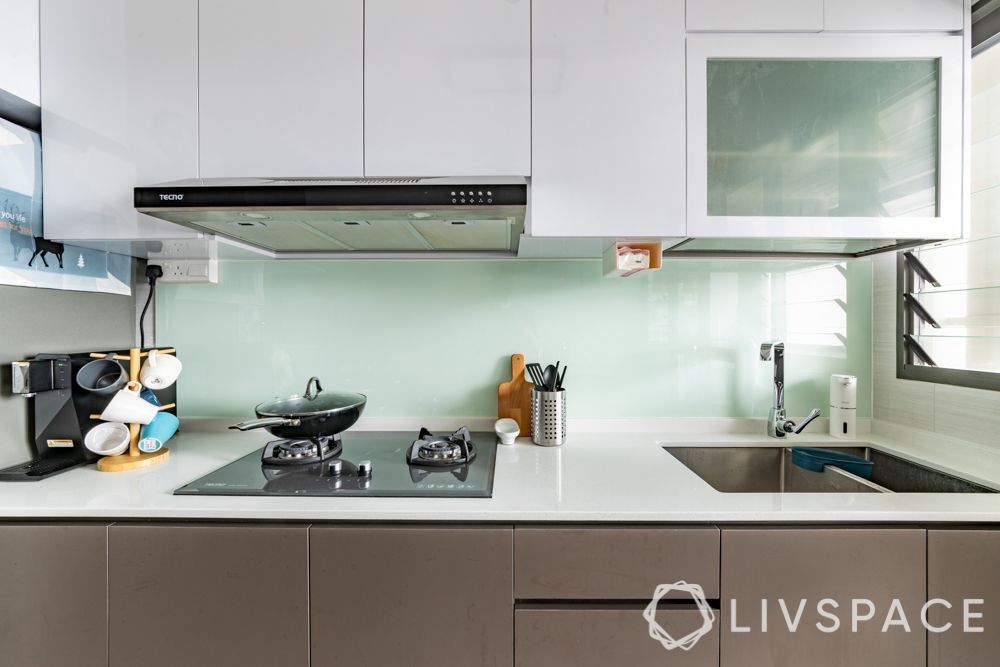 Location: 478A Yishun Street 44
Type of home: 4 Room HDB BTO
This modern house design tip is exclusively for getting an easy-to-maintain yet aesthetically pleasing kitchen design. Lacquered glass backsplashes are a beautiful and elegant addition to this kitchen design that is designed to be low-maintenance. When compared to tiles that aren't as smooth, it provides a clean buffer between your countertop and higher cabinets. It's also simple to clean and maintain, requiring only a wipe.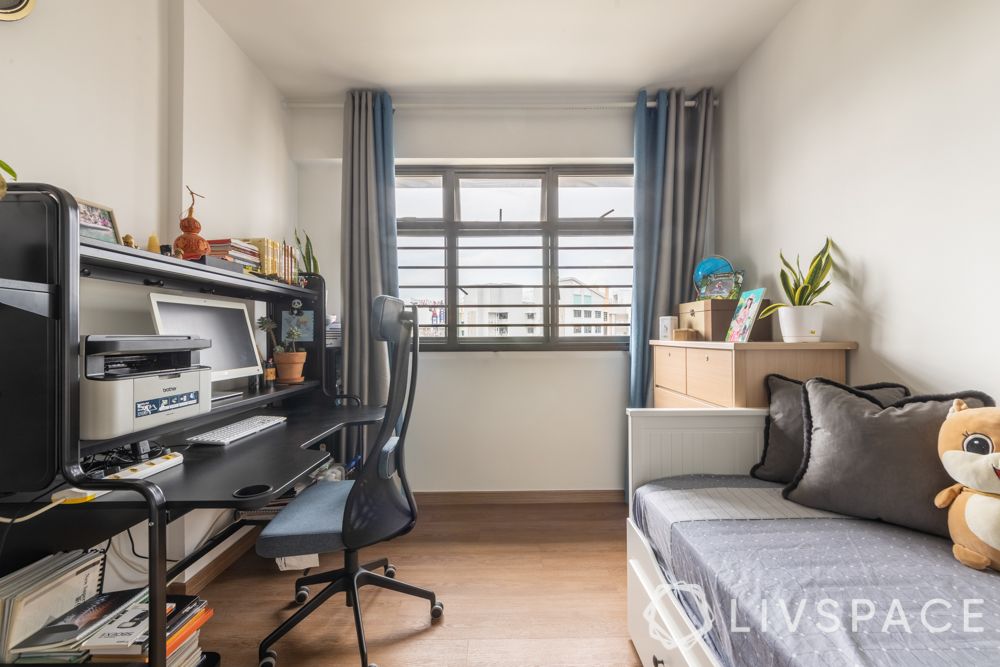 Location: 478A Yishun Street 44
Type of home: 4 Room HDB BTO
Yin, the homeowner, decided to set up a home office in the third bedroom. The colours in this home-office decor are muted and non-destructive. Yin's office supplies are ingeniously organised and kept on the IKEA desk, which includes numerous racks and shelves. You can also consider customising a work desk like Yin but it might add to your budget. The room's versatility is improved by the chest drawer and the bed, which can be used to accommodate a visitor at times.
ALSO READ: Work From Home: 5 Clever Ways to Squeeze a Home Office Into Any Room
8. Install a Full Height Wardrobe Doubling as a Room Divider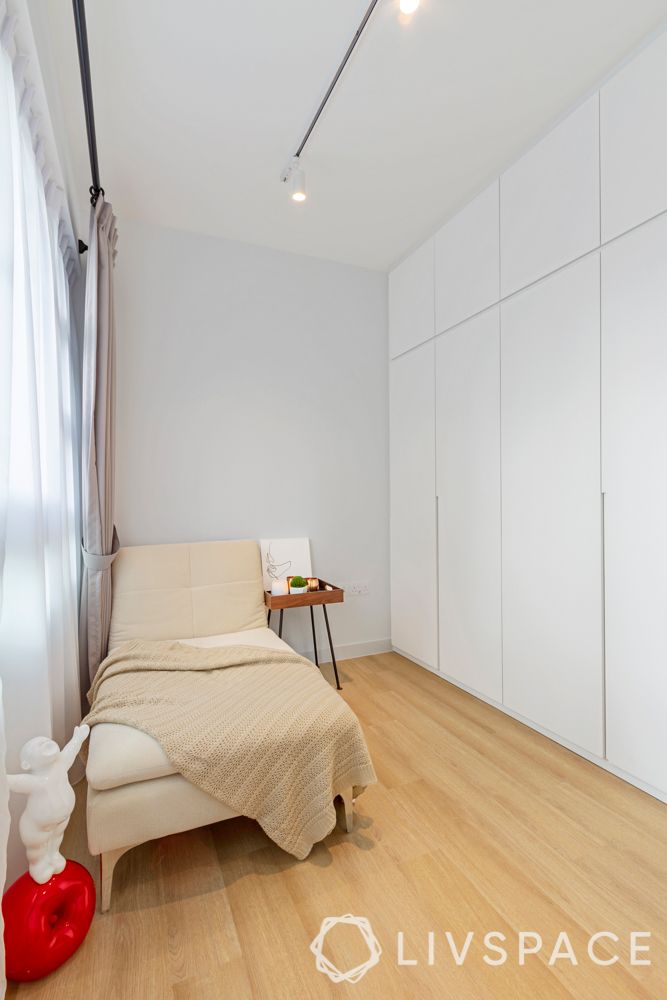 Location: 58 Havelock Road, Singapore
Size of home: 3-room HDB
This modern house design hack consists of constructing a full-height wardrobe across the bedroom wall. It also doubles up as a room divider. On the other side of this room divider is the home office area. It's an excellent option for small homes. The entire piece looks to be harmoniously blended with the wall thanks to the glossy white laminate finish of this wardrobe.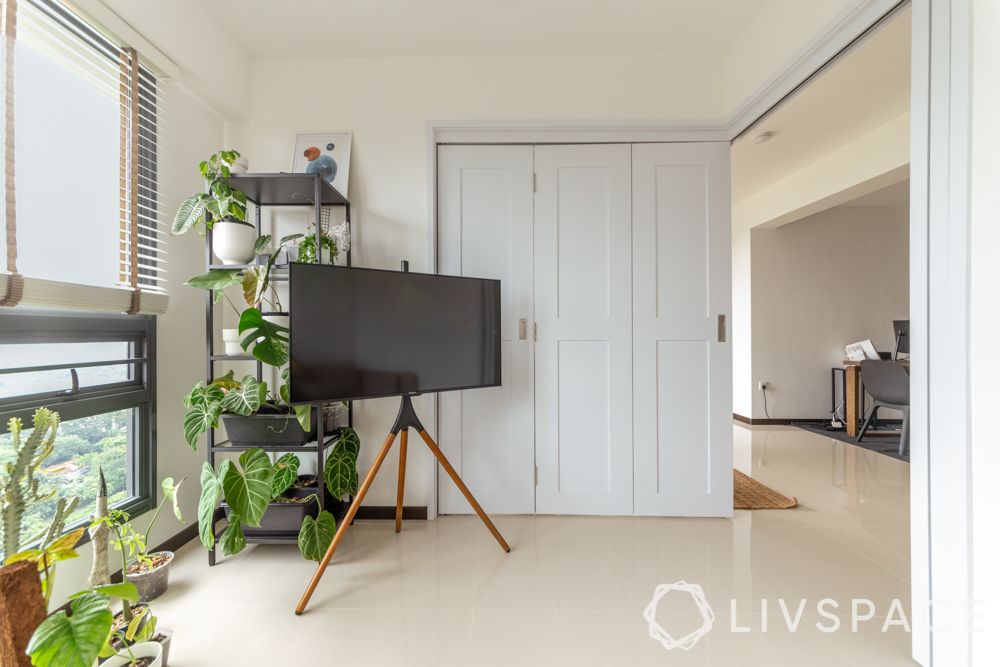 Location: Blk 91 Lorong Toa Payoh
Type of home: 3-room HDB BTO
We were blown away by how this home's additional bedroom was converted into an extended living area with a bifold door separating them. Initially, the homeowners were unsure about what to do with the extra room. As a result, our designer suggested utilising a bifold door to convert it into an additional living space with a beige sofa, a television, and various plants. And guess what, it's one of the nicest modern house design restorations we've ever seen.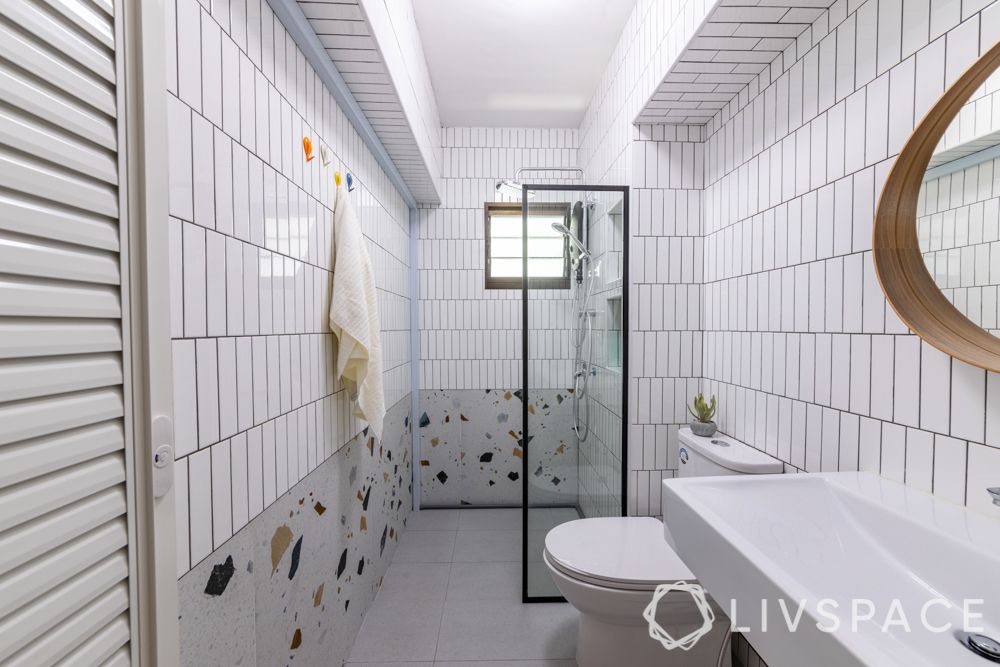 Location: 327 Sembawang
Type of home: 5-room resale HDB
Both toilets in this 5-room HDB underwent substantial renovations, improving their appearance and performance. The walls are made up of a combination of terrazzo and subway tiles. To provide aesthetic interest, the designers arranged subway tiles in a vertical pattern. They used a glass divider to separate the wet and dry regions. In the second bathroom, they utilised terrazzo tiles only above the washbasin, giving this wall a focal point. Cement tiles cover the rest of the walls.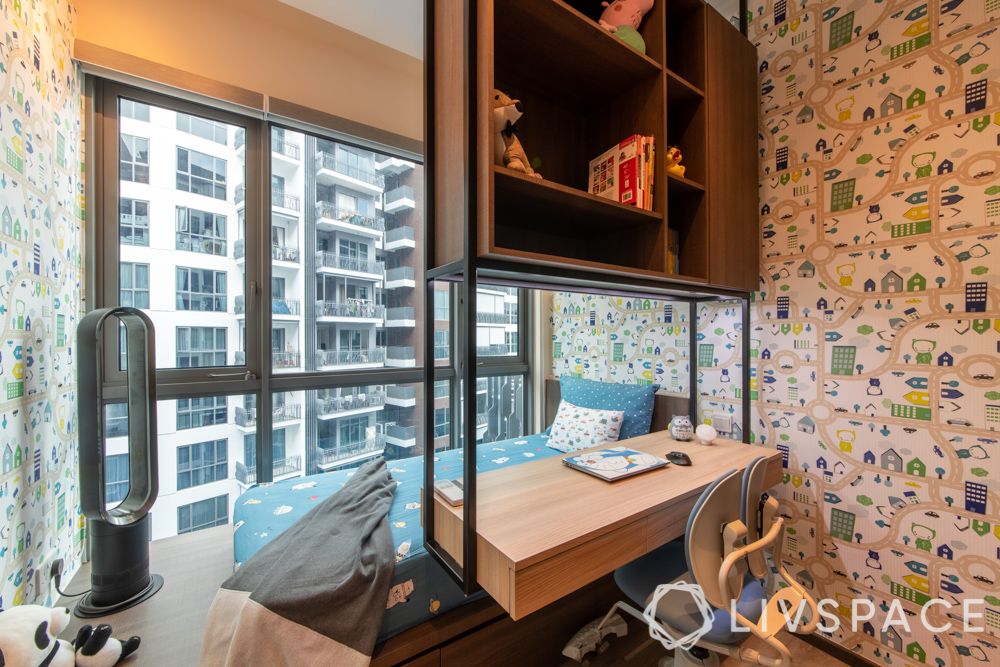 Location: 9A Forest Woods
Type of home: 3-room condo
While working on this space, Livspace designer Mizan made some unique design decisions. The study table suspended from the ceiling is an amazing modern house design idea to borrow from this space. It aids in the removal of table legs, creating the illusion of extra floor space. On top of the study table is a storage shelf unit, which helps to accommodate all of the kids' belongings without making the room appear cluttered.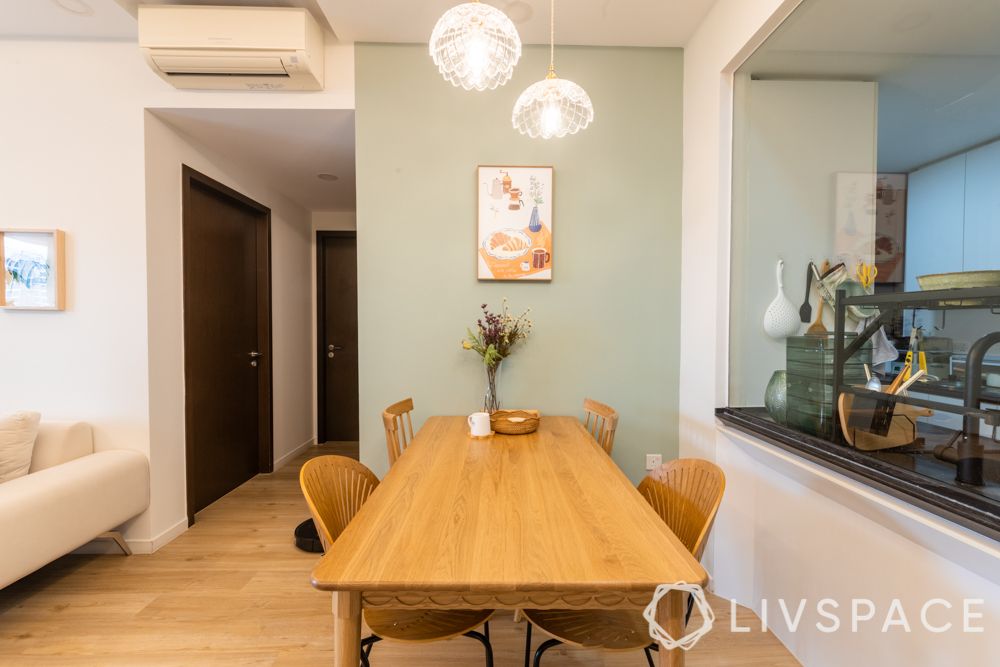 Location: 529 Bedok Reservoir Road
Type of home: 2-room resale condo
The modern house design hack to adapt from this house is to install vinyl flooring in different shades of wood to match the range of furniture in each room. In order to do this, the living and dining areas in this home have light wood vinyl flooring, while the bedrooms have a darker version. The vinyl wooden flooring in the living room complements the dining table, beige sofa and wooden TV set perfectly.
Location: Block 148 Tampines Avenue 5
Type of home: HDB Executive Apartment
This kitchen is a perfect example of how to combine modern house design styles with ease, as well as a lesson on how to do so. In this intriguing design, the designers combined modern, seamless cabinetry with Peranakan Moroccan tiles. These tiles represent wealth and success, according to beliefs. Pair the tiles with a white marble kitchen island or a minimalistic countertop to create a cohesive design, making the Peranakan tiles the focal point of your kitchen.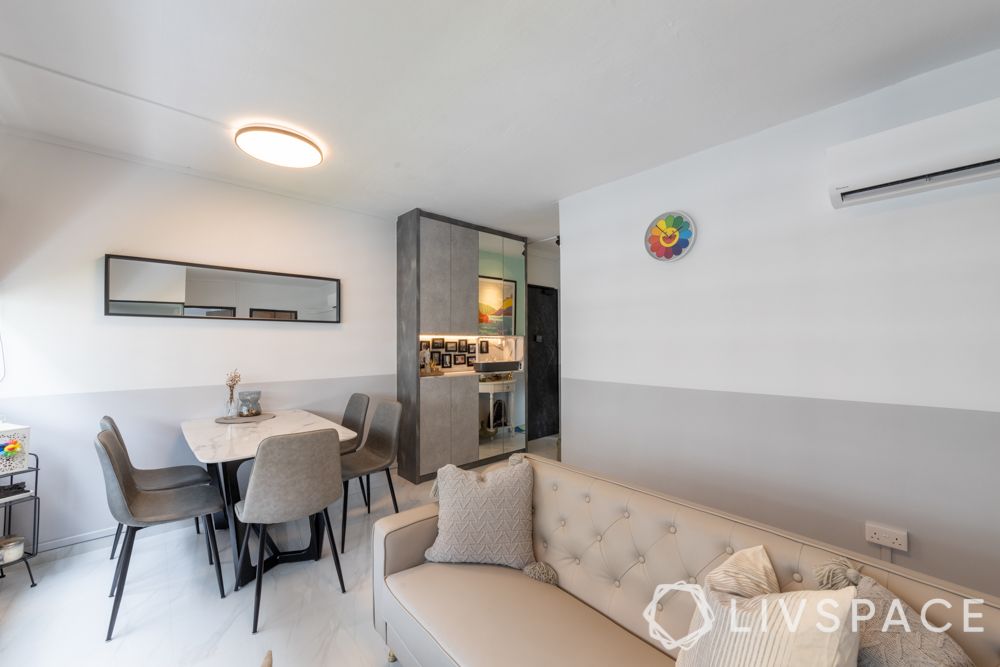 Location: 637 Veerasamy Road
Type of home: 3-room resale HDB
This home design showcases unique marble and stone features in every room. The half-painted grey walls are another element to look out for in this home interior. The dining space with a marble top table and grey chairs, the kitchen with stone and marble specs, and the bathroom with marble & stone finishes are the aspects to look out for in this modern house design.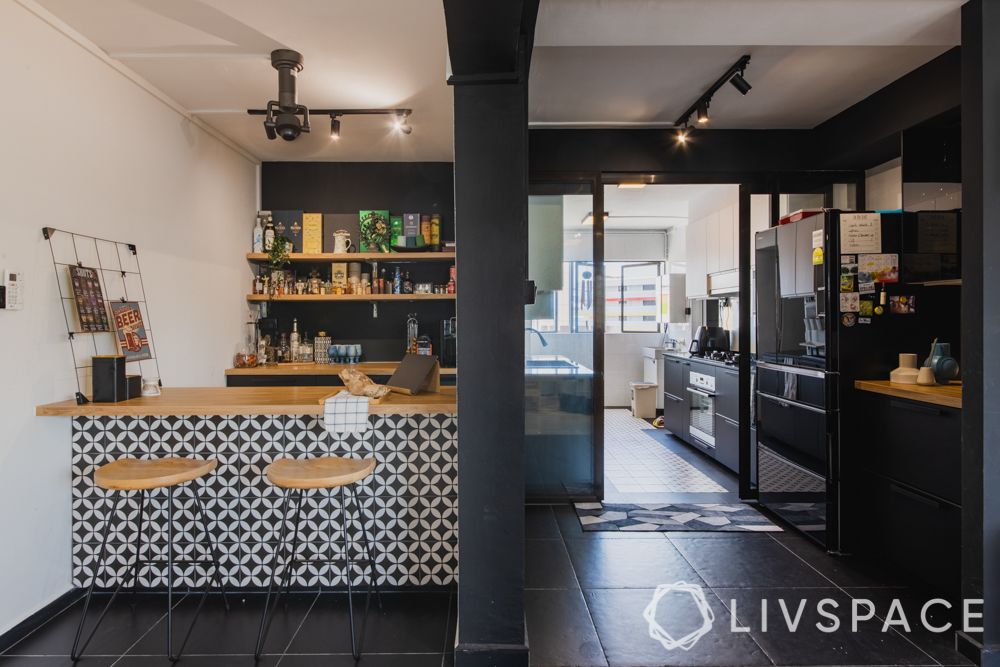 Location: Block 666, Yishun Avenue 4
Type of home: 3rd Gen jumbo resale HDB
The cafe-style breakfast counter at the kitchen entrance is one to die for! Our Livspace designer brought the couple's cafe-style interior inspirations to life and decided to include a bit of that into their home. She opted to build this great breakfast-cum-bar counter right next to the dining area in the kitchen because she knew they loved hosting people. It has eye-catching tiles on the counter and classic black paint on the walls, which goes well with the black cabinetry.
How can Livspace help you?
Did you find these modern house design hacks inspiring? You can also get such beautiful home interiors for your home with the help of Livspace. All you have to do is book an online consultation with our design experts to get safe and quality interiors. You can learn more about COVID-19 safety protocols here.