Sometimes we have a lot of ideas for our home decor but very little space to implement all of it. So, you can either give up on those ideas or learn to make space for the things you want. We believe that with intelligent space planning and smart tricks, you can get a lot going in a compact home—just like this 3-room flat designed by Livspace. Our designer, Shim Chen, came up with some great hacks that anyone with a cramped space can use, to accommodate everything they have. Let us show you how.
#1: Invest in furniture that's multipurpose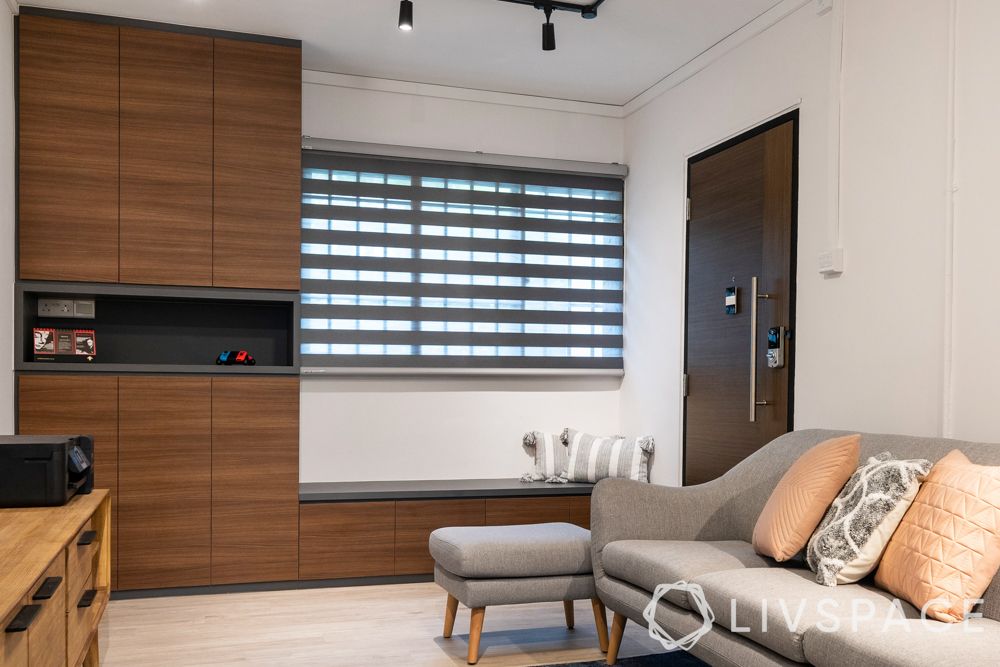 The first way to optimise space in a compact home is to invest in multi-functional furniture. For this 3-room flat, we have packed in storage in the form of this huge, wooden wall storage unit. Attached to it is the shoe rack that comes with a cushioned settee for seating. This is the perfect piece of furniture for your foyer wall. It's minimal yet functional.
#2: Opt for space-optimised seating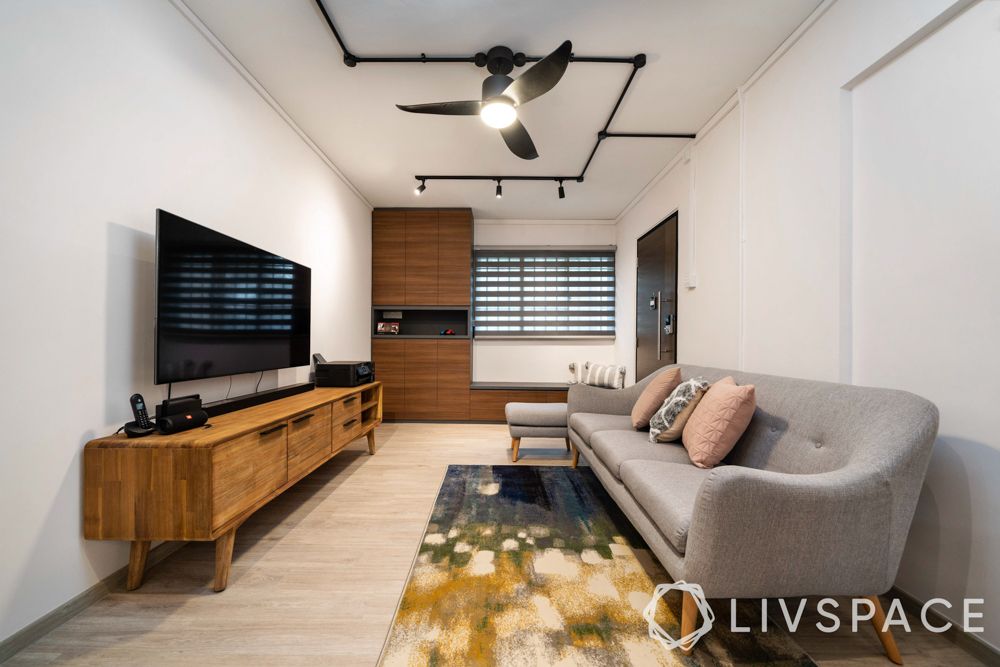 Most of us love chilling in the living room, in front of the television after a hectic day. But what would you do if you have planned to watch a game with your friends and there isn't enough room to add extra seating in your living room? Our designer suggests using long furniture pieces like this sofa, that can accommodate more people at once. Lengthy furniture makes optimum use of a rectangular space.
#3: Deck up with budget finds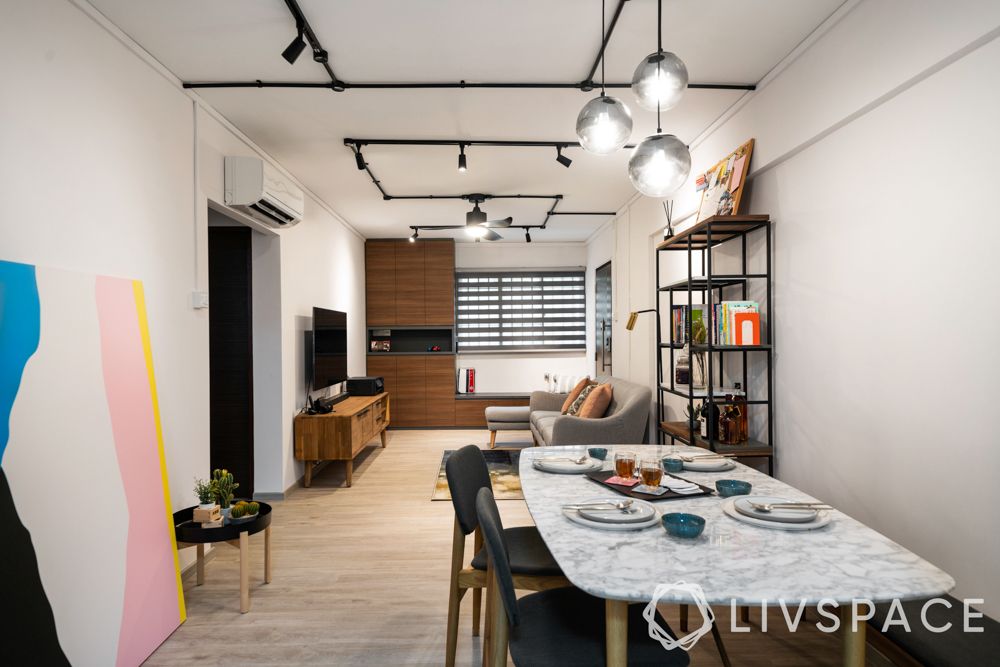 Designing a space-efficient 3-room flat is not always about spending those dollars. Scout the market or online stores for some cheap finds like the one we have added here. The pendant lights you see on top of the dining table is a budget find that not only enhances the lighting in the dining space, but also adds aesthetic value.
#4: Break down walls to make more space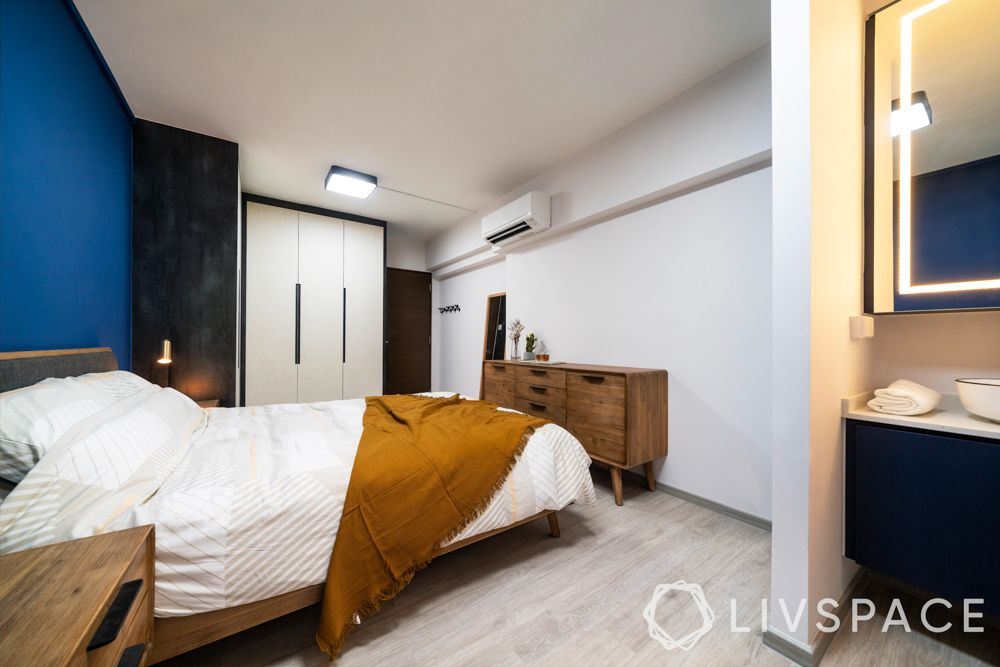 You do not have to settle with a small bedroom if you want a bigger one. Might sound impossible but it isn't. The homeowners of this 3-room flat really wanted a little more space in their bedroom and we decided to hack the walls of the entrance to give them that little bit of extra space. To make it more functional, we also added some storage to that wall, in addition to the wardrobe.
#5: Move the vanity out of the bathroom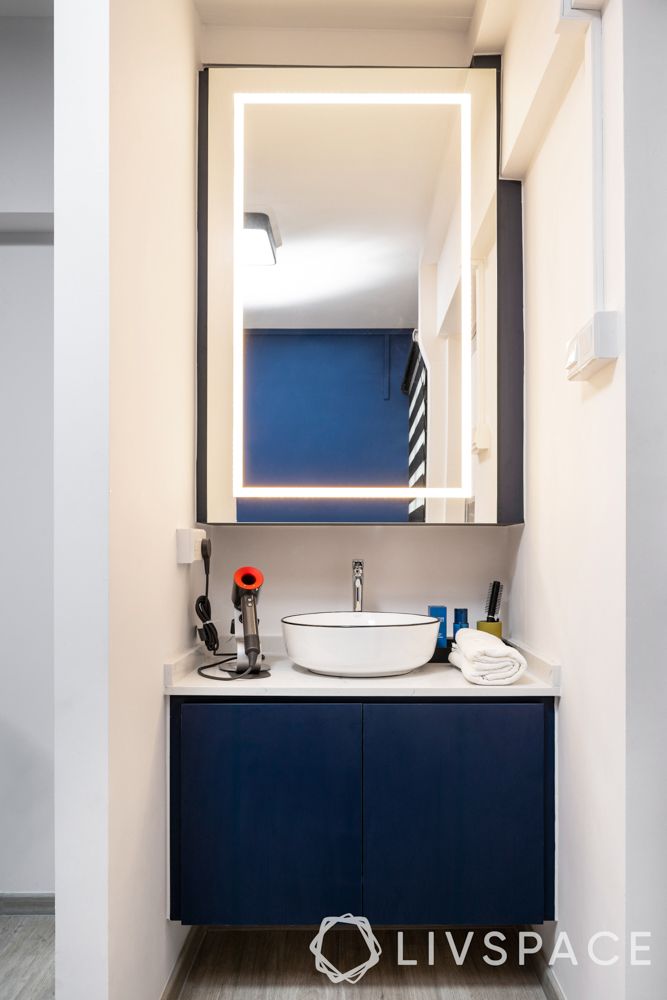 The bathroom in this 3-room flat was literally 35 sq ft and we could not fit in everything there. But why make the space more cramped when you can move something out? If you have a really tiny bathroom and space outside permits it, you can consider moving the vanity right outside like this home. This way you will have easy access to it and it will not eat into your bathroom space.
If you'd like to look at some amazing HDBs that we've designed, check this out: The Best of 3 room HDB Designs for New Homeowners.
Send in your comments & suggestions to editor.sg@livspace.com.