The price of renovations would be the next expense after the cost of purchasing a new resale flat that would take up a big portion of your financial pie. We are aware that renovations are expensive, but that doesn't mean they can't be done on a budget! Here, we've carefully selected an amazing HDB renovation Jurong West Central Singapore that costs $45,000.
The secret to a budget-friendly resale renovation? Having a clear idea of the look and feel you want to achieve, and making sure you set realistic expectations.Let's tour this 3-room resale flat renovated for a small family in Jurong West and look into the cost details too.
__________________________________________________________
---
Who Livs here: Mr. Wilson and family
Location: Jurong West Central
Type of home: 3-room resale HDB
Design team: Interior Designer Eleonora and Business Manager Sheik
Livspace service: Full home design
__________________________________________________________


Design Brief
To create a classic interior design in a Jurong West Central home that's perfect for a young family to grow in

What we loved
The continuity in neutral colours across the HDB design that creates an illusion of space

Look out for
The storage-intensive master bedroom

Smart Buy
The signature wall mouldings that give this home a classic traditional look


A Classic Interior Design in Jurong West Central Studded with Neutrals and Signature Wall Mouldings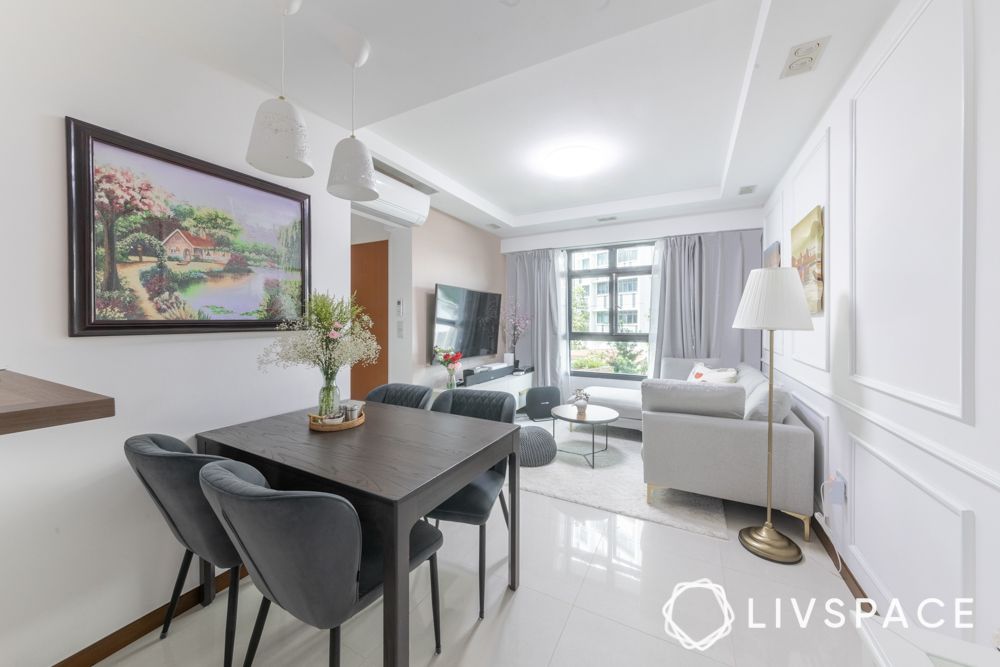 Selection of the right paint colours is the simplest approach to alter the appearance of the size of your space. While dark colours can make your space appear smaller, the light colours tend to give it an illusion of space. If you want to make a tiny room feel bigger, think about using light blue, light grey, or white hues, just like this home. This classic interior design in Jurong West Central is adorned in neutral colours that give this home quite a spacious appearance.
Another interesting feature in this home's layout is the signature wall moulding. This design element is uncommon in Singaporean homes but it makes a bold design statement. These mouldings are mostly used to hide gaps and joints to give the home a flawless appearance. These are perfect design elements to give this 3-room HDB renovation in Jurong West Central Singapore a traditional facelift. Now we know why the living room is the homeowners' favourite space!
Approximate cost range for these design elements: $11,000 to $15,000
An Open Layout Plan with Living Room and Dining Room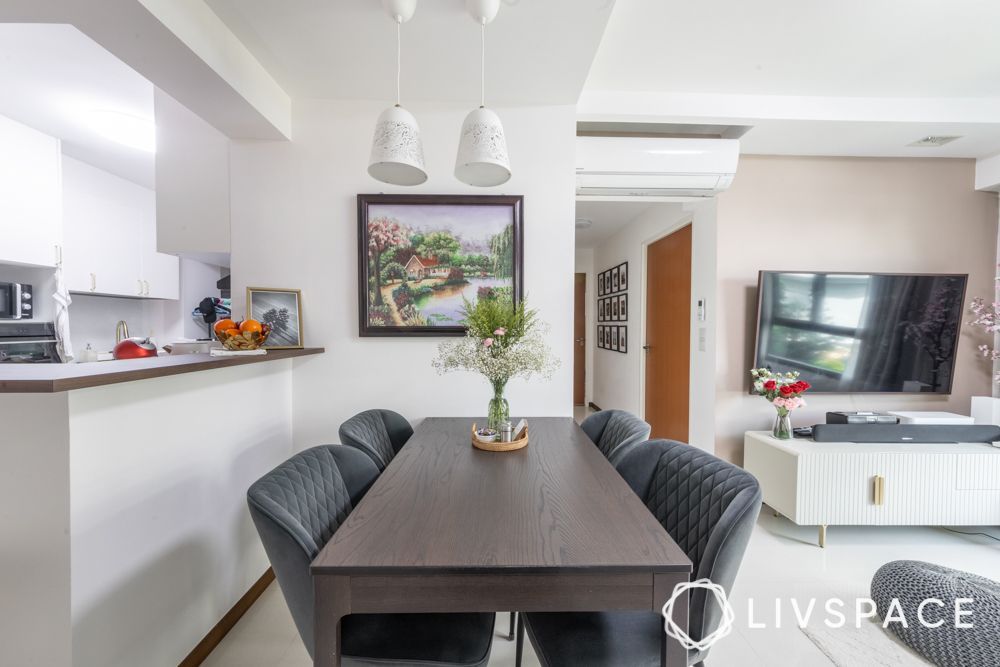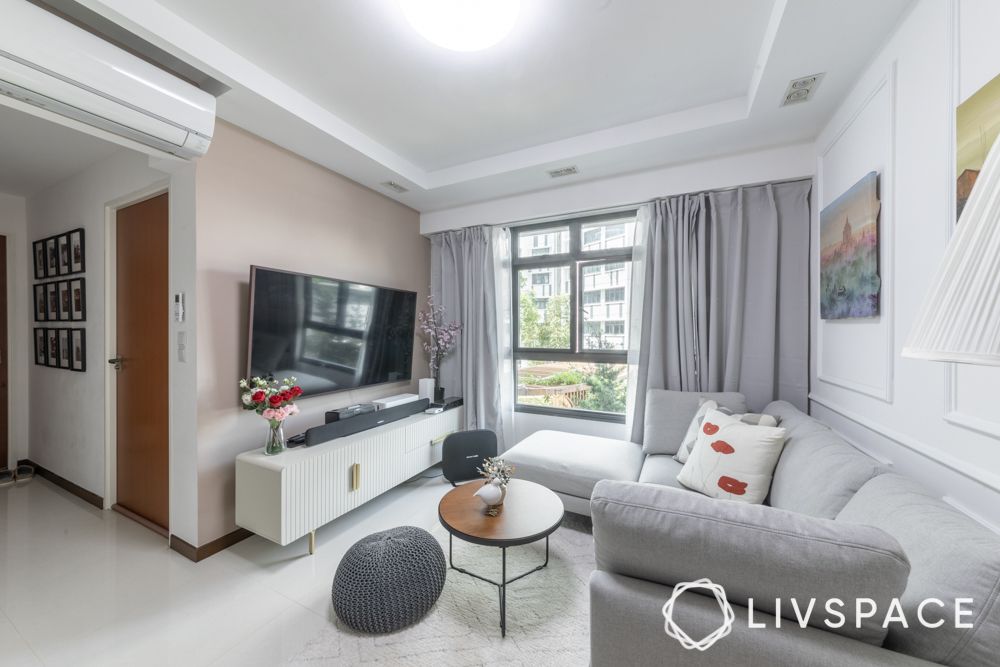 Following the open concept layout, the living room and the dining room in this home are side by side. Homes with open-concept design, like this 3-room classic interior design in Jurong west Central, are excellent for entertaining big families and guests because of their seamlessness and space. It's undoubtedly easier to talk to one another in an open space where there are no walls and doors to get in the way, whether you're yelling at the kids to prepare the dinner table from the kitchen or calling your in-laws' attention while they're watching TV in the living room.
If you look at this HDB renovation in Jurong West Central, Singapore, the design has been kept quite simple. Just like the walls, the furniture is also dressed in light grey and white except the dining table and chairs which are brown and grey respectively. The hanging pendant lights and a potted plant add substance to the design.
Approximate cost range for these design elements: $3,000 to $5,000
Simple Parallel Kitchen with Dreamy White Laminate Cabinets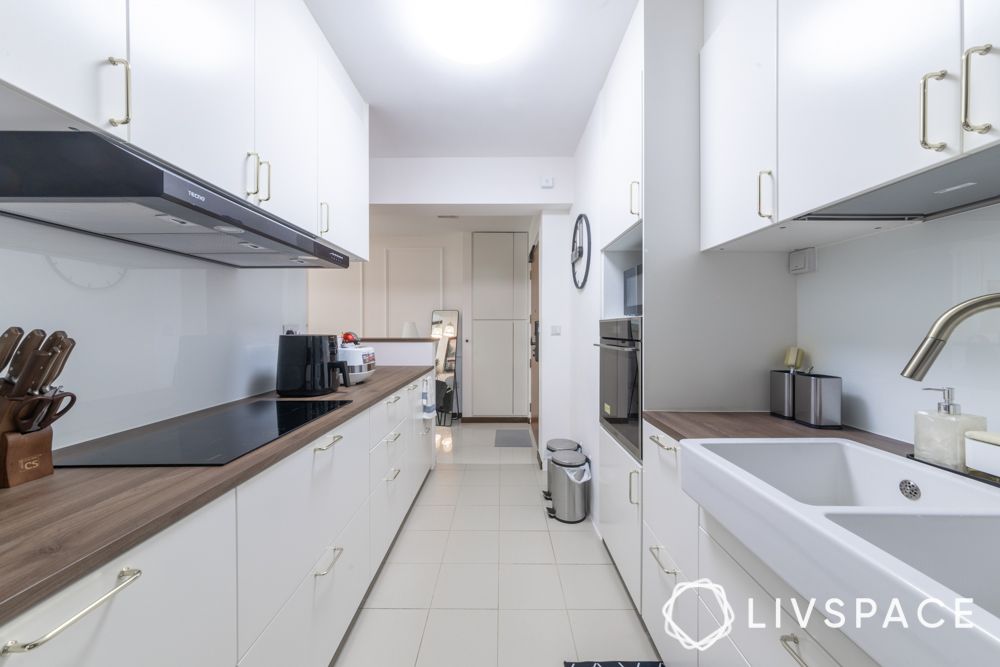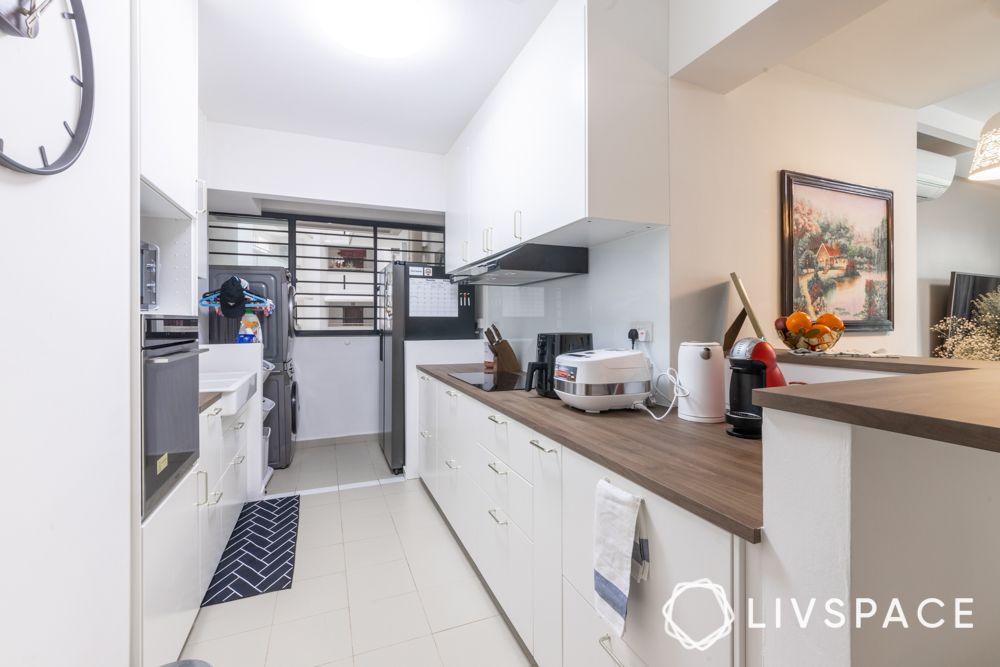 Most of the changes in the kitchen of this 3-room resale flat renovation in Jurong West Central are functional. However, the colour scheme of the kitchen has been kept in sync with the rest of the house. White wall tiles and shiny white laminate cabinets are used in the kitchen to reflect light and give the impression of a larger area. The designer of this house, Eleonora, used wood finishes as a countertop material to create contrast.
Approximate cost range for these design elements: $15,000 to $18,000
Storage-Intensive Master Bedroom and En-Suite Bathroom with Wooden Accents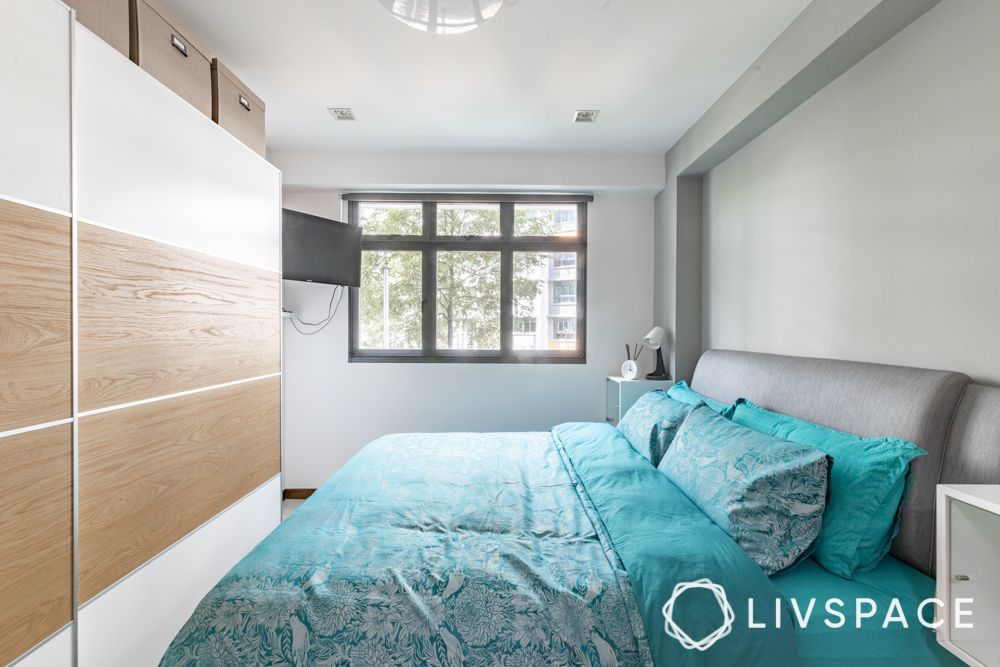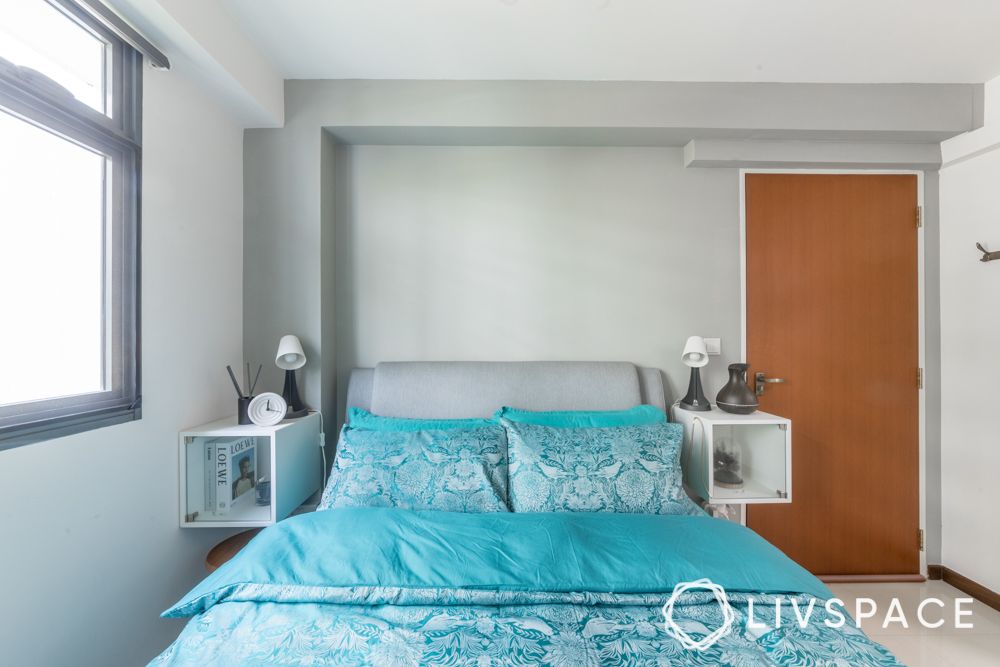 A family with kids always needs storage, as much as possible. For this HDB renovation in Jurong West Central, Singapore, the couple has chosen a built-in wardrobe with wooden accents. The built-in wardrobe in the bedroom is a sliding area which occupies the least area. The wardrobe has additional wooden boxes on the top to add to the storage availability in the room.
The headboard is coated in a casual, light grey tone to create visual contrast and keep things airy. The ceiling is illuminated by hidden LED lights, which fill the area with a cosy, warm glow.
Approximate cost range for these design elements: $6,000 to $12,000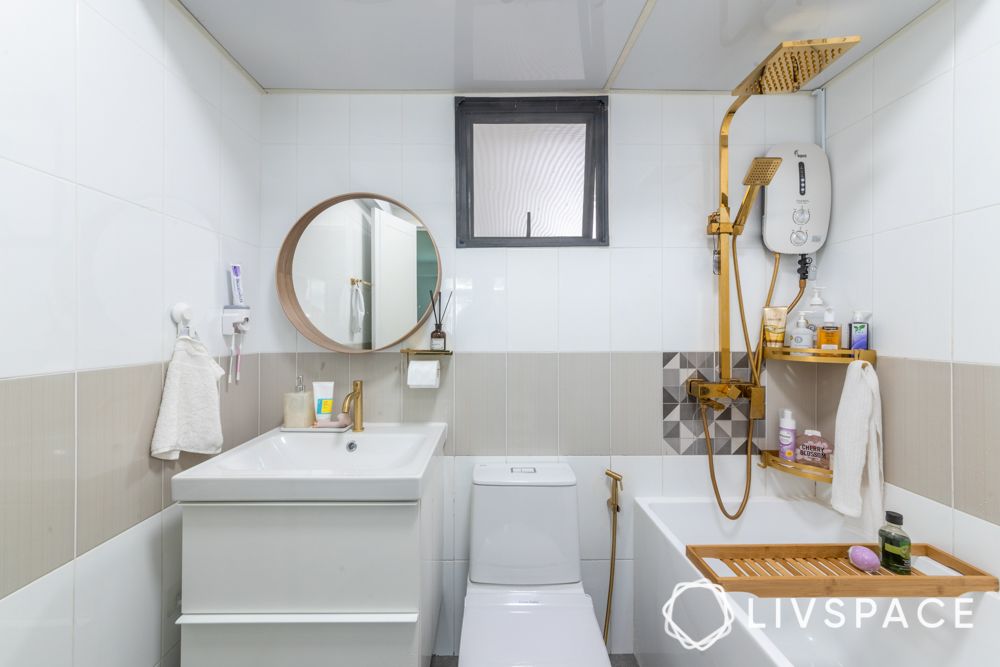 The bathrooms in this apartment are another stunning feature, with the walls covered in two distinct sets of tiles to provide intricacy and depth. The vanity area has storage cabinets adorned in white to match the rest of the white colour scheme of the room. Another key highlight feature of this master bathroom is the use of wood for the shower equipment and storage. It adds both to the convenience and the functionality.
Approximate cost range for these design elements: $3,000 to $7,000
A Comfortable Work-From-Home Set-Up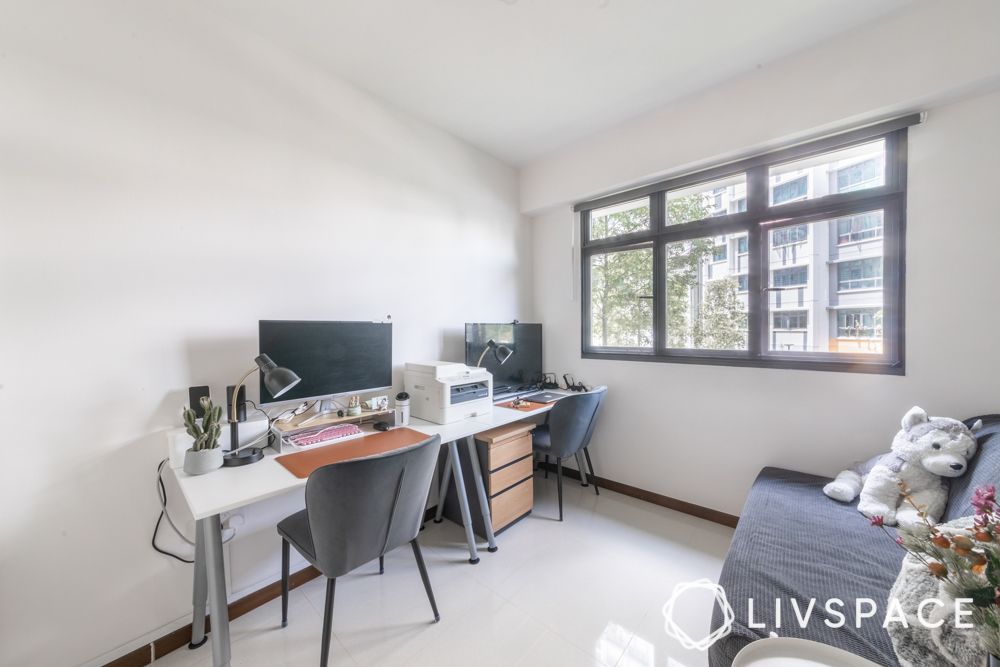 Mr. Wilson asked our designers to hack the extra bedroom and change it to a home office space. It could also be used as a place to relax, pursue their hobbies, and unwind. The room comprises a customised work table and sofa to relax in-between the breaks.
Approximate cost range for these design elements: $3,000 to $5,000
Renovation Cost Breakdown
Here is the breakdown of major works done in this 3-room HDB renovation cost Jurong West Central:
Hacking: $8,000 – $10,000
It involved hacking down the walls of an extra bedroom and changing it to a home office. It also included demolishing wall tiles, floor tiles and window grills.
Masonry: $15,000 – $20,000
It took the largest chunk of money in this 3-room resale flat renovation Jurong West Central. It included installation of wall and floor tiles, waterproof membrane in bathrooms and wall mouldings.
Carpentry: $12,000 – $15,000
It included the second largest chunk of money post masonry. It includes kitchen cabinets, island counter, built-in wardrobe for master bedroom, bathroom vanity cabinets, and dining and living room furniture.
Plumbing: $2,000 – $3,000
It included the piping works in kitchen and bathroom, sinks, faucets and other bathroom accessories.
Plaster ceiling: $5,000 – $6,000
It includes the false ceiling work in the living area, kitchen and bedroom with cove lights.
Paint works: $3,000 – $4,000
It includes painting the walls, doors, ceilings and sewage pipes throughout the entire home.
How Can Livspace Help You?
If you love the look of Mr.Wilson's HDB renovation Jurong West Central Singapore , here's another home you might like: This 90sqm Eczema-Friendly 4-Room BTO Interior Design in Hougang is Perfect For a Family of Five
Wondering how you can make your HDB renovation Jurong West Central Singapore home look just as beautiful? We're here to cover you. Book an online consultation with Livspace today. Have some comments and suggestions you'd like to share with us? We're all ears! Feel free to write to us at editor.sg@livspace.com.
---