Home is where the comfort is. But it's tough to find the balance between elegance, spaciousness and functionality, especially while keeping your budget in mind. However, that's not the case with this 4-room BTO design at Tampines. This BTO interior design embodies the principle that "smart is beautiful" and was created to meet the demands of today's demanding lifestyles. Let's see how the spacious décor of this Tampines home is both aesthetically and functionally pleasing while still being within budget!
__________________________________________________________
Who Livs here: Sheikh, his wife and two kids
Location: Tampines Street
Type of home: 4-room HDB BTO
Design team: Interior designer Kayle and business manager Shim
Livspace service: Full home design
Budget: $$$$
___________________________ ______________________________


Brief
To create a smart and spacious 4-room BTO design at Tampines that's perfect for a family with kids

What we loved
One of the bedrooms was hacked to create a bigger common area where the family can enjoy their time together.

Look out for
– The mirror that conceals the bomb shelter and storage within
– The waterfall quartz countertop design in the kitchen and bathroom
-The mix of modern and Scandinavian style elements

Smart Buy
Smart lighting and appliances to add comfort as well as a level of automation to the home


We Wanted an Open, Airy Living Room Where We Can Spend Family Time Together in our 4-Room Flat Design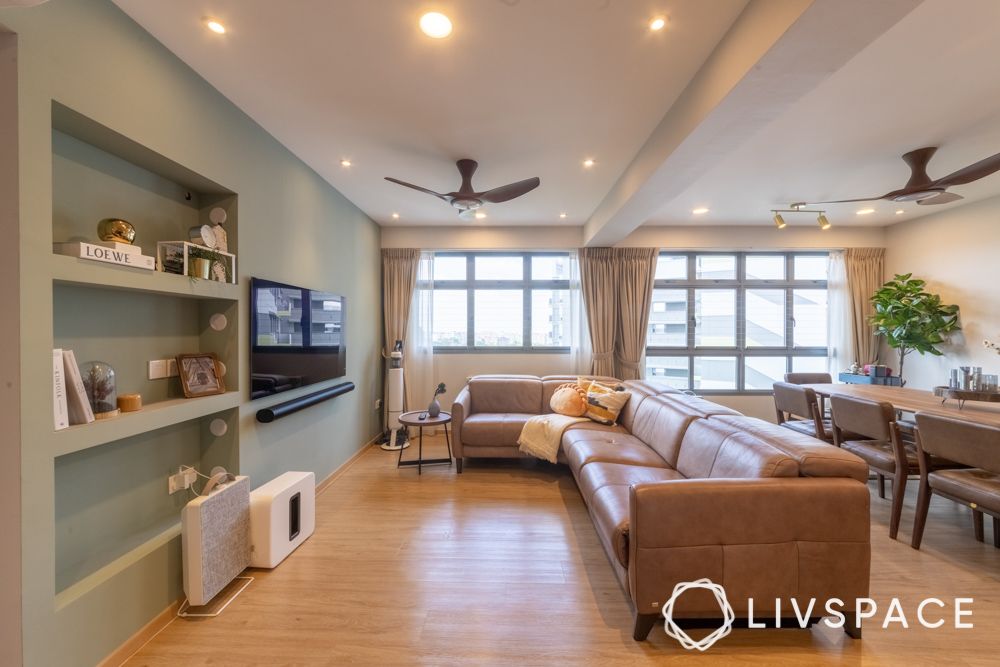 Mr. Sheikh wanted a modern Scandinavian home for his family of four. With growing kids at home, there was a challenge of designing a home with functional spaces with quality materials to ensure his kids' safety. Furthermore, he had to do it with a budget of S$50,000.
As the pictures say, this entire 4-room BTO design at Tampines is dressed in neutral colours that are light on eyes. Livspace's designer Kayle worked around the taupe L-shaped sofa to produce a tranquil environment. The wooden flooring adds to the lushness of this living room design.
The TV wall serves as the living room's centre point. It's made up of a good amount of open shelves for convenience and storage, just as the homeowners requested. It is appealing and useful, and it comes in a glamorous green hue. But what's most interesting about this 4-room design at Tampines Street Singapore is the smart devices used here. The lights, sound bar, and thermostat are just a few smart devices included in the interior design. After all, Mr. Sheikh wanted to provide the safest and the most comfortable environment for their kids to grow up in.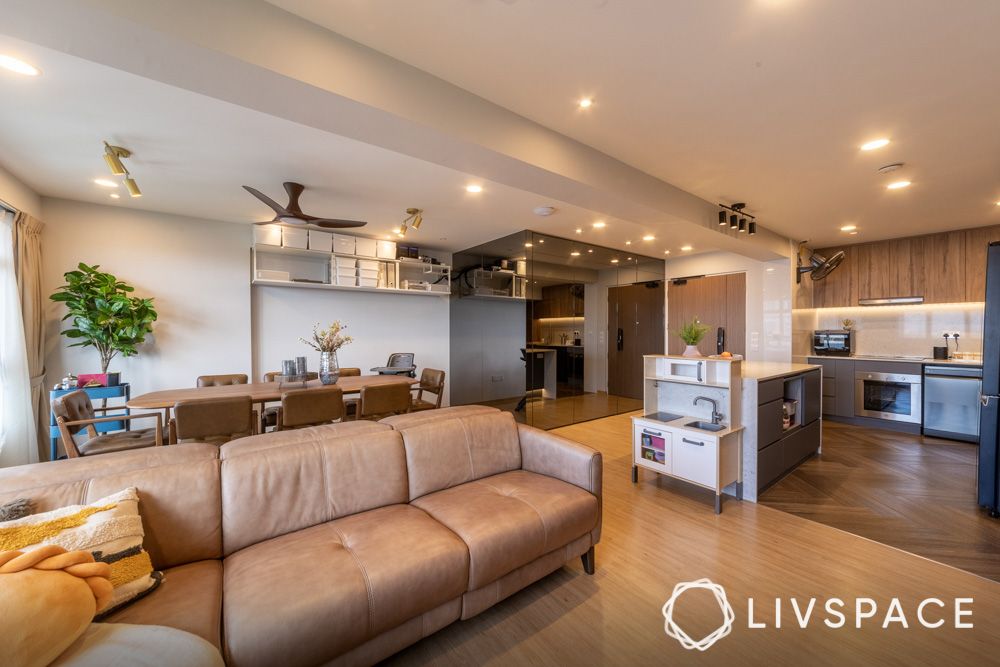 Did you have a look at the feature wall with tinted mirror that conceals the bomb shelter and hides a fully-stocked pantry within? This mirror wall not only hides the bomb shelter and adds to the aesthetic value of this open-concept home, but also creates an illusion of space. The tinted mirror gives a more mellow and modern touch to the house interiors.
We Used a Big Dining Table For Our 4-Room Flat Design at Tampines Street to Entertain Our Big Family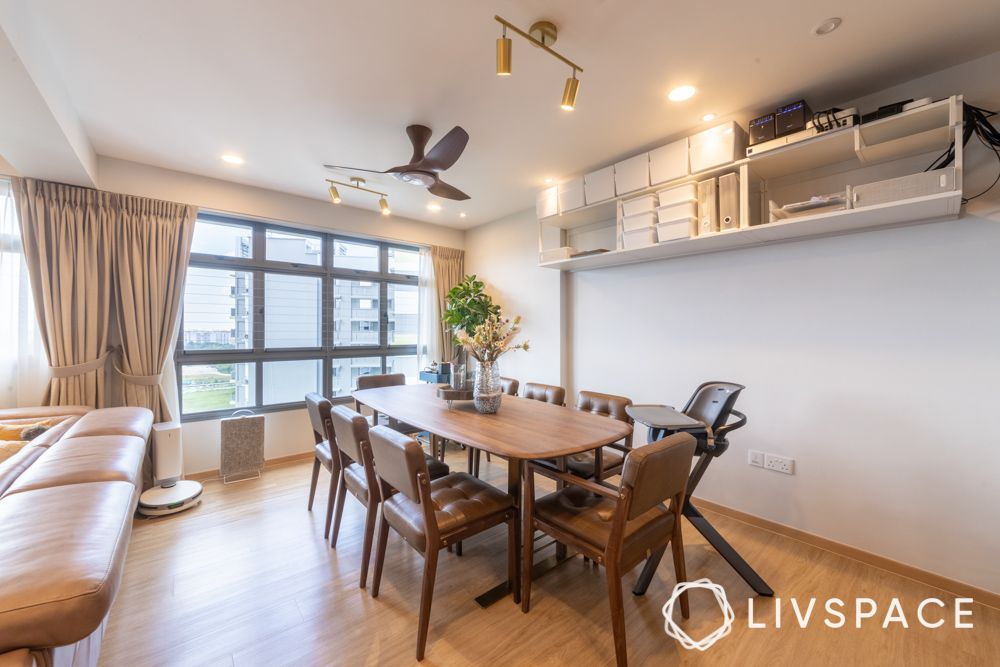 The living room and dining room in this house are adjacent, continuing the open concept design. Due to its seamlessness and spaciousness, the dining room in this 4-room BTO design is great for hosting a large family with kids. The wooden eight-seater dining table and chairs completely match the colour scheme of the rest of the furniture as well as the floor.
We Wanted a Waterfall Quartz Countertop for Our Smart Kitchen Design to Make it More Functional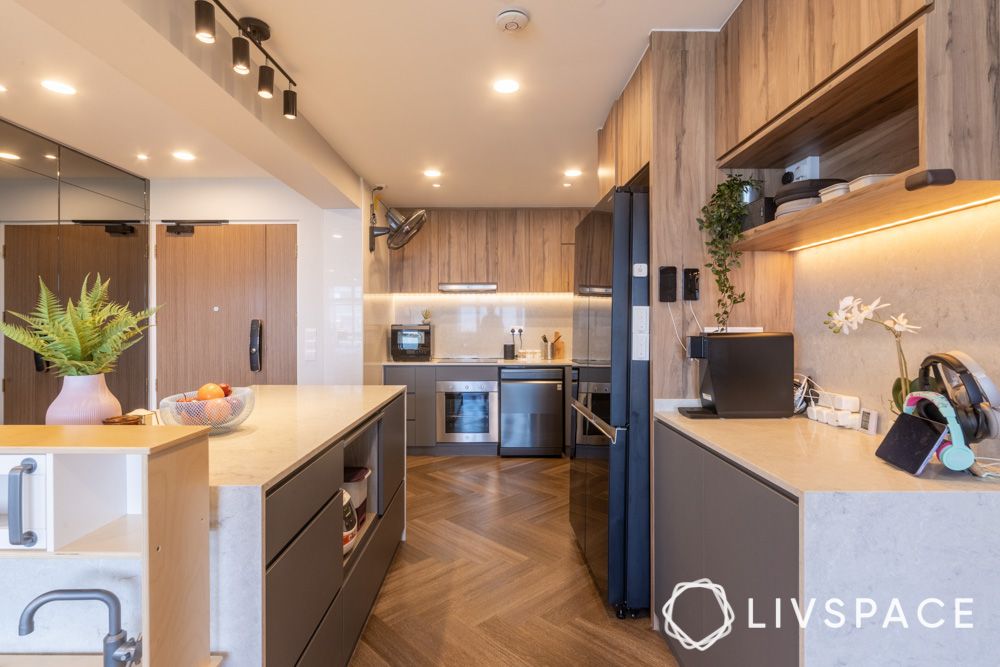 Mr. Sheikh's family wanted a straight and functional kitchen design that would maximise space. They also wanted a kitchen design which is kid-friendly. Another requirement was for custom-made cabinets that matched the wife's height and countertops which are resistant to stains and scratches.
Based on the homeowner's needs, Kayle designed a modular kitchen with base cabinets, wooden wall cabinets, and waterfall quartz worktop customised to match the height of the homeowners.. A waterfall Caesarstone countertop slants down to the edge of the cabinet making a 90-degree angle at the end. It establishes a continuous flow in the kitchen and is resistant to scratches. We made the cabinets handleless, with soft-close mechanism, making the kitchen design kid-friendly.
A clean, white colour scheme was chosen for the design of this modular kitchen. We added wooden accents and black matte cabinets to break the monotony of the neutral colour scheme. Smart lighting with motion sensors was chosen to set the mood in the kitchen of this 4-room BTO renovation at Tampines Street. they automatically turn-on as you step into the kitchen.
We Chose an Uncluttered Master Bedroom Design With Just the Essentials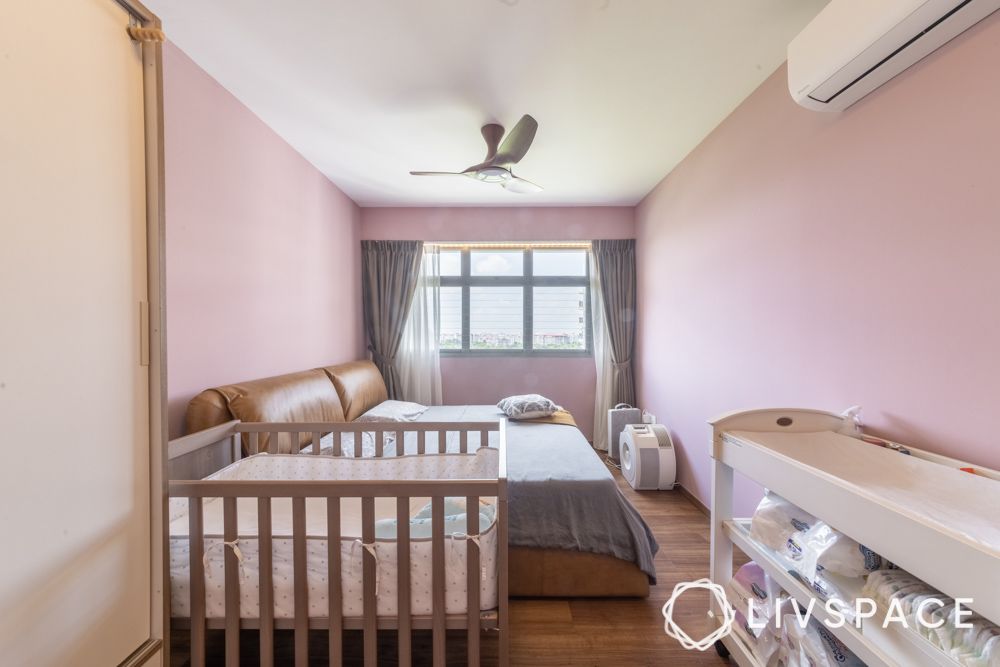 Modular storage solutions are common in many Singaporean homes, but Mr. Sheikh did not want any built-in wardrobes in their 4-room BTO renovation Tampines Street bedrooms. The reason was to cut down the renovation costs as well as maintain the resale value of the flat.
Designer Kayle made the bedroom as spacious as possible so that their family can place the shelves and racks that we purchased ourselves. As you can see, she placed a small bed for the small baby and just one storage unit with three shelves for the master bedroom. Just like the living room, we installed smart devices like air purifiers and smart thermostats in the master bedroom as well.
We Preferred Storage-Intensive and Engaging Bedroom for Our Kids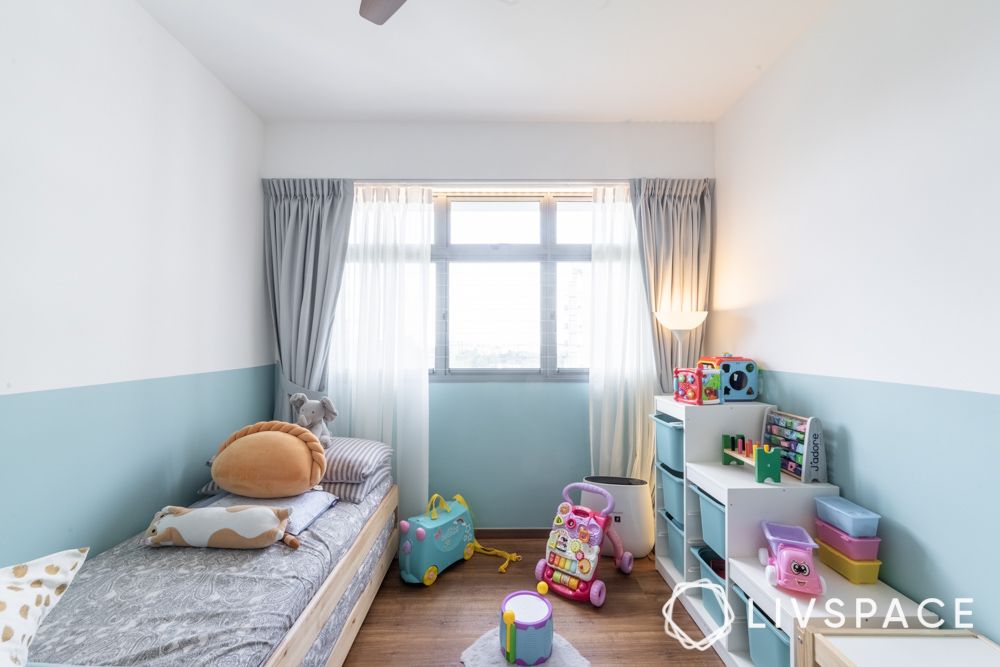 As we saw in the master bedroom as well, Mr. Sheikh did not want built-in storage in the bedrooms. He wanted to keep the rooms as spacious as possible so that the kids have enough space for playing around.
To address the stoirage concerns, we added storage-shelves and boxes. These shelves offer both aesthetic appeal and practicality, and complement the concept of a young child's room. It provides vertical storage too. The bed occupies a corner space and contributes to space conservation.
The kids' bedroom in this 4-room design Tampines Street Singapore deviates slightly from the monochromatic colour schemes used in this house. Kayle decorated the room with two-colour walls and the furniture in hues of blue, creating the perfect setting for a developing mind.
A Simple Yet Stylish Bathroom Design for Our Small Family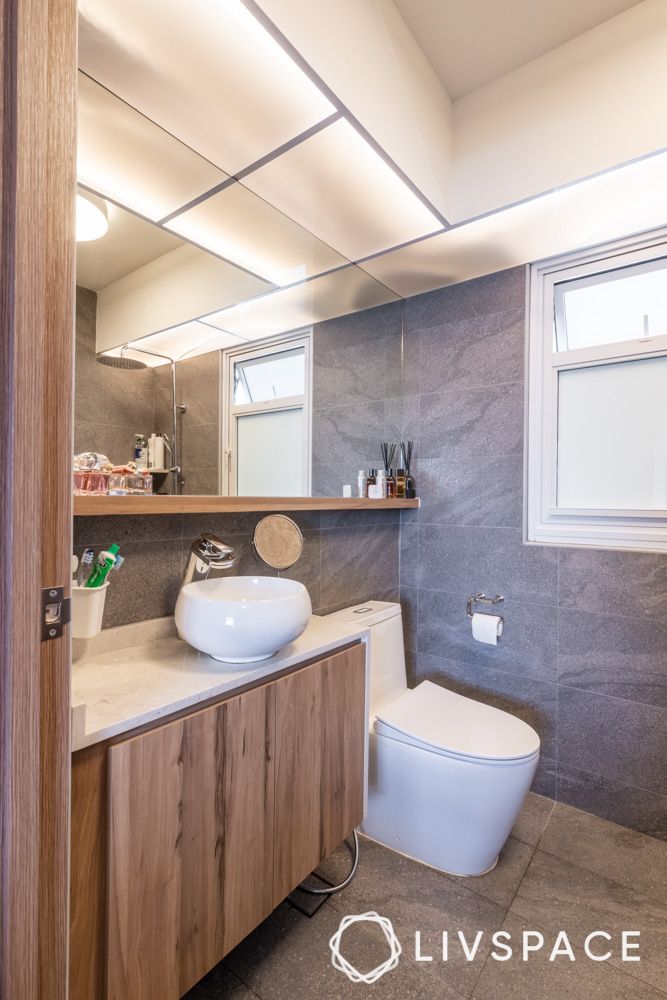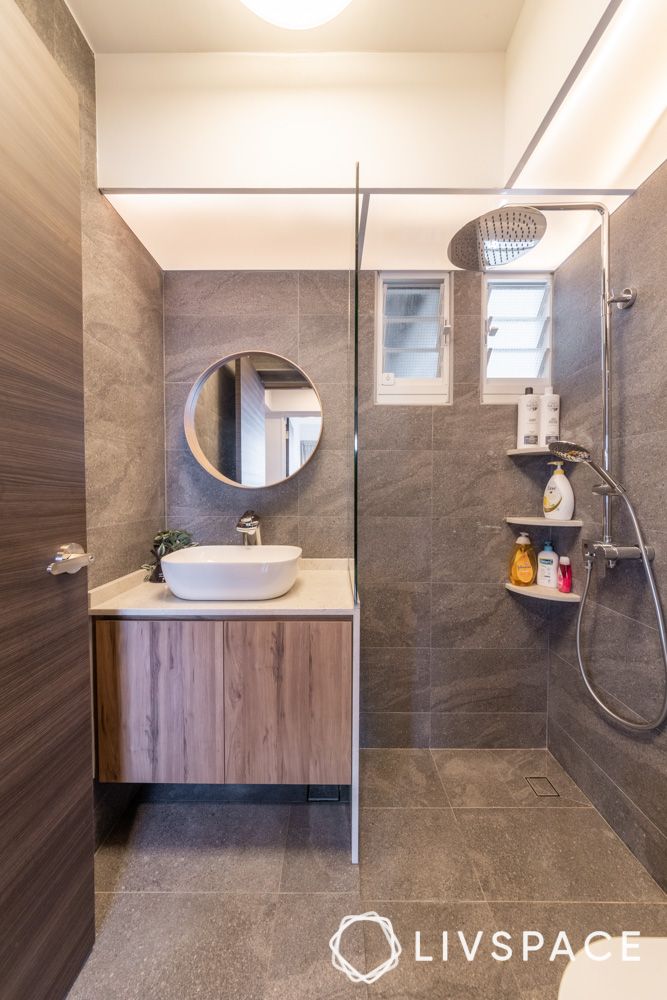 Mr. Sheikh and family didn't want numerous additions to the bathrooms, preferring to keep them simple and functional. The only thing they needed was storage. As a result, the Livspace designer installed laminate cabinets beneath the counter. The bathroom looks cleaner thanks to its wood colour and less grout joints.
Since the bathrooms are compact, Kayle separated wet and dry areas. She installed a glass shower barrier in the small bathroom to divide the two spaces without bringing more visual clutter.
Check out this functional 5-room BTO in Tampines:
How Can Livspace Help You?
If you love the look of Mr.Sheikh's 4-room BTO Design Tampines Street , here's another home you might like: This 90sqm Eczema-Friendly 4-Room BTO Interior Design in Hougang is Perfect For a Family of Five
Wondering how you can make your 4-room design Tampines Street Singapore home look just as beautiful? We've are here to cover your needs. Book an online consultation with Livspace today. Also, if you have some comments and suggestions you'd like to share with us, we're all ears! Feel free to write to us at editor.sg@livspace.com.
---