As interior designers, we have come across many beautiful homes. However, a house only qualifies as beautiful when it captures both the characters of the people who live in it and the essence of the community in which it is situated. Siti Asmah's 4-room BTO interior design Hougang falls under this category.
We contacted interior designer Kayle, who brought this magnificent 4-room BTO interior design Hougang to life, to find out how she went about creating the appearance. She began by expressing how much she enjoyed designing this house because the clients offered her complete creative freedom to demonstrate his knowledge and abilities. Interestingly, Siti's 4-room BTO interior design in Hougang, Singapore is also an eczema-friendly home design as their daughter has eczema.
Let's hear Kayle's thoughts on this stunning modern 4-room BTO design Hougang.
__________________________________________________________
Who livs here: Father and mother with their three kids
Location: Hougang
Design team: Interior designer Kayle, business manager Shim
Livspace service: Foyer/Living/Kitchen/Yard/Bathrooms/Bedrooms
Area of house: 90 sqm
Budget: $$$$
_________________________________________________________
INFO BOX

Brief
To design a home that is cosy and practical, with the right notes of modern and contemporary influences

What we loved
Simple open concept kitchen and a big platform in master bedroom

Look out for
Eczema-friendly interior design with vinyl flooring and alkali filter

Biggest Indulgence
Use of Singapore Green Label products to create an eczema-friendly environment at home

Smart Buy
The carpentry
Livspace Team: What Was Your Vision and Inspiration for This 4-Room BTO Interior Design Singapore?
Interior designer Kayle: The main idea behind the design of this home was to keep it minimalist and modern. The homeowners asked us to keep this home very basic and not to add too many stylish accents to it. So I came up with a modern and contemporary design for this home with the dominance of minimalism.
The home was designed for a family with three kids and hence, various measures were taken to keep the design child-friendly. They wanted to have a cosy BTO interior design in Hougang where they can relax when they're back home after a long day, and we tried to give them exactly what they wanted.
Planning to buy a BTO flat in Yishun Glen? Take the virtual tour of this modern condo design.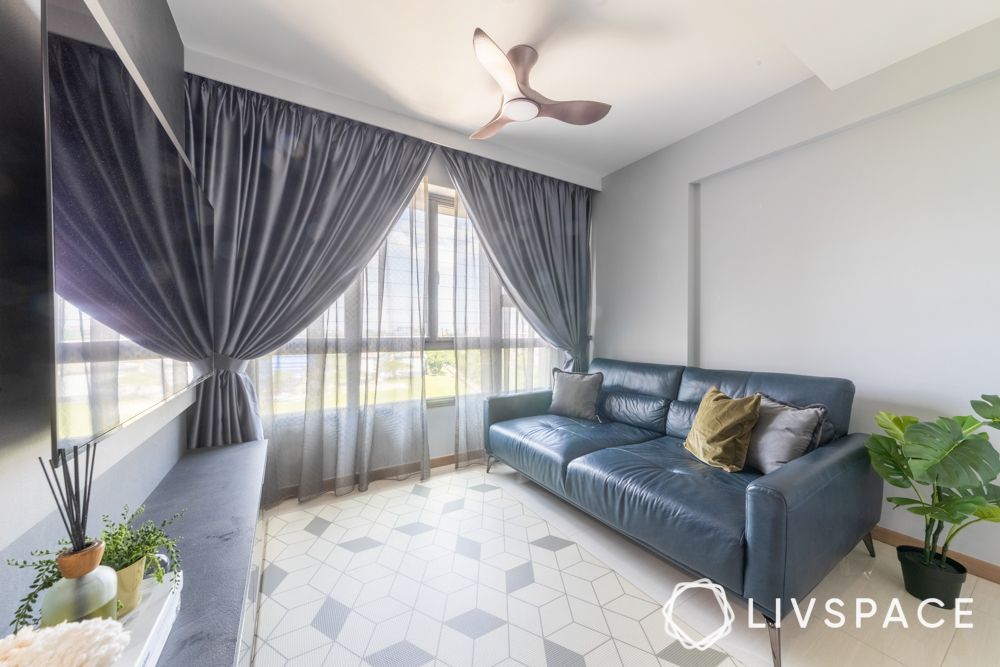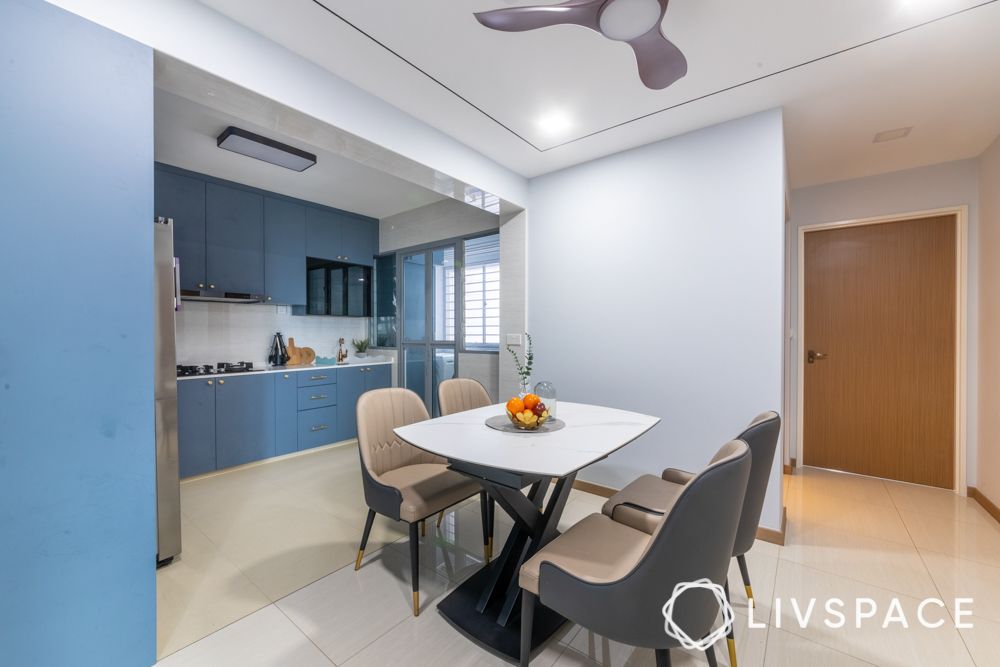 Explain the Design Concept and Materials Used in This BTO 4-Room Flat Interior Design in Hougang.
If I have to describe the concept and materials of this home in one word, I'd go for contemporary and Green :Labelled products. The homeowners wanted their home to be minimally modern and contemporary with a hotel-like vibe. Have a look at the living room which just comprises a three-seater sofa and a simple TV unit. It's minimalist yet efficient!
We spent a lot of time understanding the colours and materials that the homeowners wanted to use in their modern 4-room BTO design. I remember sitting down with them for six hours just to choose colours and materials. Their main concern was to install Green Label Products in their home to make it sustainable and child-friendly. We also installed vinyl flooring throughout the house instead of tiles to make it an eczema-friendly home design.
We also chose different laminate colours to create contrast in the kitchen, living room and bathrooms. The dark grey wardrobe in the foyer creates contrast with neutral wall colours and also makes the space storage-intensive. The golden handles on the blue kitchen cabinet and golden faucets impart a luxe look to the kitchen. Another interesting decision was to install glass shelves in the bathroom for the contemporary touch. You can also see that we placed plants almost in every corner of the home to give it a green ambience.
Buying a BTO in Clementi Peaks? Check out this amazing pet-friendly 3-room luxury condo design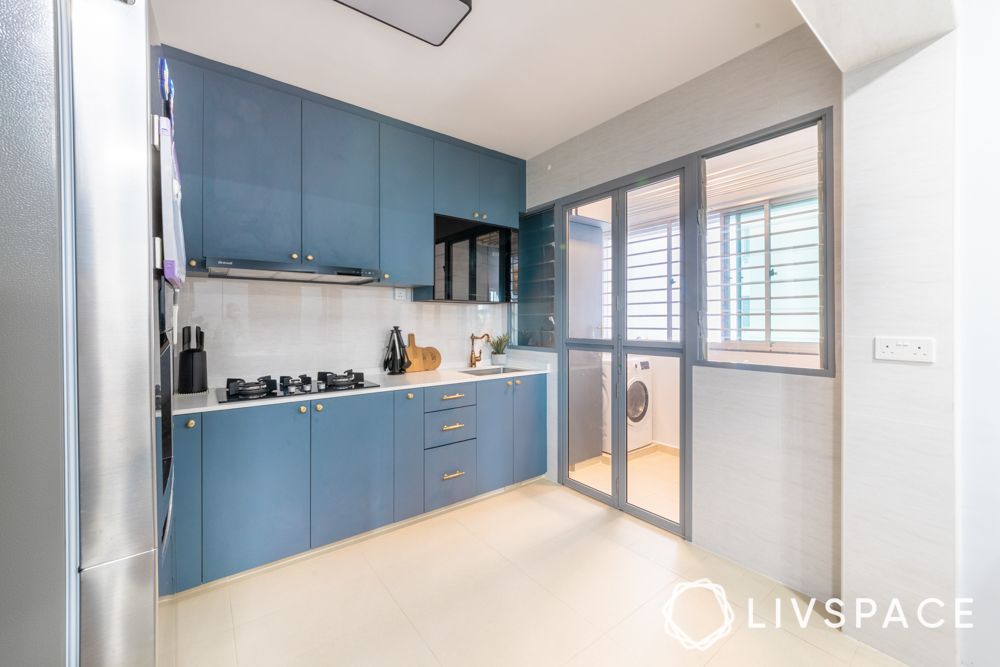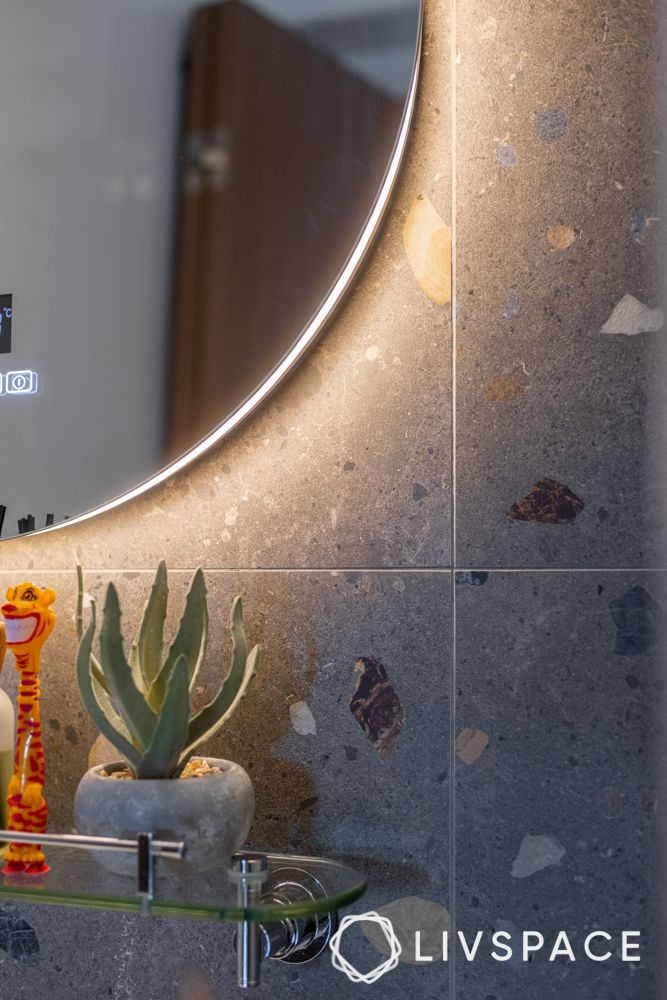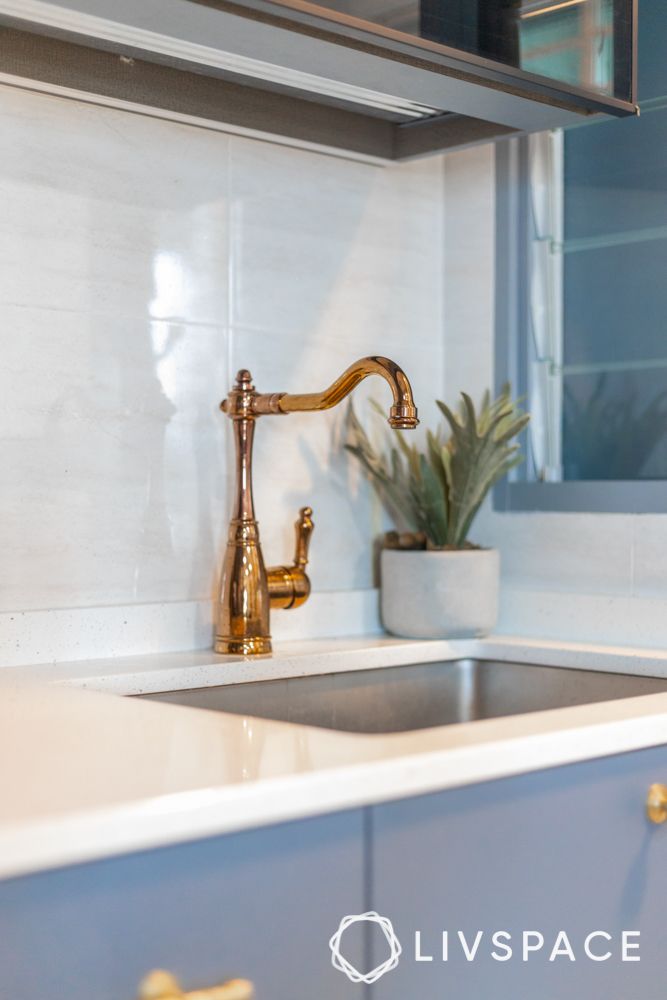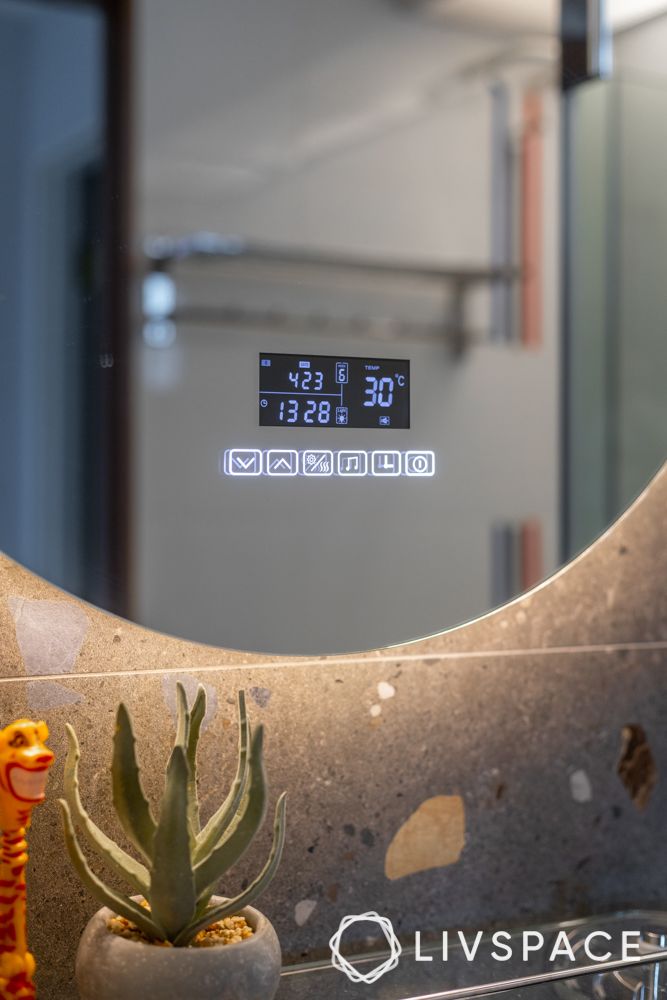 Which Was the Most Exciting Space To Design?
Though I enjoyed designing the entire home, I'd like to pick the master bedroom as my favourite. The homeowners wanted their bedroom to be a versatile space where they can ammodate themselves with their kids, and also to grow and adapt as their kids grow up. That's why we didn't include much built-in furniture in this modern 4-room BTO interior design. We kept it plain and simple with a bed and handleless white-coloured wardrobes.
The bed rests on a big platform in the master bedroom so that the entire family can sit together and enjoy family time. This master bedroom is high on storage as well. We replaced the night stand with a counter with storage cabinets where the couple can keep items of their necessity. In the corridor next to the master bedroom, there is a vanity unit with a wall-mounted mirror. We installed spotlights on the ceiling to give optimal focused lighting to the vanity area and the corridor. The master bathroom is attached to the master bedroom.
Buying a BTO in Tampines GreenCourt? Check out this amazing 4-room BTO interior design.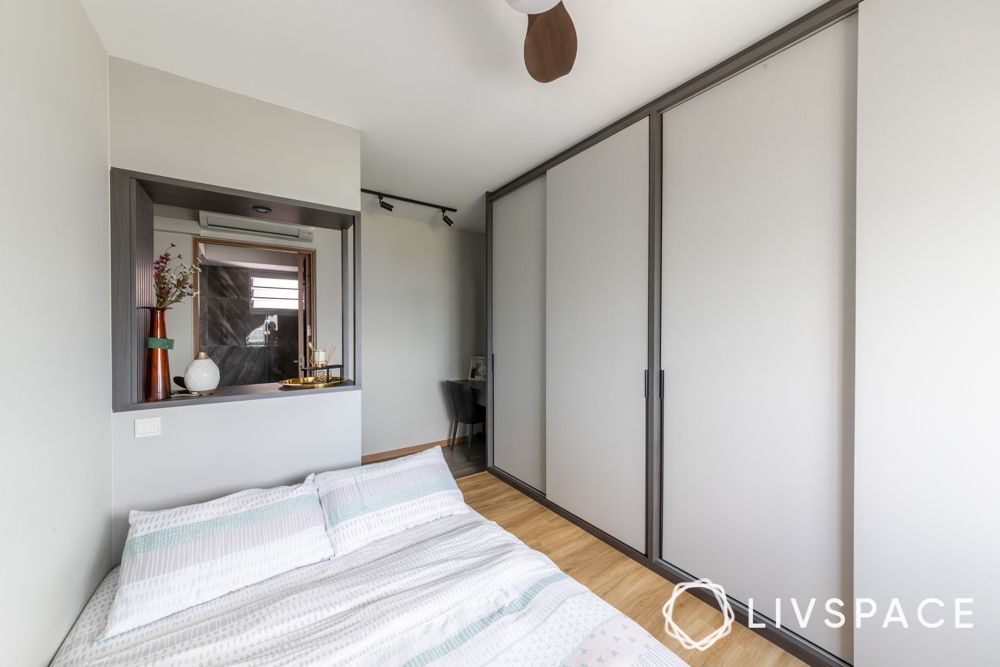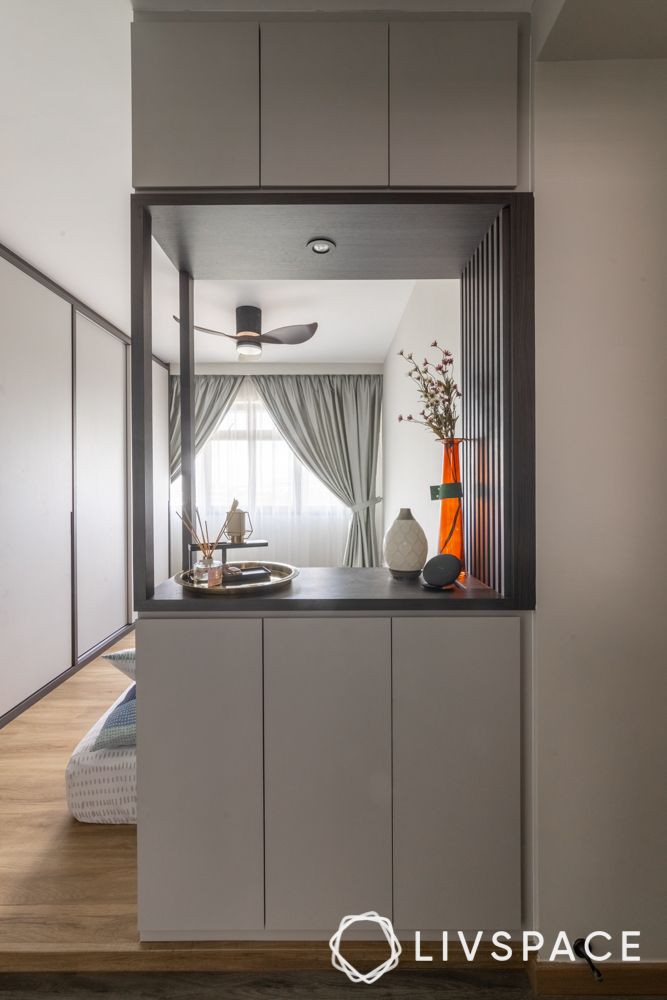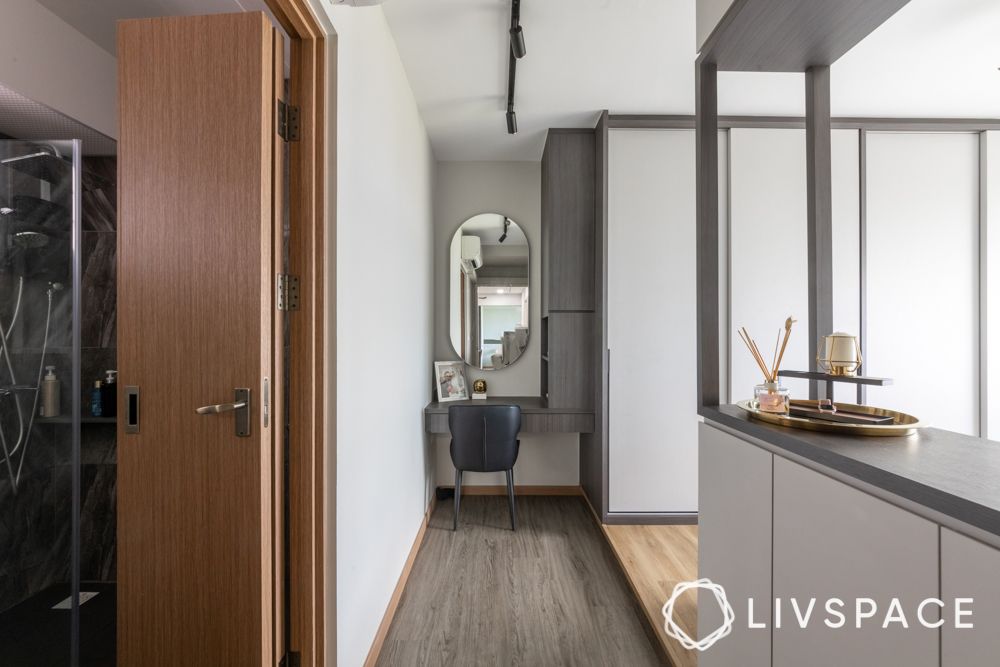 Please Highlight a Unique Aspect of the Project.
In a house with three kids, a couple always needs materials that are durable and easy to maintain. Keeping this in mind, we installed laminates in the kitchen to keep the look more natural and clean. We also used mirrors in the bathroom extensively to give it an illusion of space.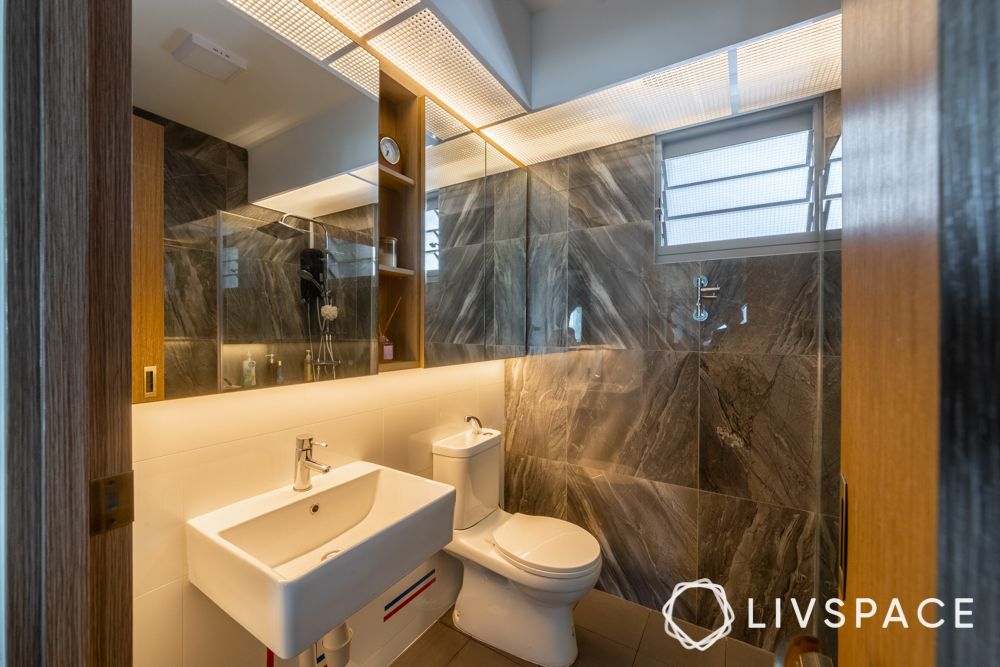 What Was a Smart Buy for the Home?
Everything in this home is a smart buy and I'd like to appreciate the vision of the homeowners which fit exactly within their budget. But if I have to choose one, I'd say flooring. Flooring is yet another interesting aspect of this 4-room BTO design in Hougang, Singapore. Instead of installing tiles, we selected vinyl flooring for this eczema-friendly home design including the alkali water filter.
Looking for some condo interior design ideas? This Stylish 3-Room Luxury Condo Design Will Leave You Speechless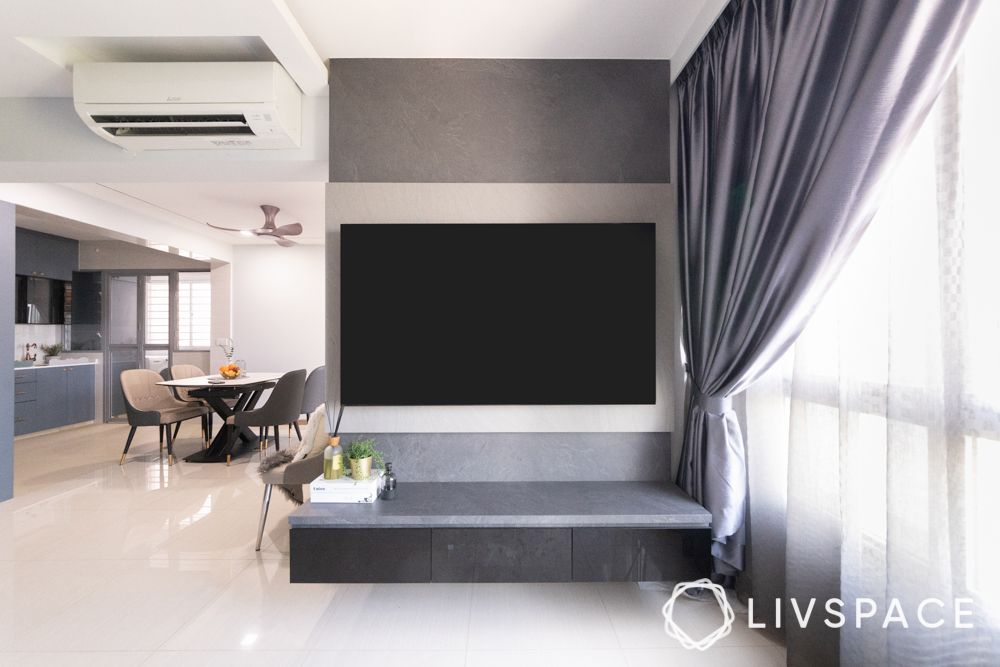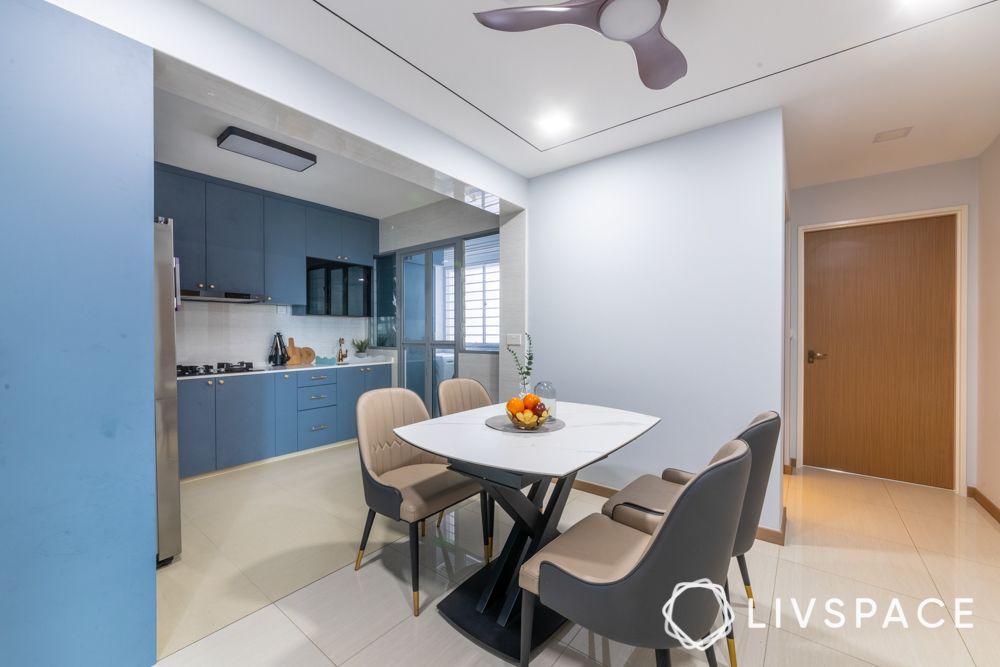 What Was One Thing That You Splurged on in This Home?
They did not really splurge on anything an were clear from the beginning about keeping their home design very basic, cosy and comfortable. They had a limited budget in their mind and they chose materials and the concepts based on that budget.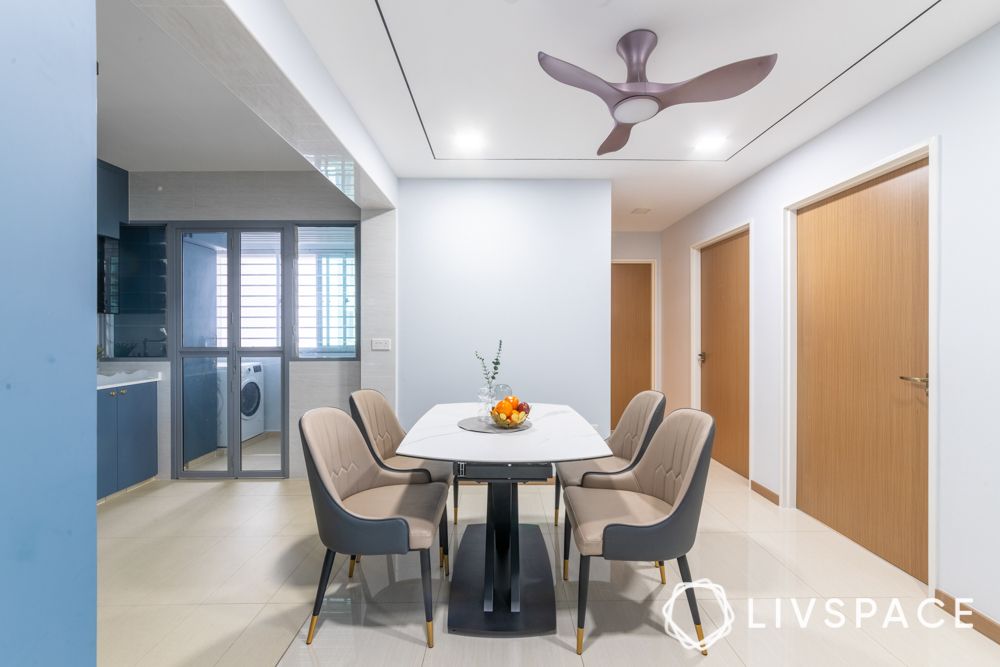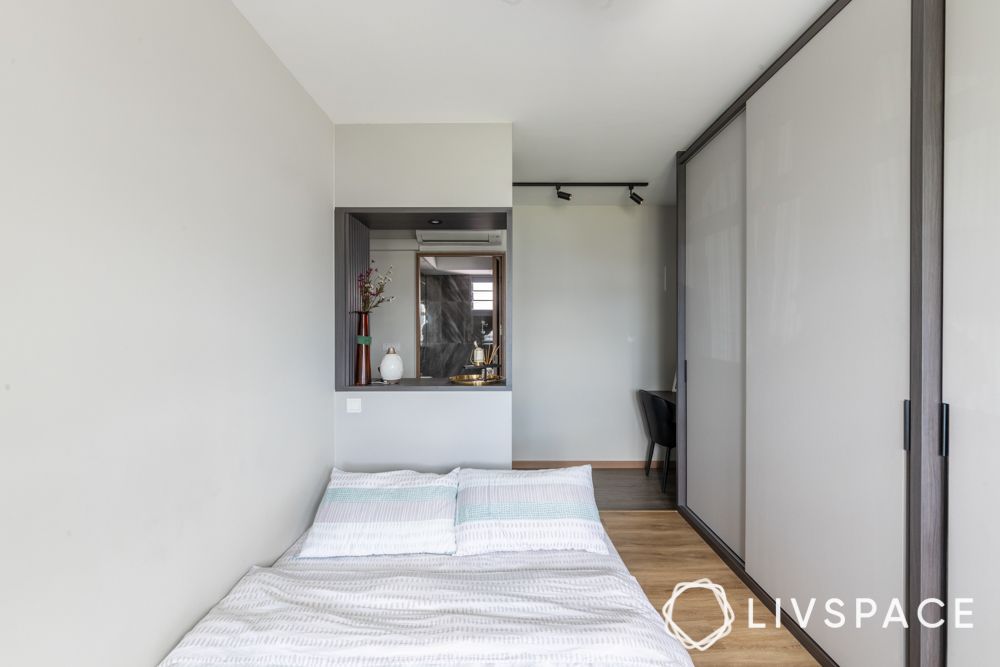 What Did You Enjoy the Most About This Project?
I loved the overall designing process of this house. The best part was meeting with the client and the way they trusted Livspace to create their house. I was very happy with their involvement in designing the house and how precise they were with their choices. They gave me freedom to design the house the way I suggested, while keeping their needs in mind. They asked me to take my time with renovation as there was a manpower restriction during the Covid period. I really enjoyed working with the family.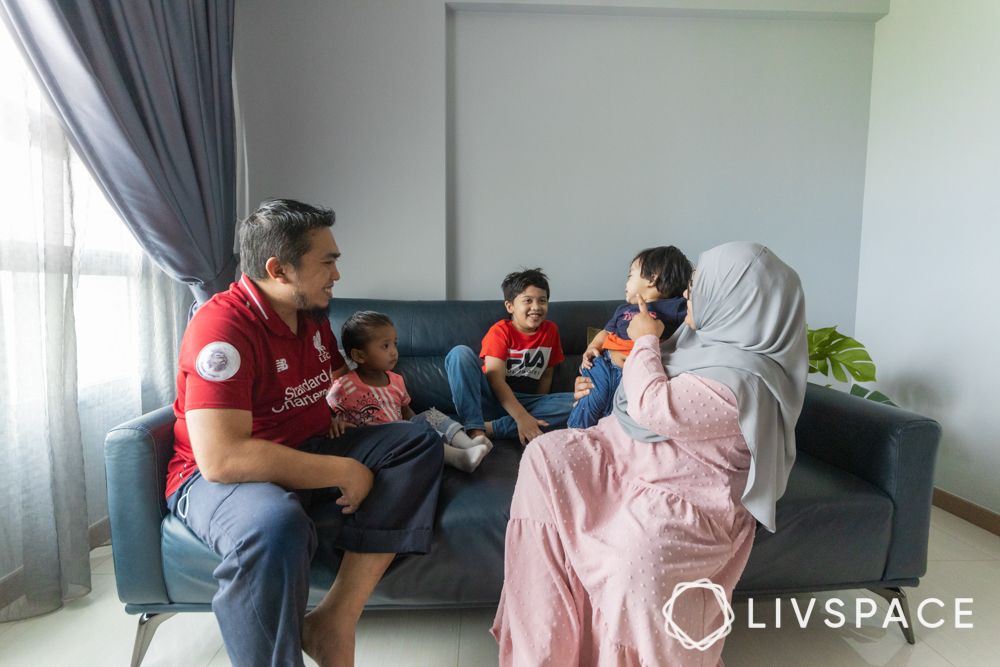 How Different Was This BTO 4-Room Flat Interior Design Hougang to the Other Projects That You Have Done?
All projects are different for me. Every homeowner has different needs and requirements when it comes to creating a dream house of their own. This cosy Hougang BTO interior design was more about comfort and basic needs. They needed a versatile place which can be modified based on the needs of their growing kids as well as a place where they can relax after a long day.
Also Read: Need 4-Room HDB Design Ideas? This Beautiful Home is Sure to Inspire You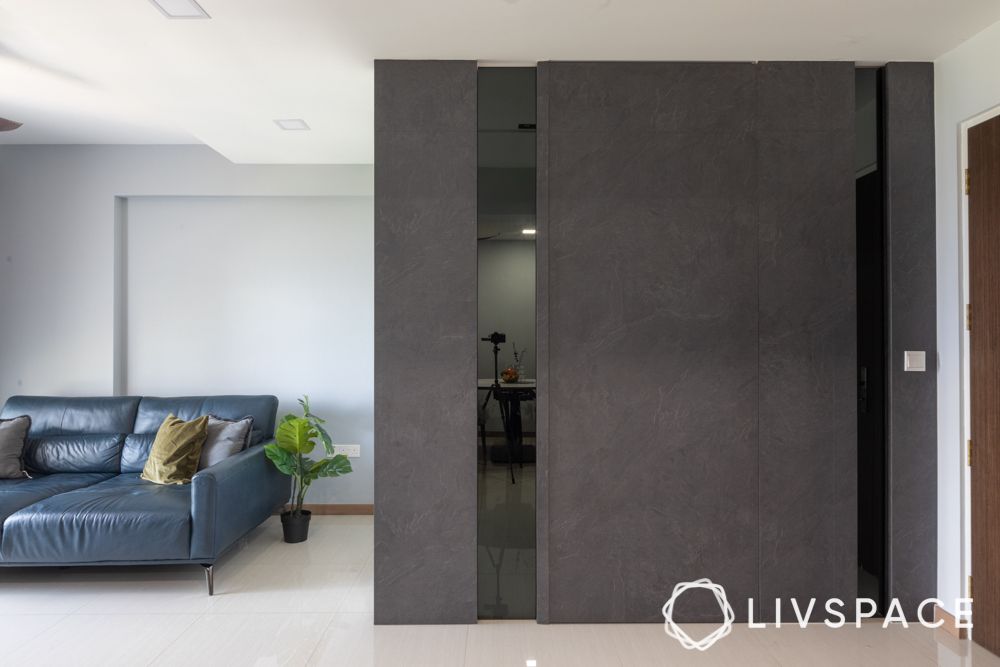 Check out this 4-room BTO:
How Can Livspace Help You?
We hope you found the detailed interview with the interior designer of this 4-room BTO design in Hougang, Singapore intriguing! If you also want such a modern 4-room BTO design for your Hougang home, then look no further. Book an online consultation with Livspace today. Have some comments and suggestions you'd like to share with us? We're all ears! Feel free to write to us at editor.sg@livspace.com.