A 4-room HDB floor plan is the ideal choice for young couples, especially ones with children. Quite spacious in nature, 4-room HDBs come with three bedrooms, two bathrooms, a living/dining area, a kitchen, a service yard and a household shelter. At Livspace, we have designed multiple 4-room BTO floor plans that are both unique and stunning. Get ready to see these 10 4-room HDB design ideas and be inspired.
#1: A 4-Room HDB With a Soft and Classy Bedroom Floor Plan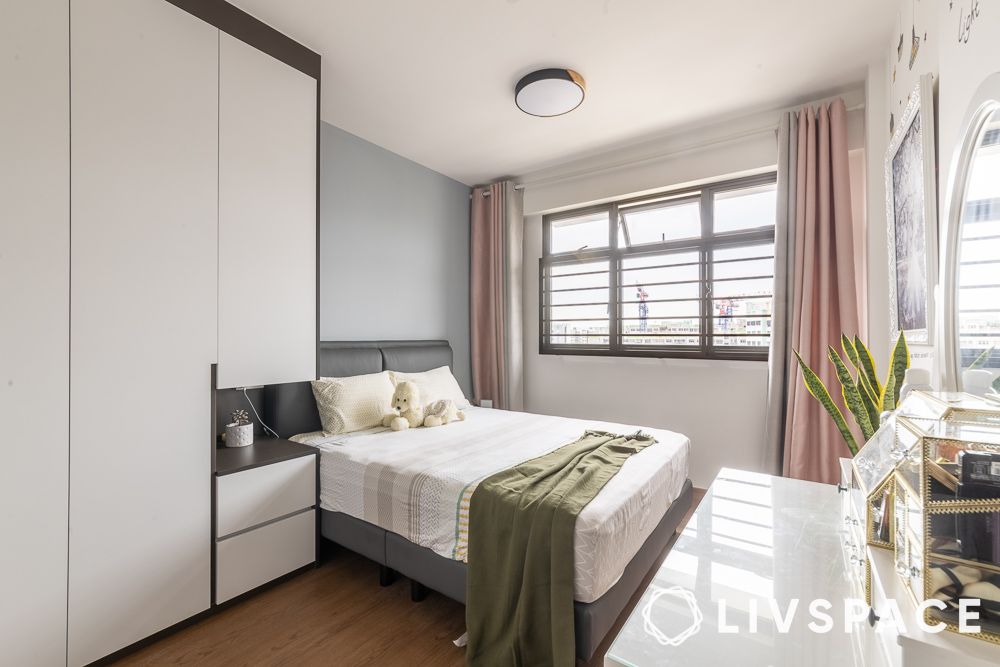 This 4-room BTO has a bedroom floor plan that features a serene colour palette. Additionally, here are the reasons it stands out:
Compact bedside table carved out of the wardrobe
Handleless wardrobe with lofts for a seamless look
Check out the rest of the HDB 4-room flat floor plan here.
#2: An Open 4-Room Flat Layout for a Young Couple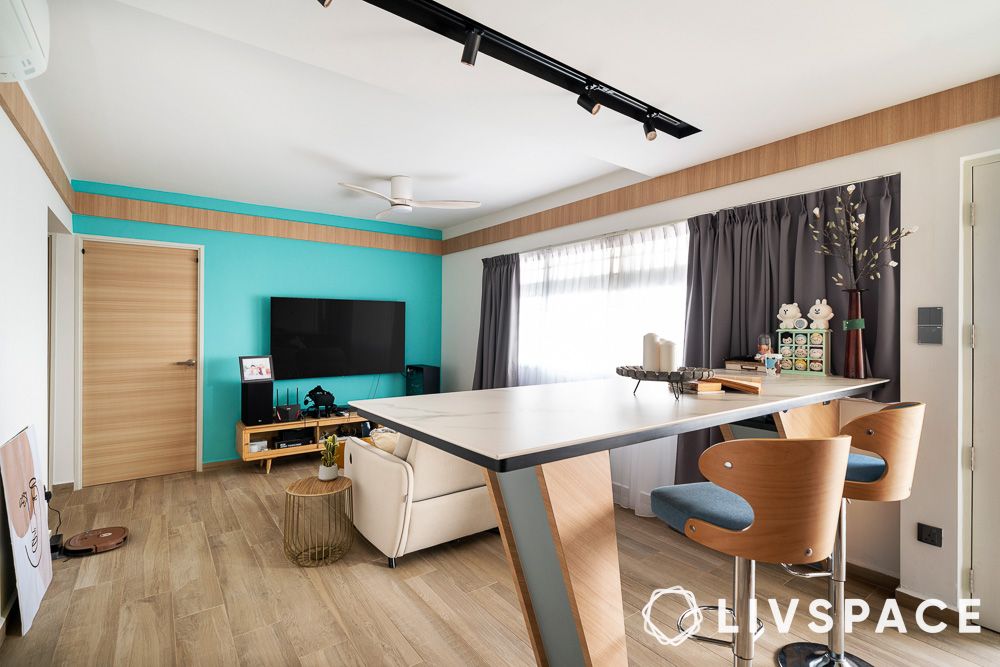 One of the biggest advantages of a 4-room HDB floor plan with an open layout is that it maximises space and allows free movement. Apart from the open layout, here are the elements that make this living room stand out:
Bar counter that doubles as a dining table and a workstation
The pop of blue from the TV unit wall
Also Read: HDB BTO Renovation FAQ: What You Need to Know Before Getting the Keys to Your HDB BTO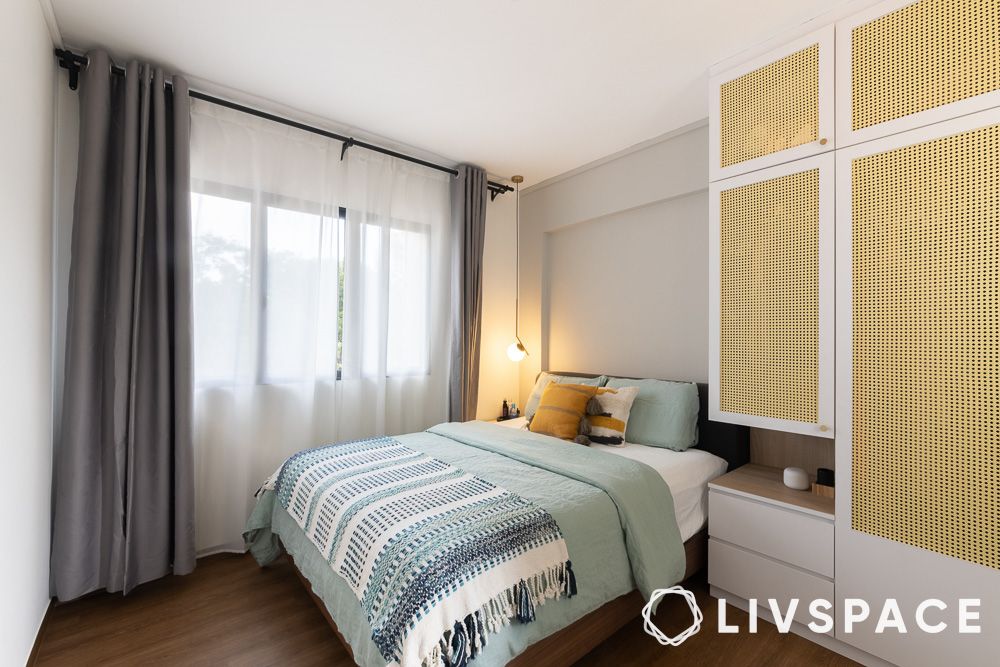 Although the bedroom floor plan of this 4-room HDB is quite simple, it's striking. Here's what adds to the serenity:
All-white Scandi bedroom with rattan-shuttered wardrobe for warmth
Sliding mirrored door that leads to the bathroom
Check out this Scandinavian-style HDB.
#4: One With Dark Wood Finishes and a Clutter-Free Dining Room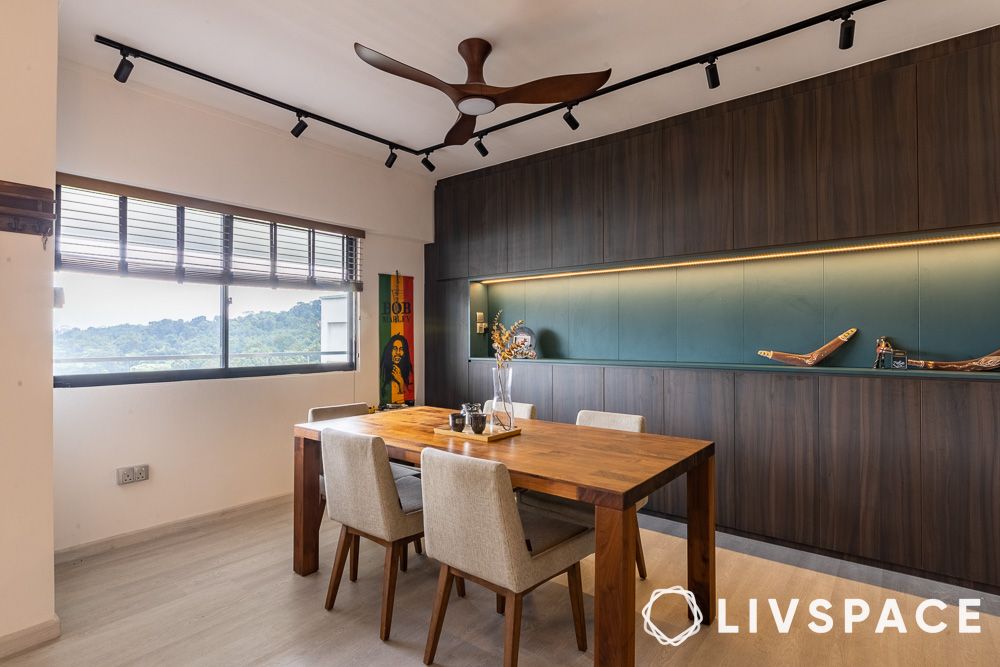 While most bachelor pads might be messy and unorganised, this 4-room HDB floor plan is clean and clutter-free. Discover the exceptional qualities that give this dining room its edge:
The dark wood and green theme gives a forest-like vibe
Handleless, wall-to-wall storage
Check out the entire Bohemian bachelor pad here.
#5: A 4-Room HDB Floor Plan Accommodating a Dining Set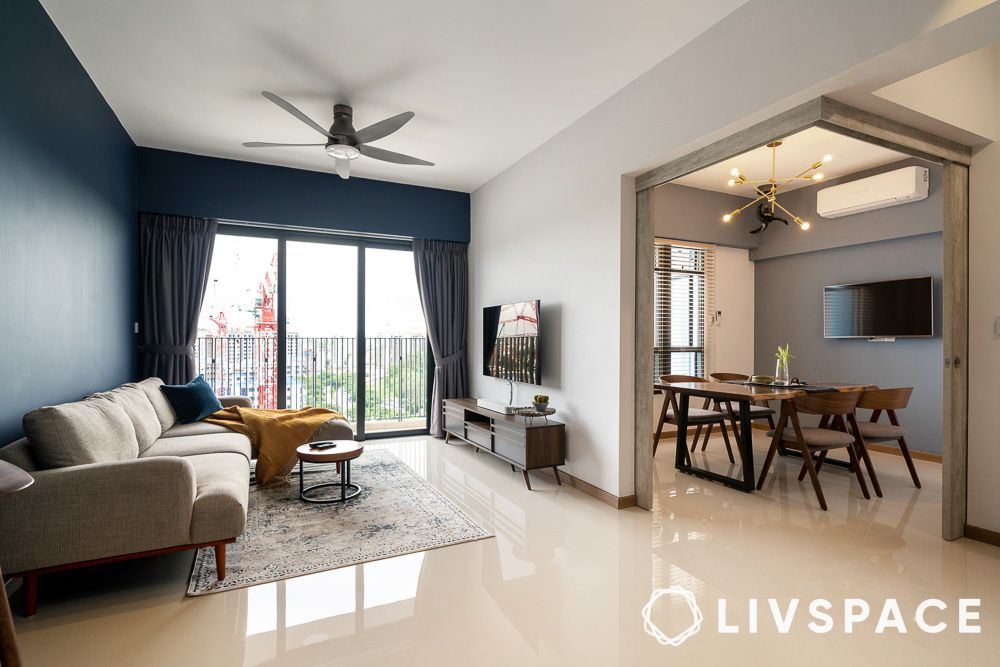 One of the most notable aspects of this home is that our designer changed the original 4-room HDB floor plan to accommodate the dining set. Some of the other unique features include:
A dining room enclosed within sliding wooden panels
A stunning chandelier
#6: A 4-Room Flat Layout With a Mint Blue Kitchen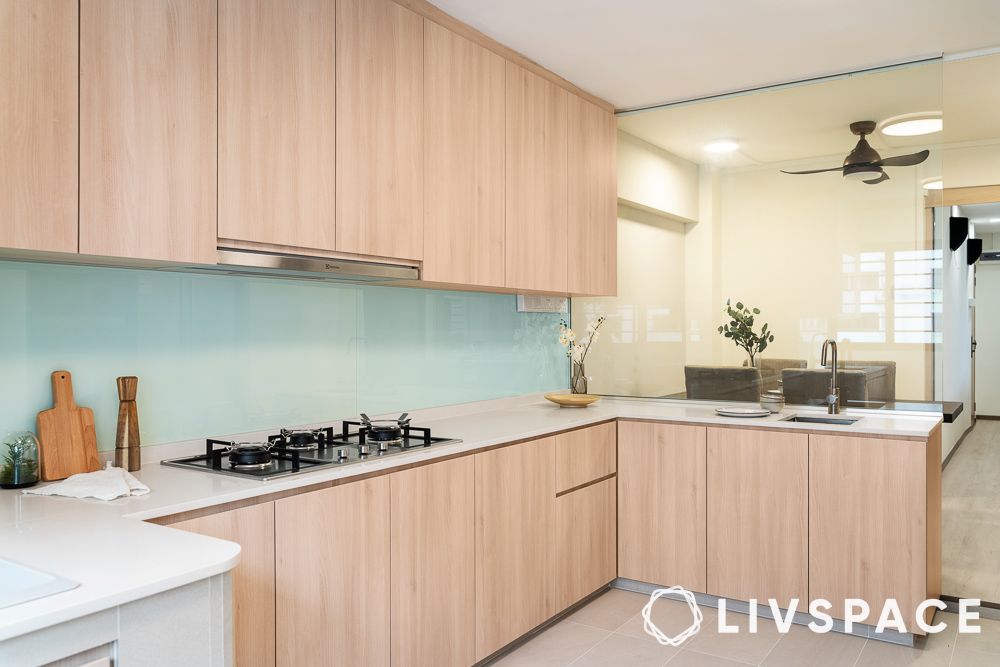 The kitchen in this 4-room BTO floor plan went through a massive transformation. From dark and dull, this kitchen is now a bright and open space. Here's why we love this kitchen design:
Light-wood laminate kitchen cabinets and white quartz countertop
Light-blue lacquered glass backsplash
#7: The 4-Room HDB Bedroom Floor Plan in Soft Neutrals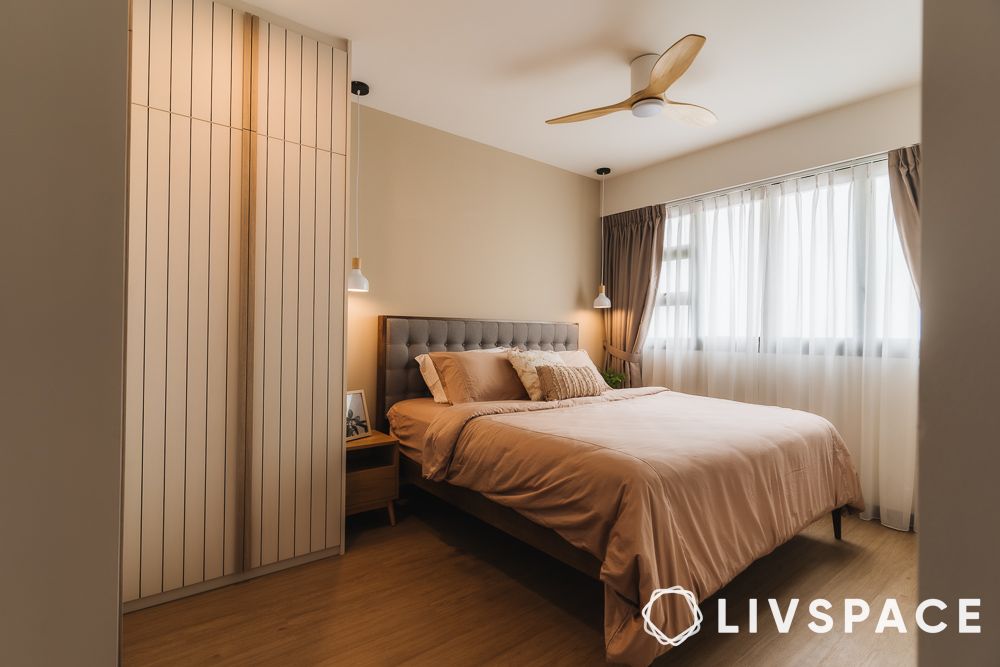 This bedroom is reminiscent of a warm and cosy hotel room. However, apart from the look, it has multiple other remarkable features:
Wooden handles that make the wardrobe stand out
Minimal pendant lights
Tour the entire HDB floor plan here.
#8: A HDB BTO 4-Room Floor Plan With the Right Furniture Pieces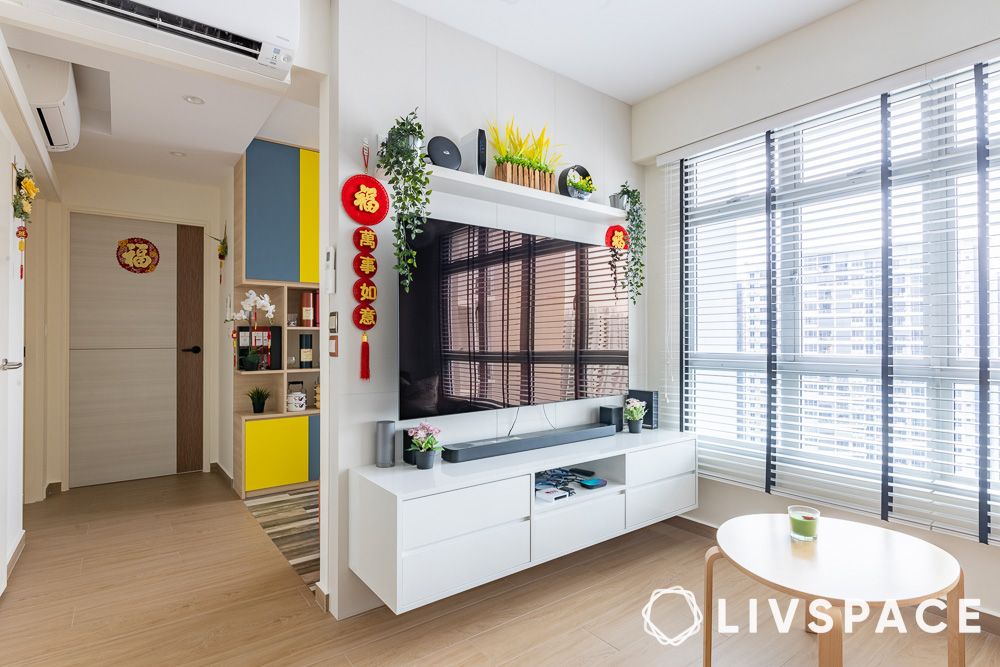 While this living room is quite compact, it looks bright, spacious and airy due to the right choice of colours and furniture. Here are some key takeaways from this living room:
All-white walls and furniture maximises the natural light flowing in
Sleek, wall-mounted TV unit saves space
#9: A 4-Room HDB With a Budget Kitchen Reno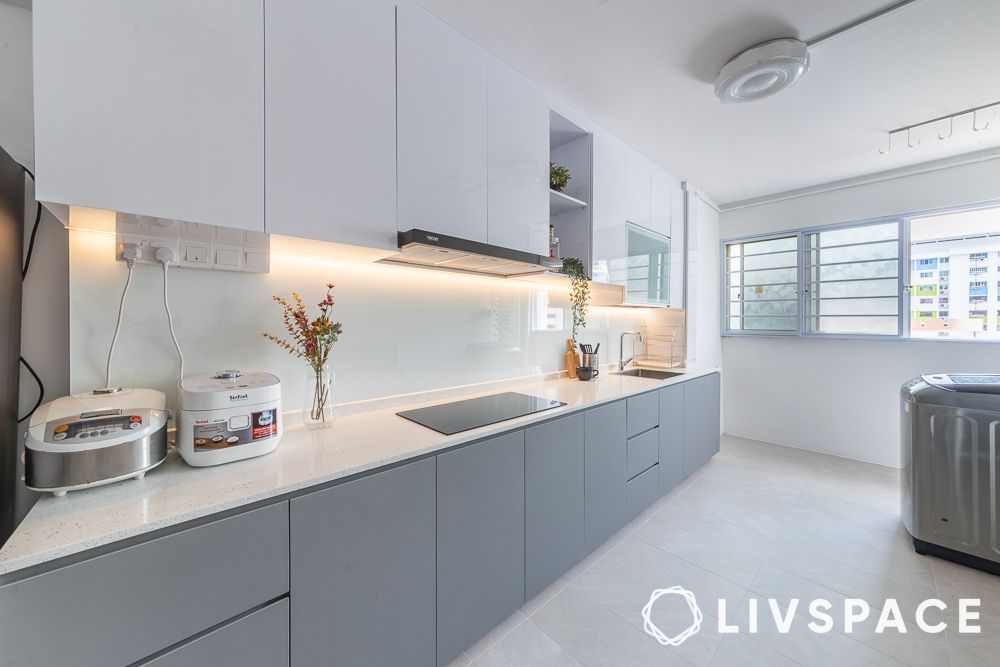 This contemporary-style kitchen exudes elegance. Apart from being gorgeous, it's also cost-effective! Here are the best features to look out for:
Economical laminate cabinets
Existing storeroom and tall unit were removed to open up the space
Also Read: How to Plan Your 3-Room BTO HDB Flat's Layout? 5 Easy Tips for a Stunning Space
#10: Minimalistic Vibes in This 4-Room HDB Living Room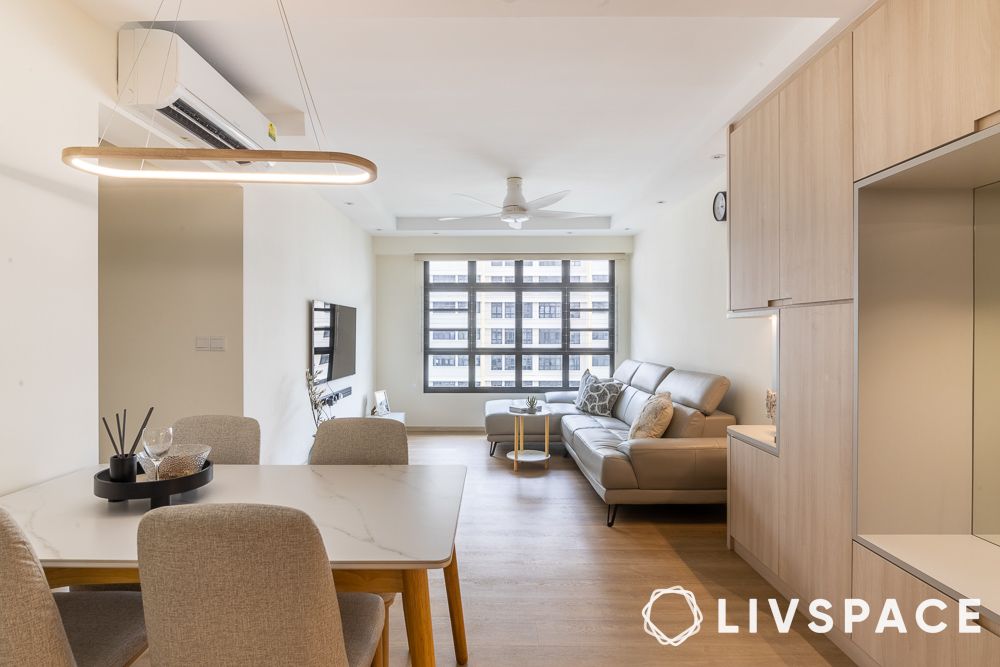 The choice of beige as the primary colour creates an uncluttered and open look for this living room. Additionally, here are the features that make this area an unforgettable one:
Light wood furniture maximises the natural light flowing in
Maximum storage
Check out the entire home here.
How Can Livspace Help You?
We can work with you to create bespoke home renovations that you'll love
Our high-quality materials and experienced interior designers ensure your reno is praise-worthy
Our entire process is transparent
If you want beautiful interiors for your home, look no further. Book an online consultation with Livspace today. Have some comments or suggestions you'd like to share with us? We're all ears! Feel free to write to us at editor.sg@livspace.com.
Disclaimer: All contents of the story are specific to the time of publication. Mentions of costs, budget, materials, and finishes can vary with reference to current rates. Additionally, the designs showcased within the story are subject to availability and will vary based on the year the homes were designed in. Consult our designers for more details on the latest designs, pricing, and availability.