With the wet season upon us, it's only natural that you miss the outdoors even if it's just for a walk in the park. Your balcony becomes the one place where you enjoy a bit of the outdoors in the comfort of your home. Therefore, chalking out stunning balcony designs is something you will thank yourself for all year round.
We enjoy transforming simple balcony designs into a space for you to indulge in some al fresco living or even the perfect place to host parties. You are sure to find the right decor that suits your lifestyle among these 6 latest balcony designs.
#1: A personalised garden oasis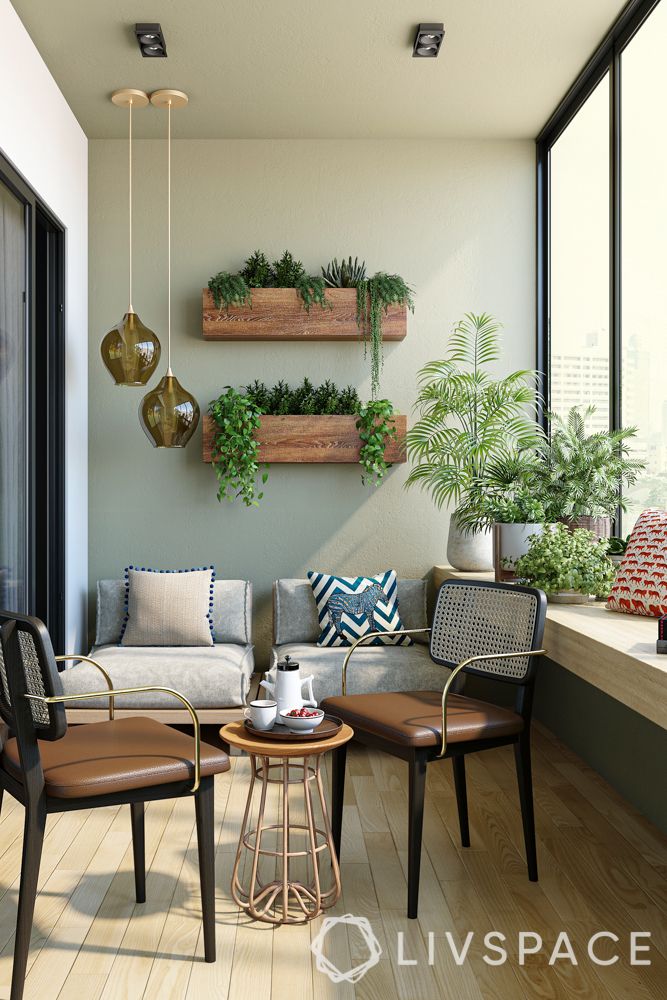 Get creative with this style and add on all your favourite colours and elements. For plants, it has wooden wall planters as well as white flower pots. The lighting is a noteworthy element as the contemporary piece acts as ambient lighting in the evening.
As you can see, seating can have a major impact on a balcony design. Here, we have opted for a mix and match of our favourite upholstered one-seater sofas as well as a rustic looking coffee table set. Lastly, the closed balcony is perfect for adding more seating by putting in a ledge. You can do this even for a small balcony as well.
#2: Al fresco setting with a cityscape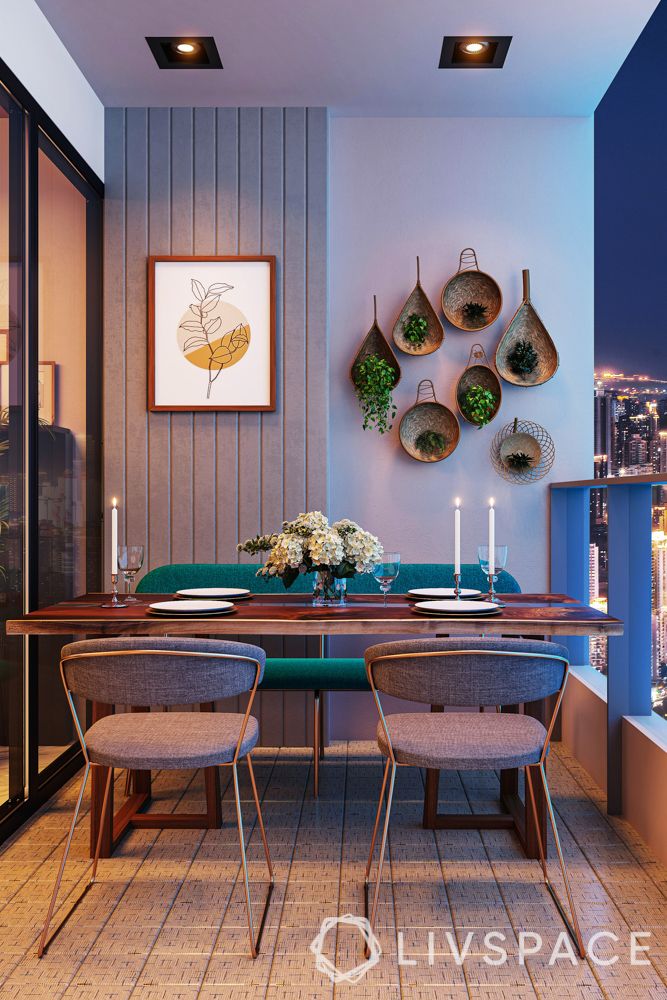 If you are lucky enough to have a flat that overlooks the iconic skyline, then let the view do the talking. Take your meals outside to enjoy a unique dining experience without stepping out of your home. By simply adding a minimal and appropriate sized dining set as well as some wall planters can set the mood. Ensure that your furniture is weatherproof before purchasing for outdoor furniture.
#3: Sunny bar nook for get-togethers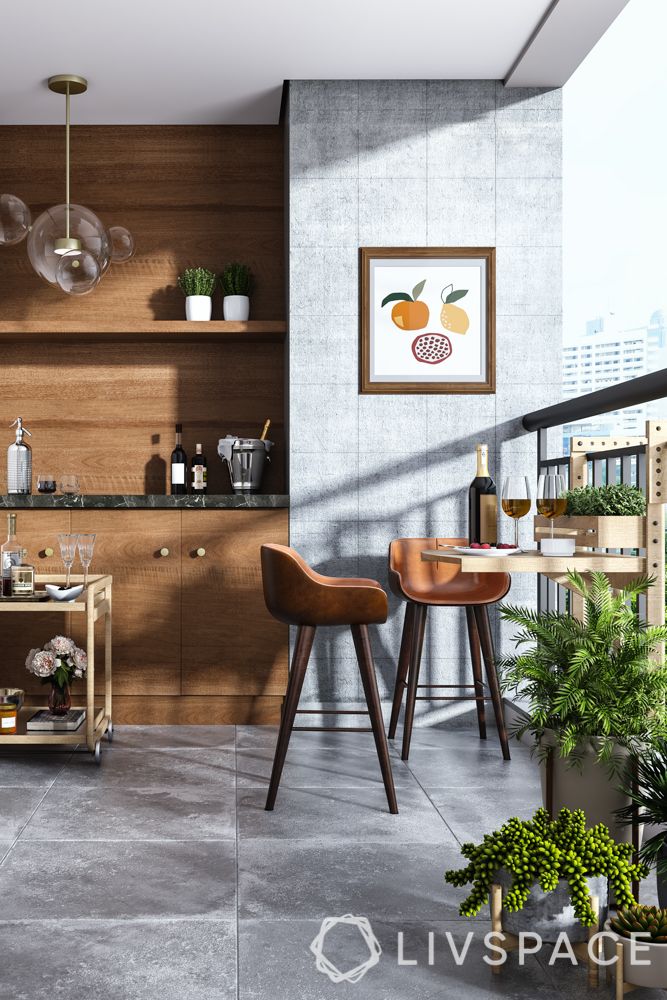 If you're big on hosting parties and enjoy having friends and family over, this balcony design is for you! Make the balcony the highlight of your home by packing it with a bar counter and cart. You can take it a step further with high chairs and a detachable railing platform for the ultimate bar experience. You can also opt for small planters if the remaining space allows it.
#4: A soothing reading corner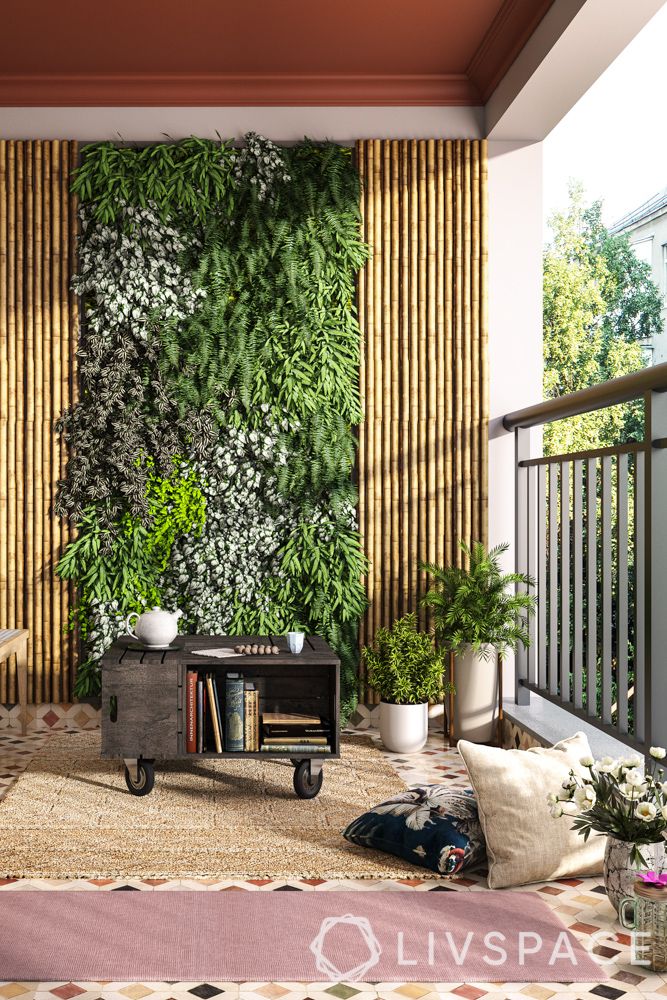 Don't worry! We didn't forget about bedroom balconies. Some spaces like your bedroom should reflect your preferences and style. That goes for the balcony, too. Decorate this space with your favorite plants, colours and decor that inspires you. Here, we have given this extended balcony a design that a bookworm would love! A minimal bench and a book trolley is all you need. However, you can also use this space for an exercise and yoga spot or even an art studio.
#5: A utility area that's tucked away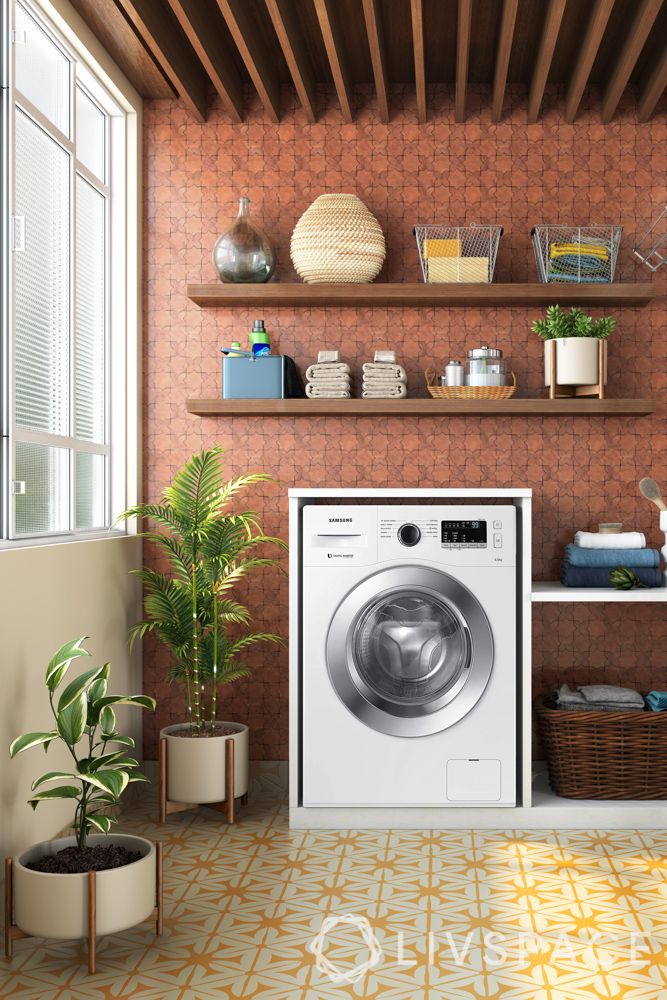 Here's one way you can make the most of your balcony, especially in a compact home. Transform this space into a laundry room by installing your washing machine here. If you want to amplify the simple balcony design, you can also install ledges to store detergents, towels and cleaning supplies. Another essential includes a wall rack to dry clothes. You can also opt for unique wall and floor treatments that will make your chores a little more enjoyable. Remember to opt for this option only if you have the right kind of drainage and water supply system in your balcony.
#6: A multipurpose work space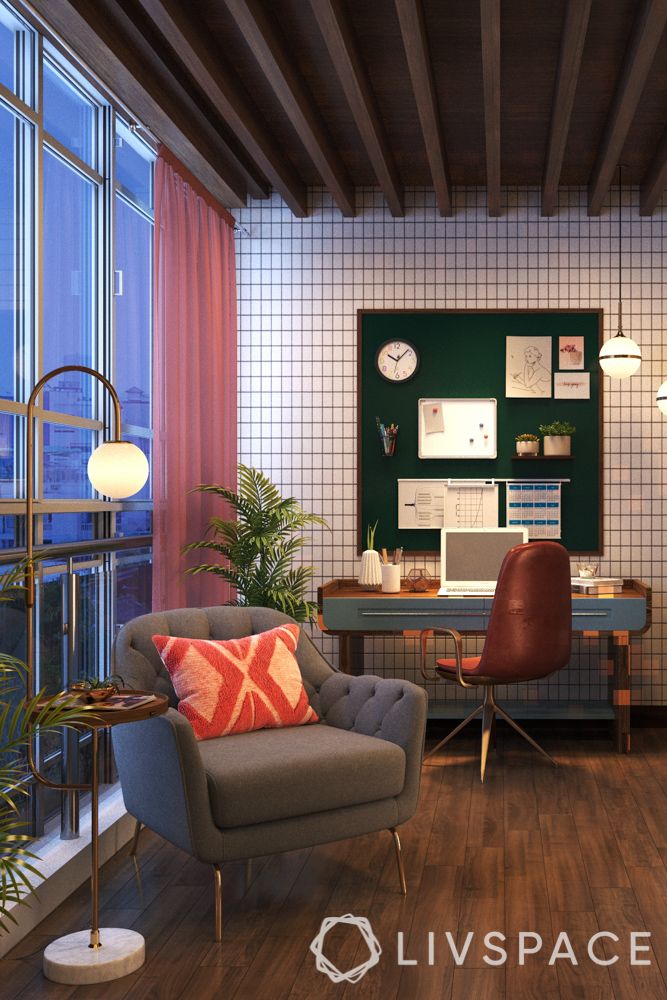 Currently, one of the most sought after closed balcony designs is the workspace one. If you are working remotely, spending all day indoors can get monotonous and frustrating. So, take your desk to the balcony for a much needed change. For this design, pay attention to lighting especially if you work well into the evening. Ensure that your balcony is equipped with electricity and ergonomic seating.
If you like reading about the latest balcony designs, take a look at 9 Simple Ways to Give Your Home a Professional Touch as well.
Send in your comments and suggestions to editor.sg@livspace.com.