When it comes to picking bathroom colours, white is always the go-to classic. However, it's hardly groundbreaking. There are so many more colours you can incorporate in your bathroom's interiors! Here are some riveting bathroom colours of 2020 that you can use to add a pop of much-needed freshness and move away from the humdrum white palette.
#1: Be bold with black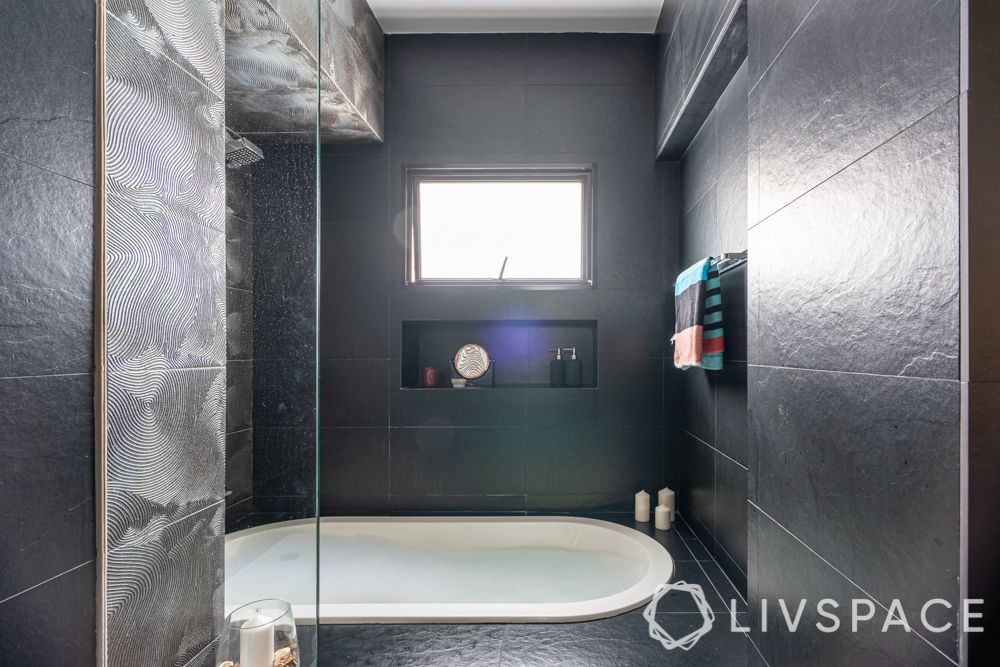 What spells 'dramatic' better than a sharp black? While incorporating a dark colour in a small space seems to go against all interior rule books, it never fails to create a bold statement. For a graphic look, pair black with white or neutral sanitary ware. You can top it off with silver of gold-accented hardware and light fittings. Or even with dark hues for the ultimate rustic look.
#2: Cobalt blue for a luxe look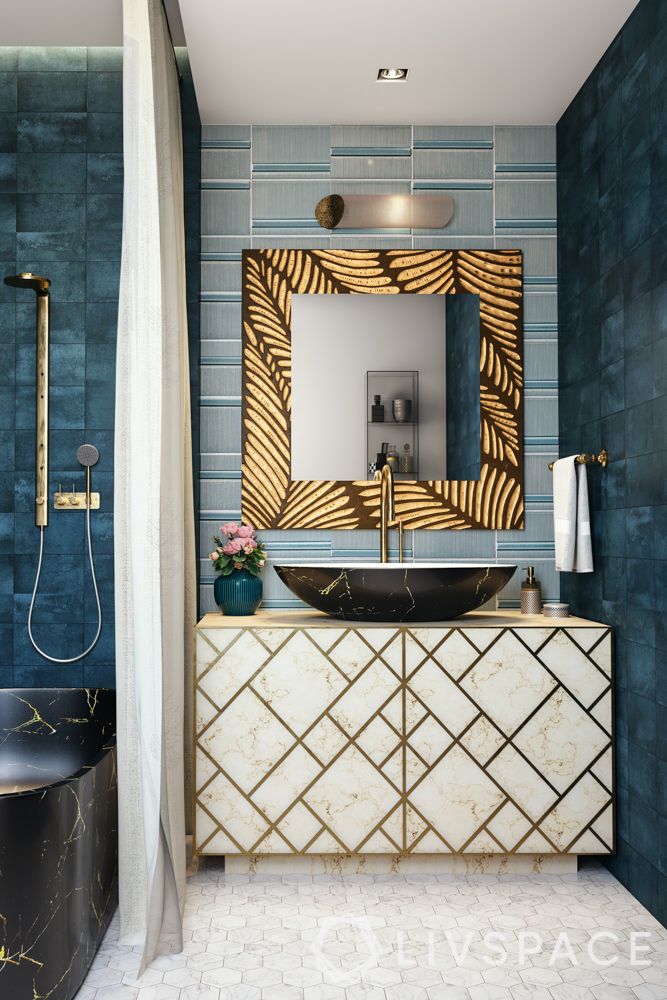 To transform your bathroom from an everyday essential to a luxe retreat, paint over the walls with a rich cobalt blue. Paired with sleek black sanitaryware, you will instantly transform the mood of the space from humdrum to regal. Consider switching out regular fittings for ones with a metal or gold finish to complete the colour palette.
#3: Get a trendy aquamarine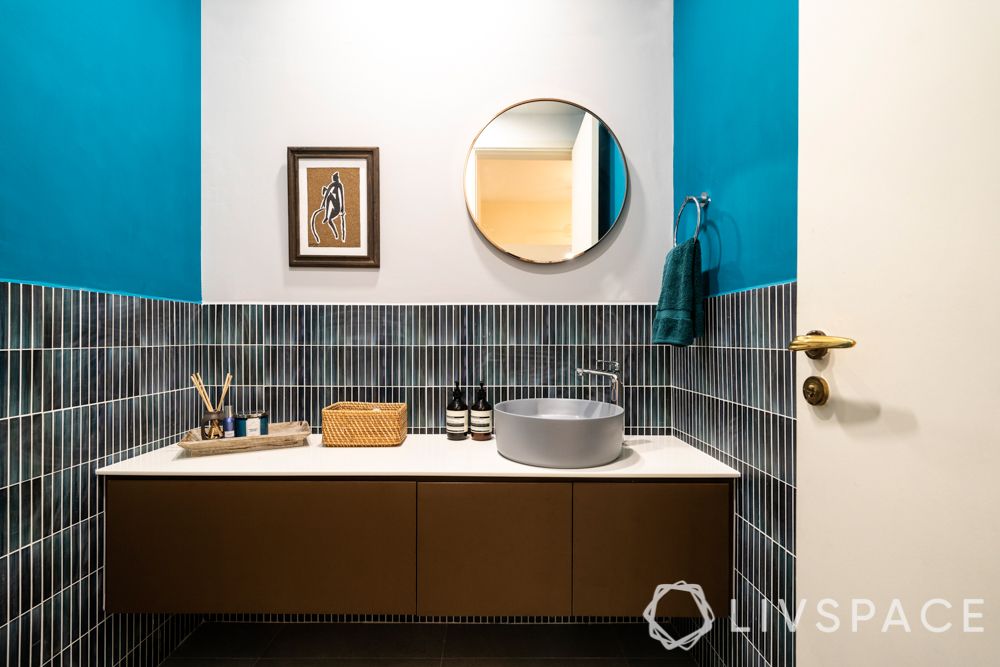 This is an offbeat but trendy pick as one of your bathroom paint colours. Aquamarine blue is definitely going to infuse life into your walls. Pair it up with stylish tiles and you are good to go. When picking a striking colour like this for your bathroom, keep your vanity in a neutral hue. Stick to browns and beiges to balance the look.
#4: Make a rust statement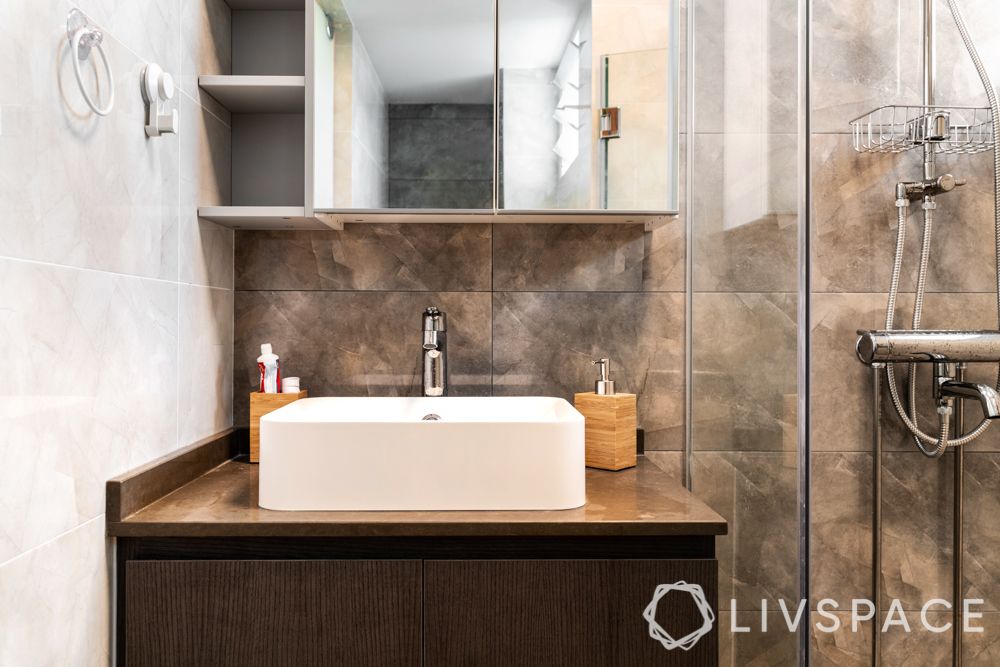 A rustic colour scheme invokes warmth and space, imitating the atmosphere of late summer and autumn. If you find it overwhelming, you can choose to add specs of the brown to your counter or wall tiles. This not only eliminates the need for a backsplash, but is a pleasant change from the regular pattern of painted walls or ceilings against white backsplashes.
#5: Add a splash of green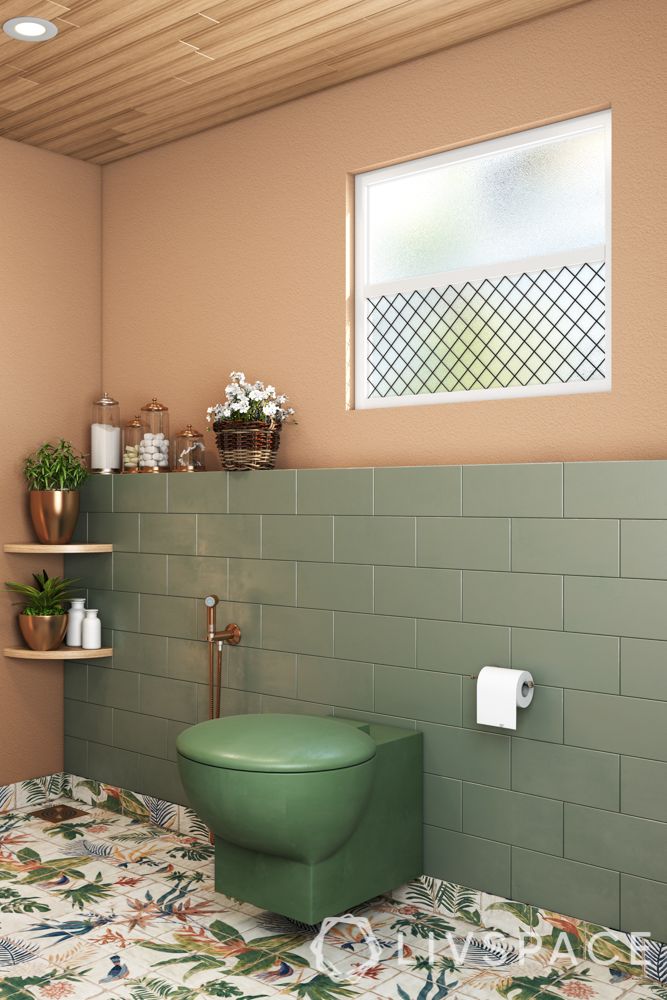 To make a statement with your bathroom design, go for a pastel green colour like this. Instead of painting the walls, we suggest you hack old tiles and get tiles in green. You can even choose sanitary ware in a similar color to complement the colour scheme. It would complement a floral flooring quite easily. Make sure you select gold or bronze accessories that fit in with green like a glove. Similarly, wood is also a great idea!
#6: Make a mark with red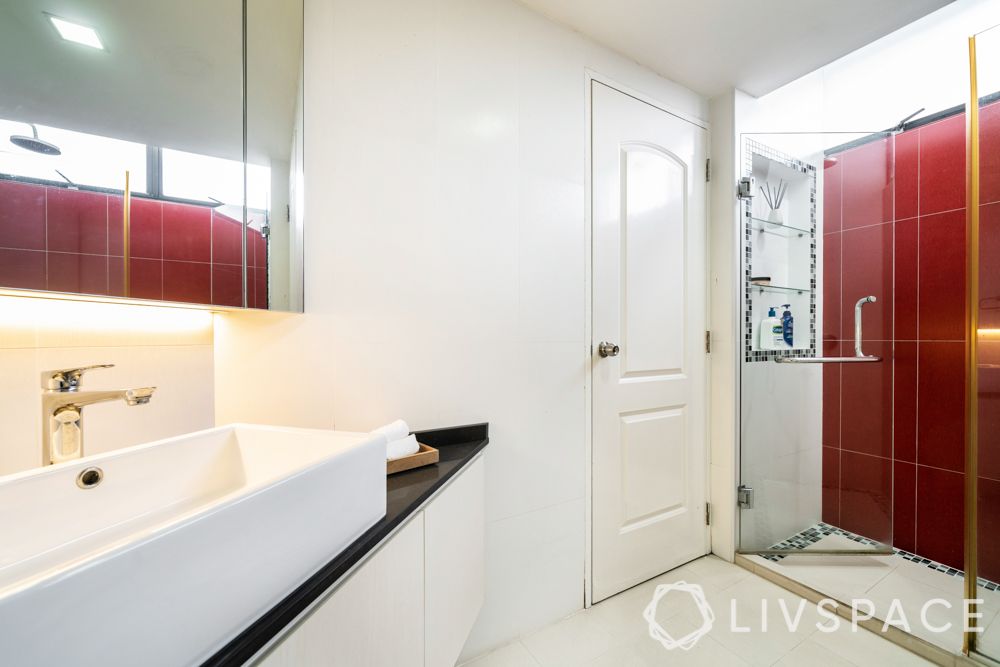 An accent colour like red has to stand out in a pristine white bathroom. Take a cue from this one that has red tiles only in the shower area. The rest of the walls are painted white, as is the ware. Always use strong bathroom colours like this only sparingly so as to avoid overdoing it. But once you get a striking accent like this, there's no looking back!
If you're thinking of renovating your toilet from scratch, then check this out: Everything You Need to Know About Toilet Renovation Cost in 2020.
Send in your comments and suggestions to editor.sg@livspace.com.