Are you wondering what would be the perfect combination of fun-and-classy for home interiors? While designing a girl's bedroom, satisfying both the adult's preferences and the kid's aesthetics can become a challenging task. Don't fret! We are here to help you design a girl's room that stays practical for years to come. While there are a lot of girls room ideas that you can borrow from the Internet, we are here to give you the best of the lot.
If you have a little girl running about, you can plan out a design that is around a theme like her favourite cartoon character or movie. Storytelling with interiors will make the space even more enjoyable for them.
While pink is a favourite among girls, design a room that goes beyond colours without compromising on that fairytale feel. Take a look at how you can incorporate elements in a girls bedroom design that are timeless for a girl of any age.
#1: Keep calm and find the right bed and bedding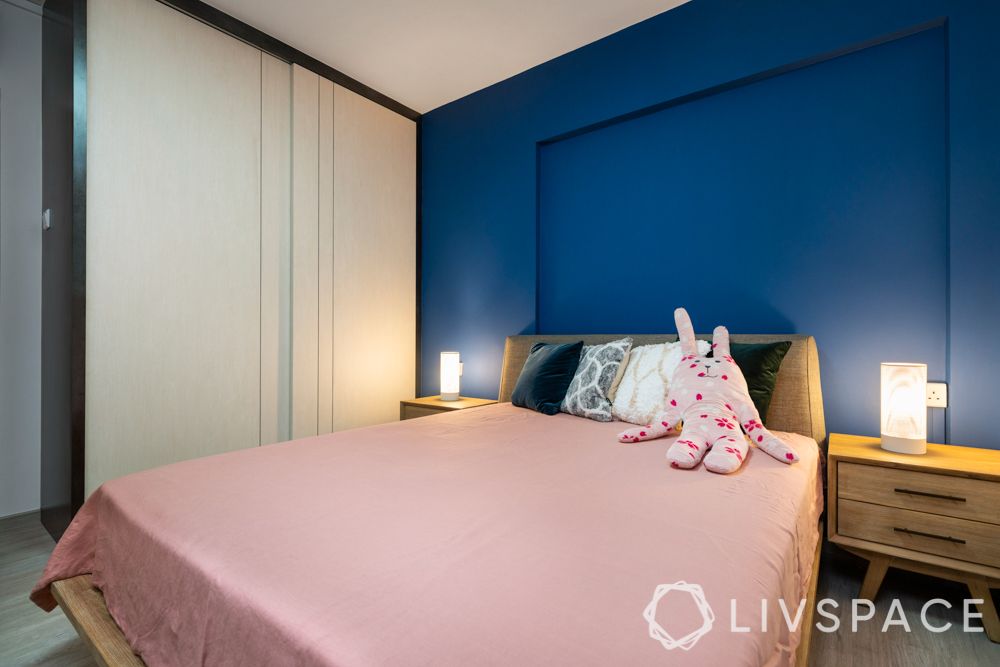 The real key to a long lasting bedroom design is the bed. Once your kid has outgrown a crib, you can opt for a full size bed to avoid making another purchase a few years later. However, you don't have to compromise on the decor with this.
For these girls room ideas, the bedroom features a bed and set of nightstands that are similar to the ones in the master bedroom. Moreover, the bedding is pastel pink with black and white pillows.
#2: Light it up with the right lighting
Apart from the overhead lighting in your kid's room, make sure to install night lights near their bed and desk lamps at their study units. We suggest selecting these in colours like black or white that can go with any bedroom theme. However, you can always mix and match to create a variety of lighting options.
Here's something to help you: All You Need to Know About Different Types of Lights
#3: Make it work harder with multipurpose furniture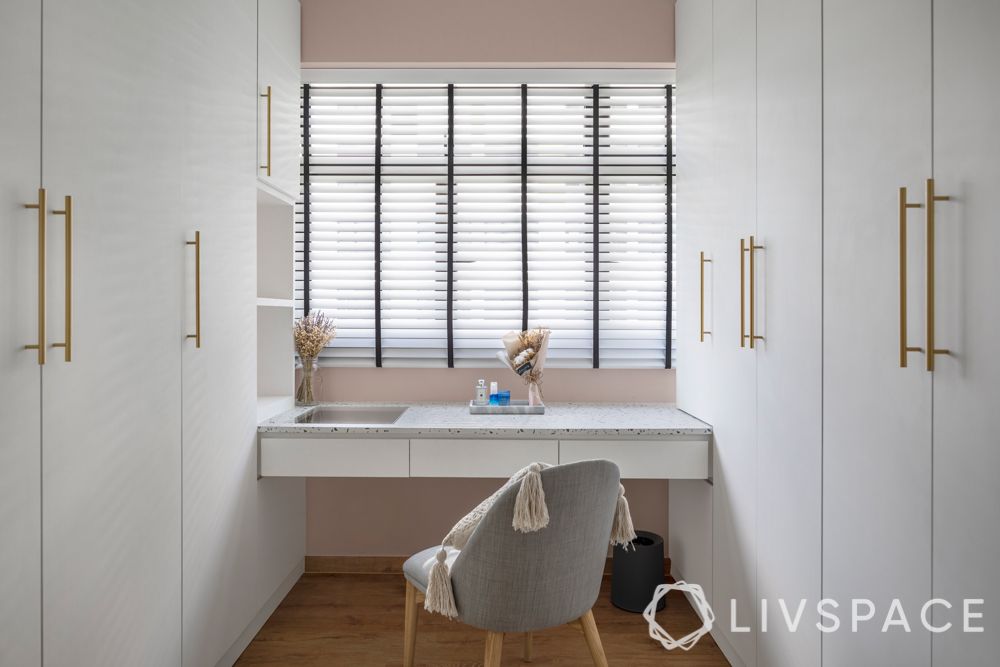 Growing up entails prioritising your space according to your needs. However, as a parent you can opt for furniture that can be used in a number of ways. Here, we have designed this room that is perfect for a teenage girl. It has a study cum vanity unit. Moreover, it bridges two wardrobes and flauntsin-built bookshelves that can also be used as storage cubbies later on and drawers with a jewelry display on one end. This minimal yet functional design will let your daughter use the space any way she likes.
#4: Go high on functionality and storage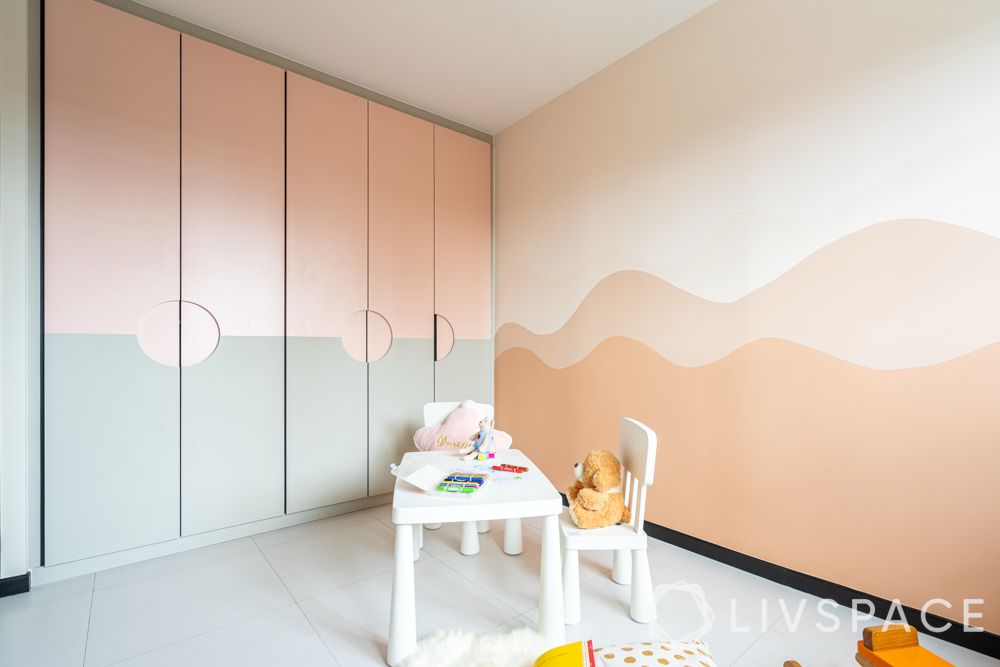 Children are usually less concerned with storage spaces in their room. So it's up to you to find storage solutions that are functional yet pleasing to look at. Generally, you would not need plenty of storage to start off with. Maybe a set of chest of drawers or a single cabinet will do the trick. However, you can consider installing a full wall wardrobe that can not only store baby clothes but also, toys for the time being. This also works out well as she grows up too!
#5: Go all in with fun wall treatments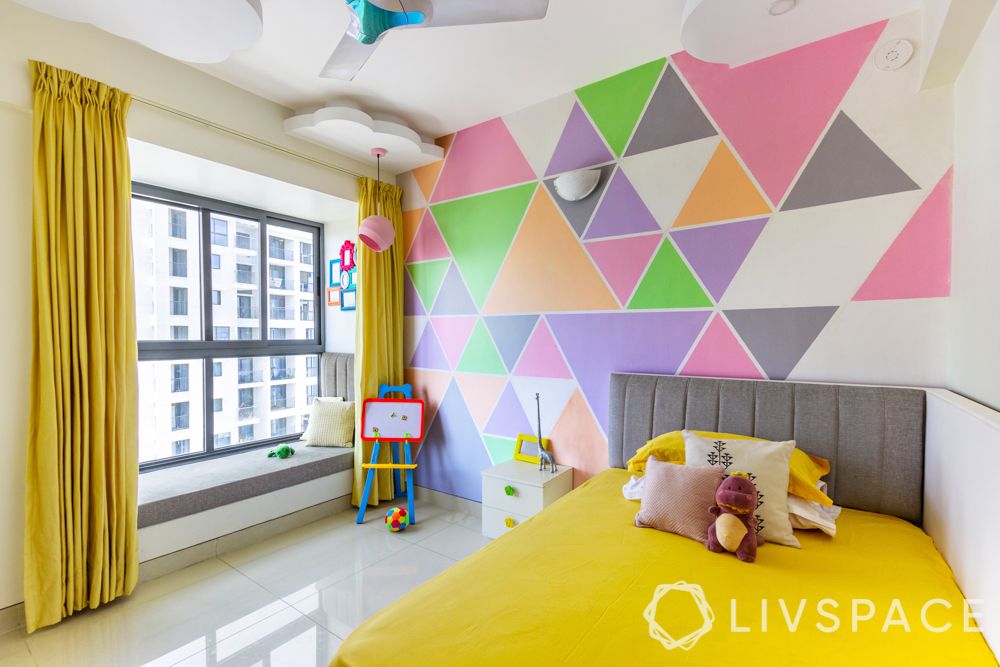 Picking out colours for your kid's bedroom can be a tricky task. If your kid is not old enough to have a preference we suggest incorporating a variety of colours in a subtle pastel shade for girls room ideas. For practicality reasons, you can also pick white so that you find it easier to paint once a colour becomes favourable a few years down the line.
Here are more ideas: Which Wall Treatment is the Best for Dull Walls?
#6: It's all about decor sometimes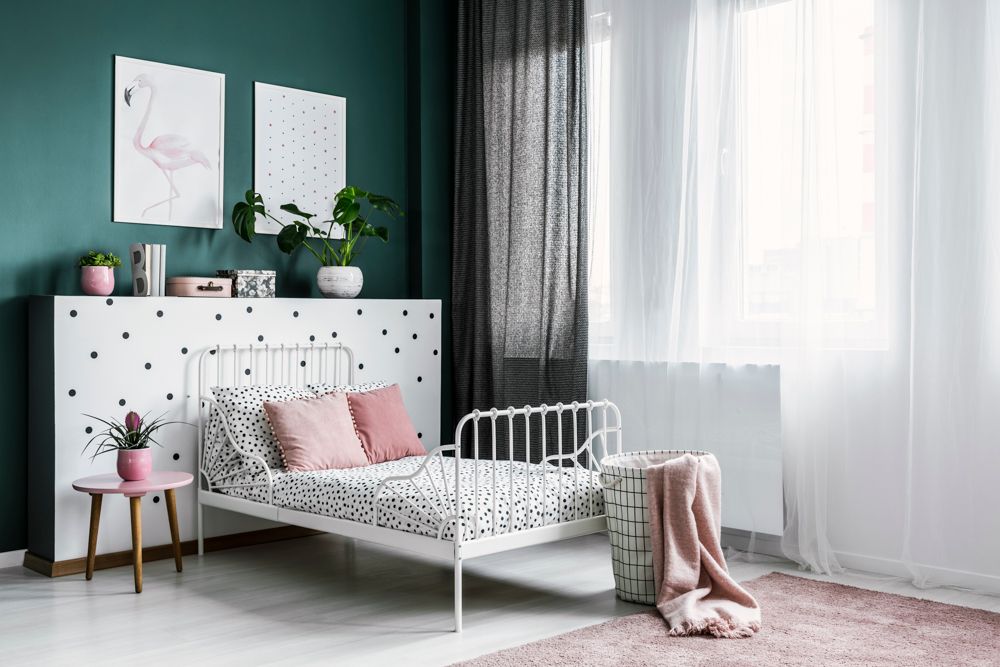 Decor is a great way to make children add their mark to the room. You and your little one can pick out curtains, wall art, soft furnishings, planters, chairs etc. However, if you are looking for inspiration, think subtle and dainty trimmings on curtains, tassels on soft furnishing, elegant patterns on storage units. You can also furnish the room with a full length mirror, a laundry basket, seating and more for a girls room.
#7: Experiment with unique themes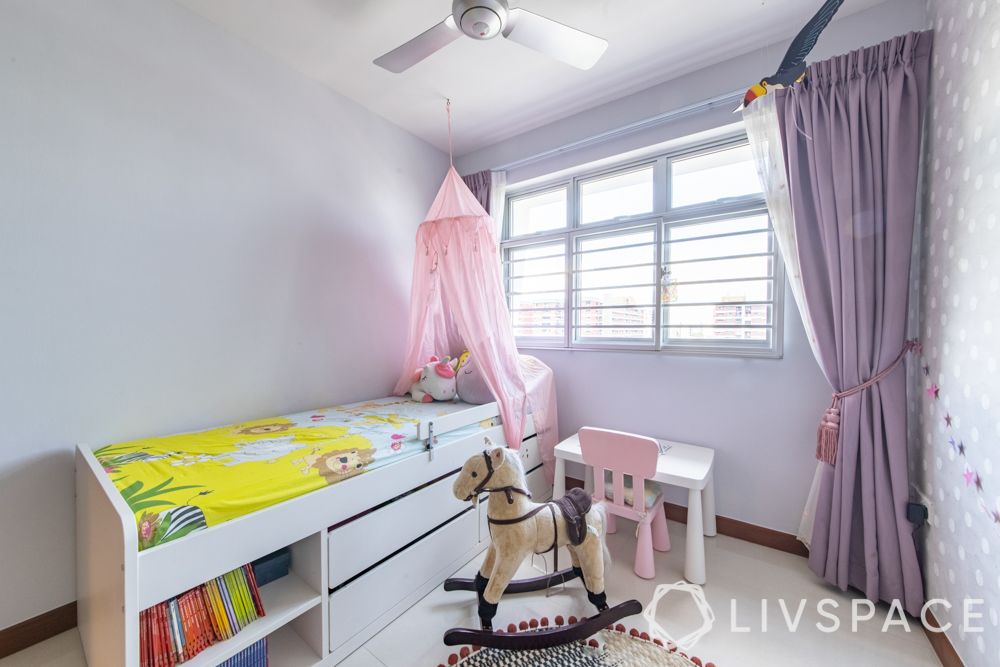 If you look at some teenage girl room ideas 2021, you will notice a lot of themes going on out there. It's always good to work with a theme when designing for kids. This way they can give their inputs on what they want and you can play it up from there. You can try a Scandinavian theme or an Industrial one, depending on what they like. For girls room ideas we also love this cute canopy-style addition on the bed or play area.
#8: Look up at the ceiling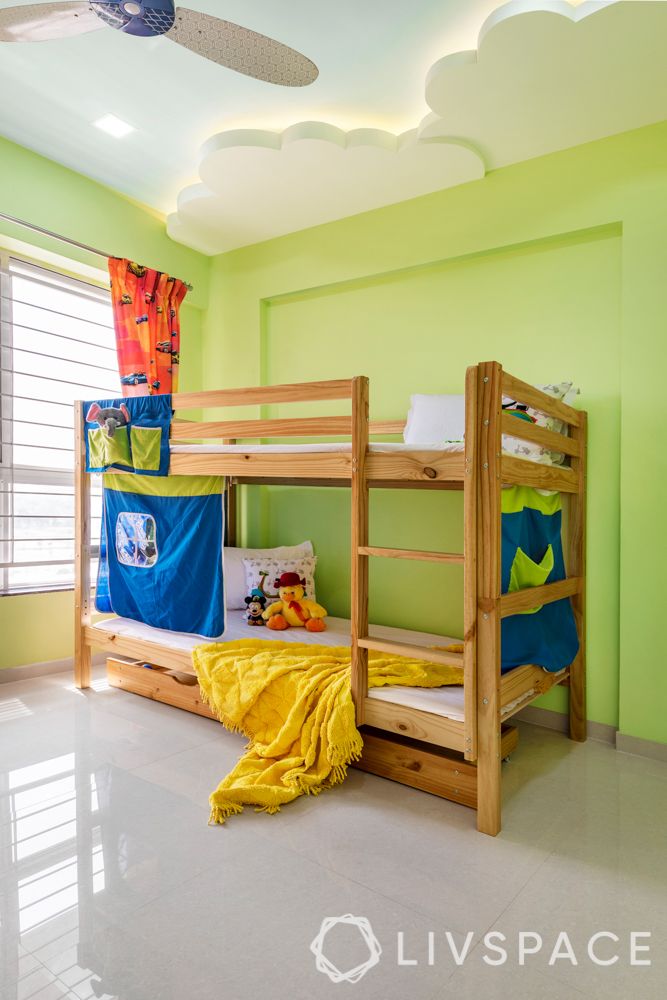 When you are working with girls bedroom ideas for small rooms, it is good to add details that will shift the gaze upwards. For this, we suggest you go for a striking ceiling design like this one. Think clouds, stars, moon, sun and so on. You can literally have an entire sky designed up there, so your girl sleeps under the sky every night!
Check this out: Are False Ceilings Really Worth It? Read This to Know Everything About It
#9: Carve out a space for homework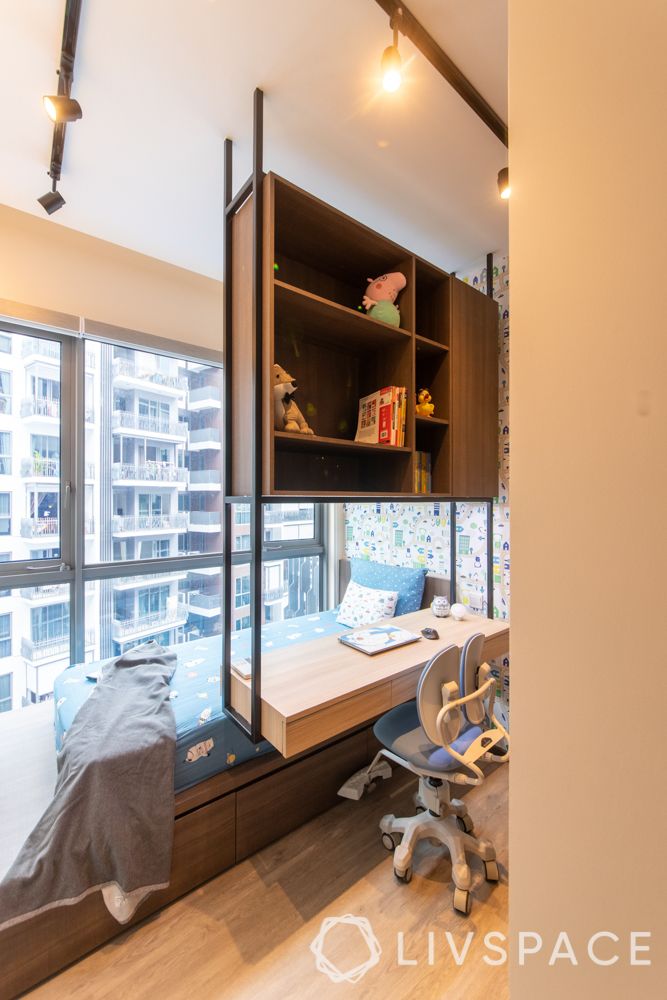 No matter what the design or size of the bedroom, we suggest you take out some space for the girls for their studies and homework. From compact study tables to slightly spacious ones, there are many study corners you can carve out. If you are too low on space, try getting a suspended study table design like this one that has open shelves for storage.
Here's How to Optimise Space for Your Study Rooms
#10: Add in extra storage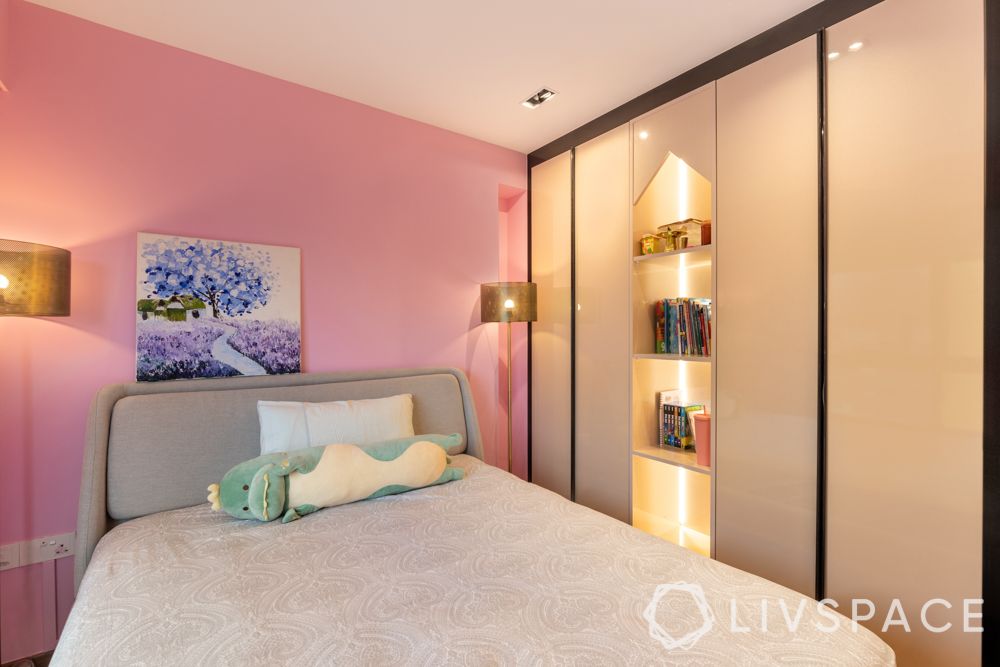 A little extra storage space does not hurt anyone. When you are deciding on the amount of storage your girl needs, you should take into consideration that she will eventually have a lot of things to keep. From clothes to books and toys, she should have dedicated storage for everything.
Here are 8 Bedrooms That Can Double Up as a Workspace
How Can Livspace Help You?
We hope you found our ideas useful! If you want your home to be just as beautiful, then look no further. Book an online consultation with Livspace today. Delivering safe home interiors has been our No. 1 priority. Click here to find out how interiors are being delivered following all safety protocols.
Take a look at 5 Stylish & Practical HDBs With Ideas to Steal for more decor inspiration!
Send in your comments & suggestions to editor.sg@livspace.com.