We have the best housing loans and funds from the government to buy and move into our own homes. But if there is one thing plaguing Singaporeans it is the lack of space. But this fight for space gets easier if you put your weight behind smart and functional design. Just like these Livspace homeowners did. Here are some of the best small bedroom ideas from their homes to yours!
Small Bedroom Ideas #1: Integrated Furniture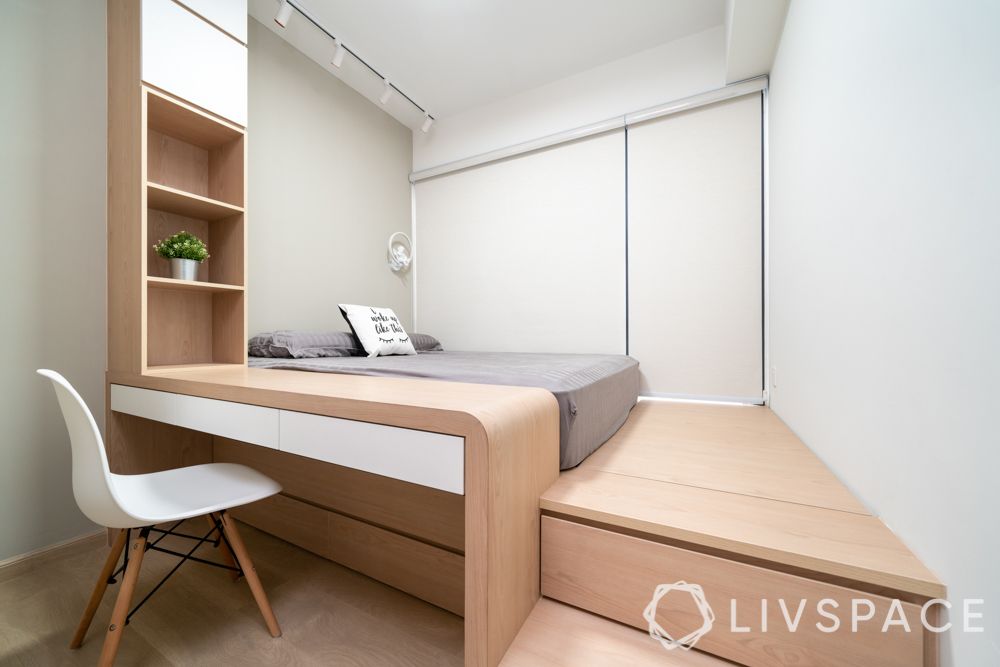 What's the trick to fit in storage, a bed and a desk into a really compact bedroom? In two words, it is integrated furniture. When you want the little space in your bedroom to be used for more function, choose customised furniture like this Livspace Home. The bed is on a raised platform that extends into a writing desk or work from home station. The rack on the side can be used to stock up on books. The compartments under the platform can be used to store clothes and other essentials. The simplicity of the room complements its multi-functional nature.
Idea to steal: Integrated and multi-functional furniture
Small Bedroom Ideas #2: Platform Bed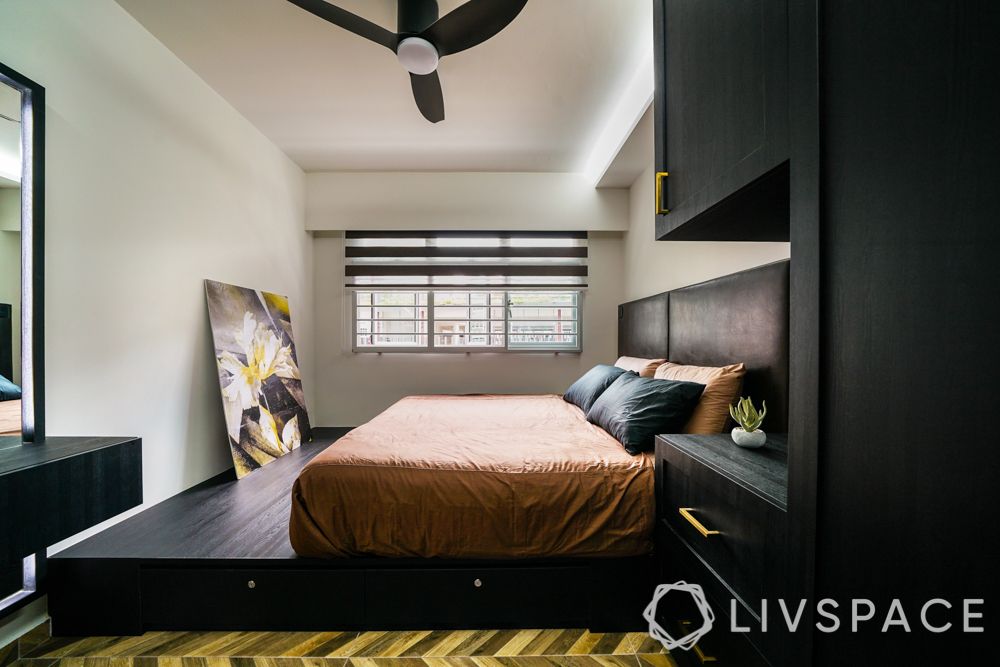 Livspace homeowner Habib Noor and Zullaihah had a special situation; apart from fitting in the usual elements in their compact bedroom, they also had to fit in their newborn baby's crib. And it had to be as close as possible to their bed. Our designer gave them a simple yet ingenious solution; a platform bed with some empty space to keep the crib at night. In doing this, they also got some additional storage.
Did you notice that there is no space for side tables here? Our design team has taken care of that too. The wardrobe opens up into a ledge that works as a side table for the couple by the bed.
Idea to steal: Platform bed with storage and bedside table attached to wardrobe
You can steal more ideas from This Small Apartment Is Designed to Be a Maximalist's Dream.
Small Bedroom Ideas #3: No Wardrobe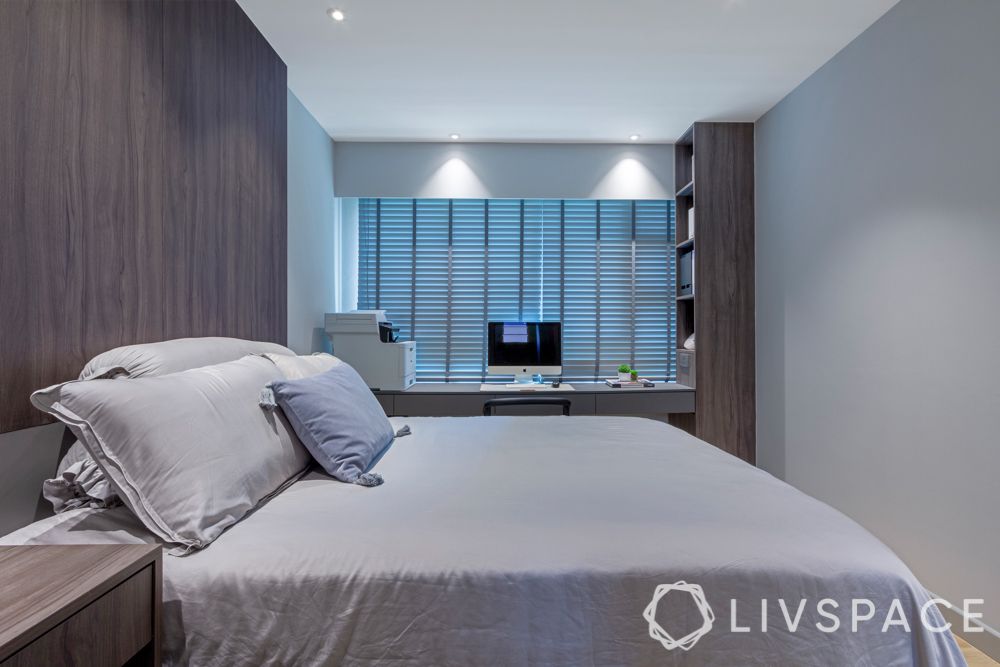 When Ivan and HuiMin came to Livspace to get their home designed, they had a special requirement. They ran their business out of their home so they needed a dedicated work space. And the most appropriate spot for this happened to be in their tiny bedroom on the wall meant for the wardrobe. Our design team went right ahead to design the bedroom sans a wardrobe. Instead, they put in a floor-to-ceiling book rack/file cabinet in the corner for storage.
To supplement the storage requirements of this couple, a wall-to-wall wardrobe was created in the spare bedroom. This along with the cabinets in the foyer took care of all their storage needs.
Idea to steal: Skip the wardrobe if bedroom is really small; add storage elsewhere in the house
You can be inspired by How We Made This Compact 3-Room HDB Look Spacious?
Small Bedroom Ideas #4: Use of Reflective Surfaces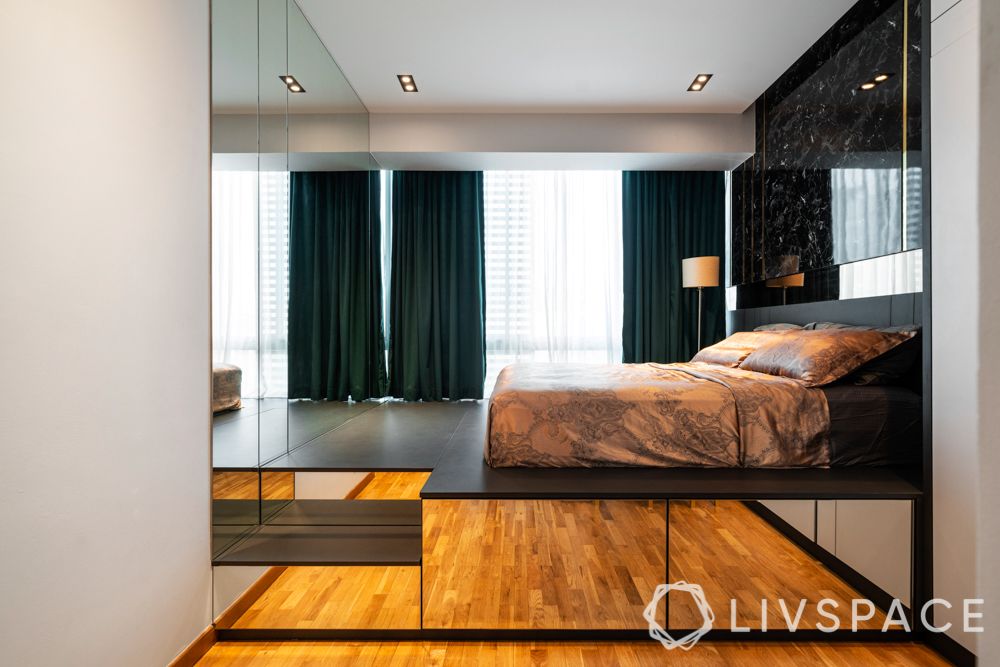 Mr Chua N.S. and his wife, Haniza Hashim, who run a home-based digital services company, were eager to have their private condo. They turned one of their bedrooms into a home office, and hence, needed to fit storage into their master bedroom. Our designers did this splendidly but using reflective surfaces to make the compact bedroom look bigger.
The platform bed here faces a mirror panel and the base of the platform also have mirror panels. The glossy marble-finish laminate headboard too reflects light creating the illusion of space.
Idea to steal: Mirrors and reflective surfaces make a compact space look bigger
So learn How to Design a Luxurious Home That's Also Storage-friendly?
Small Bedroom Ideas #5: Sliding Wardrobe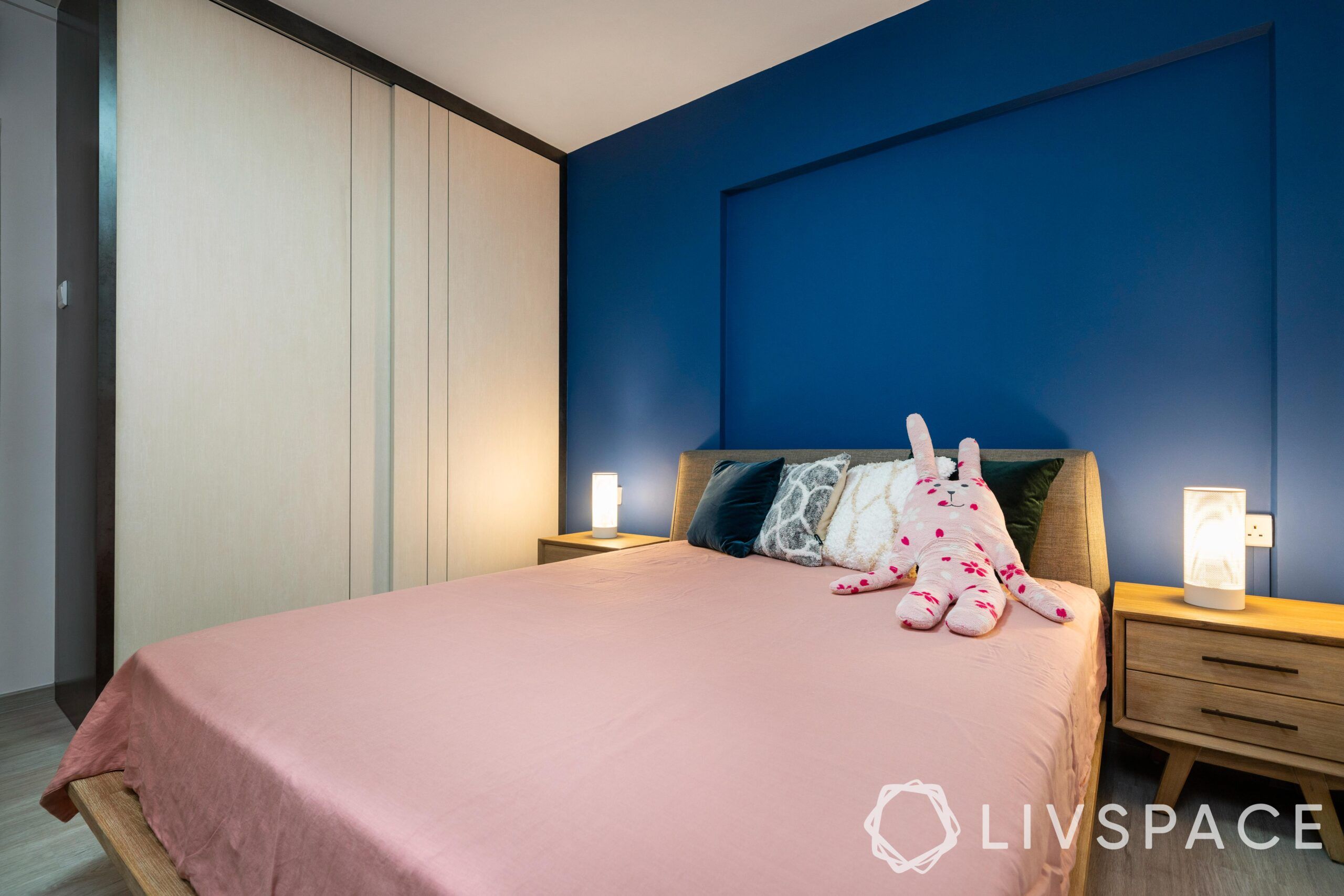 When we are designing a sweet and simple home for a couple that is likewise, we don't shy away from adding as much functionality as we can. This couple for example wanted to ensure that they can scale up their storage needs in case their family grows. Hence, we added a floor-to-ceiling sliding wardrobe to their spare bedroom designed for guests. As the wardrobe has sliding doors, there is no trouble opening it within this narrow maneuvering space.
Idea to steal: If you use sliding doors for a wardrobe or cabinet, it can fit into the tiniest of spaces.
Make sure to take more design lessons from this Revealing its Exclusive Renovation Secrets: An 85 sqm Home Tour.
If you enjoyed reading this story, also explore 5 Stylish & Practical HDBs With Ideas to Steal. Send in your comments & suggestions to editor.sg@livspace.com