Every time you check Pinterest for bedroom ideas, you are hit by a million of them. But how do you choose the best one? We have picked the best bedrooms designed by us for homeowners across the city. From picking the right colours to the layout and lighting, everything has been carefully curated. Check out our collection of the top 16 bedroom designs that are perfect for every home.
#1: All things wood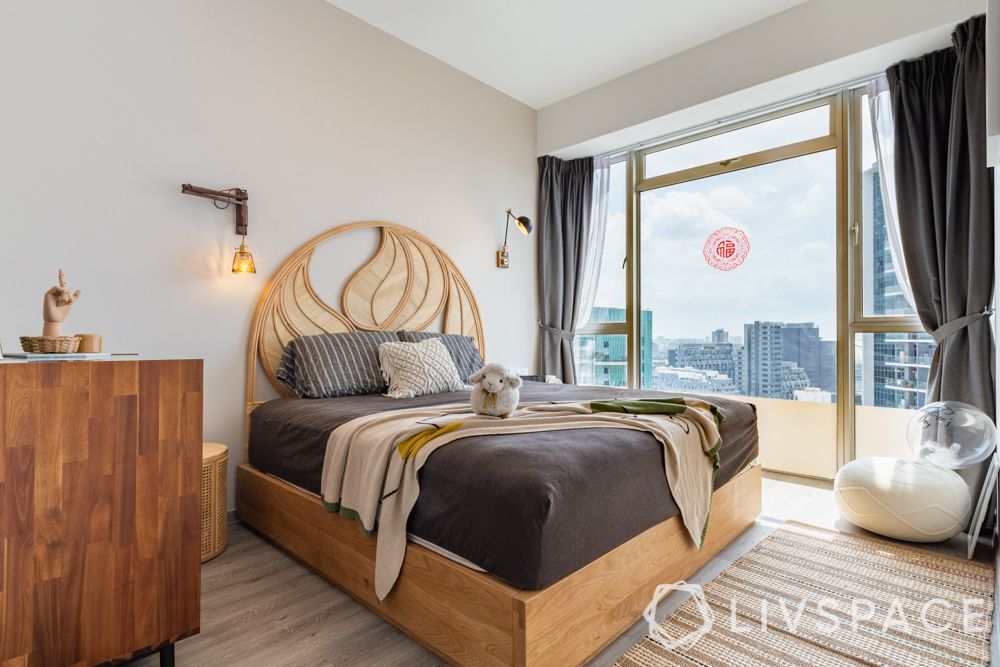 The first one on our list is this lovely wooden master bedroom that looks like a cottage. With a designer bed frame and complementing wooden flooring and furniture, this bedroom looks inviting. The wall lamps have been elevated to a certain height to add to the design style. The wardrobe shutter has been replaced with a shaker door to add that Scandinavian touch.
#2: When ventilation is key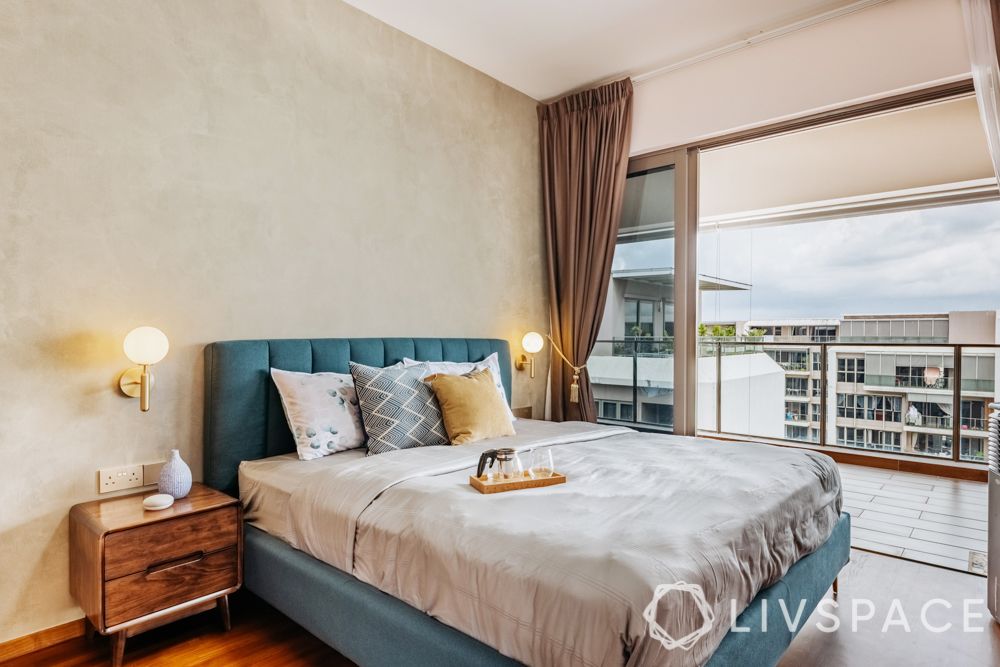 For this bedroom, we have added a Strato Paint from Wallhub for the bedhead wall, which is the main highlight of this room. It really adds oodles of warmth to this space, just like the couple wanted. The two wall-mounted bedside lamps illuminate the wall paint brilliantly and the fully-upholstered bed adds to the comfort factor.
#3: Pastel shades rule in this bedroom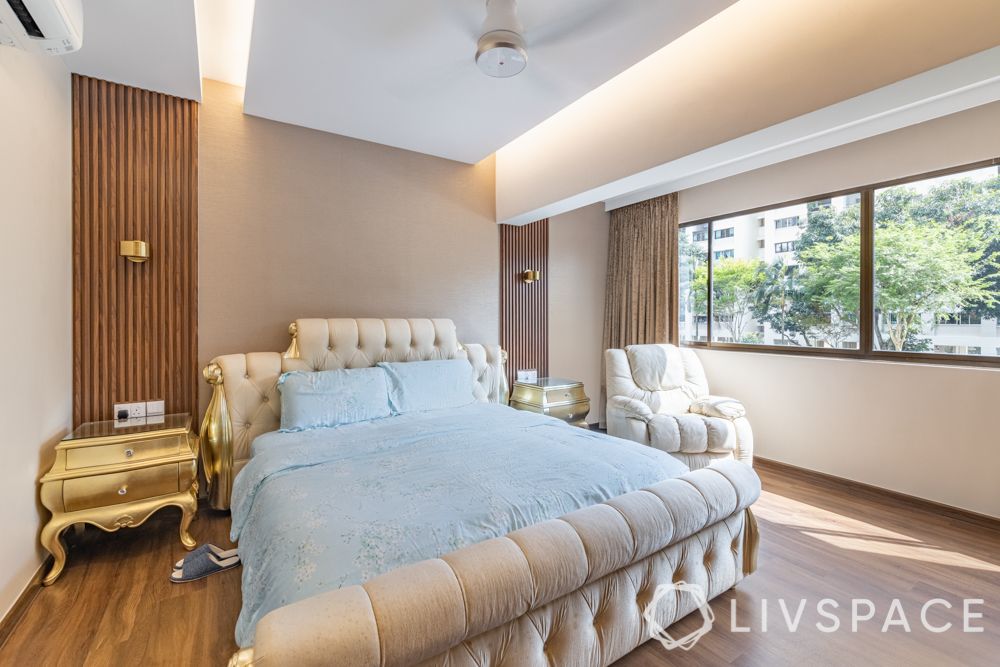 Does this master bedroom look like it already has existing furniture? Our designer had to match the new design to incorporate the furniture that the family already had. Soothing beige walls with matching furniture paints a serene picture here. Don't miss the cosy sunny corner where one can relax on the recliner and soak up some sun.
#4: Patterns on the floor in this one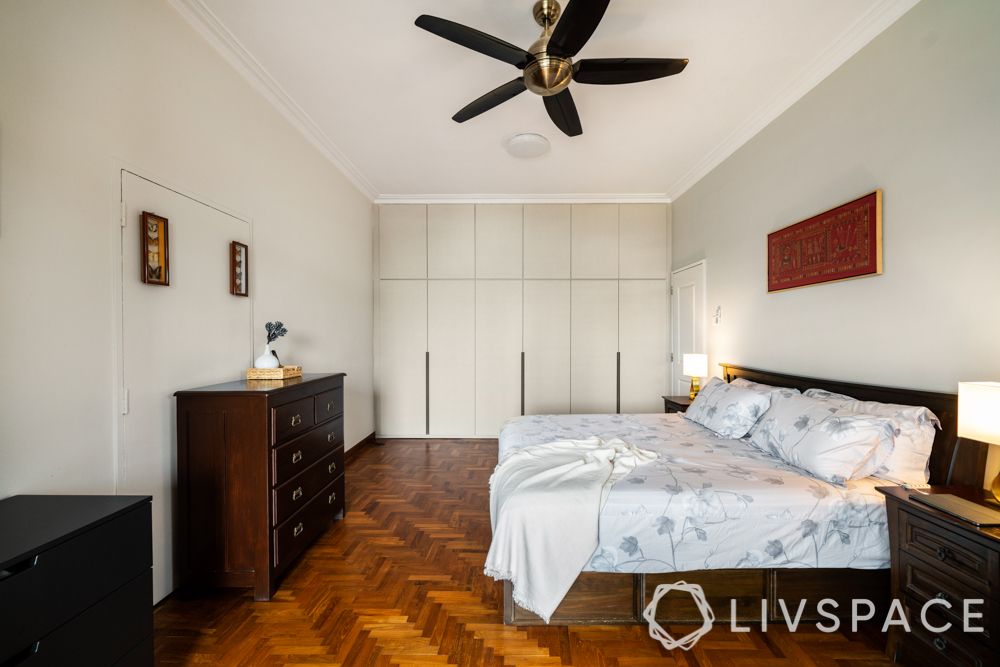 For this bedroom, the couple wanted a new look for their wardrobes and our designer gave them a matte laminate finish in beige. Contrasting grey handle grooves look classy yet does not take away from the neutral, warm undertones of this room. The rest of the room flaunts simple wooden furniture.
#5: This bedroom with intelligent storage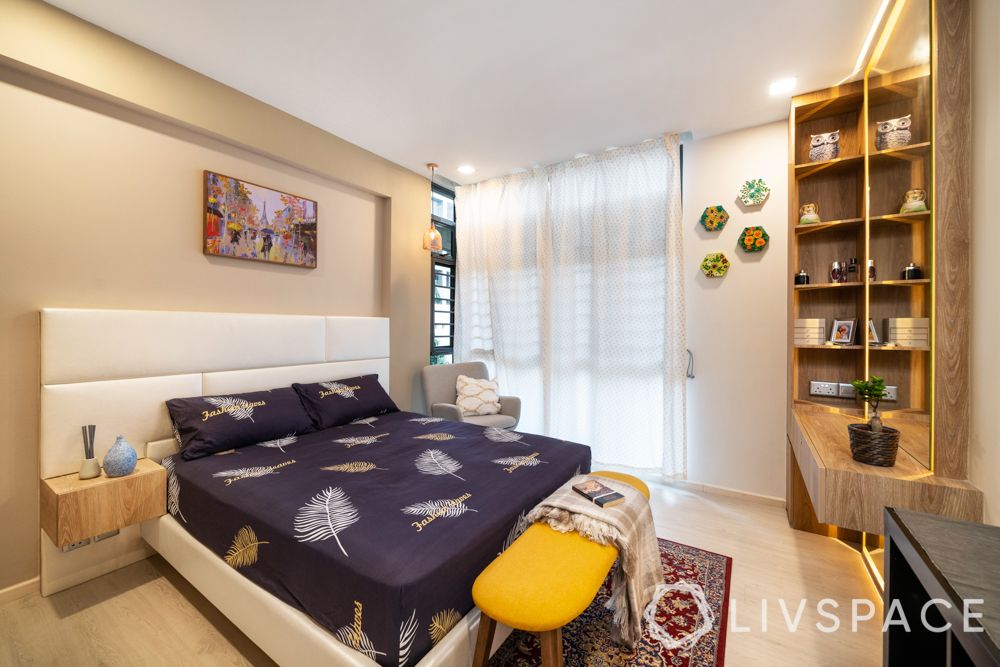 We have added a fully-upholstered bed here with a bench in front. Laminate finish wardrobes add ample storage space in this room. The dresser in front of the bed is a great space-efficient feature, with a corner shelf and a wall-mounted drawer. Placing an accent chair next to the full-height windows is a great way to create a cosy reading corner.
#6: Concealed storage is a great idea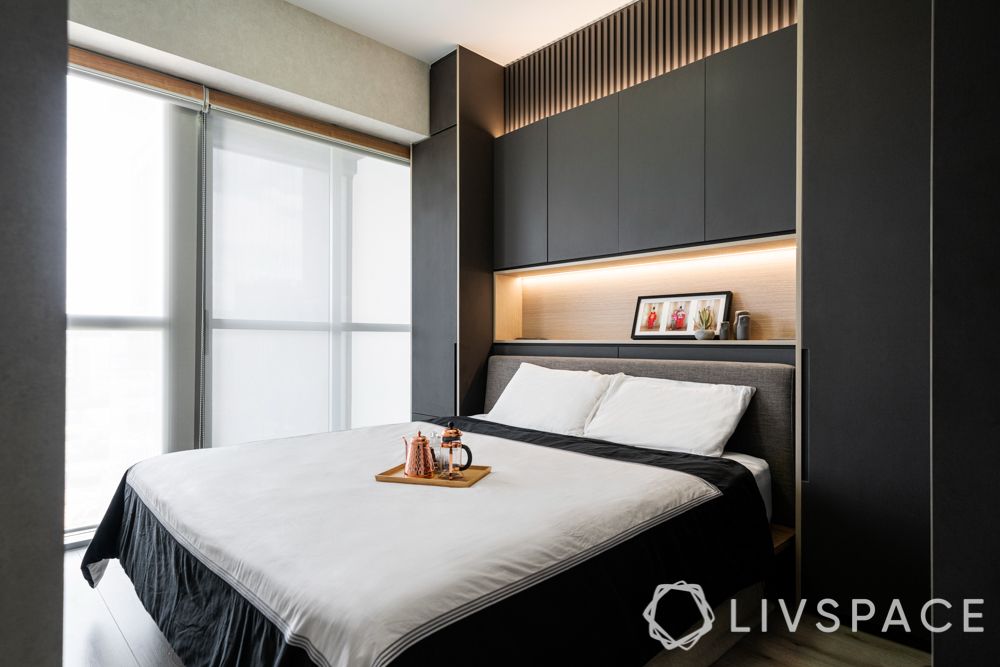 Our favourite element in this bedroom is the lighting over the bed. The niche over the bed has brilliant warm lighting that accentuates the look of this room. Since there was limited storage space, we added extra wardrobes on either side of the bed. Our designer also added cabinets on top of the bed to store extra bed linen. For added ventilation, go for fuss-free white blinds if you don't want flowing curtains to block your view or light.
#7: Vinyl wall covering for this one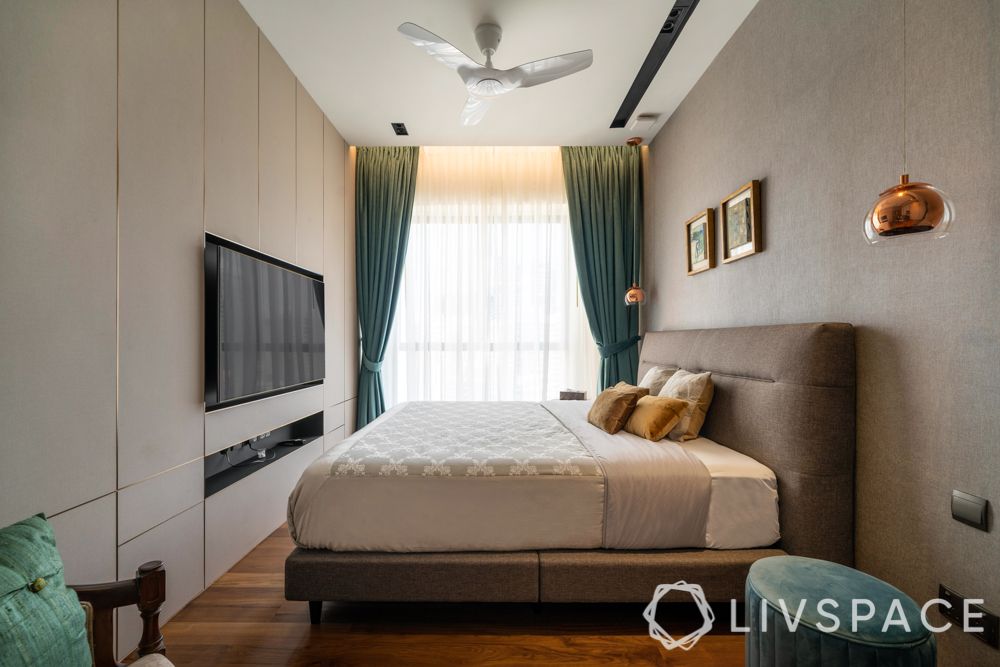 If you're talking about bedroom ideas, you certainly don't want to miss this one. You can spot vinyl wall covering in subtle colours and a tasteful colour palette that looks soothing to the eyes. Don't miss the unique pendant lights and ambient lighting in every room.
#8: Bold flooring in this bedroom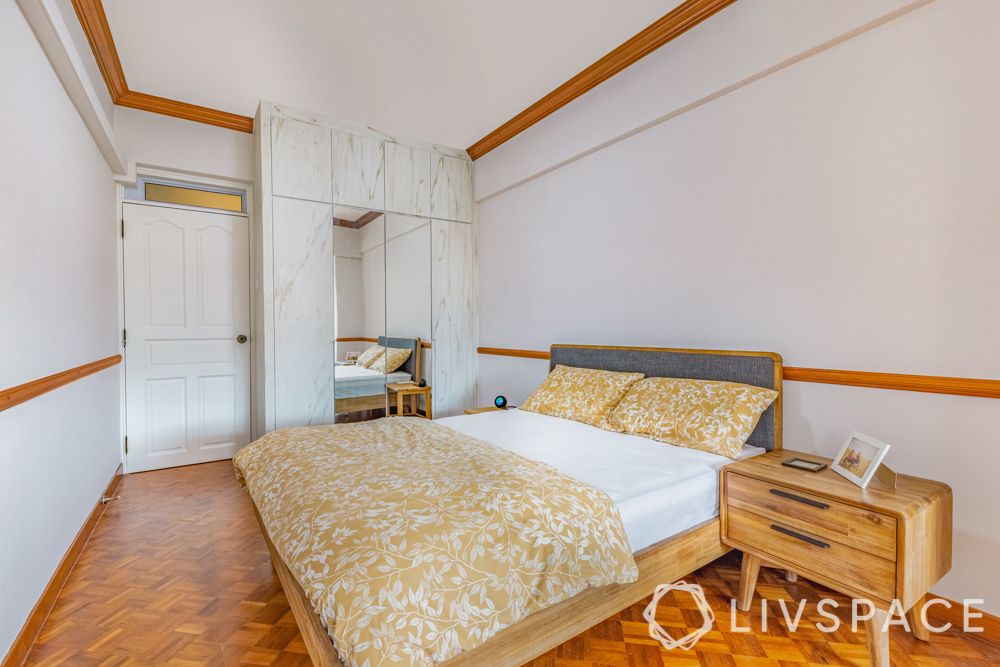 If bold flooring could talk, it would be in this bedroom. Our designer has kept the look very minimal and subtle with white walls and a simple wooden bed. But the flooring is what steals the show here. Matching beading on the wall ties the space together.
#9: The best space-saving bedroom design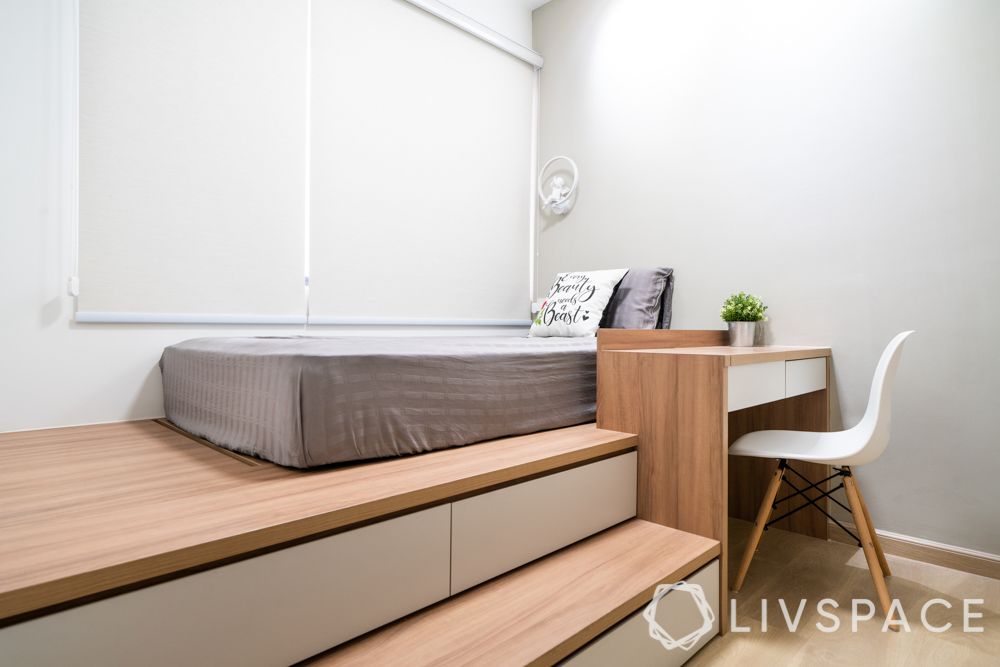 Platform beds are great for providing storage without changing the amount of floor space left for a bed or a desk. Both platform beds are made of oak laminate and plywood. This bedroom features a light wood colour that extends to the attached study desk.
#10: Walls can speak louder than words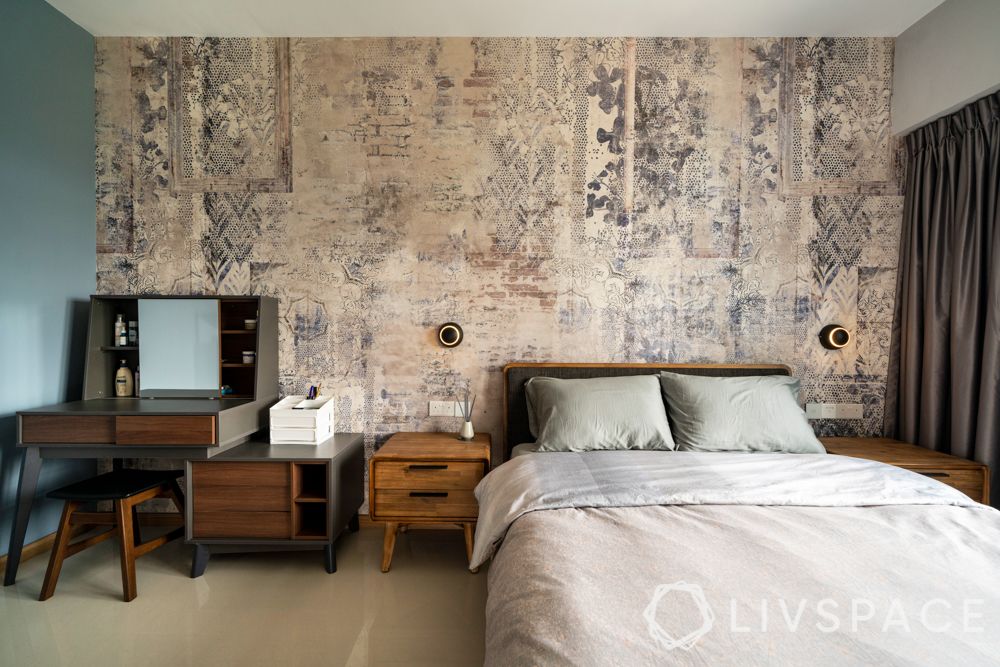 A will to experiment and the freedom to try new things is what gave birth to this master bedroom. Our designer was told to add textures and patterns to this room and that is how he came up with this design. In one corner, you can spot a study table and on either side of the bed are wooden side tables. This is what we call bold and beautiful.
#11: Make space for reading and relaxing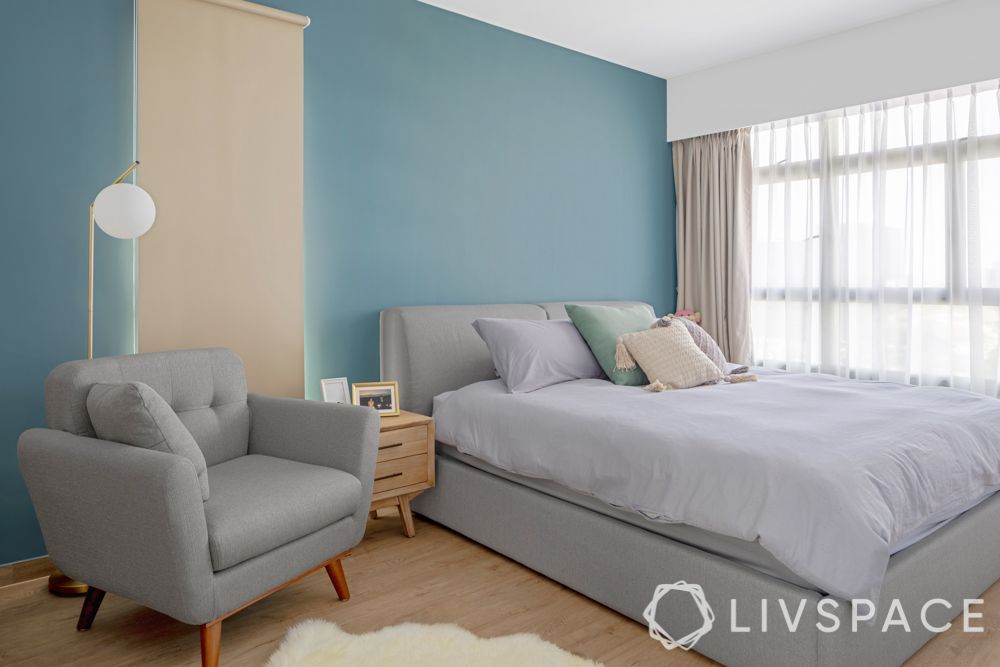 A cool, calming colour scheme like this one for the bedroom is a breath of fresh air. Adding to the Scandinavian design is the light wooden side table and the chest of drawers for additional storage. Since minimal lighting is a key component in this design style, natural light takes the focus while our designer has opted for a glass ball floor lamp and track lights for task lighting.
#12: Try platform beds with storage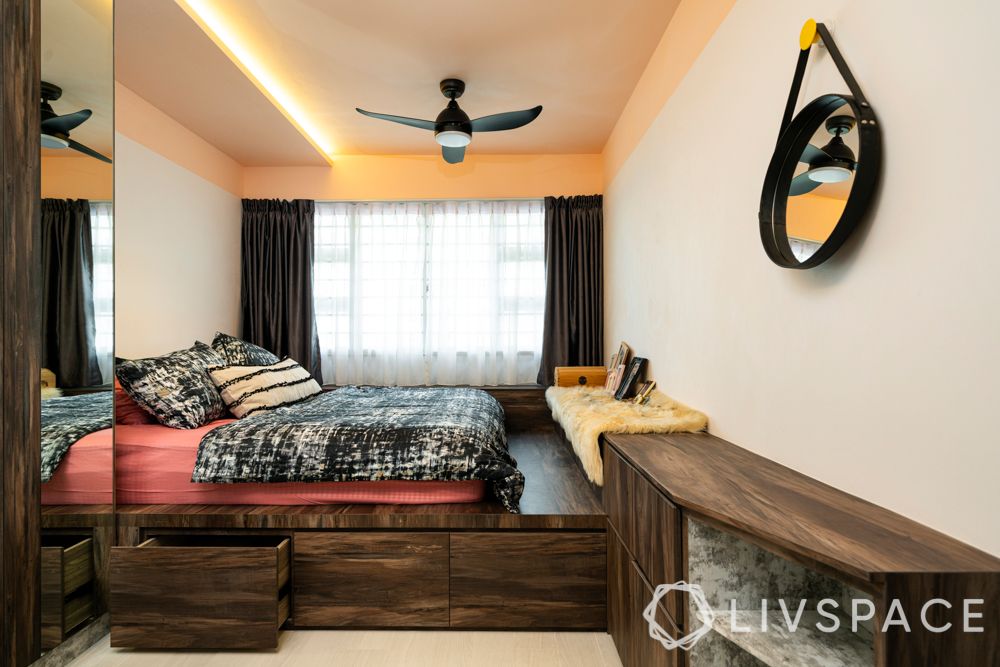 For this bedroom, we decided upon a dark coloured wooden bed with plenty of storage space, as well as a laminate wardrobe in shades of grey. This goes perfectly with the profile lighting on the ceiling and the large window. The overall effect is that of a soothing and well-lit room that helps you slumber peacefully through the night.
#13: One for the design conscious gen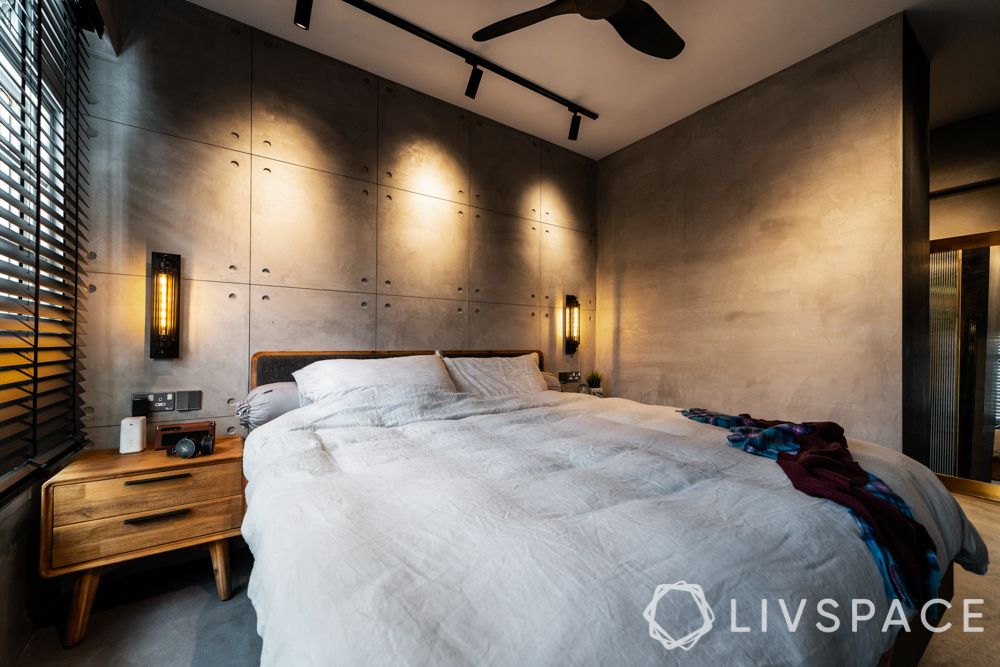 This is one of our favourite bedroom ideas from this list and we are sure you'll love it, too. The Industrial theme of this bedroom is evident through the cement screed walls and the wall mounted wrought iron lights. The raw finishes in the room makes this space unique.
#14: Intelligent use of space in this bedroom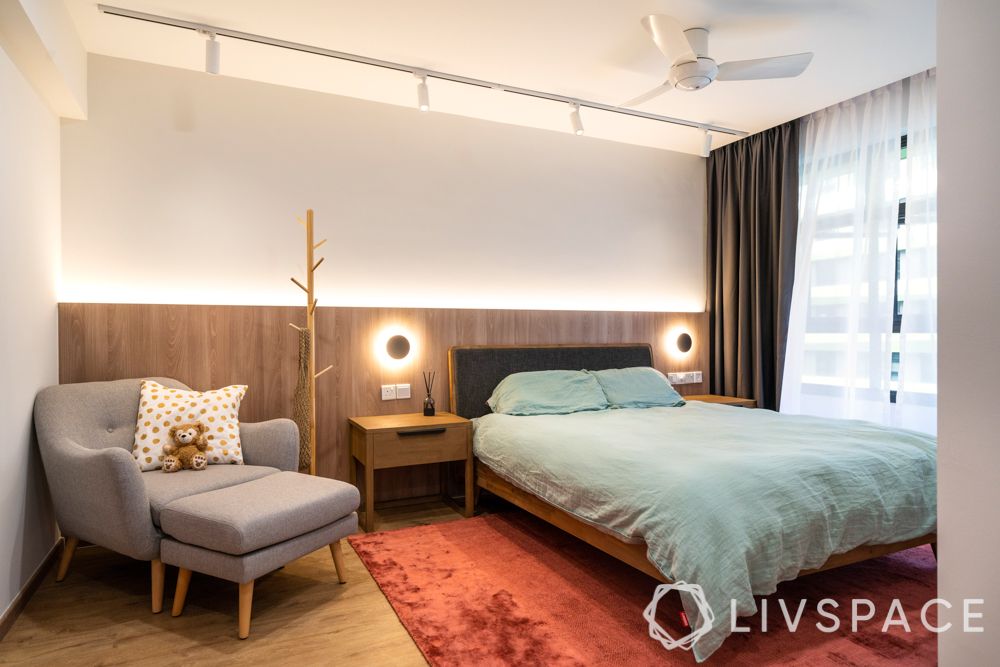 This room feels so relaxing thanks to the light decks incorporated into the bedhead for ambient lighting. We feel that lighting can change the look of a room and this bedroom is proof of that. The bedhead sports a laminate finish and there's enough space for a cosy seat right next to the bed.
#15: Niche turned into storage here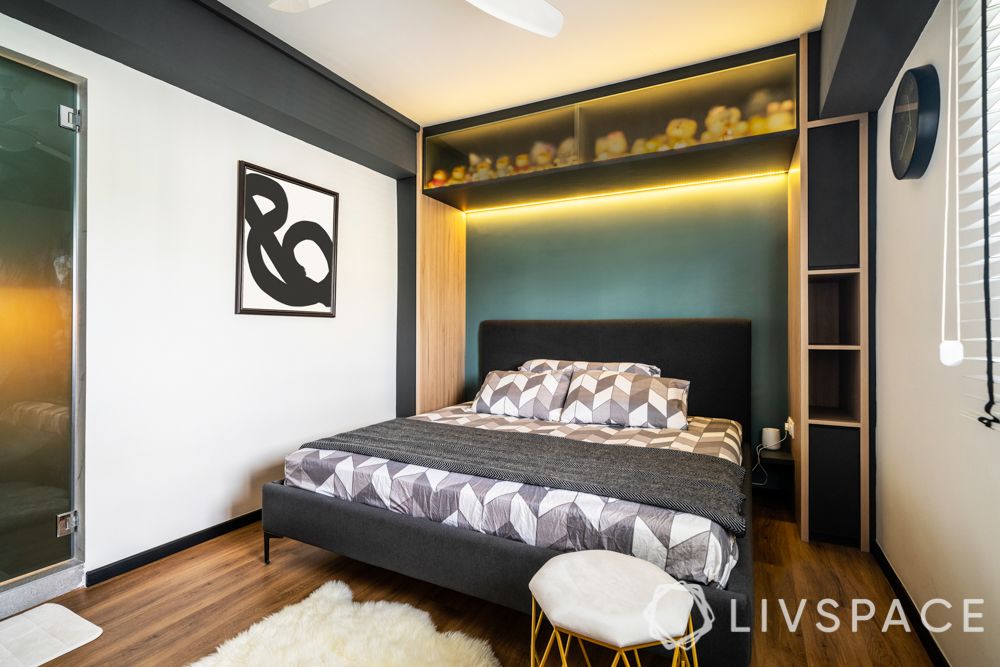 One of the challenges we face while designing rooms is the size and layout. This master bedroom, for instance, is a long space; therefore, our designer had to come up with solutions that fit the bill. He gave them a walk-in wardrobe concealed behind a sliding door. The unsightly beam in the room is also painted dark grey and turned into a design feature.
#16: An essential work desk in the bedroom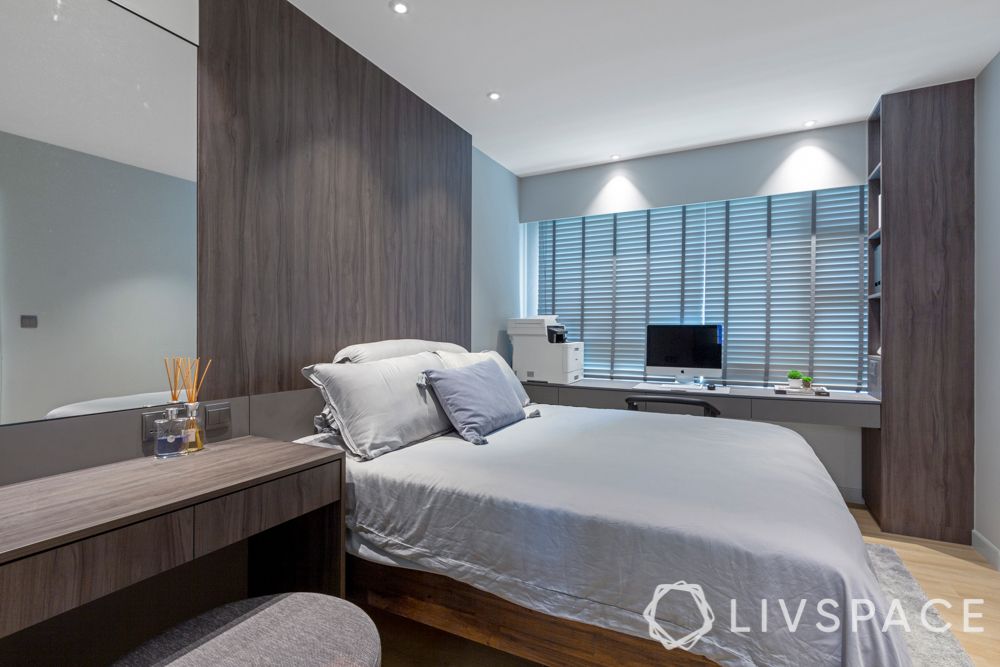 The most amazing part about this one of bedroom ideas is that it has no wardrobe. Our designer believed that a home office space made more sense for the homeowners because they run their business out of their home. The bed is not accompanied by side tables. Instead, there is a vanity unit with some minimal storage. And we have used only one type of dark brown laminate to furnish this bedroom.
These were tales about bedrooms we've designed so far and we hope you enjoyed reading about them. For more ideas on bedrooms, you can check this out: 6 Foolproof Tips to Design the Perfect Small Bedroom.
Send in your comments & suggestions to editor.sg@livspace.com.