What's the first step you take while planning your home renovation? For starters, you might begin the research process to understand the scope of your interior design. But apart from this, you're probably also on the lookout for many different types of home renovation styles to try at home.
So, what are some of the best interior design styles to try in your home? Whether it's a modest 3-room BTO flat, a spacious HDB resale flat, or a swanky condo apartment, here's a list of amazing design styles Livspace has completed in 2022!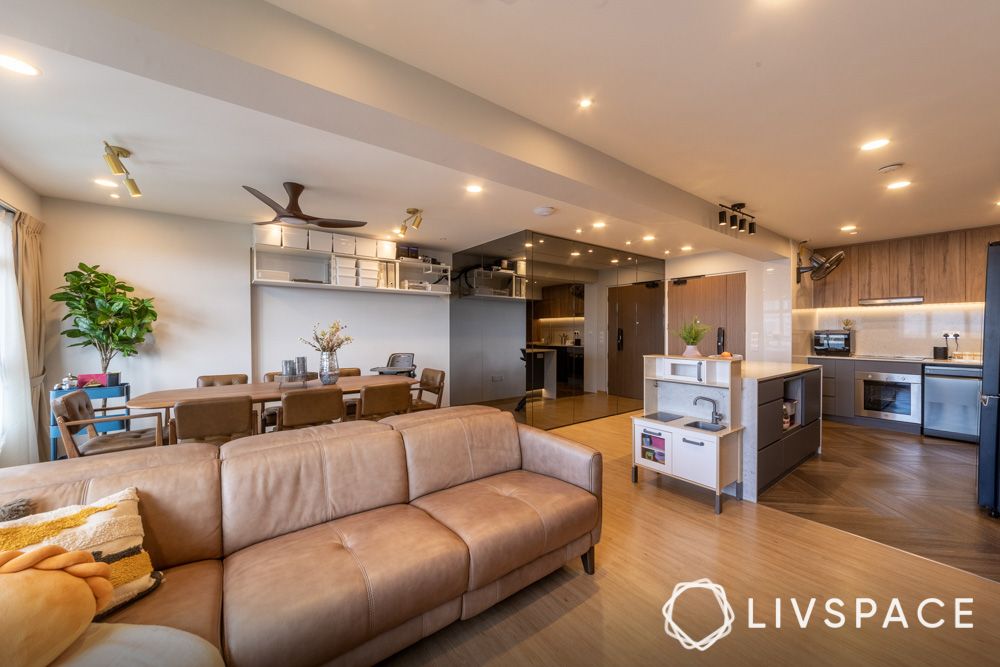 Most homes today have some element of the modern style embedded into them. Why? Because this style follows a sleek approach to design that focuses on decluttering, much like minimalism. However, unlike minimalist interiors, the modern style focuses on making subtle statements through the use of art and select accent pieces.
How Can You Get the Look?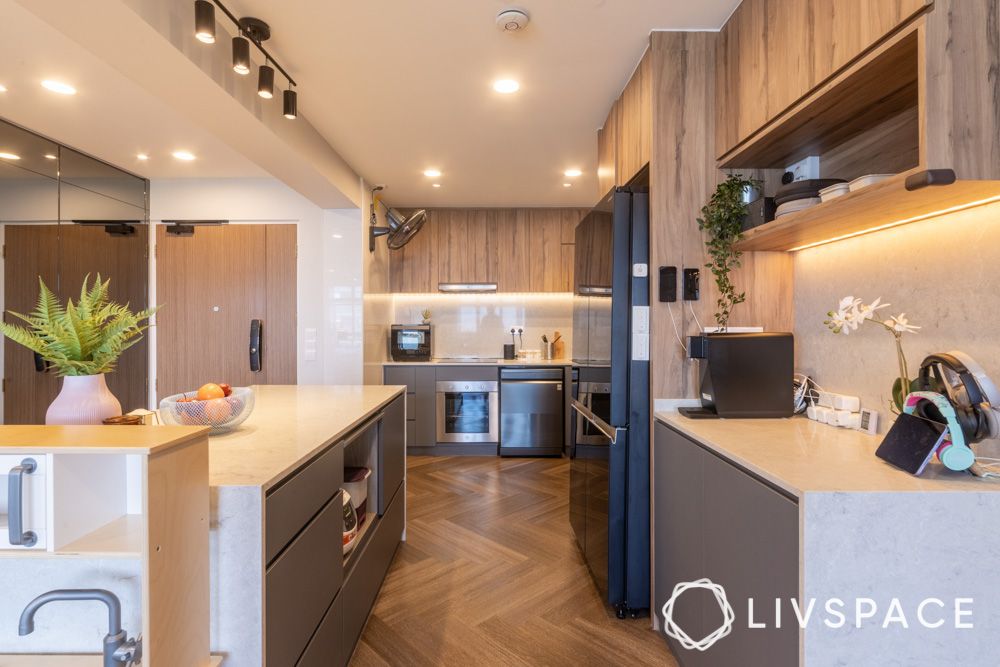 In this 4-room BTO design at Tampines, we've doused the house in warm neutrals with natural materials and finishes. You can use materials like leather, glass, mirror, and metal to curate this style and bring in an industrial touch to the space.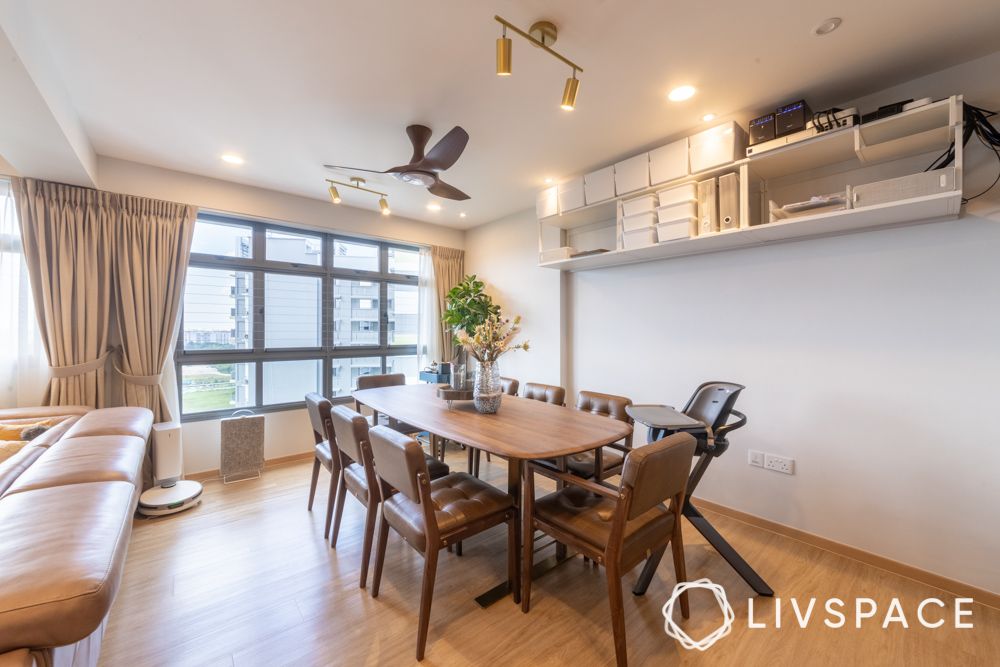 Depending on your preferences, you can also focus on using different shapes in design. Consider angular shapes if you'd like a more chic look, or softer and rounded shapes for a cosy theme.
Also Read: Want a Modern House? These Modern House Interior Design Ideas Will Inspire You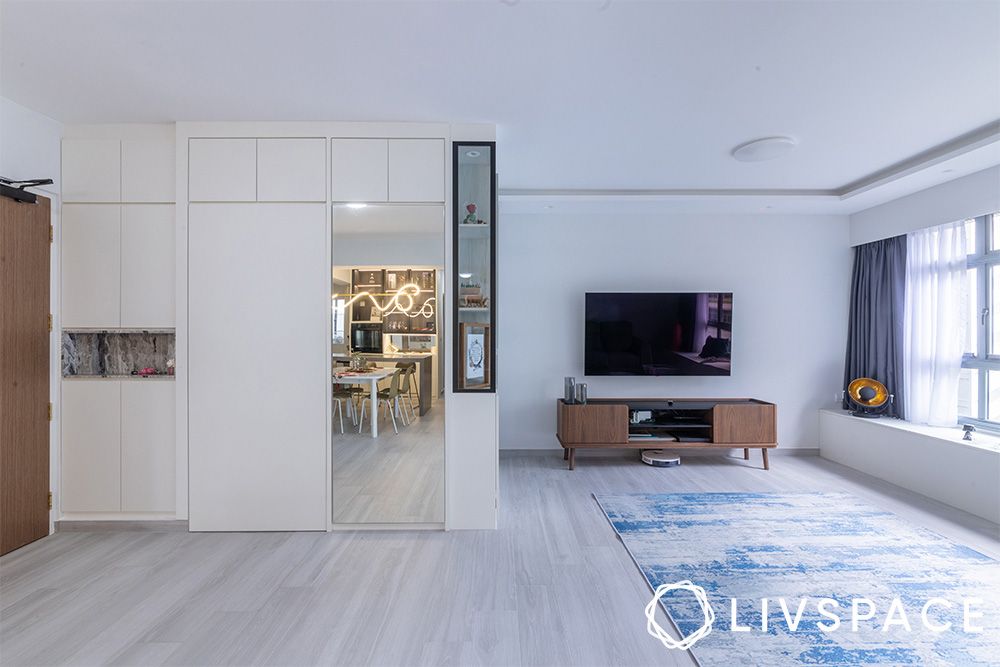 Did you know that contemporary design actually refers to what's currently trending? You might think that modern design styles are more geared towards the present, however, this isn't exactly the case. This home renovation style can be a mix of different design elements that are currently in vogue.
How Can You Get the Look?
While designing this home, we focused more on open layouts as this is a trending concept in many Singapore homes. Since contemporary interiors are all about embracing trends, you can opt for an open layout with well-spaced zones across the room.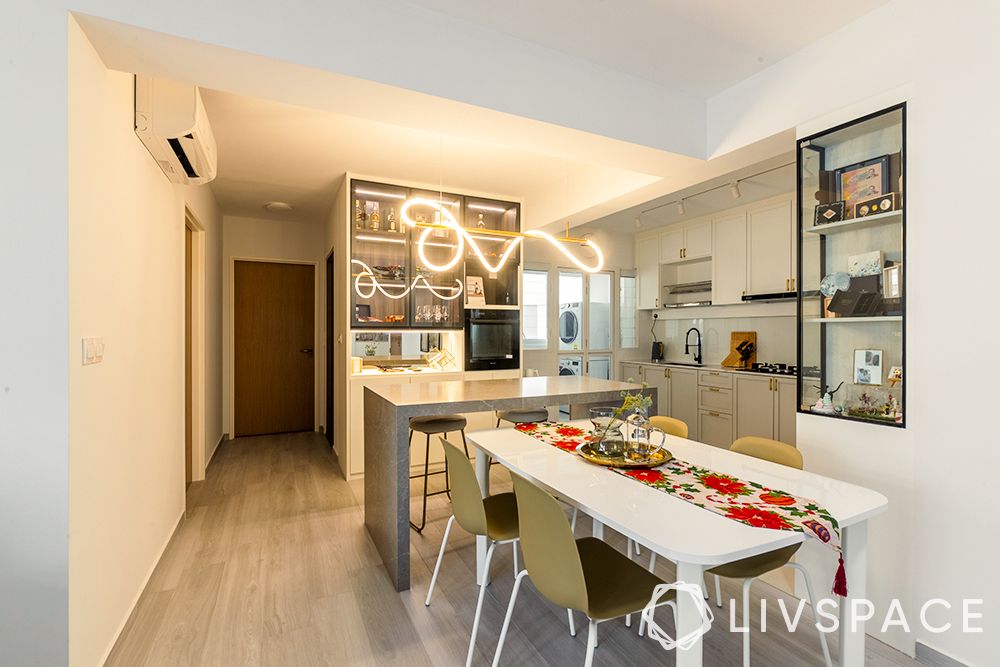 Neutral colours are another common theme in contemporary homes. With this, you can also highlight different areas of the home by using vibrant decor pieces. What's more, you can keep customising your furniture as your tastes change, because neutral colours are sure to match everything.
Besides this, you can also use a mix of different lighting systems, just as this home does, to put a contemporary spin on your interiors.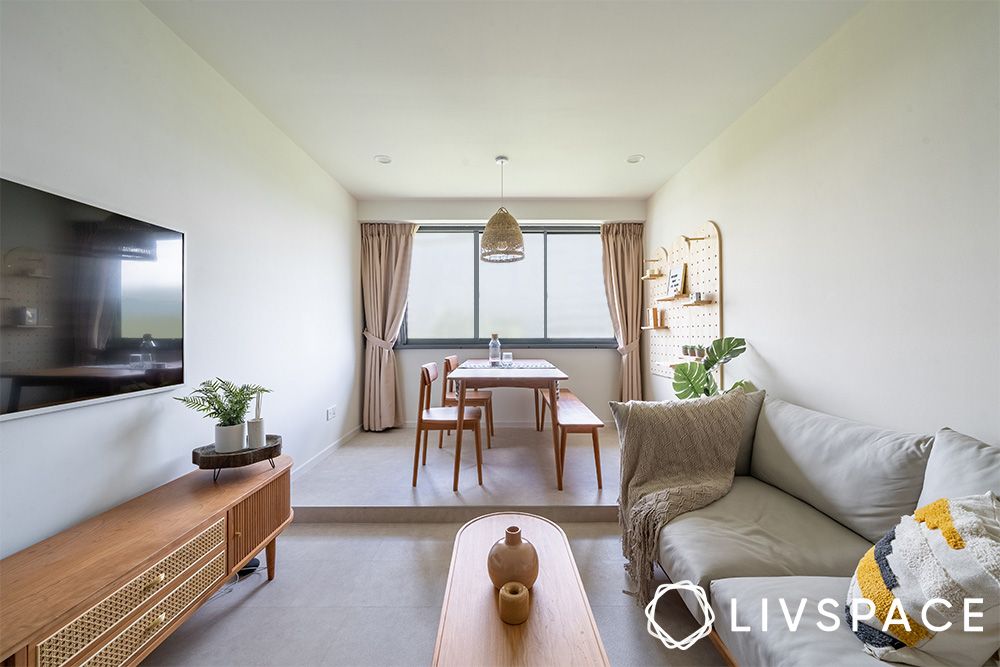 Need a break from city life but don't want to splurge on a vacation? You might want to consider investing in Boho chic interiors! With a focus on natural materials, mixed textures, plants, and well-travelled accessories, bohemian interior design is all the rage in SG homes.
How Can You Get the Look?
While traditional bohemian interior design might not be as apt for modern homes, you can still dabble in a bit of it to get inspired. Take Amanda and Justin's home for example. During their HDB reno, they wanted a boho-inspired space that has all the makings of a cosy modern home.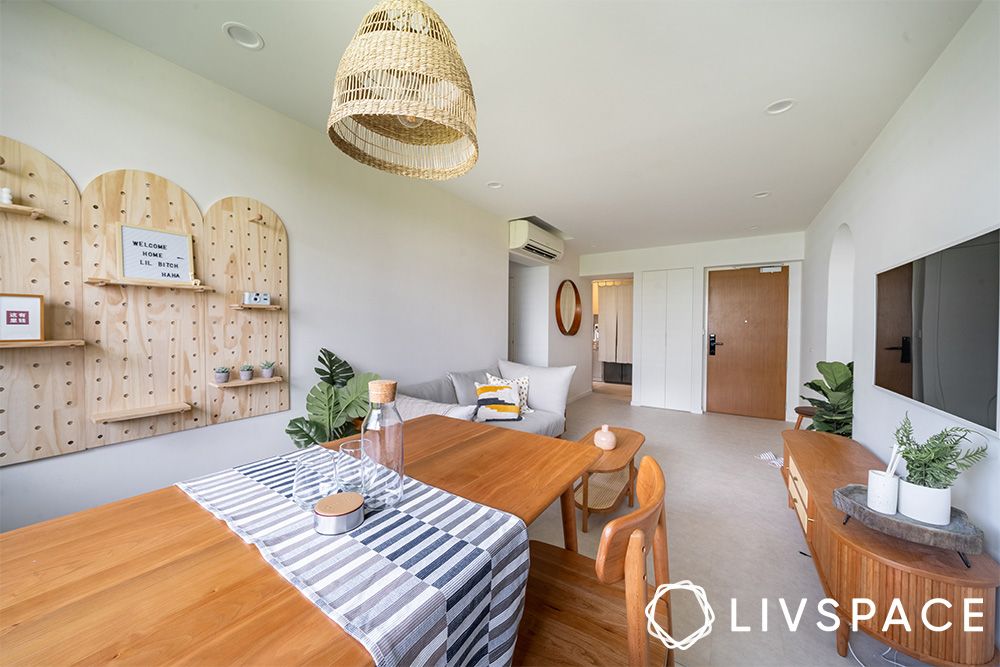 For this, we kept the design simple with as many natural materials as possible. All the furniture in the living room is wooden, lending a rustic touch to the space. To strengthen the cosy theme, we also kept the space neutral, with pops of colour brought in by different plants.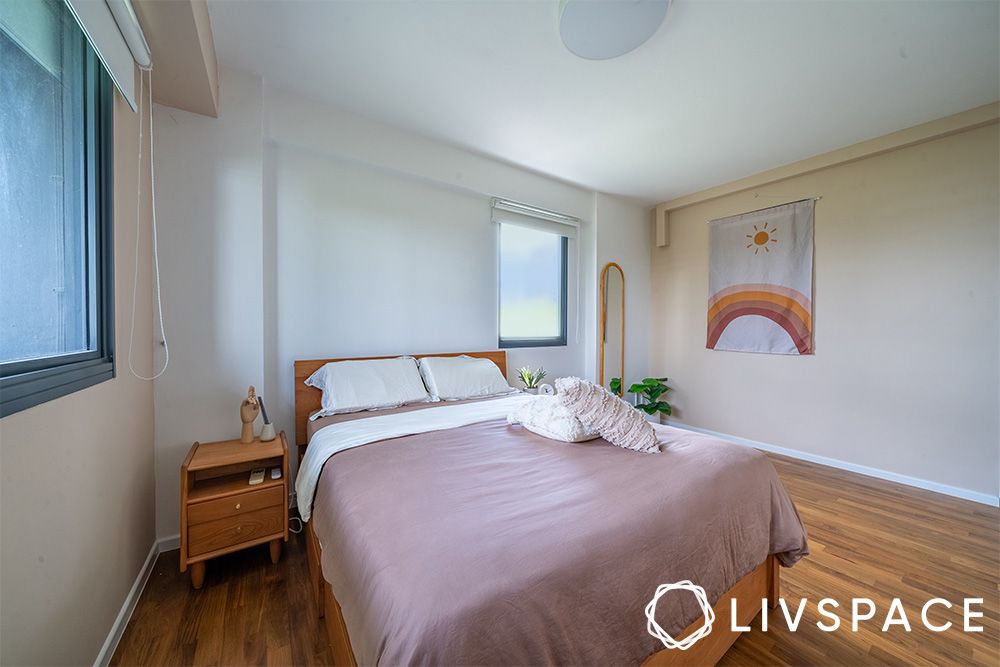 Additionally, a boho home renovation is incomplete without some trinkets and decor items. So if you'd like to get this look, try to use as many souvenirs and mixed decor items as possible.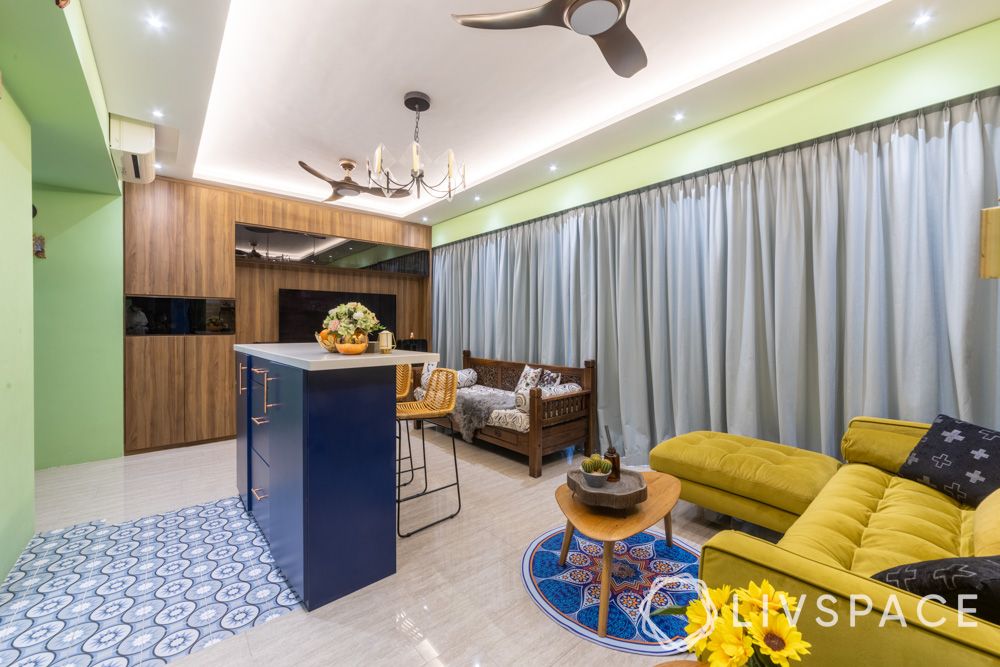 This home renovation style is all about mixed art and materials to create a unique design. While it may not be everyone's cup of tea, the eclectic style sure has a lot to offer visually. If you're a big fan of different design styles, here's your chance to merge them into an eclectic themed home!
How Can You Get the Look?
Can't pick just one colour to decorate your home with? No problem, you can just use them all in an eclectic style home renovation. However, you don't want to visually cram the space with too many colours. Try to stick to two or three main complementary shades that you'd like to play around with. Use one of them for the walls, and the rest can go into your furniture and soft furnishings.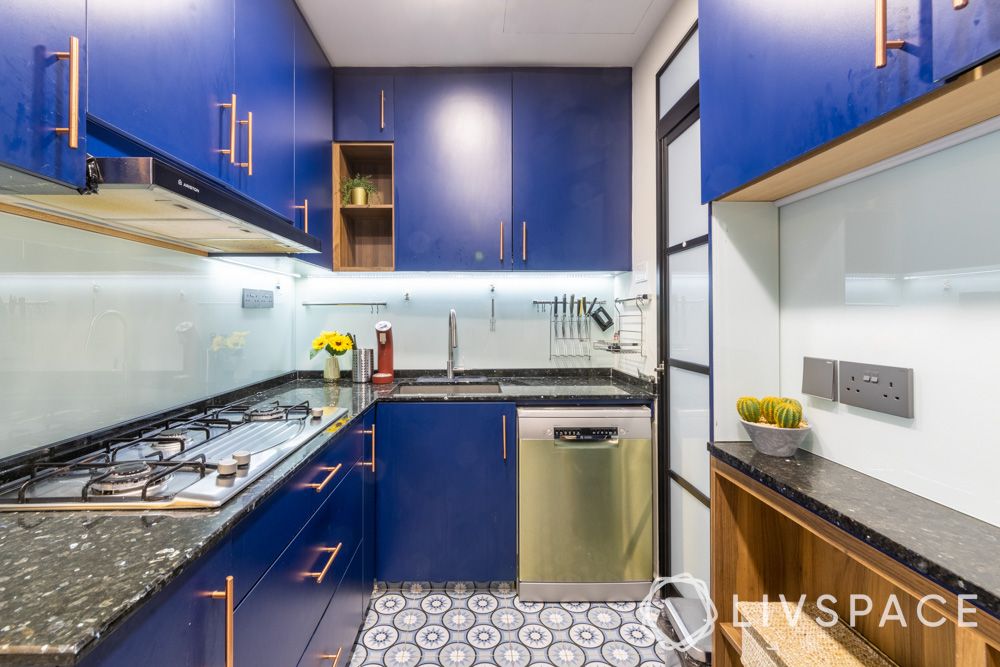 Since eclectic design is all about mixing and matching, you can implement this theme in your selection of furniture. Go for a mix between modern and traditional if you're undecided about which theme to choose.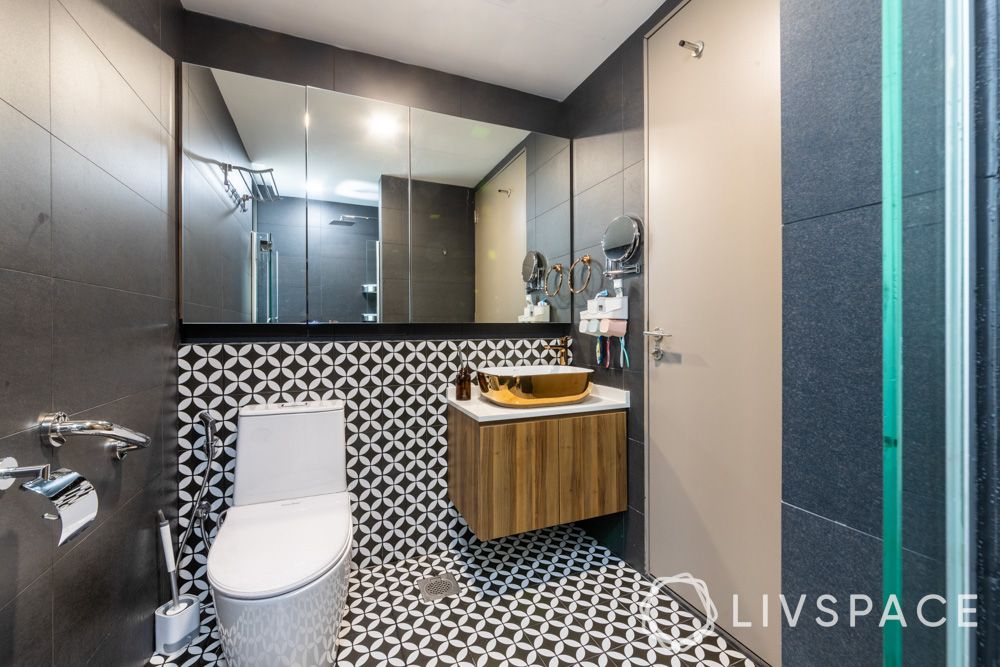 Moreover, you can also bring in some customisation by segmenting parts of your home with patterned tiles. Not only does this create a unique focal point, but it also helps you make a creative statement in an open layout.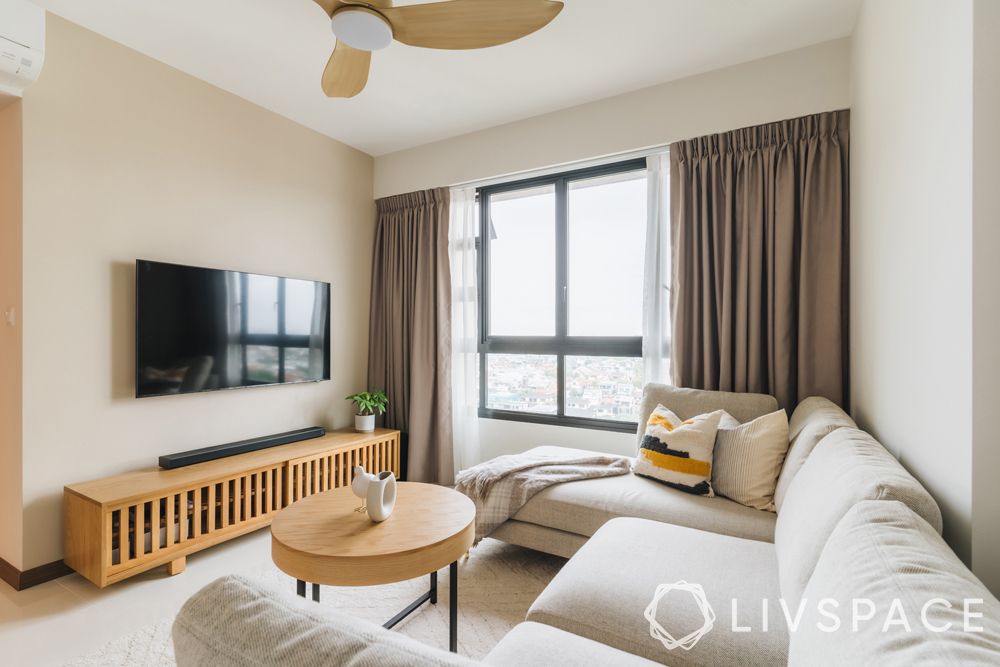 What's one common thread you've noticed in all the interior design styles we've covered thus far? If you guessed the use of natural materials, you're absolutely right! Here in Singapore, natural materials like wood and rattan continue to be popular design elements; and with good reason too! Scandinavian design and Japanese aesthetics are popular themes that embrace and encourage the use of natural textures.
How Can You Get the Look?
Scandi homes are fairly easy to spot as they use some fairly common elements. Natural materials, exposed furniture legs, airy and bright design, and muted colours are typical of such homes. To get in on this home renovation style, the first thing to do is keep your interiors simple.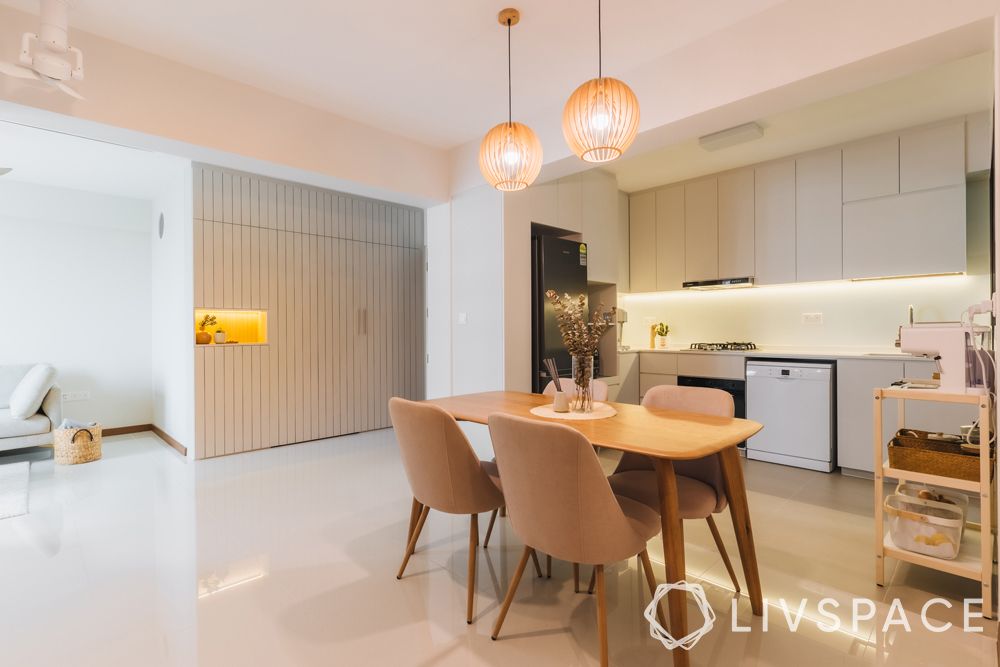 Focus only on functional aspects that you absolutely need, over clutter. Opt for an open layout and with plenty of sunlight streaming in through your windows. The point is to bring yourself as close to nature as possible through this design style.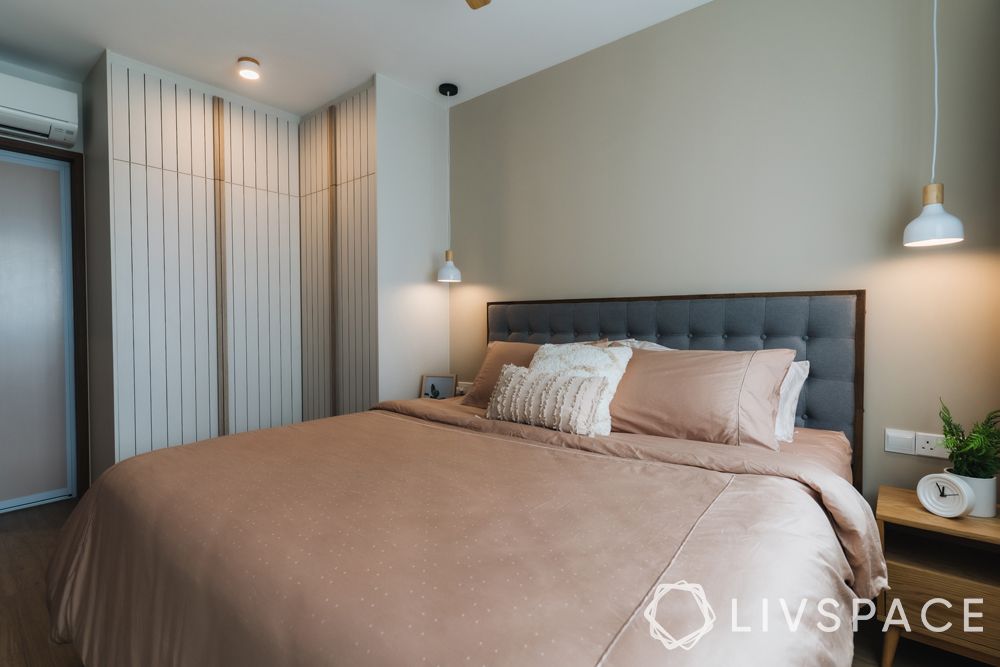 Colours like beige, white, light brown, light grey, and other muted shades work best with this interior design style. While picking out furniture, stick to designs that have exposed legs and wooden accents to complete the look.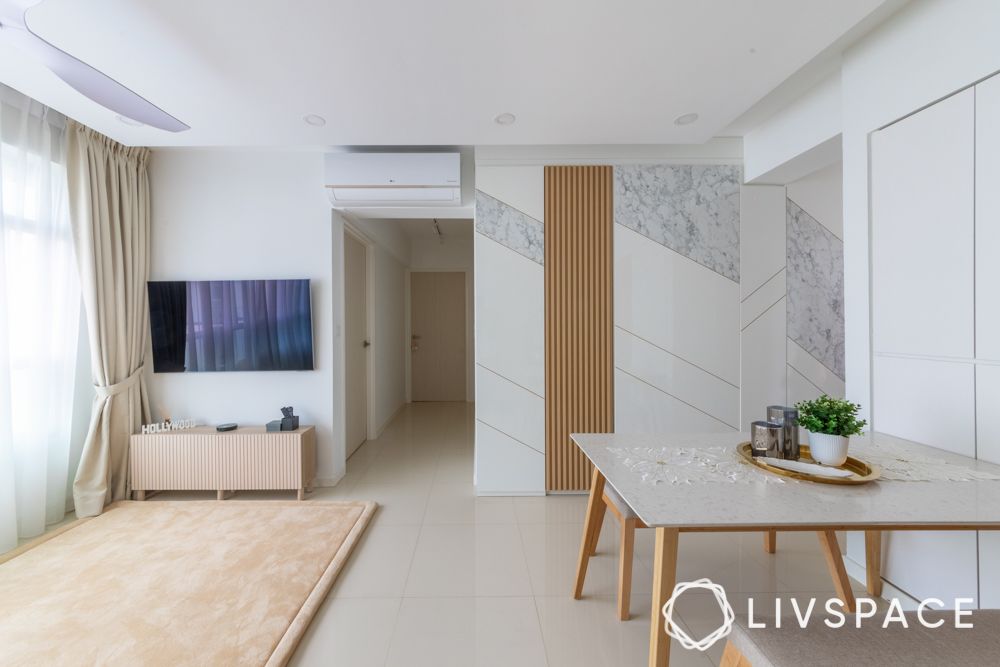 So many interior design styles that we hold near and dear are based on certain principles of minimalism. So, it comes as no surprise that most homes in Singapore opt for this style while renovating. It's all about keeping it simple and doing away with clutter. Instead of bulky furniture and loud designs, this interior design style is all about simplicity, clean lines and textures.
How Can You Get the Look?
Since the main principle of minimalism is simplicity, you want to avoid adding too many design elements to your space. Instead, you can create a bright space by using all-white interiors that are further amplified by natural light. To bring in a touch of colour, use pastels or light wooden accents.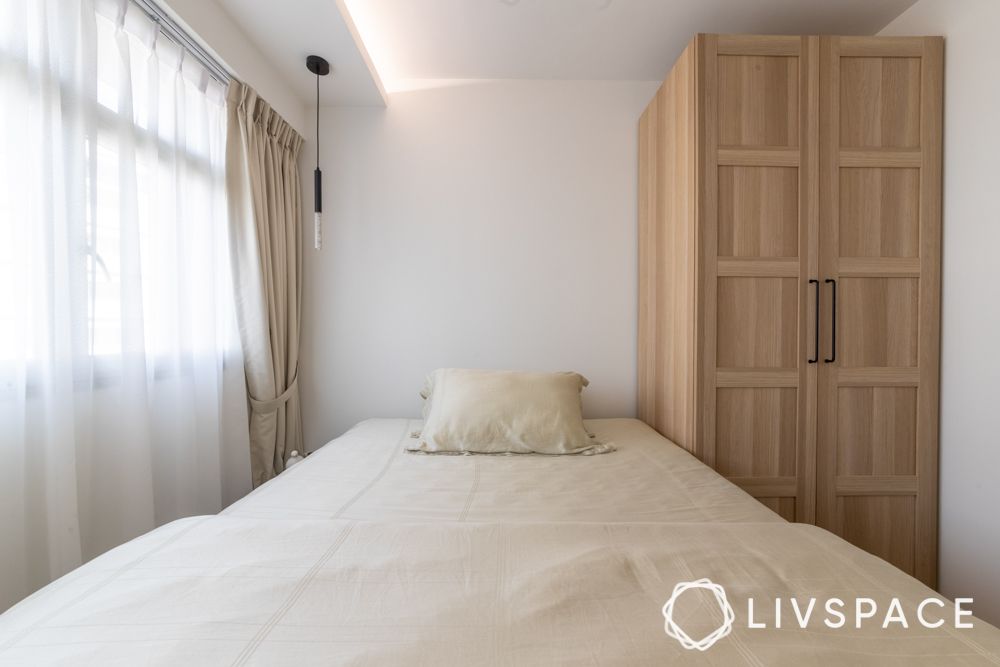 Your main focus should be on form following function. Accordingly, choose your furniture and fittings on the basis of need, not want. Another way to embrace this interior design style is to rid your surfaces of unnecessary embellishments and go seamless.
Also Read: What Is Minimal Interior Design Style and How to Use Minimalist House Interior Design Correctly?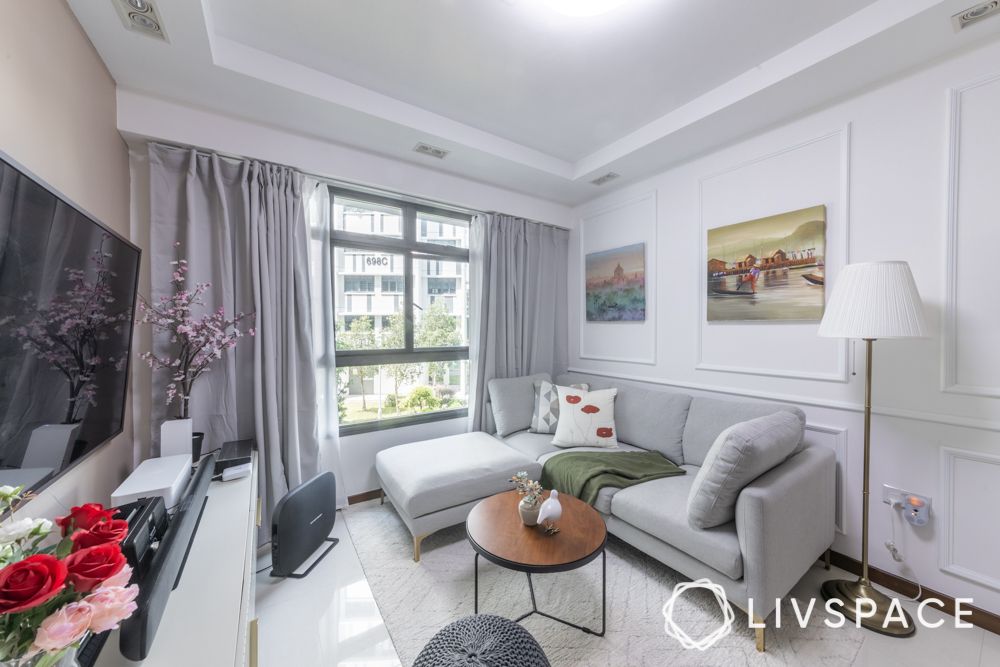 With so many interior design styles to choose from, narrowing down your choices can be hard to do. Though you can always give eclecticism a go, it may not be the right fit for everyone. Especially if you're torn between styles that borrow from the past and present.
Instead, it might help to explore the transitional style where traditional and contemporary designs intertwine. Here's where traditional design elements are complemented by current trends to create a unique take on interior design.
How Can You Get the Look?
Typically, transitional interiors play on elements derived from classic themes that are then merged with modern preferences. You'd find a mix of elements ranging from classic wall trims and antique furniture to seamless carpentry and muted colours in such homes.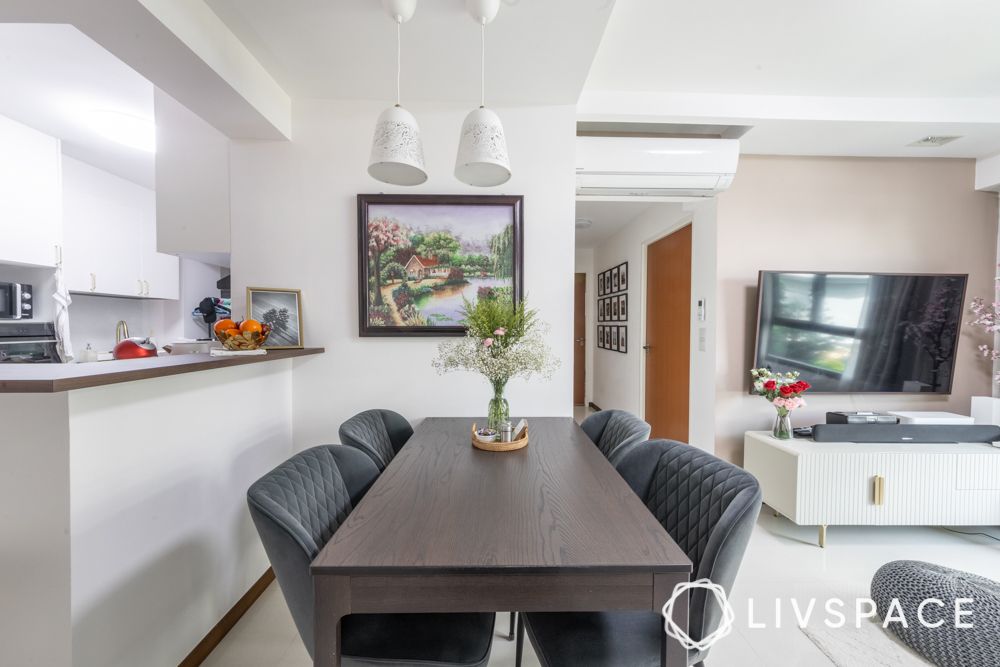 Borrow as many elements as you like from either of the two interior styles to create your own take on transitional design. Go with colours like grey, beige, or white for the base of your home. You can further accentuate the space with a bold pop of colour as a statement or focal piece.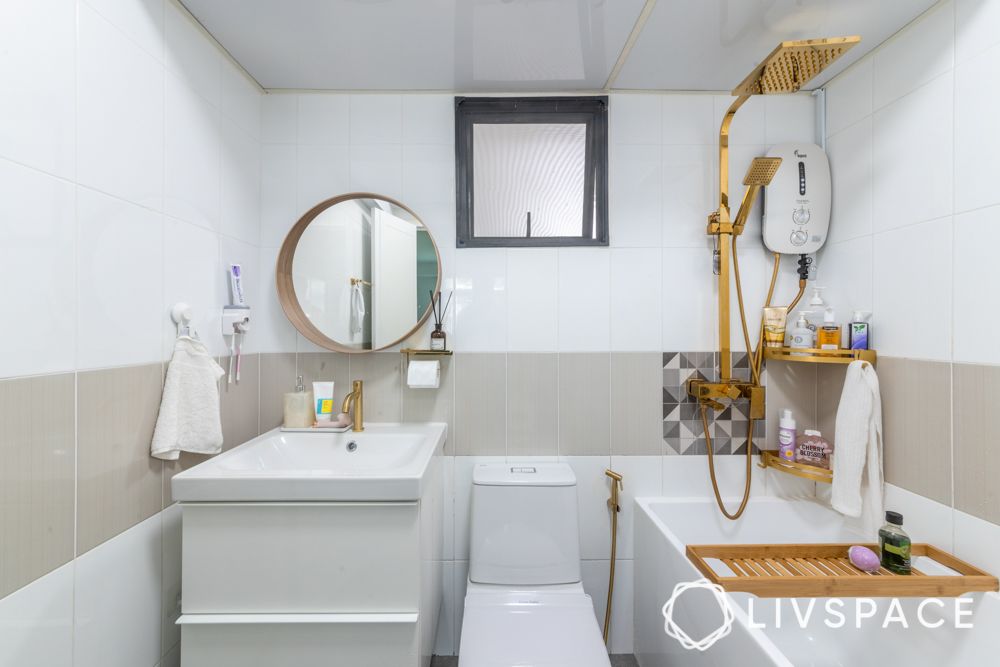 Unlike modern or minimalist homes, you can also experiment with different furniture styles that aren't as sleek. You can opt for framed, upholstered pieces that have a traditional build to them.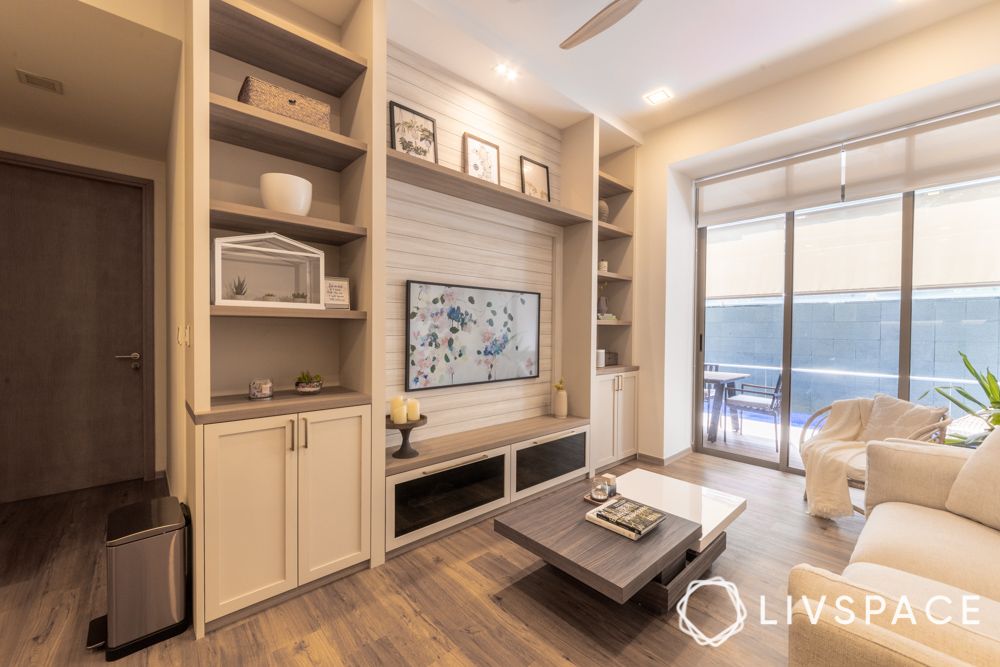 While a lot of the previously mentioned renovation styles may have a bit of overlap, farmhouse style interiors can be just the stand-out style you need. This interior design style uses slatted wooden panels, framed cabinetry, and wooden accents to detail the farmhouse look.
How Can You Get the Look?
Take a cue from this condo at Poh Huat Road. With soft neutral shades detailing dark wooden floors, you can further accentuate the rustic farmhouse look. Consider going for slatted wall panels for your accent wall to further play up the look.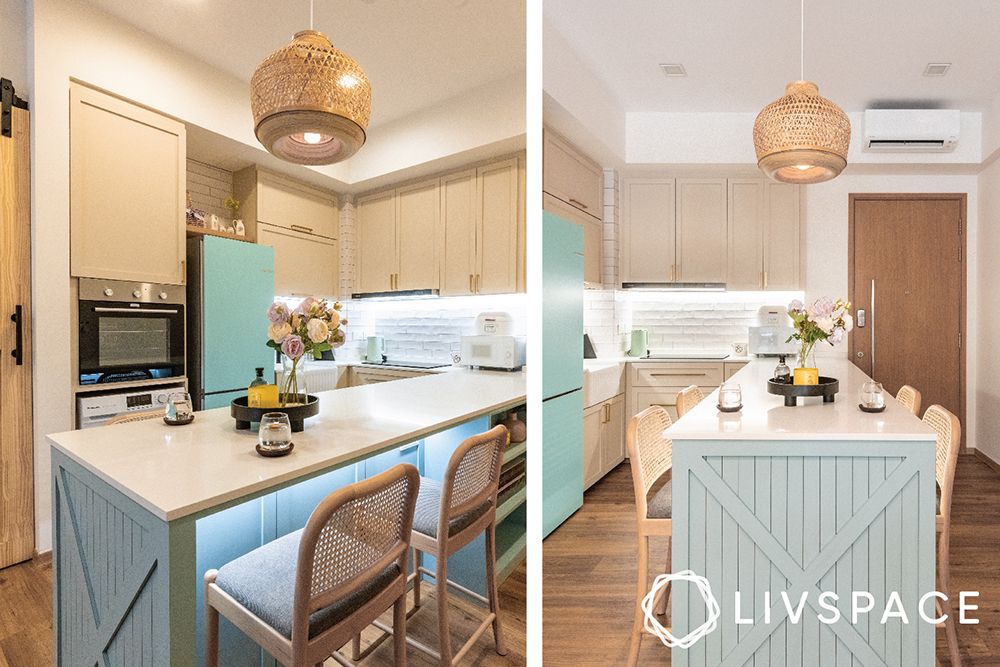 You can also throw in a sliding barn door to demarcate space between two rooms. Similarly, shaker style cabinets can be a great stylistic addition to this theme. For accessories and decor, embrace natural materials like rattan for a rustic-chic look.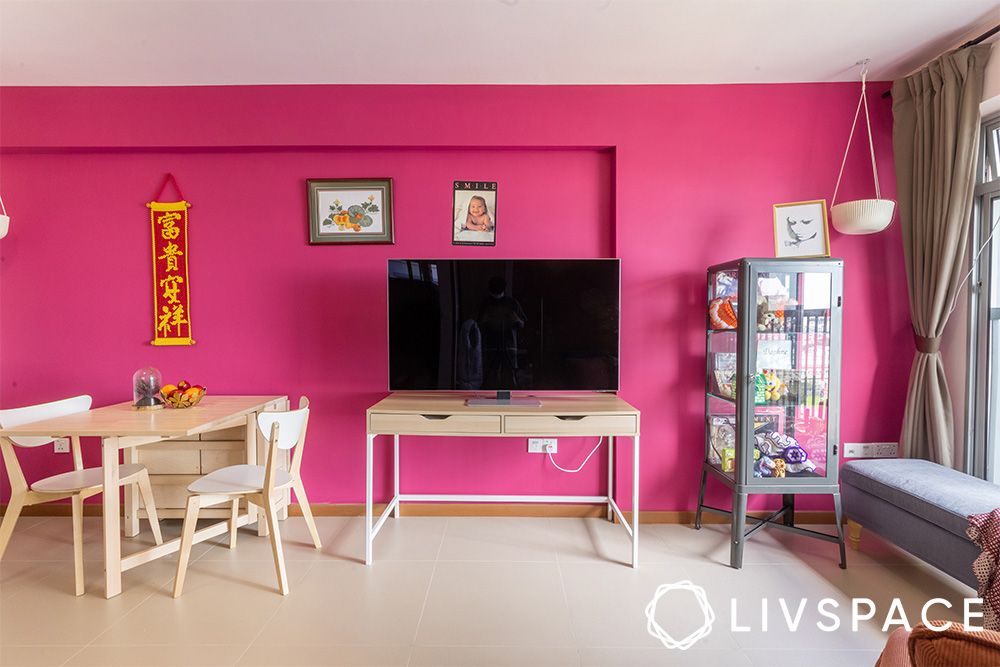 The term traditional design carries some fluidity with it, as what's considered traditional can vary from place to place. In Singapore, traditional interiors are more geared towards the community you belong to. However, one common thread in traditional Singaporean homes is the use of colours like red and white.
How Can You Get the Look?
To make a statement, consider using an accent wall in a bold shade like red. You can further complement this accent wall with light wooden furniture or white decor items. Antique furniture pieces with wooden carvings can also be a great decor element for such homes.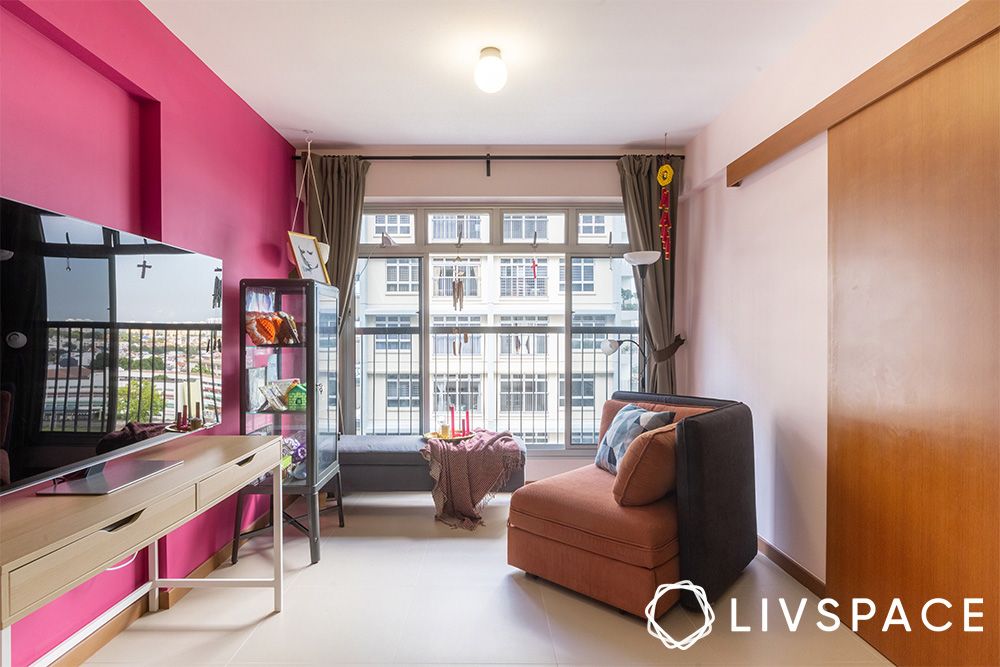 Besides this, you can also consider using ornate wall decorations or peranakan tiles for a stamp of traditional authenticity. Cane and rattan materials in your furniture or cabinetry can further lend a cohesive look.
10. Or You Can Try Something New With a Zen/Japanese-Inspired Reno Like This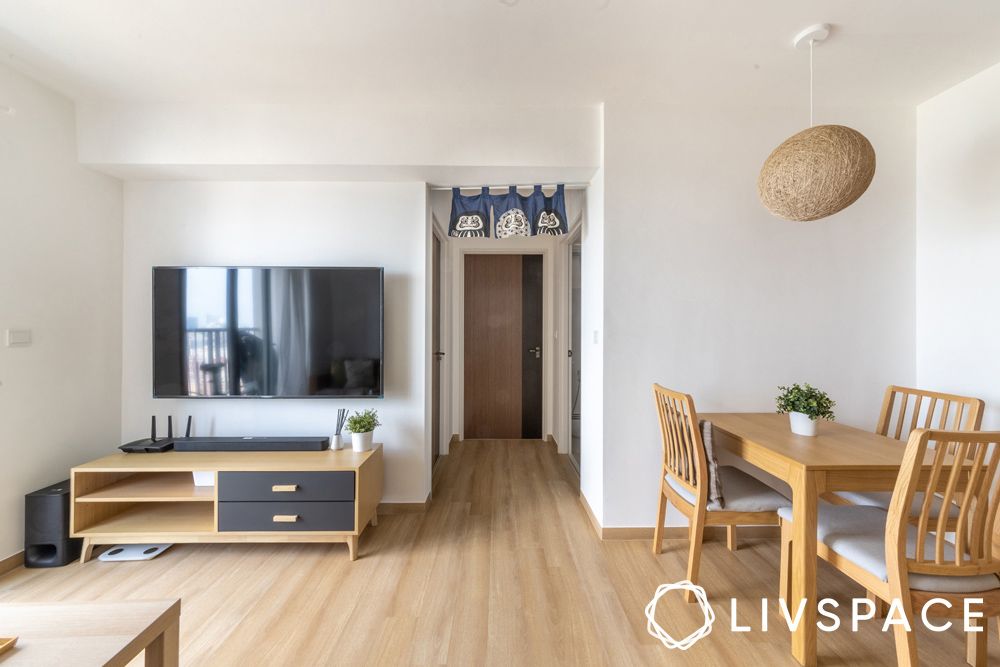 Inspired by minimalism, the Japanese style of design is centred towards clutter-free and functional spaces. The concept of less is more certainly is stressed in such homes where all the decor is kept to a minimum. Equal focus is placed on using natural, eco-friendly materials throughout the design.
How Can You Get the Look?
Japanese style homes often use low furniture made with natural materials and textures. Avoid darker shades of wood, as you want to keep the visual of the room subtle and light. Additionally, Japanese design is rooted in nature and emphasises on merging the exterior world into your interiors.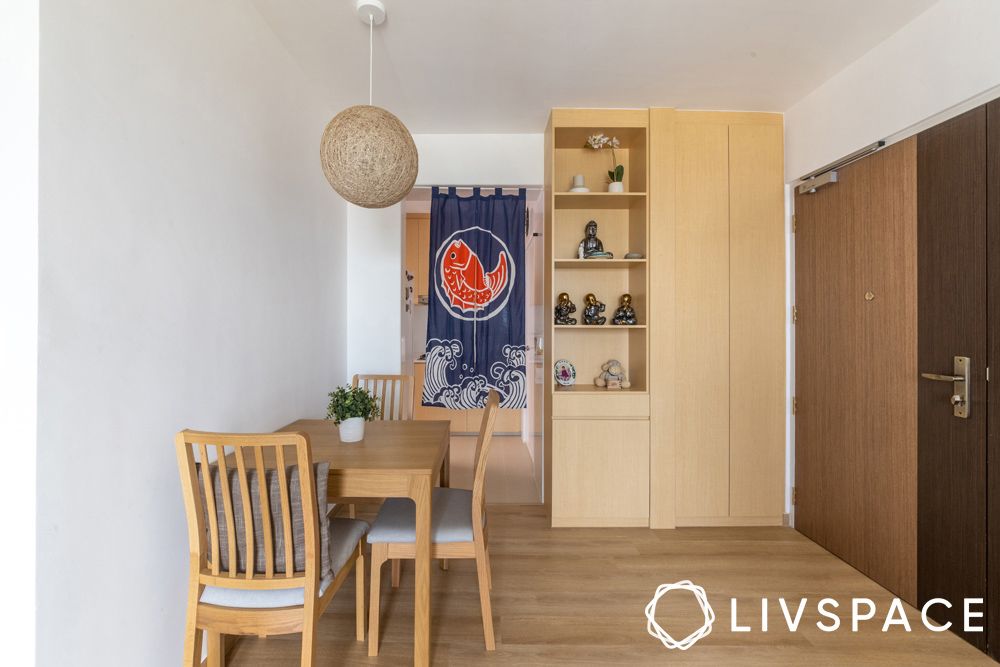 Here, consider opting for full-length windows that offer a view outside while simultaneously bringing in unfiltered sunlight. You can also use tatami mats and shoji screen dividers to further amplify the feel of your Japanese themed home. If you're on a tight budget, consider adding a noren (Japanese fabric divider) to your door frame for a curated look.
How Can Livspace Help You?
We hope you enjoyed these home renovation styles from our various Livspace homes! If you want your home to be just as beautiful, then look no further. Book an online consultation with Livspace today.
Have some comments or suggestions you'd like to share with us? We're all ears! Feel free to write to us at editor.sg@livspace.com.
Disclaimer: All contents of the story are specific to the time of publication. Mentions of costs, budget, materials, and finishes can vary with reference to current rates. Talk to our designer for more details on pricing and availability.