As any Singaporean would know, it's important to carry out house renovations for both condo and HDB residences. However, these home renovations can bring about a number of obstacles based on your wants and desires. 
At Livspace, we don't just build brand new houses; we also renovate rooms to make them suitably acceptable for today's homeowner. We'll walk you through five of our favourite house makeovers in this story.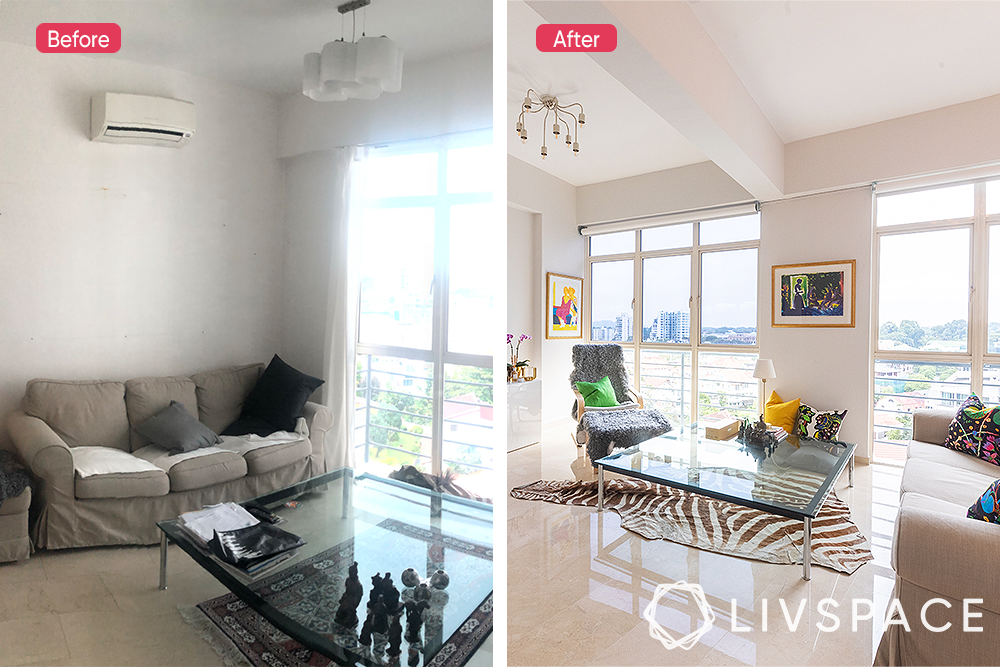 Who livs here: A couple
Location: 35 Robin Road
Type and size of home: 2-room condo spanning 98 sq. m.
Livspace team: Interior designer and project manager Ava Gui
Livspace service: Full house renovation
Budget: $$$$$
For the couple's appreciation of the old and new, our interior designers combined mid-century modern furniture with contemporary design in this home renovation. This resulted in a unified and warm style. Living room is the focal point of this home. The walls of the condo's third bedroom were hacked down to create this open and wide living room. The couple who lives here like spending time in their living area, listening to music and taking in the beautiful scenery. The massive floor-to-ceiling glass windows attest to this, allowing plenty of natural light in. 
The 1940s Josef Frank colourful cushion covers and the Le Courbusier LC10-P low centre table from the 1930s are examples of a modern perspective on practicality. The kitchen renovation features magnificent marble flooring that matches the rest of the house and is well offset by the sleek dark-grey cabinets. This home's design concept is further enhanced with the addition of vintage rugs and mid-century ceiling lighting.
ALSO READ: 5 Best Home Renovations by Livspace in 2021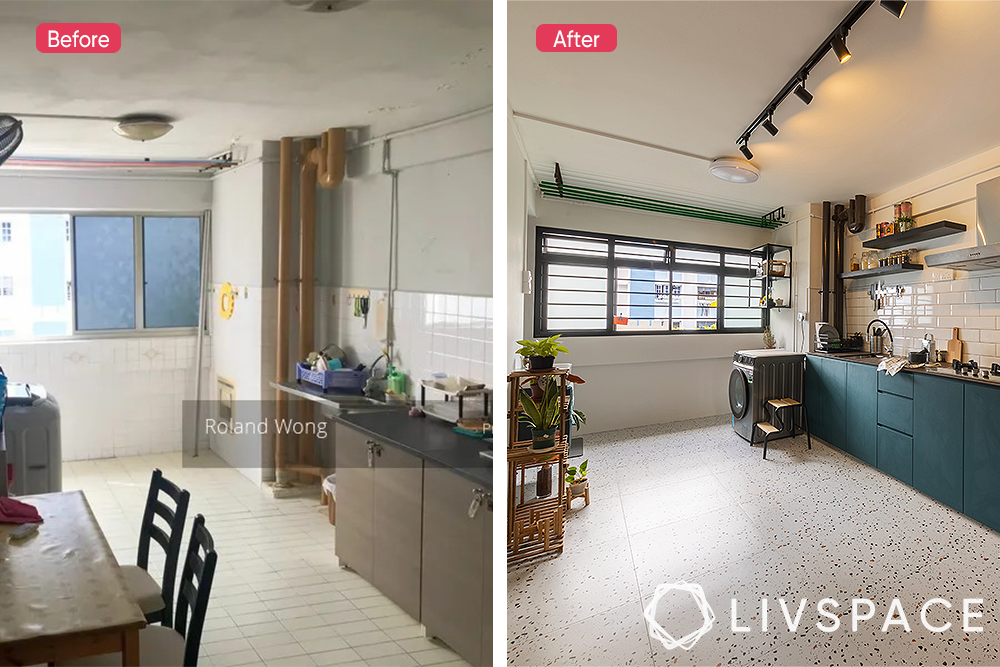 Who livs here: A young couple 
Location: 244 Bukit Batok East Avenue 5 #06-22
Size of home: 93 sqm 3-room HDB
Design team: Interior Designer Stephanie Ng and Business Manager Eddie Chua 
Livspace service: Whole kitchen overhaul, painting, vinyl floor works
Budget: $$
This Livspace kitchen renovation has it all: flexible storage, simple upkeep, and effective workflow solutions. The kitchen in this 3-room HDB was approximately 38 years old, and it required some work to give it a suitable structural facelift. The original false ceiling was removed, and softer colour palettes were applied to keep the design basic. 
This three-room HDB kitchen provides plenty of storage. There are plenty of shelves and stands to hold containers, utensils, and other kitchen accoutrements. To get the wood-effect, the kitchen countertop was made of KompacPlus. They also included a few potted plants in the kitchen to keep up the forest vibe.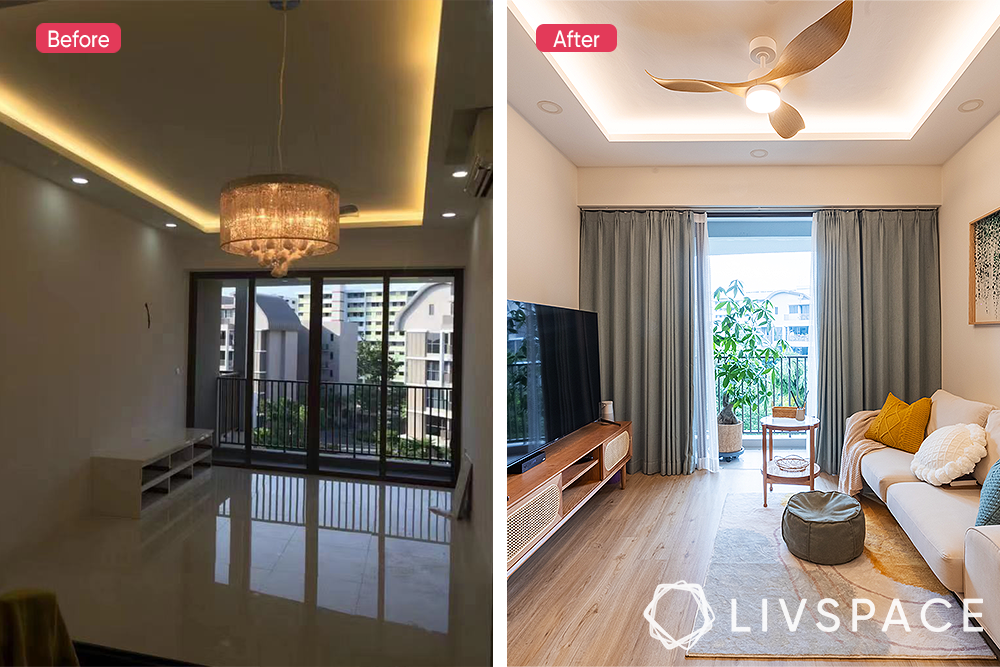 Location: 529 Bedok Reservoir Road
Type of home: 2-room resale condo
Livspace team: Interior Designer Wanting Liu and Project Manager Zach Lee
Livspace service: Flooring, painting and decorating
Budget: $$$$$
In this home renovation, warm wood tones go across the entire space. This home has an old world elegance about it yet remains practical. The homeowners wanted to make use of the loose furniture and wanted to keep their home look tidy. As a result, our interior designer, Wanting Liu, assisted them with the decor, flooring, and painting.
Check out the living room of this home! This living area is basic and elegant, with a backdrop of neutral tones. The vinyl timber flooring complements the beige sofa and wooden TV set perfectly. The little coffee table is indistinguishable from the rest of the room's decor. The light fixture on the ceiling fan and the faux ceiling cove lights brighten it the living room up. Glass paintings of plants on the wall bring the area to life.
ALSO READ: 5 Best Small Home Renovations You Must See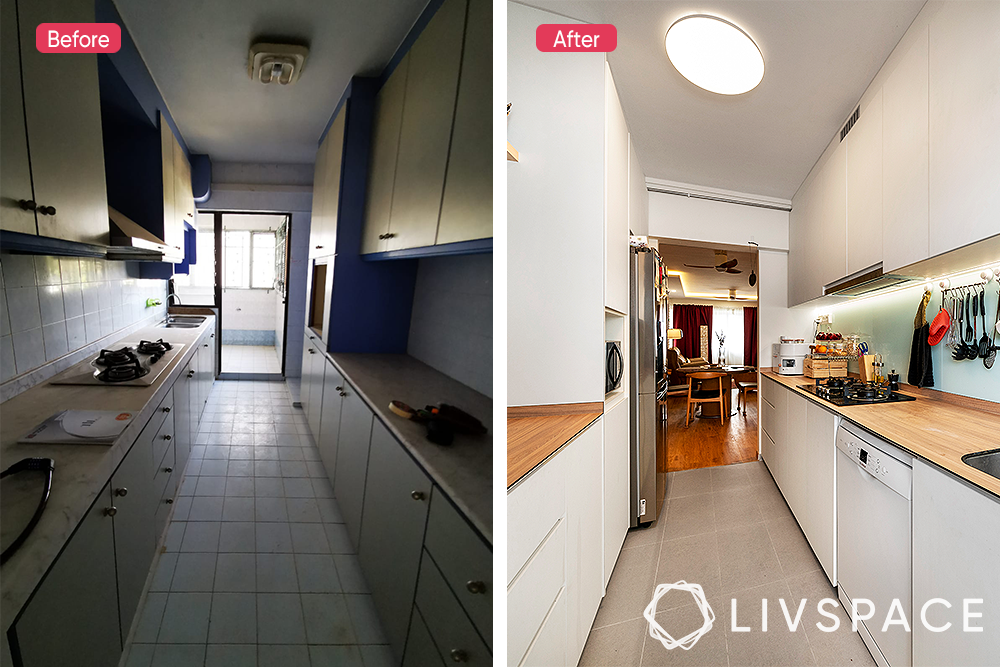 Who livs here: Krish Iyer
Location: 772 Bedok Reservoir View
Type of home: 5-room HDB
Livspace team: Interior designer Ava Gui and project manager Kent Huang
Livspace service: Design, demolition, masonry, carpentry, electrical, plumbing, ceiling and partition work, painting
Budget: $$$$$
This 5-room HDB home renovation will win your heart without a doubt. Krish desired a home that was both comfortable and inviting, or, as he put it to the designer, "a place I want to live in." The entrance to an open-plan home features a neutral-colored foyer with a white shoe cabinet. The living room features a brick accent wall that provides some intriguing character to the area, as well as recliners, a sound system with amplifiers, and a TV console, all of which are designed with comfort and convenience in mind. 
From the living room to the dining room, a false ceiling with cove lighting runs uninterrupted, but the kitchen is the star of this HDB. The galley-style kitchen has enough space and open shelves to accommodate all of the appliances and accessories needed to assist the homeowner in his culinary endeavours. In contrast to the hardwood surfaces, the kitchen's colour scheme is predominantly white.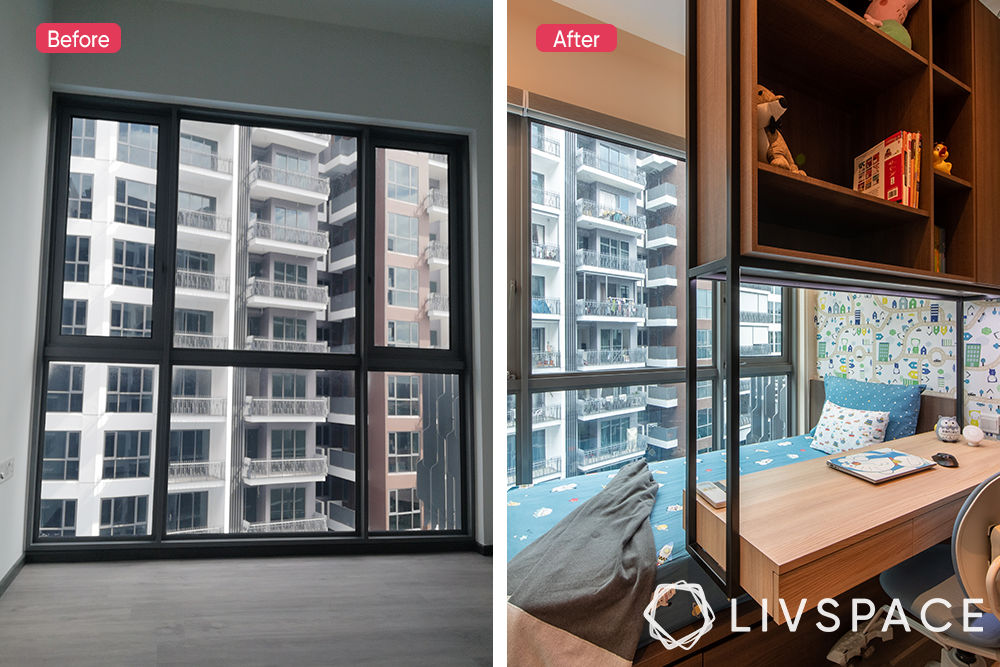 Who livs here: Kevin with his wife and two kids
Location: 9A Forest Woods
Type of home: 3-room condo
Livspace team: Interior Designer Mizan Arsad and Project Manager Kelvin Lim
Livspace service: Carpentry, painting, false ceiling, electrical, lighting, wallpaper
Budget: $$$$$
Warm neutrals on the walls and furniture greet you as soon as you enter inside this home. The foyer has a beige-maniate-finished full-wall storage unit dipped in a similar shade of neutrals as the living room. A dark hardwood panel runs from the floor to the ceiling in the living room, along the wall with the TV unit. 
But the most interesting part in this home is the kids' bedroom. We've seen a lot of kids' rooms in various sizes and styles, but this one stands out. Why? Because when working on this space, Mizan had the ability to make some innovative design decisions. He had to figure out how to meet all of the clients' requirements without making the area appear too 'planned.' Their son had his heart set on the wallpaper you see in this room. The study table suspended from the ceiling is an amazing idea to borrow from this space. It aids in the removal of table legs, creating the illusion of extra floor space.
How can Livspace help you?
Did you find these home renovations inspiring? You can also get such beautiful interiors for your home with the help of Livspace. All you have to do is book an online consultation with our design experts to get safe and quality interiors. You can learn more about COVID-19 safety protocols here.
If you liked these homes, then be sure to check out this one too: https://www.livspace.com/sg/magazine/budget-homes
Send in your suggestions and comments toeditor.sg@livspace.com