If IKEA is your favourite furniture store for the best in home shopping,  then you are in for a treat. Livspace, in collaboration with the Swedish furniture mogul as a renovation partner, is out to provide homeowners with the best interior design Singapore experience. So, the next time you are planning a trip to IKEA, make sure to stop by Livspace's new IKEA Planning Studio at Jurong Point Mall as well! At this exclusive design studio, you will get to experience the best of both brands. 
Wondering how? This house, which has been designed by Livspace's expert designer Ava Gui, will help you picture it. She came up with a swanky design plan using IKEA's practical furniture. For this, she used a sample floor plan of a 4-room flat at Waterway Sunrise spanning 93 sq. m.
Take a look at the floor plan: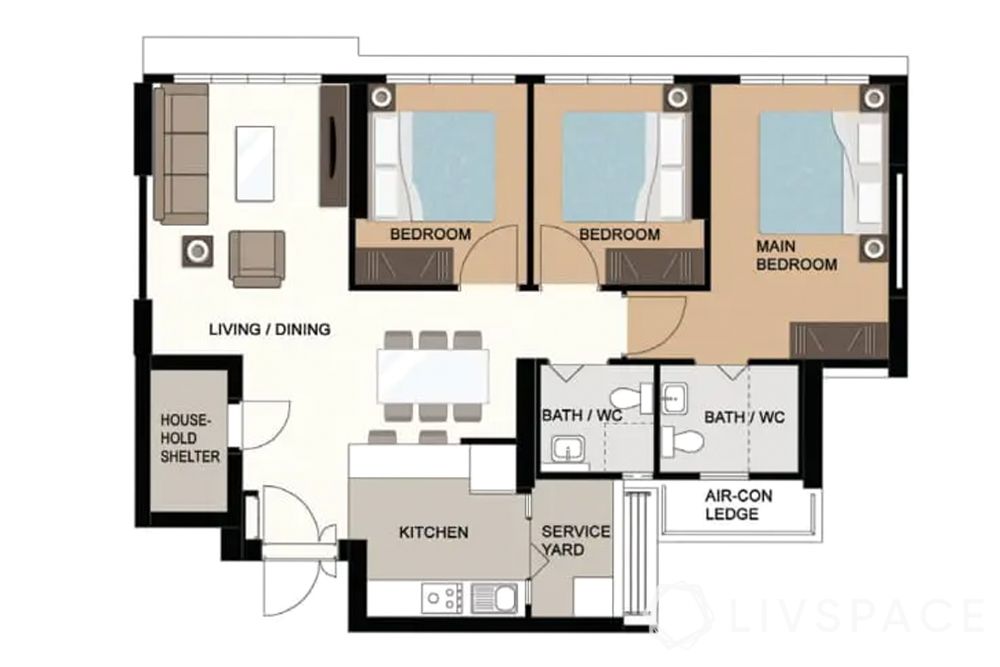 This design plan is built for a young working couple whose budget ranges between $35,000–$50,000. The couple want separate studies as they work in different industries and need their respective private space. They also incline towards surrounding themselves with greenery and like to have a lot of plants. 
With this brief in mind, Ava constructed a design that would resonate with the couple's lifestyle and sensibilities. And the result is a traditional Scandinavian biophilic eclectic design. Scroll to view the full home created by the best interior design players in Singapore.
#1: Entrance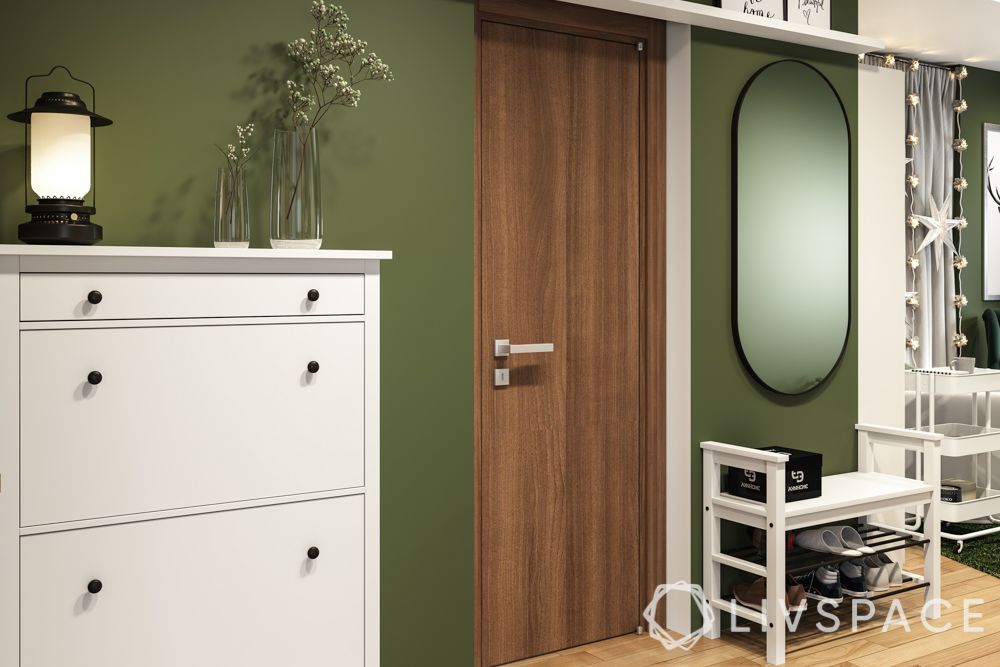 You will understand the design grammar of this home as soon as you step inside. Clad in green, the flat has a lot of storage,  display units and decor elements. The entrance features a bench with shoe storage, a bigger Hemnes shoe cabinet with compartments and a picture ledge. The decor items include an oval mirror, some plants, posters and other knick-knacks.
#2: Living Room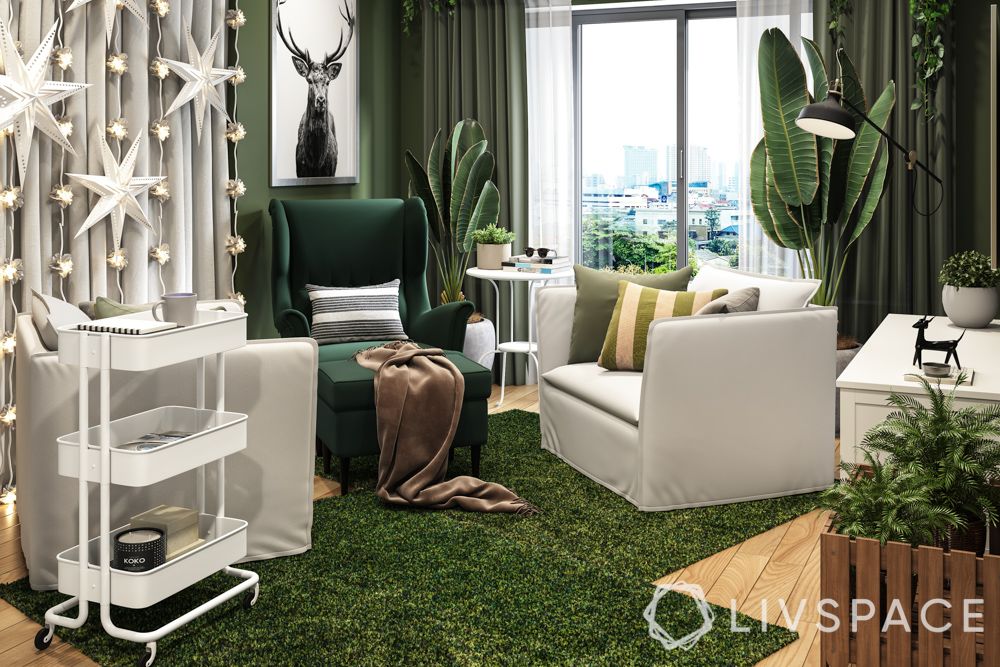 The living room is a testament to its residents' love for plants. Ava managed to include a lot of green without overdoing it. She calls the style of the living room a mix of eclectic, Scandinavian and biophilic designs.  
The furniture here includes a Billy/Oxberg book cabinet, TV unit, wing and armchairs and side tables. Ava went for the unconventional cafe-style seating arrangement to maintain a casual ambience. There is also a ledge above the window to accommodate more plants. The green walls and furnishings beautifully complement the light wooden flooring. 
Another highlight of this room is the mix of lighting fixtures used. We can see fairy lights, LED ceiling lights (shaped like a window), spotlights and floor lamps. 
#3: Dining Room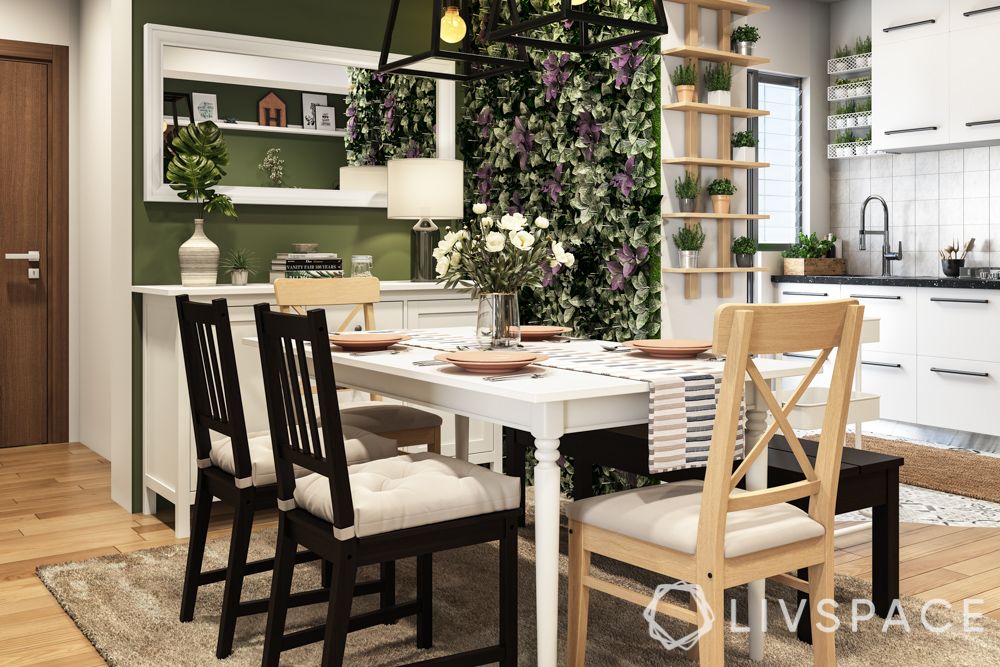 Perched on a beige carpet, a traditional dining set occupies the dining area. The table is space-efficient as it can be extended whenever required. The space also features a white sideboard and two wall shelves as display spaces. 
Adding a vibrant touch to the room are the pendant lights, plant wall and other decor items.   
#4: Kitchen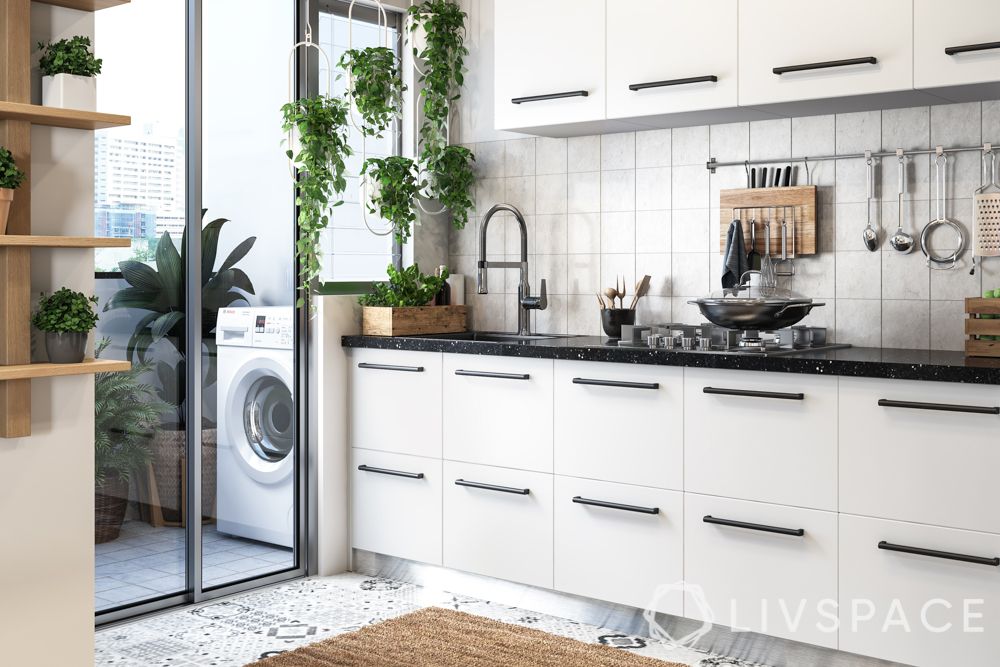 The compact straight-line kitchen features products from IKEA's Knoxhult series, the famous and best interior design Singapore for kitchens. Done up in white and black, it exudes a traditional Scandinavian vibe. The small space is well-optimised by using the wall space for cabinets and leaving the floor free for ease of movement. 
The hanging herb garden adds a pop of green to this white kitchen. Black ceiling track lights are used to light up the area. The kitchen leads out to a balcony that doubles up as a utility area.  
#5: Bedroom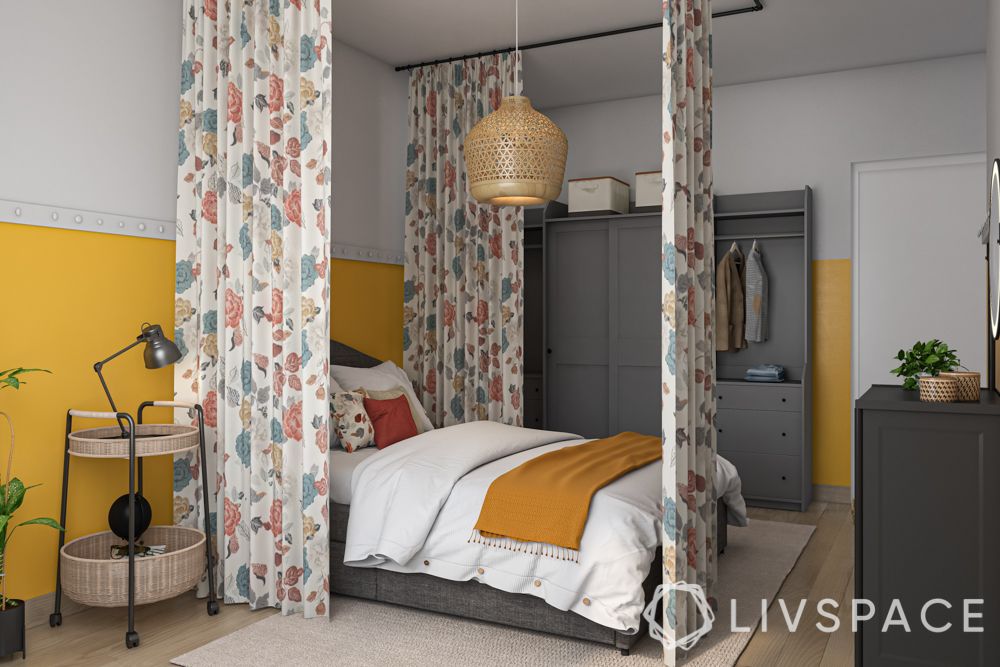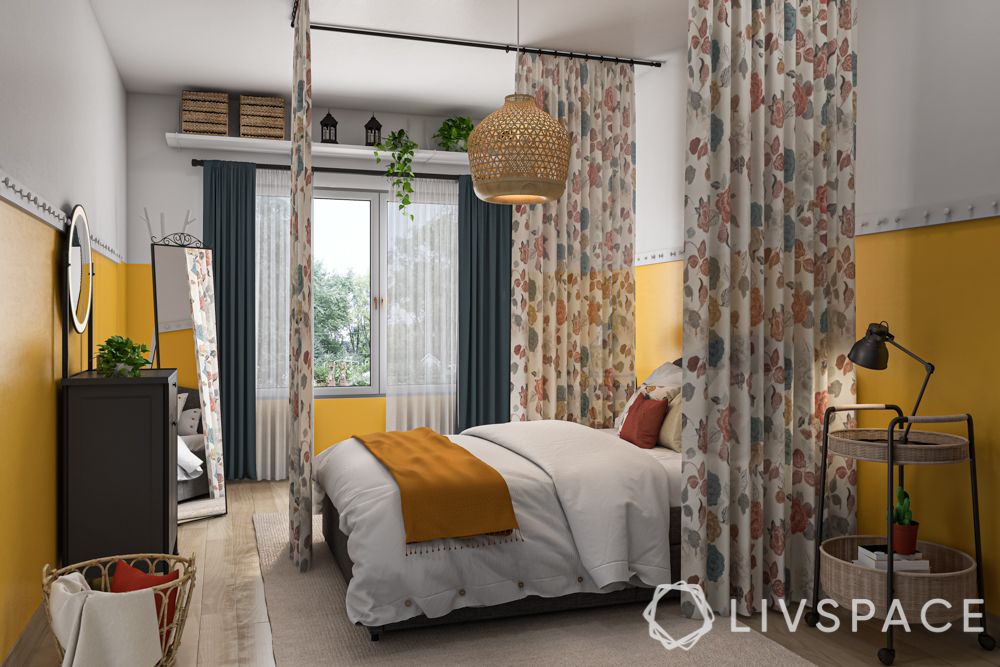 Like the rest of the home, the bedroom too is unconventional. We can see a blend of various colours such as white, yellow and blue. 
Ava had the Hauga bed surrounded with floral print curtains, to mimic a four-poster bed.  The room also features a grey wardrobe, bedside table, dresser unit, a stand-alone mirror and a picture ledge. The floral curtains, bamboo pendant light and colours evoke a cosy cottage vibe.  
#6: Study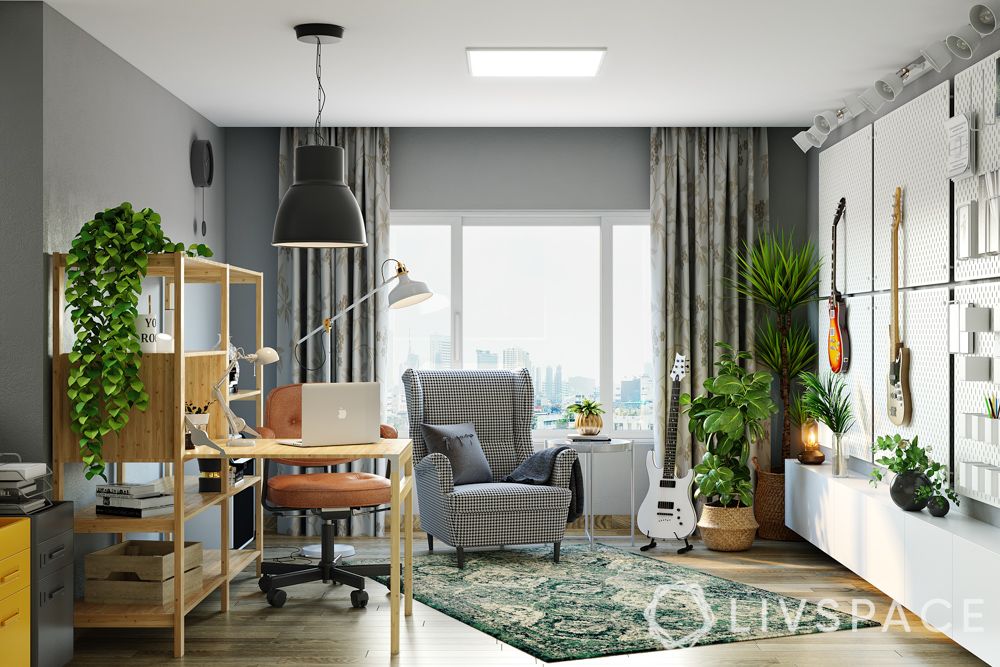 There are two studies in this home, which were designed according to the working style of its users.  
The study for her follows a colour palette of grey, white and light wood. It has a foldable desk with open storage compartments and a desk chair. Storage is sorted with two chests of drawers and a floating unit. There are also the famous pegboards from IKEA for display.  
A grey wing chair is also added for lounging. Patterned furnishings, various lighting fixtures and pretty plants adorn the room.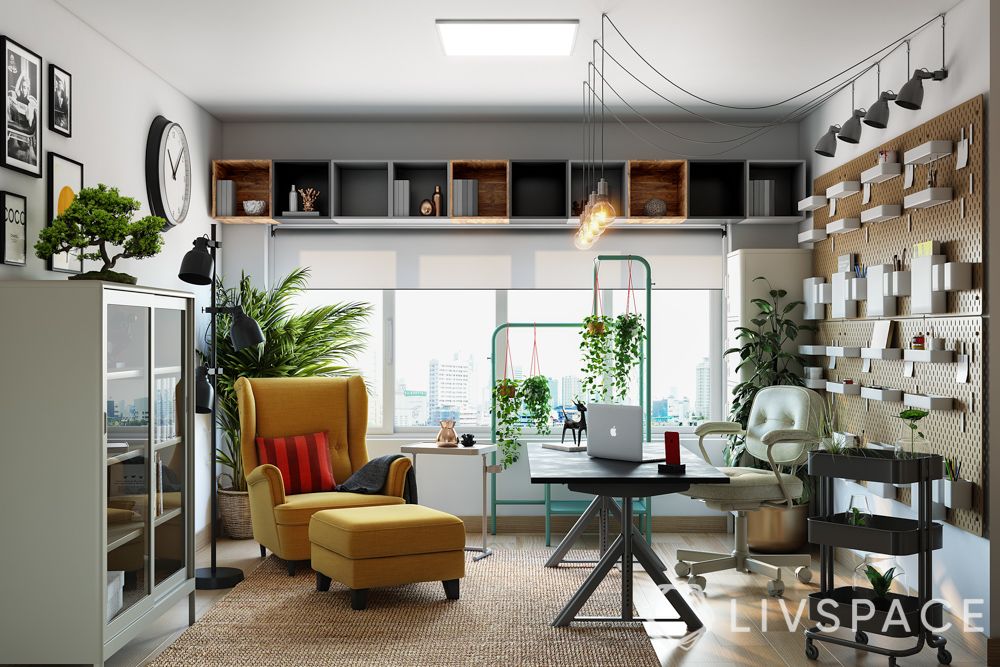 The study for him predominantly uses white, yellow and beige colours. Like the other study, this one too has a lounge wing chair, desk chair, pegboards and a lot of storage units. IKEA's Idasen desk is height adjustable and can hide wires seamlessly. The lighting fixtures — pendant lights, clamp spotlights and floor lamp — not only light up the room but also serve as a design element.
#7: Toilet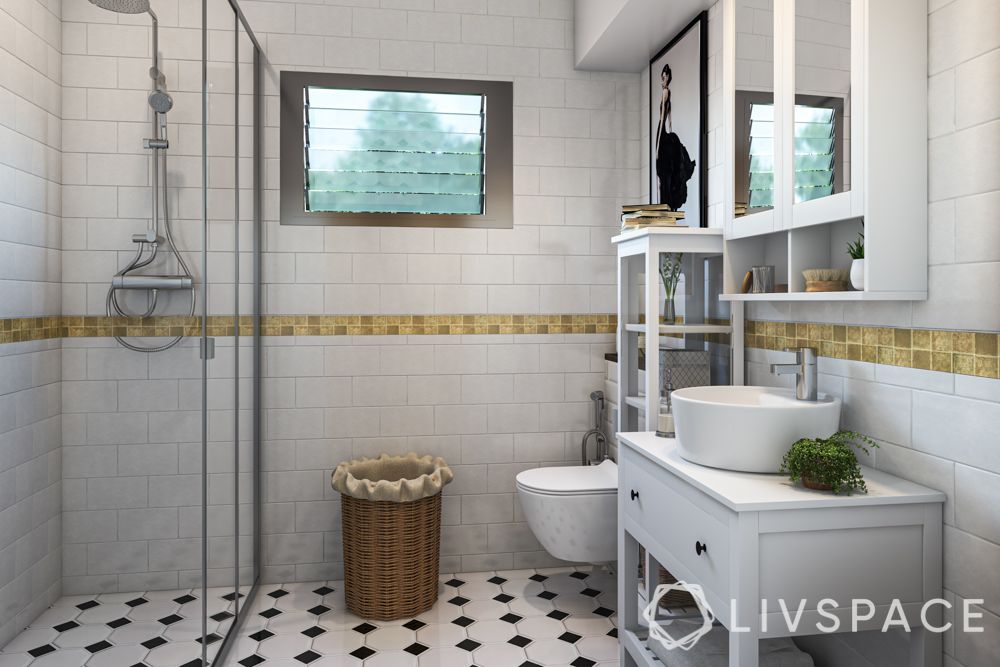 The master bathroom features furniture from the Hemnes series. With white as the predominant colour, the bathroom follows a simple Scandinavian style with well-crafted modern and functional furniture. The moulded mirror frame above the washbasin evokes a traditional look.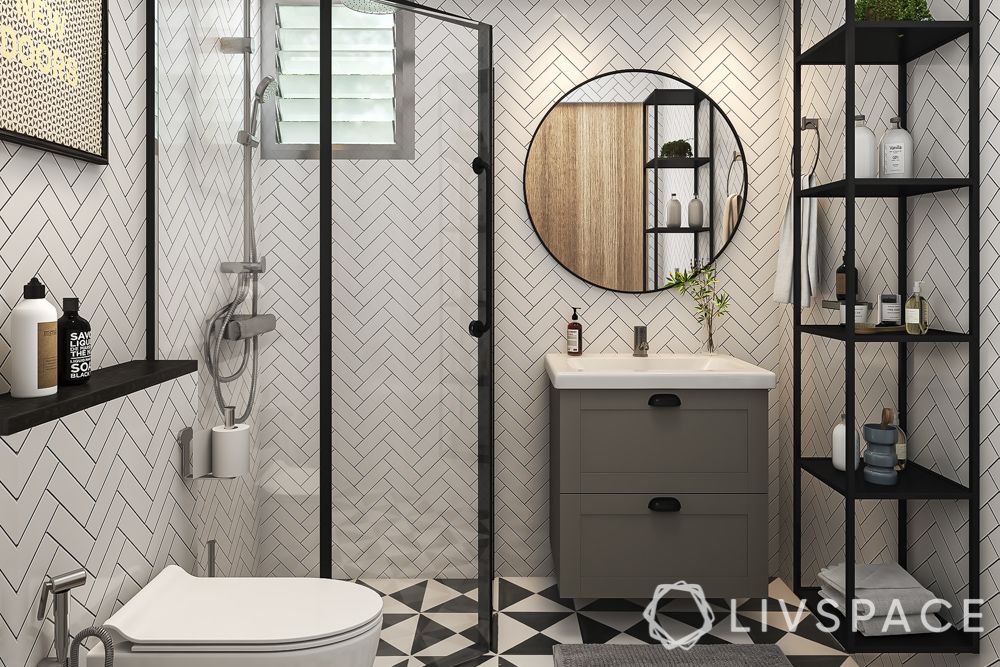 The common bathroom presents black and white in perfect harmony. It is built using tiles of different patterns; white herringbone-patterned tiles for the walls and black-and-white geometric-patterned tiles for the floor. Like the master bathroom, this one too has storage units such as a floating shelving unit and a closed vanity unit. The round mirror serves as a focal point. 
How can Livspace help you?
We are sure you like our home design with IKEA furniture. If you wish to have such beautiful interiors for your home too, do visit Livspace's IKEA Planning Studio at Jurong Point Mall. You can also book a consultation with our expert designers. With safety as our #1 priority, we provide quality and the best interior design Singapore has to offer. You can learn more about our COVID-19 safety standards here.
You can check out our other projects with IKEA here:
Beautiful Home Interiors by the Winning Duo: Livspace & IKEA
What is the Best Way to Design a 3Gen Flat with Furniture from IKEA?
Send in your comments and suggestions to editor.sg@livspace.com