It's that time of the year again where "new year, new me" hashtags bombard our social media feeds. But of course, they're always followed up by a big transformation we've made, or are looking to make in the new year. So, how about we take a look at some of the best kitchen makeovers of 2022 in Singapore, to get our creativity flowing.
Here are 5 amazing kitchen transformations from Livspace HDBs that you just can't miss: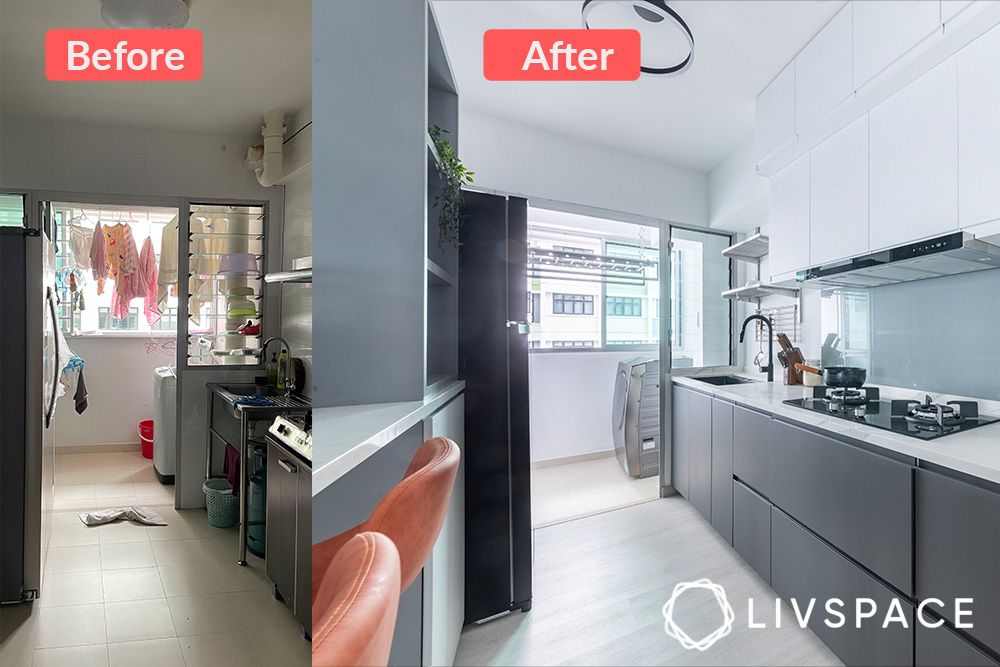 Though handles offer convenience, they might not always be the most aesthetic addition to your kitchen. In fact, they can even run the risk of making your cabinets look a bit bulky. So, what do you do when you're looking to try something new with your HDB kitchen? You go ✨seamless✨, of course!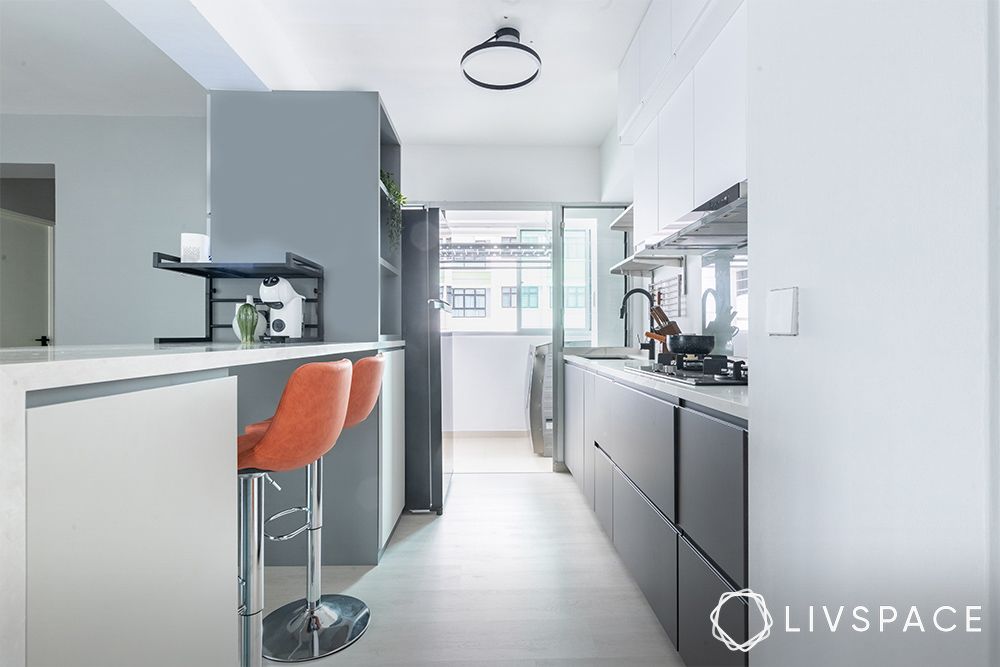 Livspace designer Eleonora spun her magic on this kitchen by transforming it from dull and outdated to a modern wonder. She did this by ditching the old base cabinets for chic modern shades like white and grey. Moreover, the new cabinets have seamless profiles, giving them a cleaner look.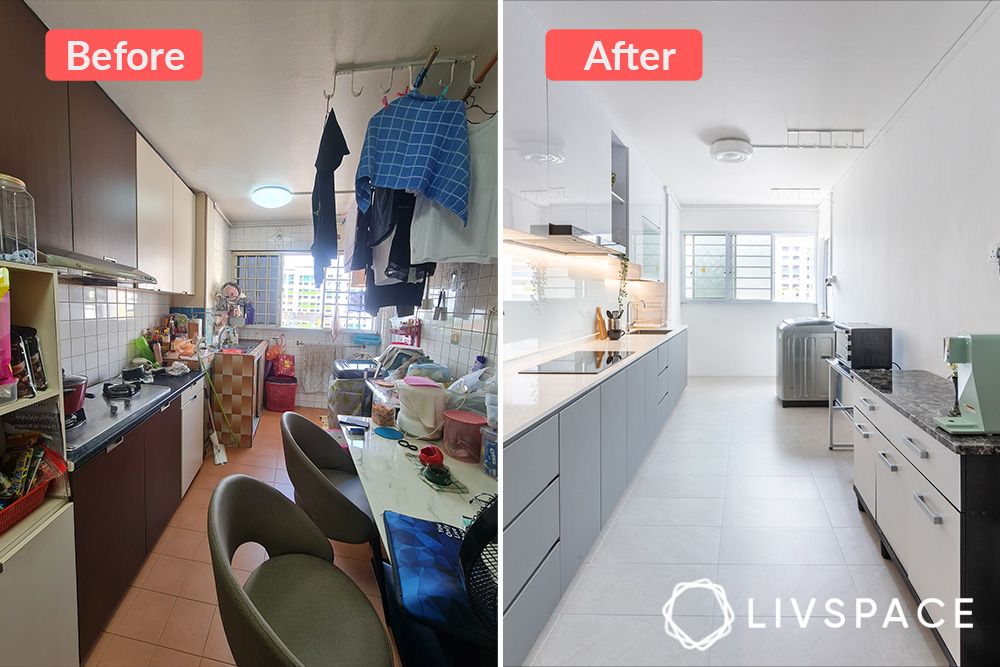 Upgrading your kitchen cabinets is probably a no-brainer when it comes to renovating your HDB or condo. After all, older flats might not be able to keep up with modern tastes and preferences. However, there's something else that's just as important as your cabinets. This, of course, is none other than your flooring.
You want durable floors that can stand the test of time while also being accident-free for you and your family. Here's where homogeneous tiles can be a great investment.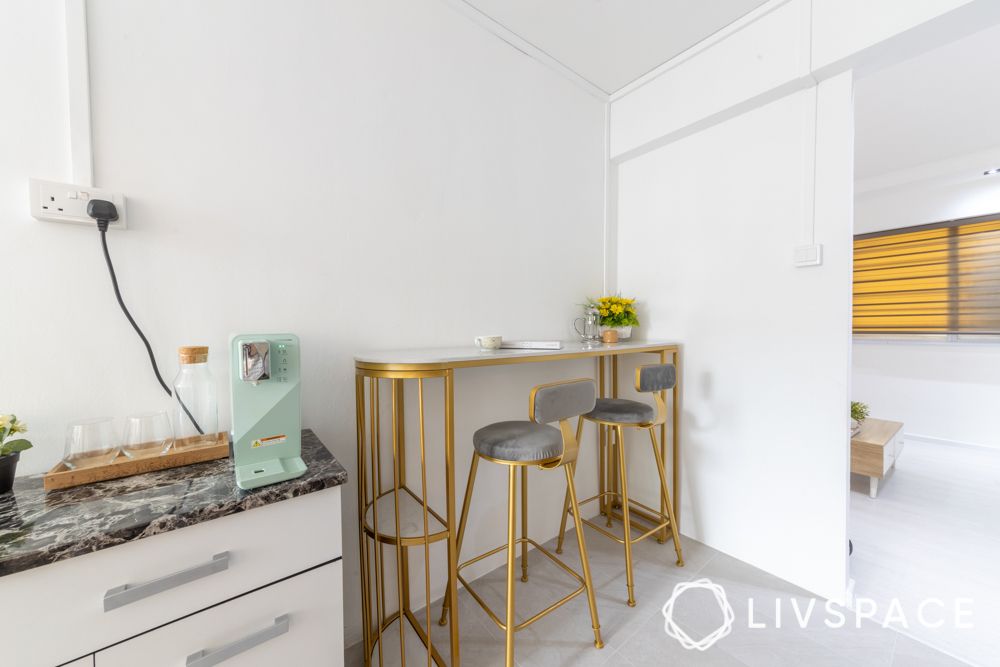 Our designer Nurshafiqah swapped out the old kitchen floors for some handy homogeneous tiles that can withstand heavy-duty use. In fact, these tiles are great additions to multigenerational homes that acommodate both kids and the elderly. Why? Because of their anti-slip qualities!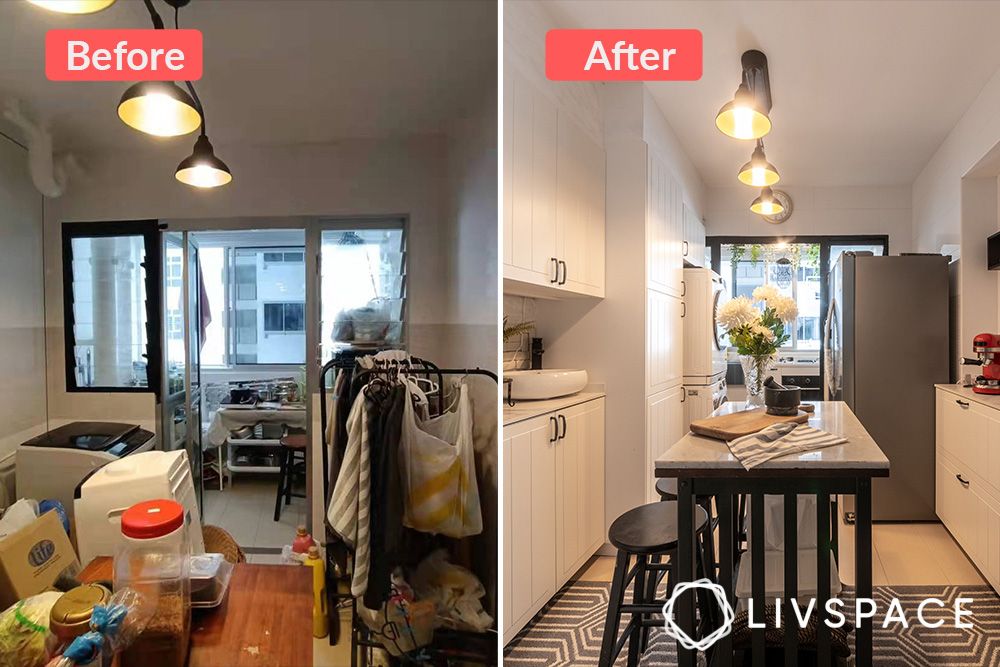 Picture this: you're at IKEA, and you're this (🤏🏼) close to moving into one of their booths because of how organised and well-designed they are. Though we completely relate to how you feel, it might not be the most ideal (or legal) way to show your appreciation. Instead, you can just call us to help you recreate the look at home!
To deck up this kitchen reno, Livspace designer Erin uses nothing but clever design, and some classic IKEA products. What's more interesting is the fact that she was even able to throw in a kitchen island in this galley kitchen! We love a resourceful ID, don't you? 😉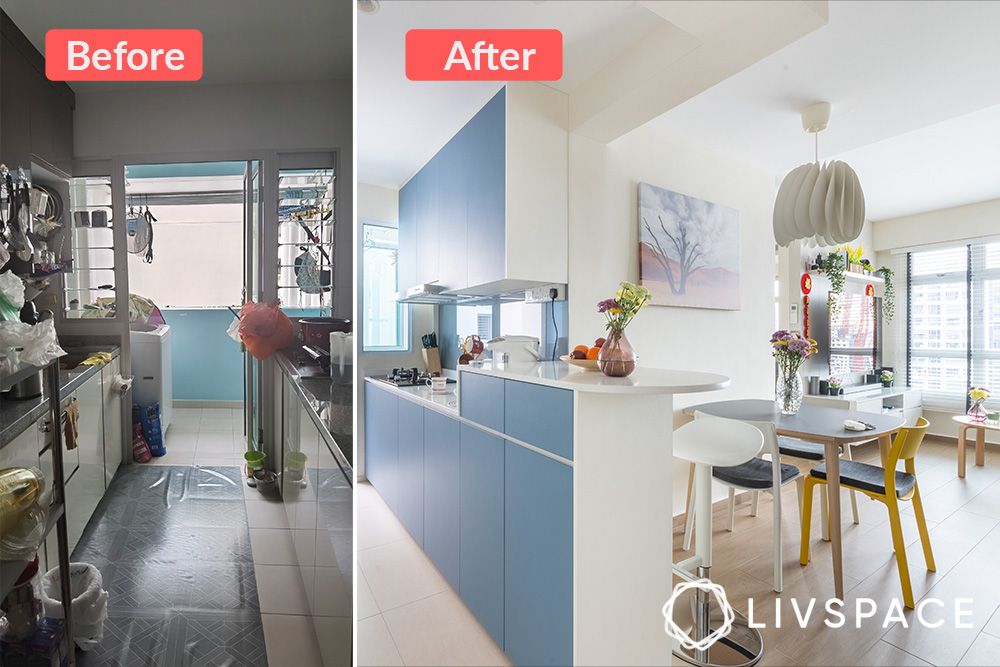 With great change comes great opportunity. And this couldn't be more true with respect to your kitchen reno. In fact, sometimes all it takes is a little hacking to turn your space into something beautiful. Notice how dull and dreary the kitchen initially looked? 😬
With one fell swoop of the kitchen wall, we were able to open up the space and give it a new lease on life. And of course, no kitchen makeover is complete without some accessories. So, that's exactly we added to this kitchen! Take the full tour of the home to see the cosy little breakfast counter we threw into this open kitchen layout.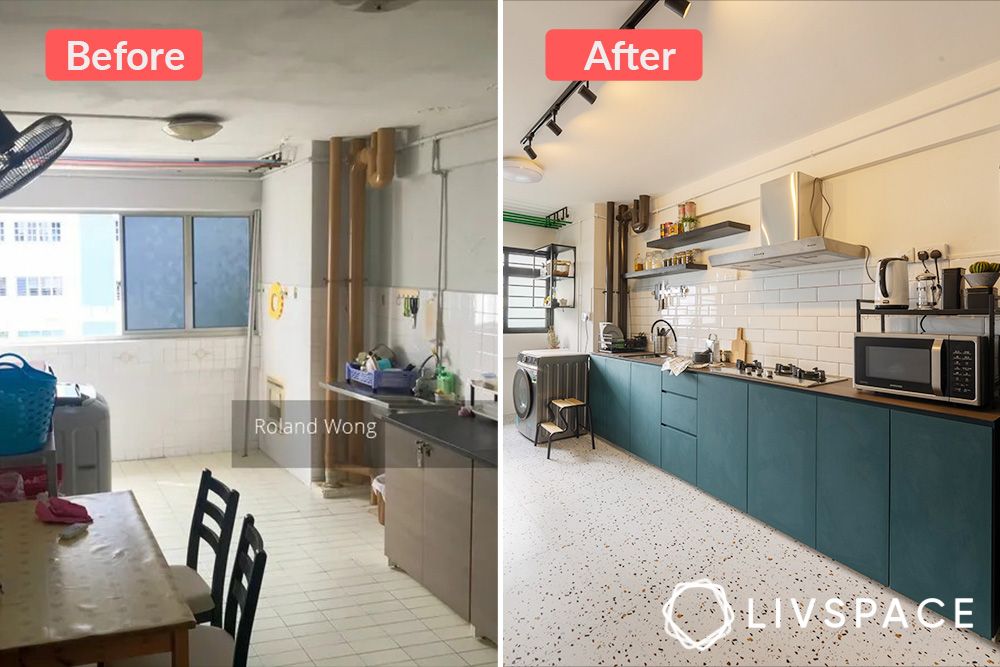 Age is a powerful thing. And when it comes to your kitchen, it definitely does show in ways that are much worse than a few fine lines and grey strands.
So, how did Livspace designer Stephanie Ng help this family of chefs manage this ordeal? Let's just say she took a chance on creativity and the rest was history. Be sure to pay close attention to the grout lines between the subway tiles. 🔍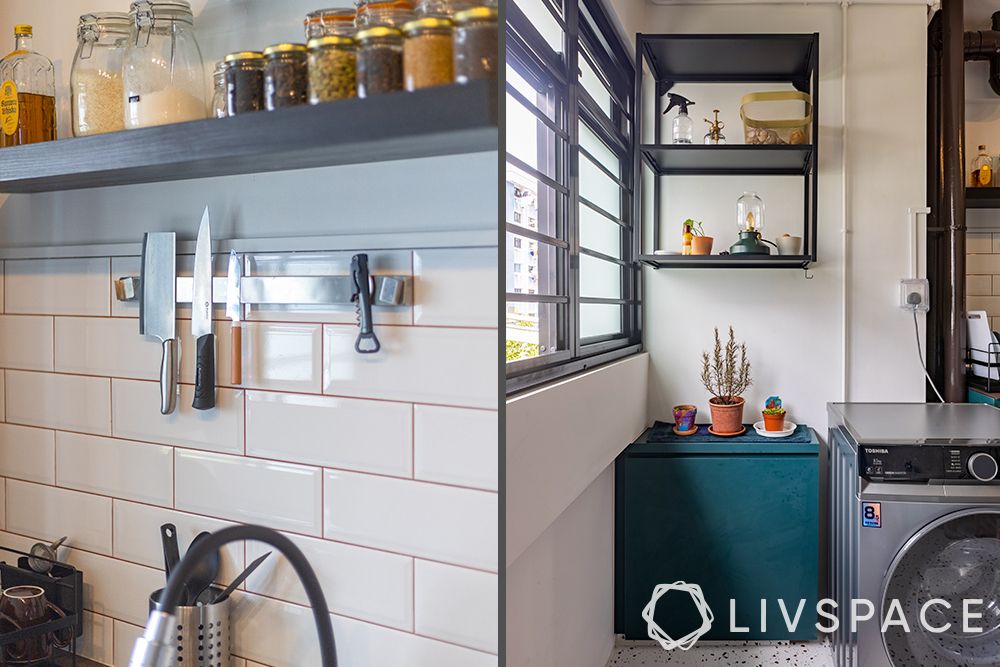 We've used a splash of orange in them to match the backsplash and terrazzo floors. Leave it to our Livspace designers to add a fun twist to even the simplest of designs!
Check out this HDB:
How Can Livspace Help You?
We hope you enjoyed these beautiful makeovers from the HDB kitchens we've designed! If you want your home to be just as beautiful, then look no further. Book an online consultation with Livspace today.
Have some comments or suggestions you'd like to share with us? We're all ears! Feel free to write to us at editor.sg@livspace.com.
Disclaimer: All contents of the story are specific to the time of publication. Mentions of costs, budget, materials, and finishes can vary with reference to current rates. Talk to our designer for more details on pricing and availability.