With bigger cities, come smaller apartments. Thus, smart design becomes an essential part of house interiors. TV feature walls can easily assume the focal point of the room. In most Condos or HDB's, this can present as a problem given that most homeowners want a stylish focal point and can often lack the appropriate space to envision it. Thus, we have compiled a few ideas for TV feature wall designs that can easily make your space appear larger just with a couple of changes. Are you ready to get them? Here we go!
#1: Grace a Spacious Look with Neutral TV Feature Walls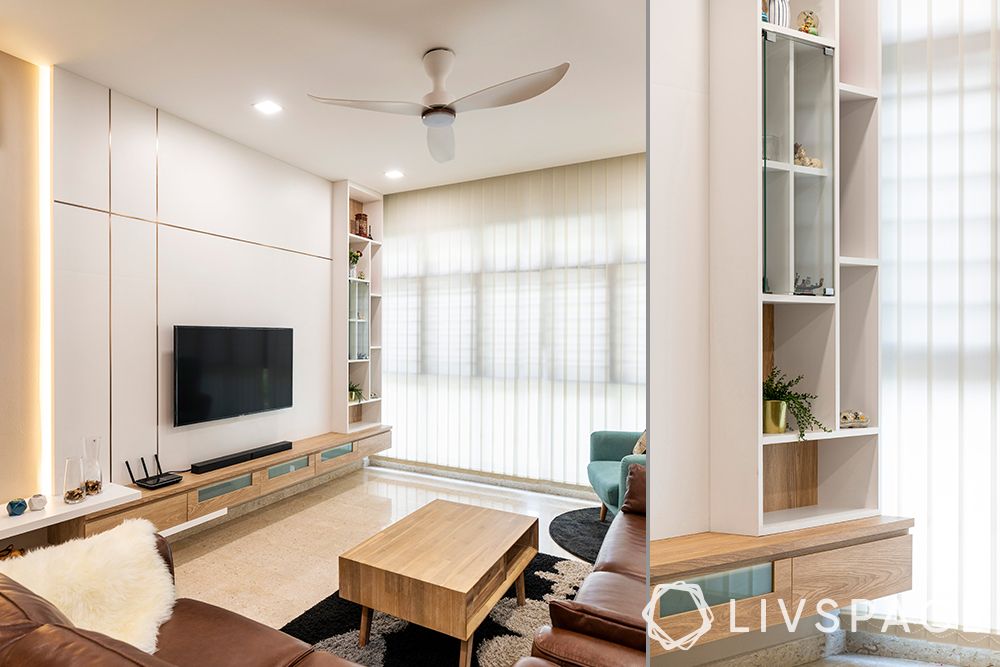 Neutrals and whites have become a cult classic when it comes to choosing dominant colours in the home. TV feature walls that use neutral colours are often viewed as more spacious and airy. White, especially, lends a chic look to feature walls.
#2: Blend Patterns on Your TV Feature Walls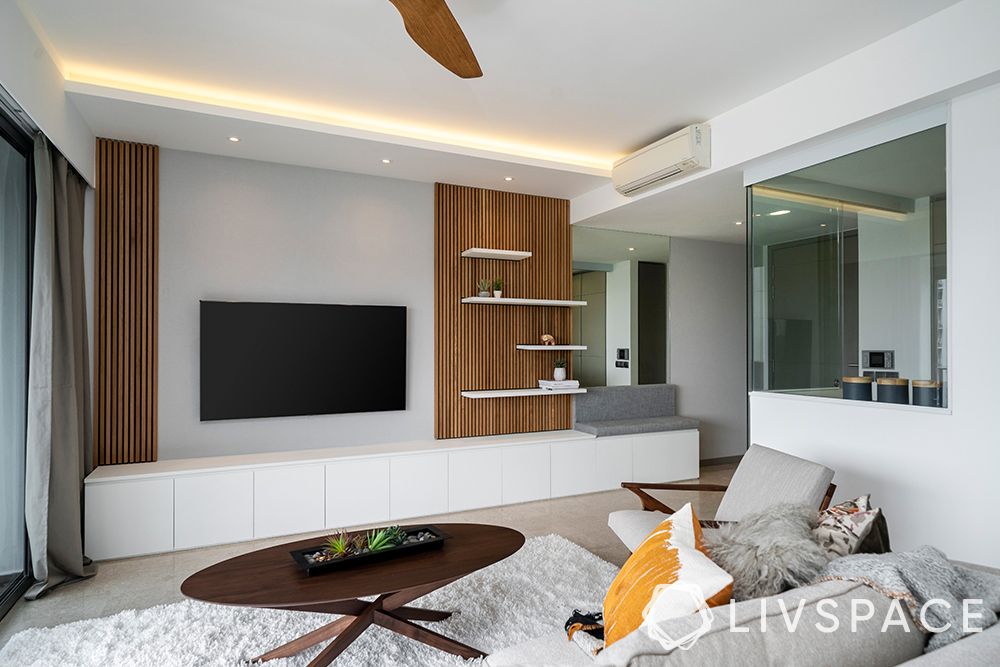 Playing with patterns is about playing with the eyes of the viewer. If done correctly, it can easily add the illusion of space to your room. Stripes or geometric shapes can easily be used to lengthen or widen a room. Using them on TV feature walls will have the same effect and since feature walls are the focal points of any room, they can have an overall impact on how the room itself is viewed.
#3: Flaunt Luxe and Modern TV Feature Walls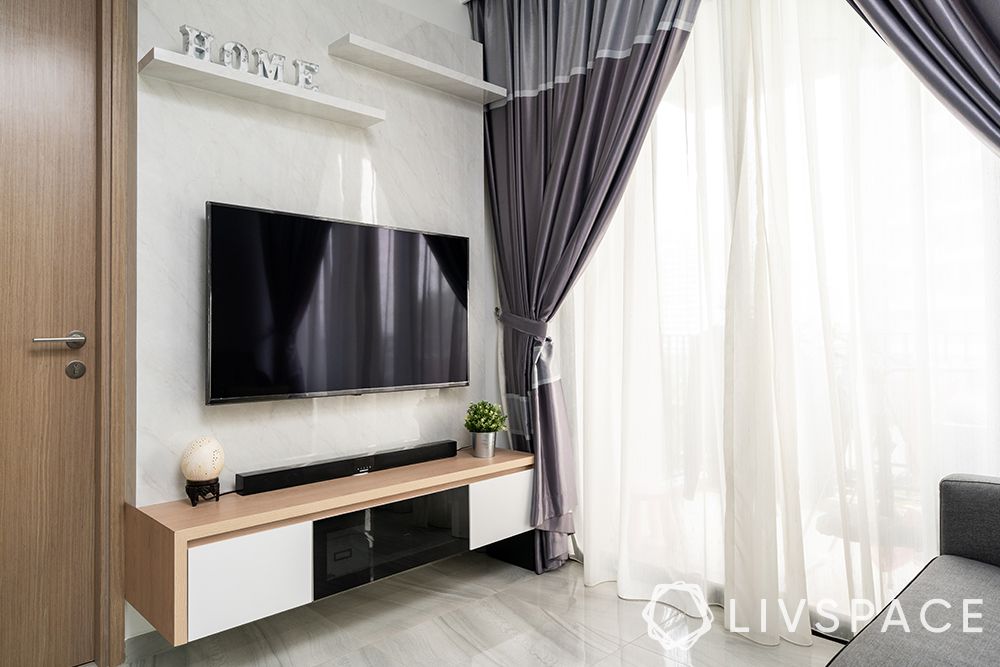 If having luxe interiors is your goal, then a TV feature wall should exude the same. Glossy marble-finish laminate and its reflective finish adds space to the room with its neutral pallet. The floating unit saves floor space too.
#4: Conceal Storage With Shuttered TV Feature Walls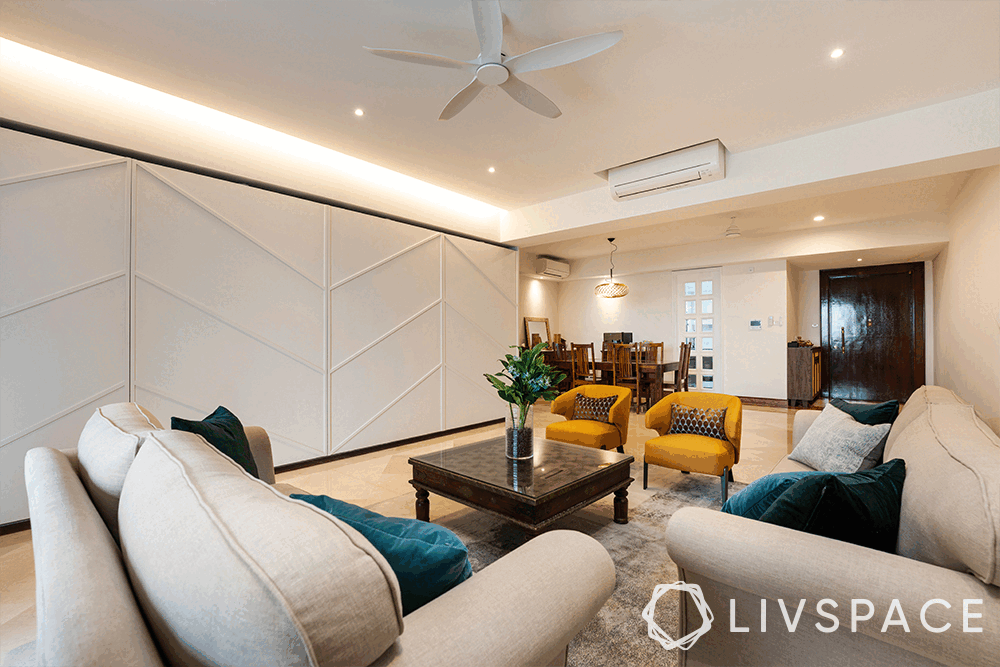 How about hiding away your TV unit behind sliding panels? Believe us, shuttered TV feature walls are a wonderful way to add space and storage, along with style, to your living room. Opt for a sleek design and you can add pattern, wallpaper or colour to make it stand out.
Also Read: 15 Positively Stunning TV Wall Designs for Your Home
#5: Add Dimension to TV Feature Walls with Texture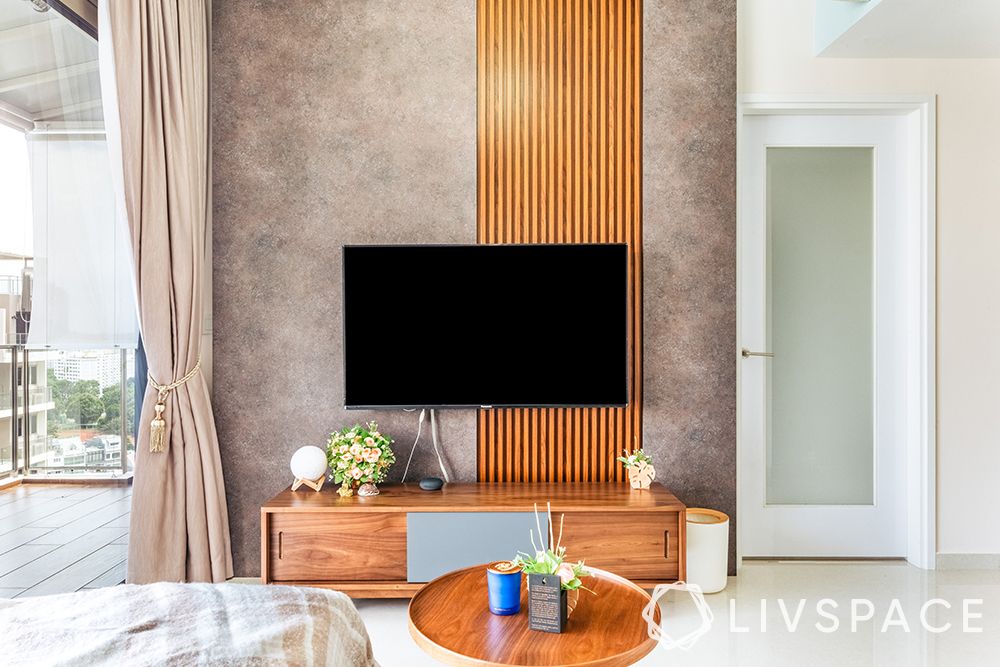 Adding textures such as wooden panelling on TV feature walls is a great way to accentuate an otherwise plain space. Want to know what else it does? It adds dimension to the living room, creating an illusion of space. Hence, it can easily make your space look extensive.
#6: Don't Go Bold With Your TV Feature Walls
Looking to create a natural accent so that your space appears bigger? The best way is to shape your colour palette to create a natural looking accent on the TV feature wall design. This will help the wall to stand out in a subtle way.
#7: Use Right Lighting on TV Feature Walls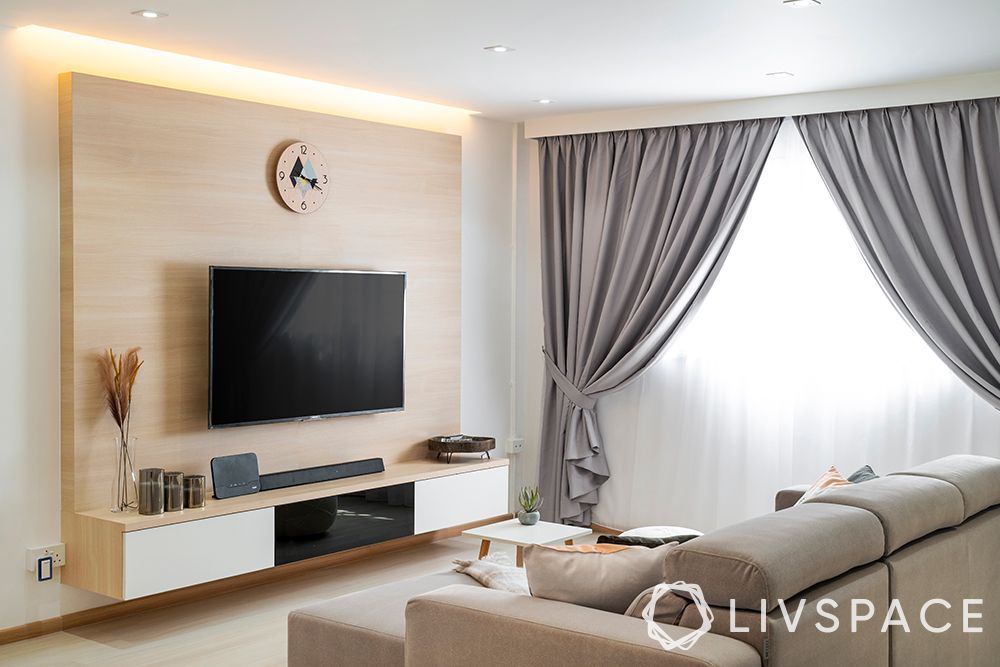 Not only is this living room bathed in a neutral palette that's proven to be space enhancing, but it also has ample lighting that adds on to making the space bigger. The recessed lighting behind the floating modular TV unit aptly lights up the room, and eliminates dingy shadows as well. This works in favour of making the room larger.
#8: Play with Colour Depth Perception of Feature Walls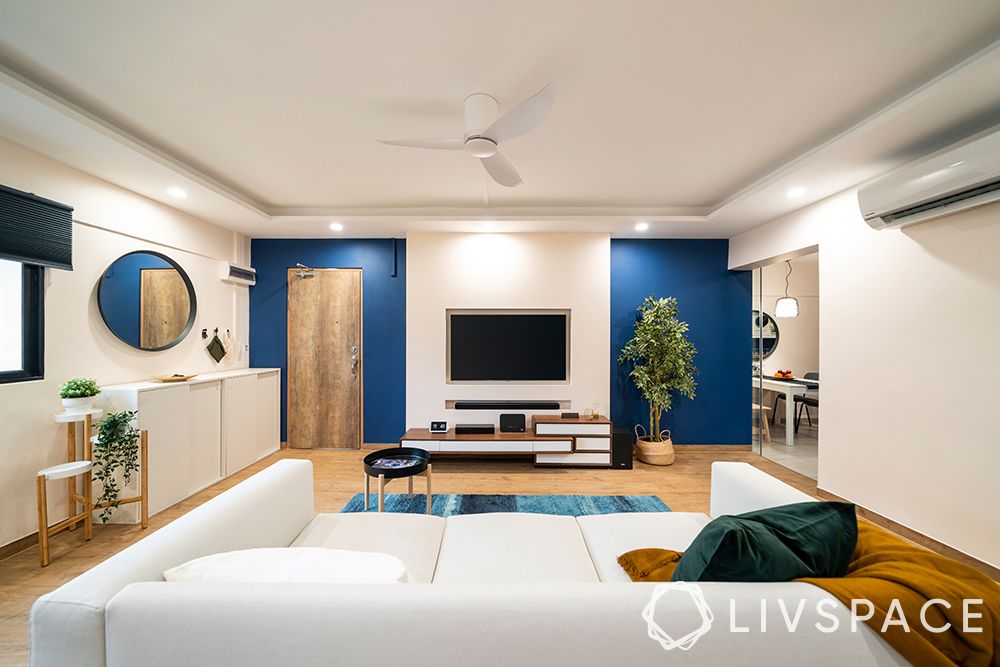 This is a general idea that can be used to make your living room appear larger easily. Use the juxtaposition of light and dark colours as the darker hues accentuate the lighter hues making the living room look more expansive. Place the two hues carefully to allow this contrast to emerge in full effect.
Also Read: Blah to Fab With 6 Refreshing Feature Wall Designs For Every Room
#9: Consider Monochromes for Imposing TV Feature Walls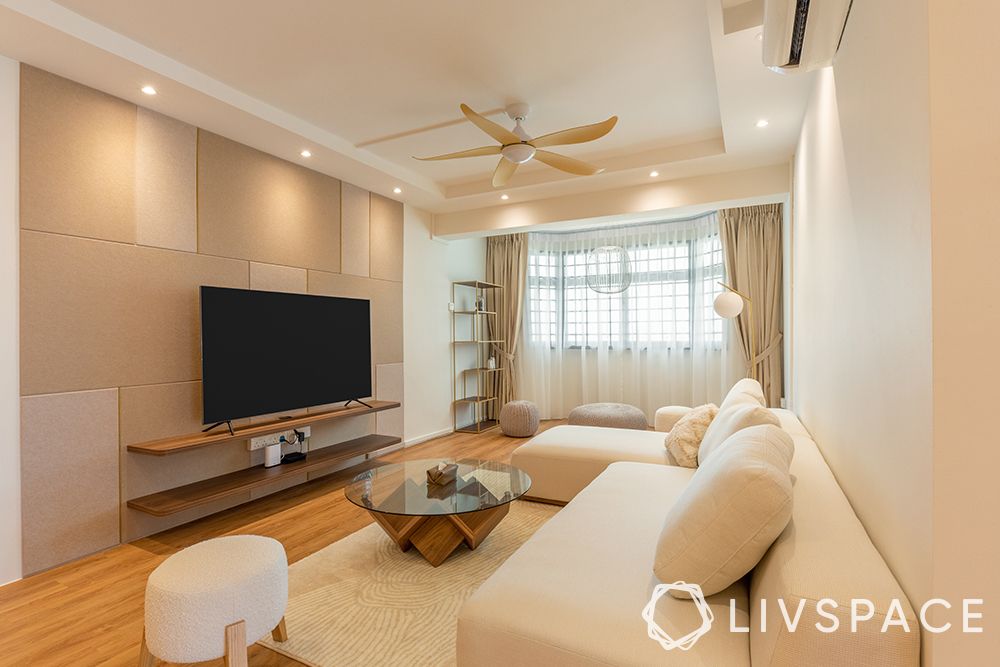 Want to stick to monochromes? For a smaller living room, this might actually make the space look bigger. Monochromes often seem restricting however, if placed with the right accents, they can actually make for interesting TV feature walls while making the space appear larger.
#10: Keep Reflective Elements to Create Illusion of a Bigger Space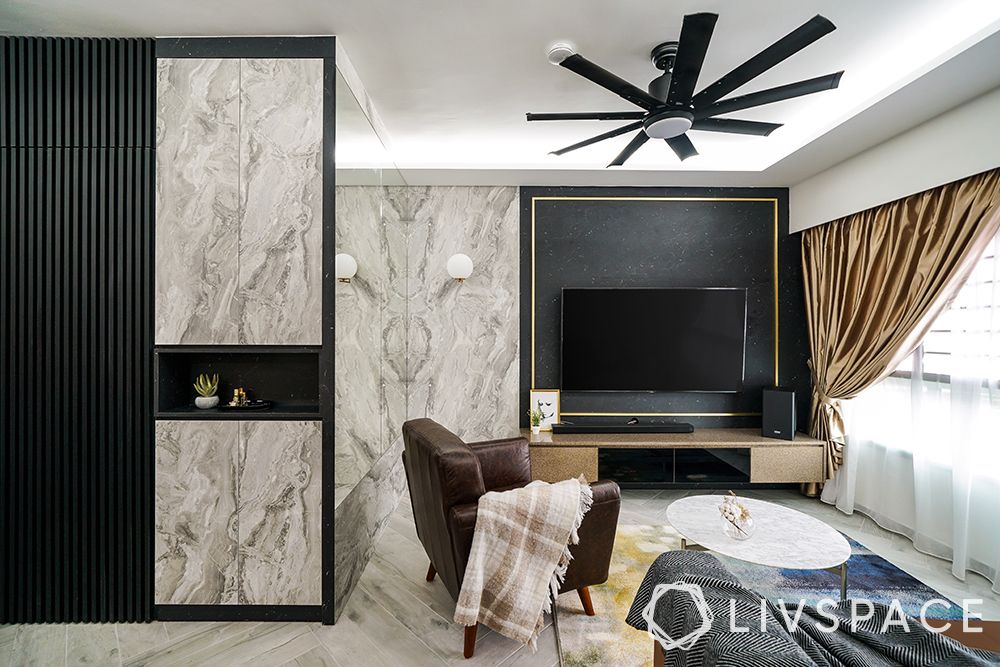 Adding reflective elements is a great way to add depth and dimension to your room, which then also makes your TV feature wall design appear larger. As you can see, this feature wall design has gold trims with a mirror wall right beside it which instantly makes the space appear larger.
Looking for TV unit designs? Here are 10 Latest TV Console Designs You Will Fall in Love With. Want the same for your house? Then you should read below.
How Can Livspace Help You?
We hope you found our ideas useful! If you want your home to be just as beautiful, then look no further. Book an online consultation with Livspace today. Delivering safe home interiors has been our No. 1 priority. Click here to find out how interiors are being delivered following all safety protocols.