Bomb shelter designs have been a compulsory feature in all Singapore flats since 1997. This is mainly to protect people during emergencies. After all, one cannot predict when a war starts but it is always best to be prepared for contingencies. But, when it comes to the overall look, there is no question that a white door with its oval vent messes with the aesthetic of your home.
Bomb shelter plans typically comprise a room about 2.5 metres high with around 4.8 square metres of space. This room comes with an airtight door, a vent and a rubber gasket around the door to seal it. As far as rules regarding bomb shelter designs go, one cannot drill the walls, floors, ceiling or the door, or make any modifications to the door and vents. However, don't let the rigid rules get you down. They don't have to stop you from decorating your bomb shelter from the outside. And, here's where we come in! We show you ways to conceal your bomb shelter door in a way that works well with your home interiors. Check out these six ideas on how to successfully camouflage a bomb shelter:
#1: Build Around the Bomb Shelter Door
There is no permit required if you choose to build or create or place anything on the external wall of the bomb shelter. That gives you the opportunity to add shelves, mount cabinets, create a display case or get creative with a bomb shelter feature wall design. Just make sure that the door to the HDB bomb shelter is easily accessible. The shelf or storage unit can be a swing door or a sliding door that is easy to move in case of emergencies. That is the only thing to keep in mind before you let your imagination run and take over the planning.
#2: Traditional Trapdoor Bookshelf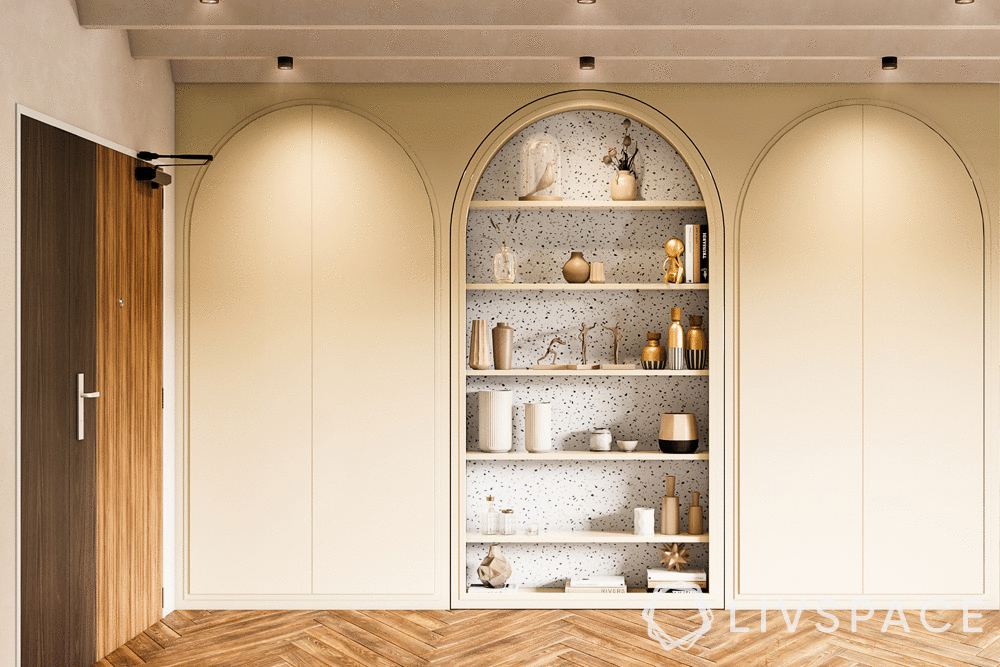 They are a common feature in those edge-of-the-seat thrillers — trapdoors that led to a secret lair or an escape route. And, usually, they open with a switch behind a bookshelf or by moving the book that serves as the trigger. This cool idea can inspire your bomb shelter design too. In essence, you're hiding away — like in the movies. It is like a safe house within your home. The design doesn't necessarily have to be a bookshelf; it can also be a display unit, storage or a wardrobe to successfully hide your bomb shelter.
#3: Make it a Part of Your Interior Design Style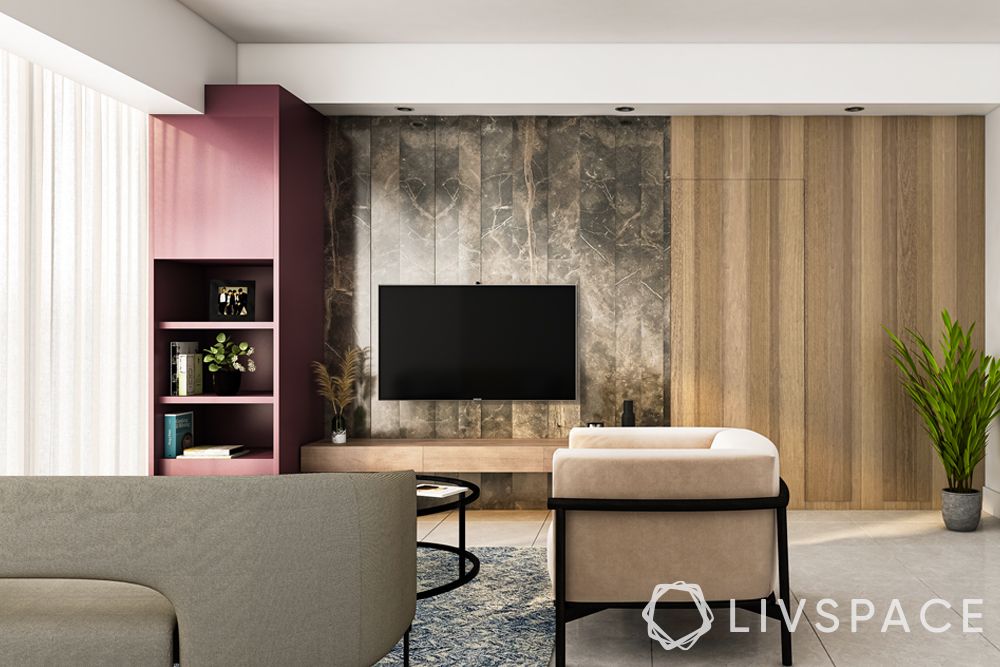 Another brilliant bomb shelter design inspiration is wall design! Like this bomb shelter that uses a rustic wallpaper theme to blend the bomb shelter door with the interiors. This is a smart way to make the bomb shelter a part of your home. Also, you can use wooden rafters, exposed brick wallpapers or similar designs to bring a retro-industrial feel to your home. There are a myriad of ideas to choose from and only your imagination is the limit here.
#4: Get Creative with Blackboard-Inspired Entry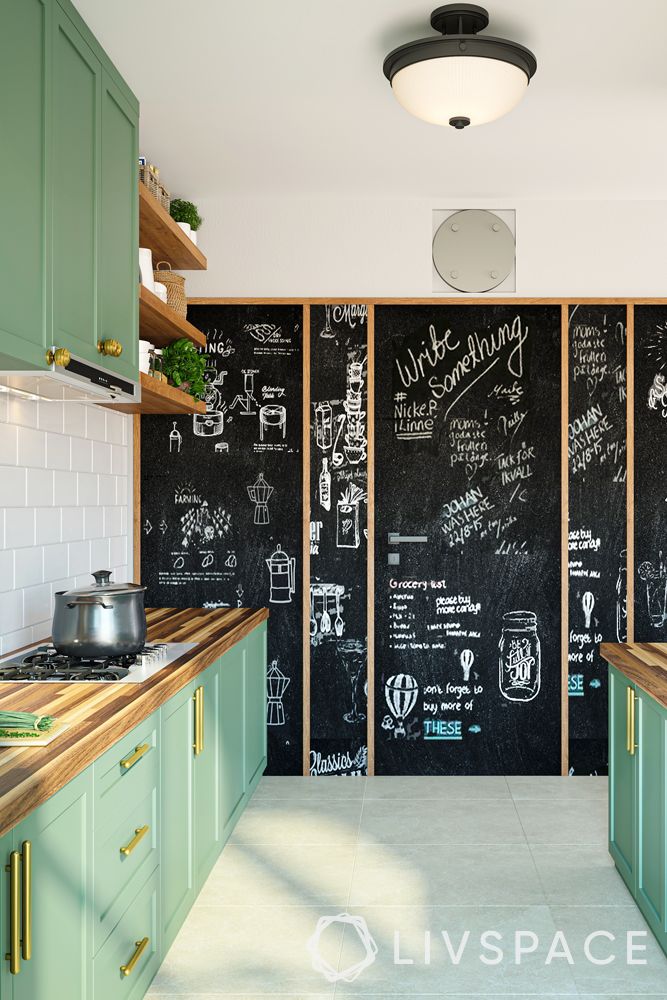 A sliding door in front of an HDB bomb shelter design is a great space-saving measure. You don't have to worry about leaving room for the swinging of the door while decorating your space around it. This brilliant HDB bomb shelter design uses a blackboard theme to add a touch of quirky decor to the design. Adjacent to the kitchen, it makes for an easy-to-use grocery planner, an art centre for kids as well as letting your creative skills takeover. You could choose to change the art when inspiration strikes.
Also, you can use your bomb shelter as additional pantry space. If an emergency arises, you'll be stocked well, just in case.
#5: Part of the Wallpaper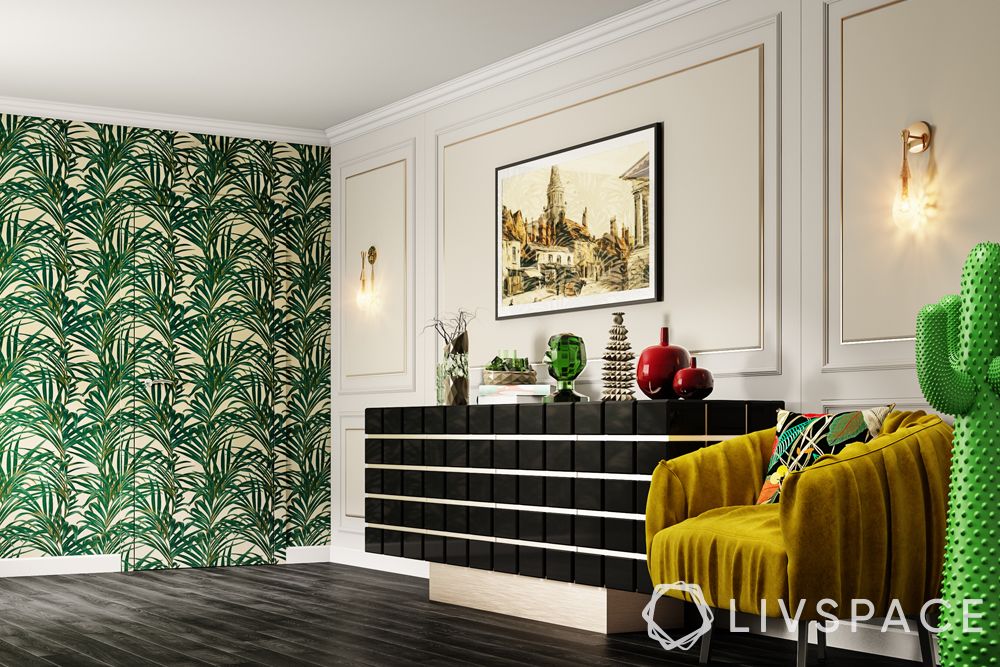 Wallpapers are the most common way in which homeowners hide their bomb shelters. This is very cost-effective and doesn't require extensive planning and work. Simply use an exciting pattern to cover the wall and the door and voila! Your guests won't know where the door is! This simple solution is also a great way to bring colour and pattern to your HDB interiors. In the picture above, the grassy pattern of the wallpaper gives the home a refreshing vibe.
#6: Keep it Minimal by Painting the Door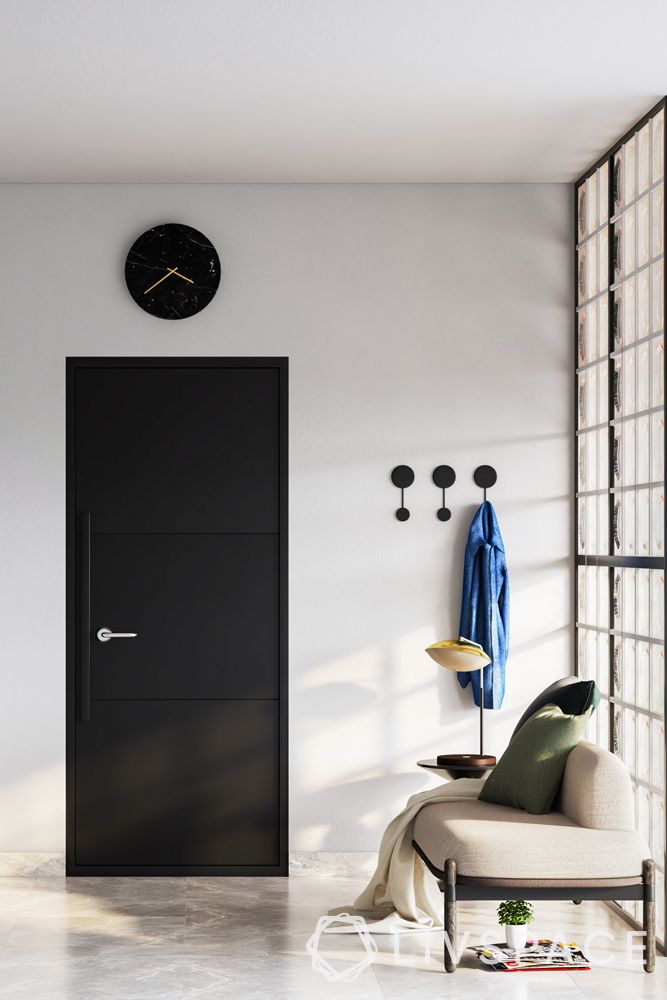 If you love all things minimal, then painting the bomb shelter door the colour of your choice is the best way to go. You can try to hide it by painting the door the same colour as your walls or choose a contrasting colour. Make the door seem like one that simply leads to another room in your house. Have some decor on the wall like a wall clock — to hide the vent — or coat hangers.
Bomb shelters are usually vacant spaces used only during emergencies. But you can use it any way you'd like to as well. However, ensure you follow the rules when you utilise this space. Do not tamper, destroy or modify it extensively.
Tips to effectively use your HDB bomb shelter design:
Use it as a storage space
Convert it into a reading corner
Transform it into a maid's room
Create a personal fitness zone
Use it as a walk-in wardrobe
How Can Livspace Help You?
If you are thinking of redesigning your home, then consider Livspace. Book an online consultation with our designers now to turn your dream home into a reality.
We are all about quality and safe interiors. Don't let the pandemic stop you from attaining your dream home. We follow strict COVID-19 safety protocols, which you can read about here.
We hope these bomb shelter designs provided a spark of inspiration for you. Here's a Livspace Singapore home that successfully hides the bomb shelter. Let us know which of these ideas you've utilised in your home. Send us your suggestions and queries to editor.sg@livspace.com.