Let's get real. We all want a pretty and functional home that doesn't cost an arm and a leg. Though it is hard to achieve, it is not impossible. And Livspace has proved this over and over again. We have provided interiors to many homes on a budget and they all have turned out fantastic, even if we do say so ourselves! But don't just take our word for it. Look at these 10 budget homes and you will agree with us too.
If you are looking to renovate without spending too much of your savings, then these Livspace-designed budget homes will surely inspire you. Scroll on to have a look!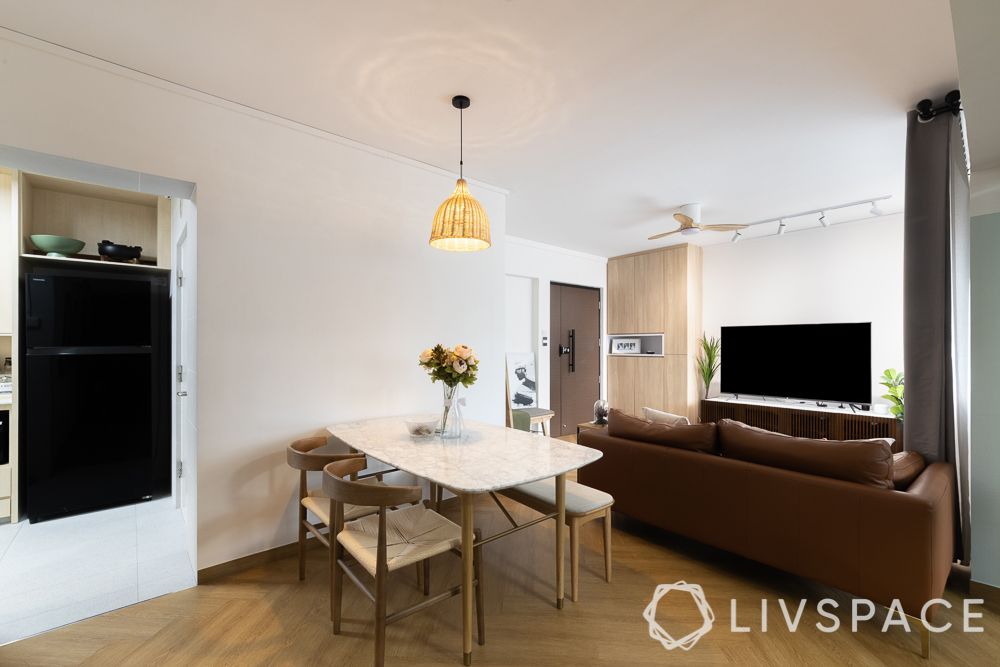 Budget: $$$$$
Type of home: 4-room resale HDB
Location: 21 Jalan Membina
Livspace service: Full scope including design, build, masonry, carpentry, electrical, etc
This 4-room budget HDB has a Scandinavian accent with warm pastels and earthy and wooden elements. Owing to the work-from-home situation, a customised home office was also built for the busy couple. And the kitchen is oh-so-pretty that we suggest you don't miss it.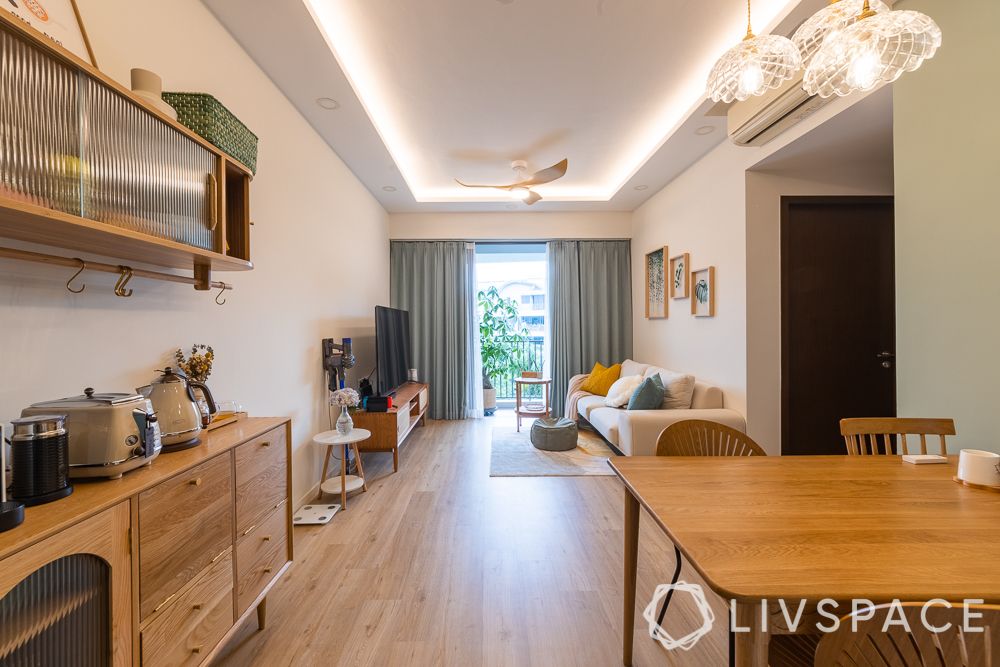 Budget: $$$$$
Type of home: 2-room resale condo
Location: 529 Bedok Reservoir Road
Livspace service: Flooring, painting and decorating
Comfortable, clean and bright were the keywords given by the homeowner to the Livspace team. With a lot of loose furniture, the aim was to make space for everything and give the home a uniform look. So, Livspace put in new flooring, dabbed some fresh paint, decorated it and voila, the homeowner is left with a serene and cosy condo.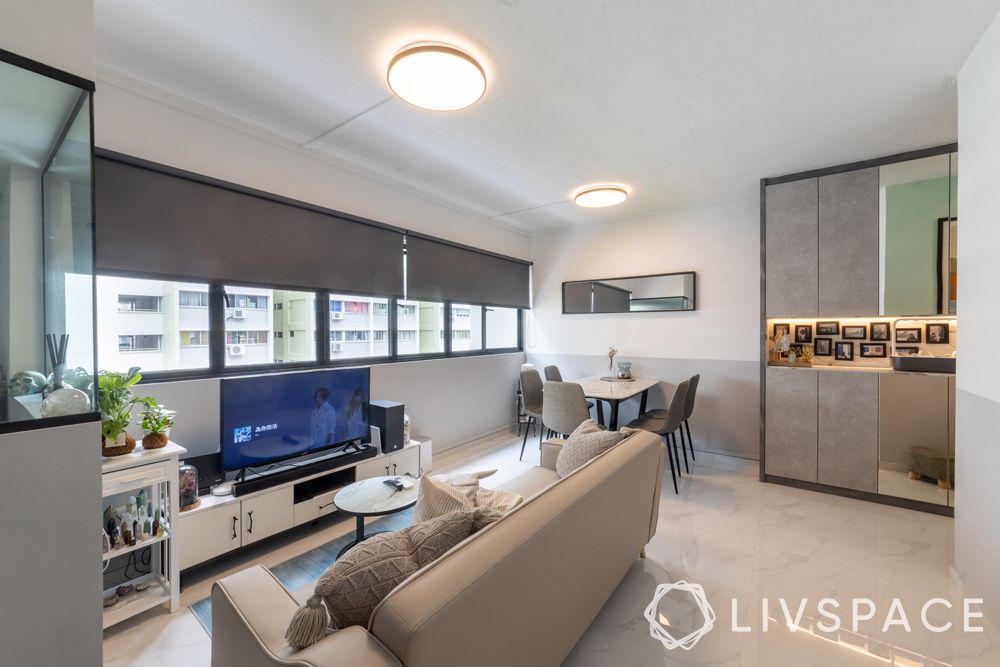 Budget: $$$$$
Type of home: 3-room resale HDB
Location: 637 Veerasamy Road
Livspace service: Design, demolition, masonry, electrical, plumbing, ceiling, partition, painting, carpentry
Yvonne Yeo wanted her home to be comfortable and efficient. Doused in different shades of grey, this HDB's interiors are done to perfection. Would you believe it if we say that this compact home has marble and stone features, a walk-in wardrobe and an office space? And all this was done on a tight budget! Don't miss the complete home tour.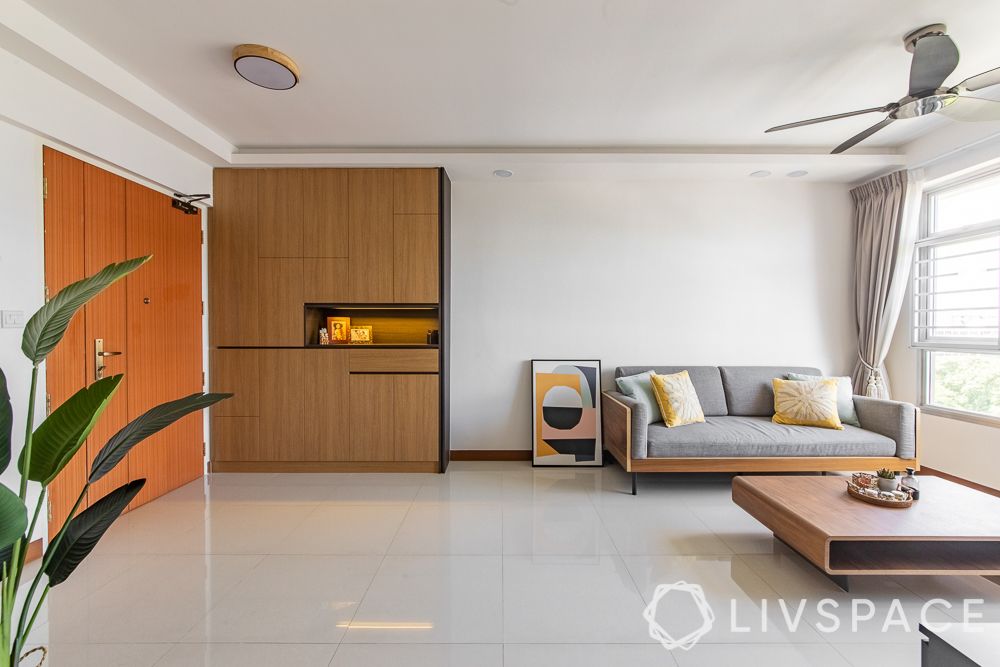 Budget: $$$$$
Type of home: 4-room HDB Resale
Location: 878B Tampines Ave
Livspace service: Furniture, decor, carpentry, electrical work
The pretty and functional furniture in Anandh Kumar and Sumana's home are to die for. A dedicated coffee station, concealed pooja room and a wardrobe partition between the bed and the dressing area are some key highlights of this home. Also, it follows a clean design that is comfortable and easy to maintain. What more can you ask for when designing budget homes?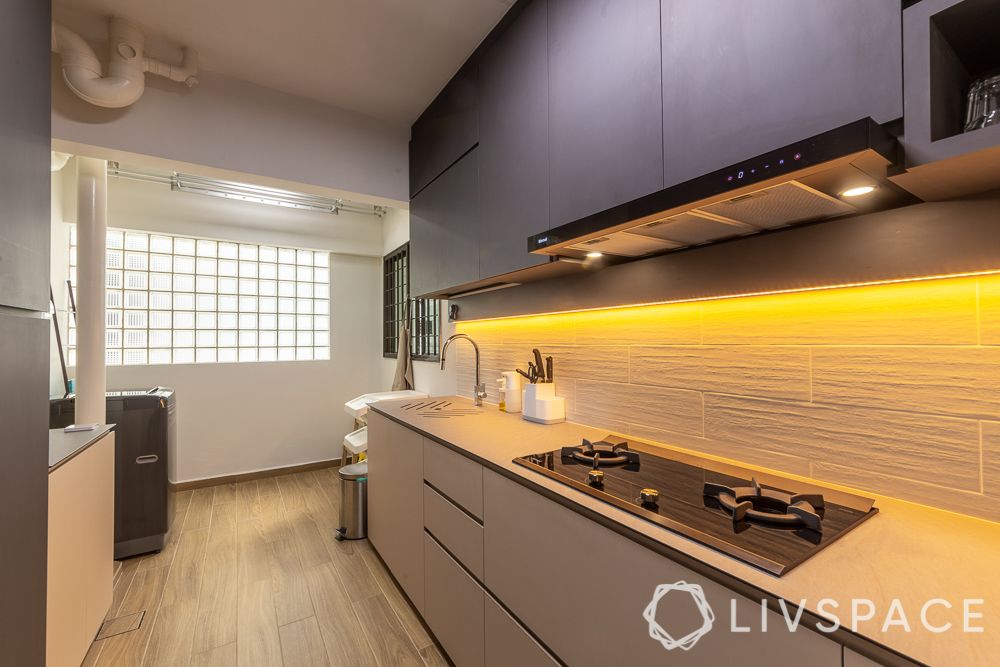 Budget: $$$$$
Type of home: 5-room resale HDB
Location: 327 Sembawang
Livspace service: Kitchen and toilet renovation, masonry, carpentry, home decor
Jessica and Wai's resale HDB is minimal, bright and functional. The hero of this home is the kitchen. Done up in grey and beige, it has a lot of storage units so that the homeowners never run out of space. But the space that we love the most in this budget home is the cosy indoor deck. You can check it out in the full home tour.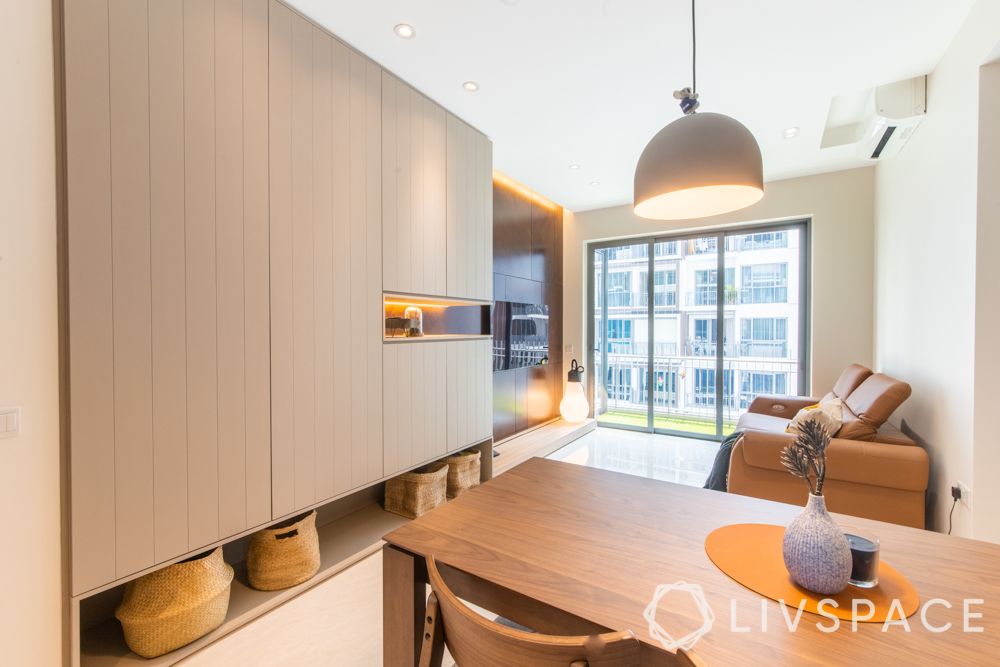 Budget: $$$$$
Type of home: 3-room condo
Location: 9A Forest Woods
Livspace service: Carpentry, painting, false ceiling, electrical, lighting, wallpaper
This condo is easily one of the most smartly designed budget homes with its clever storage hacks and optimum use of the available space. It features exquisite furniture like the storage-cum-TV-unit in the living room and the suspended study table in the kids' bedroom.
The condo is also brightened up with different types of lighting.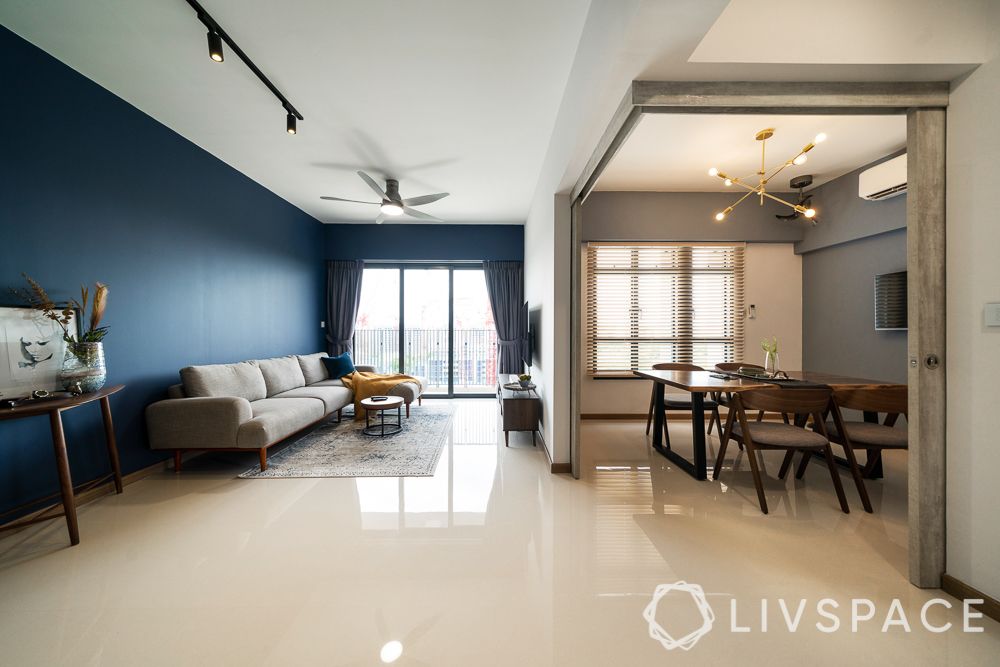 Budget: $$$$$
Type of home: 4-room HDB BTO
Location: 102A Bidadri Park Drive
Livspace service: Design, demolition, masonry, carpentry, electrical, plumbing, glass, painting
Taking inspiration from Pinterest, homeowners Shankie and Debbie wanted a mix of Scandinavian and eclectic design styles for their home. Hence, this BTO flat renovation gave Livspace the opportunity to experiment with styles and solutions. There are so many elements that make this house stand out. But the one we love is the transformation of a bedroom into a dining room.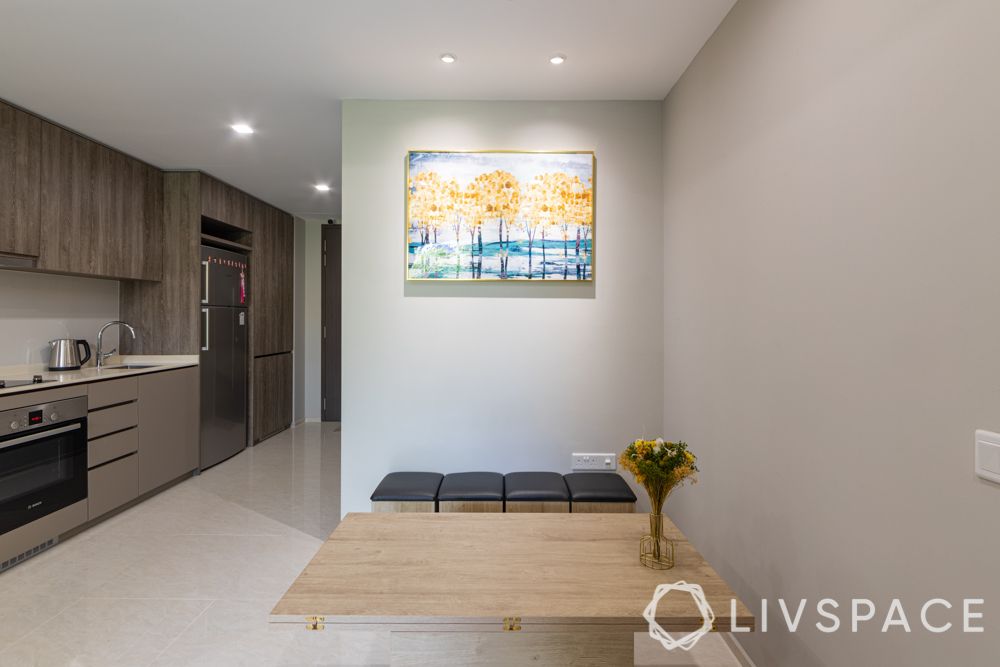 Budget: $$$$$
Type of home: 1-room condo
Location: 19 Forest Woods
Livspace service: Design, electrical, ceiling, carpentry, painting
Katherine and Daniel's 1-bedroom condo is a comfortable haven that's clean and storage-optimised. It features a one-wall kitchen, furniture with hidden storage compartments, floor-to-ceiling wardrobes, etc. The smart choice of furniture is what gives this condo its neat look.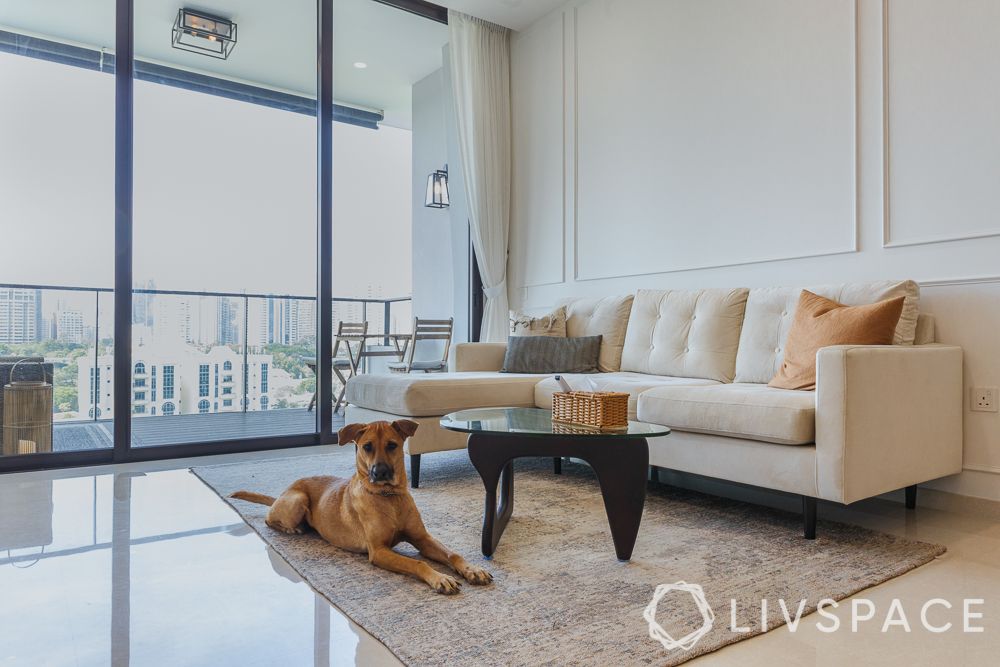 Budget: $$$$$
Type of home: 5-room condo
Location: Block 101, Prince Charles Crescent
Livspace service: Hacking, tiling, plumbing, electrical, painting and carpentry
This gorgeous all-white 5-room condo is among our favourites. We had to design the perfect condo to match homeowners Elena and Bernard's exquisite tastes and sensibilities. And the result is a modern, farmhouse-style condo. What's more? It also has space-efficient and neat storage units. You can check them out here.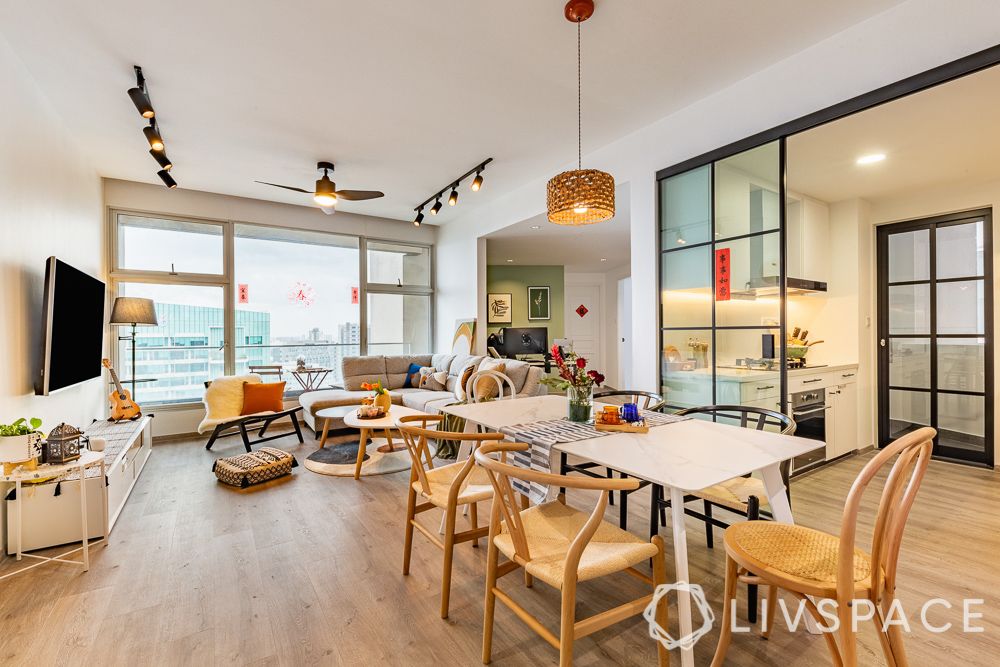 Budget: $$$$$
Type of home: 3-room condo
Location: Sturdee Road
Livspace service: Full design scope including carpentry, masonry, electrical, plumbing, etc
Like neat, clean lines and a comfy boho-chic vibe? Then you will love this condo. It exudes a warm wooden, American country-style vibe that is balanced by white walls. The design continuity in this home is impeccable. Additionally, it also has smart lighting fixtures throughout.
How can Livspace help you?
Loved our line-up of budget homes? You can get one too. All you need to do is book a consultation with Livspace. Our expert designers will contact you and you can get quality and safe interiors in no time. Learn more about our COVID-19 safety standards here.
Want to look at more such beautiful homes? Here are the Top 10 Homes That We Designed and You Loved in 2020.
Send in your comments and suggestions to editor.sg@livspace.com